Last Monday, I remembered coming across unconventional items at a garage sale. Antique watches, sewing machines, vintage china; it had everything. Unaware of the sentimental and historical value they offered, the owner was comfortable predicting that they would be highly sought after and would be a coveted prize for the right hands!
I've been an enthusiastic antique collector my whole life. Ranging from jewelry from the early Medieval times to 13th-century tribal masks from Africa and the Middle East to the more modern blades. However, one particular piece has always grabbed my attention; Buffalo china!
A few with a very delicate sense of art and craft possess the appetite for such beautiful craftsmanship. For years, many have tried producing these exquisite pieces of art; however, Buffalo china proudly holds a high standing in the industry and, of course, in the hearts of collectors and lovers.
Buffalo China – A Brief History:
One of the largest manufacturers of commercial chinaware in the United States at one point, Buffalo China, was founded as Buffalo Pottery by John Durrant Larkin, owner of the prestigious soap-making Larkin Soap Company, in 1901. The company initially built its headquarters in Buffalo, New York, which formed the basis of the name to become relevant in the china industry.
Buffalo China started off by making semi-vitreous china and was a part of the railroad china boom, producing famous pieces such as Deldare Ware, Roosevelt Bears, and Abino Ware making it to the list, but was soon replaced by vitreous china in 1915. Another factor that added up to the company's prestige was that it was the first pottery in the world to completely operate with electricity.
In addition, it housed some of the most famous artisans worldwide. Also, it enjoyed being fire-proof, a rare feature at the time. The brand's objective was to create china to be given away with soap purchases made by the customers and to compete with the English pottery giant, English Staffordshire Potteries.
The company started by competing with English pottery, which dominated the market throughout the world. The release of the Blue Willow Pattern in 1905 marked its introduction into the fierce battle. Also, it released the product to the general public in America.
Buffalo China was soon to follow up with its most successful design, the Deldare Ware, in 1908, which helped the company to enjoy great popularity among lovers and enthusiasts. The design featured scenes from an English illustrator, which the company's artists hand painted onto olive-green dinnerware and candlesticks. Deldare Ware was initially produced only for the following year and then reemerged again between 1923 and 1925. It is still relevant to this today.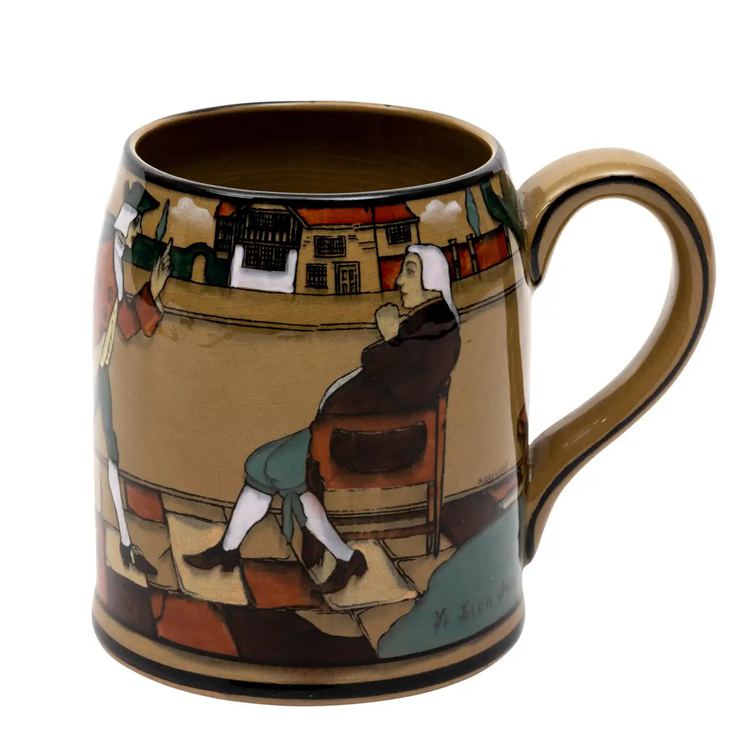 Emerald Deldare was another limited edition produced by the company in 1911. It was also built on similar rare English designs. Soon after, Buffalo China introduced the Abino ware in 1912, which featured scenes of sailboats and windmills. The two lines were the rarest because of their short production periods.
1915 marked the shift from semi-vitreous china to the more modern vitreous material. It was initially aimed at institutional use, but later the company extended its facilities to hotels, restaurants, hospitals, and even the military.
Major shifts took place at the company in 1956, when the name Buffalo China, Inc. was adopted. Later, it was sold to Oneida Limited in 1983 but didn't last long; it was soon sold to Niagara Ceramics.
The company officially closed its doors in 2004, marking the end of a tragic and remarkable run.
Antique Buffalo China Identification:
If you're an enthusiast with a deep interest in china, Buffalo china pottery is the perfect catch for you. Intricate designs with eye-catching craftsmanship, the products displayed by the company are a reflection of aesthetics and grace.
That said, getting your hands on a classic Buffalo china might not be a walk in the park. Yes, you heard that right. These examples of unique pottery are present in the market in limited numbers and, worse, have many counterfeits that claim to be original.
Therefore, identifying your piece is the first step to ensuring you don't get scammed.
Types and Patterns:
Buffalo china was a true inventor of its time. The company experimented with many designs that distinguished it from the rest. Some of the patterns and lines were taken by Buffalo china include:
Deldare Ware:
The Deldare Ware is, by far, the company's most famous pottery line. It was introduced by the manager at the time. It reflected art, literature, and the village life of England at the time.
The first series of its production lasted a year, from 1908-1909, and featured numerous scenes from Cecil Aldin's classic, Fallowfield Hunt. The company used a series of images painted on olive-green semi-vitreous china. It covered a total of 9 titles which include:
Breakfast at the Three Pigeons
The Start
The Dash
Breaking Cover
The Fallowfield Hunt
The Death
The Return
The Hunt Supper
At the Three Pigeons
The series was revived in 1923-1925 and was produced once again. Due to its limited production, it is a complicated piece to get your hands on.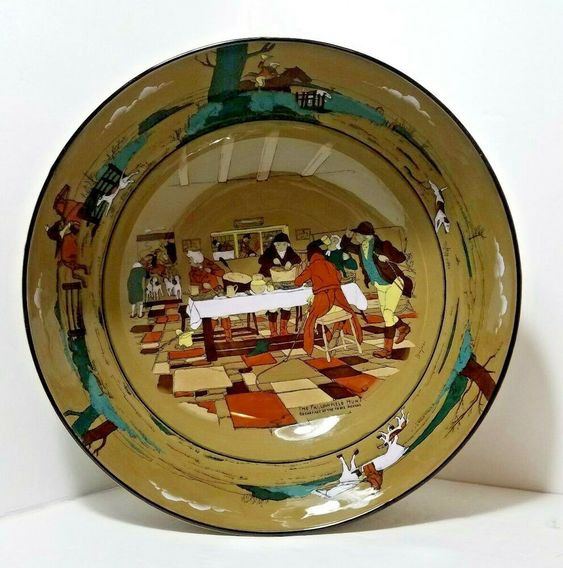 Emerald Deldare:
The Emerald Deldare from the 1911 series featured scenes from William Combe's The Three Tours of Dr. Syntax, illustrated by Thomas Rowlandson. The production lasted only one year, making it a much rarer piece to get your hands on. The design is hand-painted and is a classical representation of the Art Nouveau style. A spectacular olive-green background with geometric and floral motifs and a verse written on the inside is characteristic of this piece.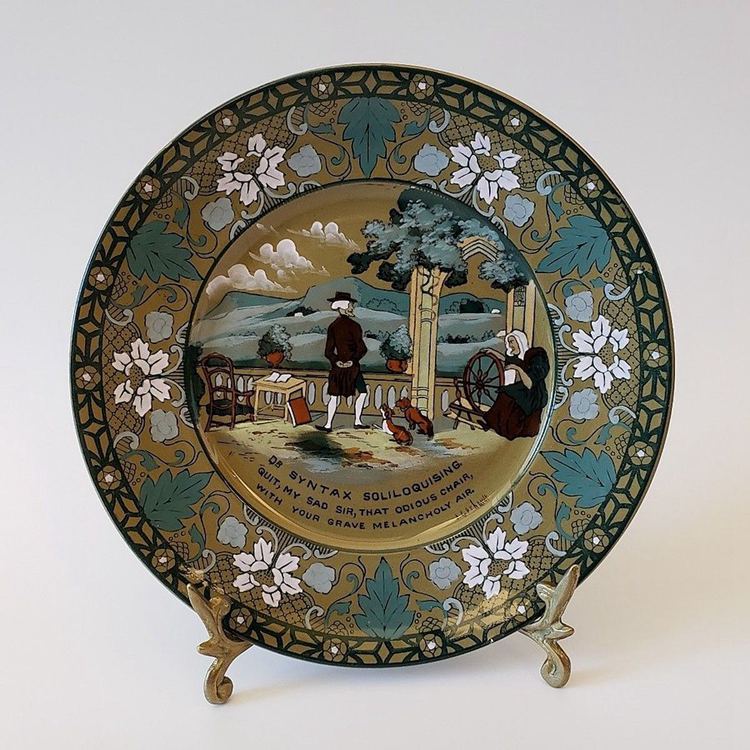 Abino Ware:
1912 marked Abino Ware's introduction, featuring windmills, sails, and boats. The pieces were rusty and pale and were a representation of sea life. Similar to the other two, each piece was numbered and marked by the artist creating them. Albino pieces are present in even lesser quantities and are more difficult to find.
Bonrea:
The design was produced for a good 11 years until it came to an end in 1916. It resembles an Asian motif and features a royal blue color on a white background.
Blue Willow:
An ancient Chinese love story in paintings, Buffalo China produced the first American version of it in 1907. The pattern is a Chinese legend about a young woman in love with a young man. Unfortunately, her father was a fierce rival of the young man and chose an older man to be betrothed to her. The fiance felt betrayed and killed both of them, burning their house down in the process. Each Blue Willow china features willow trees, a boat, a treehouse, a pagoda, a bridge, and a latticework fence.
What better way to represent this than to inculcate it in china so that it exists forever. Buffalo China took advantage of that and turned this piece into a delight for collectors and enthusiasts.
Chessie Cat:
Released in 1933 in true vitreous, this china offers the picture of a tabby cat soundly asleep on a bed, showing its ears and face hiding behind a pillow. It was made exclusively for Chesapeake and Ohio railroad.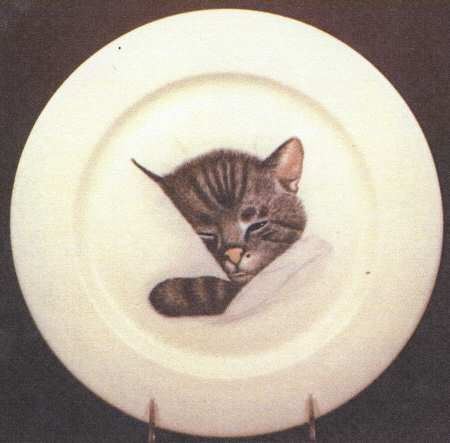 Mandalay:
A white background featuring an oriental floral pattern, the Mandalay was released in 1930. It featured a multitude of colors, such as pink, blue, and lavender, forming the flowers and surrounded by sage-green leaves.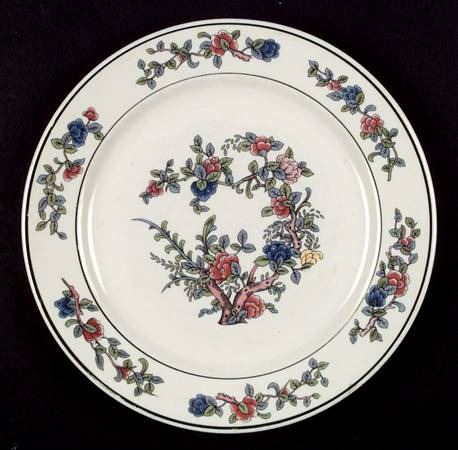 Statler:
A distinct pattern released in 1910, the Statler featured an intricate design of tan flowers coupled with blue and green on a tan background.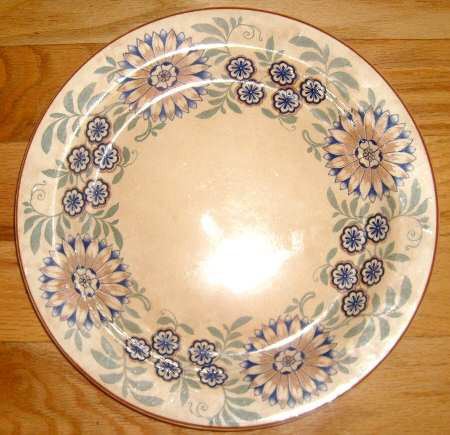 Blue Bird:
The design started in 1919 and continued till 1922. A simple yet delicate composition featured birds on a white plate and blue rim, flying to the center, a representation of the Art Deco style.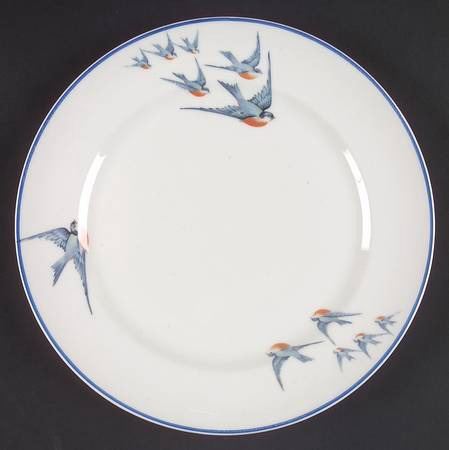 Manufacturer Marks:
China belonging to Buffalo can be easily recognized using the company's characteristic manufacturer marks.
Hands down the easiest to recognize, each Buffalo China item is marked with the company's name, the material, a buffalo, and date stamped to the bottom or base of the china.
On the other hand, hand-painted items, such as Deldare, Emerald Deldare, and the Abino Ware, have the artist's initials or the first initial and last name present.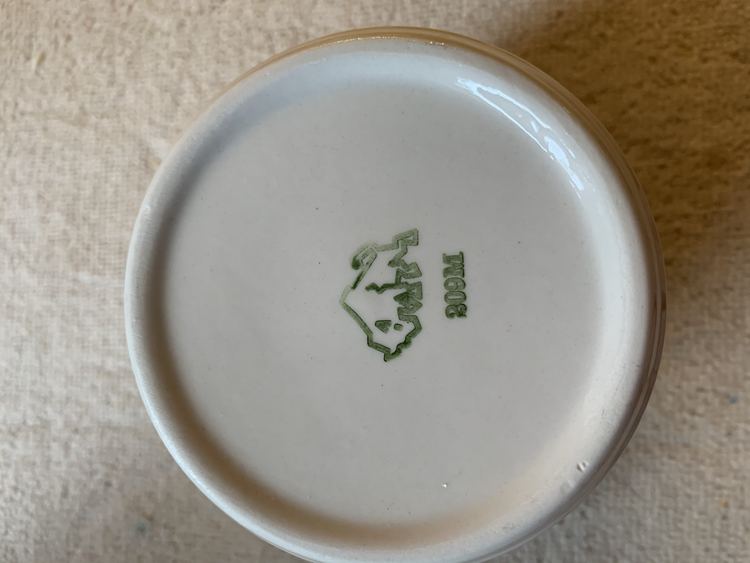 The company's logo has changed over the years. However, identification is still an easy process considering the customer's name was also made a part of the stamp up until 1940.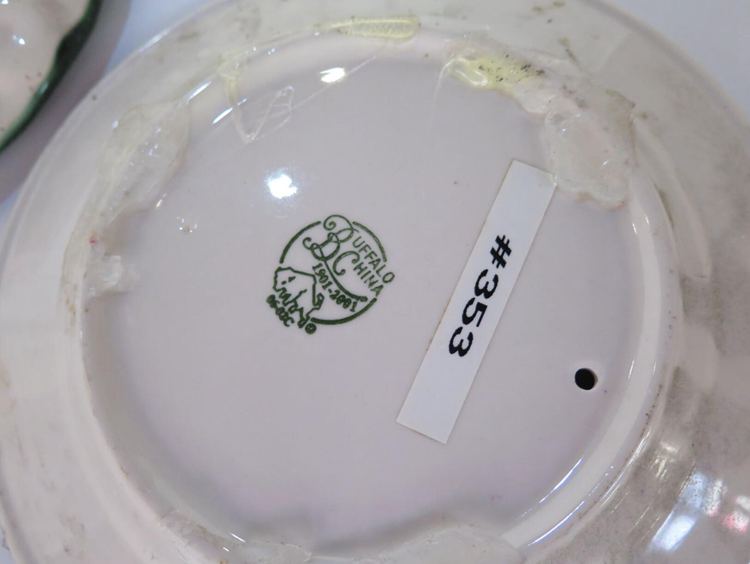 In general, most items share the Buffalo name or an American bison in the logo, coupled with the series' name at times. There is no specific format the company followed, producing a variety of identification marks over the years.
However, it is crucial to know that many counterfeit items exist on the market, so you must differentiate them from the original. Fake items can mostly be picked from their logos, for example, a water buffalo or an Asian bison with crescent-shaped horns.
Fake items have also been spotted using the Buffalo name in uppercase letters. Similarly, another method to spot fakes is that the print of the stamp is lighter, and the letters may be incorrectly spelt.
Another essential feature you can use to spot fakes is that Buffalo Pottery's original pieces featured scalloped rims at the wares. Fakes, however, have similar image transfers, but the edges are smooth.
Antique Buffalo China Value Guide:
Once you've identified your antique, assessing its value is a challenging task. However, china produced by Buffalo Pottery is an exception to this rule, as there are general guidelines and factors to help you assess the value.
Several factors play a role in determining the value of Buffalo china, some of which include:
Condition:
This is the most vital aspect to consider in the case of any antique. Pieces in sublime condition attract more demand and money than items in rusty condition. China and pottery that is in mint condition are highly sought after by collectors and enthusiasts. On the other hand, if your piece has permanent stains, chipped paint, or damaged components, it will attract much less attention and will be valued lower.
Rarity:
Another critical factor that drives the value of Buffalo china is the rarity. Limited edition lines with a short production run are harder to find in the market and are valued at prices touching the sky.
Albino Ware, Deldare, and Emerald Deldare are the rarest of all Buffalo china, considering they were produced for a minimal period and, thus, are difficult to get your hands on!
Provenance:
In addition to its standard lines, the company also released commemorative and historical pieces. These models have an aspect of history attached to them, influencing their value.
For example, Buffalo Pottery released pieces such as the Roosevelt Bears. The company also inculcated paintings in their china representing Cinderella and George Washington. Similarly, pieces owned by famous personalities are valued higher than others with no history attached to them.
Value:
Once you understand the factors mentioned above, it is easy to assess the value of a piece. Nowadays, the Deldare Ware is in demand and readily available. You can find most mugs and plates between $25 and $100.
Similarly, pieces from the historical lines mentioned above have the highest value. Getting your hands on a historical article in mint condition is impossible. Even if you can find one, it must be in rusty condition. However, it doesn't change much, and the china is still valued at above $1000.
Emerald Deldare, the exclusive design, is valued the highest. Some pieces in mint condition bring in as much as $1500 apiece.
Vases are available in great variety, most in the $200-250 range. On the other hand, pitchers show similar characteristics in rarity but are valued at close to $500.
In general, you can get your hands on Buffalo china for between $10 and $100.
Valuation Sources:
If you have a piece and you're unsure about how much it might be worth, there are a couple of ways you can use it to answer your question.
Some of these include:
Online Appraisals:
In the world of technology, nothing is impossible. Getting an informed estimation of your piece is easier than you think. Many auction houses and online platforms provide free and paid valuation services that you can use to accurately assess your china.
One example is ValueMyStuff, an online platform with ambassadors and professionals sitting worldwide. It can provide you with an accurate estimate of your china's worth in 24/48 hours, analyzing the information that you provide.
Note: You should never solely bank on online appraisals for your antique and always use multiple sources to prevent biasing and a conflict of interest.
Reference Books:
Reference books and papers are another great way to get an estimate of your piece's worth. You should always consider books with colored plates that are useful in identification and valuation. Many options are available in the market, one of which is:
The Book of Buffalo Pottery by Violet Altman and Seymour Altman
Where Can You Find Buffalo Pottery?
All questions answered; the one that remains is the places you can find Buffalo china in. Since Buffalo china is available in the market in various designs, finding one is not difficult; finding one at the right price is the challenge. The age of technology makes it impossible to miss out on our hobbies and interests. Thus, you can easily find it on the largest online marketplaces, such as eBay and Etsy, online antique sites, and auction houses.
If you're too old for the internet and only trust what you can touch, finding a piece at garage sales and antique stores is your way to go. Similarly, an East Coast Antique Show is another place exclusively made for Buffalo Pottery lovers. If you're an enthusiast, you don't wanna sit this one out! The prices at such sites may vary, and you'll have to spend the extra cash, ending up with an empty pocket by the end.
However, before you decide to sit back and collect the china of your choosing, it is necessary to know and understand the identification process.
Final Thoughts:
Buffalo china is a pottery lovers' dream come true. Whether you're a kitchen fanatic looking to add pieces to your collection, or an antique enthusiast trying to expand your collection, Buffalo china is an example of remarkable beauty and aesthetics which you can inculcate into your life.
You can choose from multiple designs, all representative of the centuries-old American class and craftsmanship. If you're sitting on a pile of cash, you might just get your hands on historical china.
So, the next time you wander around the attic looking for a family heirloom to sell or stumble upon old china at garage sales no one's willing to buy; read up nicely so you can get that unique piece at just the right price. Good luck hunting these beauties!