Waltham pocket watches are becoming increasingly sought after by watch enthusiasts and collectors alike. These timepieces are known for fine craftsmanship and flawless design – and they also have the potential to become a lucrative investment.
The market value of some pieces has increased drastically, so if you happen to own one, make sure to check its value. You might find it more valuable than you would've thought, especially if it's in excellent condition.
And if you are looking to buy an antique pocket watch, you will also find reading this value guide about the 10 most valuable Waltham pocket watches. It also discusses how Waltham watches are valued and can affect the price of each item.
How Waltham Pocket Watches are Valued?
While all Waltham watches have value, determining it isn't an easy task, especially if you are a watch novice. Watch valuers will look at several characteristics to see how much the particular piece is worth. For example, the cost of some timepieces lies only in their precise mechanism. While others have casings made from quality materials, making them much more valuable.
That said, you can do a little on your own as well. Looking up Waltham pocket watches only can give a general idea of how the prices of these items are currently moving on the market. It's also a good idea to compare a few items – some of them may look similar but have entirely different values due to the types of material used in their production.
Unfortunately, looking at pictures and descriptions alone won't help you determine the value of an item. To do this, you would have to turn to a professional to get it evaluated – even if the appraisal is only approximate (in case you are looking to buy it from an online source).
Buying and Selling Waltham Pocket Watches
While selling or buying a Waltham pocket watch should be a relatively straightforward process, this isn't always the case. In fact, the more valuable the timepiece is the more vigilant you must be to avoid losing your time and money. The market for antique pieces is booming, but there are several things to be careful about.
The most recommended option is to go to an antique or vintage watch dealer and let them help you with these collectible items. And of course, you can use the above factors to estimate how the watch own or looking to own is worth. If you already own a Waltham pocket watch and it turns out to be valuable, you may want to hold onto it as an investment.
The sale of Waltham pocket watches is also available online – which may give a significantly larger marketplace to work with. If you opt for buying or selling your item at an online auction site, you may need to do some additional research on the potential seller or buyer.
Factors That Affect the Value of a Waltham Pocket Watch
Apart from representing a part of American watchmaking history, there are several other factors that'll affect the price of Waltham pocket watches.
The Material
Unlike wristwatches, where the entire timepiece is evaluated as a whole, in pocket watches, the material of the case is looked at as a separate part. Casings made from platinum, stainless steel, and gold are typically more valuable. Even if the pocket watch is damaged or broken, if its case and mechanism are made of precious metals, it will still be valuable. Watches with cases set with diamonds also have a higher inherent value – just because of the market value of the gems and stones alone.
Solid Gold Watch Cases
Gold-Filled Watch Cases
Silver Watch Cases
Nickel Alloy Cases
Base Metal Cases
Other Case Materials
The Movement
The second most important factor determining the value of a Waltham pocket watch is the movements. The better it works and the more precision it involves, the more valuable the entire timepiece will be.
The Number of Jewels
The term jewels in watches refer to the bearing designed to prevent friction of the inner mechanism. The more jewels are there to shield the instrument, the higher its quality will be. Therefore, the number of jewels used in the watch mechanism will also affect the cost of a watch. For example, some timepieces will only have 15 jewels – and these are considered lower-grade watches. Others can be equipped with 20-25 jewels, all of which elevate the performance of the pocket watch.
The Serial Numbers
All Waltham pocket watches are engraved with a serial number – which facilitates their dating process. Collectors looking to own items from a specific era may value certain watches higher. Make sure to look at the serial number at the movement, as this will tell you the exact date when the timepiece was made. This serial number can also be used to find out any other information that may have been taken noted in the ledgers of the Waltham Watch Company. There are several pocket watch databases you can use to find information about a specific watch serial number.
The Condition
Watches kept in pristine condition are more valuable than those in poor condition. Even if the timepiece originally had a perfectly tuned mechanism and quality casing, its value can diminish if it's not maintained properly. Every scratch, dent, or other sign of damage devalues a Waltham pocket watch. Investing in cleaning and restoration could improve its value – but it should only be done by a reputable watchmaker, who preferably has experience with Waltham pocket watches. Plus, adding new elements can also bring down the value, so you will want to keep as much of the original parts as possible.
Rarity
As a general rule of thumb, the rarer a watch is, the higher its value will be – and this applies for Waltham pocket watches as well. Being rare refers to the number of pieces made from a particular watch. Older models – made before 1900 – are typically more valuable, as are those part of special collections or collaborations.
The Economy
The state of the economy can also impact the value of Waltham pocket watches. When the economy is well-performing, people have money to invest in collectibles. And the more of them are competing for an item, the higher its price will be. During an economic crisis, people typically sell their value instead of buying. Consequently, more items will be on the market, and their prices will go downwards.
Railroad Grade Standard
After a tragic train disaster caused by a faulty timepiece in 1891, Waltham, alongside several other watch brands, set on to create watches with a railroad standard. These pocket watches are now more valuable than those produced beforehand. Most of them are a size 16 or 18, have more than 17 jewels, bold Arabic numeral on the dial, and are lever set. They also have a maximum variation of 30 seconds per weekly check, an open face case with the stem at a 12 o'clock position, and adjustable to at least five positions.
The 10 Most Valuable Waltham Pocket Watches
| | | | |
| --- | --- | --- | --- |
| No. | Name | Year | Price |
| 1 | Antique 14k Gold Waltham Riverside Maximus 23J 16s Mens Hunter Pocket Watch | 1910 – 1919 | $375 |
| 2 | Waltham Rare Colored Dial 1883 Special Railroad King 18s 17j Pocket Watch | 1883 | $524 |
| 3 | 14K Solid Gold Waltham Antique Hunter Case Pocket Watch Gold Gilt Dial 14K Chain | 1890-1899 | $1,666 |
| 4 | Rare Waltham Lehigh Valley Rail Road Pocket Watch 18 SIZE | 1900-1909 | $1,900 |
| 5 | Tiffany & Co. Waltham 18k Yellow Gold Pocket Watch | 20th Century | $2,290 |
| 6 | Waltham Solid 18K Gold High Grade Gentleman's Pocket Watch Date 1919 | 1919 | $2,738 |
| 7 | Vintage Waltham 14K Gold US Assay 23 Ruby Jewels Wind Up Pocket Watch | Late 19th – early 20th Century | $2,795 |
| 8 | Waltham A.W.W.Co. Riverside 6526816 Pocket Watch 14k Gold Etched Locomotive | 1898 | $3,000 |
| 9 | Rare Antique Railroad Waltham 21J Up/Down Indicator Pocket Watch | 1908 | $3,195.00 |
| 10 | 18K Gold Hunter Waltham Crescent Street Pocket watch 1870 15j | 1870-1879 | $5,999 |
1. Antique 14k Gold Waltham Riverside Maximus 23J 16s Mens Hunter Pocket Watch
Year: 1910 – 1919
Price: $375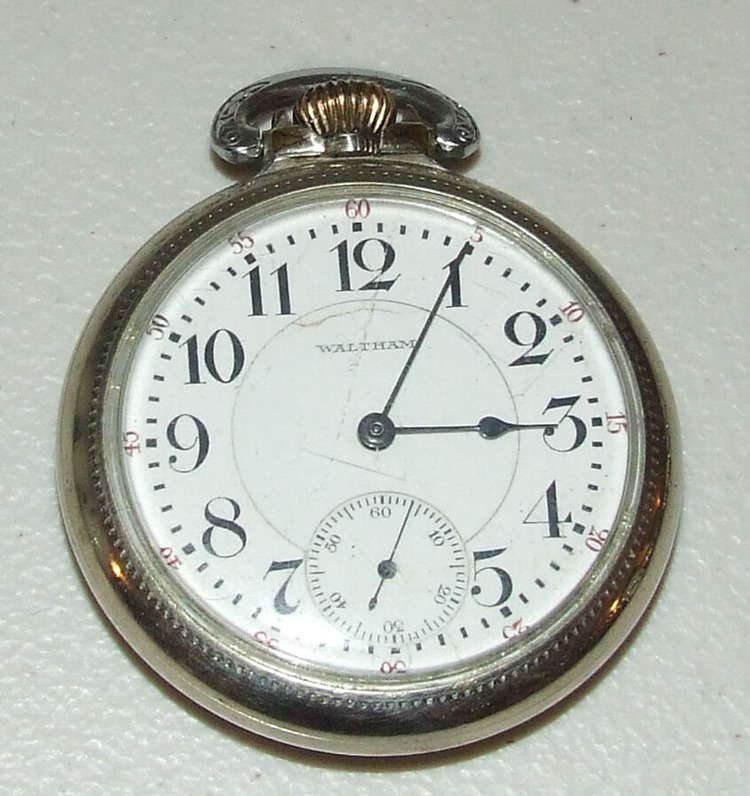 This antique pocket watch comes with a 14K gold case, brushed to fit the latest Men's Hunter Pocket Watch fashion of the early 1900s. Its 51 mm wide and 13 mm thick case gives it a masculine elegance any male watch collector would be proud to have in their possession. The mechanical movement is equipped with 23 jewels. putting it into the optimal range of timekeeping accuracy even in modern times. It has a white dial and the hunter closure that typically accompanies the Hunter Grade Waltham pocket watches. And all this is enclosed in a size 16 timepiece that, in good condition, will soon become one of the greatest finds on the antique watch market.
2. Waltham Rare Colored Dial 1883 Special Railroad King 18s 17j Pocket Watch
Year: 1883
Price: $524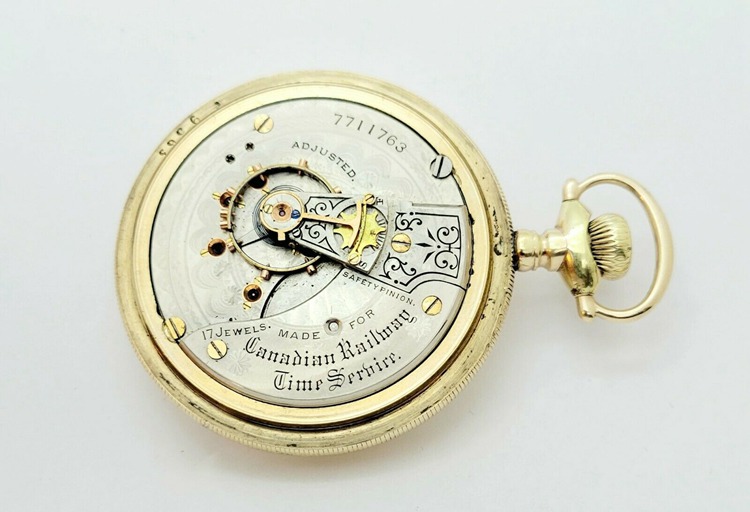 Probably one of the first watches that were made after 1881, but with somewhat different features. Unlike most Railroad grade watches produced to the new standard and have white dials, this special edition boasts a colored dial.
It also doesn't have the standard jewelry lever set newer models do. It only has 17 jewelers that require a specific type of adjustment. Still, the size of 18 represents an imposing sight. The thick crystal also adds to the functionality of this timepiece as it protects the dial and the movement.
3. 14K Solid Gold Waltham Antique Hunter Case Pocket Watch Gold Gilt Dial 14K Chain
Year: 1890-1899
Price: $1,666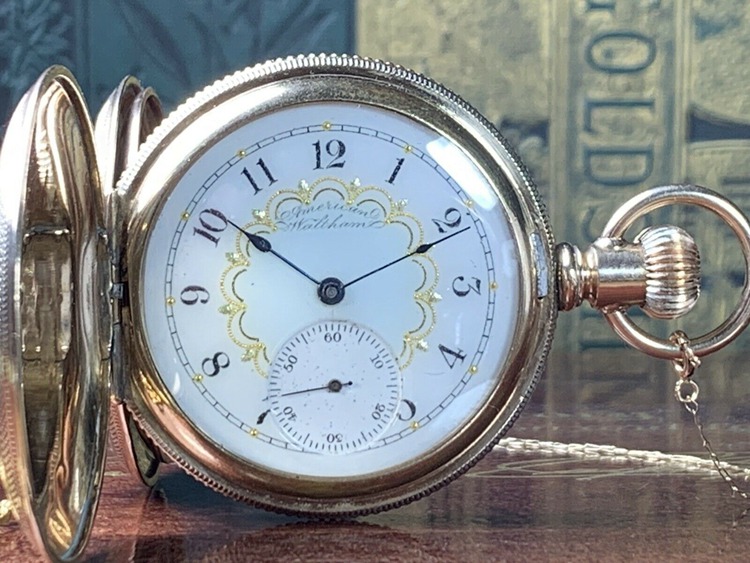 A fine antique timepiece with a polished, 14K solid gold case back, this pocket watch is one of the most exceptional models on the market. It also comes with a solid gold chain and wind-up movement. Unlike other 1893 Hunter grade models, this one features a gold gilt dial on a white background.
The beautifully engraved dust cover fits tightly and protects the dial from dust and damage. The dial comes with roman numerals, another atypical addition to this watch. Inside the mechanism, there are 15 ruby jewels and a hand-wound movement. It's a small but effective watch. And together with the chain it will definitely charm any collector or watch enthusiast.
4. Rare Waltham Lehigh Valley Rail Road Pocket Watch 18 SIZE
Year: 1900-1909
Price: $1,900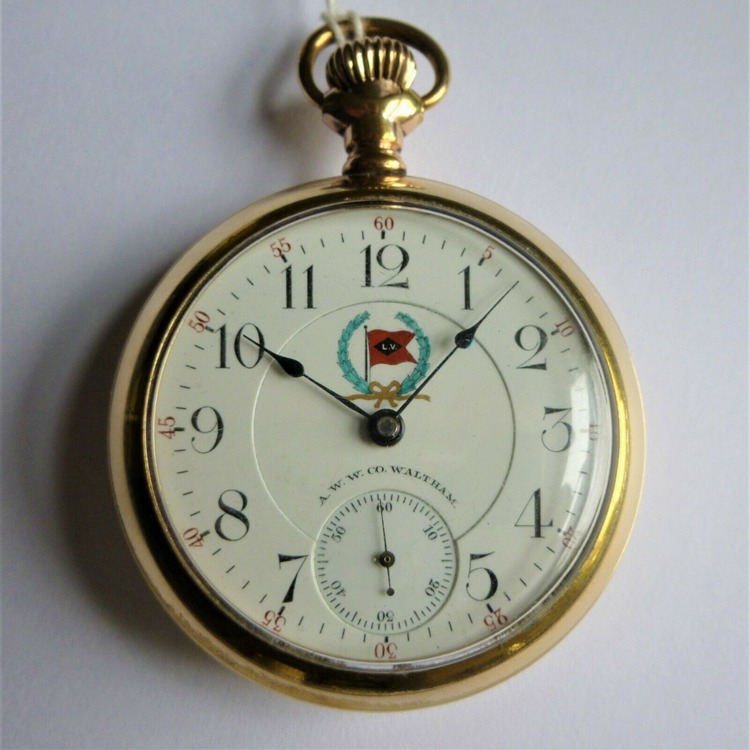 This pocket watch has several features that make it unique among American vintage pieces. For one, it's the typical two-tone version of the 1883 model that has been associated with Lehigh Valley Rail Road. The inscription on the 18 sized casing also points to this connection.
On the other hand, the stem-wind-lever set is on the 17 jewels movement is engraved with Appleton Tracy & Co. Waltham inscription. The dial has both the latter and the LV engraved into it, along with a painted flag. The open-face gold-filled case has a faint outline of a steam engine on the back, which is another hallmark of the LV Raid Road. It can be a great watch for everyone looking to own a specific piece of history related to this landmark.
5. Tiffany & Co. Waltham 18k Yellow Gold Pocket Watch
Year: 20th Century
Price: $2,290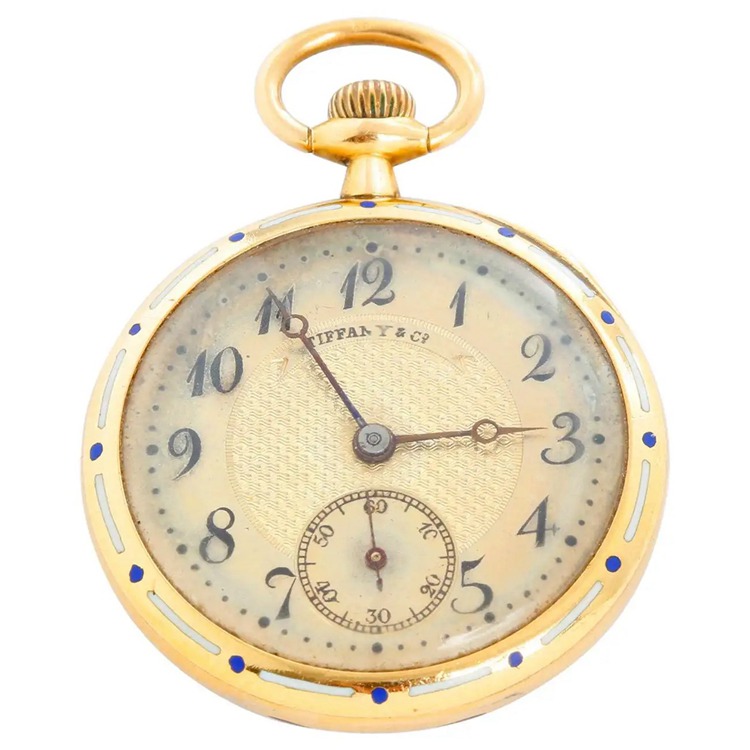 A true testimony to the collaboration of a watchmaker and America's biggest luxury jewelry retailer, this watch hallmarks both its contributors' names. The classic white dial is signed by Waltham, as is the mechanical mechanism, while the back of the 18K solid gold case is marked with the Tiffany & Co sign.
It has a manual winding, and the 16 jewels make it easy to set the time accurately. The front of the dust cover is also engraved with the Tiffany & Co design, making it a functional yet stylish timepiece. It's undeniable a little smaller than other Waltham pocket watches from the same series, but this allowed it to become a unisex model.
6. Waltham Solid 18K Gold High Grade Gentleman's Pocket Watch Date 1919
Year: 1919
Price: $2,738
Boasting a sleek, 18K solid gold case, this Waltham pocket watch is truly for those who appreciate timeless elegance. Gold hallmarks the back cover, the inner cover case, the stem, and the loop. Not only that but its micro-regulated wheels are made of gold. Its Crescent Street Railroad movement winds and sets smoothly. This is mainly due to the stunning 21 jewels it's equipped with.
They are screwed through and allow for five adjustments. The cover hinges snap closed tightly, making it easier to keep the watch in pristine condition. The case is hallmarked for Birmingham 1919 and has the individual case makers' signature. Whereas the movement and the dial showcase the Waltham brand. All this justifies the value that has been steadily increasing over the past couple of decades.
7. Vintage Waltham 14K Gold US Assay 23 Ruby Jewels Wind Up Pocket Watch
Year: Late 19th – early 20th Century
Price: $2,795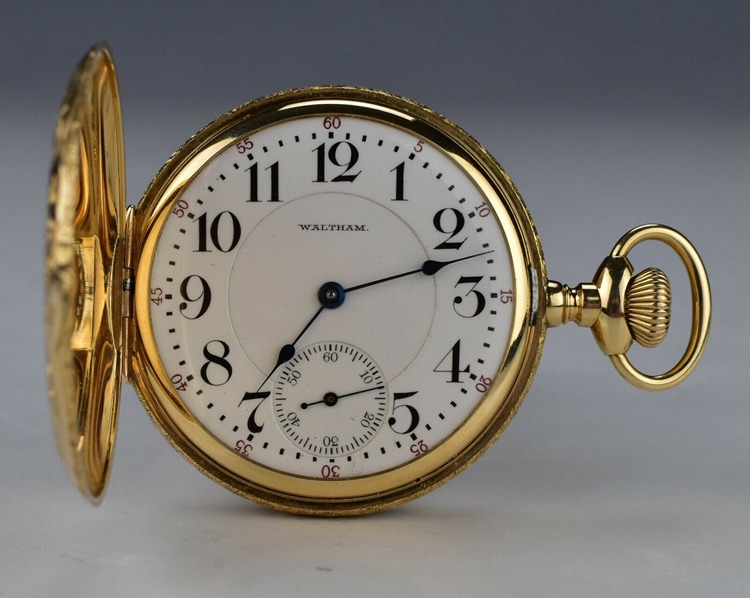 With its mechanical movement, 14K yellow gold open face closure displaying a dial with Arabic numerals, this Waltham pocket watch is one of the true classics. Yet the 23 jewels in the setting make this watch so much more powerful than it seems to be.
Plus, it could fit into any style due to its simplistic design, white dial, and unisex features. And the highly snapping case back will protect the movement in any situation. If maintained in proper conditions, the watch can serve as a functional addition to your collection and even become a lucrative investment for the future.
8. Waltham A.W.W.Co. Riverside 6526816 Pocket Watch 14k Gold Etched Locomotive
Year: 1898
Price: $3,000
With the wonderful locomotive etched into its 14k yellow gold case, this pocket watch is also a rather unique find. Made in 1898, it represents one of the first of the new generation of Waltham Watches. Originally presented in 1893, this timepiece has an SOL grade movement with a gilt finish, a pendant setting, and an open-face configuration.
Add the Breguet hairspring, the 11 jewels, and the large 18 frame size, and you'll get a highly functional watch in elegant vintage packaging. If regularly serviced and kept in working order, this open-face pocket watch could still increase in value, as was the case for the past decades. This makes it a great investment piece.
9. Rare Antique Railroad Waltham 21J Up/Down Indicator Pocket Watch
Year: 1908
Price: $3,195.00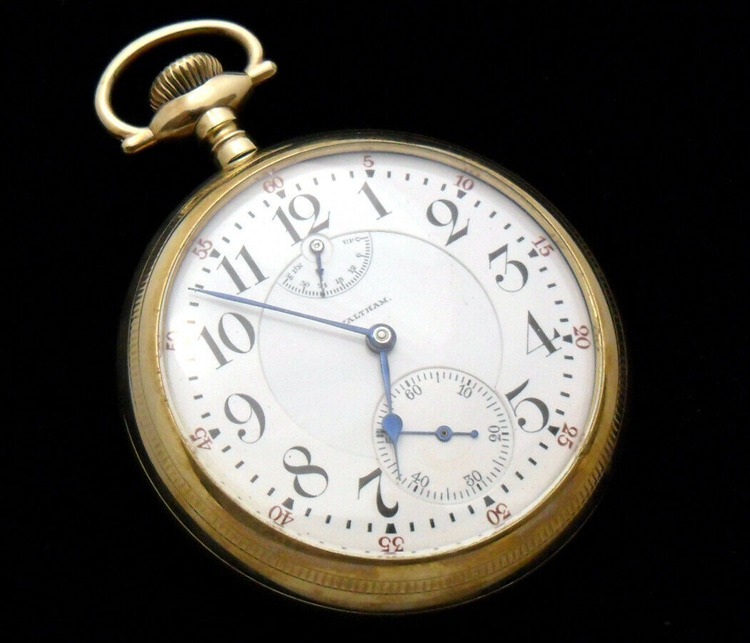 This gorgeous antique Waltham pocket watch is also one of the most innovative models. Made after 1914, it's a rare find from that period, especially given its high-quality gold casing and the 21 jewels contained in the mechanism. However, this did become a standard for all Crescent Street Railroad grade models long before this timepiece was manufactured.
This means that the brand only had to make a few adjustments to the movement. One of these was the addition of was the up-and-down wind indicator and innovation designed to improve railroad services. The triple sunk porcelain dial and the reinforced crystal are only the crown on the raised gold setting. Plus, the watch is also stem wind, lever set and can be adjusted, further adding to its accuracy.
10. 18K Gold Hunter Waltham Crescent Street Pocket watch 1870 15j
Year: 1870-1879
Price: $5,999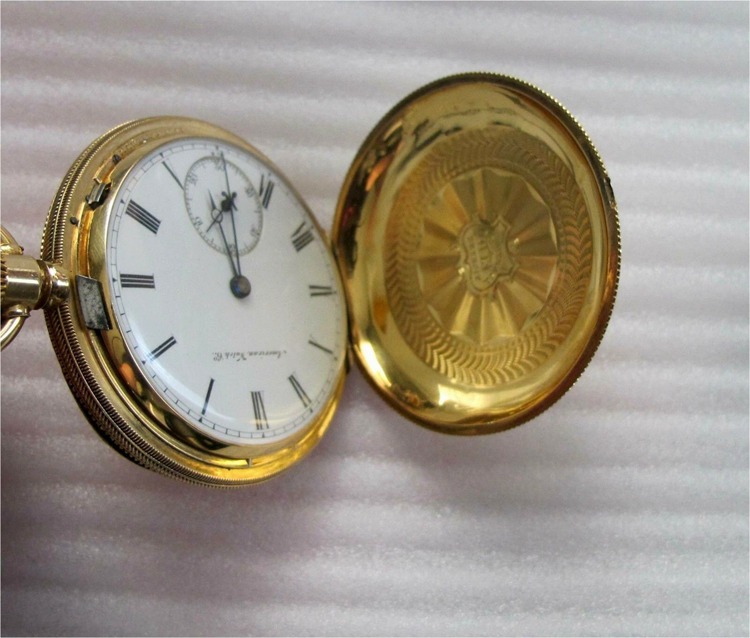 In mint or near mint condition, this is probably one of the priciest Waltham pocket watches on the market. Although it's made before 1891 and boasts only 15 jewels, its craftsmanship is the finest order, particularly given its age and the era it was made in. It is mounted in an 18K solid yellow Double Hunter gold case with a dust cover, which is also made from solid gold.
This makes it heavy, sturdy, and incredibly valuable. Its movement is a Crescent Street Grade size 18, with a lever-pin-nail set. The dial is the classic porcelain white, typical for Waltham watches. A rare find that could fit in any antique pocket watch collection and is recommended for anyone looking to invest in magnificent pieces of American history.
Final Thoughts
The best way to find the value of a Waltham pocket watch is to get it appraised. Whether you're interested in adding a Waltham watch to your collection or you already own one, a certified watch valuer or perhaps a Waltham pocket watch expert can provide you with all the necessary information you need about certain pieces.
If you are looking to buy one, it's also a good idea to research sellers before sealing the deal to avoid the potential pitfalls of getting an antique timepiece. This way, you can make sure you're investing in an authentic piece of American history.