Milk glasses are a must have item on the shelf of any avid collector. Thanks to their smooth rich bodies, classic beauty, and luxurious appeal, they make for a great dual functioning item.
In 2016, a piece of milk glass used by Justin Bieber at the Kings Oak Hotel in Essex was auctioned for a whopping $80,000; making it one of if not the most expensive milk glass ever to be auctioned.
In this article, we've provided the necessary information on milk glass pieces- from valuing them, identifying them, and taking care of them. You'll also find the ten rarest and most valuable milk glass pieces around today.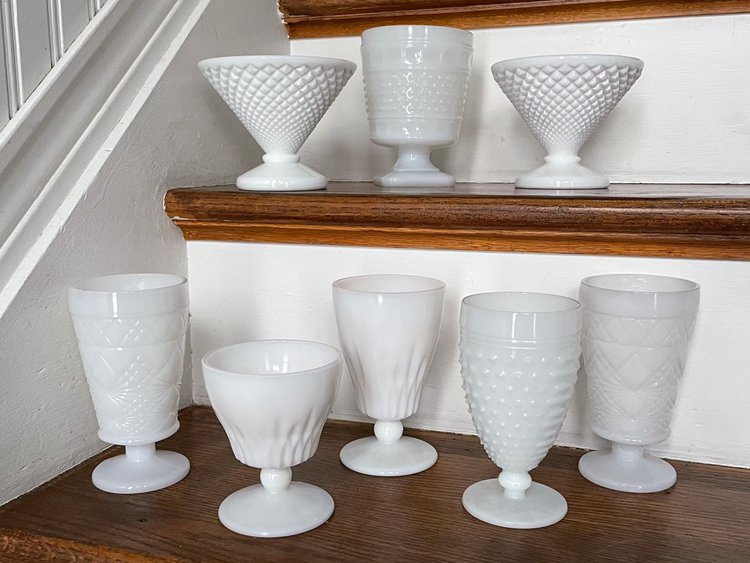 Brief History of Milk Glass
Milk glass was produced in Florence in the early 16th century, between 1575 and 1587, with the intent for it to replace porcelain, a more expensive variant that was difficult to reproduce. Limited edition pieces were also produced in northern Europe, with the bulk from Germany and bohemia.
In the 1850s, milk glass was manufactured in the united states. However, limited information is available on the companies making this item. The Boston & Sandwich Glass Company of Massachusetts made milk glass in various objects such as lamps and candlesticks.
Milk glass was initially called opal glass by some 19th-century artists, and people also used it for architectural decoration and display of important graphic information. Engineers used milk glass for the four faces of the information booth clock at the Grand Central Terminal in New York.
The golden era of milk glass peaked by the early 20th century as they were made into a wide range of shapes like the lacy edge, lattice edge, and open border decorative pieces, toothpicks, perfume bottles, spoon holders, and many more.
The 10 Rarest and Most aluable Milk Glass Pieces in the World Today
The prices below are culled from verified auction and collector sites. Please note that they are subject to change, and the same item may vary in price due to market factors or vendor preference.
| | | | |
| --- | --- | --- | --- |
| No. | Name | Production date | Price |
| 1 | Punch Bowl and Party Cups Set | 1950 | $299.99 |
| 2 | Fenton Hobnail Cake Plate | 1950 | $115.99 |
| 3 | Mckinley & Roosevelt Milk Glass Portrait Plate | 1900 | $110 |
| 4 | Turquoise Blue Hobnail Goblet | 1960 | $68 |
| 5 | Fostoria Pink Milk Glass Ashtray | 1950 | $65 |
| 6 | Indiana Harvest Grape Pitcher & 3 Tumbler set | 1950 | $52.99 |
| 7 | Westmoreland Three Footed Candy Glass Bowl | 1960 | $33 |
| 8 | on Streit Chicken on Nest Milk Glass | 1880-1920 | $20.38 |
| 9 | Westmoreland Ivy Ball | 1950 | $20 |
| 10 | Fenton Daisy and Button Hat | 1960 | $13 |
1. Punch Bowl and Party Cups Set
Price: $299.99
Release Date: 1950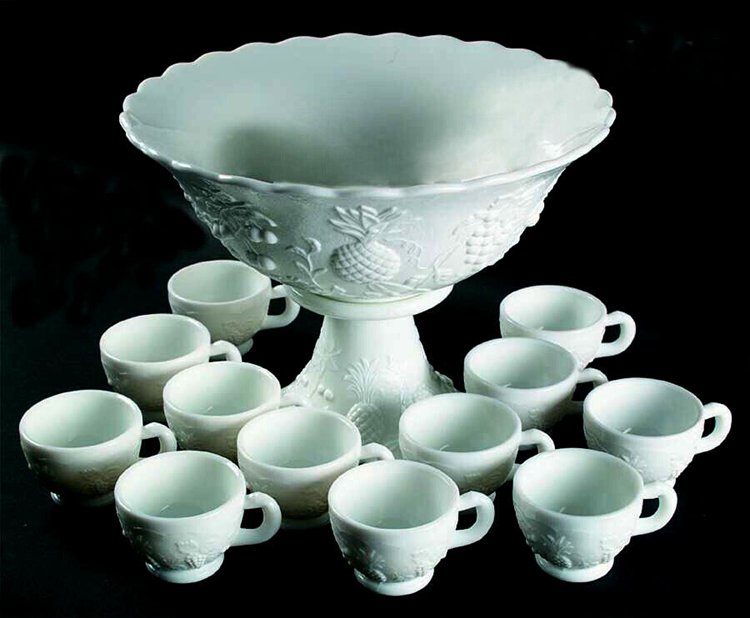 In this set, the one thing that stands out is the raised patterns of pineapple, grape, and cherry fruits that beautifully adorn the Westmoreland punch bowl at every turn. The bowl has ruffled, uneven details at the top to finish; owing to its elegant craftsmanship.
It's surrounded by 12 sets of party cups with similar details. intage sets like this one sell for higher prices than individual pieces, especially if found complete with no chips or cracks.
2. Fenton Hobnail Cake Plate
Price: $115.99
Release Date: 1950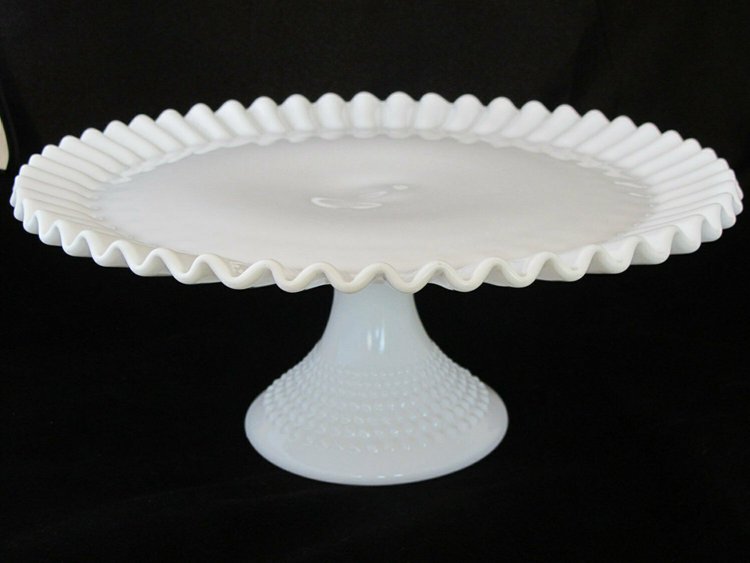 The Fenton glass company made this cake stand in the 1950s. It has a smooth surface for the cake to sit and comes with ruffled edges. Hobnail patterns lay on the underside of the top layer down to the stand at the base. It's the perfect accessory for your cake, and it lists for $115.99.
3. Mckinley & Roosevelt Milk Glass Portrait Plate
Price: $110
Release Date: 1900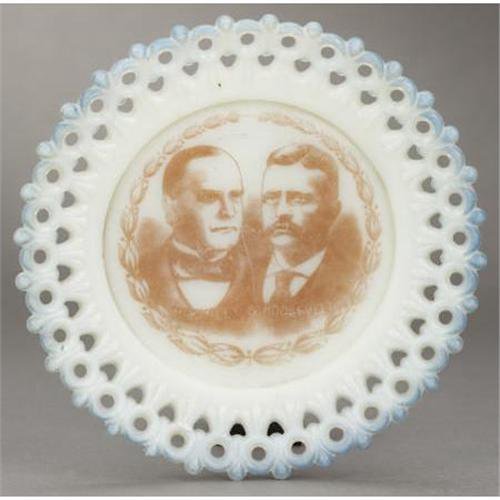 This historical milk glass campaign plate features images of two past USA politicians. Roosevelt Theodore and Mckinley William. It's coated in hues of green by the ears with cut out shapes to accompany it. The pictures of the two individuals stand out in a bright red color, and it sold for $110.
4. Turquoise Blue Hobnail Goblet
Price: $68
Release Date: 1960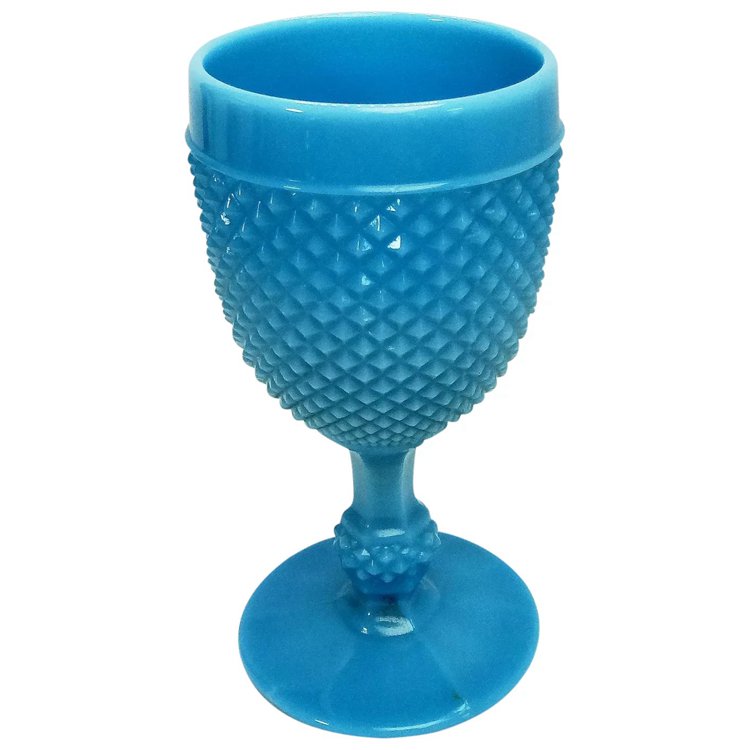 It's an odd one out and a long move away from the usual white milk glass. This turquoise blue goblet is a beauty made complete with intricate Hobnail details. The Fenton company created it in the 60s.
It's 6 inches tall with an 80mm round top and 87mm rounded base. This unique item lists for $68.
5. Fostoria Pink Milk Glass Ashtray
Price: $65
Release Date: 1950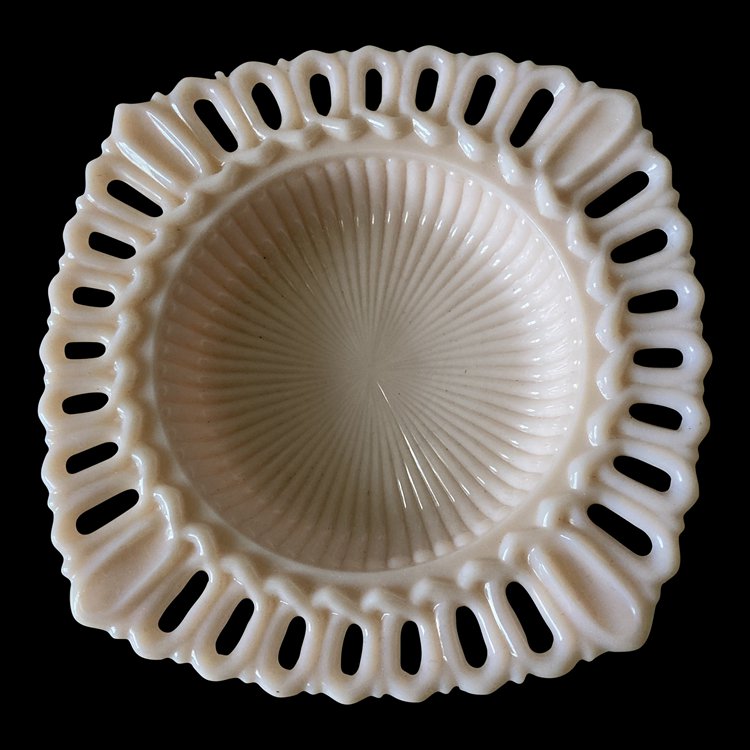 One of the rarest pieces around, this pink-colored ashtray is designed with artistic genius. Inside the ash collector, there's a lined surface with a continuous loop illusion if you stare too much. These lines lead to the top and give way to a more detailed cut-out design at the edge of the plate.
Fostoria Glass Company manufactured the milk glass ashtray in the 1950s and listed it for $65.
6. Indiana Harvest Grape Pitcher & Tumbler set
Price: $52.99
Release Date:1950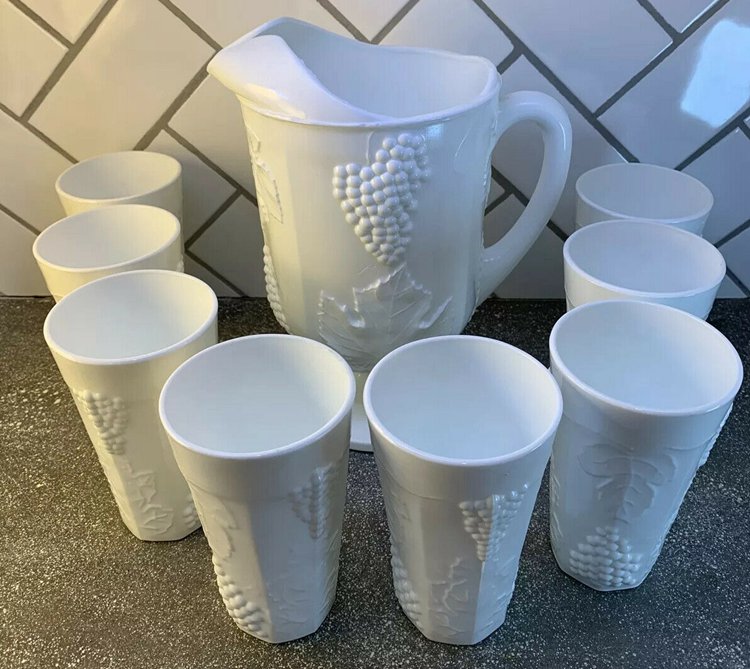 This vintage set consists of 3 Tumblers and a complimenting pitcher, all in milk glass. They were manufactured by the Indiana company in the 1950s and are also known as the Colony Harvest. There're raised patterns of grapes and their leave on the body of the items. It lists for $52.99.
7. Westmoreland Three Footed Candy Glass Bowl
Price: $33
Release Date: 1960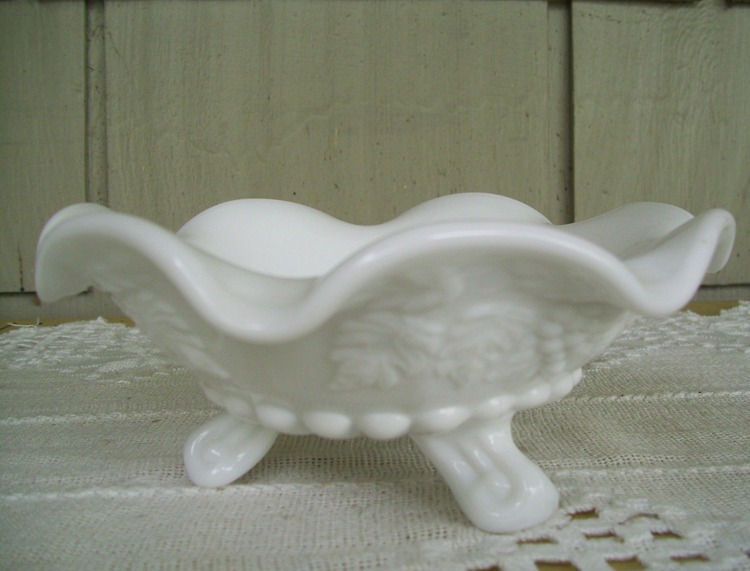 The item is a milk glass bowl with three small pedestal feet supporting the flat bowl on top. It has glazed and raised patterns just above the foot and ruffled patterns at the edge of the bowl. Also, there's an engraving of a grape and leaves on the body of the bowl, and it lists for $33.
8. on Streit Chicken on Nest Milk Glass
Price: $20.38
Release Date: 1880-1920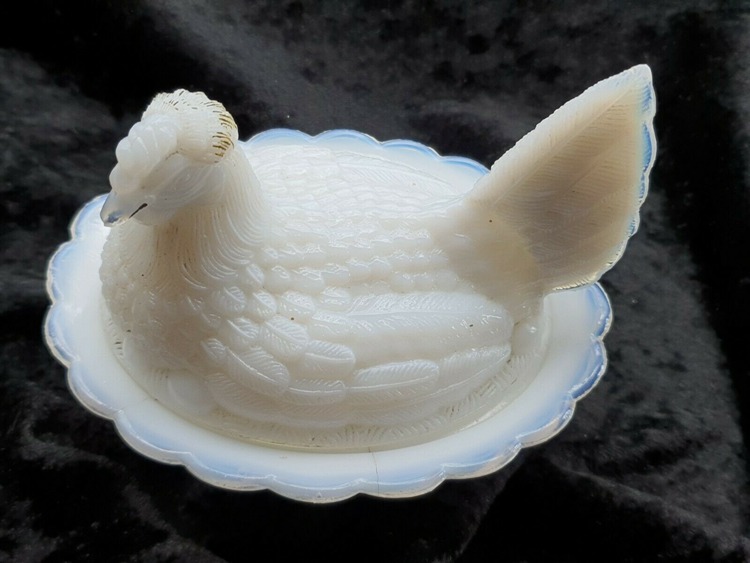 A rare find that was manufactured by a German Company named on Streit. This piece features a milk glass figure of a hen that appears to be laying eggs inside a similar bowl and milk glass.
It has intricate details on the body that gives it a realistic impression and raised patterns in the form of feathers that lead up to the tail of the item. It lists for $20.38.
9. Westmoreland Ivy Ball
Price: $20
Release Date:1950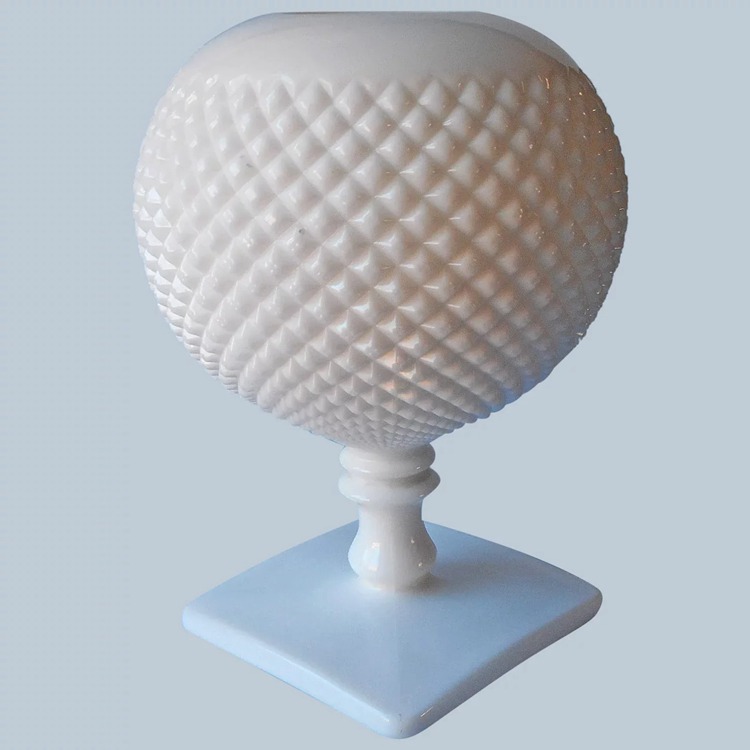 A staple among milk glass collectors, ivy balls are used to grow ivy plants. Wondering how? It's quite simple. Fill the inside of the ball with a reasonable amount of water and place the ivy plants right inside; the plant, in turn, springs around the ball in a circular form.
This vase is a great decorative piece with the English hobnail pattern around it to give it a sophisticated look and extra accessory to the ivy plants. It sold for $20.
10. Fenton Daisy and Button Hat
Price: $13
Release Date:1960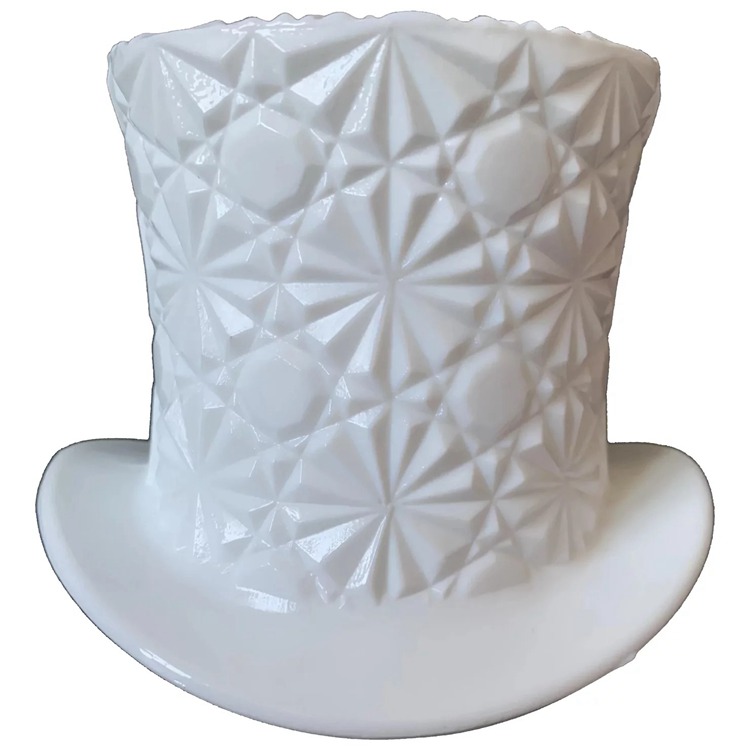 A beauty made by Fenton in the 1960s, this historic hat has patterns of daisies and flat buttons on its luminous body in a criss-cross manner. Two sides of the brim face up while the other two sides remain diagonal facing the ground, a true magician hat. It lists for $13.
Milk Glass Producers
Here's an exhaustive list of companies that produced milk glass at different times.
allerysthal of France also rolled out an impressive number of milk Glass including the famous eye-catching Opaque Blue. Milk Glass from allerysthal was mostly marked and highly sought after.
How to Identify Milk Glass?
A significant majority of milk glass available for collecting today is produced during the ictorian era or much later; the opaque models got popular due to their economic advantage over fine chinaware and porcelain.
By The Light Test
Milk glass pieces are true to their name, and like milk, they are opaque, and light hardly passes through them. Look for the Ring of Fire by placing your piece under a bright light source; you should get a kaleidoscope burst of reds, blue and green halo if it's antique glass.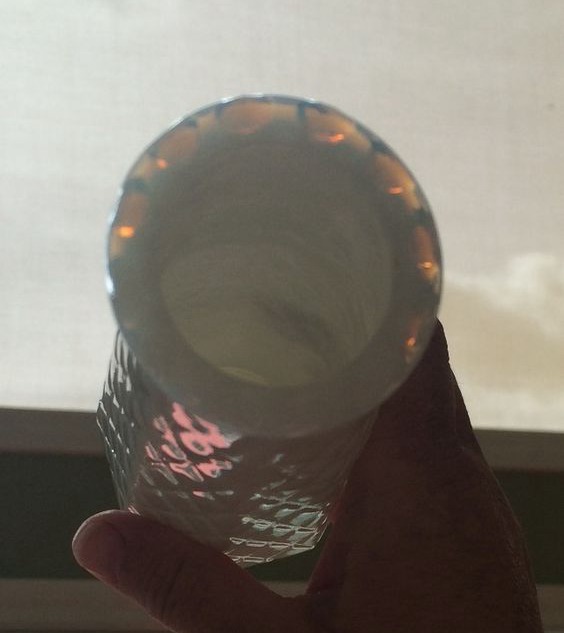 By Their Marks
Check for hallmarks on the base or bodies of the milk glass. For example, the Fenton milk glass usually has an F, or the word Fenton inscribed inside an oval on the bottom side of the piece. 1980s Fenton glass has an eight after the F to connote that Fenton glass company made it in the 1980s.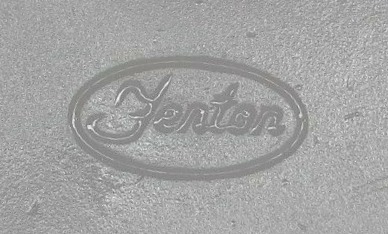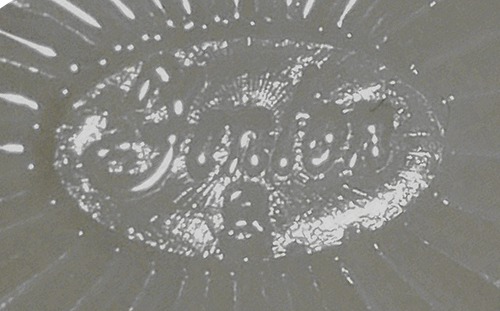 However, bear in mind that most early milk glass pieces were unmarked, and this does not mean it isn't legit; in fact, companies only started marking their milk glass in the 1950s, 60s, and 70s.
By Their Color
The most common milk glass are pure white and easily match any shade of decoration or dish. However, the glass comes in other colors like green, soft pink, and black. They are opaque, too, like the rest of their peers.
By Their Styles
Milk glass manufacturers made them in specific styles, mostly for decorative vases, flower jugs, and dressers. They also designed them in dishes, cake stands, and other serving pieces. There're sets like teacups, dessert containers, and bowls.
Books, Online stores and Appraisers
Consult the numerous books that have been written about milk glass to get more information on how to identify them. Online antique stores also have a handful of milk glass from different years, run a mini-tour through their catalog, and learn a thing or two.
Appraisers are your best friend, and it's their job to help collectors, buyers, and sellers of valuable antique items identify and provide all the necessary information.
How to Know the alue of Milk Glass
In this section, you'll find important factors you must consider when purchasing or collecting milk glass pieces. These factors invariably affect the prices of the pieces.
Age of the Glass
Older pieces are usually more valuable than recent pieces; most of the most valuable milk glass comes from France and is manufactured in the early 19th century. The American 1880 models are also valuable.
Condition of the Piece
Look out for chips, cracks, and missing pieces or stains on your milk glass. These defects can go a long way to make or mar the value of your piece. No collector will pay a reasonable amount of money for an incomplete item.
The Rarity of the Item
The harder it is to find a milk glass, the more expensive it gets. It has limited edition pieces like a set of McKee milk glass shakers for spices and sweeteners sold for about $900. This set is very scarce, and not so many pieces are in circulation.
By Their Maker
Manufacturers of items have a great deal of impact on their demand and value, and a handful of companies made glass milk over the years. You can determine the maker of the milk glass by checking the base for marks and logos.
Companies like the New England Glass Company made a handful of milk glass, and you can identify them with initials in an oval and an eagle sign right beside it. Gillinder & Sons also rolled out interesting pieces like figural sculptures and busts of famous past presidents.
By Their Quality
Due to the influx of milk glass manufacturers today, it can get a bit tasking to identify a vintage piece, not just that, an authentic one that has not been reproduced or altered. But there's an easy way out.
You can determine the quality of your milk glass by looking at the color and feeling the texture. Old models usually have a smooth feel compared to the new milk glass version.
By Their Patterns
Striking patterns like the 19th-century models are very valuable. If you have a glass with patterns like Arches, Fan, Ribbed Grape, Block, and other notable patterns in your care, you can earn a reasonable amount of money if you sell them off.
How to Care for Milk Glass
Milk glass pieces are very fragile; therefore, extra precautions need to be taken when cleaning them. Ensure that the surface is rid of and free of particles that may cause scratches and stains on your milk glass.
Always use a soft fabric and mild detergent to wash your piece; you don't want the color to chip off. Using harsh detergent will harm your item. Use a soft brush long enough to clean the insides without brazing it too.
Rinse in warm water and leave to dry, always keep from the reach of kids and human contact. Sweaty palms and dirty fingers are not milk glass friendly.
FAQs
What is Milk Glass used for?
Milk glass is used to produce various items, including candle stands, flower vases, lamps, and many other decorative pieces.
What is Milk Glass worth?
A typical milk glass ranges between $10-$30.
How do I recognize authentic Milk Glass?
Do the light test indicated above to catch the ring of fire. Once you see this, be rest assured you have an authentic piece in your hands.
Where can I find Milk Glass?
Go to the nearest estate sale, flea market, garage sale, or antique mall to find valuable and rare milk glass.
Concluding Thoughts
Collecting milk glass is fun; their vibrant colors and luminous texture make them great decorative pieces. Here are a few points you should note on your search
Legit milk glass pieces are opaque, and if light passes through your vase without hassle, you have an inferior piece.
A scarce milk glass is a valuable one. The claim above is your cue to deepen your search on your next trip to the flea market, estate sale.
Ensure to keep your milk glass safe at all times. Every part matters when collecting.
Milk glass Sets are worth more than individual pieces.