With their bare hands, five brothers created the Spanish porcelain empire known as the Lladro company. The figurines made by these brothers haven't only gained recognition among collectors worldwide, they've also found their way into several of the most iconic museums in the world.
The value and price of Lladro figurines increase with size. Large and rare Lladro figurines with fine detailing go for as much as $50,000. So, if you plan on attending any Lladro figurine auction, budget around $5,000 – $70,000.
So, which of these Lladro figurines are the rarest and most valuable? How can you determine the value of the one you ask? We'll get to all of that and even show you ways you can tell an original from a fake.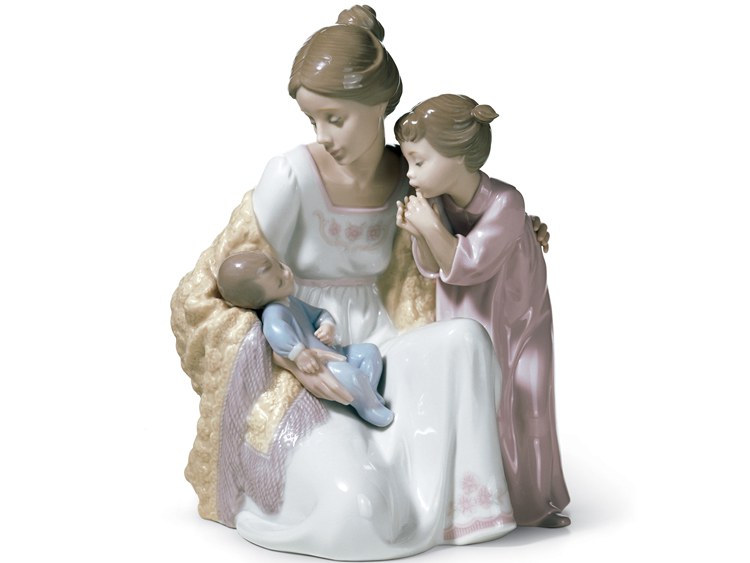 A Brief History of Lladro Figurines
Lladro is a family-owned business established in 1953 in a small farming community called Almacera near Valencia, Spain. The five brothers behind the Lladro initiative dedicated their time to first creating tastefully designed ceramic pieces.
As their expertise increased, they began selling their pieces at local markets and later ventured to produce porcelain sculptures. Before this time, each of the five brothers attended art schools to fine-tune their crafts. This move birthed a lot of their successful projects.
With increased success came fortune and the brothers relocated to a factory in Tavernes Blanques, twice as big as the previous one in 1958.
By 1960, a massive growth began for the Lladro brand, with numerous unique sculptures under their name. This growth laid the foundation for the PORCELAIN CITY, the current home of Lladro porcelain pieces.
With over two thousand sculptors and artists creating some of the world's best porcelain sculptures, Lladro continues to market its exceptional pieces in over ninety countries around the globe.
The 10 Most Expensive Lladro Figurines you'll Come Across
We've created this list by scouring the internet and checking several updated price guides from Lladro collectors and collections. We'll start this list by introducing the #1 most valuable and run it up till we get to the #10 sought-after Lladro figurine.
| | | | | |
| --- | --- | --- | --- | --- |
| No. | Name | Sculptor | Release date | Price sold |
| 1 | A Grand Adventure | Joan Coderch and D Julio Ruiz | 2002 | $64,350 |
| 2 | 18th Century Coach | Francisco Catala | 1985 | $57,200 |
| 3 | Cinderella's Arrival | Francisco Polope | 1994 | $57,200 |
| 4 | Summertime Symphony | Marco Antonio Nogueron | 2014 | $18800 |
| 5 | Fox Hunt | alvador Furio | 1986 | $14999 |
| 6 | Tea in the Garden | Jose Puche | 1992 | $12900 |
| 7 | Gazebo in Blossom | Francisco Polope | 2000 | $5974 |
| 8 | Flamenco Flair Woman | Jose Javier | 1982 | $5600 |
| 9 | Flowers of the Season | Jose Puche | 1983 | $3700 |
| 10 | Puppy Dog Tails | Antonio Ramos | 1989 | $1800 |
1. A Grand Adventure
Sculptor: Joan Coderch and D Julio Ruiz
Release date: 2002
Price sold: $64,350
Indeed, the most expensive Lladro figurine to hit the market is none other than the Grand Adventure. It's a complete work of art featuring 14 well-costumed characters and a locomotive. The aim here was to pay tribute to the golden era of the steam train.
There are just 500 pieces of this collection and each span 135cm, making it one of the largest Lladro pieces ever created.
Experts with first-hand experience modeling and reproducing steam trains decorated the Grand Adventure's 334 fragments. The whole embodiment is a work of art itself.
Notable: The piece went for a whooping 130,000USD at the Shinwa Art Auction Co. Ltd held in Tokyo in the September of 2011.
2. 18th Century Coach
Sculptor: Francisco Catala
Release date: 1985
Price sold: $57,200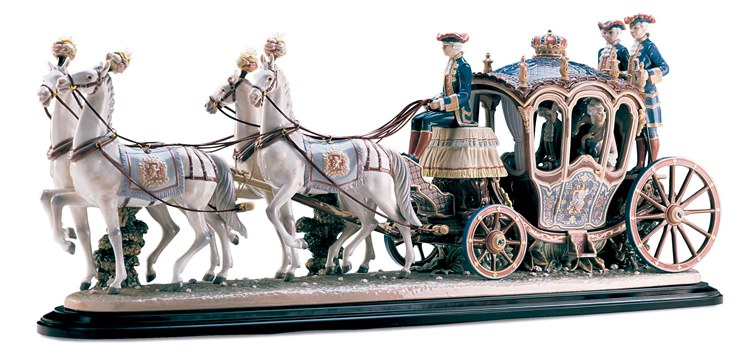 A carriage containing four horses, uniformed servants, and a couple; the 18th Century Coach is indeed a masterpiece sought after by many.
The 18th Century Coach is an exquisite baroque-inspired sculpture. Arguably one of the most complex pieces done by artists of the Lladro porcelain workshop.
About 50 different colors and a hundred hours of impeccable application from these artists brought this masterpiece to life. It took about 30 sculptors and specialists from various fields over 250 hours to complete the sculpture.
Notable: The collective effort of 30 artists, 50 colors, and 400 hours birthed a meter-long piece weighing about twenty kilograms.
3. Cinderella's Arrival
Sculptor: Francisco Polope
Release date: 1994
Price sold: $57,200
Francisco Polope of Spain is the sculptor who designed this beauty using only with his hands. The creation of this piece represents a huge milestone in the Lladro porcelain workshop.
It featured a sculpture of princess Cinderella and her carriage beautifully decorated with handmade glossy porcelain flowers.
Francisco displayed his artistic and technical prowess with this work by paying attention to every bit of detail imagined by Perrault. This work of art is nothing but magical, with the gold-plated horses-reins to the harnesses tastefully adorned with zircon and a largely decorated inner view.
4. Summertime Symphony
Sculptor: Marco Antonio Nogueron
Release date: 2014
Price sold: $18,800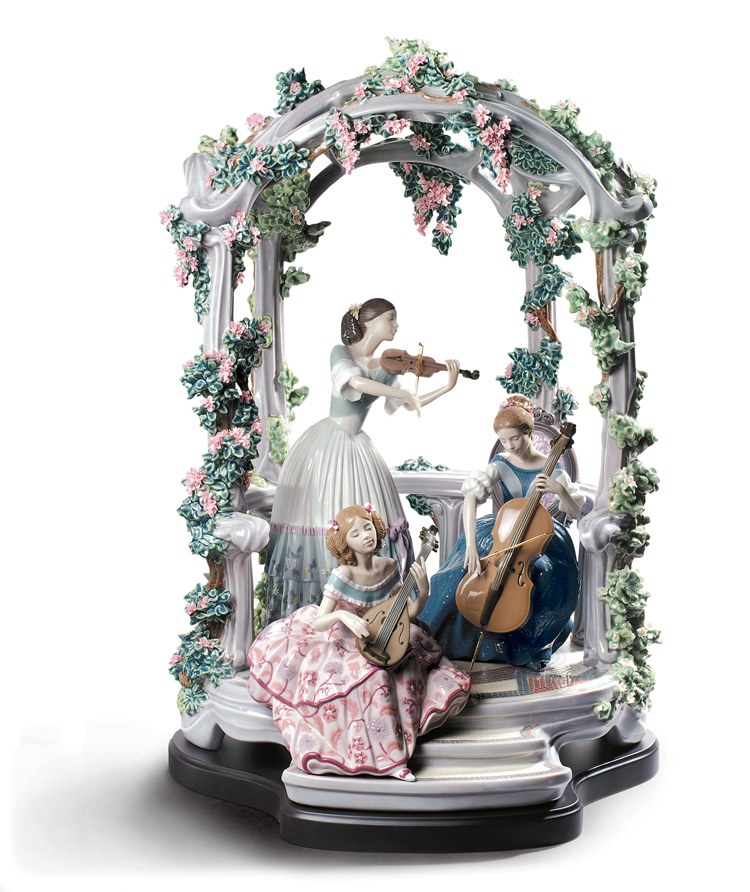 The elaborate piece featured a handmade gloss porcelain sculpture of women and musical instruments with floral details. The porcelain piece recreates the romantic musical era imitating an open-air concert.
The tastefully designed work of art featured women in floaty and floral red, deep blue, and white dresses with headdresses playing the cello, violin, and lute while surrounded by a lush vegetation.
The gestures of the characters in this piece connote tranquility and peaceful conduct. The Summertime Symphony is a limited-edition collection with only 2000 pieces worldwide and sells for $18800.
5. The Fox Hunt
Sculptor: alvador Furio
Release date: 1986
Price sold: $14,999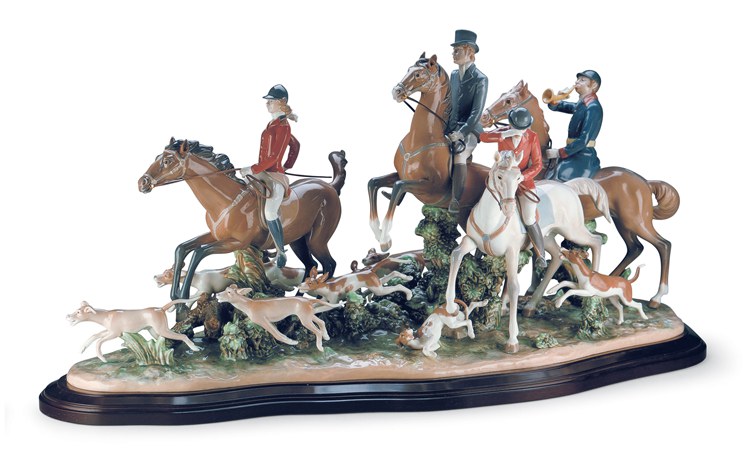 This enthusiasm-themed creation has a long-standing history with the values of the Lladro family. Hunting has been an integral part of the Lladro life, and this sculpture captures every detail involved in hunting expenditures.
The fox hunt piece showcased galloping horses, a pack of eight hounds, and four dressed riders on their way to do what they know how to do best; Hunt.
This Salvador Furio of Spain creation was decorated by artist J. Ruiz. The piece has a landscape like base and sells for $14,999
6. Tea in the Garden
Sculptor: Jose Puche
Release date: 1992
Price sold: $12,900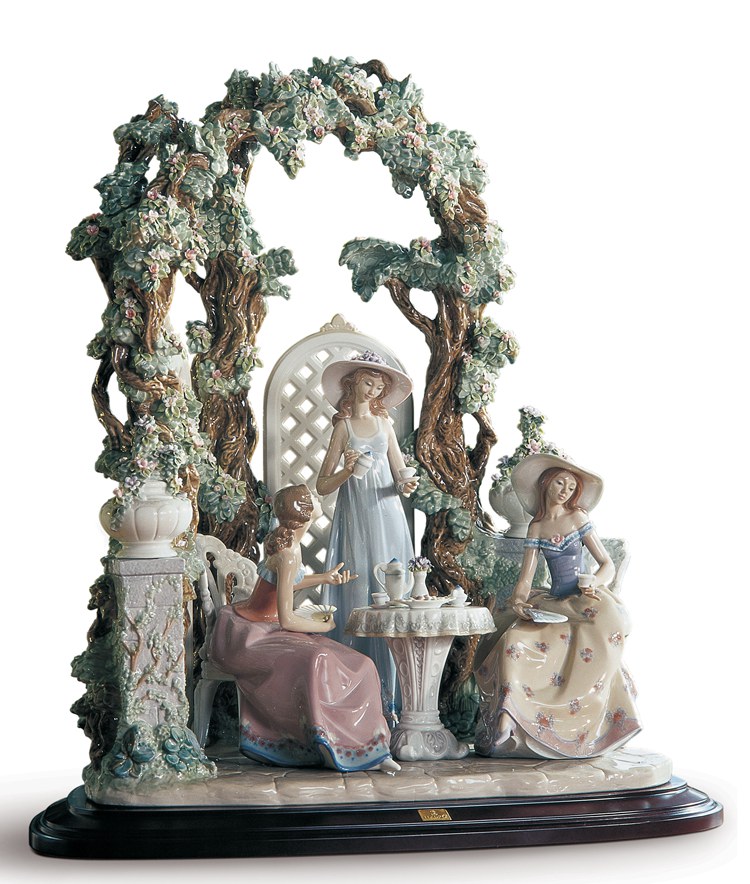 The artists used about 70 colors to decorate this piece. Its a limited-edition handmade porcelain sculpture that showcases women drinking tea against a backdrop of flowers.
The piece defines timeless romanticism, a familiar sphere in time. In this space, the TEA represents life's fine and noble things. Jose Puche presents us with a serene, detailed scene.
The fragile figures and precise decoration of the surrounding of this piece are significant to the theme of beauty and realism of this unique sculpture. The Bucolic scene reflects the leisure ambiance of the moment.
There are 300 flowers in this sculpture, a complex design that posed a threat to the work of Lladro artists during its creation. The fans and dresses of this lady are embroidered and painted with lace and prints by hand. It sells for 12,900
7. Gazebo in Bloom
Sculptor: Francisco Polope
Release date: 2000
Price sold: $5,947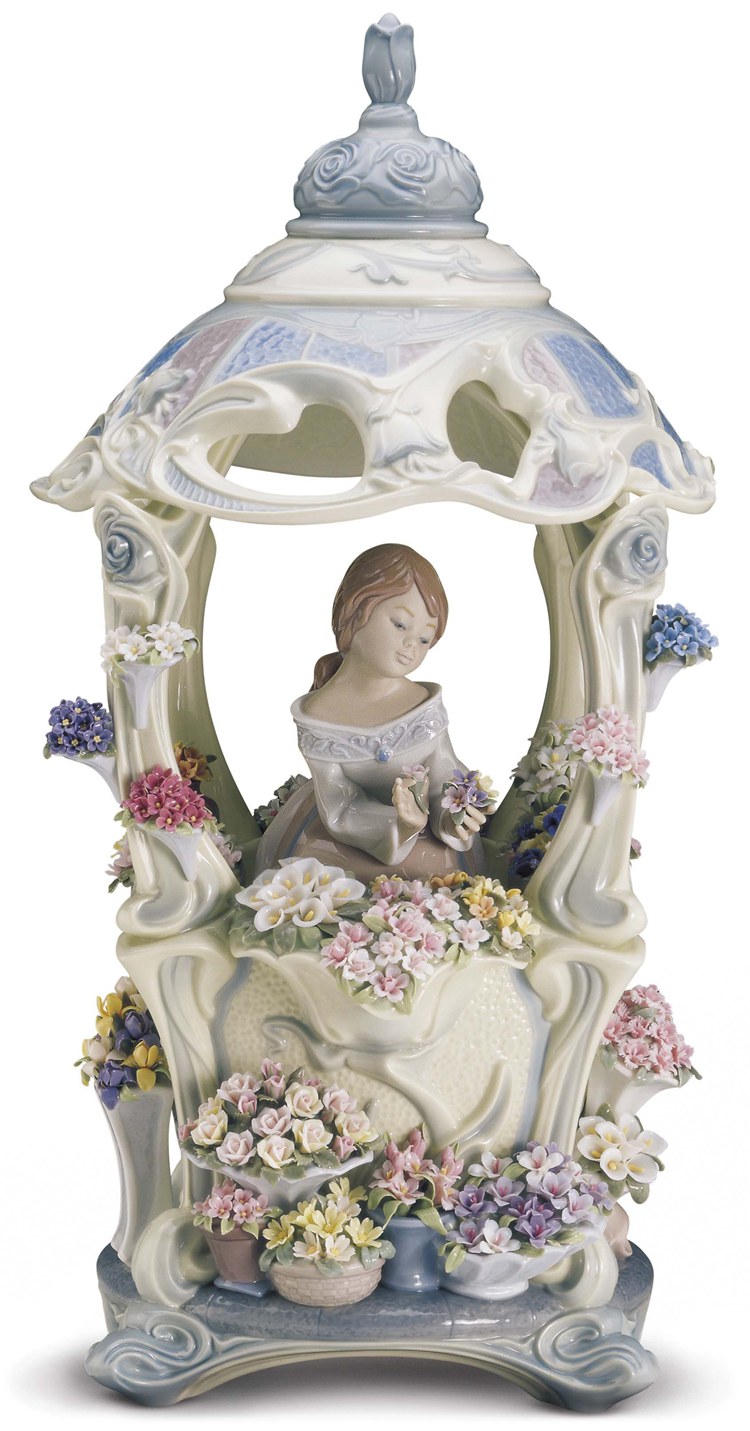 The gazebo in bloom is one of the rare Lladro pieces designed by Spanish sculptor Francisco Polope. It's a handcrafted gloss finish porcelain multicolored sculpture and a limited edition.
A woman in the gazebo sculpture sits in a flower garden surrounded by bouquets. There are only 2000 pieces of this collection all over the world, and each retail for $5947
8. Flamenco Flair Woman
Sculptor: Jose Javier
Release date: 1982
Price sold: $5,600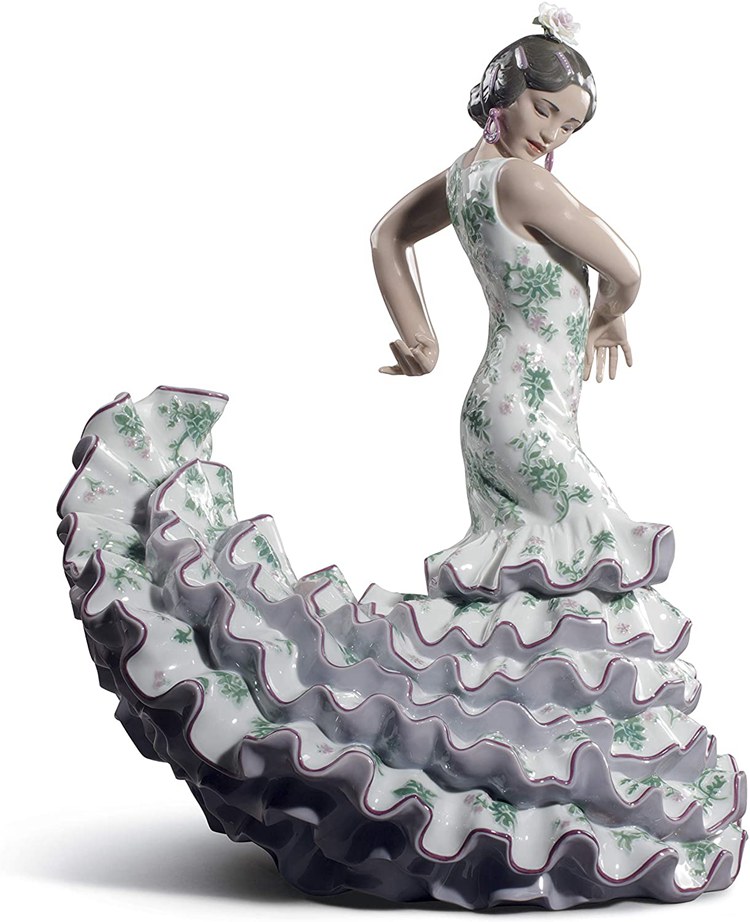 The Flamenco Flair Woman is a gloss finish porcelain sculpture handmade by Jose Javier Malavia, a Spanish artist from valencia. It's features a woman dancing, adorned in a white, purple, and green dress with a flower crown on her head.
The figure stands at 18.5 inches tall, 10.75 inches wide, and 15.75 inches deep and costs $5,600, with only 250 pieces available worldwide.
9. Flowers of the Season
Sculptor: Jose Puche
Release date: 1983
Price sold: $3,700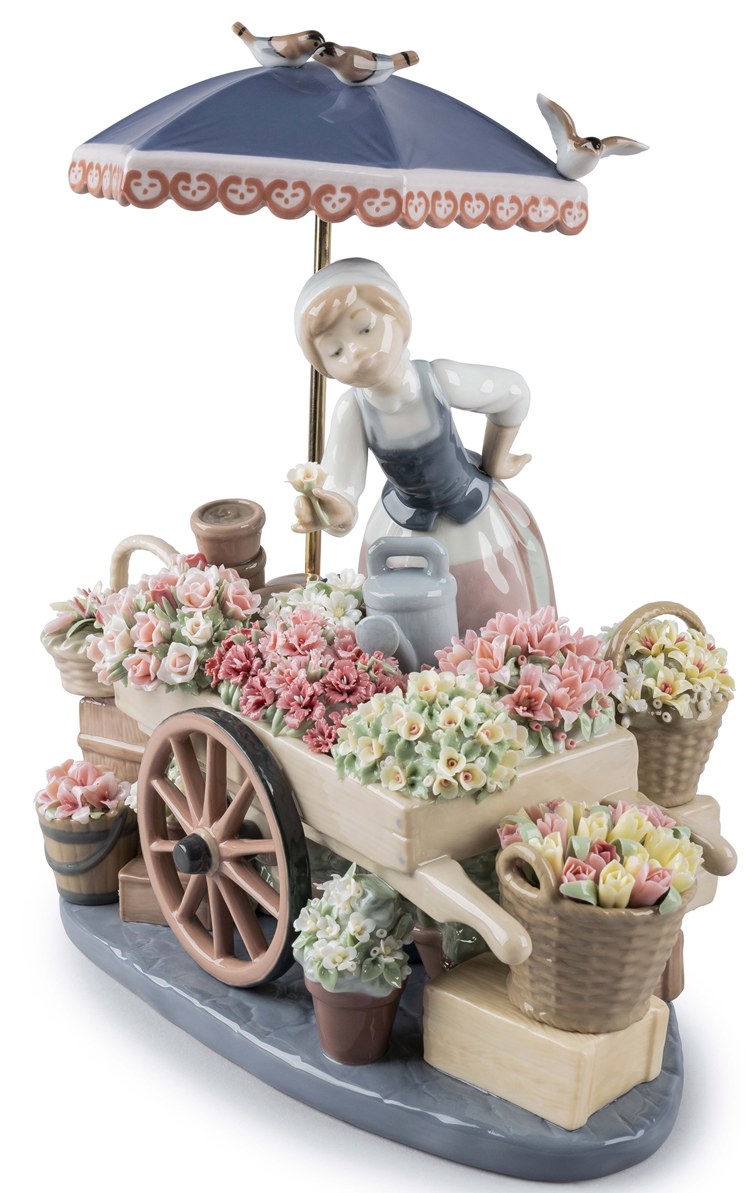 This piece of art brought to life by Jose Puche is one of Lladro's most popular pieces. It's a glossy porcelain sculpture of a woman selling flowers with plenty of pots and baskets filled with them and protecting herself from the rays of the sun by a large umbrella with birds sitting on it.
The creation of this piece involved only the best artists who have carved a niche for themselves in flower crafting. Not only do the flowers captivate the attention of the viewer, but the young girl in this piece is also an interesting character.
10. Puppy Dog Tails
Sculptor: Antonio Ramos
Release date: 1989
Price sold: $1,800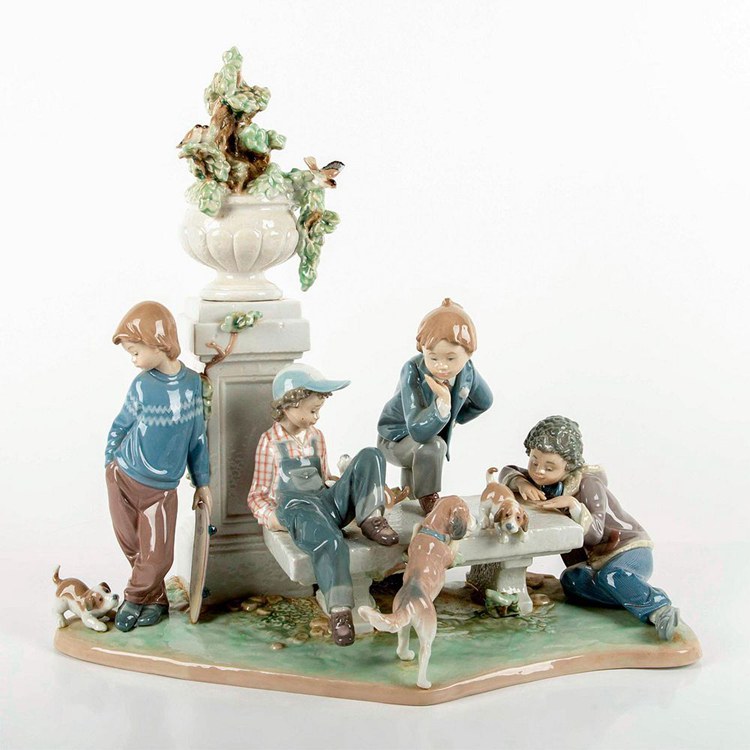 The puppy dog tails sculpture is one of Antonio Ramos's masterpieces. It's a porcelain glazed figure featuring four children gathered around a bench in the park with a dog and its two puppies and an urn filled with green-colored flowers behind them.
The piece is 39cm high, 41cm wide, and 24 cm deep and retails for $1800.
How to Determine the Value of Lladro Figurines
Clueless on how to know the real worth of your Lladro figurine? Don't fret; we've come up with the right guide to help you make the process smooth and applicable.
Cross Examine the figurine's age
Retired and handcrafted Lladro pieces are worth more than figurines currently in production.
you have a Lladro figurine in your possession, just run the information through the database of their official website to determine the name, sculptor details, and possible market prices for your piece should you intend to sell-off.
Larger Figurines have greater value
When it comes to Lladro figurines, the bigger the size, the bigger the bucks.
Small and popular Lladro figurines sell for as little as $10-$20. The medium-sized ones sell between $75-$150 each. The life-sized sculptures sell for $2000-$25,000 apiece, even higher than this on some occasions.
The single life-sized piece also has a higher value than mass-produced sculptures. Figurines from the DON QUIXOTE series sell for higher prices.
The figurines condition matters
If your pieces come in mint or almost mint condition with little or no marks, you are guaranteed to make much money from selling. However, some figurines are so valuable that even the worst dent will not deter a buyer from procuring them.
Delicate figurines are valuable
Fragile Lladro pieces go for a higher amount in the market compared to durable ones.
For Lladro buyers, when a figurine is delicate and fragile collectors imagine that the sculptors must have put considerable amount of time and patience to create the piece. Therefore, there's an element of mystery to it.
Emotional satisfaction is important
Sentimental and event-based Lladro figurines that address family themes or phenomena are highly sought after by buyers than figurines that celebrate professions or general situations.
The rarity of the piece
Limited-edition pieces are worth more than popular figurines. There are only a few limited-edition pieces in the market that are in good condition. Acquiring one or a few of them equals serious profit.
Where Can I Sell Lladro Figurines?
Online stores
You can sell your Lladro pieces at online auction websites specializing in selling off antique art pieces or, specifically, porcelain figures. Websites like E-bay, Etsy, and the likes are great choices if you want to sell off your collectible
Physical stores
Flea markets, yard sales, and high-end swap stores are the perfect places to display and sell your Lladro pieces. Since Lladro figurines are pricey, you'll find serious-minded buyers and art dealers at this place willing to pay you the deserved amount for your collectible.
Art dealerships
Find an authorized Lladro art dealer interested in your figurine and sell it to them. These dealers have been in the business of collecting only Lladro pieces either for sale, preservation, or exhibition. They are a pivotal part of preserving Lladro's old creations.
How to Identify Lladro Figurines
Lladro has undergone four stages of evolution. The figurines they've produced are identifiable by their different manufacturing years which feature distinct markings or characteristics.
We've simplified the entire steps in identifying Lladro pieces for you. Check the guidelines below to be on the top of your collecting game the next time you go after Lladro pieces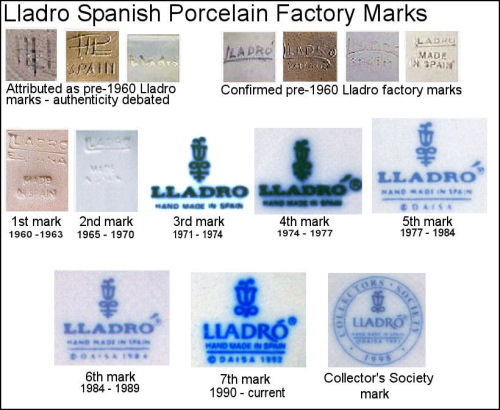 1953-1960
Before the 1960s, the only way to identify Lladro pieces was by checking the porcelain figures for marks. The first L forms a long line under the Lladro name. You'll find the words Valencia, Espana, or Made in Spain written inside them to indicate their place of origin.

1960-1963
By 1960, the Lladro company adopted using official logotypes underside their pieces. This technique ran from 1960 up to the end of 1970. The marks read Lladro Espana made in Spain.

1964-1963
The logotypes used on the Lladro piece made between 1964-1963 didn't have Espana in their name.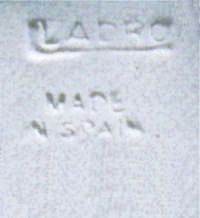 1971- to date
The infamous blue stamps on Lladro figures came into use in 1971. Most Lladro collectors are familiar with only these blue stamps. They had logotypes that looked like tulips and had the words Lladro made in Spain inscribed on them.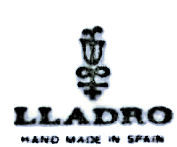 How to Clean Lladro Figurines
What else feels better than having a Lladro figurine on your shelf? A sparkly clean Lladro piece. Letting specks of dust and dirt sit on your Lladro figurines for a long time can mess up their composition, colors, and purpose.
We've come up with the best cleaning materials below to restore shine and beauty to your dusty porcelain Lladro figurines.
Microfiber Cloth
One of the ways to get rid of dirt on your Lladro figurines is dusting it off with a microfiber cloth. These fabrics add a natural shine to the glossy surface of the piece.
However, they might get caught on the flowers or sharp edges of the figurine. So, pay extra attention when using the fabric.
Brushes
Another option is to use brushes with soft-bristled hairs to clean the areas in between your porcelain figurines. They will reach places your hands can't while protecting the delicate flower petals on these pieces.
Vacuum Cleaners
Using air sprays or vacuum cleaners will help you blow off the dirt effectively. The air pressure from these objects will target grimy particles and dusty spaces between the sculptures to give them a thorough sweep.
Damp Fabric
For matte porcelain pieces, use a damp cloth to wipe the surface to restore gloss and shine. Be careful not to use detergents or harsh cleaning liquids with this fabric, as they can mess up the color composition of the sculptures if they touch their surfaces.
FAQS
Where can I purchase Old Lladro Figurines?
You can buy Lladro pieces at estate sales, local antique stores, and online auction sites.
Where were Old Lladro Figurines made?
Highly skilled artists sculpted these figurines in Valencia, Spain.
Is the Lladro Company still making Figurines.
Yes, they have moved to the PORCELAIN CITY, where they make and distribute modern porcelain sculptors all over the world.
Parting Words
The Lladro figurines have a rich history and are coveted by all and sundry. Their ability to invoke emotions with their storyline and interesting character has set them apart from their peers.
This article is the ultimate fool-proof guide to help you acquire and identify quality pieces without the risk of being ripped off.
Some sub-par Lladro pieces popularly known as the SECOND are readily available in markets. They look like original Lladro pieces but are low quality.
Keep the box that the figurines come in to retain the value if you intend to sell.