Vintage Breyer Horses are prized possessions among collectors in the World Today. This brand has been involved in creating exciting molds of horses and animals for over 65 years and counting.
A dappled sabino buckskin Alborozo model was purchased for a whopping $22,000 at the 2008 Breyerfest, making it the most expensive Breyer Horse in history. After Breyer broke the mold for this model, very minimal quantities are in circulation today.
In this article, we've also curated a list of the ten rarest vintage Breyer Horses that might pique your interest. You'll find insightful answers and information on and how to acquire one for yourself.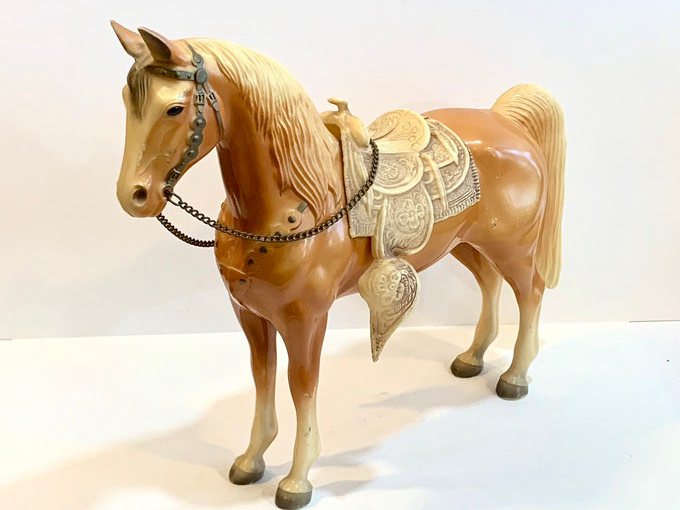 A List of 10 of the Most Valuable Vintage Breyer Horses
We've compiled the prices below from online stores, antique markets, and auction websites. However, prices may vary due to the vendor's preference.
| | | | |
| --- | --- | --- | --- |
| No. | Name | Date | Price |
| 1 | Breyer Gallery Hambletonian | 2000 | $880.08 |
| 2 | Breyer Chalkie Arabian Foal Dapple Grey Horse | 1970 | $416.61 |
| 3 | Breyerfest Red Carpet Royalty | 2010 | $240.38 |
| 4 | Breyer Rugged Painted Lark | 2007 | $189.93 |
| 5 | Breyer Double Trouble Bay Paint Fox Trotter | 2005 | $189.93 |
| 6 | Tommie Turvey's Poker Joe | 2009 | $170.95 |
| 7 | Proud Arabian Frisky Foal Set | 1994 | $94.97 |
| 8 | Breyer Jumping Horse 300 | 1956-1988 | $26.94 |
| 9 | Tannish Brownish Breyer Horse | 1991 | $13.06 |
| 10 | Breyer Woodgrain Vintage | 1959-1965 | $11.00 |
1. Breyer Gallery Hambletonian
Year: 2000
Price: $880.08
Sculptor: Sarah Rose
Mold: #8501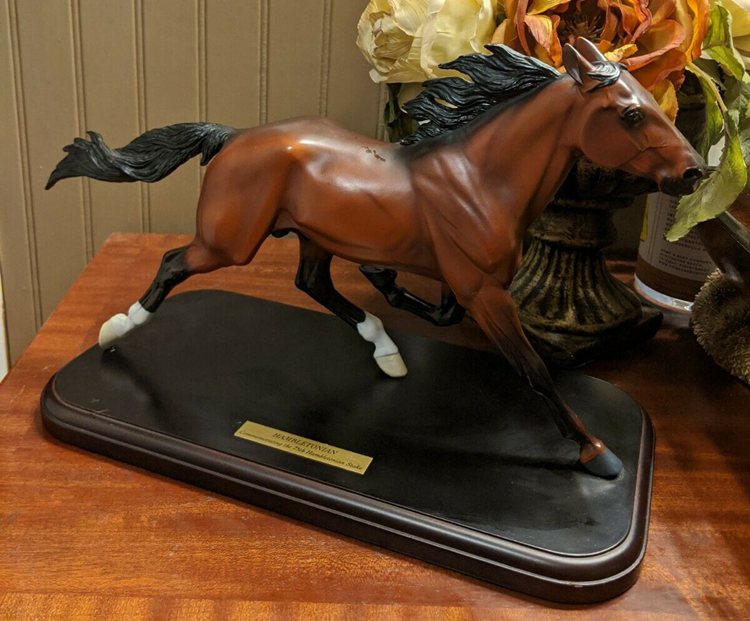 This is a limited-edition piece sculpted by Sarah Rose and made from high-quality resin. It is mounted on a hardwood base with the VINTAGE inscription. The company has only 1000 of this model circulation.
It's an 8 inches long horse, and is the official celebratory sculpture of the 75th Hambletonian Stake race approved by the Hambletonian society, and it sells for $880.08.
2. Breyer Chalky Arabian Foal Dapple Grey Horse
Year: 1970
Price: $416.61
Sculptor: Chris Hess
Mold: #220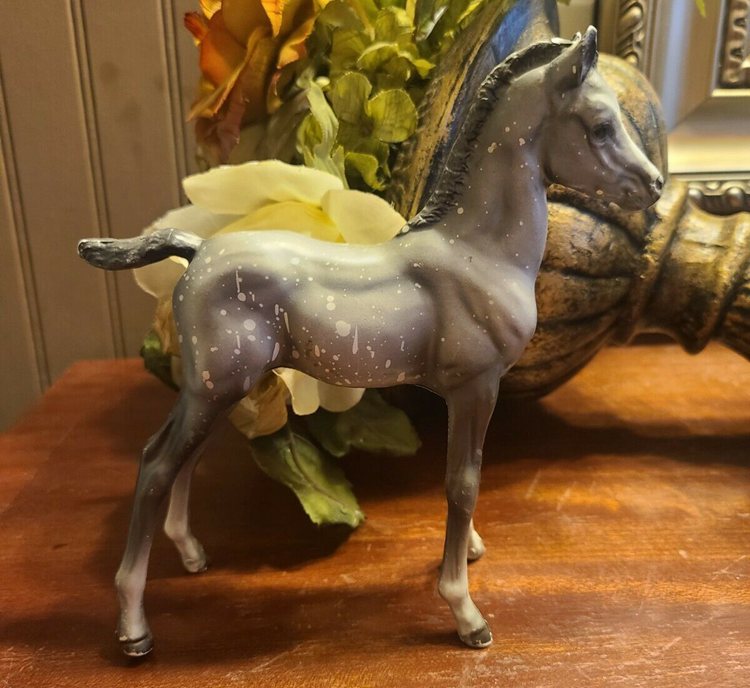 This retired piece is designed by Maureen love of Hagen Renaker, sculpted by Chris Hess for the Breyer company, and sells for $416.61.
It has a dark mane, tail, legs and sits elegantly on a chalky dark dapple grey base coat. The Breyer company produced this horse during the oil crisis, hence its rare chalky color.
3. Red Carpentry Royalty
Year: 2010
Price: $240.38
Sculptor: Kathleen Moody
Mold: #711115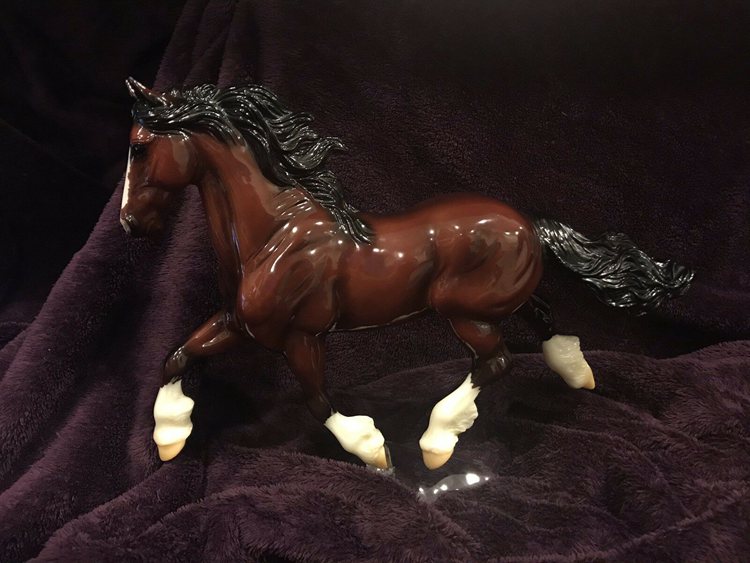 Only 1,100 of this glossy beauty was made available. This horse stands out among all others due to its distinctive red and white color. Also, it features the BREYERFEST 2010 logo boldly on its white-colored belly, and it sells for $240.38 each.
4. Breyer Rugged Painted Lark
Year: 2007
Price: $189.93
Sculptor: Sommer Prosser
Mold: #711107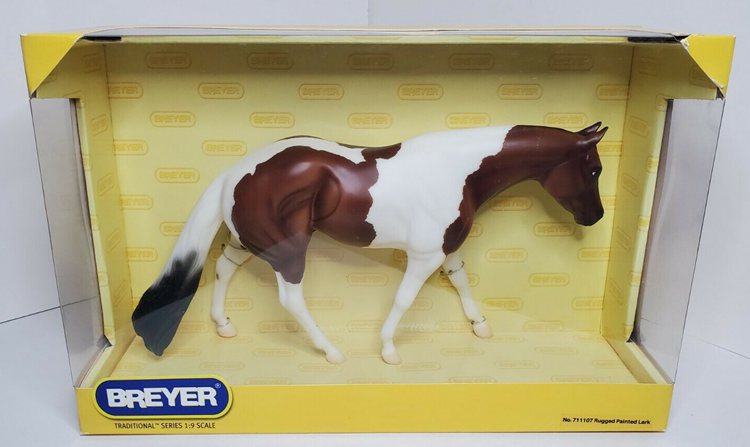 This horse catches attention with its two-colored mane and tail. The BREYERFEST 2007 stamp sits on the bottom, and it retails for $189.93. only 5000 pieces of this sculpture were made available.
5. Breyer Double Trouble Bay Paint Fox Trotter
Year: 2005
Price: $190
Sculptor: Kathleen Moody
Mold: #1246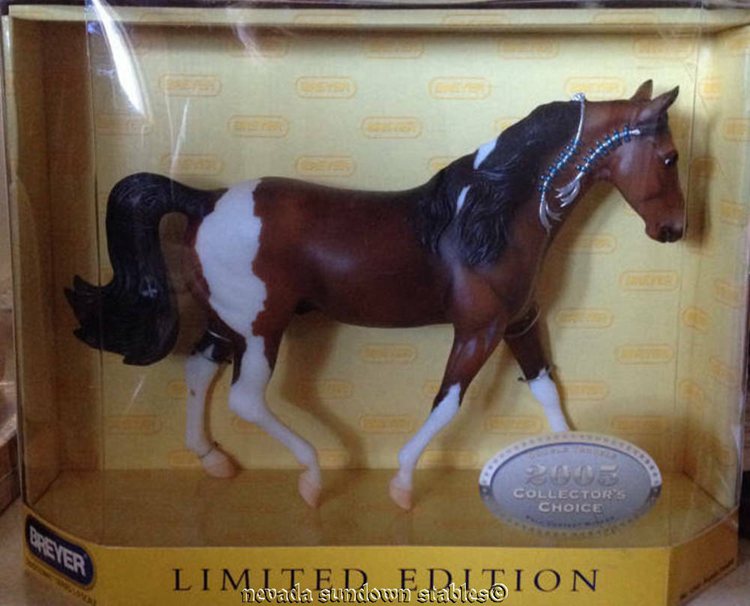 This traditional-sized horse is made from plastic with a bay paint finish and imitates the elegant Missouri Fox Trotter.
It was sculpted by the talented Kathleen moody and it has a BREYER REEVES trademark inscribed inside its blackleg. It stands tall at 8ft and sells for $189.93.
6. Tommie Turvey's Poker Joe
Year: $2,009.00
Price: $170.95
Sculptor: Kathleen Moody
Mold: #1359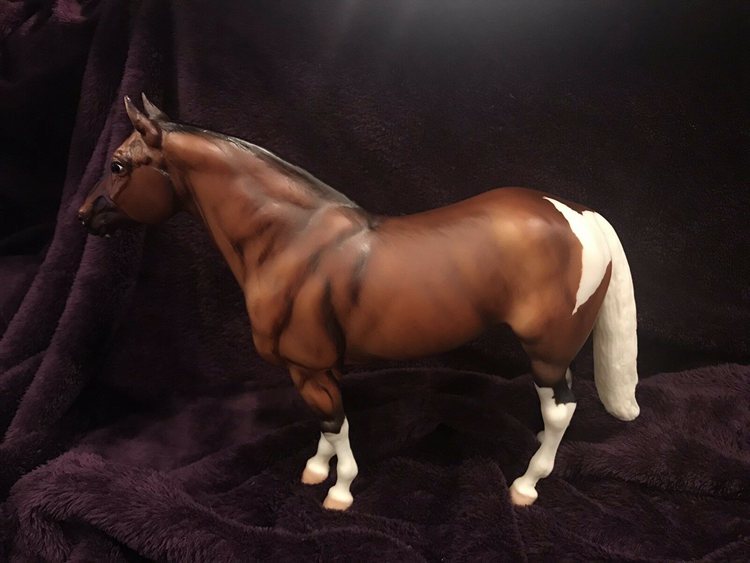 This intriguing piece tells the true-life story of famous stuntman Thomas Turvey and his American Paint Horse, Poker Joe. They traveled around the World and successfully hosted comedy shows majorly because of Poker Joe's wit and brilliant humor.
Thomas personally directed the production of this horse and made sure that it had the exact marking and colors of real-life Poker Joe. This $170.95 work of art is very sentimental and is every collector's favorite.
7. Proud Arabian Frisky Foal Set
Year: 1994
Price: $94.97
Sculptor: Maureen Love
Mold: #712092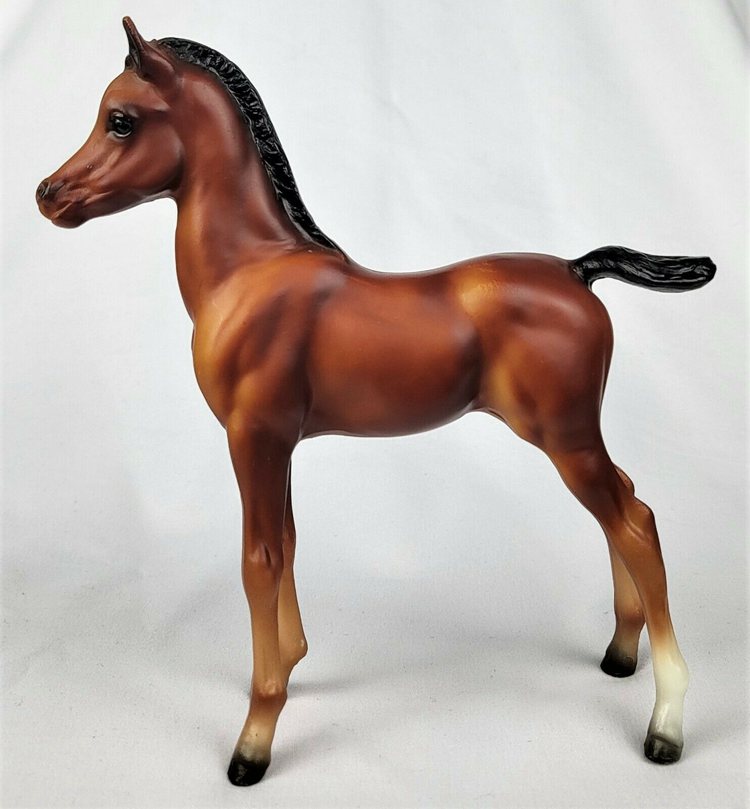 This traditional-sized horse has a matte-colored body with a flawless face. Its black mane, tail, legs create the perfect contrast on the body of this beauty. It's made from quality plastic and sells for $94.47.
8. Breyer Jumping Horse 300
Year: 1956-1988
Price: $26.94
Sculptor: Chris Hess
Mold: #300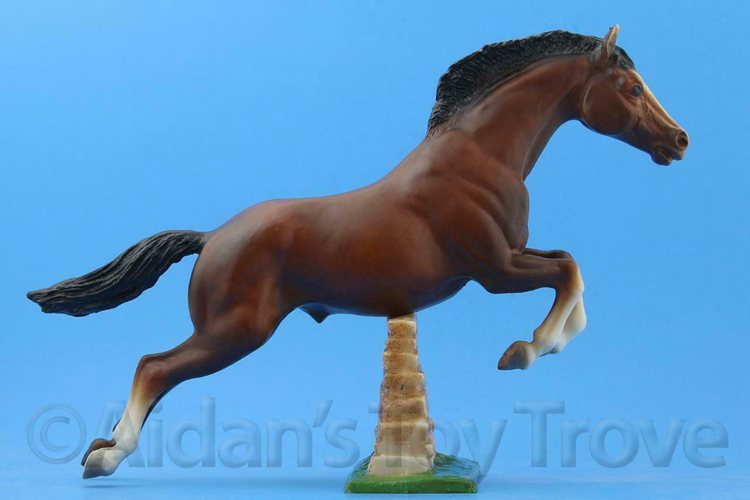 This model has subtle and lovely dapples on its shiny brown body and a faint white line that is right above a paint on its right cheek. There is a rough detail on the left side of the horse barrel and its haunches.
There are faint rub lines on the horse's upper right shoulder and a white speck on his right hip with a similar white mark under its left stifle. The horse mane and tail are dark with a very realistic outline.
The Breyer Jumping horse is however now retired, and it sells for $26.94 in retail stores.
9. Tannish Brownish Breyer Horse
Year: 1991
Price: $13.06
Sculptor: Chris Hess
Mold: #57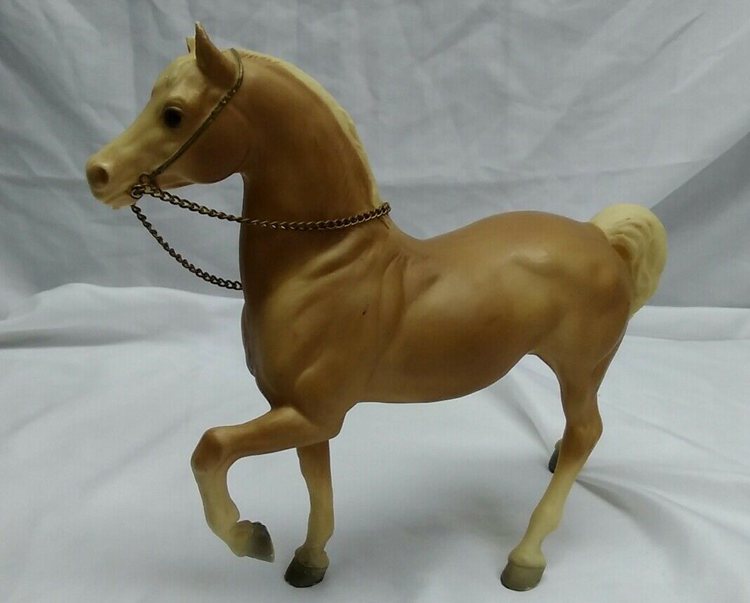 This light brown horse stands at 9 inches tall and has a matte finish with a greyish-blue-green hue to its plastic. The mane and tail wear a golden color, and extra gold details come at the foot. The Breyer stamp is inscribed inside the thigh, and it retains for just $13.06.
10. Breyer Woodgrain Vintage
Year: 1959-1965
Price: $11.00
Sculptor: Chris Hess
Mold: #908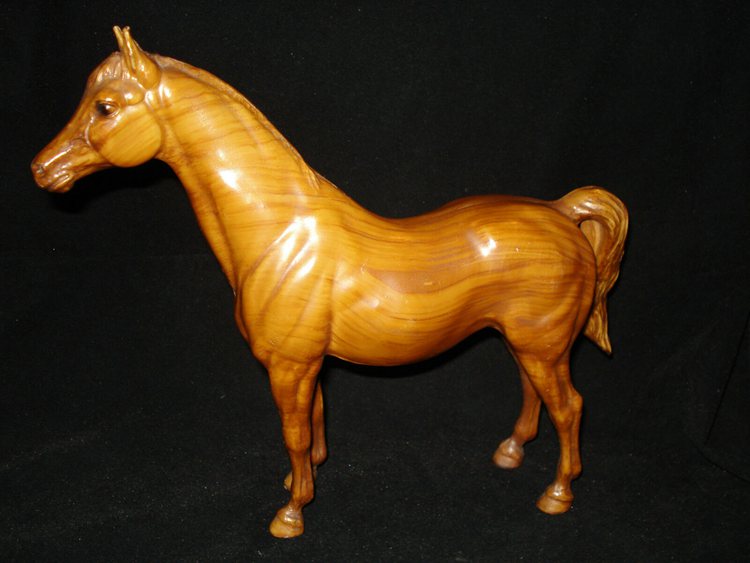 This horse has a delicate and appealing look and is painted like a block of carved, polished wood. It is beautifully adorned with rare eye whites and green eye color to go with it. A white blaze with black coloring forms a circle around the muzzle.
Dubbed the family Arabian Stallion, it stands 8 feet tall and 9.5 inches long. This horse is one of the first commercially available Breyer products.
How to Identify Vintage Breyer Horses
Most vintage Breyer horses are made from a mix of plastic and resin materials with modifications from year to year. In this section, we've simplified the entire process of identifying each model, its features, and the production year for you in this section.
Scale or series category
You can determine the size or scale category your horse belong with these two options: The 1:9 traditional scale and the 1:64 Mini Whinnie horse. Measure your horse from the table all the way to the top of its ears to see which one of the two categories it falls in.
The results you get from these measurements indicate the height of an average adult Breyer. Foal and pennies belong to a much smaller scale in the category.
Mold type
Another way to identify your Breyer's model is by identifying the mold used to produce it. The Breyer company re-uses its old mold in some cases if the model is very popular. But the colors and other details become modified with each release.
Help yourself by consulting the Breyer website to douse confusion and get the accurate names, size, and information on these molds.
Model number
Here, the website comes in very handy, all you need to do is search for your mold by name, click on it and read the full description to determine the model you have in your hands.
Breyer horses are hand painted, so their colors vary between the lightest shade and the darkest shade, but the general undertone and features remains the same.
Use this chart to further help you determine the scale, mold, and model of your horse.
How to Decipher the Production Date of your Breyer Horse
Production dates vary and with the varying production dates comes noticeable changes. Let's take a look at the Breyer horse timeline
The 1950s Horses
Horses from this collection are easiest to identify because they were very few. The molds used in the 50s had a bridle placed on them and a removable saddle. And although some models didn't have this tack, most of them did.
The horses hadn't received the renowned Breyer stamp at this time, which made them easily misidentified.
These 1950's vintage Breyer horses were made from the same plastic material used today, they also had a glossy finish like the paints used now, and they included soft-shaded delicate details. The horses with tack were hand-painted or delicately airbrushed.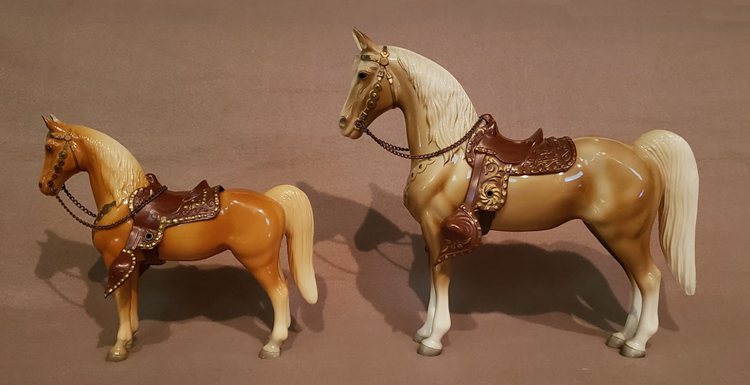 Horses from 1960
This year, the company introduced a variety of molds, iconic models such as The Fighting Stallion, the Five Gaiter, and the Running Mare and Foal. The horses were glossy at first; later models had the matte feel.
The figures received the Breyer stamp for better identification and had delicate details like eye whites painted in the corner of the eyes and footpads on the hooves and tails.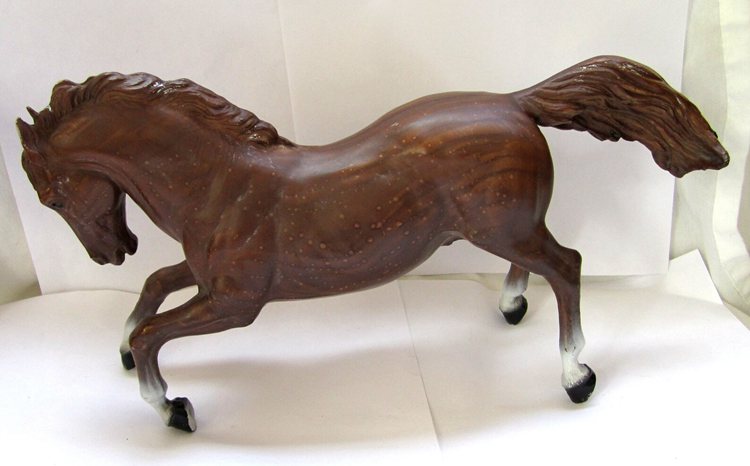 The 1970s Horses
Breyer horses underwent a complete overhaul in the 70s as they began to gain ground among collectors. The brand produced famous models like Lady phase and Yellow Mount.
Recycled plastics were used to make most of the models created this year as the country experienced scarcity of plastics which led to a change of color. There was a drastic change from the popular clean white Breyer color.
Breyer artists resorted to painting a white base coat on their horses to maintain their identity. This move gave the horses a delicate demeanor, and they earned the name Chalkies. These models are complicated to obtain and are very valuable.
The glossy 60s horses found their way into the 70s but were changed into matte finished figures. The first stablemate and classic scale collections also emerged in the 70s.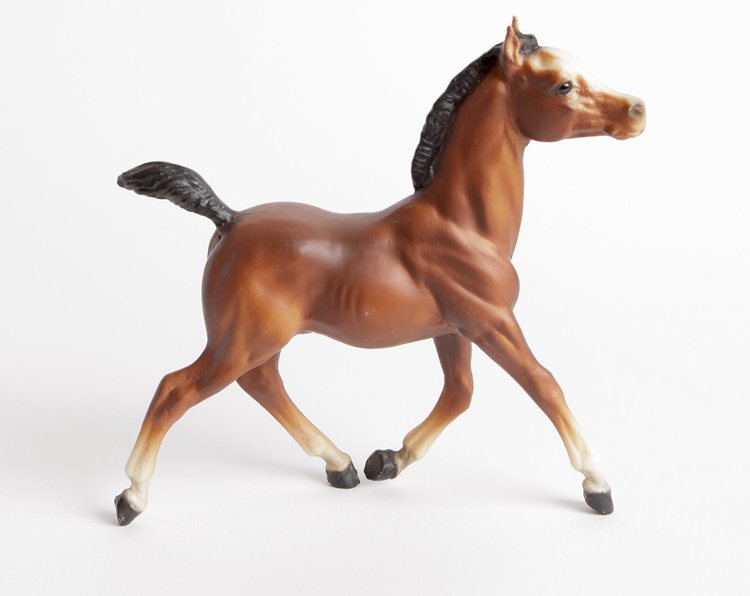 The 1980s Horses
By the 1980s, Breyer horses had gone full-blown famous, and this new status affected its production technique greatly. Breyers introduced neon colors, a reviewed, bright, and fluorescent version of the Palomino and Bays colors.
This year's limited edition had gentle hand detailing around the hooves and the eyes. Breyer artists used realistic painting techniques and produced more horses to include all sizes and colors.
The 1990-2000 Horses
Breyer made new molds within this period; they had a very realistic appearance. Breyer started using the resist dappling technique on their horses to create dapples. Although a very unconventional way of making dapples, the results were mind-blowing.
Pinto markings also appeared on the horses as Breyer artists used glue to cover some parts of the horses to create a more detailed marking on the figures. The Bi-Eyes; eyes painted with a brown iris technique was done for a short while in 1997
Kathleen Moody, a famous sculptor, created a range of fancy and unique Breyer horses like the 80s model but with more details. A move to China by the company heralded these new techniques as artists worked extensively on the models for this year with a higher level of detail.
The horse company also introduced mapping to the bodies of the horses. This technique involved making white marks on the bodies of the horses with grey strips surrounding them. Overall, Breyer horses made between this year had quality aesthetics and great detailing.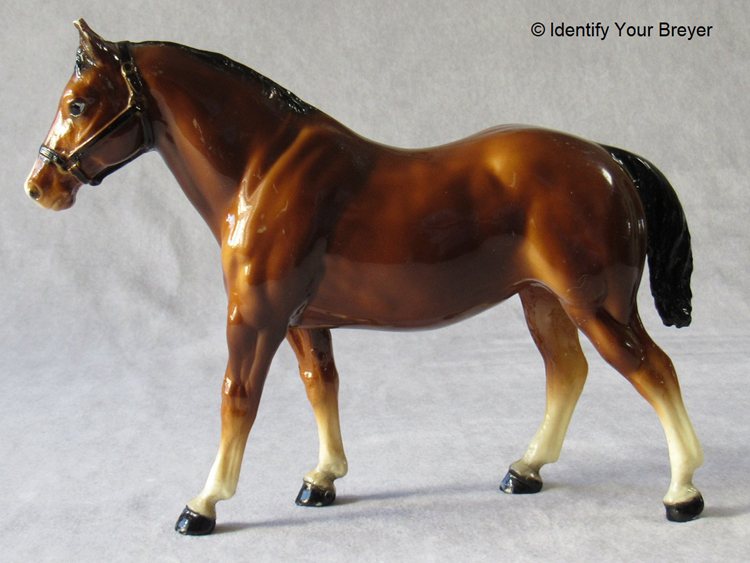 To get more information on your horses, visit the  Breyer's company official website.
How to Determine the Value of Vintage Breyer Horses
Several factors like age, rarity, color variation, market demand, and condition jointly determine the value of a Vintage Breyer Horse. Here are some of the tips we've gathered to make the process less tasking for you.
Rarity
A couple of times, Breyer produced a limited number of horses or special run that customers could only buy from specific retail stores and are available for a certain period.
These horses are extremely hard to find, as they are also highly sought after by horse collectors. They sell between $300-$600 at auctions and even online stores.
Retired models are also scarce because they aren't being produced or sold anymore, there are just a few pieces left, and they sell for very high prices. Some retired models have sold for up to $3500.
Age
For correct information on the age of your vintage Breyer horse, visit the Breyer official website. This website supplies you with everything you need to know about the model you have in your hands.
The longer a Breyer piece has been around, the harder it is to gather several of the same model around, thereby making it highly sought after and valuable to collectors and dealers.
Color variation
Due to the hand-painted nature of Breyer horses, models from the same release come out vastly varying in colors saturation depending on the technique and digression of the artist that designed the piece.
An example is the Two fighting stallions' model, which had a dramatic shading of the left figure and little to no work done on the right. This shading difference and more variation on the two horses put them on the list of one of the highly sought-after horses Breyer has ever created.
Models created in the 70s, known as Chalkies, automatically get more value when considered. This rise in value is because a significant color change happened on all the collections rolled out this year due to the scarcity of plastic and the usage of recycled plastic.
Another set called the Pearlies with a pearly, glass-like outlook also has a more excellent value on the market than regular white-looking Breyer horses.
Condition
Marked, chipped, and cracked models reduce value compared to mint or near mint ones. Condition is almost as critical as pricing itself, and this is because the appearance of a piece can attract attention or cause the opposite.
Either way, you should pay maximum attention to keeping your horses in shape, squeaky clean, and intact. However, a scarce model can still be bought for the intended price no matter the met mark or condition.
Market demand
The forces of demand and supply predominantly affect the value of Breyer Horses. Since prices are constantly fluctuating, a model which sold for $100 today can sell for $30 next week. However, this price change doesn't reduce the aesthetic value.
FAQs
Are Breyer Horses still made?
Breyer horses are still produced and distributed all over the World Today. The company now makes its mold in China instead of the United States where it initially starting production.
What is the oldest Breyer Horse?
The #57 western horse is the oldest horse produced by the Breyer Molding company in the 1950s. It was specially made for Woolworth company as an accompanying design on a giant clock.
What are Breyer Horses made from
The horses are made from high quality and durable plastic, a constant material since its first release in 1950.
How Many Different Horses are in the Breyer Collection?
There are 18 different horses in the Breyer collection.
Where can I purchase Vintage Breyer Horses
You can buy a Vintage Breyer horse at auctions, yard sales, flea markets, and online stores. Some limited-edition horses are sold at specific stores. These horses are very little in supply, so there's always a hot pursuit for these pieces.
Parting Words
Breyer horses are highly coveted by all and sundry. We're sure that whichever model you lay your hands on will rake in money. Use this comprehensive guide to begin your journey into the ever-intriguing World of collecting Breyer horses. Here are some key things to remember;
Breyerfest is your go-to place to experience newer and wider range of Breyer horses. This festival is held annually.
Chalkies and Pearlies are rare variations that can fetch you a lot of money if you lay your hands on them.