Chalkware figurines are interesting decorative items that add splendor and character to any space. Due to their vibrant colors and almost realistic outlook, they feature in many homes.
The first-ever chalkware figurines were sold by Henry Christian Gayer on January 25, 1770. He addressed these pieces as Plaster figures in the Boston Newsletter. The prices of chalkware figurines range between $10-$500 depending on varying factors such as age, condition, rarity, and mold.
We've put together this article to provide you with accurate information and optimum knowledge on chalkware figurines, their value, how to identify and take care of them should you ever lay your hands on one or a few pieces.
The 10 Most Valuable Chalkware Figurines Around Today
We've sourced prices below via verified sales outlets, antique stores, collector's guides, and auction websites. Remember that price difference is very normal due to the vendor's personal preference and market factors.
| | | | |
| --- | --- | --- | --- |
| No. | Name | Year | Price |
| 1 | Saint Bartholomew Religious Chalkware | 1950 | $626.85 |
| 2 | Crying Baby Humidor Chalkware | 1920 | $175.00 |
| 3 | Boy with Dog sculpture | 1930 | $107.44 |
| 4 | Black Americana Chalkware Carnival Statue | 1940 | $100.00 |
| 5 | Christ Child With Doves | 1920 | $69.99 |
| 6 | Colonial Lady Southern Belle Chalkware | 1950-1959 | $48.00 |
| 7 | Carnival Kewpie Doll chalkware | 1930 | $43.95 |
| 8 | Old Timer Pipe Grandpa Chalkware | 1977 | $42.00 |
| 9 | Ethnic Woman of Color Vintage Chalkware | 1960 | $34.00 |
| 10 | Miller Studio Chalkware Fish | 1967 | $24.50 |
1. Saint Bartholomew Religious Chalkware
Release date: 1950
Price: $626.85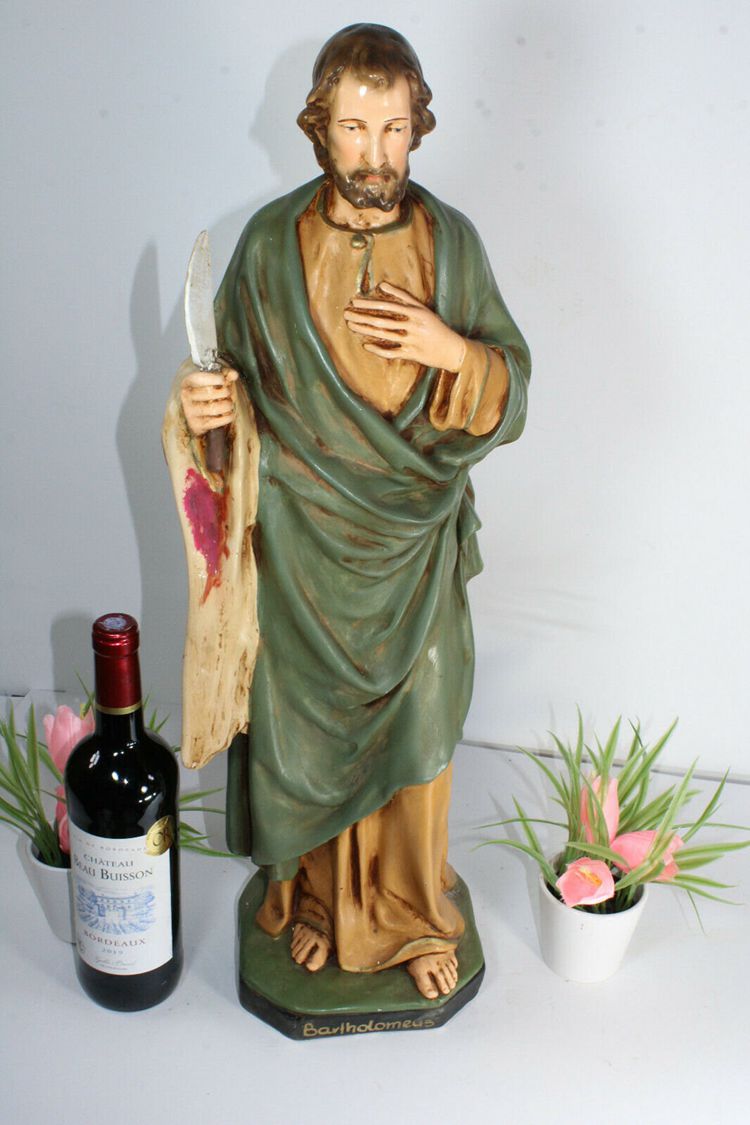 This figurine is a representation of a religious entity, Saint Bartholomew. This work portrays him holding a knife in his left hand with his left side to his chest.
Bartholomew wears an orange robe with a green overlay gently draped over the outfit. On his arm, a blood-stained fabric hangs loosely. It is 65 cm tall and retails for $626.85.
2. Crying Baby Humidor Chalkware
Release date: 1920
Price: $175.00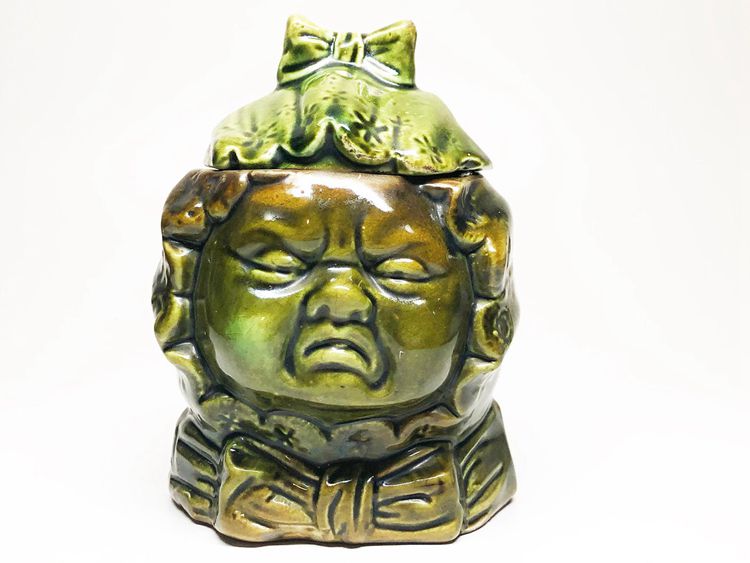 This double-faced baby-shaped humidor was designed in the early 1920s. It doubles as a decorative piece and tobacco jar with sharp details. The top of its head opens like a lid on a pot. On one side is a happy baby, and on the other is a sad crying face.
The jar comes in vibrant green color and sells for $175.00
3. Good Companions Chalkware
Release date: 1930
Price: $107.44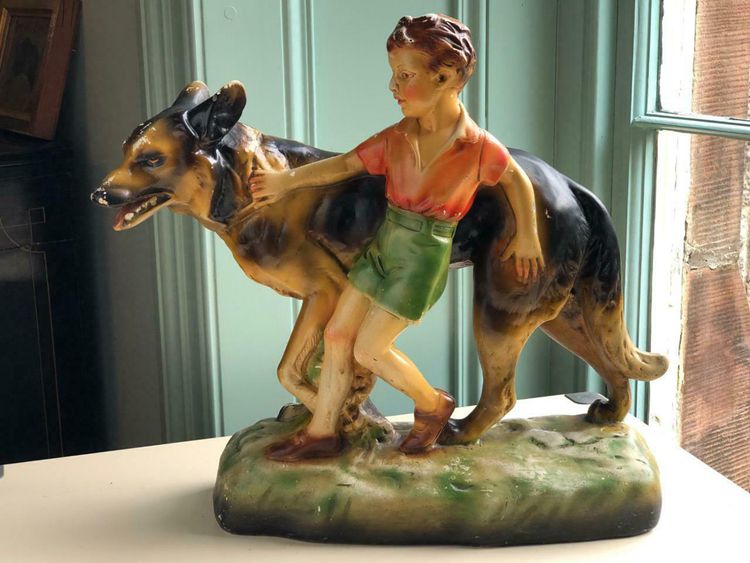 This is an intriguing chalkware piece of a boy walking an Alsatian or German Shepherd dog. The agile boy is painted in green and red hues and is seen holding a wild dog by the leash on its neck on a well-crafted and solid base.
A stamp with the inscription made in England sits boldly at the back of this base. This piece retails for $107.44.
4. Black Americana Chalkware Carnival Statue
Release date: 1940
Price: $100.00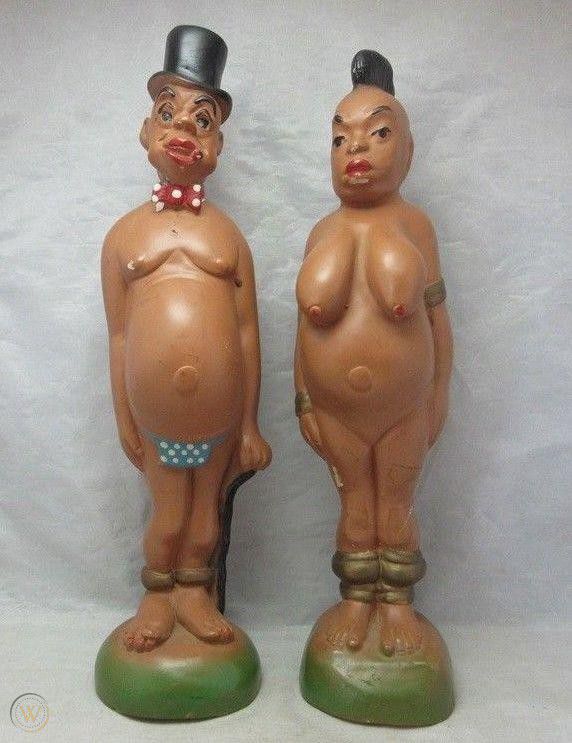 These pieces were especially given out as prizes at carnivals. In his loincloth with a bow tie and a top hat, a man stands beside a woman with a mohawk hairstyle.
This figurine is native, and the plump characters are African-like with bright red lips and detailed eyebrows. It retails for $100.00.
5. Christ Child with Dove
Release date: 1920
Price: $69.99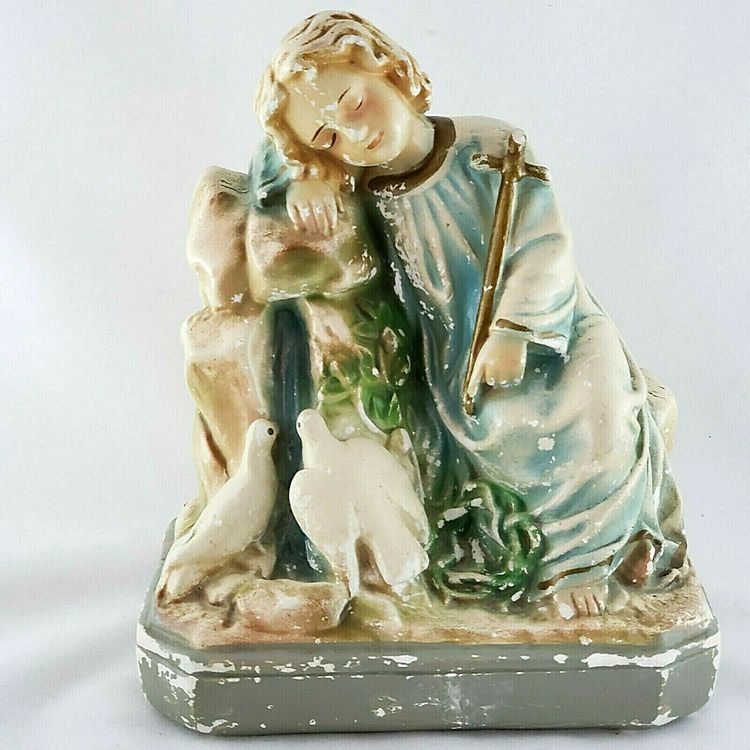 This is a figure of Jesus Christ as a child dressed in a blue robe, holding a wooden staff shaped like a cross and resting on a pillar surrounded by two white doves. The tone around this sculpture suggests serenity, peace, and humility. This celestial piece sells for $69.99.
6. Colonial Lady Southern Belle Chalkware
Release date: 1950-1959
Price: $48.00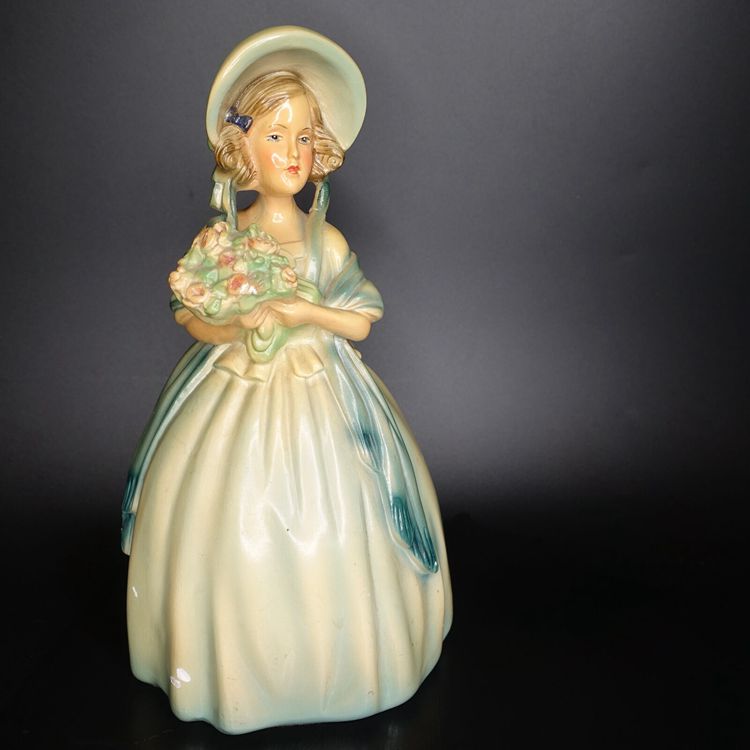 This 10 inches chalkware features a young lady in a white dress and blue scarf over her shoulder holding a bouquet. A white and blue-colored hat sits on her blonde colored hair with a big blue ribbon in it. It retails for $48.00.
7. Carnival Kewpie Doll Chalkware
Release date: 1930
Price: $43.95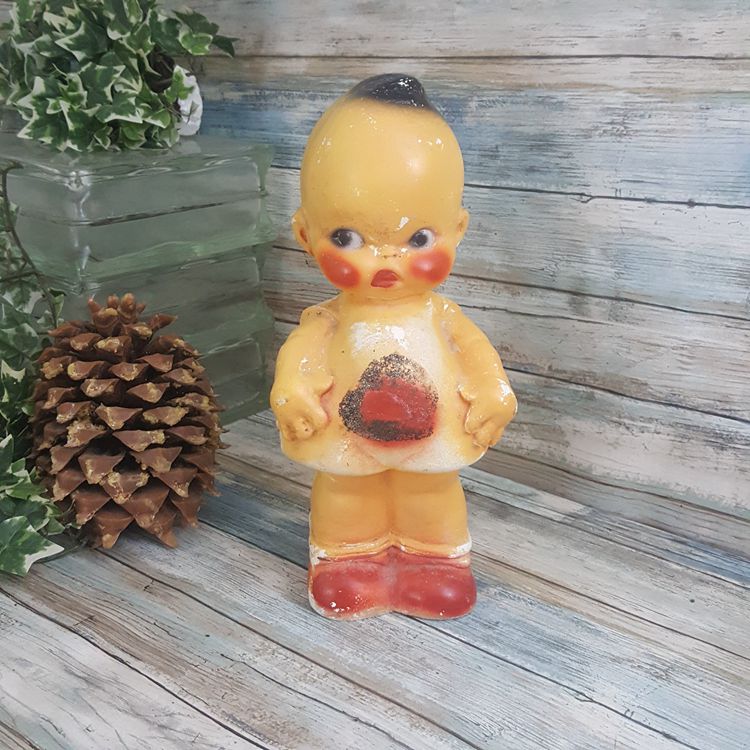 This $43.95 airbrushed chalkware features a kewpie doll with bright red lips and complimenting cheeks. It has a big red glittering heart on the belly and big bulgy eyeballs. The radiant red shoes also serve as the dolls' base.
8. Old Timer Pipe Grandpa chalkware
RELEASE DATE: 1977
PRICE: $42.00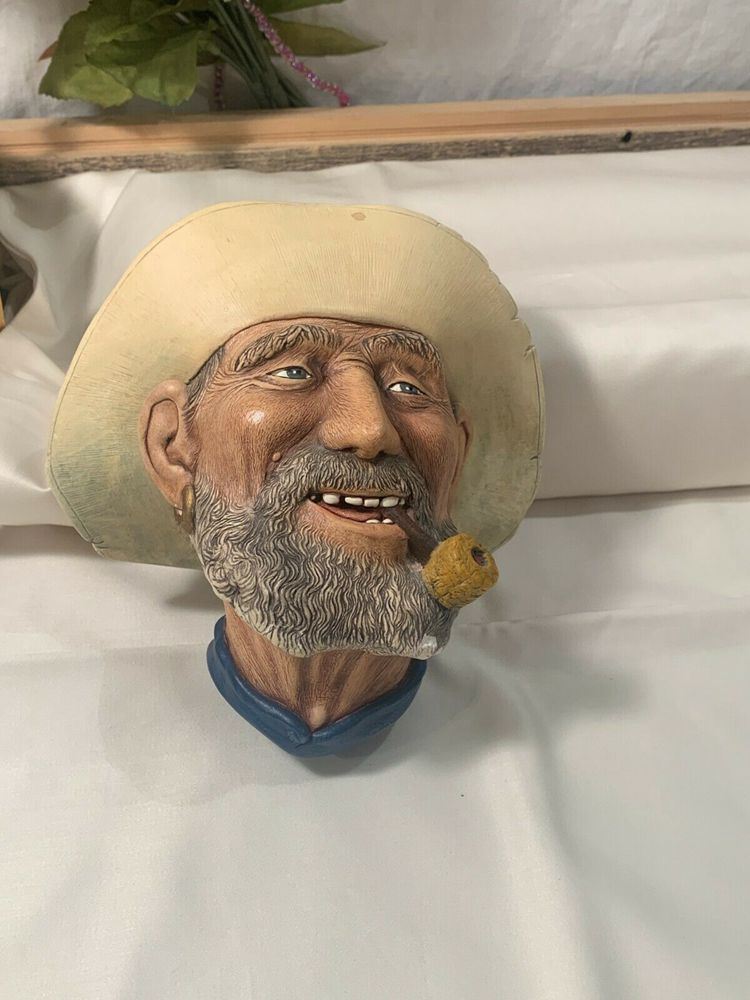 This chalkware is perfect for hanging on the wall. It is a flawless bust figure of a happy older man with obvious grey facial hair smoking a pipe and adorning a big full hat. This glazed finished piece retails for $42.00 and has OLD TIMER BOSSONS inscribed at the back of the head.
9. Ethnic Woman of Color Chalkware
Release date: 1960
Price: $34.00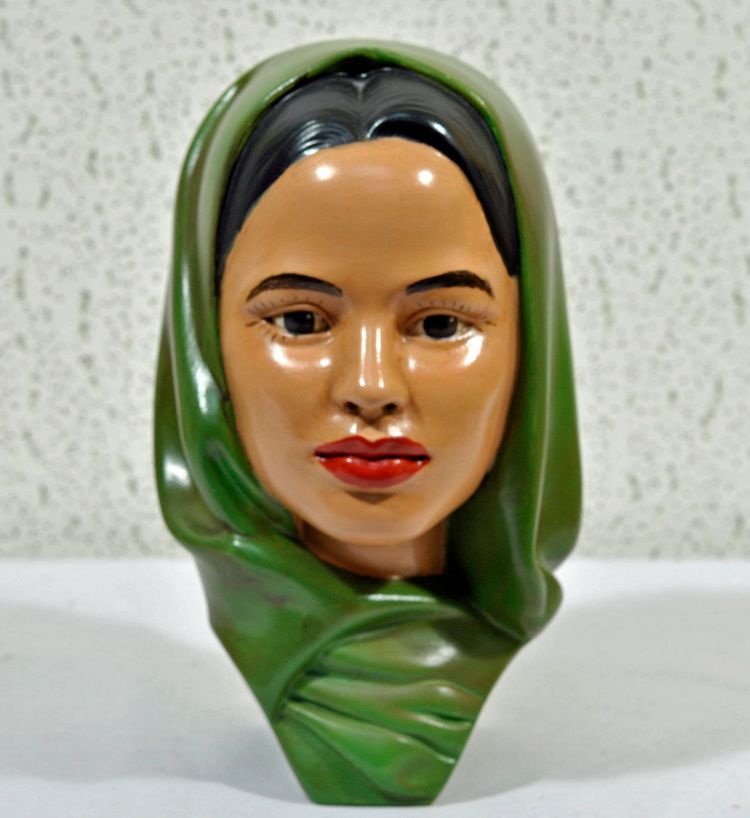 This sculpture is of a beautiful woman with her head wrapped in a green silk turban. Her rich dark hair peeps out in front with sultry red lips to complement the look.
Her dark eyebrows, eyelashes, and eyeballs are also strong features on the face of this glaze-finished chalkware. It retails for $34.00
10. Miller Studio Chalkware Fish
Release date: 1967
Price: $24.50
This vintage chalkware is an artistic fish designed with patterns of greens and yellows. It has a big, bold black eye and lips in the same shade. This piece was produced by Miller Studios Inc and can be hung on the wall. It retails for $24.50.
What is a Chalkware Figurine?
Chalkware figurines are affordable artworks made from Plaster of Paris and sometimes sculpted from gypsum blocks. These pieces were popular in the 19th and 20th centuries as they were largely used for decorative and religious purposes by the people.
They were first made in America in 1768. However, they became popular by Italian natives who sold them in American cities in the mid-19th century. When unpainted, its surface resembled chalk, and the hollow figurines were made in gypsum mold.
Early models of figurines made in the United Kingdom by 1955 were mostly used as ashtrays or for holding matches. The Paoli Brothers and Hermann Lohnberg designed them.
By 1957, new styles inspired by the African setting emerged. Figures of African men and women dominated the London scene.
The artists designed these chalkware figurines in realistic colors, giving them a three-dimensional outlook. In the 1970s, the production of chalkware met a drastic end.
Due to their extremely fragile nature, chalkware lost relevance to ceramic and plastic products as these were more durable, more flexible, lighter, and water-resistant.
How to Identify Vintage Chalkware Figurines
To ease stress and save your time, we have curated a detailed list of things you should look out for on your search for chalkware pieces. The information below will help you spot authentic items and give you a full idea of what you're working with.
1. Year of production
The development of chalkware figurine spanned three production and design style phases, which we'll discuss below. The first and earliest samples are the rarest and most valuable but often misidentified.
The Forerunners
The earliest models were produced in the late 18th century by Dutch immigrants residing in Pennsylvania who imitated the Staffordshire porcelain pieces shipped from England but with more affordable material.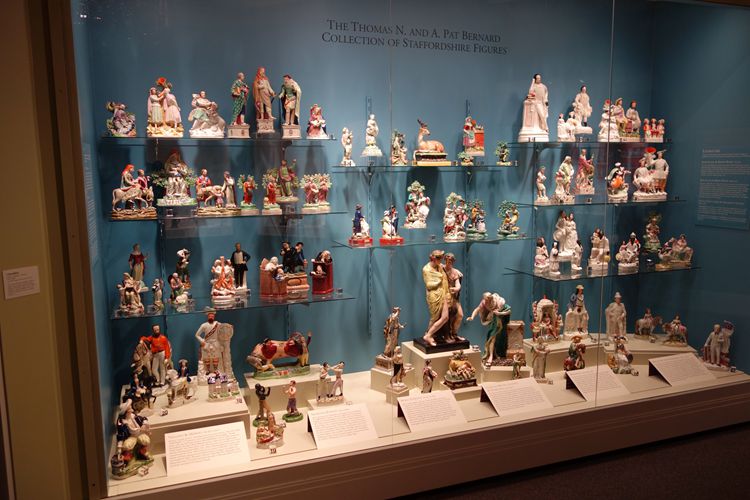 They are soft, heavy, and very delicate pieces fabricated from molded plaster; these rare Pennsylvania pieces are highly desirable these days. They even cost more than the average original Staffordshire pieces. The artists painted them with oil-based or water-based colors.
The 1920s-1940s
The second set were made from the 1920s through the middle of the 1940s. They were awarded as carnival prizes, mass-produced and super affordable, a lesser quality to the Pennsylvanian models.
These pieces portrayed pop culture and even imitated radio, movie, animated, and comic book characters, and sold for under $50. Some of the pieces had hallmarks, which made them very sought after.
Contemporary Pieces
The third batch of chalkware figurines emerged when the media popularized and romanticized images of Asian, European, and African culture and people for decorative and artistic purposes.
The W.H. Bosson company of England pushed out large numbers of these pieces in the form of wall sculptures up until the 1990s.
The company made other characters representing significant characters from books or professions like sea captains to replace the previous figures. The artists in this era used tempera to paint their pieces.
2. Identification by shape
Look for animals and peasant figures and fruits. The most common chalkware figures include dogs, cats, squirrels, parrots, and deer. These animals are commonly molded-in sleeping, sitting or recumbent positions with one leg stretched out in a motion position.
Figurines of people include kneeling children, nodding women, Madonna's, and shepherdesses, with angels, and nativity scenes. Fruits are usually shaped to look like they are placed in plastic bowls.
3. Painting methods
When identifying figurines, pay close attention to the paint condition. Unlike Staffordshire porcelain pieces, most chalkware figurines were painted by hand and a few glazed. These figures have a matte finish except building fonts that had glazed windows.
Modern chalkware pieces were painted with tempera, while the artists used watercolors or oil-based paints to paint old figurines. The animal figures have a realistic outlook. They had deep details, usually spots, fauns, and stripes.
Fruit models have fascinating colors. Mostly hues of purple pineapples, blue bananas, and violet oranges.
4. The weight of the figurine
Old chalkware pieces are very light when carried. The old artist did not use the heavy plaster base modern artists used on the figurines. The light nature of these figurines makes it very easy for them to trip over and fall.
So, when identifying figurines, pick up these pieces to gauge their weight to determine their status.
5. The presence of mold lines
Look for mold lines on your figurines. Artists back in the day created their pieces by pouring the plaster of Paris into two separate front and back molds, which were glued together and smoothened at the edges.
In modern times, artists may glue-up to 10 different molds together.
6. Trademarks
Examine the bottom of your figurines and check for stamps, signatures, initials, and mold numbers. Some old pieces also have this information inside them. Here you will find their production year, copyright date, and company name.
Registration numbers found on the bodies of these figurines can be checked in the Board of Trade BT53 records and use the BT 52 design images to determine the authenticity of the item.
7. Touchups
Due to wear and tear, Collectors and owners may have touched up old pieces at some point. The paints used on old designs are very absorbent. Therefore, a readjustment will be noticeable as the paint would have spread beyond its boundaries.
So, if you notice your figurine has a weird color, it is probably very old and has been touched up.
How to Determine the Value of Vintage Chalkware Figurines
No need to remain clueless about the real worth of your vintage chalkware figurine. This guide will help you figure out the state of your item and how high you should stake your price.
Age
For figurines, the older it is, the better. Old figurine pieces bear unique designs and colors that modern-day figurines don't have. A 19th-century figurine sells between $100-$1000 depending on market factors.
Rarity
Uncommon pieces that are not easy to come by have a higher value than random pieces. These figurines have unique designs and patterns on them. They are limited editions, and not many are in circulation like those WWII-inspired pieces.
The rarest chalkware figurine ever made is that of a nodding woman. However, chalkware pieces like Jesus Christ, Mary, Joseph, and animals are also very collectible.
Condition
Chalkware is very fragile and can easily break when handled too strongly. Therefore, some parts of your vintage figurines may have chipped off, which will greatly affect the market value. Collectors will pay little to no attention to faded, broken, or distorted figurines.
Decoration
Chalkware with unique and variety of color decorations with intriguing designs such as glass eyes sell for higher prices at auctions, flea markets, antique stores and a largely collected by people.
How to Care for Vintage Chalkware Figurines
Here's how to ensure that your vintage chalkware figurines stand the test of time and remains of great value to you should you decide to resell.
Your vintage chalkware should be kept in a dry location and wrapped in tissue or a box. Keeping your figurines in plastic makes them susceptible to humidity and wet bubbles, which may damage your figurines and peel off the color composition.
Ensure to dust your Chalkware regularly with a dry cloth. The fabric will help remove specks of dust that the surface of your Figurine may have collected.
Use a cotton swab or soft-bristled brush to work on dirt and dust gathered in areas in between your figurines. Especially places where fabrics cannot reach.
Avoid using harsh soaps to wash your chalkware as they can peel off the delicate color coating. Do not leave your chalkware outside or in contact with direct sunlight.
FAQs
Where can I find Vintage Chalkware?
Collectors can easily find these pieces at auction websites, antique stores, collectors stand at the flea market or any basement near you. Rare figurines can rake in more money than regular ones. So, look out for them on your hunt.
How do I care for my Figurine?
A. The most important thing to keep in mind when taking care of your chalkware is to avoid contact with liquid as the color can easily come off, or pieces chip off too. Dust with a dry fabric or soft-bristled brush, and you are good to go.
What is the difference between Staffordshire and Chalkware?
A. Staffordshire pieces are porcelain pieces with a glazed finish, while chalkware, a less expensive alternative, had few glazed pieces; most were matte.
Parting Words
You can start your collecting journey now that you have all the knowledge you need on chalkware figurines. Keep these tips in mind while at it.
Please stay away from liquid when cleaning; they will wash away the fragile colors on your chalkware. Simply dust off excess dirt with a dry fabric or bristled brush.
The earliest chalkware was painted with water-colored paints and oil-based paints. Modern pieces mostly have tempera coating on their bodies.
Recreated pieces are heavier than original figures. When collecting, take note of the weight difference.