Does the Hummel figurine collection pique your interest? Well, it should. These figurines are among the highest valued amongst collectors as they feature unique styles and are scarce.
Here, we've made it our duty to present ten of the most valuable Hummel figurines to you. Along with this, we'll also teach you to identify, maintain, and value them.
Hummel Figurines with the Highest Value
The prices recorded in this article are sourced from Richard Miller's Hummel Figurines Price Guide 10th edition. The official M.I. Hummel gift shop updates an abridged pdf version on their website yearly, comparing his quote to Von Rechlinghausen's.
| | | | | |
| --- | --- | --- | --- | --- |
| No. | Hummel Figurines | Year | Price | Sold |
| 10. | Hum 2 – Little Fiddler c.1935 | 1985 | $5,000 – $6,000 | $1,201.50 |
| 9. | Congratulations c.1935 – 1963 | 1935 | $4,000 – $8,000 | $18,000 (Retired Model sold by Chesterton Manor) |
| 8. | Book Worm c.1935 | 1935 | $5,000 – $10,000 | $599 |
| 7. | Hum 1 – Puppy Love c.1935 | 1935 | $5,000 – $10,000 | $2,999.95 on eBay |
| 6. | International Hummel c.1940 | 1940 | $10,000 – $15,000 | $1,600 – $3,750 |
| 5. | Ring Around the Rosie | 1960 | $10,000 – $15,000 | $2,990 |
| 4. | Adventure Bound and Group Hummel Figurines | 1955 | $10,000 – $15,000 | $3,750 – $3,900 |
| 3. | Letter to Santa Claus | 1956 | $15,000 – $20,000 | $9,297 |
| 2. | Merry Wanderer | 1935 | $20,000 – $26,000 | $1,700 |
| 1. | Apple Tree Girl and Apple Tree Boy |  c. 1960 | $15,000 – $32,000 | $22,425.00 |
10. Hum 2 – Little Fiddler c.1935
Year: 1985
Price: $5,000 – $6,000
Sold: $1,201.50
Taking the number 10 spot is the Little Fiddler, a variant of the Puppy Love model, except it, doesn't feature a pet dog. Also, the little Boy in this design doesn't have a mischievous look but an intentional expression as though he needs to get his tune right.
This Little Fiddler boy sells for an estimated whopping $7,500, and the history can be traced back to 1985 when Goebel made 50 pieces limited-edition of this model to celebrate M.I. Hummel Figurines' 50th year in business.
It has a special stamp on the base indicating its fiftieth anniversary, 1935 – 1985.
9. Congratulations c.1935 – 1963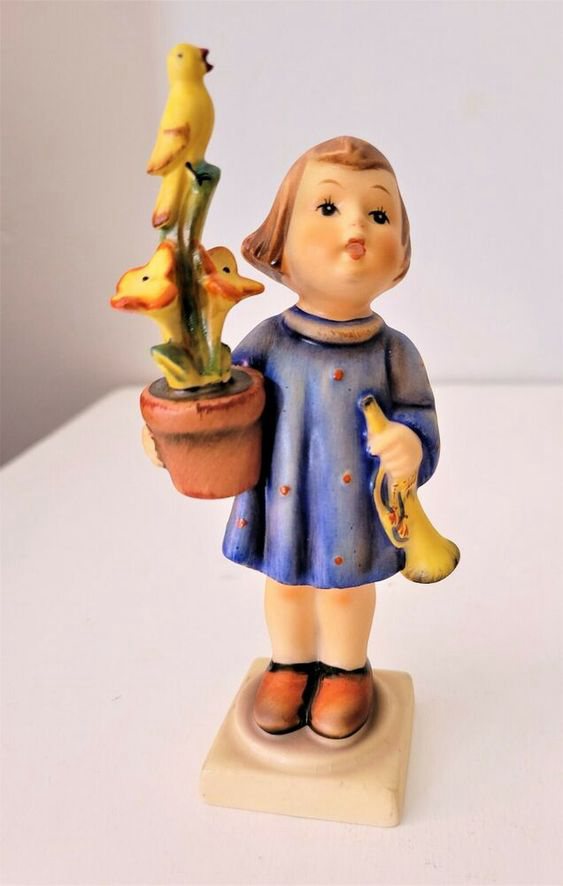 This celebratory model shows a young girl celebrating fruitfulness holding a big flower pot of blooming flora. A bold yellow hummingbird sits atop the flower, positioned in a performance stance.
8. Book Worm c.1935
Year: 1935
Price: $5,000 – $10,000
Sold: $599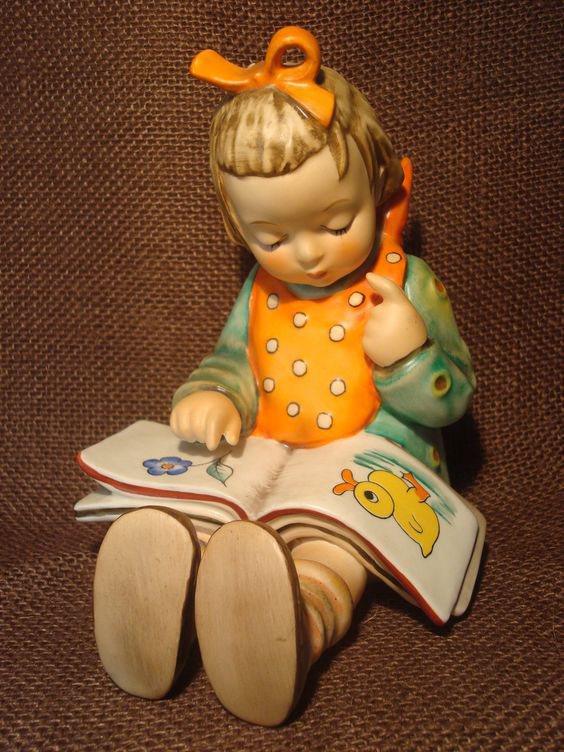 TMK-1 Book Worm's model is a little schoolgirl engrossed in her picture book with a contemplating hand on her cheeks. It captured interest in knowledge and art like Sister Maria Innocentia's childhood. This autobiographic model sells at an estimated $7,500 price.
7. Hum 1 – Puppy Love c.1935
Year: 1935
Price: $5,000 – $10,000
Sold: $2,999.95 on eBay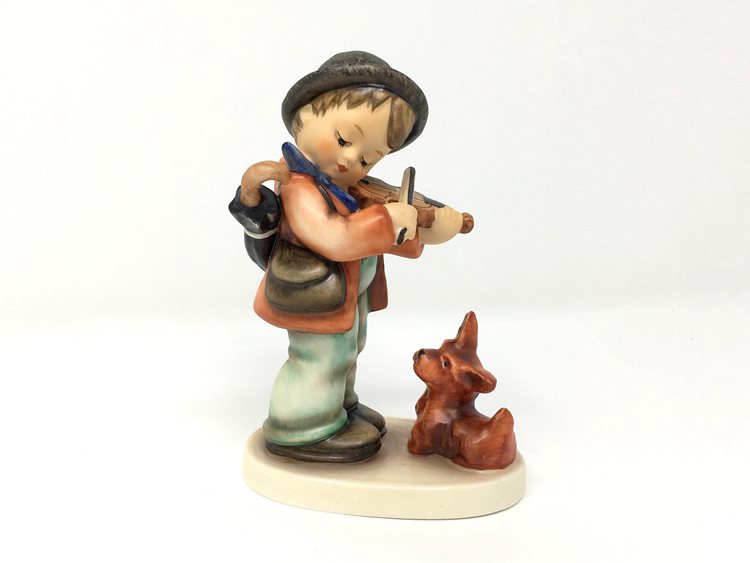 Yet, another TMK-1 model secures a valuable spot on this list. The TMK-1 Puppy Love model features a deviant-looking boy playing the violin for his pet dog. The puppy looks up adoringly at its owner with cocked ears enjoying the tune.
As one of the earliest models, Puppy Love retails between $5,000 – $10,000.
6. International Hummel c.1940
Year: 1940
Price: $10,000 – $15,000
Sold: $1,600 – $3,750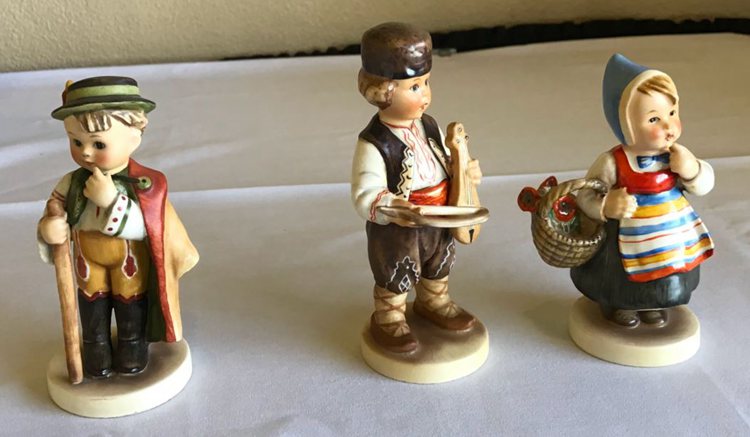 The 1940s International Hummel Figurines featured models dressed in unique cultural attires of different countries. Arthur Möller and Reinhold Unger designed the porcelain dolls based on Sister Maria Innocentia's designs to represent multiple European nations. Only a few samples and 33 pieces were produced, making these models rare finds.
Some of them are the Serbian Girl, the Bulgarian Girl, the Swedish Girl, and the Czechoslovakian Girl (which is valuable because the country broke apart, so it doesn't exist anymore, making it a rare find). The boys often had accompanying animals or instruments like the Slovak Little Fiddler Boy playing the violin, Czech Boy holding a Lamb, Hungarian Boy with a dog, and many more.
5. Ring Around the Rosie
Year: 1960
Price: $10,000 – $15,000
Sold: $2,990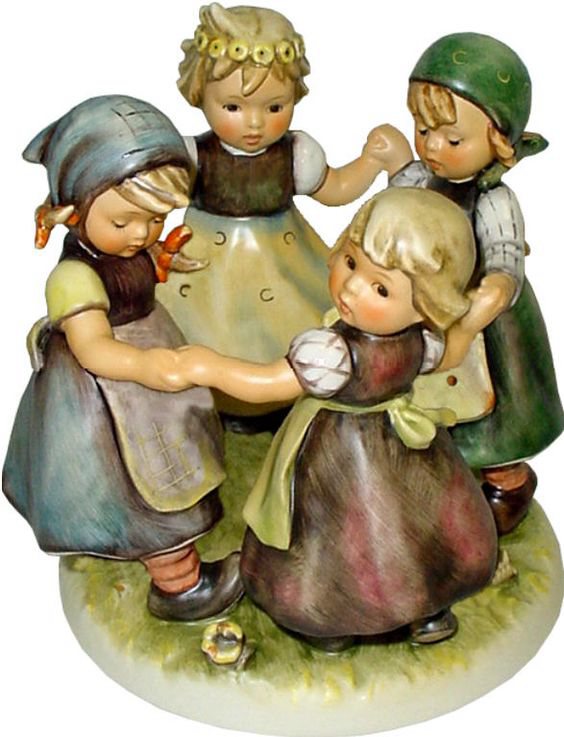 Sold for a whopping $2990 and securing the number 5 spot is the Ring Around The Rosie batch that Goebel Hummel produced to mark its 25th year in business in 1960. This group shows four schoolgirls holding hands to form a ring, like the popular children's game.
The Ring Around the Rosie model featuring a full bee and stylized design is rare and only available in TMK2-8.
4. Adventure Bound and Group Hummel Figurines
Year: 1955
Price: $10,000 – $15,000
Sold: $3,750 – $3,900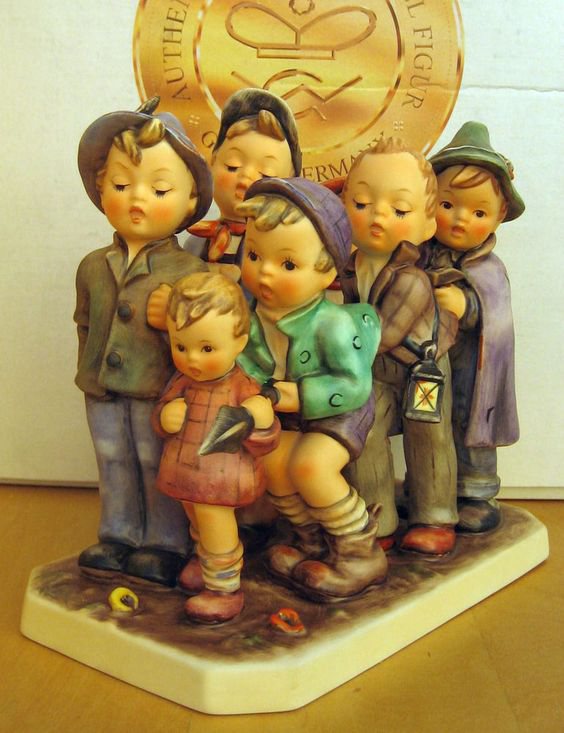 When you think of Hummel figurines, the Adventure Bound Group would most likely be the first model to pop in your mind. This popular design features six characters with spears and lanterns in a motion pose looking for something.
Rare Adventure Bound Hummel figurines with TMK-1 molds command the highest market value because they're the brand's hallmark and a collector's favorite. Two broad groups of Worldwide wanderers and Schoolgirls played different games like "Ring Around the Rosie."
3. Letter to Santa Claus
Year: 1956
Price: $15,000 – $20,000
Sold: $9,297
The Letter to Santa Claus Hummel figurine is a rare porcelain doll featuring a young boy with rosy cheeks mailing a letter. It's a 6¼-inch model sculpted during Christmas under the TMK-2 – TMK-3 molds, no wonder it is so expensive.
This Hummel figurine has a full bee logo and has undergone several modifications over the years.
It's a RED LINE model meaning it's an extremely rare sample. That's why it's coveted amongst collectors and, by extension, expensive.
2. Merry Wanderer
Year: 1935
Price: $20,000 – $26,000
Sold: $1,700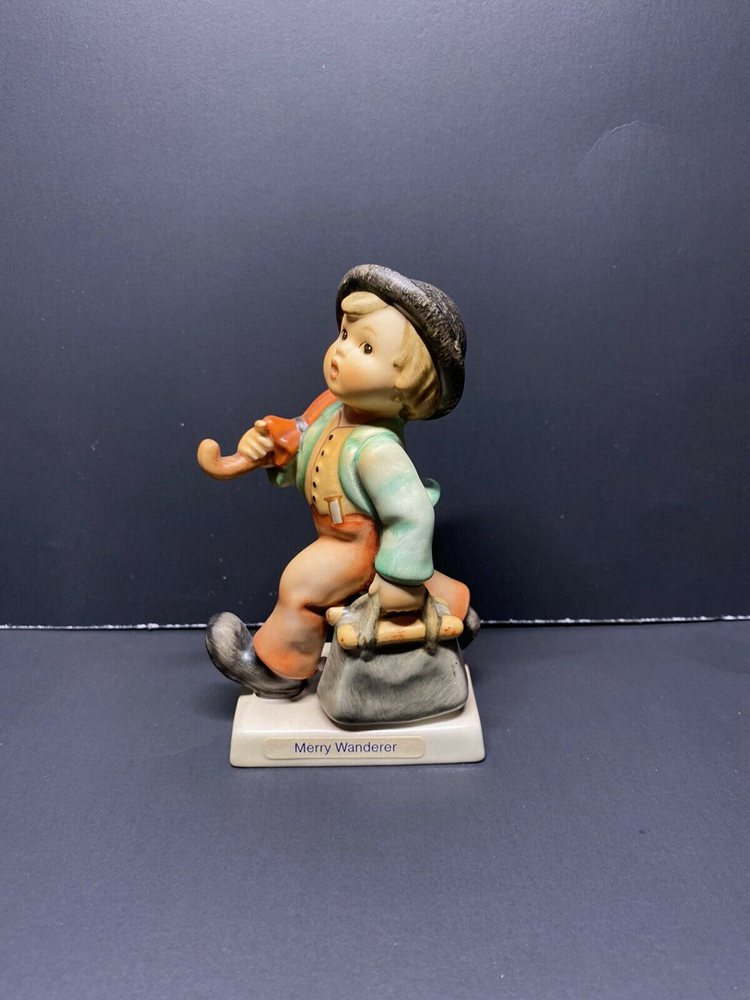 This 32-inch tall TMK-5 – TMK-8 model is one of the most iconic Hummel figurines. Its popularity led to a continued production long after the demise of the founders Berta Hummel and Franz Goebel.
The style shows a young boy holding a bag and an umbrella in each hand, skipping happily through the fields.
The Merry Wanderer's market price varies based on age since it's a popular model. The older TMKs cost more than the recent ones, which sell for about $200.
1. Apple Tree Girl and Apple Tree Boy
Year:
c. 1960
Price:
$15,000 – $32,000
Sold:
$22,425.00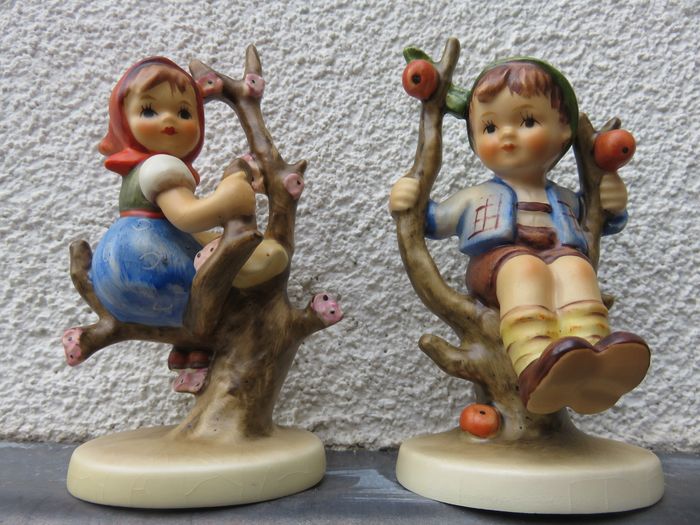 Beating all others to secure the number 1 spot is the Apple Tree Girl #141 and Apple Tree Boy #142 designs which feature each gender seated on an apple tree. These two are the most expensive Hummel figurines because they're highly sought after.
Sometimes, collectors buy them as a matching set for balance and aesthetics. There's a difference in their seating position as the Boy faces front, while the Girl seats sideways with her body facing left and her face looking right.
This design comes in three sizes – 3.5 inches, 6 inches, and X inches, of which the first two sell for hundreds of dollars while the third goes for whopping thousands (up to $15,000.) The 32-inch models are unique and highly sought after by collectors.
Now that you have the 10 most valuable Hummel figurines at the tip of your hands, it's time for us to take a short trip down memory lane. Yes, you got it right, let's explore the history of this stately décor.
A Brief History of Hummel Figurines
The story opens with a young Bavarian girl Berta Hummel (born in 1909), who loved to draw figures based on her pastoral surroundings. Her passion led her to study art at Munich's Academy of Applied Arts, where she graduated with honors in 1931 at 18 years.
Becoming Sister Maria Innocentia
After graduation, she joined the Southern Germany Convent of Siessan, where she rechristened herself Sister Maria Innocentia in 1934.
Her transition into nunnery didn't hinder her passion for art, so she continued doodling and gaining the support of her fellow sisters. This support was so profound that they encouraged Sister Maria Innocentia to sell her art.
Partnership With Franz Goebel (Goebel Hummel)
Thankfully, she obliged her sisters, leading to her first meeting with German Potter Franz Goebel. Fascinated with her art, Goebel suggested collaborating with his Pottery business W. Goebel Porzellanfabrik to bring Sister Maria Innocentia's designs to life with ceramic.
By 1935, the partners Goebel Hummel debuted their Child Figurines at the Leipzig Trade Fair in Germany. The figurines made an instant mark on the market-leading the company to produce 30 – 40 more pieces within a short period.
World War II Impact
Unfortunately, the new business faced turbulence when the Nazi-led second World War sprung in 1939. The Franciscan convent shut its doors per Nazi orders in 1940, and Sister Maria Innocentia died six years after (a year post-WWII) of tuberculosis at 37.
Luck would shine on the Hummel figurines once more through U.S. soldiers taking an interest in them as keepsakes from Germany.
Success and Final Days
The revived business boomed into the 1970s, which saw the establishment of the M.I Hummel Club, and then the 21st century with modern influence on the designs.
The business closed when a new company assumed control in 2008 after 67 years of production (excluding the WWII era when production stalled.)
Identifying Authentic Hummel Figurines
Due to Hummel figurines' pedigree, several counterfeiters are looking to profit from their value and popularity. As a new collector, it's easy to fall prey to dubious sellers, but with the proper information, you can remain one step ahead of them.
When buying a Hummel figurine, the three major signs to look out for are Inscription, Mold Number, and Trademark.
The Inscription Detail of Hummel Figurines
When Franz Goebel took over the production of the figurines after Sister Maria Innocentia's death, he inscribed M.I. Hummel (her initials and surname before becoming a nun) on them to preserve her memory.
The big Hummel figurines which stand on a base have M.I. Hummel stamped on their back. If the Goebel on the bottom has West Germany inscribed, the Hummel figurine is a post-World War II model.
Identification by Mold Number (HUM)
All Hummel figurines have a mold (HUM) number between #100 – #2000. Anything labeled outside that figure range is undoubtedly a dub. The digits can be cast on the figurine's body or incised in the case of soft porcelains, making them permanent.
There's an online database with a detailed list of Hummel figurine mold numbers you can use to crosscheck your mold number.
Each digit on the piece's body signifies something important so pay attention to the following information you're about to read. Every mold number with the format – I.D. no/size – identifies the figurine's style.
After the size, the painted/stamped number is the decoration designator, while the tiny 2-digit number identifies factory control.
Trademark Evolution of Hummel Figurines
One of the oldest identification methods of any vintage or antique product is the Trademark. It tells the production era (age) and ultimately identifies the item's value.
Hummel figurines have three major trademarks – the Bee, the Crown, and the Goebel Hummel (TMK) name.
The Bee
Hummel Figurine logos have bees on them, albeit in varied sizes. The older models feature full bees on their logos, as a nod to Hummel's German name, which translates to Bumblebee in English. The first Bee design was featured in the 1950s, showing a Bee sitting in a V-mark.
Over the years, Goebel altered the Bee design making it easy for appraisers to identify the production year.
The 1960 – 1972 era included a written inscription of the production country W. Germany (West Germany). By 1964, Goebel evolved to a three-lined label denoting Year/Producer/Country.
In 1972, the final Bees featured in smaller sizes highlighting the brand's name instead. The logo sat on the last E in Goebel. By 1979, the Hummel figurines removed the Bee and V logos from their labeling, sticking to Goebel only.
In the 2000s, after decades of retirement, the Bee returned until Goebel sold the business to a new company.
The Crown
The crown mark on the logo pays homage to William Goebel, the founder of the Goebel company before Franz took over management. The Crown featured between 1935 – 1949, then returned briefly in 1990 – 1999.
After the unification of Germany in 1990, Goebel marked the historical moment by bringing the Crown back underneath the company's logo.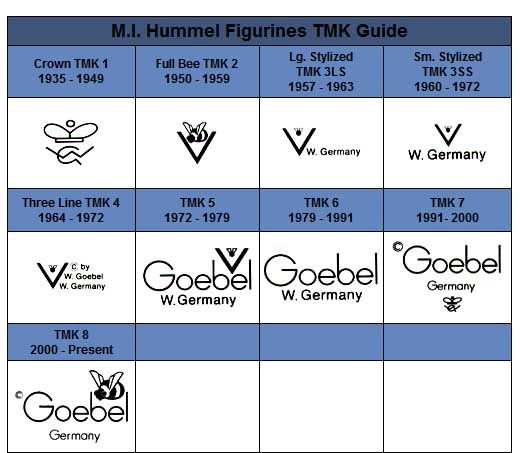 Goebel Hummel Trademark (TMK)
Turn your Hummel figurine upside down and look for the Trademark on the bottom. Every brand design has a company logo stamped on its body which helps in age identification.
The oldest models have the TMK-1 – TMK-3, the middle eras have TMK-4 – TMK-6, and the modern designs have TMK-7 – TMK-8.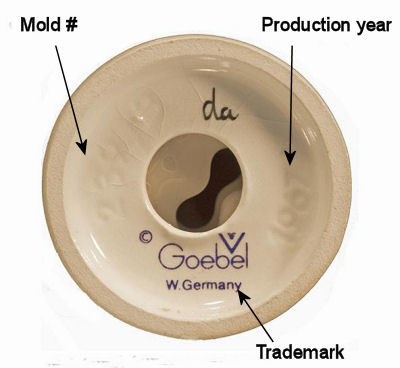 | | |
| --- | --- |
| Trademark (TMK) | Year |
| 1 | 1935 – 1949 |
| 2 | 1950 – 1956 |
| 3 | 1957 – 1963 |
| 4 | 1964 – 1971 |
| 5 | 1972 – 1978 |
| 6 | 1979 – 1990 |
| 7 | 1991 – 1999 |
| 8 | 2000 – 2008 |
Watch this video of Ph. D. appraiser Dr. Lori describing the methods for identifying authentic Hummel figurines.
Other Identification Marks
Hummel figurines have specific proportions according to Sister Maria Innocentia's instructions, so if a model looks different from the rest, it's a fake.
A typical example is the Apple Tree Girl whose body must face left while her face looks right. Also, authentic Hummel figurines are made from solid porcelain mix, making them weighty, unlike dubs which use light materials like cheap chalk and plaster.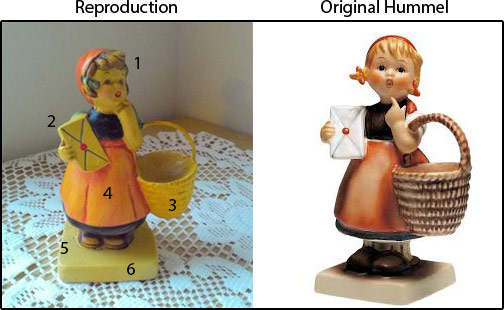 Finally, Sister Maria Innocentia favored a pastel palette, so if your model is oddly bright, you should worry. Don't forget that she also paid attention to the models' facial expressions as they were supposed to convey emotions, so a skewered look should raise your suspicion radar.
How to Properly Decipher the Value of a Hummel Figurine?
In the opening statement, you read that Hummel Figurines command one of the highest market values amongst collectors. How then can you determine the value of each piece considering the price fluctuation over the years?
The answer isn't simple as A, B, C because Hummel figurines don't have a uniform price.
According to expert Heidi Ann von Recklinghausen, the price ranges from $6,000 – $9,000.
You may, however, get lucky and cop a Hummel figurine for as little as $50. Carl F. Lucky valued the #142/X Apple Tree Boy at $26,500 asking price, while Blackwell Auctions LLC sold a 30-inch model for $2,500 in January 2021.
This value varies based on certain factors such as rarity, popularity, age, condition, and design.
Design, Rarity, and Age
Like scarce commodities driving high economic demand, the same goes for Hummel figurines. The early pieces from Sister Maria Innocentia's production years (1935 – 1940) have the highest value because they're rare and hold the sentiment.
You saw earlier that some sizes cost more than others, well that's due to their design complexity and sophisticated materials.
Limited-Edition Hummel figurines, like the name implies, are few in existence, so they're expensive. Also, retired models which stopped production years ago fall into the rare category making them equally expensive.
Condition, and Popularity
Every mark indicating damage or refurbishing of any kind depreciates the Hummel figurine's value, although some are more scathing than others.
You can't compare a fading model to a scratched or, worse, a chipped design. As a fragile material, you must care for Porcelain with extra attention and effort, which is why a Hummel figurine in its original box costs more than an exposed one.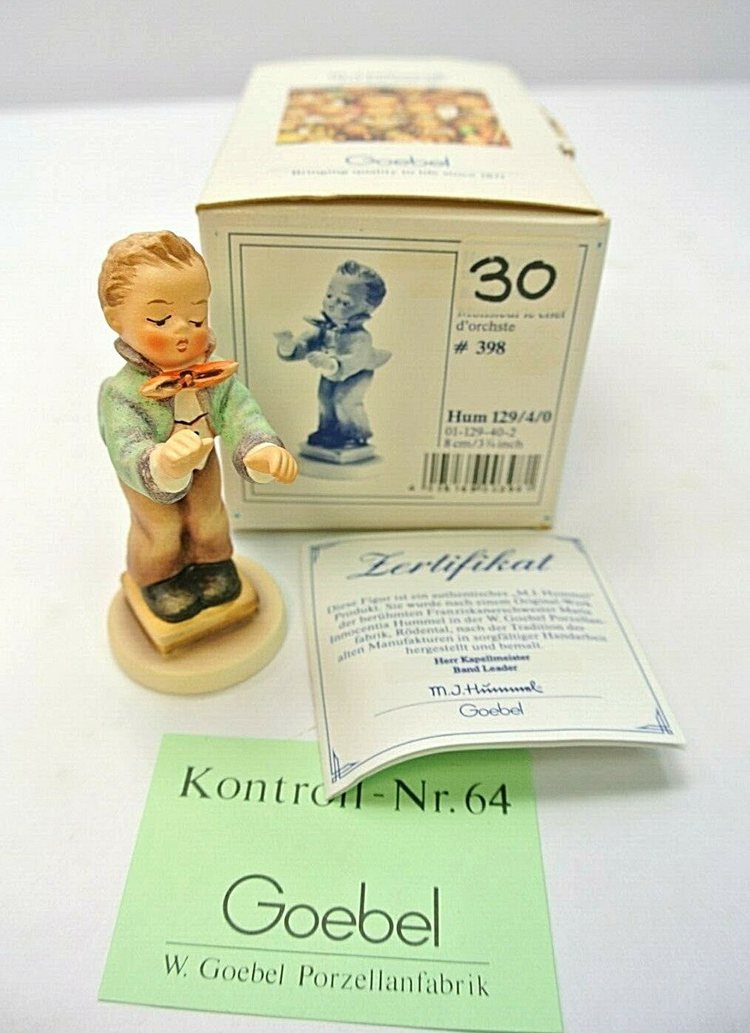 Having seen the ten most valuable Hummel figurines in the world, you can understand how popularity affects value.
There isn't always a logical reason why a model becomes coveted in the collectors' world. It could be for its rarity, uniqueness, or sentimental value. The Adventure Bound model is one of the most popular brand designs, and it sells for $1,630.33 – $4,900.
Please note that all prices aren't absolute figures as they vary based on the abovementioned factors.
Final Thoughts and Key Points to Live By
Sister Maria Innocentia was a meticulous artist who paid attention to details in her design. As a Hummel figurine collector, pay attention to the quality, color gradient, markings, and design before committing financially to a piece.
Hummel figurines have glazed pastel colors, so matte paints are suspicious.
All Hummel figurines of the same model have specific expressions regardless of their production era.
Hummel figurines have unique proportions, which you can compare on their database.