Born of English Origins and still quite significant today, we have the Royal Doulton Figurines. Being here means you are a collector interested in the Henry Doulton figurines and Toby jugs characters from the 19th and 20th centuries.
We've gone to great lengths to bring a detailed guide on properly identifying and valuing them.
So, journey with us back in time and watch as we reveal how master handcrafters used terracotta and fine China that continues to shine through the ages to produce exquisite pieces.
What are Royal Doulton Figurines, and How Did they Become Popular?
So, what are these figurines, and how did they take over the spotlight?
The Royal Doulton figurines comprise a collection of detailed and precise hand-painted collectibles, jugs made from the highest quality bone china.
The company's humble journey started in 1815 when Henry Doulton founded the Doulton pottery business, which focused on industrial stoneware.
It wasn't until the 1820s, when John watts joined the business, that the company branched into the production of functional houseware.
With John Watts joining the business came the creation of the new name, Doulton and Watts. However, this wasn't the only spectacular change that occurred as they also launched the Toby Jugs design that set the motion for the next phase of the Doulton and Watts company.
Come 1853; the company adopted the name Doulton and company as John's son also merged his company with Doulton and Watts.
With the 1800s came the recognition that the Doulton company deserved as Queen Victoria, and the entire Royal family liked the pieces created by the Doulton.
She liked the pieces created so much that she dubbed Henry Doulton knighthood for his contributions to the England Ceramic Art.
However, this was not the only time Royalty smiled upon the Doulton Company. In 1901, King Edward the VII issued a Royal Warrant to the Daulton factory and bestowed it the right to be called the Royal Doulton.
Royal Doulton now produces figurines and tableware and cookware, glassware, linen curtains, lighting, and other home essentials. The brands Royal Doulton, Royal Albert, and Minton's are now owned by the WWRD holdings limited.
Popular Series from the Exquisite Royal Doulton Figurines Collection
There are more than 4000 royal Doulton figurines. These figurines have been divided into series, and we have the pleasure of introducing you to some of the most popular collections among royal Doulton collectors.
The Pretty Ladies Collection (1913)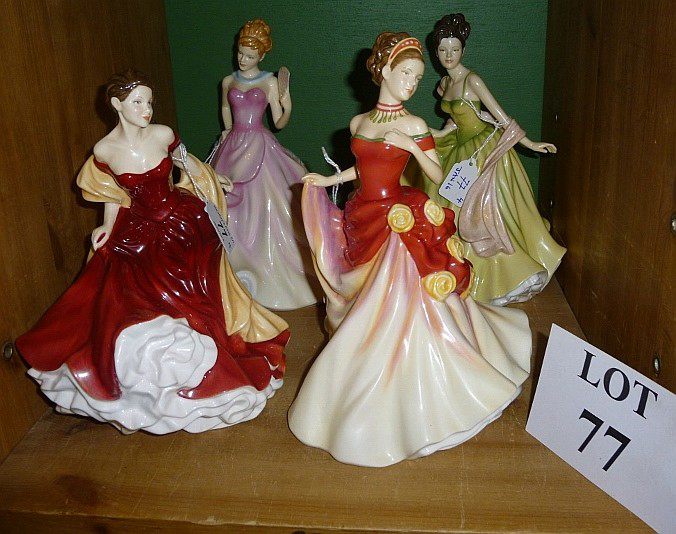 Introduced in 1913 and a jewel in the eyes of many royal Doulton collectors, we have the pretty ladies collection.
This series of Royal Doulton sees pretty women adorned in elegant colors and dresses. Each piece is hand-decorated and colored using vibrant colors and precise brush strokes.
The Dickens Ware Series (1922-1983)
Next is the Dickens ware series, a series inspired by the characters from the Charles Dickens books. This collection of Royal Doulton collectibles are formed from fine bone china. Later models were created using earth clay.
The BunnyKins Series (1933)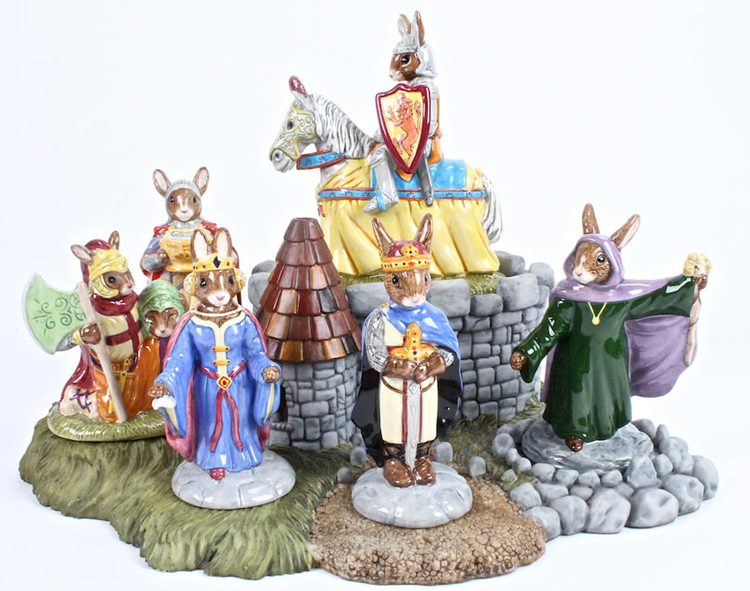 From 1933, the BunnyKins series of Royal Daulton figurines flooded the market, and they were widely accepted by the young population of that decade. You'll find that the most valuable of the BunnyKins had the Barbara Vernons Signature on them.
The Brambly Hedge Series (1980)
A look at the Breambly Hedge series will bring back the nostalgic feeling you'll get if you read the pictures book from Jill Barklem.
This series comprises a licensed collection of children-themed plates, bowls, and mugs, and coincidentally, its release date coincides with the date the four-season storybooks were released.
The Nursery Rhymes Series (1949)
Moving on, we have yet another series that is quite popular, and inspiration for the bone China figurines used was gotten from popular nursery rhymes.
The "Figures of Williamsburg" Series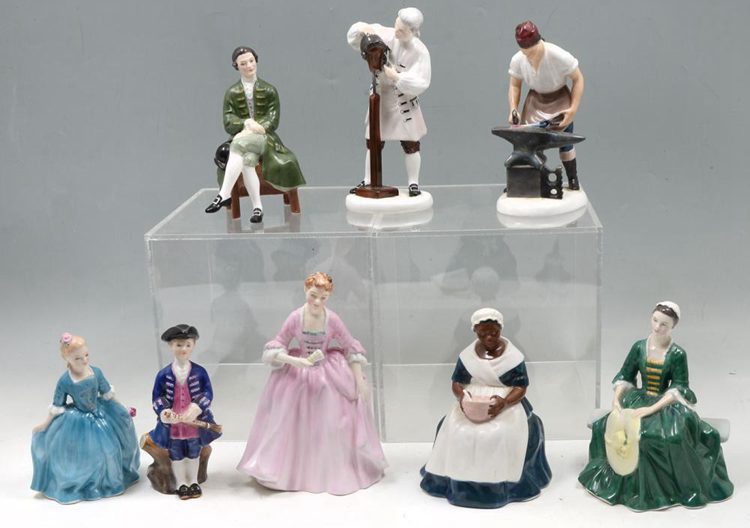 The 1960s saw the launch of the Figures of Williamsburg series, and it was made so that it would coincide with the restoration of the Colonial Williamsburg Restoration.
How to Distinguish an Authentic Royal Doulton from an Imitation
You now know what Royal Doulton figurines are, their history, and how they gained prominence. We've also taken you on a journey to the more popular series. Now it's time to educate you on ways you can identify an authentic.
You're a collector; nothing feels more painful than spending good money on a fake piece of Royal Doulton Figurine.
So, to ensure that you end up with a genuine piece, you'll need to check the Backstamp, name, and identification number of the figurine. In addition to this, some also feature the artist's initials at the bottom, the company's logo. Let's explore these different methods of identifying a genuine Royal Doulton.
The Backstamp has a Lot to Say
One sure way to identify an authentic Royal Daulton figurine is by examining the backstamp. The Doulton backstamp on the bottom of the figurine would usually be over the figurine's name.
Depending on the figurine's era, you should also find an HN identification number. "HN" stands for Harry Nixon, a prolific Daulton artist. From 1913-1940, the HN number followed a sequence after which the HN number was to be assigned based on the modeler of the figurine.
Antique marks give a little trick to tracking the exact date of manufacture of these antique figurines. All you have to do is add 27 to the barely visible small number located at the right of the stamp.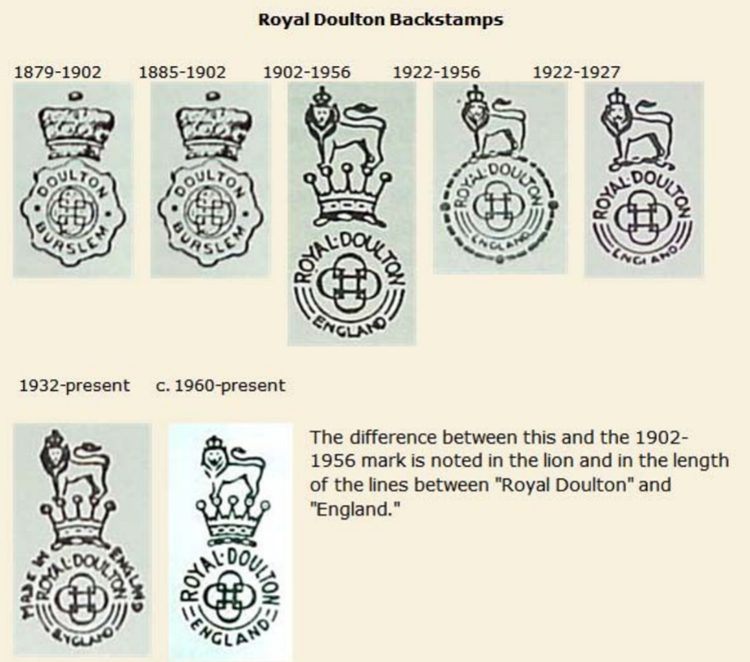 Check for Details
Daulton also made identification of authentic figurines produced from the mid-1930s. Figurines produced this year featured irises and pupils in the eyes other than just a simple black dot.
Get Assistance from Experts
Another sure way to ensure that the royal Doulton figurine you have your eyes on is the real deal is by engaging the services of antique experts. Several local and on the "Antiques Roadshow" appraisers are willing to offer their services for free.
However, it would be better to contact famous auction houses like Bonhams and even Christies. They will give their unofficial opinion by taking a good look at a photograph of the Doulton figurine.
Ways Counterfeiters try to Pass Off Fake Royal Doulton Figurines as the Real Deal
Counterfeiters today have found several ways to pass off a fake Royal Doulton as the real deal. Here are some things to be on the lookout for
Using Molds of Original Figurines
When counterfeiters get their hands on an original Doulton figurine, they use it to make molds which they intend to later use to make counterfeit figurines. Counterfeit figurines made using these molds will be smaller than the real thing.
So, you'll be able to spot a fake easily since you can find the correct measurement of any Royal Daulton figurines on several value guides.
Using Low-Quality Materials
Counterfeiters also use inferior materials to create fake figurines. Since these materials are inferior, they won't shrink when placed in the fake mold; however, you'll notice that their base will remain unpainted, which won't match the real thing.
Altering the Color Schemes and Paint
Fakes also tend to have a brighter color finish than an original figurine would have. The paint will be uneven, and the garments, eye details, and other details might be missing.
These counterfeiters also try to pass regular original pieces as rare ones by revising some features of an original. They can even choose to remove the color from an original to look like an unfinished piece. Unfinished pieces are highly desirable by collectors.
How to Properly Value a Royal Doulton
Knowing how to properly value the Royal Doulton figurines and character jugs is an invaluable skill you'll need as collectors of these antiques.
You'll be able to tell apart how much value to place on a regular piece and not make the error of giving away a unique one for this price of a regular.
Engage the Services of a Professional Antique Valuer
To properly value your Royal Doulton figurine, you should engage the services of a professional antique valuer. They can determine the value of your antique by investigating factors like;
Age
The age of the piece is one sure way that valuers use to determine the value of your Royal Doulton figurine.
Older figurines have lower production runs, and some of them are limited edition items, so they have a higher value than more modern models and those that are not rare.
Condition
Figurines that are still in excellent condition will be of higher value than other figurines of the same badly used model. Wear, chips and cracks will surely deplete the value of any antique.
Markings
Visible markings may also increase the value of a Royal Doulton figurine, especially potted marking visible in figurines made before 1939.
The Artist
The artist who made the figurine will also greatly affect the value of a Royal Doulton figurine. Typical examples of popular artists that worked under Harry Nixon include; Pheobe Stabler, CJ Noke, Peggy Davies, Tim Potts, and Charles Vyse, to mention a few.
The Theme and Color
The theme and color of some figurines also spell higher value for them. Typical examples of this are the pretty ladies collection from 1913. The swirling dresses and vibrant colors have somehow managed to steal the heart of collectors worldwide.
Confirm Prices from Reputable Price Guides
Another good way to ensure that you get the best price for your Doulton figurine is by researching the price. A reputable price guide will have three major qualities: the price guide must be very recent. It should not be older than 5 years.
Secondly, you also need to ensure that the prices are conversant across several contributors. We understand that not all contributors will agree, but a good number of them should agree on the same price.
Finally, you also want to make sure that supporting calculations confirm that the prices stated aren't just conjured up by the contributor for every price guide.
Popular Royal Doulton Figurines and their Prices
Here we'll do you the pleasure of displaying some popular Royal Doulton figurine pieces, their estimated prices, manufacture date, and of course, their HN number.
Afternoon Tea (HN 1747)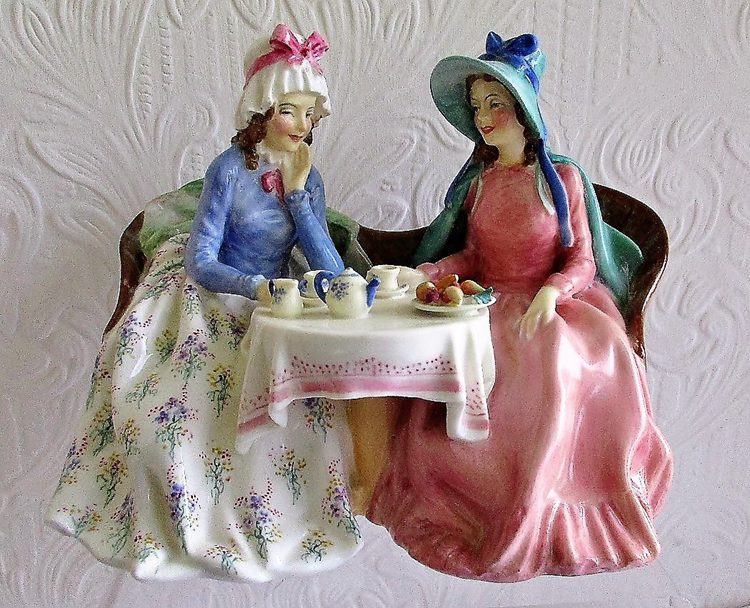 Production Period: 1935 to 1982
Designer: Pleydell Railston
Dimension: Height- 5.25 inches, Width- 7.25 inches, Depth- 5.25 inches
Price Estimate: $400-$700
Autumn Breezes (HN 1911)
Production Period: 1939 – 1976
Designer: Leslie Harradine
Dimension: Height- 7.50 inches, Width- 5.50 inches, Depth- 4.25 inches
Price Estimate: $100-$150
Balloon Man (HN 1954)
Production Period: 1940-2009
Designer: Leslie Harradine
Dimension: 7.25″H
Price Estimate: $67-$225
Bedtime Story (HN 2059)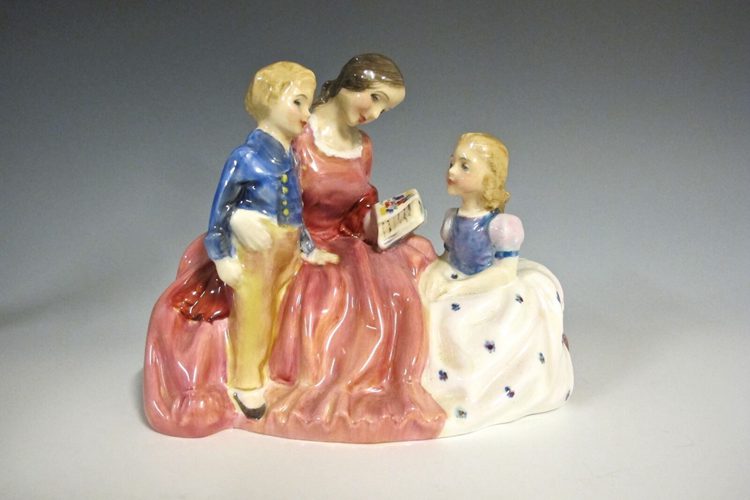 Production Period: 1950-1996
Designer: Leslie Harradine
Dimension: 4 ¾ inches tall
Price Estimate: $125-$400
Darling (HN 1319)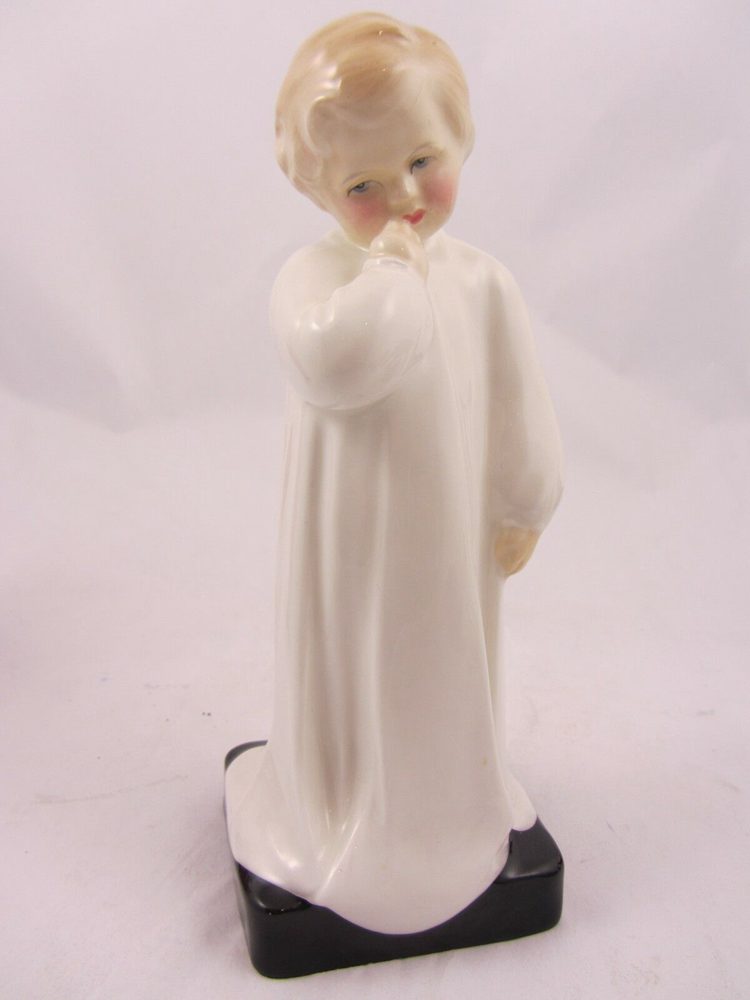 Production Period: 1929 – 1959
Designer: Charles Vyse
Height: 8.00 inches
Price Estimate: $98-$275
Happy Birthday (HN 3660)
Production Period: 1995 – 1999
Designer: Nada Pedley
Dimension: 8″H
Price Estimate: $135-$275
Henry VIII (HN 3458)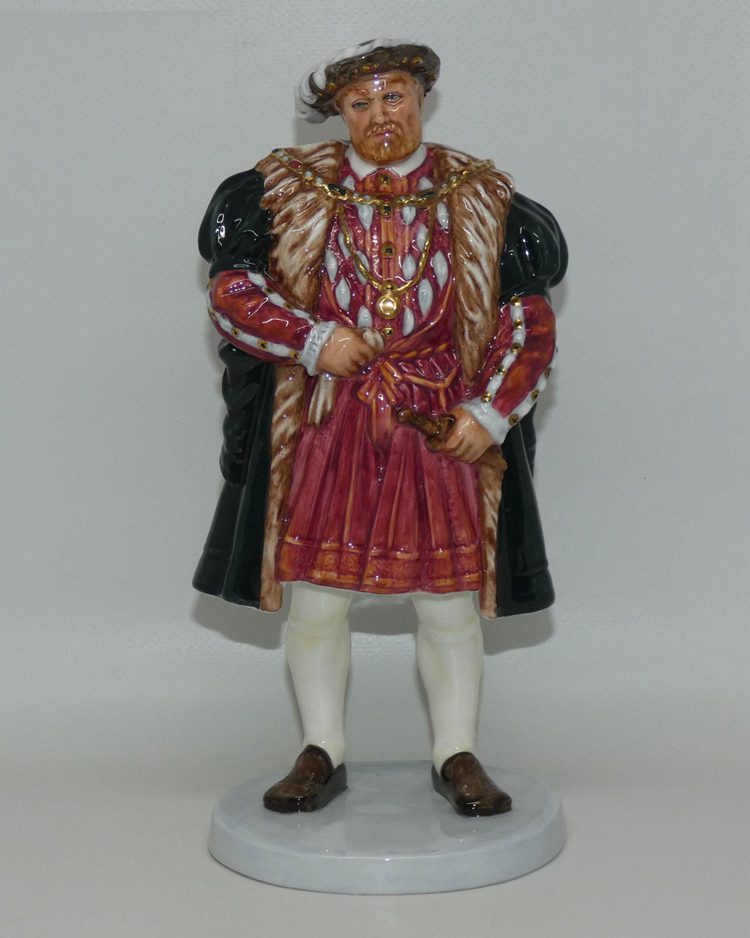 Production Period: 1994
Designer: Pauline Parsons
Dimension: 9 ¼ inches
Price Estimate: $1000-$1500
Jester (HN 3335)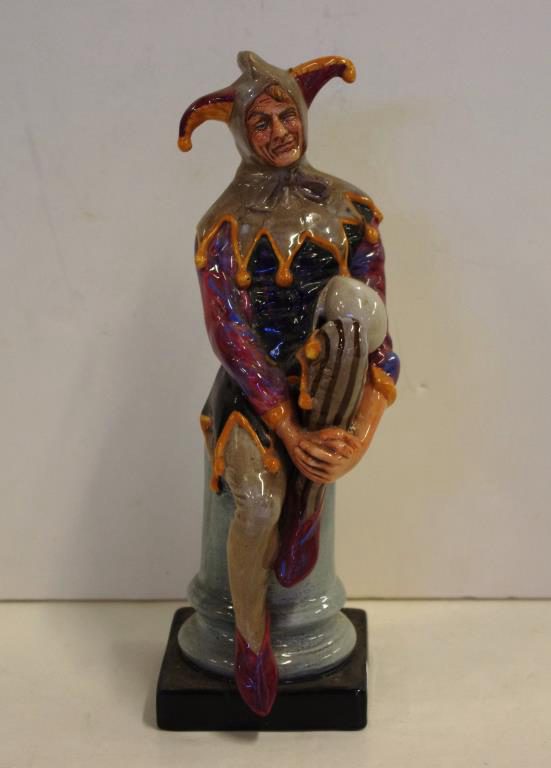 Production Period: 1990 – 1990
Designer: Charles Noke
Dimension: 4″H
Price Estimate: $175
Mask Seller (HN 2103)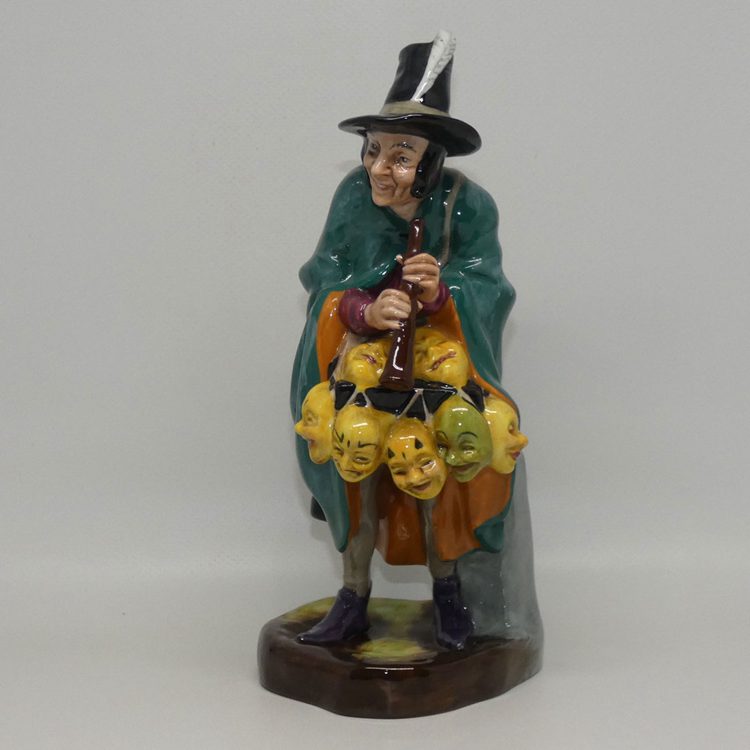 Production Period: 1953-1995
Designer: L. Harradine
Dimension: H. 8.5″
Price Estimate: $250-$300
Southern Belle (HN 2229)
Production Period: 1958-1997
Designer: Peggy Davies
Dimension: 7 3/4 in
Price Estimate: $90-$100
Here is a table showing more royal Doulton figurines and crucial info.
Figurine Name

HN Number

A' Courting

HN 2004

19471953

/Leslie Harradine

/7 ¼ inches

A Winters Morn

HN 4622

2004

/John Bromley

/8 ¾ inches

Abdullah

HN2104

1953-1962

/Leslie Harradine

/8.75 inches

Adrienenne

HN 2304

1964-1991

/Peggy Davies

/7 ½ inches

An Old King

HN 2134

1954-1992

/Charles J. Noke

/10 ¾ inches

Biddy Penny Farthing

HN 1843

1938-Present

Leslie Harradine

/9 inches

Bon appetit, Matte

HN 2444

1972-1976

/M. Nicoll

/6 inches

Bon jour

HN 1888

1938-1949

/Leslie Harradine

/6.75 inches

Calumet

HN1689

1935 – 1949

/Charles J. Noke

/6 ¼ inches

Captain Hook

D6 947

1994

/Martyn Alcock

/7 ½ inches

Doctor

HN 2858

1979 – 1992

/William K. Harper

/7.5 inches

Dorcas

HN 1558

1933-1952

/Leslie Harradine

/7.00 inches

Elyse

HN 2429

1972 – 1995

/Peggy Davies

/5 ¾ inches

Farmers Boy

HN 2520

1938-1960

/W.M Chance

/8 ½ inches

Fortune Teller

HN 2159

1955-1967

/Leslie Harradine

/6 ½ inches

Forty Winks

HN 1974

1945-1973

/H. Fenton

/6.75 inches

Genie

HN 2989

1983-1990

/R. I. Tabbenor

/9 ¾ inches

Goody Two Shoes

HN 2037

1949-1989

/Leslie Harradine

/5.00 inches

Harlequin

HN 2186

1957-1969

/Peggy Davies

/12.50 inches

His Master's Voice, Nipper, Wood Base

789

2000

/David Biggs

/6 .25 inches

Irene

HN 1621

1934-1951

/Leslie Harradine

/7 inches

Jack Point

HN 2080

1952 – 2009

/Charles Noke

/17 inches

Janet

HN 1538

1932-1949

/Leslie Harradine

/6.25 inches

Kimberley

HN 3379

1992-1997

/Tim Potts

/8 ½ inches

Lady charming

HN 1948

1940-1973

/Leslie Harradine

/8 inches

Lady April

HN 1965

1941-1949

/Leslie Harradine

/7 inches

Mendicant

HN 1365

1929-1969

/Leslie Harradine

/8 ¼ inches

My First Figurine

HN 3424

1993-1998

/Nada Pedley

/4 ¼ inches

My Love

HN 2339

1969-1996

/Peggy Davies

/6 ¼ inches

Newsboy

HN 2244

1959-1965

/Mary Nicoll

/8 ½ inches

Old Balloon Seller

HN 1315

1929-1998

/Leslie Harradine

/7.5 inches

Penny's Worth

HN 2408

1986-1990

/Mary Nicoll

/7 inches

Rhapsody

HN 2267

1961-1973

/Peggy Davies

/6 ¾ inches

Robin Hood

HN 3720

1993 – 1996

/William Harper

/10.5 inches

Shepherd

HN 1975

1945-1975

/Henry Fenton

/8 ½ inches

Snowman, Skiing

DS 21

1990 – 1992

/Graham Tongue

/Modeller: Warren Platt/5 inches

Top O' The Hill

HN 1834

1937-2004

/Leslie Harradine

/7.00 inches

Toymaker

HN 2250

1959-1973

/Mary Nicoll

/6 inches

Treasure Island

HN 2243

1962-1975

/Peggy Davies

/4 ¾ inches

Uriah Heep

HN 2101

1952-1967

/Leslie Harradine

/7 ½ inches

Victoria

HN 2471

1973-2000

/Peggy Davies

/6 ½ inches

Wizard

HN 3722

1994-1996

/Alan Maslankowski

/10 inches
Where to Find Authentic Royal Doulton Figurines
We know finding authentic figurines can be a bit of a hassle; that's why we've also taken it upon ourselves to reveal to you the best places to get the real deal. Here are exceptional places where we are quite sure you'll get authentic Royal Doulton figurines
Neighborhood Estate Sale
When searching for antique Royal Doulton figurines, your first stop should be estate sales near you.
Ensure that the estate sale is professionally managed, and you'll be sure to find coveted collectibles you came in search of. These treasure hunts for Royal Doulton figurines are something to live for.
Specialty Retail Stores
Your next stop should be specialty retail stores that stock up on revered collectibles. You'll be surprised to find out that these shop owners are usually blessed with donations from homeowners and estate liquidators. Do not forget to check a high-end thrift store.
Auction venues
Auction venues are another good place to find rare collectibles like Royal Doulton figurines. Before attending the auction, ensure you find items available to auction beforehand.
Online Vintage and Antique Markets
The online market is a vast world, and it sure does contain its bit of rare collectibles. Online market places like Etsy, ruby lane, seawaychina, and eBay have several Royal Doulton owners willing to sell their pieces for a price.
FAQs on Royal Doulton Figurines
Q: Are Royal Doulton Figurines Difficult to Find?
A: Like several collectibles, you might have come across, difficult to find Royal Doulton figurines are the limited-edition figurines. Since these figurines weren't produced in bulk like the others, they are difficult to find. Also, older editions of these figurines might be difficult to find.
Q: How Much Will a Typical Royal Doulton Figurine Cost?
A: Generally, the cost of a typical Royal Doulton figurine range within a few hundred dollars. The cost will be dependent on the condition of the figurine, the rarity, and the age.
Q: What is the Most Valuable Royal Doulton Figurines?
A: The most valuable series from the Royal Doulton figurines collection remains the Bunnykins series, which arrived in 1933. The most valuable remains from this series that feature Barbara Vernon's signature.
Q: How to Search for the Price of a Royal Doulton figurine?
A: Learning how to search for the price is also as crucial as knowing price guide sites to trust. First, you need to ensure that the piece in your arsenal has a patent number or model number that will help identify. Once you have this number, simply input it in the search bar of your preferred search engine, and you will find useful information about the price of the figurine.
Q: Does Royal Doulton Still Make Character Jugs
A: The manufacture of character jugs and mugs came to a halt in 2011. However, there are a lot of Royal Doulton Toby jugs and mugs and character mugs still around today. So you can still get your hands on one of the real deals. You'll however be pleased to know that the company is still in operation till today.
Q: Is Royal Doulton still made in England?
A: Although initially made in England, many of today's Royal Doulton figurines are from Indonesia. This, however, does not mean that the England Waterford Wedgwood in Barlaston location is not in operation. Instead, production here is focused on higher-quality items.
Final Thoughts
We are sure we've armed you with all you need to identify and value a Royal Doulton figurine. So, on your next antique expedition, be it online or the real world, you can be sure you'll not get ripped off. The Royal Doulton figurine and Tobys jugs appeal to many antique collectors worldwide. However, do remember the following;
Always confirm the HN number by taking a look at the back of the figurine
Ensure there is a backstamp which is the official logo of the Royal Doulton and
Seek assistance from antique experts before you place a bid on a Royal Doulton figurine.
Finally, the condition of the figurine will highly influence its price.