Have you ever been in a situation where you wanted to buy some furniture or appliance but you found yourself unable to make a purchase in confidence because you didn't know much about the item?
You'll agree that having a good knowledge of the different styles of antique side tables and how to identify them can enable you to choose the right side table for your room. In addition, one of the delightful things about owning antique furniture is that you cherish them even more when you get a sense of their rich history.
What are Antique Side Tables?
The table is probably the earliest item of furniture besides the chair. It is definitely one of the most versatile forms featuring styles that range from mobile or delicate to ceremonial and massive in their design and appearance. Tables are usually important markers of a specific era, style, or furniture designer.
There are basically two kinds of antique tables: dining tables and accent tables. In general, accent furniture refers to any piece of furniture which distinguishes itself against the backdrop of the rest of the room's style or decor. The term is derived from the use of the English word "accent," which means emphasis or stress . For instance, if a room is comprised of majorly beige furniture with only one colorful chair, the chair is seen or referred to as accent furniture.
History of Antique Side Tables
You'll agree that one of the delightful things about owning antique furniture is that you cherish them even more when you get a sense of their rich history.
Back when they were initially designed, accent tables were made to hold keys, mail, pictures, purses, along with a couple decorative vases and other knick-knacks used to beautify the home. These small tables have been in fashion for centuries.
Even though they've been altered in form and function with various practices and styles going in and out of vogue, these pieces of furniture are still useful today.
The placement or position of the side table usually determines what is put on it.
Types of Antique Side Tables
The list below encompasses the most common kinds of antique tables which you will most likely come across in the collectibles world. The method of classification is based on the age, the style, and the era.
1. Tea Tables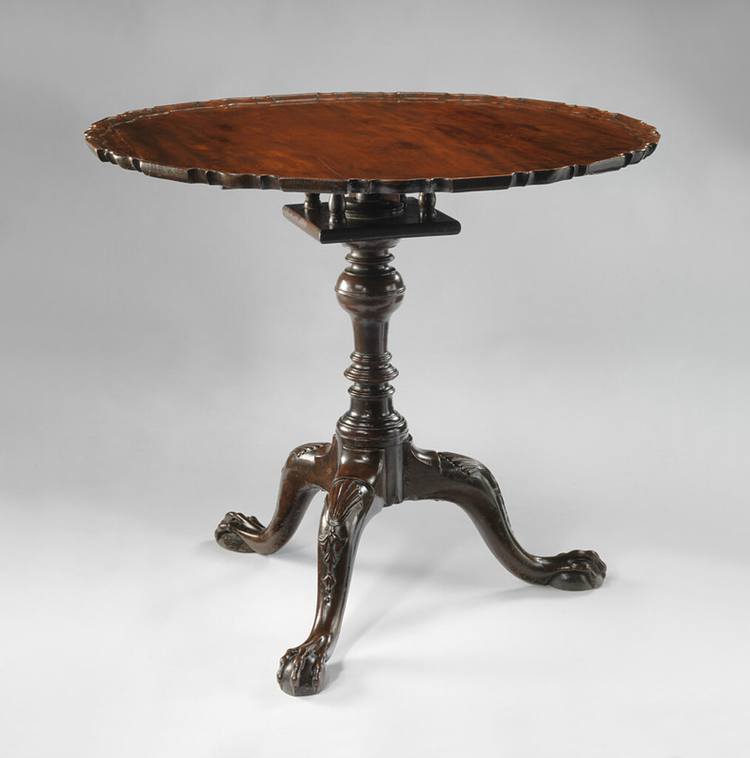 In colonial America, during the early part of the 18th century up till the 1770s, a significant number of round tables with tilt tops along with small rectangular ones were made, especially in Chippendale and Queen Anne styles. If you saw one, you'd most likely describe it as a "tea table," however, it's important to ask if they really had that anything to do with tea.
The answer is yes, actually. Back then, tea tables were used for one purpose only: tea presentation. During a period in history when tea was very expensive and being able to offer the beverage to guests or visitors was seen as prestigious, every well-off home boasted a tea table located in its hall, foyer, or living area ready for use.
Tea tables were usually kept out of sight for everyday use. However, when it was time for the host to begin preparations for a tea party, they would be relocated to the middle of the room.
Different Styles, Woods and Storage
The tea tables which were in use at the initial part of the 18th century were almost always of the rectangular in shape. A few of them even had tray tops affixed so that they could be used as a butler's table.
As time went on, round tea tables became tilt-topped so that they could easily be placed beside a wall when they were not being used. The wood of choice was mahogany. It was used widely by the manufacturers of tea tables. However, maple along with some other woods were used as well, from time to time.
The Tea Table's Declining Popularity.
At the end of the American Revolution, tea prices went down drastically and as such, throwing indulgent tea parties or holding tea in high esteem or as a marker of a prestigious household was no longer considered fashionable. The popularity of the tea table declined, and they were rarely produced till much later down the line when the revival of Colonial furniture became a thing.
2. Butler's Table
The butler table began as a table comprising a tray on top of a folding stand. It originated in the mid-18th century in England. The first stands featured two X-frames. The versions that were made later on possessed four legs, usually connected by an X-frame. The shape of the tray could either be rectangular or fashioned in a Chippendale-style version, featuring a center which was rectangular in shape along with raised hinged sides which formed an oval whenever it was extended or it could be rectangular with a fixed gallery. In both, the sides of the tray featured slots which worked as handholds.
Butler's tables started out as a relatively portable item of furniture made up of two pieces. It was very much a product of the many types of portable and light furniture developed in the 1700's. In the early 1900's, when the Colonial style was experiencing a comeback, manufacturers began to develop tables where the tray was not detachable anymore but connected to the stand or four-legged base. Being able to spot this difference can assist you in finding out when your butler's table was manufactured.
3. Demilune Table
What "demilune" describes is the top of a particular furniture piece which is usually a commode or small table shaped like a half-moon or a semi-circle. It is worth noting that the phrase demi lune in French translates to half-moon. This style most likely originated in France. The demilune began to be used widely in the mid 18th century and has been a household name ever since.
Demilune tables sometimes possess a drop-leaf which can be lifted up to create a full circle. The table had a flat side which allowed it to be stowed by a wall or to be brought into a room when it was needed.
It is not a surprise that the demilune has always been a classic which is still being used to adorn interiors today. These fine tables that originated in entryways in France were most likely the 'best fit' in the narrow and long foyers of the townhouse in the 1700's. Demilune tables were carved originally from mahogany, walnut or satinwood.
4. Guéridon Table
Guéridon tables (pronounced gwair-ee-dawn) began as stands for holding candles shaped like blackamoors which were employed to hold a candelabra. They originated in the 1600's and they were often manufactured in pairs. It's most likely that the guéridon style started in Italy. However, the style was enhanced in France where it started to mean any little occasional pedestal or table featuring a circular top placed atop a column base or tripod.
Towards the end of the 18th century, four-legged variations were developed with another circular tray used to join the legs at the center. As the centuries passed, guéridons were altered significantly in appearance as they reflected the furniture styles of the period. However, all the varieties of this style were characterized by oval or circular tray tops.
5. Console Table
Initially, the console table this was a two-legged style that was affixed to a wall, usually through brackets. That early variation became a lot popular in the latter part of the 17th century, most likely in France under Louis XIV.
Console in French means bracket and some tables are still fashioned in this manner today.
A console table can also refer to any table which features at least one straight and undecorated side, which allows it to be placed up against a wall. These tables are also usually rectangular in shape.
Console tables are sometimes referred to as pier tables.
6. Pembroke Table
The Pembroke table is a small, light drop-leaf table, featuring a drawer at either end and two hinged leaves, which can be lifted to increase the size. The table can be of different shapes, but a rectangular table with scalloped or rounded sides is the most common. Legs are usually slender and sometimes joined via an X-stretcher.
It originated in the mid-1700s in England and it is typical of the portable furniture pieces very common at the time. The Pembroke table was designed for occasional use and it most likely derived its name from Henry Herbert, a noted connoisseur and amateur architect who was the 9th Earl of Pembroke (1693–1751).
7. Kang Table
This is a style of long and low Chinese tables which is normally rectangular with typically short cabriole. Sometimes, they possess elephant-trunk legs instead along with claw or paw feet (although others are utilized as well). They are usually fashioned from a single piece of wood.
Kang tables were initially intended to be placed on a kang, which refers to an elevated platform with three walls used for relaxing or sleeping. This style dates back to the 3rd century BC. It was popular in the Ming Dynasty ( between 1368 and 1644) and this popularity continued in the Qing Dynasty ( between 1644 and 1911). The styles kept on getting increasingly ornate as the centuries passed. Kang tables are also referred to as K'ang Chi and Kang Ji tables.
8. Piecrust Table
This refers to a kind of pedestal table, often on three legs, possessing a round top trimmed with a raised, scalloped edge which appears like the crimped rim of a pie crust. The edging can be either molded or carved, and the top usually tilts up enabling the table to be easily stored against a wall in small homes.
Piecrust tables originated in the 18th century ad they were usually used to serving coffee or tea. They actually qualify as a type of tea table. Piecrust tables are often associated with Chippendale and Queen Anne designs.
How To Identify An Antique side table?
Have you ever been in a situation where you wanted to buy some furniture or appliance but you found yourself unable to make a purchase in confidence because you didn't know much about the item?
You'll agree that having a good knowledge of the different styles of antique side tables and how to identify them can enable you to choose the right side table for your room.
Examine the dovetailing.
Dovetailing is used in woodworking to hold various parts of a piece of furniture together. It is evidence of good craftsmanship. It's located in the sides of cabinets, drawers, and other pieces. In antique furniture, the joints are usually done by hand and are therefore have an irregular shape– smooth dovetails most likely imply work done by a machine.
The presence of multiple or different types of wood is a good thing.
Examine the furniture to be sure it's not just been made to look old. Look for telltale signs of wear.
Search thoroughly for stamps or labels.
Perfect symmetry in a piece of furniture is a sure sign that it was made by a machine .
Evaluating the Antique side table's Market Value
The following are various websites and searchable databases that can help you determine the price or value of your antique side tables and furniture in general.
Kovels.com
Although you need to first register on this site, it is worth it because Kovels.com boasts a searchable price guide for different types of antiques. And what's more? It's free.  All the information in their database is gotten from all over the world from the sale prices of approximately one million antiques.  If you know the name of the manufacturer of your antique furniture, it'll be a lot easier to obtain a correct idea of the price.
Invaluable
This is an auction site for all types of antiques and art. It offers you free information on the price and value of pieces sold on the website. You can search for your type of furniture by manufacturer name or the kind of piece to get information on its value.
WorthPoint
WorthPoint's niche deals with recent sales of particular pieces of art and antique furniture. You can get a sense of how much your item costs or what the value is by looking through the previous salle prices and auction results. It requires a  $10 per month subscription though.
Some other platforma you can use are:
Ruby Lane
eBay
TIAS
Go Antiques
Conclusion
It is very important to know your antique tables because it saves you a lot of stress when you need to make a purchase. With the above information, you can easily identify what you want and go for it. You can check this website for different versions and styles of antique side tables. There's also a good day of choices at PAMONO
This catalogue on Amazon also has some really good options. If you have any questions, please let us know in the comments.