Table remains one under-appreciated yet compulsory furniture for any home. And the well-worth piece remains in use for thousands of years. An antique table should set a deliberate foundation of impressive indoor decoration.
However, the long history comes with too many designs for your consideration. It's essential for you to know the fundamental points before making your investment. The article explicitly covers several facts to ease its valid finding.
Major Antique Table Styles from Different Periods
One of the most versatile household furniture should specify key periods in its timeline. And you'll keep encountering a limitless number of designs. Knowing the distinctive designs can help you identify antique pieces comfortably.
1. Antique Medieval Tables
It's almost impossible to find any genuine antiques from the medieval period. And the price will definitely exceed your moderate/affordable budget without any second thought. However, there are designs to have inspirations from the age-old models.
Hutch Table
Detachable part allowed a table with supporting chairs. The tabletop dropped vertically to open the chair.
Kang Table
It dates back to the 14th century Ming dynasty from China. Its long, low-accent design resembles modern-day cocktail tables.
Trestle Table 
Horizontal bars established T/V shape with slanted legs. And the boarded tabletop rested on two or more trestles.
2. Antique 17th Century Tables
Rarity prevails for the 17th-century tables from different contexts. Not a lot of information is currently available on the intended period. Some mere foreign designs (other than British) manages to survive.
Gate Leg Table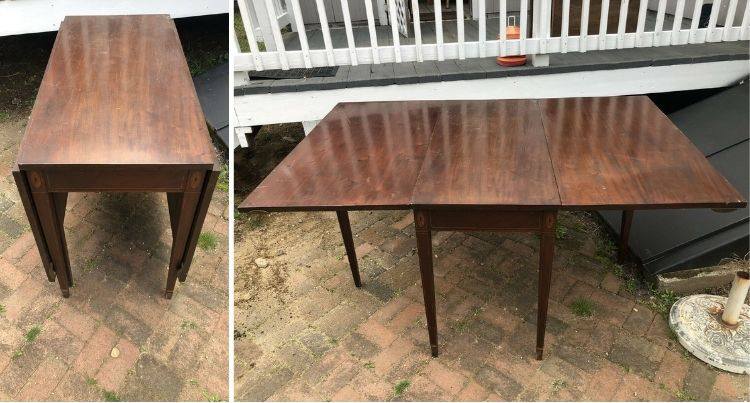 The design held good enough to match intimate dining arrangements. Two hinged leaves controlled the supporting legs.
Gueridon Table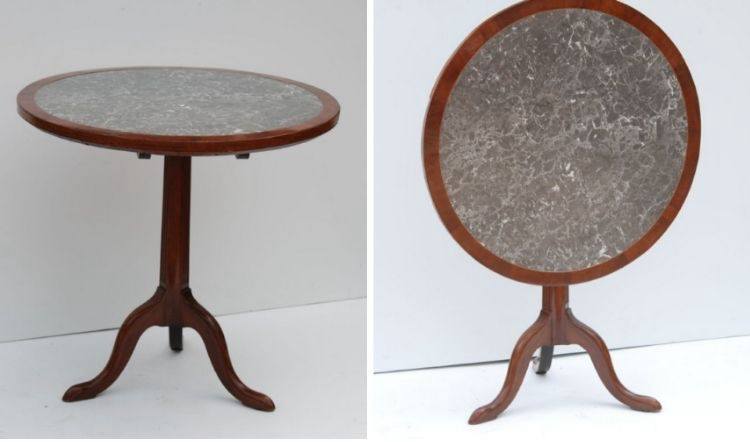 Rounded French table to feature multiple leg patterns. Compact size with luxury appeal sufficed the décor.
3. Antique 18th Century Tables
Interior design starts to gain attention from the 18th century with rapid improvements. And it featured an astounding number of new table designs. Many styles have already made the names in history with mind-blowing impressions.
Butler's Table
It featured a light, portable, accent table design. A tray-stand combo resembles modern-day TV tables.
Butterfly Table
The drop-leaf, gate-leg style held smaller dimensions for dining purposes. Its wing-shaped braces gave the name.
Console Table
One straight side remains attached to the wall. And the remaining side served ornate.
Demilune Table
Semicircle to full circle conversion provided the name. It delivered good storage for confined spaces.
Drop Leaf Table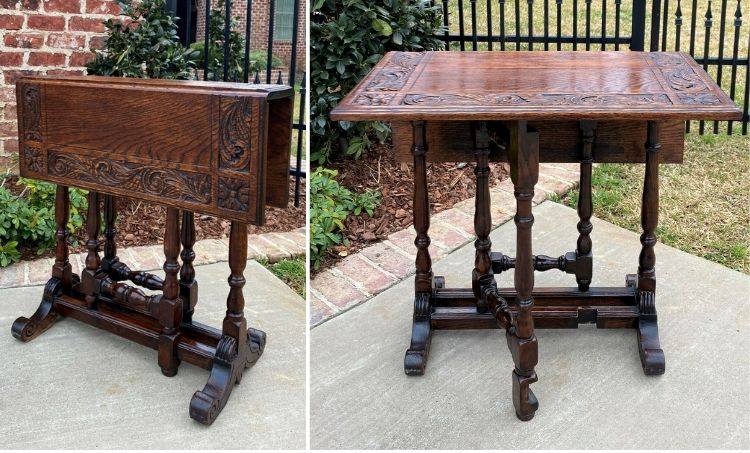 The oval structure featured classic ball-claw feet. Many modified versions are derived from the style.
Drum Table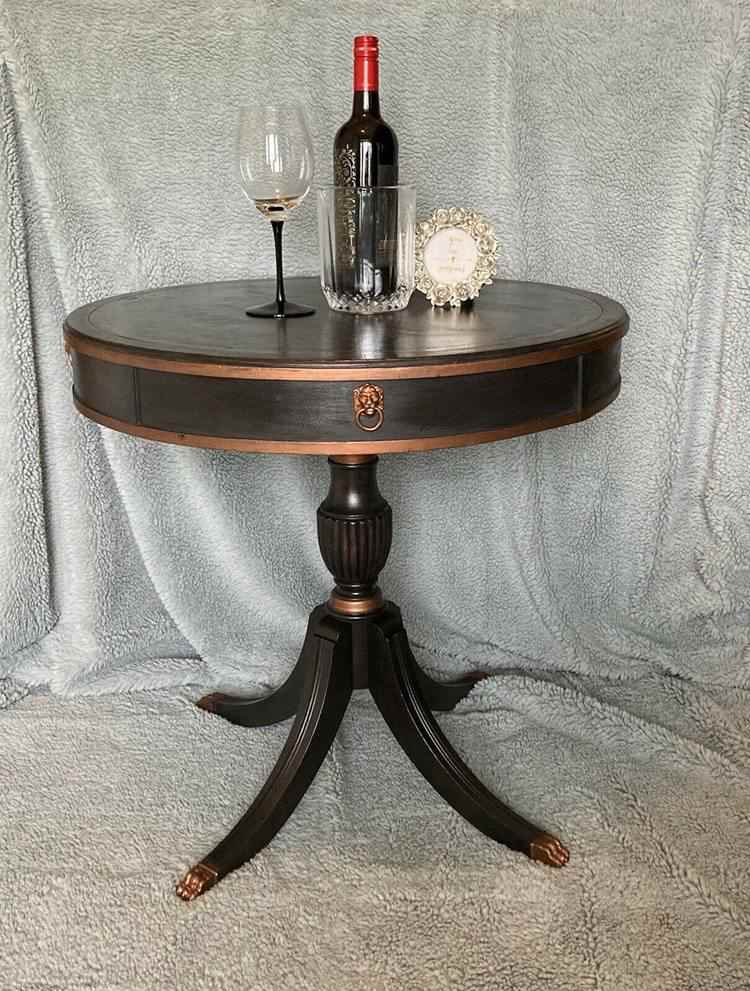 Rounded tabletop on singular support adorned English libraries. Compact shape made it one useful possession.
Pedestal Table
Any design to stand on a singular column remains a pedestal. It concerned a central, ornate, round/square pedestal.
Pie Crust Table
Rounded top held decorative crimp over three legs. The style was popular in Queen Anne & Chippendale periods.
Pembroke Table
Foldable leaves on each side made the design portable. Its rectangular specs met rounded edges.
Tea Table
It represents tea-time to serve the guests/family. The design got popular when tea was expensive.
Tilt Table
Central column hinges allowed the table plane to transform. It's more like a fun design from the timeline.
4. Antique 19th Century Tables
Victorian rule inspired almost everything to influence everyday life. Despite the continuity of 18th-century pieces, some new designs made the market. The styles somehow embodied an elaborately decorative taste to define the era.
Cricket Table
Three legs with a secondary tier supported the tabletop. Its compact shape can initiate extension for space.
Farmhouse Table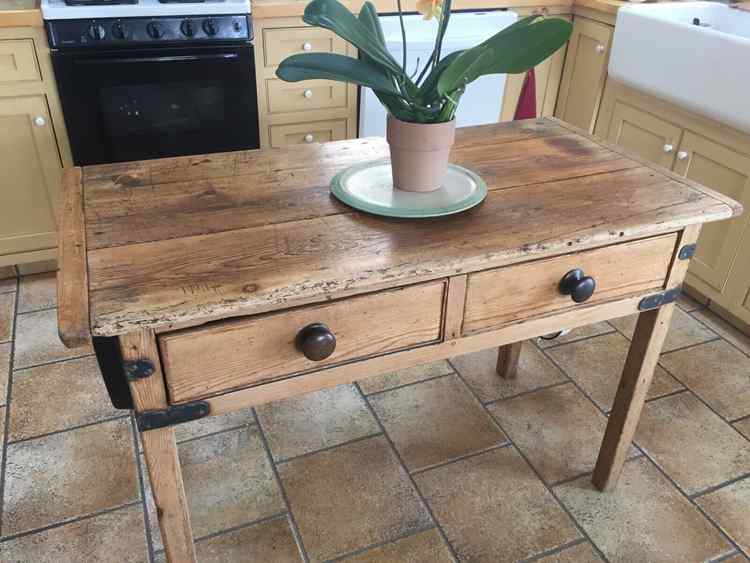 Trestle-like design remained popular in the rural community. It provided good functionality for multiple tasks.
Games Table
A double-layer tabletop allowed flipping on necessity. But it held extensive variation in styles.
Hunt Table
Removable leaf-brass mechanism allowed the hunters to celebrate. And the versatility counted pretty well.
Irish Wake Table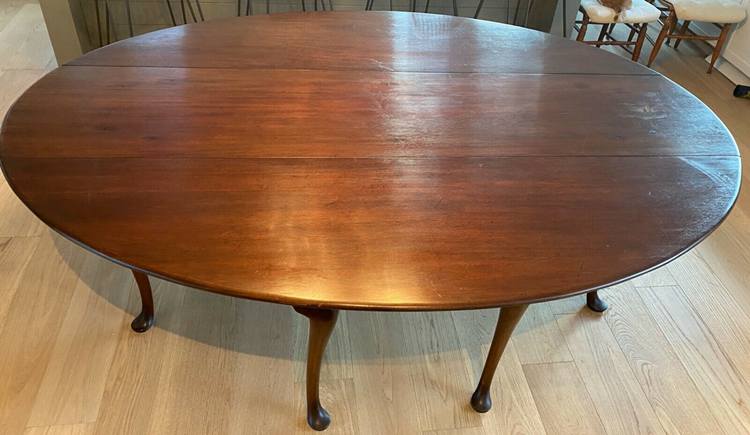 Folding side panels featured a flat top to support coffins. It explicitly resembles the Celtic tradition.
Trumpet Table
Trumpet base supported rounded tabletop with decorations. The Victorian piece reflected an overt style.
5. Antique Early 20th Century Tables
Overly decorative appeal coincided with the nearly baroque Victorian-inspired styles. Simpler wooden design featured more streamlined craftsmanship. And the imposed exterior managed to highlight the raw beauty of classic furniture styles.
Mission Table
Direct response to overdecoration introduced the functional design. It featured tenon joinery, handmade mortise & simple lining.
Shaker Table
It serves certain practical functions instead of decorations. But the design holds extreme carpentry skills.
How to Check the Market Price of an Antique Table?
Determining the exact market value all by yourself is one daunting task. However, implementing the following steps can save your hassle over long-term evaluations.
List everything to describe the table to support its essential specs.
Assess the antique's actual condition to determine its applicability.
Take a good number of pictures from different angles for evaluation.
Check several platforms or sellers to develop an approximate idea.
Likewise, you should contact appraisal services regarding the issue. There are many well-established online/offline appraisals available. Providing necessary points will get you the result within 24 – 48 hours.
You can consider attending online auctions or bidding sessions as well. It'll help you to catch the bargain or negotiations. The skill should help you to achieve price or reduce the tags to some extent.
How to Differentiate Antiques from Reproduction?
Actual market value highly depends on the intended piece's authenticity. And a large portion of antique scams directly concerns recent-time reproduction designs.
However, it appears rather easy to make an old-style table in the household furniture group. Experts to work on the line enlisted some tips to avoid reproductions instead of antiques.
Visible amount of secondary wood supports primary timber for the design. Scarcity of precious wood made it difficult to cover the entire structure with a uniform piece. Meanwhile, even appeal with almost perfected uniformity requires further analysis.
Asymmetry or irregularity remains one popular method of identifying antiques. Handcrafted pieces barely managed to meet perfection. Complex joinery often failed to shape the exact design as planned. And it resulted in causing somewhat visible differences.
Consistency in color or even distortion should alert you to the piece's antiquity. Modern screws or nails, precise carving, lack of patina adorns machine-made designs. Strictly observe for abrupt wood shrinkage, mild splits/cracks, or seam separation in antiques.
Again, any deterioration should testify to the table's genuine antiquity to some extent. Complete random occurrences of eventual wear are likely to occupy the surface. Not to mention, even a single spot may feature noteworthy differences within distance.
What you actually need to keep in mind is the confusing uncertainty with the facts. Deceiving sellers somehow manage to produce many almost impossible-to-catch pieces. Therefore, you better stay in touch with professionals to sharpen your knowledge.
Antique Table Maintenance Guideline
Special care for special pieces to possess absolute antiquity, regardless of other facts. And you must pay grave attention to every detail to ensure maximum longevity. Proper maintenance can surely hold the market value with additional benefits.
Regular dusting with a soft, clean, dry cloth should suffice the maintenance. Stay alert to skip cloth snagging on loose veneers, mounts, or hardware.
Humidity & temperature plays an important part in retaining the wood appeal, durability & sturdiness. Try to maintain a subtle environmental condition.
Use special caution to clean intricately carved portions. It's better not to use a dry cloth for snagging. Instead, choose a high-quality feathered duster.
Wear protective gloves to work with bronze or brass mounts. Even human acid/oil can corrode the metal. And marks require extensive treatment.
Apply a thin coat of wax with the woodgrain. Allow the newly imposed layer to dry for some hours. Make buffs using a clean cloth for enhancement.
Harsh chemicals may cause damage to the wood. Skip any spray wax or polish for the exterior coat. Its soaking may leave films on numerous spots.
Also, save metal cleaners to use on brass or bronze. It primarily distorts the surrounding wood top. Crevice settlement will cause difficult problems.
Not everything settles for the same treatment. You're to check for special maintenance requirements. Consult professionals for exact cleanup strategy.
Meanwhile, you may think of restoring the deteriorated surface finish. There are some conceivable video tutorials on YouTube to suffice your quest. In fact, you can start with Ron Hazelton's channel.
Final Words
The most difficult challenge concerns an excess number of available reproductions & duplicates. A proper mindset with sharp skills can help you to avoid a devastating purchase. Checking the design with its relevant specs will narrow down the options in no time.
The simple yet decorative piece requires your attention to retain its original antique value. And the comprehensive discussion surely makes you understand the points. Start digging into additional online resources to find ultimate satisfaction with your purchase.