When Lambert Hitchcock invented the Hitchcock chair company in the 19th century, little did he know he would be crafting the defining furniture for middle-class American homes. These hand-crafted chairs have left a strong mark in the furniture business.
A sign that reads "The Hitchcock Chair Co" with gold stenciling letters, screw holes, paint worn and scrap marks sold for $1500 during an online auction in February 2021, surpassing the estimated bid of $200-$400.
Furniture making has always required considerable time and effort, which is why the Hitchcock chairs are revolutionary.
Lambert Hitchcock made it easier by producing a stack of changeable parts at once to make the process faster. With these factors, one has to wonder what these Hitchcock chairs are worth and what value they might have.
In this guide, you can expect a complete breakdown of the value of these antique chairs, the history of the Hitchcock chair company and answers to questions like where you can buy or sell authentic Hitchcock chairs.
The Hitchcock Chair Company (History)
The Hitchcock chair company was established in a little town called Riverton in Connecticut, where Lambert Hitchcock had established his factory.
Lambert had found an ideal spot in the 19th century on the upper Farmington River in Barkhamsted with access to hardwood, sawmill and water power. Here, he created the famous Hitchcock chair company.
He began making all kinds of chairs including the fancy Hitchcock chairs, mass-producing parts of the chairs so it was easier and faster to sell. However, these ideas were not without a little influence.
Lambert was influenced by the clockmaker Eli Terry and by the late 1820s, the Hitchcock chair company was producing about 15,000 units of chairs yearly.
The designs on the chairs were not hand-painted. You see, Lambert had adopted the stenciling approach to his designs because he wished to distinguish his furniture from others.
When it came to the production of the Hitchcock chairs, the men in the company handled the making of the chairs, the children were to paint on the chairs made, leaving stenciling to the women.
Lambert Hitchcock's success in the furniture-making business gained so much traction that the Hitchcock chair company was nicknamed Hitchcock's Ville. Well, this was before it was finally changed to Riverton in the late 19th century.
Over the years, we have had different chair variations, but the one defining factor still remains and that is the stenciling designs.
You can watch David Jaffe talk about the Hitchcock chair as a historical by clicking on the link below
Makers Of Antique Hitchcock Chairs
The first Hitchcock chair company declared bankruptcy in 1829. After that, the company had to use mergers and sales to keep the business running until 1864, when the original shop finally closed.
Lambert Hitchcock Company (1818-1832)
As stated earlier, Lambert Hitchcock was the founder of the original Hitchcock chair company in 1818. The company went from manufacturing chair pieces to manufacturing full furniture best known for their beautifully hand stenciled designs that sold for $1.50.
Although Hitchcock chairs were quite popular, Lambert lacked the business skills to keep the company functioning which led to changes in the company. Notable signs on these chairs were L. Hitchcock. Hitchcocksville Conn Warranted.
Below is an example of the style of chairs made by the Hitchcock chair company.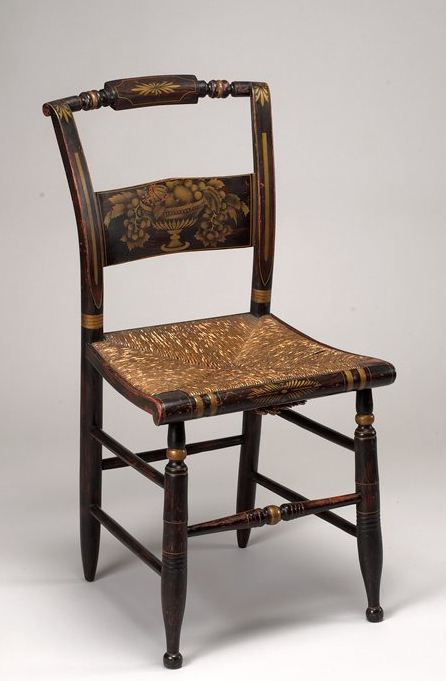 Alford & Co. (1832-1843)
The Hitchcock chair company went through receivership in 1832 and in order to prevent bankruptcy, Hitchcock had to merge his company with Alford & Co. owned by his brother-in-law.
While Alford supervised manufacturing, Lambert dealt with sales and distribution. However, in 1843, the company dissolved after Lambert sold his shares of the company to start a new business in Unionville Connecticut which also failed.
Visible maker's signs used in this period include Hitchcock, Alford&Co. Hitchcocksville and Conn Warranted.
An original Hitchcock and Alford merged signed chair will look like this;
John Kenny & Hitchcock (1949-2006)
Almost a century after Hitchcock moved his company, a business man named John Kenny stumbled on the Hitchcock abandoned factory.
He rented out this abandoned space and together with a friend of his who had a little knowledge about furniture, they partnered and began buying and learning more about the Hitchcock chairs.
By the year 1949, they had grown to making about 30 chairs per day. The major difference between this new company and the former is that they had to use airbrushes to apply the stencil patterns because they could not find people to apply the gilt paint with their hands.
By 1950, these chairs were selling for $39.95 and $49.95 in slat back, crown back, turtle back and more. However, as time progressed the company could not compete with cheap imports so it had to close down in 2006.
View an example of a 20th century Hitchcock chair below.
Rick Swenson and Gary Hath (2010-Present)
In 2010, Rick and Gary bought the stencil, name and plans of the original Hitchcock company and introduced it into the 21st century with more vibrant and modern pieces while keeping the original designs and legacy.
Look below to see what the Hitchcock chair looks like in the 21st century.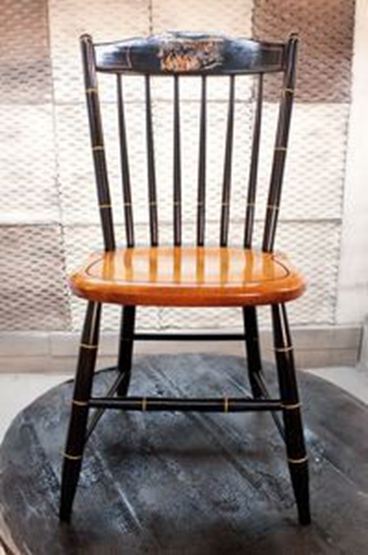 Identifying Antique Hitchcock Chairs
Some defining characteristics make it impossible to mix an antique Hitchcock chair with the more modernized ones.
These chairs also came in cane and wood seats with turned fore legs and a more extended back leg.
There are certain ways to determine if the chairs you are about to get are the original Hitchcock chairs and some of them are:
The Maker's Mark
While trying to identify whether an antique Hitchcock chair is the real deal, there are markings you need to recognize. These marks are usually stenciled at the back of the chair.
Interestingly, over the years, only three marks have been.
Hitchcock. Hitchcock's-Ville. Conn. Warranted
Hitchcock, Alford & Co. Hitchcocks-Ville. Conn. Warranted
Hitchcock. Unionville. Conn. Warranted
Some versions of the chair had the Ns in Connecticut written backward, which is believed to be due to the low literacy level of workers at the factory.
Original Designs
In identifying original Hitchcock chairs, you must be familiar with the designs.
Usually, these chairs are made using original rush seats or cane seats with decorative stenciling. These decorations usually come in a gold trim or highlighted with gold accents along the crest rail and chair back. The back is usually designed as a stenciled fan back.
These stenciled crest designs are either an eagle stencil or floral decorations usually in gold accents. Lambert Hitchcock was sure to properly design these patterns that would be used at the chair back and along the crest rail.
Other Ways to Identify the Hitchcock Chairs
Other than the maker's mark or the stenciled design, there are several other minute details that can be helpful in helping you determine if your antique Hitchcock is the original. They include;
Observing More than the Style
A chair with the same style or design as Hitchcock's furniture does not make it one. When purchasing the chair, you should look at other characteristics before paying.
Many designs that have the same look as an antique Hitchcock chair have been reproduced over the years, and even today, these newer versions are still being produced.
You must identify the style of the antique chair and, even more than that, observe the signs of aging that would confirm its authenticity.
Assess the Important Parts
If you look closely, there are spots on every antique chair that can tell you its journey, where it's been, and how old the piece is.
The point where a piece of wood has been joined together is one of such places. Recall that these chairs were handmade, and you can expect to find some lopsidedness with these pieces.
It is not expected that a hand-crafted chair will be perfect after production. There will most likely be slight differences in some parts of the chair.
For instance, workers may smear paint while stenciling, or cuts can have uneven edges at the back of the chair. These differences tell you how the chair was crafted.
Try to Decipher the Tools Used
The company that produced the antique Hitchcock chairs we see today must have used very simple types of machinery and not the heavy kind we have today. The precision of machinery from the 19th century cannot be compared to that of today.
One instance is the circular saws used during that era. They would have left marks on parts of the wood giving the cuts an uneven look. Engine-powered manual saws on the other hand will cut wood in a straight, more even pattern. The differences in how these tools operate can show you what you need to know.
Examine the Materials Used
You must look closely at the materials used to create the chair. If it is an antique chair, the chances are the nails and screws are not in perfect spots and have hit marks on them.
The screws available in the 1800s were partially mechanized, so even if the company used a machine to insert the screws, a blacksmith would still have to pound it to finish the job.
Modernized versions are mechanized and do not need assistance to tighten the screws properly.
Valuing an Original Hitchcock Furniture
When valuing an original Hitchcock, it is necessary that you take into account some factors like the condition of the Hitchcock and its rarity. These can help to properly value an antique Hitchcock.
Below is a table showing the estimated value of an average antique Hitchcock chair
| | |
| --- | --- |
| A piece of antique Hitchcock chair in excellent condition | $200-$300 |
| A piece of antique Hitchcock chair (damaged) | $50 |
| A set of 4 antique Hitchcock chair | $1200 |
| A limited-edition antique Hitchcock chair (per piece) | $1000 |
An antique Hitchcock chair in superb condition is worth as much as $200-$300 or more, and if it comes in a set of four, you can be sure the value will be as high as $1200 or more. This pricing is a heavy leap from its price back then, which was about $1.50 per chair.
If the chair in question is a rare find, it can be sold for as much as $1000 per piece, which means in your Hitchcock is a limited edition, the value is way more than the mass-produced kind.
Sadly, some factors can seriously devalue the price of an original Hitchcock, some of which are:
Refinishing
If you decide to refinish your Hitchcock, this may affect the value especially if it is not done right. Problems arise when the maker's mark at the back of the chair is tampered with. Doing this can affect the value because the item's authenticity becomes questionable without this mark.
There is a genuine Hitchcock that has been sold for as little as $50 because the identifying mark has faded. If you have one of these, the chances of selling at the value price will decrease.
Condition
It is highly unlikely that anyone would want to buy a damaged chair, but there are some situations where it would sell.
In situations where the item holds sentimental value or you find a collector that wishes to display a Hitchcock chair, you might be able to sell it, but it is expected that it will sell below the valued price.
It is also crucial that before buying your desired Hitchcock chair, you make sure it is in its original condition and that the paint is still intact so you can get your money's worth.
Rarity
One factor that makes Hitchcock chairs so valuable is that they are rare vintage items, so it is expected that a rare version will hold more value in the market than the usual kind.
A limited-edition Hitchcock will cost more than the usual. If a chair is going for $300 in the market, the limited edition is expected to cost as high as $1000 per piece.
Demand/Supply
Just like every other market system, the laws of demand and supply also apply to these Hitchcock chairs. You can expect that if the demand for one is high, it increases in value, especially if supply is low at that period and may even cost more than the current market price.
In the same light, if the demand is low and there is a saturation of Hitchcock chairs in the market, the race to sell becomes tighter, forcing dealers to reduce their prices, thereby reducing the value.
Knowledge
You might find it unbelievable that some individuals have no idea that the Hitchcock chairs they probably inherited from their parents or got as a gift are more valuable than they think.
An individual can put this Hitchcock up for sale, and because they do not know how valuable it is, they put a lesser price.
This act does not mean the chair is damaged or a knock-off; it only proves that an individual's knowledge of an antique Hitchcock can sometimes determine the value you may have seen.
Styles Of Antique Hitchcock Chairs
When trying to buy or sell an antique Hitchcock, you should know the style you are looking at so you can determine its usability and by that, its value.
The Rocking Chairs
This Hitchcock chair style is more likely to be more expensive than the decorative kind because of its many uses and the technicality in production. It is more than the simple decorative Hitchcock and proves very valuable.
Dealers can value an antique like this on a specialized site for as much as $1450.
The rocking chairs also come in a Hitchcock style with Windsor back. It is also made from maple and has scrolled arms used as armchairs.
The Rush Seat Arm Chairs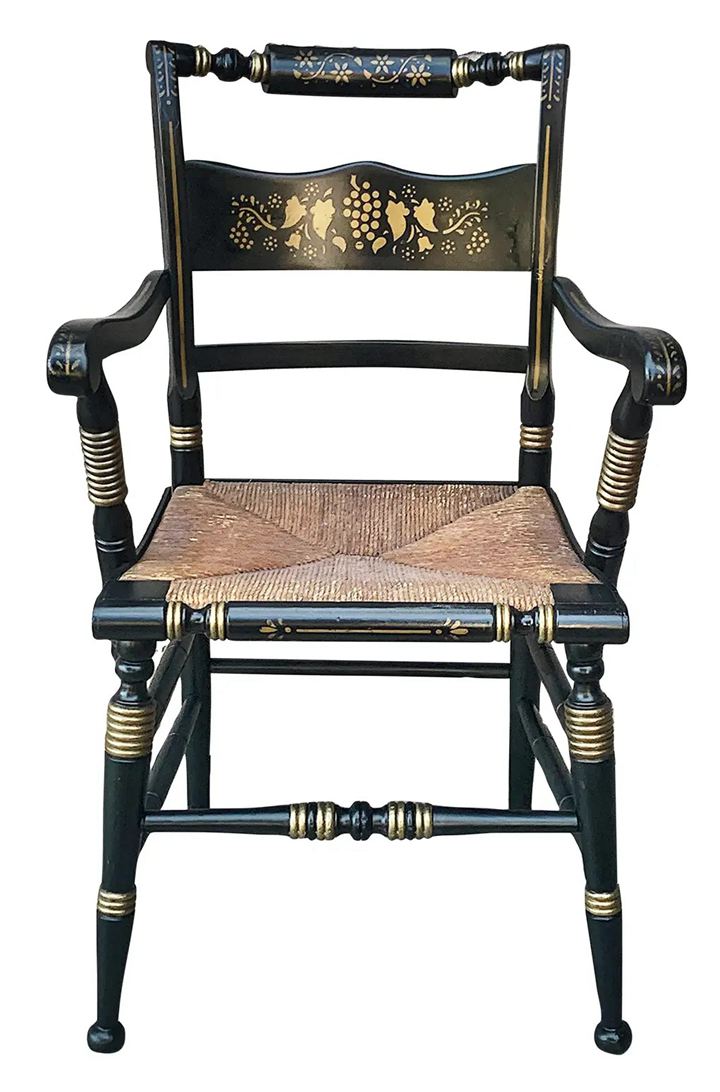 Styles like this are mostly decorative and used by middle-class Americans to brighten their living rooms.
It is more common than the rocking chair, and where the rocking chair requires more wood for production, this decorative chair requires more skillful stenciling. This kind is valued to be around $775.
The seat is made using rush and has an arm rail that differentiates it from the regular side chairs.
The Dining Chairs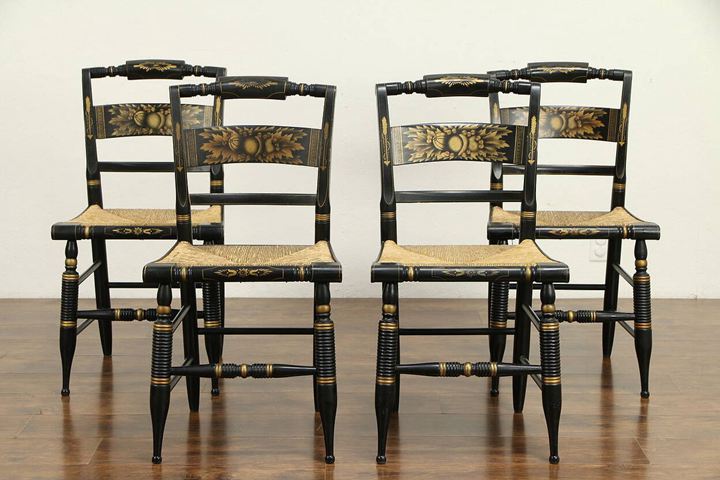 These are usually a set of four or six Hitchcock chairs placed with a table that makes a charming pair. Sometimes, there are eight chairs around this table with a contoured seat or a rush seat with a stenciled fan back.
This style is the familiar Hitchcock style. The design is a stenciled fan back with the seat higher than the other styles to match the table.
The Light-Yellow Hitchcock
While this might not have been the original color intended, there are Hitchcock chairs that are listed as light yellow in color and sometimes blonde.
They were originally painted in a creamy off-white but changed colors. This is due to a change in the color of the original piece which is usually caused by sun and amber which was the protective finish used on all Hitchcock chairs until the 1990s.
The Rush Seat Side Chair
These seats were hand woven from natural rush which makes it one of the special styles of the Hitchcock chairs. It is similar to the rush seat armchair only that it does not come with an arm rest and it is also suitable to use as a dining set.
5 Most Expensive Hitchcock Chairs Available on Sale
Below is a list of the most expensive antique Hitchcock chairs you will find on sale. This list is obtained from specialized antique sites designed for the purpose of selling genuine antiques.
| | | | |
| --- | --- | --- | --- |
| S/N | Name | Period | Price |
| 1.  | Hitchcock high back rocking chair | Late 19th Century | $1450 |
| 2.  | Vintage painted chair | Late 19th Century | $1350 |
| 3.  | Limited edition ship chair | Late 20th century | $1295 |
| 4.  | Hitchcock chair with stenciling | Early 19th century | $1295 |
| 5.  | Hitchcock armchair | Late 19th century | $950 |
1. Hitchcock High Back Rocking Chair
Period: Late 19th century
Price: $1450
This 19th century high back is a classic American artistry. It is made from cherry wood and pine and is previously owned. This antique is available in brown for sale on chairish.
2. Hitchcock vintage painted chair
Period: Late 19th century
Price: $1350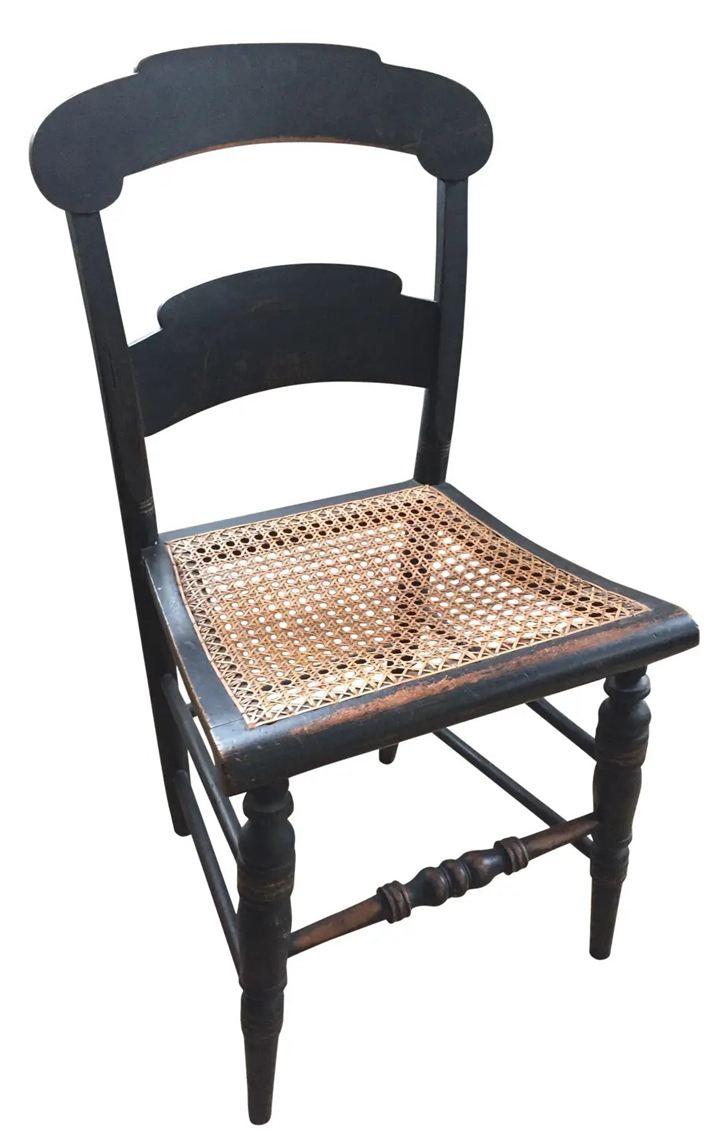 Here is an American collector's piece, a genuine 19th century Hitchcock chair made with cane seats and the original hand painted stencil. This chair has mostly been used as a display item and is now available for sale.
3. Hitchcock Limited edition ship chair
Period: Late 20th century
Price: $1295
This limited-edition Hitchcock had only 500 of its kind made. It is made of rush seats, carved frames and of course the hand painted stencils as its highlights.
4. Original Hitchcock chair with stenciling
Period: Early 19th century
Price: $1295
The original rush seat side chair is a rare find. It dates as far back as the early 19th century when the fancy chairs became very popular and here is one of these versions up for sale on Rubylane.
5.The Hitchcock armchair
Period: Late 19th century
Price: $950
This is one of the most popular styles of Hitchcock chairs. It is a favorite among collectors due to its comfortability. The armchair is readily available for sale on 1st dibs.
Selling Hitchcock Chairs
Are you looking for ways you can market and sell your Hitchcock set? This category is divided into two parts: online and offline sales.
Online Sales
It is quite fascinating how easily the internet has made many things. If you have Hitchcock chairs for sale, you may find a buyer online without moving around. Online sales allow you to find multiple buyers, so you pick the highest value you can get.
The downside to online sales is that it is possible to fall into the hands of fraudsters if you are not careful.
Here are the best ways to market your Hitchcock online:
There are two ways for you to market your Hitchcock online. You either go through a dealer specializing in the sales of antique items, or you upload your item on available platforms and wait for a buyer to contact you.
This act is better described as self-sales and dealer sales. Self-sale is direct, while the dealer sale involves going through a third party.
Self-sales options include:
Other Online Markets
Other smaller markets are available online where you can sell your Hitchcock chair. They are specialized just like the ones mentioned before but are not as popular. You can still advertise your chair on these sites, but remember that exposure may not be as much as expected. Some of these other markets include:
Social Media
This platform has become a very powerful tool for marketing. Social Connections are not the only thing going around these platforms lately.
Dropping a post with details on items you have for sale is almost guaranteed to connect you to your buyer, so if you are active, you can be sure to find a buyer for your Hitchcock.
For instance, Facebook has made it much easier by adding a marketplace to its community. All you need to do is type marketplace on the search bar, and you can market and sell your chair here.
Online Dealers
This approach is an indirect one to selling your Hitchcock. For the other online measures, you can decide to either put your item up yourself or go through a certified dealer. To save time and avoid stress, you may decide to use a trustworthy dealer.
This way, you will surely get the right value for your Hitchcock, and the dealer will sell it in no time. Depending on the dealer's rate, it will cost a small percentage of the chair's worth.
Offline Sales
The offline sale involves meeting your buyer and dealer in person. It is the safest measure to avoid fraudulent activities. You can get to specialized markets to advertise your Hitchcock business or through a dealer you have bargained with.
This method is a lot simpler since the buyers can access what they are about to buy, and you can be paid immediately without causing any delay on both parts.
Buying Hitchcock Chairs
You may be interested in decorating your home with a piece of Hitchcock style, or you may be a collector. If you need to buy an antique Hitchcock chair, here are some of the best ways.
Online Markets
You can search for a piece or set of Hitchcock chairs on online markets like Etsy, ruby lane or eBay and check the listings. You will immediately be connected to someone with a business so you can shop there.
These sites are guaranteed to help you acquire your desired Hitchcock furniture.
Consignment Shops
If you have a consignment shop or a furniture store nearby, you can walk into one and shop for an original Hitchcock. Chances are, a seller has dropped one off and is waiting for it to be sold so they can get their money.
Newspaper Adverts
In some cases, dealers or owners of an antique can advertise their item in the newspaper, and you, as a buyer looking for a Hitchcock chair, can check the newspaper listings to see if one is available for sale.
Flea Market
This market is one of the best places to check for your Hitchcock. Most times, the chair will be on display right outside, so if you see one you like, you only have to make a bargain with the seller.
Some of these dealers have a furniture store they can take you to so you can pick your desired Hitchcock collection.
Garage Sales
When people want to clear their garages, they organize them and put the details online. You can check for available garage sales near you using the keyword antique Hitchcock chair, and this will immediately show you the available garage sales with the chairs on the listings.
Auctions
Auctions are a more interesting way to source for your Hitchcock collection because it requires bidding. If an antique Hitchcock is up for auction, you can go and bid. The auctioneer will sell the chair to whoever bids the most, so we advise you to be prepared.
Antique Shows
Many times antique dealers come together to showcase their items for sale in a furniture store, and furniture categories increase the chance of finding an original Hitchcock.
The original Hitchcock company that started making these fancy chairs in the 1800s finally closed down in 2006, selling off all their pieces of equipment through auctions.
Today, a reinvention of this company now exists using the same designs and patterns as the original company of Lambert Hitchcock.
Final Thoughts
The Hitchcock chairs became a major class determinant during the 19th century for the American middle class. It was a more affordable version of the gilt chairs being made and was equally as stylish.
Do not forget these important tips to verify if you have the original version of the Hitchcock chair.
An antique Hitchcock chair will always have the maker's mark at its rear
The earliest Hitchcock chairs were made from wood like maple, birch, and oak.
The original colors were mostly painted black, brownish-black or dark green.