I remember my parents having a couple of Windsor chairs ever since I was a kid. I loved those. I learned much later in my life that Windsor chairs weren't that unique back then, they were once the seating of many Americans. What I also learned is that if you find the right kind of Windsor chair, you could make a fortune. Vintage markets are always willing to pay top dollar to get a piece of that antique.
Therefore, my recent flea market visits all had one purpose: to find a Windsor chair that is in good shape and condition. Luckily, I managed to fulfill that purpose, but not without much effort. To make it easy for you, I am going to discuss the history of Windsor chairs, their identification, their value, and the top most valuable Windsor chairs, in the remainder of this article, so you know what fortune you are literally "sitting on" if you ever come in possession of a vintage Windsor chair.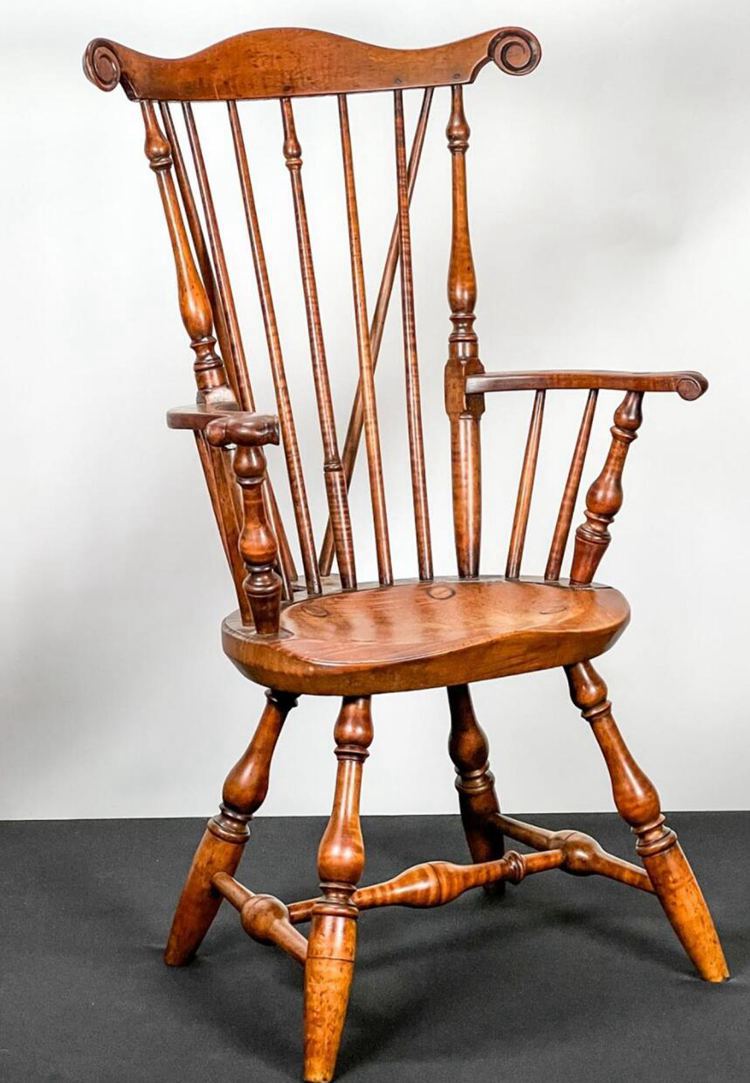 Windsor Chairs: An Overview
Windsor chairs were once very popular in homes around the United States. In fact, they were a preferred seating choice for a lot of people in Colonial and early Federal America.
These wooden chairs started to come into popularity in the early 18th century due to their simplistic beauty and timeless attraction. However, many furniture makers still manufacture them.
Windsor chairs are completely made of wood. The seat is usually made of elm, a decorative wood that is resistant to splitting. The legs, arms, and backrest are frequently made of native woods, such as fruitwood (mainly cherry, walnut, and yew), beach, and ash.
Currently, they are one of the most antique and most admired pieces of furniture from history. They possess that "modern appeal," which is the reason why people still buy and sell them, and it is still being produced.
To be frank, the main reason why anyone would buy a vintage Windsor chair is that they are strong, durable, and absolutely breathtaking. Or, you could also buy them to wait a couple of years and sell them for a higher price in the antique market.
While Windsor chairs are hard to come by, it is still manageable to find them in the wild. And if you want to get your hands on the real thing, it is best to make sure you are buying vintage and not the modern-made one.
10 Most Valuable Antique Windsor Chairs
| | | |
| --- | --- | --- |
| No. | Name | Value |
| 1 | Vintage Windsor Fan-back Armchair 1790 – 1800 | $75,000 |
| 2 | Set of Six Bow-back Vintage Windsor Chairs, Circa 1795 | $62,500 |
| 3 | Pair of 18th Century George II Gothic Yew & Elm Windsor Armchairs, Circa 1760 | $61,278 |
| 4 | Set of 6 20th Century Oiled Walnut Spindle Back Windsor Dining Chairs | $34,000 |
| 5 | Pair of Georgian Walnut Windsor Armchairs, Circa 1740 – 50 | $32,495 |
| 6 | Green-Painted Comb-back Windsor High Chair, Circa 1800 | $23,750 |
| 7 | Exceptional 18th Century Ash & Fruitwood Windsor Armchair | $19,500 |
| 8 | Set of 6 Art Deco Era Vintage Windsor Chairs, Circa 1925 | $19,720 |
| 9 | Brown-Painted 18th Century Windsor Armchair | $18,000 |
|  10 | Black-Painted Brace-back Continuous-Arm Windsor Chair, Circa 1790-95 | $12,500 |
Nowadays, antique Windsor chairs are sold somewhere between $1,000 to $200,000. However, private sales go up to $500,000 and even more. If you want to make that kind of cash or even if you just want to have them because you adore them, it is important to know what kind of investment you are making.
Here are the 10 most valuable antique Windsor chairs that you need to keep an eye out for.
1. Vintage Windsor Fan-back Armchair 1790 – 1800, $75,000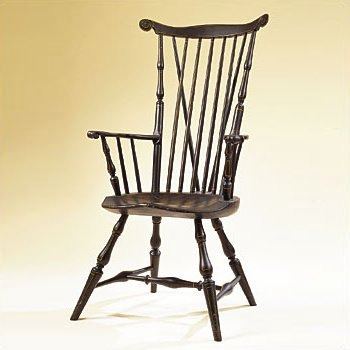 This vintage Windsor chair from Nantucket Island is one of the examples of quality designed Windsor chairs of the earliest period. The dramatic legs and elegant back braces of this chair are two of the reasons for its visible timelessness.
The deep-shaped seat and sharply undercut edge make this chair a graceful piece of furniture. It was reportedly made somewhere between 1790 and 1800. The serpentine curve of arms, well-defined curves, and the finish of the paint dictate that it was preserved since the Victorian era.
A little wear over early coats of paint and varnish can be spotted, otherwise, this chair has every attribute of style. It is currently up for sale for $75,000.
2. Set of Six Bow-back Vintage Windsor Chairs, Circa 1795, $62,500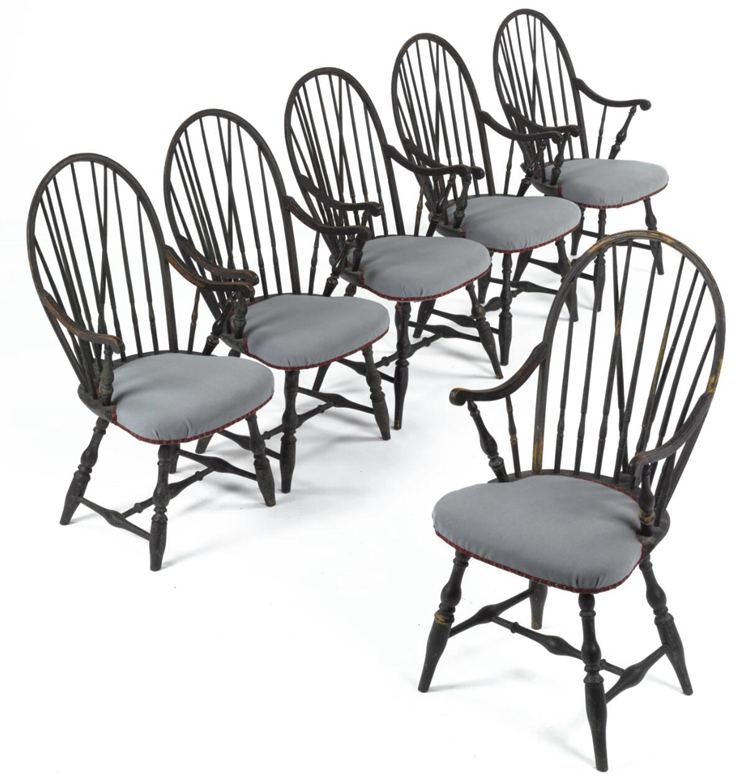 A fine and rare set of six vintage Windsor chairs was discovered directly from the house in South County, Rhode Island. The set of bow-back, brace-back Windsor chairs never left the family until they decided to sell it at an auction in August 1999.
The set of Windsor chairs is made of mahogany, ash, pine, and maple. The arms in all of them are made of mahogany wood. All chairs are painted in green color and the height of the tallest of them is reportedly 39 inches.
The chairs appear to be repainted in black oil paint, but the original dark green paint is still fairly visible. The oil paint is usually done over the original paint to preserve its original color, which tends to wear after a period this long.
The chairs were last sold with their original stuffing, which may still be the case with them. The seat fabric might have possibly been based on the fragments of the original fabric that still managed to survive after all these years. The underside of the chairs is marked SWB, which is probably the manufacturer's mark of that time. The chair was last sold for $62,500.
3. Pair of 18th Century George II Gothic Yew & Elm Windsor Armchairs, Circa 1760, $61,278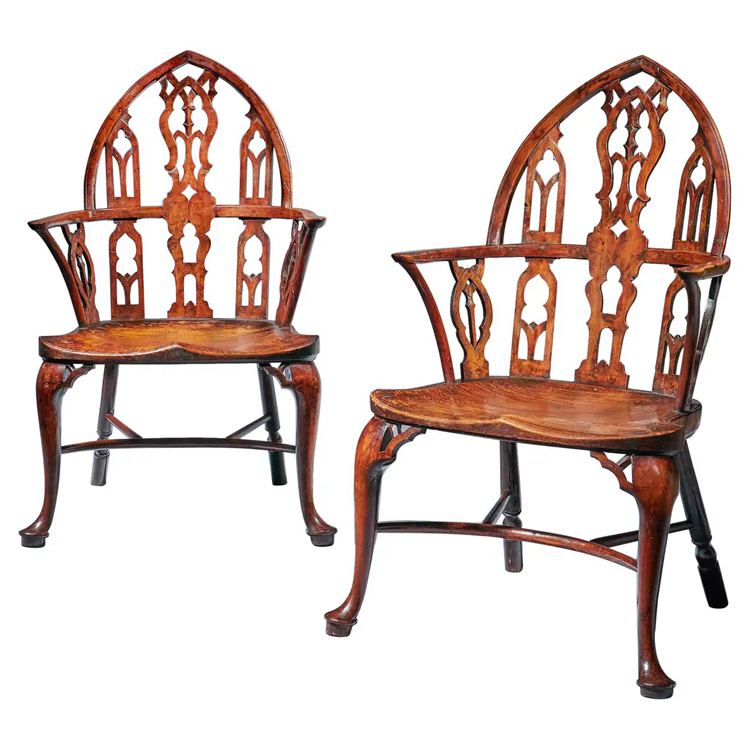 This pair is Windsor chairs at their finest and most elaborate form. Dating possibly as far as 1760, these George II Windsor chairs are made of Gothic Yew and Elm. Their sophisticated design and elegance make them perfectly antique English furniture.
This model of 18th-century Windsor chairs is arguably the rarest. I have never seen a Windsor chair as exquisite as these two. This form is known as Chippendale country seating and the design is known as Strawberry Hill — after the Strawberry Hill House in London was remodeled and the windows were featuring a distinctive gothic design.
This set of period gothic chairs is currently in good condition. Some wear because of age and use can be spotted, but it is preserved so well that it's incredibly hard to find any. They are currently on sale for $61,278.
4. Set of 6 20th Century Oiled Walnut Spindle Back Windsor Dining Chairs, $34,000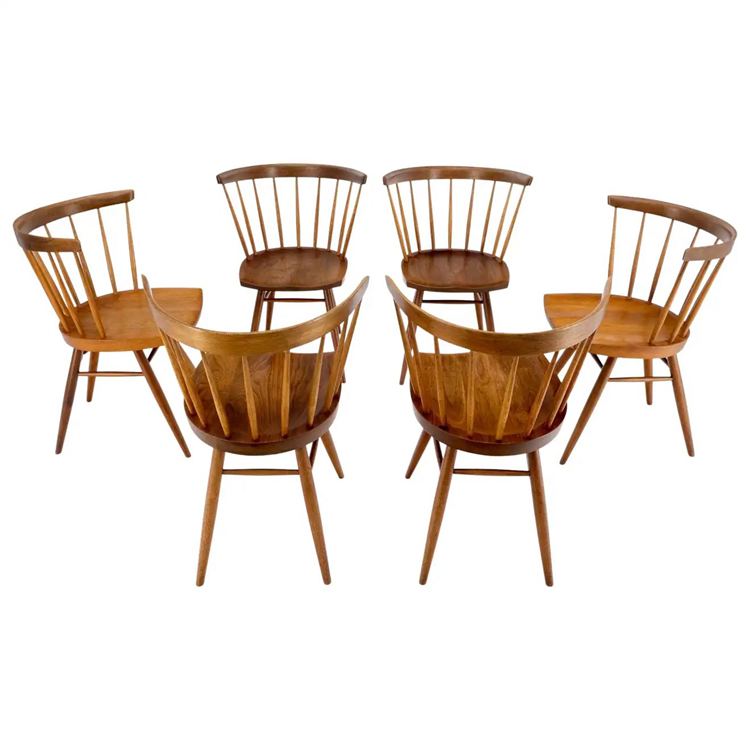 These Windsor chairs come in a set of 6. These Windsors are designed as dining chairs and stand at 18 inches of height.
Made of walnut wood, these Windsor chairs are oiled and not painted, which gives them a unique, rusty, and organic look. This oiling is probably one of the reasons why these chairs have survived since the 20th century. Their manufacturing period is circa 1970.
The spindle back style suggests that they were manufactured in the United States. These antique chairs are in mint vintage condition with no visible wear and tear, which suggests that they haven't been in use in a long time.
This set of 6 vintage Windsor chairs is currently on sale for $34,000.
5. Pair of Georgian Walnut Windsor Armchairs, Circa 1740 – 50, $32,495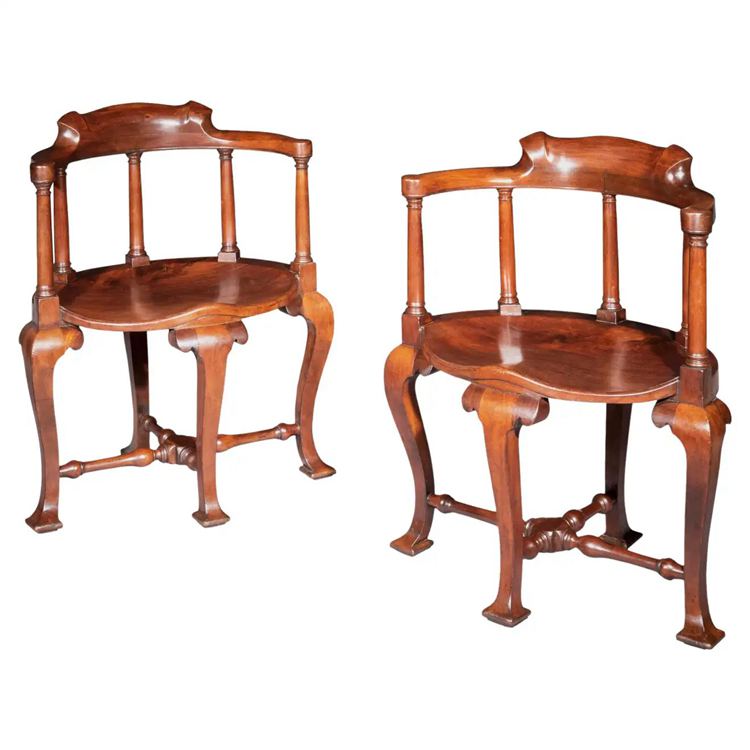 Here is another pair of English chairs, but these ones date back to circa 1740 to 1750. These Windsor or Alcove armchairs are more examples of George II period chairs. The black walnut armchairs present a unique, unusual design that is one of the reasons why this pair of chairs is considered antique.
These armchairs are genuinely unique and outstanding. They are extremely hard to come by, which makes them rare, similar to most vintage English furniture. This model is so scarce that it is sought by collectors and interior decorators all over the world.
The horseshoe-shaped form of the chairs suggests that they were designed for rounded alcoves of the grand entrance (it is another quality of them that they were custom designed) and can be drawn to the table when needed.
The robust legs and deeply curved backrests present a dramatic appearance of the pair. Their graphic form is quite popular in contemporary furniture, which can mean that these chairs were destined to be timeless.
In fact, chairs of a such kind barely make the auction market. They go straight to halls and "museum rooms" to sit in displays. Luckily, this pair is currently on sale for $32,495.
6.Green-Painted Comb-back Windsor High Chair, Circa 1800, $23,750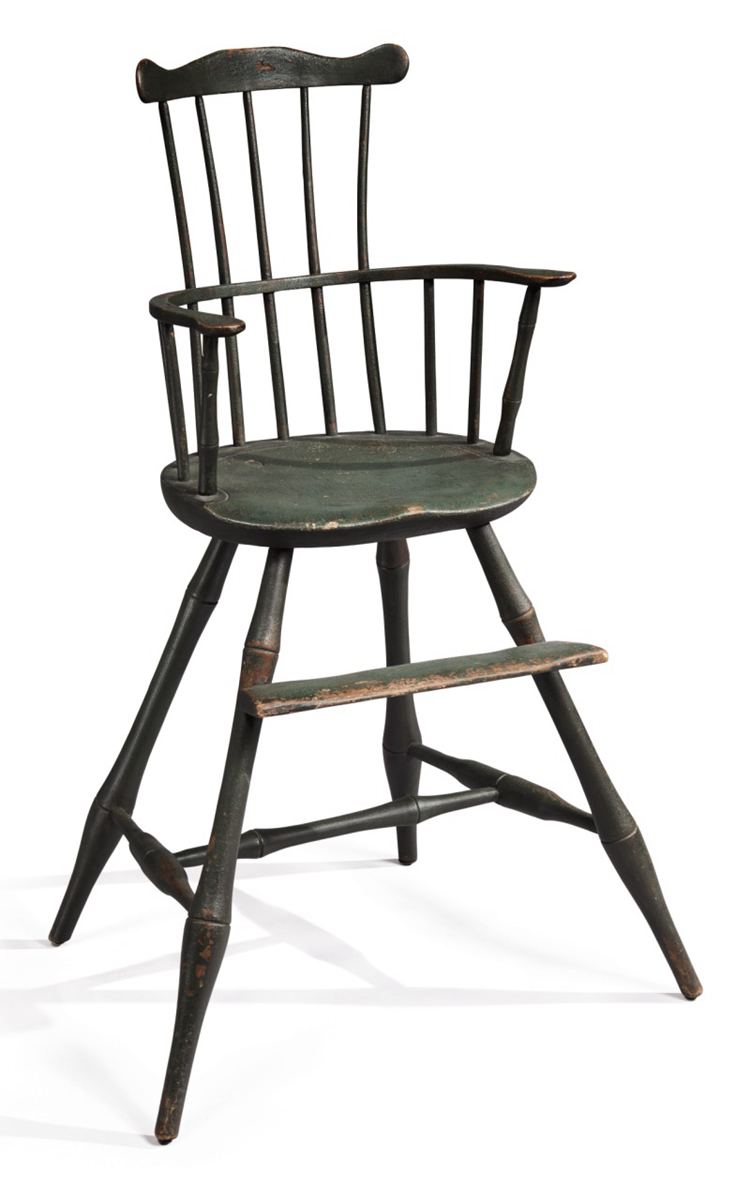 This chair is exceptional. It is most unique. Not only because of its antiquity, but its appearance, history, and the most exquisite style make all the difference.
This comb-back Windsor chair was probably made in Worcester, Massachusetts in around 1800 and was owned by the Green family. The condition hints towards a repaint, but the original green paint is retainable. Its height is around 37.5 inches, making it taller than usual Windsors.
Currently, the chair is in excellent condition, there are no hints of damage or structural issues in the chair. Made of maple, poplar, and hickory wood, the chair appears to be extremely robust and durable. Of course, it's been around since 1800.
The "tall and handsome" antique Windsor chair was last sold for $23,750.
7. Exceptional 18th Century Ash & Fruitwood Windsor Armchair, $19,500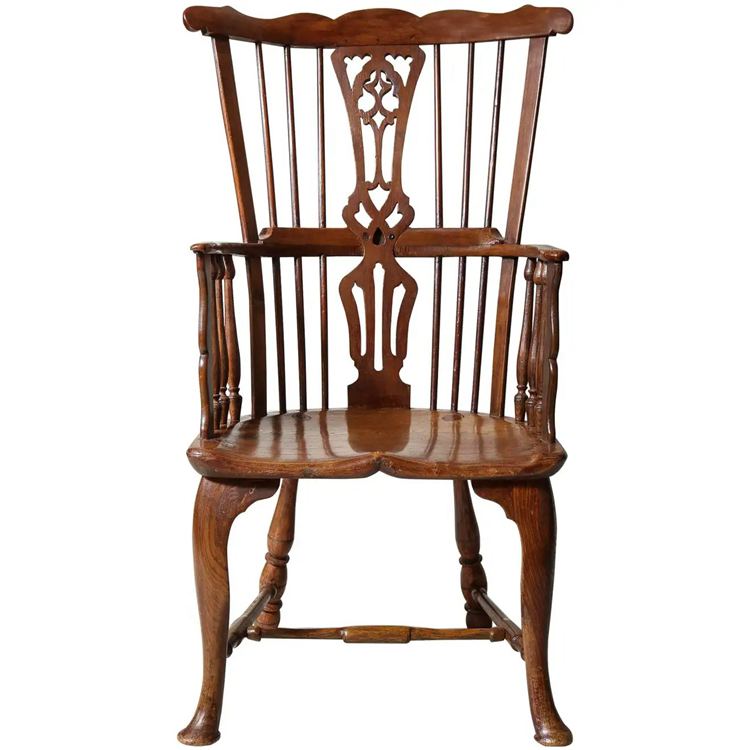 Right here is one of the finest examples of 18th-century Windsor armchairs. In my years of experience as a vintage Windsor chair enthusiast, I have never seen a piece like this. It truly is exceptional.
This comb-back Windsor armchair is made of ash wood and fruitwood, the design hinting towards the George II period. It was probably manufactured somewhere between 1750 and 1759. This chair clearly illuminates the viewer with beauty with its uniquely shaped and scalloped crest. This crest lies over a pierced splat that is fashioned with Gothic tracery and flattened rails, along with shaped arms, which are supported by turned spindles and two end struts. All of this is beautifully saddled on a vibrantly shaped seat.
The chair stands on straight legs in the front and casually turned legs in the rear, which is the chair's most unique attribute. Currently, this vintage piece of furniture is in excellent condition and is on sale for $19,500.
8. Set of 6 Art Deco Era Vintage Windsor Chairs, Circa 1925, $19,720.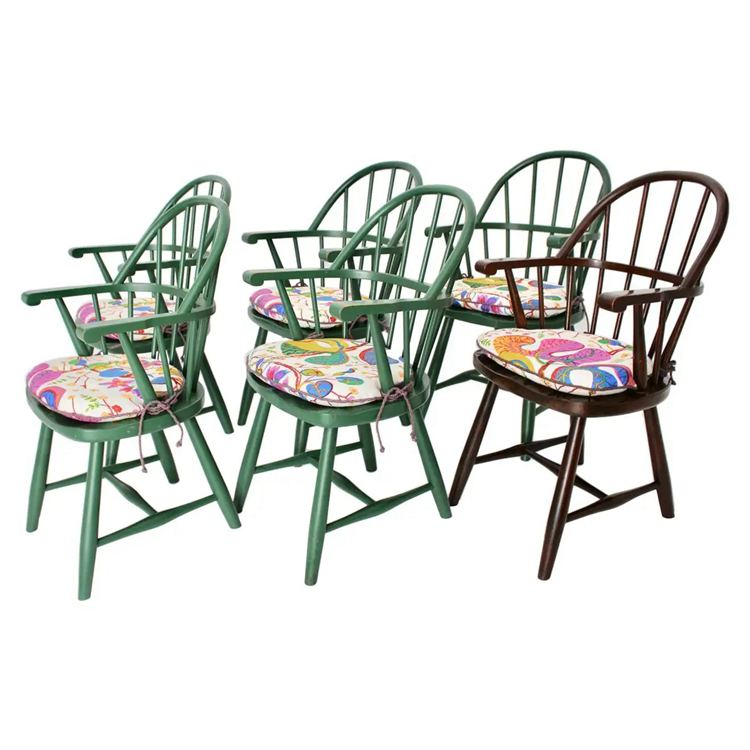 From the Art Deco period, this set of 6 Windsor chairs is around 100 years old. This set of 6 chairs was reportedly designed by a reputable furniture designer Josef Frank for Haus and Garten. The design was executed by Thonet in 1925. All of these labels are present on the undersides of chairs.
This set uniquely consists of 5 green Windsor chairs and 1 brown Windsor chair. These art deco Windsor chairs are made of solid beechwood. The five green chairs are lacquered in green color, while the brown one is hand polished. These chairs are mostly used as interiors because of their visible warmth and coziness.
While the chairs are in original condition, the pillows are replaced. They are covered in delightfully designed colorful fabrics by the original designer. Currently, this set of 6 Windsor chairs is on sale for $19,720.
9. Brown-Painted 18th Century Windsor Armchair, $18,000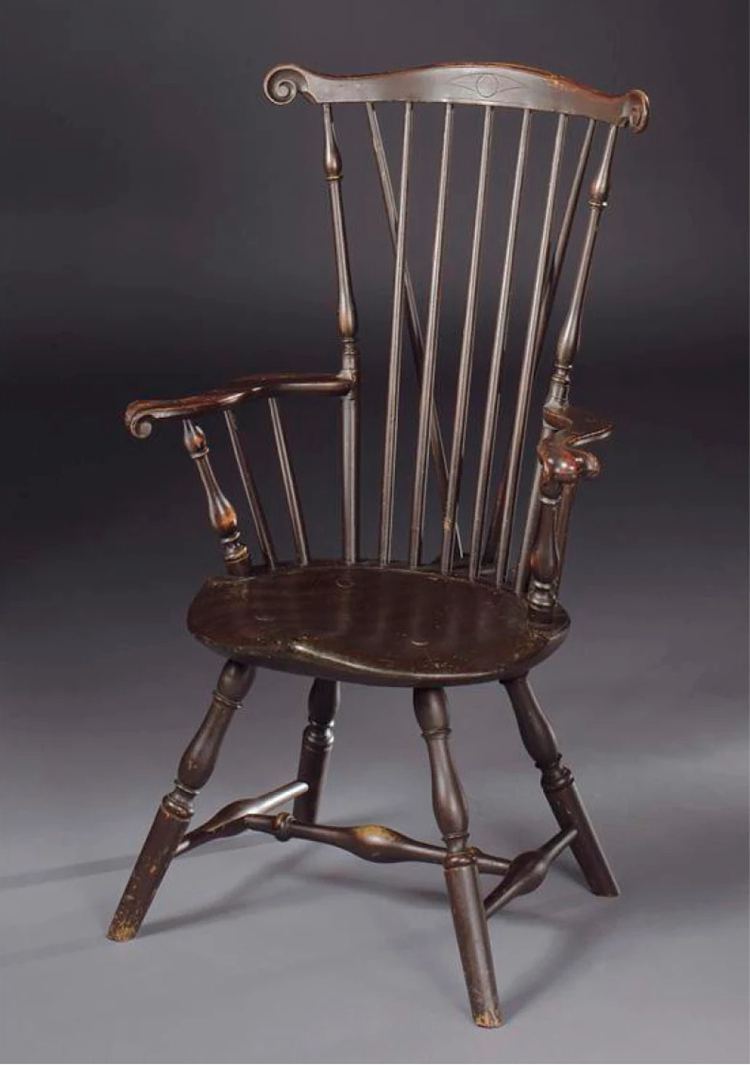 Painted beautifully in dark brown color, this elegant Windsor armchair is a dream to have for many vintage furniture enthusiasts and collectors, including myself. From Nantucket, Massachuttes, this armchair was probably manufactured by a famous designer and manufacturer.
Its durability and robust quality made it possible for it to survive all the years since the late 18th century. This brace-back, fan-back Windsor armchair has a crest with carved ears. The arms are uniquely shaped with knuckle handholds.
The chair is made with ring and baluster turnings; the carved rounded saddle seat makes it look even more appealing and sophisticated.
The brown paint visible in the image is old, but not original. It was done to make the perseverance of the chair possible. This brown-painted tall and dark 18th-century Windsor armchair was last sold for $18,000.
10. Black-Painted Brace-back Continuous-Arm Windsor Chair, Circa 1790-95, $12,500
Plain, simple, elegant, and beautiful are all the right words to describe this chair. Some more words are exceptional, unique, and sophisticated.
Painted in black, this Windsor chair is unique in its design; it doesn't have separate armrests. The armrests are continual with the backrest. The brace-back stands at 38.5 inches. This exceptional Windsor chair was recently auctioned and sold for $12,500.
Vintage Valuable Windsor Chairs: Identification, Value, and Price Guide
Now you know about the ten most valuable vintage Windsor chairs that can make you a fortune if you ever come across them, but there are more important things to know here: identifying and valuing vintage Windsor chairs.
If you ever come across an antique Windsor chair, you should know how to properly identify it and value it.
Antique Windsor Chair Identification
In order to identify a vintage Windsor chair properly, pay attention to:
Wood — the kind of wood used in a Windsor chair is often a clue about its antiquity. Most antique English Windsor chairs are made of yew, ash, or elm. Yew wood was very rare back when Windsors started gaining popularity, so that represented wealth and status if one was a possessor of a Windsor chair made of yew wood.
Styles — some common styles found in vintage Windsor chairs are stick-back, splat-back, comb-back, fan-back, and brace-back. Some antique Windsor chairs were also rocking chairs.
Furniture Marks — Windsor chair marker marks and labels make it easy to pinpoint the manufacturer of the chair, which, as a result, makes it easy to figure out the period when the chair was manufactured.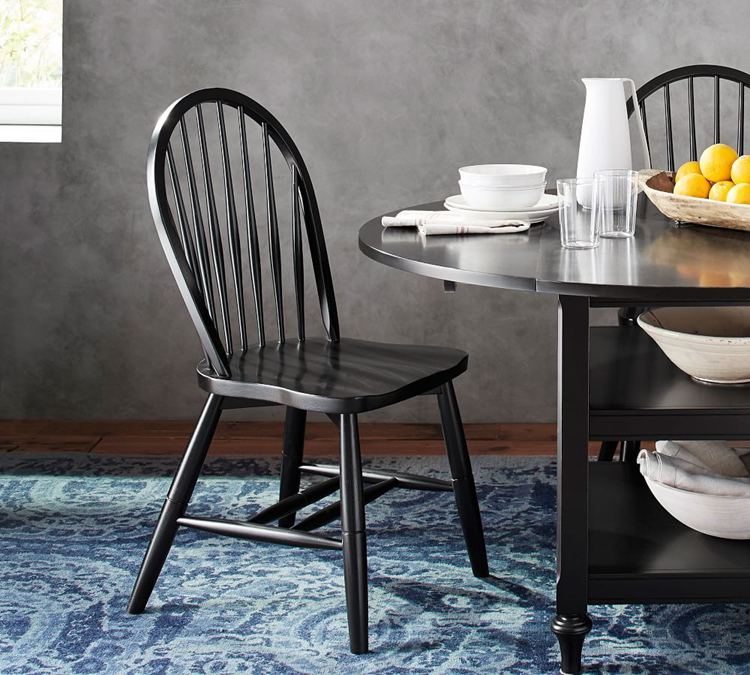 Antique Windsor Chairs Value & Price Guide
An antique Windsor chair can sell for anywhere between $500 and $500,000. The latter number is only in rare cases when the chair is extremely old and rare.
If you want to assess the value of the chair, you have to consider the following factors.
Period and Age — the manufacturing period of the chair affects its value significantly. The older it is, the more expensive it gets.
Single or Set — vintage Windsor chairs are sold as single pieces as well as a set. It all depends on how the manufacturer designed and made it. As opposed to the common mindset, the set is not always more expensive than a single chair; the top ten list in this article is proof. Sometimes, a single chair is so exceptional and rare that its price goes far beyond its less vintage 6-piece set counterpart.
If you are looking for a single chair, experts recommend that you search for 18th-century pieces. They are extremely rare and costly, but they are absolutely worth having.
Condition — the condition of the chair is as important as its rarity and antiquity of it. You will find old and torn Windsor chairs being sold on casual marketplaces and flea markets for a hundred or two bucks. That would be because they were not kept in good condition. On the other hand, a Windsor chair of the same era would be sold for thousands because it was well-preserved.
Final Thoughts
Windsor chairs are elegant, sophisticated, and timeless. That is why they are one of the most sought-after furniture in history. It is a kind of chair that can last many lifetimes. Owners sell their family Windsor chairs after hundreds of years and make a fortune out of them.
One condition is to make sure they are kept in good condition. You can repaint them, coat them with oil finishing, and even get minor repairs done because it is far more important to preserve them than to keep them 100% original.