Do you have a strong interest in interior design? Are you a collector of antique furniture pieces, or are you simply tired of your home's interior and want to add to or completely change it?
If you answered "yes" to any of these questions, you've come to the right place; an antique dental cabinet may be just what you need to spice things up.
You can't go wrong with antique dental cabinet styles, whether you prefer the more ornately designed wooden ones made with different types of fine woods or the glossy metal styles of later eras, these beautiful pieces are here to serve you for various functions
How to Identify Antique Dental Cabinet Styles
There are various types of dental cabinet styles from past years until date. When it comes to antique styles, it can be difficult to distinguish them from non-antique dental cabinets.
This is why you must be cautious when selecting them. Here are some characteristics that will help you identify antique dental cabinet styles:
Fine wood
Different woods in one cabinet
Removable drawers
Multiple small drawers
Glass doors
Bi-fold doors
Revolving doors
Swing-out trays
Divided drawer trays
Large storage compartments
To be safe, you should hire a professional antique appraiser to determine the value of your items.
25 Antique Dental Cabinet Styles
The following are some of the most valuable antique dental cabinet styles, as well as where they can be purchased and their prices:
1. Aseptic Dental Cabinet Circa, 1920s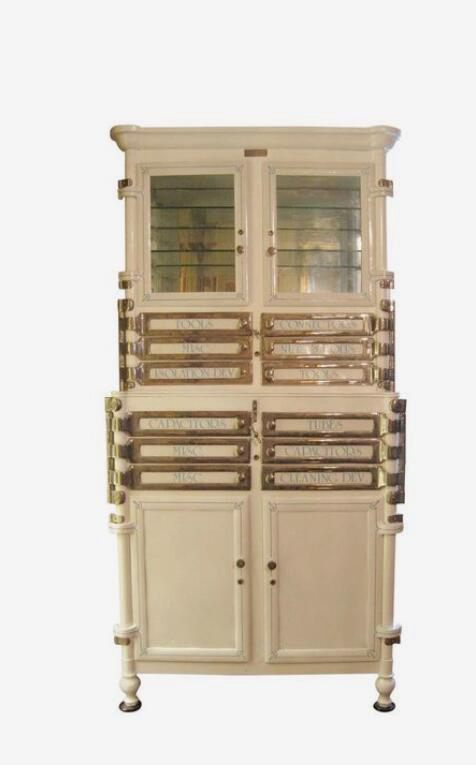 This antique item was produced in Pittsburgh, Pennsylvania, in the year 1920. Lee Smith and Sons' aseptic dental cabinet is crafted from metal and features nickel-plated hinges. Nickel plating can also be found along the drawer's border and on its swing-out drawers.
This 20th-century masterpiece stands 62 inches tall and 31 inches wide. Its beautiful milk color and rectangular shape give it a unique look. It is available for $14,350 on 1stdibs.
2. 19th Century English Victorian Walnut Dental Cabinet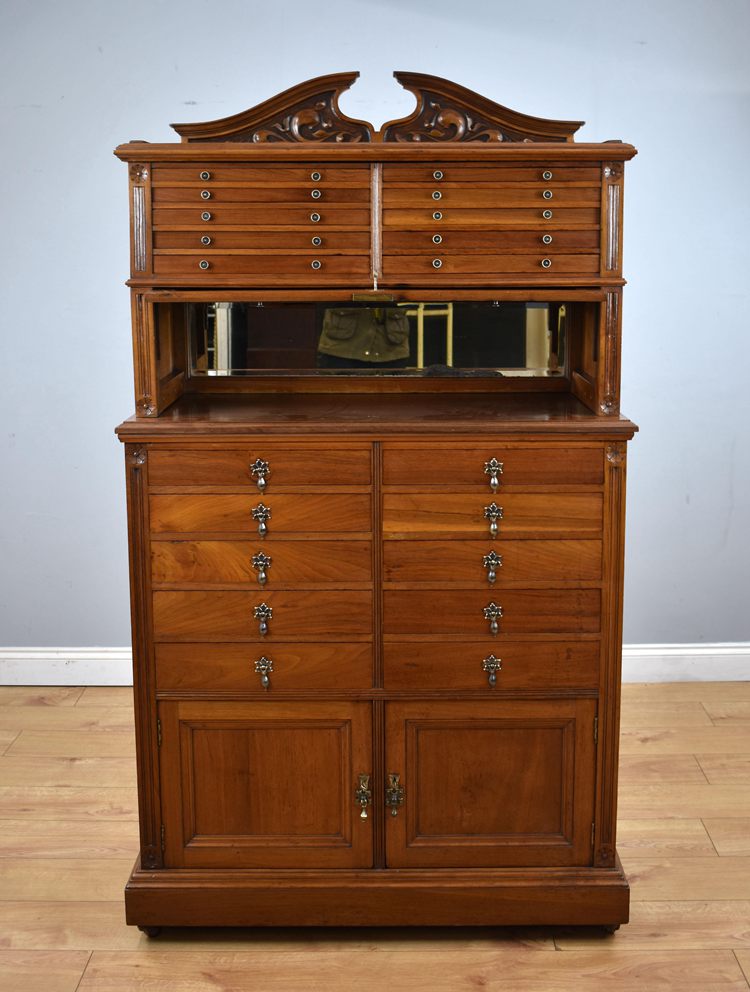 This 19th-century masterpiece is a Victorian dental cabinet made of walnut wood with five drawers on each side above cupboards. It has an arched design on top, a semi-finished gallery, and a gray marble shelf.
It also has a long drawer and two cupboard doors that open into an interior with a removable shelf. The antique piece costs £3,400 on eBay and measures 69.25 inches tall by 39 inches wide.
3. Vintage Steel Meal Blue Dental Cabinet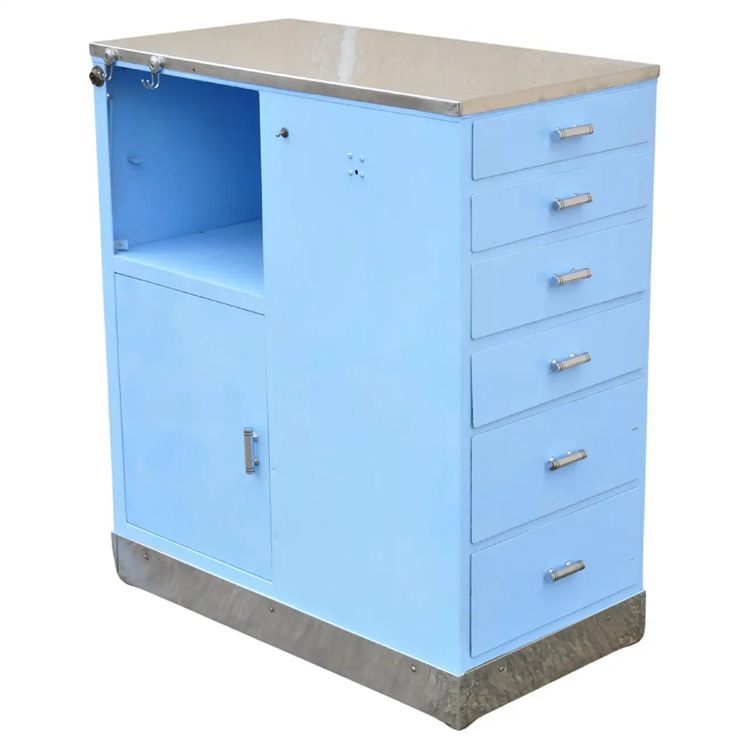 This antique style is known as Art Deco, and it comes in a cabinet stand finished with rich blue paint, art deco style handles, and six drawers.
The steel meal blue dental cabinet has a distinct flavor and a stylish appearance. It is 35″ long and has steel on both the top and bottom. You can get this furniture piece on eBay for $1,350.
4. Antique Grecian American Empire Raised Panel Dental Cabinet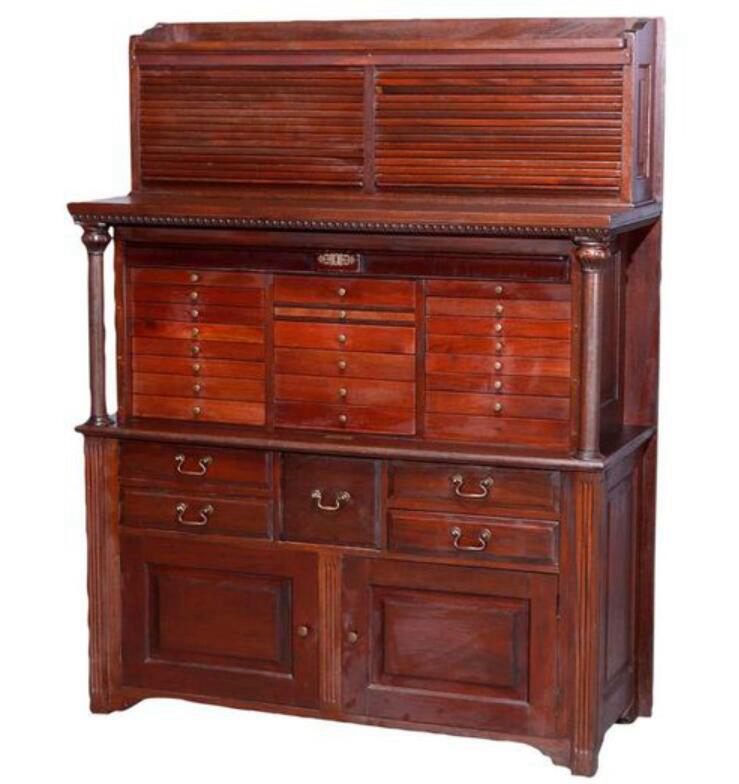 Its special cabinet style was designed to look like a small closet, with upholsters holding a shade over the upper section. Using only mahogany in its construction, it dates back to the year 1900 and features a total of 22 small drawers in addition to two bottom, swinging doors.
This beautiful antique cabinet with dimensions of 58.5 inches and 46 inches in height and width, respectively, can be purchased for $5,200.
5. Antique American Empire Rosewood Dental Cabinet 1820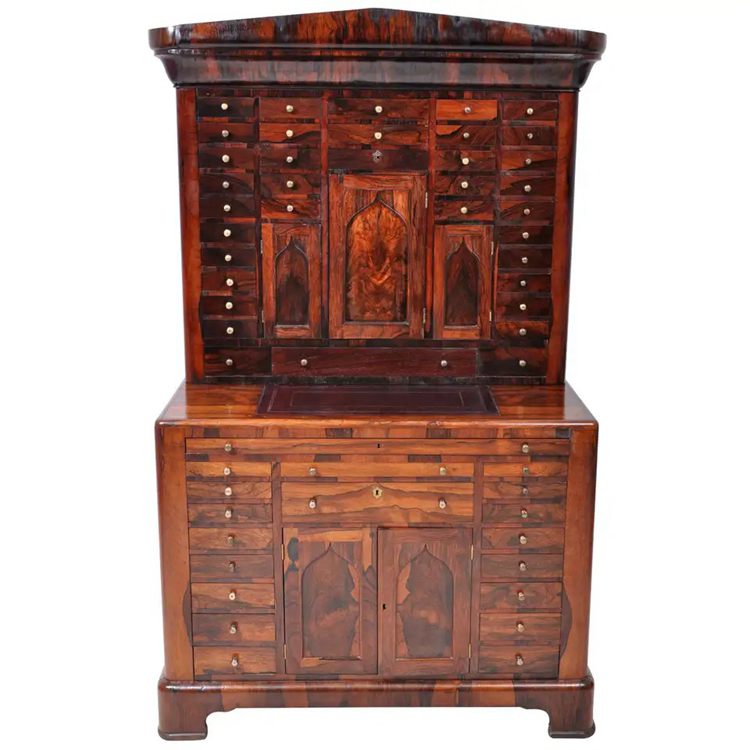 The American Empire dental cabinet, made in the mid-Atlantic states (New York or Baltimore) in 1820, is a very rare cabinet made of rosewood and is divided into two sections just below the pediment.
The upper section has 34 small drawers and three doors with Gothic tracery, while the lower section has 18 small drawers and two doors, also with Gothic tracery.
It was used as a commission for a wealthy person in the early 19th century. The cabinet stands 71 inches tall and 45.5 inches wide and costs $12,500.
6. Antique Walnut Dental Storage Cabinet, Havard Company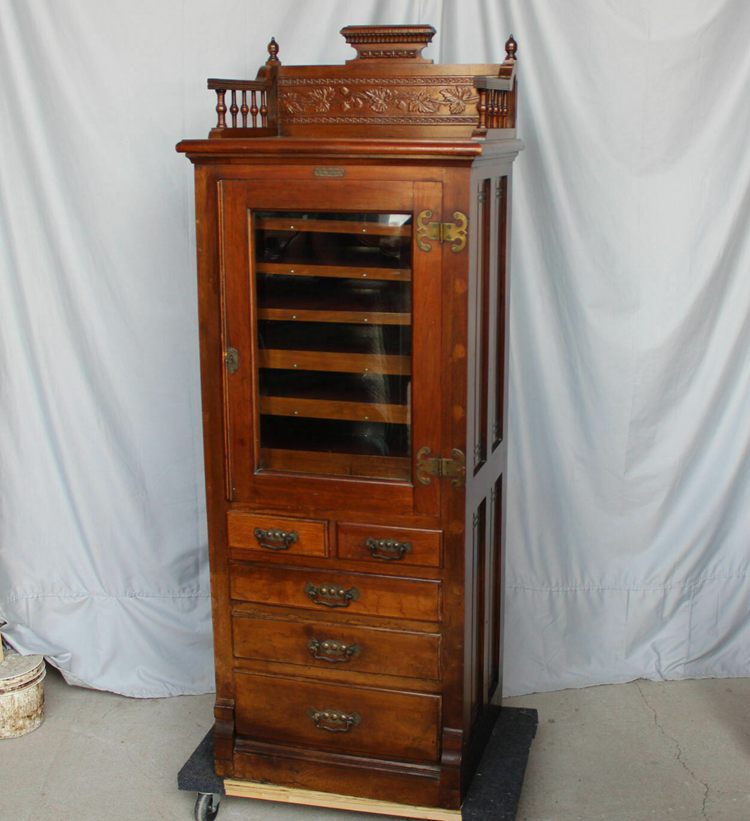 The Walnut Dental Cabinet was manufactured in 1880 by the Harvard Company in Canton, Ohio. It has a beveled glass door with metallic hinges that opens to several trays, but the feature that stands out the most is its beautifully decorated gallery on top of the cabinet.
It is marked on the back with a stamp from the Havard Company in Canton, Ohio, which indicates ownership and value. It is 64 inches tall and 22 inches wide and costs $4,850 on eBay
7. Art Deco the American Cabinet Co. Dental Cabinet
This is an Art Deco American Cabinet Co. dental cabinet with a captivating nude color. It is made of wood and glass and has 24 drawers, pull-out side surfaces, and a label to prove its authenticity.
Circa's early 1900s includes glass trays and plastic dishes of the same nude color. It measures 49.5 inches in height and 38 inches in width. It is available for $1,725 on eBay.
8. Antique Mahogany and Marble Dental Cabinet
In 1910, two fine blocks of wood were used to create the antique mahogany and marble cabinet. It has 22 drawers of varying sizes, and it is engraved with the words "American Cabinet Co."
These drawers have crystal and solid brass knob handles, and the interior of the drawers have been painted.
It measures 63 inches in height and 40 inches in width and has a glass-covered gallery. It can be purchased on 1stdibs for $2,847.50.
9. Antique Wooden Dental Cabinet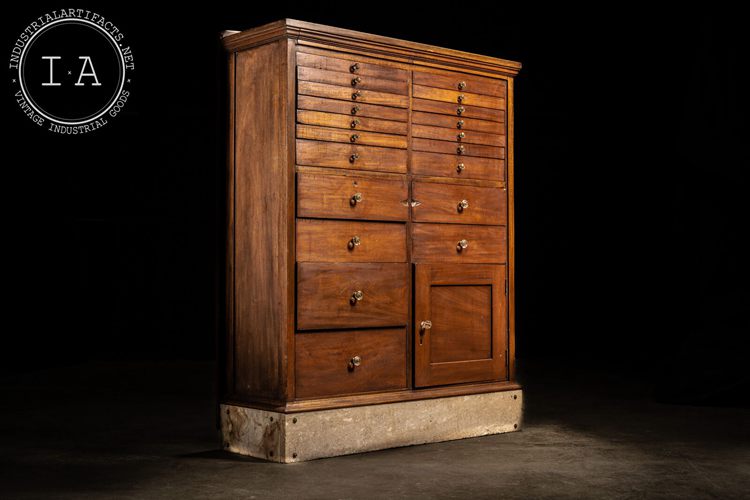 This old wooden chest features 20 drawers of varying sizes, each with a brass handle and a marble base.
Wood is the primary material that went into the making of this piece. The item's dimensions are as follows: it is 36 inches wide, 47 inches tall, and 13 inches deep. On eBay, it sells for about $4,125.
10. 1920s Mahogany Dental Cabinet
This is a beautifully polished wooden piece with intricate detailing. With 14 small drawers, two top glass drawers, turned legs, and a foxed mirror back plate, it is a functional piece in terms of use.
Excellent craftsmanship allows for the enhancement of any location's interior design. It's estimated to be worth $1,680 on eBay.
11. 1860s New Hampshire Style Highboy Dental Cabinet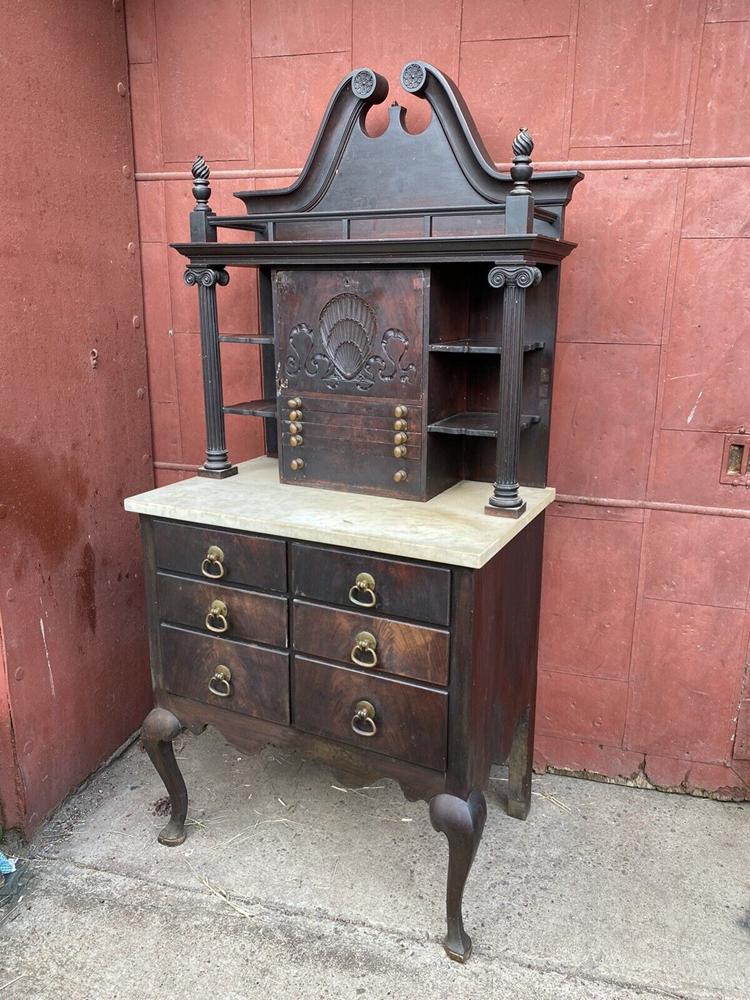 Manufactured in the late 1800s, this New Hampshire-style cabinet gives off an eccentric feel. The legs at the front are angled outward, and the drawers have machine-dovetailed joints.
It measures 74 inches in height, 34 inches in width, and 22 inches in depth. This item can be purchased on eBay for approximately $2,850.
12. 1950s French Dental Cabinet
This magnificent piece was designed by Leon Martin in 1950, but it gives off a more contemporary vibe than one might expect.
It's a metal rotating cabinet with fourteen drawers and four glass doors. The French Dental Cabinet originated in France between 1950 and 1959 and clearly demonstrates the industrial style.
The height of this cabinet is 33.47 inches, with a diameter of 27.56 inches. It is not on eBay and is sold out on 1stDibs at an asking price of $2,899.27.
13. 1915 Elegant Turned Leg Dental Cabinet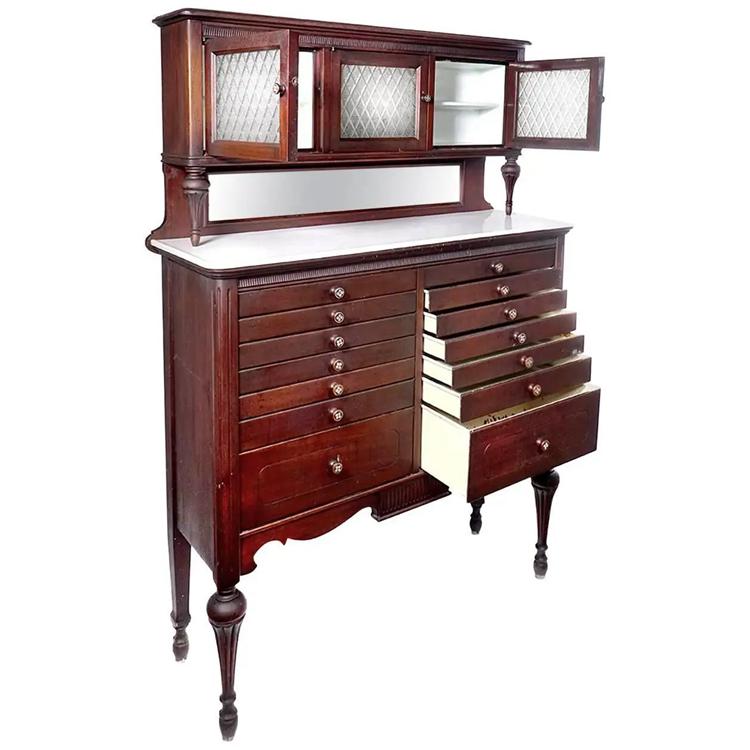 This exquisite piece was crafted by the American Cabinet Company at the beginning of the 20th century and features elegantly turned legs. It is divided into two sections, with three glass doors in the upper section.
A white glass piece separates it from the lower compartment, with 14 drawers with mother-of-pearl inlaid knobs. This piece is not available on eBay, but it was sold for $1,800 on 1stDibs.
14. Jessen & Rosberg Dental Cabinet
The Jessen & Rosberg dental cabinet is a solid cabinet made from oak wood. It features a step backtop, a backboard top, two roll-top cabinets, a mirrored door, center cabinets, mirrored backboard, a fitted glass surface protector, three columns of drawers, and a bin compartment.
The cabinet is very well crafted and clearly intricately designed. It also rests on caster wheels. Its practicality will come in handy wherever it is used. This item is listed on eBay for $3,250.
15. Rare Dental Cabinet in Oak by American Cabinet Company
The American Cabinet Company manufactured this large oak cabinet and it features three wooden-lined glass doors and twenty drawers.
It is extremely valuable and has the manufacturer's badge attached in brass. The numerous drawers and trays make it practical. This rare piece can be found on eBay for $3,186.
16. Victorian Revolving Dental Cabinet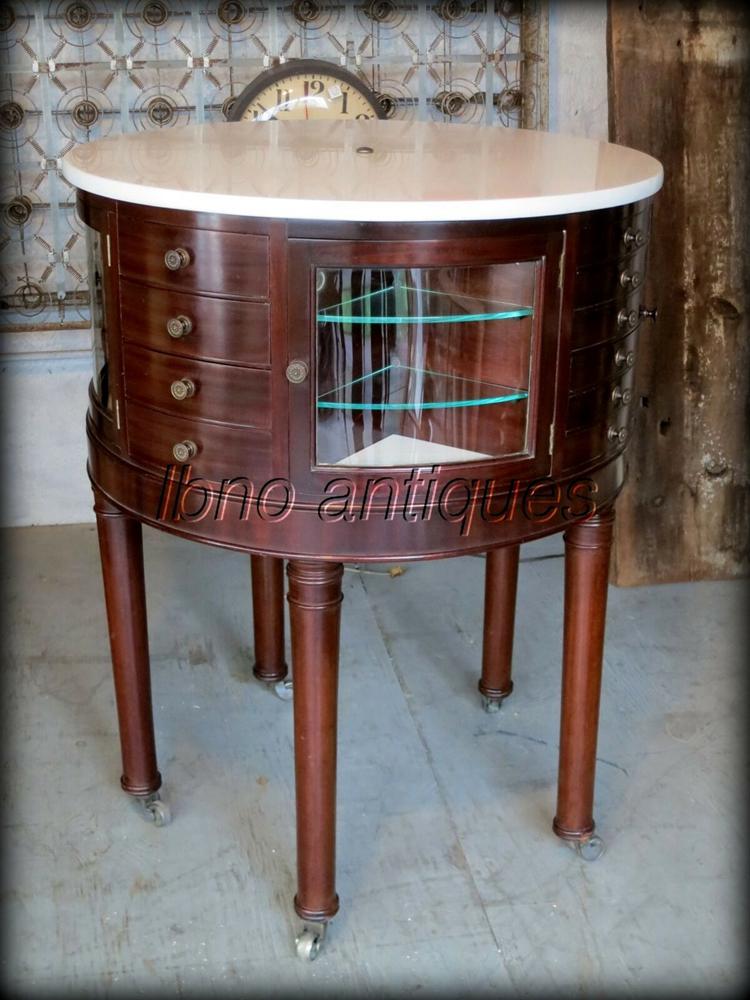 The exquisite, revolving Victorian cabinet is made primarily of mahogany. It also has a marble top that revolves. It has porcelain-lined drawers, four glass doors with curved sections separating each row, and brass caster wheels on its legs.
This is a large cabinet, standing 40 inches tall and 31 inches in diameter. It is available on eBay for $6,500.
17. Turn of the Century Dental Cabinet
The careful attention to detail is just one of many things that makes this enormous antique piece so impressive. It was crafted in the early 20th century, and the quality of its craftsmanship is one for the record.
The larger section has twenty-two drawers and one shelf that slides out from the wall. In the smaller section, there are three wooden-lined glass doors.
The two sections are separated by a milk glass piece. This same piece serves as a shelf in the upper compartments. The dimensions of this Turn of the Century cabinet are 61.75 inches tall, 36 inches wide, and 16 inches deep.
It was made in the United States of America with milk glass, metal (handles), and wood. It was sold for $1,450 on 1stDibs.
18. 1900s Antique Oak Dental Cabinet
Although it was perfectly made as a dental cabinet, the 1900s oak dental cabinet is versatile enough to also serve as a jewelry chest or collector's chest.
It is extremely functional due to the numerous drawers and doors. It also features brass feet and knobs, raised panels, milk glass pieces, and glass pulls. This cabinet's signature, "American Cabinet Co., Two Rivers, WI," makes it extremely valuable for resale purposes.
The 1900s Antique Oak Dental Cabinet is very large, measuring 62 inches in height, 16.5 inches in depth, and 36.5 inches in width. It is no longer available on eBay because it sold for $2,965.
19. 1900s Antique Medical Dental Wooden Apothecary Cabinet
This antique apothecary dental cabinet has one center shelf and six functional drawers in total. Arcs are incorporated into the design of the cabinet's top and bottom edges.
The porcelain knobs are also original, and they rest on brass hardware. This cabinet was designed to be hung on a wall.
It measures 11 inches wide by 13.5 inches tall by 8.5 inches wide on the sides. It was manufactured between 1900 and 1950, specifically in 1930. It is listed on eBay for $650.
20. 1900s Antique Medical Dental Cabinet
This is a 1930s industrial-style cabinet. It is made of steel and painted white. The bottom is lined with a thick strip of unpainted steel. The cabinet's top is a shelf with a glass door.
This antique piece is listed at $1,500 on eBay. It will be an excellent addition to any collection or will fit perfectly in your kitchen or bathroom cabinet due to its luxurious, minimalist appearance.
21. Antique Simmons Metal Medical Dental Cabinet
Antique Simmons Metal Medical Dental Cabinet has two compartments: the upper smaller drawer and the lower wider shelf. It comes with the original brass hardware.
The four caster wheels attached to the metal legs are another feature of the original dental cabinet. It has a faux woodgrain pattern on it and is listed on eBay at $750.
22. Antique Dental Wood Apothecary Cabinet
This is an incredible piece of furniture. Depending on your desired effect, the cabinet can give your space a grand appearance. The cabinet is 37.5 inches long, 39.25 inches high, and 17.5 inches wide. It is listed at $3,995 on eBay.
23. Antique Dental Apothecary Cabinet
This neatly used apothecary cabinet was manufactured between 1900 and 1919. It measures 24 inches tall, 14 inches deep, and 16.5 inches wide on the inside and is an industrial-style medical cabinet. This cabinet features 26 drawers with porcelain handles. It is listed at $1,500 on eBay.
24. 1900s Antique Dental Cabinet W/ Mirror Bar
This dental cabinet from the 1930s with an industrial design would be a chic option to consider if you are looking for a statement piece for your home or to collect. It's made of steel and has ten drawers and two glass doors that are all functional. It is listed on eBay for $2,200.
25. Italian Early 20th Century Dental Cabinet
This Italian 20th-century cabinet from Florence, Italy, is entirely made of iron. This sturdy dental cabinet has 18 drawers and shelves on both the top and bottom.
The top shelves are covered with glass doors, while there's no door for the middle section on the bottom shelf. This 1900s shelf can serve a variety of purposes. It was sold for $19,950 on 1stdibs.
Frequently Asked Questions
What Are the Signs Of a Valuable Antique Dental Cabinet?
For wooden cabinets, look for signs of wear (patina), dovetail joints, and the original dental cabinet hardware. Multiple types of wood, such as oak, mahogany, and maple, will be used in the cabinet's construction. In the case of metal, a cabinet free of rust and dents will retain its value.
Where Can I Find the Best Dental Cabinets?
The best places to start your search for valuable dental cabinets are online sites like eBay, auction houses, estate sales, Craigslist, and Facebook Marketplace. Garage sales and flea markets can also yield some interesting finds.
Will a Makeover Reduce the Value Of My Dental Cabinet?
Refinishing a dental cabinet that is older than 1850 might reduce the value. A dental cabinet makeover can be beneficial if there are significant flaws. You can even increase the value of your antique dental cabinet if you properly restore it with the aid of a professional.
Conclusion
Collecting antique dental cabinets is rewarding and satisfying, whether you're looking for pieces to add to your collection or looking for the best deals on the highest quality pieces.
Don't be afraid to pick up damaged pieces and give them a new look. That could be their ticket to living for a few more years. Do you have any further inquiries? Please leave them in the comments section.