Not many furniture pieces can serve generations after generations with adorable memories. And you're sure to check the family's rocking chair for once. Therefore, antique rocking chairs possess a special attraction among passionate collectors.
But it requires careful proceeding to invest in the rightful antiques instead of reproductions. Our experts stand to satisfy your quest on the identification requirements. You just stick with the words to catch each fundamental point on the subject.
Standard Styles to Categorize Antique Rocking Chairs
Likewise, the primary sorting better gets started with available styles or designs. However, there are too many variations in the market to give you a headache. Still, checking into the categorized styles should immediately reduce the hassle.
1. Bentwood Rocker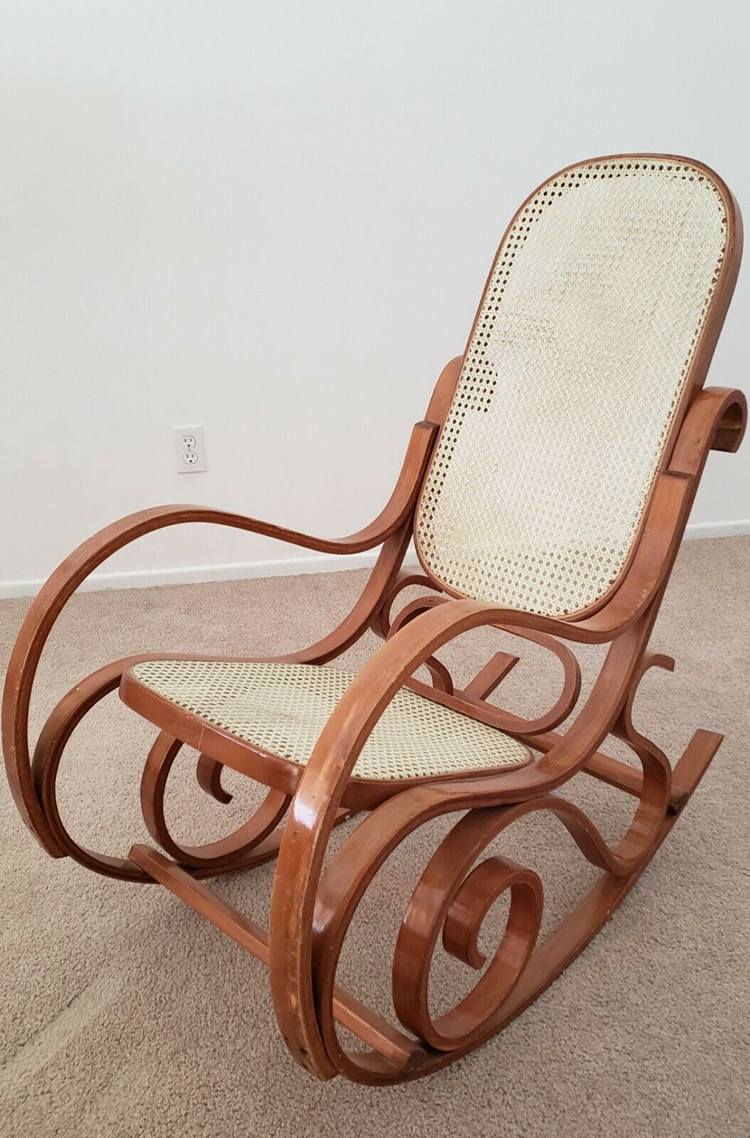 Thonet Brothers Manufacturers introduced the mid-1800 design. Steamed beech wood to feature swirled bend held the marking character. And the price should remain within $100 – $250 in good condition.
2. Boston Rocker
How the Connecticut-based design receives the Boston tag remains a mystery. Oak-pine combo featured a black finish to adorn flowery designs. And it gained popularity within 1830 – 1890 to hold a worthy $250 to $750 tag.
3. Folding Rocking Chair
Flexibility managed to attract the people in the 1870s towards the design. Its seat could fold back to make parallel contact to the back. And you're to spend about $100 up to $200 for well-conditioned units.
4. Gungstol Rocker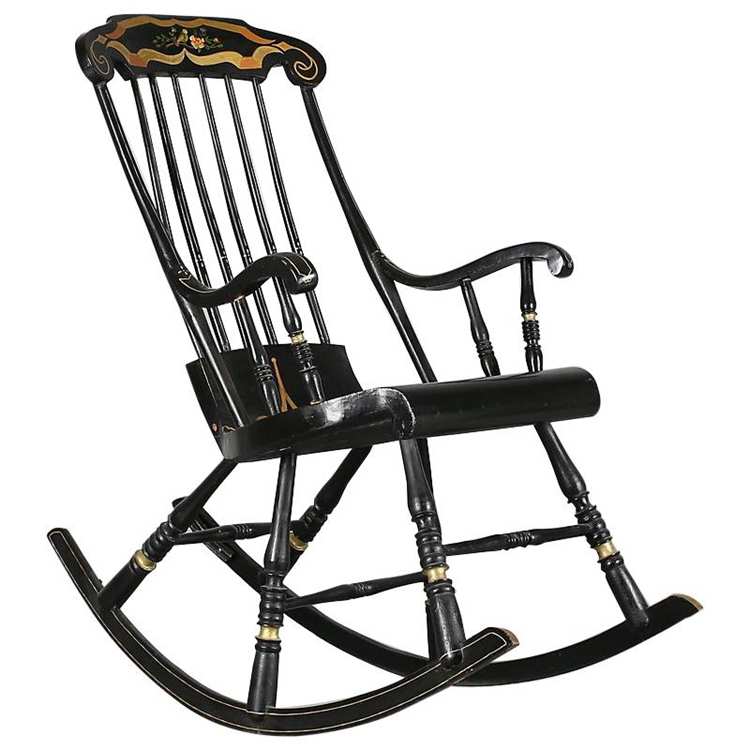 The design stands somewhat irregular in terms of standard rocking chairs. Three legs on each side allowed the assembly to move vigorously. However, the mid-1700 production is pretty difficult to find anymore.
5. Jenny Lind Children's Locker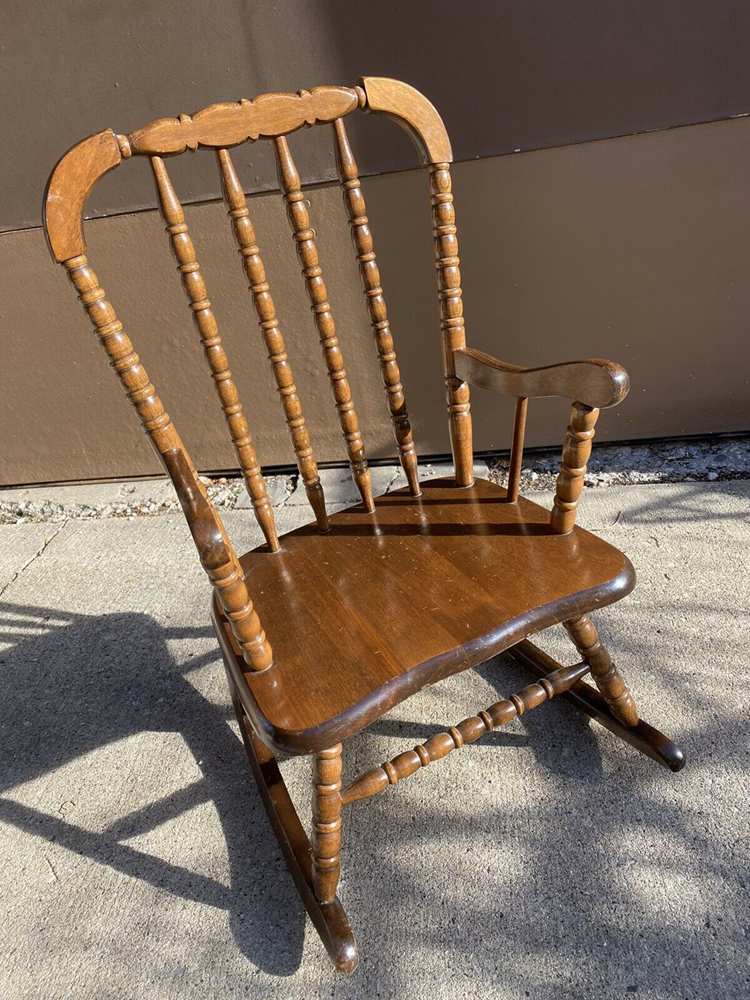 Spool-turned mechanism should explicitly explain the chair design. It features turned spindles on the back, supporting legs & holding crossbars. Spending $100 sounds good enough to get one in hand.
6. Ladderback Rocker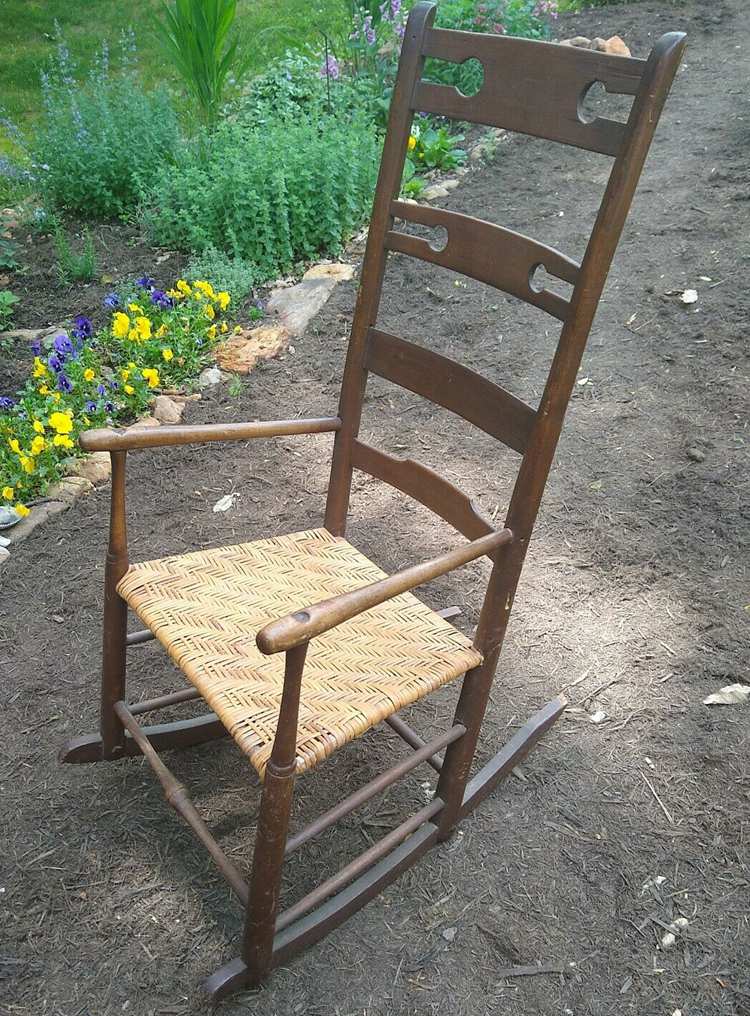 Classic ladderback remains one of the most common country-rocker designs. Easy recognition prevails with its horizontal slat & a taller back. However, abrupt market valuation concerns varying styles, ages & conditions.
7. Mission Style Rocker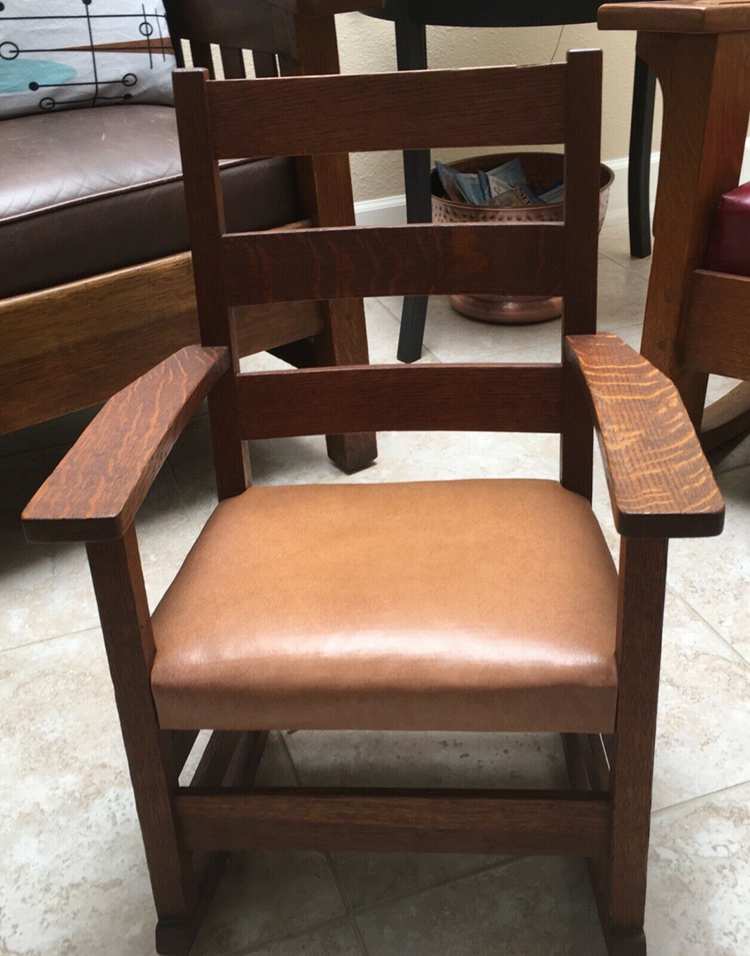 Simple framework features a sturdy surrounding with minimal carving or decoration. Its upholstered seats primarily feature leather fabric. And the masculine design may cost you more than $500 on demands.
8. Platform Rocker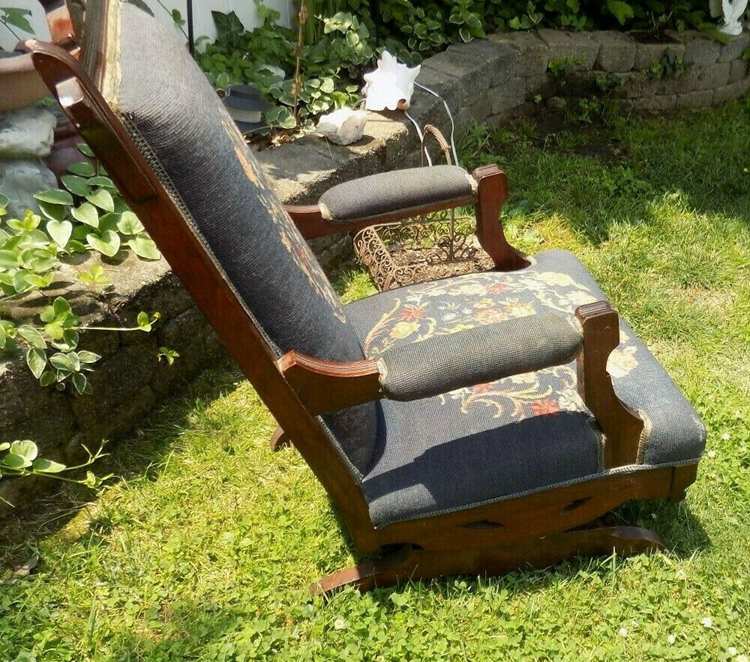 Seat keeps rocking while the base remains stationary on the ground. The elegant design solved multiple annoying problems. Attachment of springs makes it different from others to require $125 – $275 initial investment.
9. Pressed Back Rocker
It held an exclusive colonial revival style to represent the 1870 – 1920 timeline. Raised wood on the back is the ultimate clue to recognize the style. Genuine models can even reach $400 upon distinctive built-in features.
10. Swing Rocker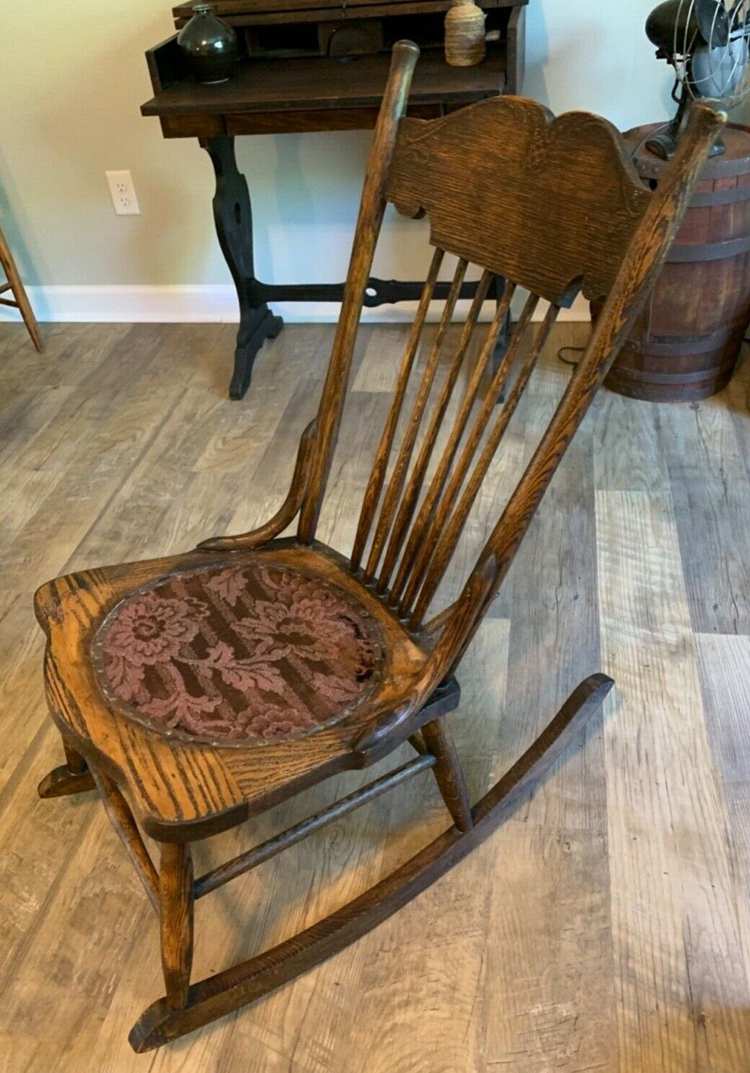 It goes by the name of ladies sewing rocker, nurse rocker, or slipper rocking chair. It maintains a middle spec between standard child-size & full-size. Well-conditioned designs may require about $100 initial investment.
11. Wicker Rocking Chair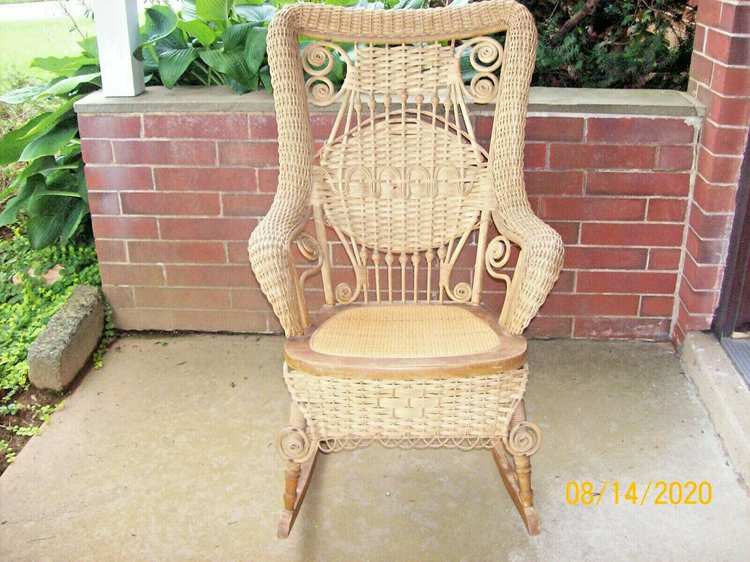 The primary design has remained in practice since ancient Roman times. But Victorian designers perfected its specs to utilize synthetic fibers. Early wicker chairs are worth over $300, regarding its physical specs.
12. Windsor Rocking Chair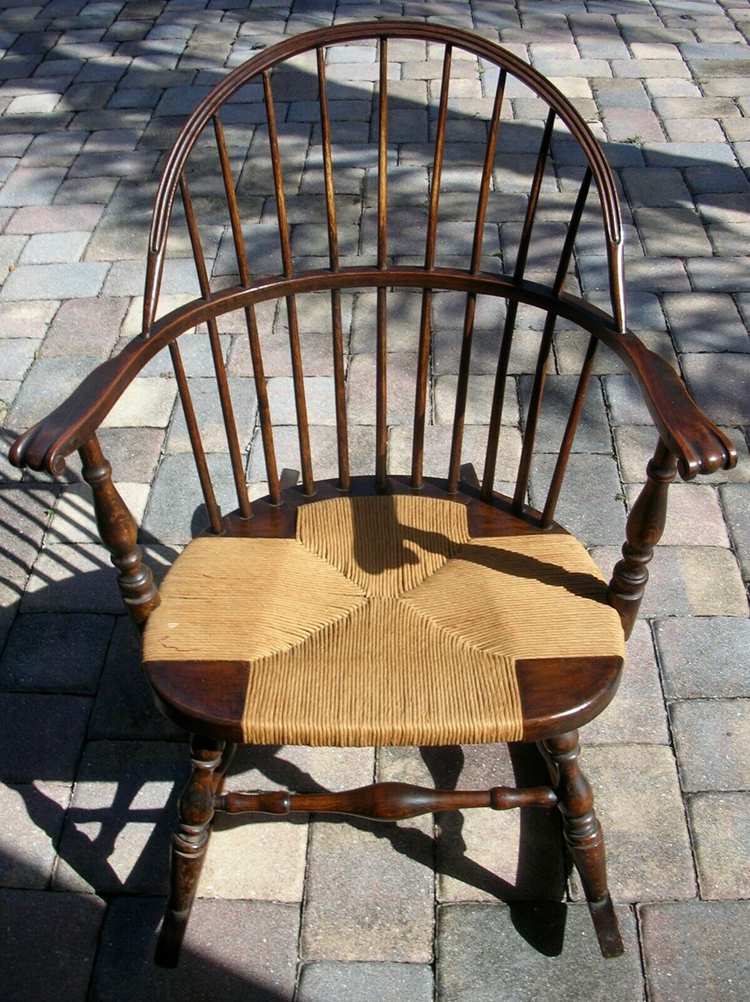 The garden chairs literally occupied the 1700s & 1800s English rural society. And different manufacturers introduced its many versions in later decades. Price remains uncertain with an extensive range of characters.
American Rockers vs English Rockers vs German Rockers
Majority of the current antiques feature either English or American manufacturing design. Also, there are several vintage pieces available from Germany. You should know the distinctive facts to characterize an individual model's actual origin.
American rocking chairs started production in the 1780s to continue for the early 1800s. The intended models had lightweight construction, straight-lined body, low-relief carvings & inlaid details.
Meanwhile, British rocking chairs made the market in the 1920s follow early American designs. Curvilinear frame, high-relief carvings & light-medium weight characterized the early models.
However, Germans initiated highly functional designs by 1860 to meet practical demands. And the modified models included a heavy yet steady framework, rocking feet & built-in armrest pads.
How to Confirm Your Rocking Chair's Antiquity
You don't want the budget to waste on reproduction, duplicate, or scammed pieces. And the most obvious concern goes with the chair's deliberate authenticity. There are several considerations to require your attention on purchase. Our experts delivered an elaborate discussion on the points.
1.  Considering the Wood Type
Wood category can immediately narrow down the originating time period. Regional as well as local wood types also made their way to rocking chairs. But each period explicitly depended on particular wood material. An established periodical timeline to concern wood follows the list.
Walnut: 1700s
Mahogany: 1700s – Late 1800s
Oak: Early 1700s – Early 1900s
Cherry Wood: Early 1800s
Rosewood: Late 1800s
Maple Wood: Early 1800s
2.  Looking into Surface Finishes
Different types of protective finishes adorned the exterior surface over time. You ought to check the versatility of antique rocking chair finishes.
Unfinished – No additional element on the smoothened surface.
Oil & Wax – Staining natural ingredients to seal the top segment.
Shella – Dissolving amber flake in alcohol holds the surface coat.
Varnish – Transparent solution to use on rockers from the 1800s.
Lacquer – Chinese resin to provide a solution for surface coating.
Paint – Direct water/oil paint to feature additional compounds.
3. Detecting Production Marks
Inspect the entire design to encounter any marking to indicate the manufacturer. In general, the underside of the seat often holds words, letters, or alphanumeric codes. Either stamped or attached labels can check the company name. Also, the mark can remain present on spindles or chair's back.
4. Catching Production Process
Slightly distorted symmetry or material uniformity can indicate handmade production. Check the hidden sections for pasted materials. Also, built-in hardware should feature complete or visible differences. Precise or perfect craftmanship should denote modern machine-made reproductions.
5. Identifying Upholstery Specs
Restoration primarily concerns upholstery in most cases. And you're to attend to several facts to ensure proper refinishing of the upholstery. The task requires your consideration of following specs.
Upholstery material – either leather or fabric.
Fixtures – buttons, stubs, tacks, or brass brads.
Coloring Shade – similarity to original upholstery.
Fitment – glued, pinned, stapled, sewn, or inlaid.
Detailing pattern – either branding or stitching.
6. Screws, Nails, Nuts, and Bolts
Metal supports to hold individual pieces remain one significant clue to identify antiques. And you must understand the timeline of used screws.
Handmade Nails – Blacksmiths managed to introduce the first nails or square shape. It featured a tipped blunt with a misshaped head.
Handcrafted Screws – Blacksmiths heated the nails to create rounded screws in the 1700s. And the surface contains grooves or barbs.
Partially Machined Screws – Mid-1800s initiated evenly spaced threading with a consistent shape. But it required hacksaw cuts for uses.
Machine Produced Screws – Complete smoothness prevails for modern-day screws. Uniformity, evenness, longevity adorns the nails.
7. Checking Its Joinery Features
Joinery imperfection remains another conceivable clue to confirm antiquity. Check the connection along with its attachment strategy. Almost all antique pieces featured nothing but glued joints. However, it only remains applicable for handmade designs only.
Expert Tips on Antique Rocker Purchase
There's no way to halt your research with the aforementioned points only. Experts enlisted some minor yet beneficial tips to check the ultimate option. The considerations should help you to enjoy a definite pleasure for its investment.
Closely check the overall durability based on its construction method. It particularly decides if you can actually use the chair for relaxation. Poor longevity will force you to store the furniture piece without any use.
Make your mind on the possible application of the rocking chair. Cushion/timber rocking chair should suffice indoor requirements. But cherry wood, cedar, or teakwood chairs make their way for outdoor uses.
Exterior surface design should match the existing décor for indoor uses. There are many options available to coincide with the demands. Don't forget to check the symmetry, size, shape to utilize the room space.
Determine the possible level of seating comfort for the antique piece. Rocking chair is well-known for its exclusive therapeutic uses. Even President Kennedy used to relieve his everyday tension to seat on his chair.
Correct pitching remains extremely important to maintain a smooth motion. Even the reclining position should provide support without tipping. And one single push should hold the motion for some minutes.
Prepping a good budget will increase the chances of getting high-quality pieces. However, it strictly depends on your willingness to the model. Try to maintain a reasonable balance between the basic requirements.
Pay attention to the packaging, delivery & further customer support. Many antique rocking chairs arrive disassembled for protective shipping. You ought to confirm its self-assembly or professional assistance.
Keep exploring available designs, facts & additional specs from online resources. You should not skip researching, no matter what. Even the slightest point to seem negligible may provide considerable help.
Evaluating Antique Rocking Chair Price
Many interdependent factors check the rocking chair's viable market valuation. Two similar designs should feature distinctive tags, let alone different ones. Age, rarity, pattern, material, provenance, condition, surface – many facts make the list.
But you may simplify the equation with antiques to come from different periods. Not every historical item could enter the list with a conceivable price limit. But looking into the average price of popular models can give you some approximate ideas.
Victorian (1837 – 1901) Rocking Chairs – The entire period resembles iconic, ornate & exclusive design. The chairs may include decorative curves, exposed carving & cushioned seats. And the price should remain within $600 up to $1800.
Arts & Crafts (the 1880s – 1920s) Rocking Chairs – Simple design yet sturdy craftmanship initiates superb quality for the designs. The price heavily depends on manufacturing marks or signature. It's likely to cost somewhere between $750 to $4000.
Adirondack or Rustic (1900 – 1930) Rocking Chairs – Exclusive curvature on the back & arms made it popular in America & Canada. It particularly utilized green branches for construction. The demanded fortune covers the $400 – $1600 price range.
Appointing an appraisal can help you resolve the valuation problem in no time. Spending some additional bucks seems worthy enough to skip troublesome evaluation tasks. There are many online services available near most of the populated cities.
Where to Find Authentic Antique Rockers?
Almost every major e-commerce sites feature at least a respectable number of rocking chairs. You can easily manage genuine antiques from the platforms. Again, you should check the local antique shops, furniture showrooms & online auctions.
eBay, Amazon, PAMONO, Chairish, Etsy, Vatican, Love Antiques, Vinterior, Wayfair occupies the forefront. Checking the available options will also develop a rough idea of the rocking chair's value.
Not to mention, there are other less-known or local online platforms to trade rocking chairs. You need to establish online community contact to know the current, upcoming & previous deals.
Antique Rocking Chair Restoration Guide
Many consider a deliberate restoration for the antique piece to introduce a new life. And it's entirely possible with rocking chairs, retaining the exact value. However, the difference in designs/conditions or materials/finishing requires explicit treatment.
Multiple articles are available on the subject to cover the standard extent. In fact, Instructables let you refinish an antique piece using a simplified project. Meanwhile, you can consider the in-depth Kenarry restoration details for implementation.
Also, there are a satisfying number of YouTube tutorials remain available. Notable abundance should suffice your practical demands at some point. Channels like Dr. Lori, Fixing Furniture, April Wilkerson & WoodWorkWeb have posted several videos.
(Source – Fixing Furniture)
Final Words
That's indeed a lot of information to swallow for beginners on antique rocking chairs. But there's no way to skip the points for a successful purchase. Take your time to understand every important point for making a negotiable bid.
Finding a righteous antique piece requires absolute determination from the start. Paying attention to every detail will help you avoid unlikely designs. Continued research with independent advice will enlighten your mind with ideas.