Bookcase is one furniture piece to accommodate the favorite literature in an organized way. And the history of usable designs dates back to the 17th century. That's where an antique bookcase can impart impressive décor as well as conceivable storage.
It's essential for anyone to take interest in classic book storage to know every detail. You may find it difficult to gather everything you need to know on an antique bookcase guide. But our experts stood on your side to explain relevant facts to initiate the start.
Common Styles of Antique Bookcase
Simplistic forms of bookcases held the ancient scrolls in a somewhat arranged pattern. And the invention of the printing press in the 15th century pushed the number of books.
The ever-evolving development of book storage facilities had to start there. As mentioned, bookcase history almost coincides with the timeline of scrolls/tablets. One noteworthy fact concerns its custom design to meet customer demand.
However, the extensive influence of science managed to evolve the bookcase with different specs. You must know the common styles from the past to make a judgment call.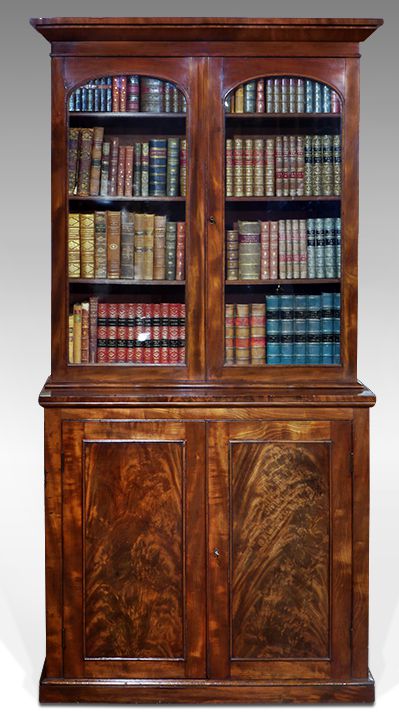 Antique Bookcase Cabinet – It's more like a deliberate extension of British breakfront cabinets. The design was popular in 17th century Europe. Early versions of antique bookcases featured a double-cabinet design. Chippendale breakfronts housed books with household chinaware whereas large ones lined library or parlor walls.
Antique Bookcase Secretary – The American design held great popularity over definite usefulness. It's more like a combination of a writing desk with a bookcase top. Early versions featured shelves lining with cabinets to remain hidden behind the doors. Also, some federal-style secretary bookcases included a sinuous figure-eight pattern.
Antique Open Bookcase – Completely open cases also entered into the picture by the 17th century. Its exclusive step-like shelf profile sat on supporting legs. However, the intended design lacked cabinet-style spec or an integrated writing desk. But minimal space requirement made the type notably useful for homes/offices to lack open room.
Antique Empire Bookcase – The 19th century Empire period (1820 – 1840) furniture started to take bold forms. And an impressive upgrade managed to adorn the design of usable bookcases. The American form held dependable classical columns with large paw feet. Also, visibly deeper shelves integrated a phenomenal appearance.
Antique Victorian Bookcase – Just like the name, the design dominated the late 19th century to reach the 20th-century units. The look covers an extensive range to start from simple to check ornate ones. Gothic as well as Renaissance inspired the bookcase design. Its reasonably large multiple sections were stretched along the entire surface.
Antique Barrister Bookcase – And the late Victorian period observed the rise of another popular design. Built-in mobile cases in stackable features came with steady or sliding glass fronts. Both the English & the American improvised the design over time. The design may include side brackets to cover the surfaces supporting the case.
Antique Small Bookcase – Of course, it isn't exactly a well-defined category of antique bookcases based on the timeline. Many passionate bookworms with limited budgets checked irregular designs at different periods. The main spec concerns minimalistic dimensions to save space. And there were almost no ornate or wood carvings.
Types of Antique Bookcase Designs
There are many personal elements of types to incorporate particular designs from a period. But you should know the actual styles to possess antiquity regarding the value.
1. Contemporary
Minimal limit on the structural shape goes beyond specified appeal or philosophy. The appearance should comply with your passion, beauty & décor. And furniture makers kept flaunting newer looks to contain either experimental or progressive tone.
2. Traditional
The particular appeal develops a timeless sense of décor with a well-proportioned construction. It concerns the matching integration of artful details for the solid structure. Traditional designs of wooden pieces often boast carved ornate & filigreed accents.
3. Industrial
Metal bookcase with open access is somewhat new for the standard antique styles. Rustic appeal with reasonable iron or steel bars made the shape without details. Boldness gets to meet superb sturdiness to integrate a definite-level masculine look.
4. Coastal
However, it's more like a vintage-style bookcase to represent a completely natural look. Absolute simplicity prevails for the intended design with minimal details. Sun-bleached tone with explicitly weatherworn wooden pieces had to shape the design.
Decorating with Antique Bookcase
Innovative ideas from modern-day enthusiasts let you extend the use beyond simple book storage. And you're to try individual ones to understand the ultimate applicability at once. Look into the following points to induce a peculiar décor with an antique bookcase.
Of course, the most obvious application concerns your favorite books. Keep stacking your most quintessential reads inside the storage compartments.
Many homeowners transform the bookcase into a display cabinet. It's possible to show some of your particular collectibles in an organized manner.
Also, bookworms may prefer to display absolutely unique books or scrolls. A decorative or ornate design remains important to make an impression.
Bookcase in good condition can replace the traditional cabinet in the kitchen. You can store culinary pieces, kitchenware, dinnerware to save space.
Large breakfront bookcase to have a lower top can hold a television set. And the inner platforms accommodate the wires with their supporting gears.
Smaller bookcase can serve as a great storage facility for bathroom belongings. However, it's important to confront the water-resistance of wooden pieces.
Bookcases in poor condition may suffice storage of shoes or seasonal items. There's no need to leave the antique out of sight over minimal well-being.
It's possible to encounter different problems with your newly purchased antique bookcase. And you better enlighten the thoughts with online videos. Check the primary process of upcycling, guidelines, restoration/woodwork & even movement.
Difference Between Bookshelf & Bookcase
Two particular terms regarding book storage or holding may induce potential confusion. Bookcase & bookshelf are often used interchangeably, despite the distinctive differences. And you ought to know the defined facts for checking the right purchase.
Bookcase is more like an entire structure to have storage shelves with protective sides. It's more like a furniture piece to accommodate defined panels, compartments & accessibility. And the designs may resemble standard cabinets with/without doors.
Meanwhile, the bookshelf features less elaboration & decorative ornate in its structural details. The front part remains completely open to resemble a simple stand or wall part. And the intended outlook is particularly suitable for household applications only.
How to Value Antique Bookcase?
There are several considerations to decide on your antique bookcase's market price. However, the facts aren't exactly surprising over similar adaptions for furniture valuation. You must take the part seriously to avoid scams on sale or purchase, no matter what.
Authenticity remains the single most important point to make a viable evaluation. Tracing back the manufacturer, seller, or even previous trading history surely sets the bar high. However, rarity is another point to push the price towards a skyrocketing value.
Observe the entire bookcase closely to detect any reproduction sign to differentiate the originals. It concerns completely distinctive joinery, light distortion in symmetry &low-quality woods on hidden parts. Minimal finishing touch & eventual aging also requires priority.
Online purchase needs you to understand the light effect to check the color. Try to get clear pictures from every angle, focusing on potential bookcase spots. Specs on wood material, certain signs of deterioration & the existing condition must enter your checklist.
Combination of the facts on a definite scale can immediately narrow down the price range. Likewise, appointing appraisals should save the hassle of determining market value with minimal skills. Also, you should hold yourself in touch with online resources to dig deep.
Extensive availability covers a wide range of market value for authentic antique/vintage designs. The price can preferably start from a mere $500 to exceed $10000 in certain cases. Engaging yourself in the relevant community should provide further ideas.
Places to Check Authentic Models
Looking old doesn't collaborate with antiquity, regardless of the furniture type. And many fraud sellers try to convince beginner-level collectors with fancy words. Again, the intended furniture piece remains rather common in the shops.
Therefore, you must start with dependable sites to deal with antique, vintage & even bookcase reproductions. Check local/regional showrooms of antique shops for options. Don't miss the nearby garage sales & e-commerce websites.
Int'l sites like eBay, Etsy, Pamono, Vatican, Wayfair, 1st Dibs & many others have a good collection. Likewise, keep in touch with country-based sites to stumble unique pieces. You may look into Vinterior as well as Selling Antiques.
Final Words
A genuine antique bookcase can definitely promote the pride of your indoor decoration. You'll need to match the budget with your personal as well as decorative specs. What you need is to stick with essential points to confirm the purchase. And the words mentioned right above should save your effort, money & time on the process.