Have you ever wanted the opulence and luxurious look of antique end tables gracing your living room? End tables can give any living room grace, and antique ones can really bring a new aesthetic value to yours. There are different styles of antique end tables, so it helps to know what they look like so you can opt for the perfect ones that will complement your furniture, fittings, and even color schemes.
How to Identify Antique End Tables
There are different types of antique end tables: they tend to differ in material and design based on the era they come from. While authentic end tables from the 17th and 18th centuries are notoriously hard to find today, there are quite a few replicas on the market which are designed to look antique. How will you know which ones are authentic? We'll take a look at this in the next section.
Firstly, let's take a look at the different ways we can identify antique end tables.
1. The Period They Are Designed
End tables are of different styles, based on the era they were designed and produced in. Some of these are Early American end tables, Queen Anne, Federal, Art Deco, Louis XVI, Victorian, and the Age of Walnut.
Early American: It's slightly easy to identify Early American end tables. These antique end tables were designed and created from 1640 to 1700, and were very simple: such as to suit the early settlers to the colonies. These end tables weren't used in living rooms; they were used as side tables for the bedroom so that oil lanterns could be kept. While most are plain, some have simple carvings based on the craftsmen who made them.
Federal Style end tables: After the Early American styles are the Federal style end tables: Which happen to be both functional as well as ornate. Federal style end tables were produced in the late eighteenth century and the early nineteenth century. They're easy to identify because of their symmetrical nature, narrow and straight legs, and light wooden tones.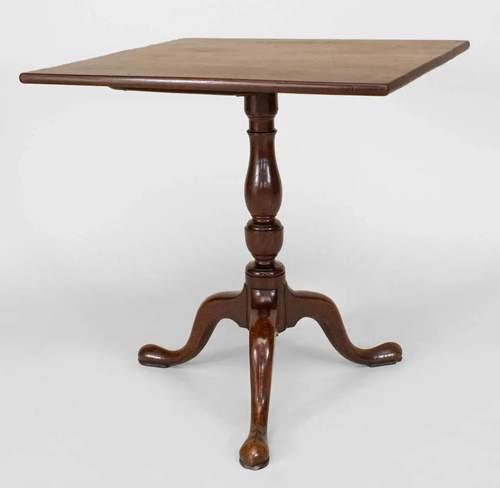 Queen Anne End Tables: Designed and built in the early eighteenth century, Queen Anne end tables are very beautiful and ornate – thus easy to identify. These tables usually have cabriole legs and scroll woodwork. They tend to be made out of black walnut, which is then wood-stained to look like mahogany.
These tables are also known as early Gregorian styles or late Baroque. Some also have japanning – which is a technique where furniture is covered with a black lacquer finish. This also makes it easy to identify Queen Anne end tables.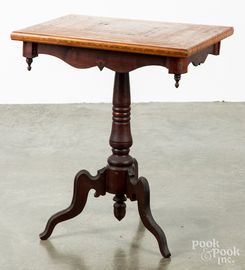 Victorian End Tables: End tables made during the reign of Queen Victoria – in the mid-to-late nineteenth century – are usually known as Victorian. It was during this time that most furniture-makers adopted a revivalist style – thus most Victorian end tables may look like furniture from the era of Queen Anne.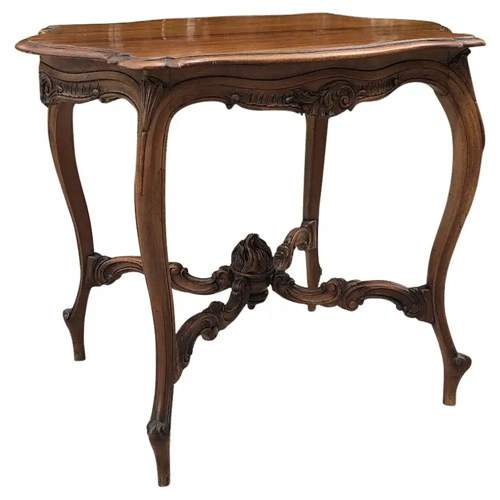 Louis XV: Louis XV was one of the most recognized eras in terms of furniture-making in France. Louis XV, the king of France, was an avid fan of ornate and beautiful furniture – as can be seen from the Louis XV pieces. Louis XV end tables can be identified by the beautiful French top sheen, oak and walnut wood, curved legs and X-shaped stretchers that connect the legs.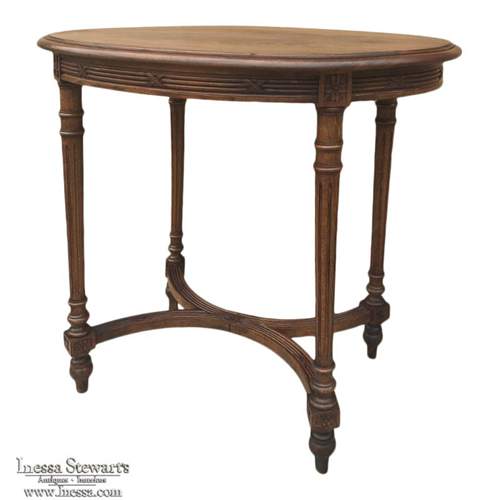 Louis XVI End Table Style: The era of Louis XVI produced simple and classical furniture made from indigenous French Walnut wood, which gave it a beautiful, rich and lustrous effect. Louis XVI end tables are quite elegantly ornate with straight legs, elegantly-bowed stretchers, fluted legs and turned feet.
2. Identifying Antique End Tables Based on their Designers
While the period that antique end tables were made can help identify the style of the end table, what can be even easier to determine the style and value is to identify the designer who produced the piece. Let's take a look at some of the integral designs of the periods!
Chippendale End Tables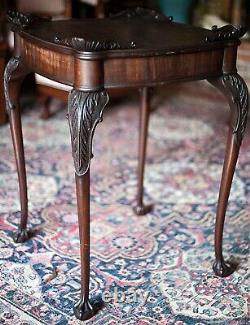 One of the most famous furniture designers in the world, Thomas Chippendale is a household name for furniture such as end tables: But these antiques are now very hard to find. Here's how you can identify a Chippendale end table: It will have ball and claw feet, slender cabriole legs, decorative ornamentation, scrolling legs and intricate carvings.
Chippendale did his own carving, so you might notice the carvings may not be symmetrical! Most Chippendale end tables tend to be dark – they're made from dark Walnut. Round Chippendale end tables usually have four individual legs, rather than a pedestal with tripod feet.
How To Value Antique End Tables
There are three main features that can determine the value of antique end tables. These are:
Condition  – When valuing any type of antique furniture, first and foremost, the question of its condition comes into the picture. No one wants an antique piece of furniture which is in very bad condition – because it will take a lot of money to restore it to its original condition. Hence, bad condition can drop the value of an antique end table by a lot!
Period / Era – The era that an end table is from determines a lot of its value. The older the piece, the more valuable it becomes – unless, of course – there are many antique end tables from that era available. For example, a Queen Anne end table is worth a significant bit more than a Victorian end table.
Aesthetic Value – Does it look good? Does the end table have a lovely sheen and a beautiful patina of age? Does it have scrolled feet and simplistic elegance? Such pieces are much more valuable than an antique Chippendale that's been painted completely white, or refurbished poorly. For antique end tables to have good value, they should have aged well without major damages and look prime.
Determining Antique End Table Value Via Appraisals
If you have a pair of antique end tables and would like to know how much they're worth: whether you can send your kids to college with them or just embellish your living room without having to insure them, then getting a professional appraisal could be worth your while.
Generally, you can get a ballpark figure from your local antique shop appraiser. However, if what you have is Epoque – an authentic antique from the 17th or 18th century – in good condition, you can opt to go to one of the major auction houses that deal with antiques and get a top-notch appraisal.
Other ways to get appraisals for value include antique fairs and roadshows.
How Can You Tell If an End Table is an Authentic Antique?
There are different ways to tell if the end table you're eyeing at the local antique store is an authentic antique! Here are a few key ones:
Joints – Antique end tables will have handmade dovetail joints. Usually, the sharpness and symmetry of the dovetail joint can tell you at a glance whether that piece of furniture was handmade or if the joints were machine cut.
Symmetry – When furniture is symmetrical, then it's not antique. Most, if not all, end tables with carvings and other decorative features lack symmetry because they were handmade. Original Chippendale end tables have slight imperfections in the carvings, which is what tells them apart from machine-made replicas.
Labels/Stamps – Most furniture has the maker's mark on it. This sign is sometimes visible and sometimes very well hidden. When you get an antique end table, you need to look it over with a fine-tooth comb to check if it's actually an antique or a replica.
New but Old – Don't be taken in by furniture that looks old but is actually new. Sometimes, giving furniture a distressed look and artificial wear and tear can make it look a lot older than it actually is. If you see such a type of end table at a local antique store or an antiques fair surrounded by actual antiques, it's easy to be fooled. Your best bet is to look it over carefully… the look of age will be noticeably absent in the inner hinges and edges.
Screws – When end tables are antique, you'll be able to tell from the screws used. Antique end tables usually have single slot screws; all of which differ from the others. This is because handmade screws cannot be identical. Also, screws in antique furniture are cylindrical while modern screws tend to be tapered at the ends.
If you follow these tips, you'll be able to tell if someone is selling you a real antique end table, or just another replica!