Halloween is one of the best holidays as it combines some of the best things like candy, costumes, and frights. With Halloween fast approaching, it's time to start planning your home decoration for this occasion.
If you are looking for vintage Halloween decorations ideas, here is a list of 30 best vintage Halloween decorations ideas that can make your home look gorgeous and scary.
Vintage Halloween Decorations are actually about the history of Halloween itself. If you are in the mood for a little history, stick around here. With the right vintage Halloween decorations, you can make your home look like a haunted mansion in the old days in no time.
Vintage Halloween Decorations In The 1930s
Halloween in the 1930s was a different time in comparison to today. The cost of living was not as high and things were affordable for families, especially candy. Halloween in the 1930s was an altogether different holiday, one that focused far less on what was happening at home but instead on the costumes people wore.
You can create your very own 1930s Halloween-themed home, we have put together the first 10 amazing vintage Halloween Decorations for your home. During this time, you would find a lot of pictures and postcards in hallways, rooms, and more. We've done our research and listed some images, ornaments, and more that you'd probably love.
1. Costumed Witch And Black Cat Image
This vintage Halloween postcard evokes the past — Halloween in the 1930s. It would make a great place card or bookmark! Use it alongside other vintage Halloween artifacts and you'd be glad you did.
2. Vintage Halloween Pin-up Girl
This is a vintage Halloween pin-up witch illustration from the 1930s, you'll have to download it, frame it, and hang it in your home for that 30's Halloween look. This wall art is pretty awesome if you ask me, it portrays a witch lady with a cat, Holding a pumpkin and witch broom.
3. Witch Halloween Logo Decoration
Haunted house? This would definitely do! While this would go well in your bedroom, or somewhere else, I would recommend placing it just after your door, so that when visitors come in, they'll get in that vintage mood.
4. Halloween Skeleton
Back in the 30s, the use of skeletons for Halloween decorations was rampant. The only difference was the type of skeletons used back then were image representations, they weren't made with modern materials. This is a unique vintage Halloween decoration to have at home.
5. Miniature Halloween Paper Lanterns
Here are 3 Halloween lanterns. These would be the perfect decorations for the 1930s themed Halloween party, or to hang from a ceiling for a spooky touch. The lanterns come with one of each style: pumpkin, witch, and a globe.
6. Halloween Dollhouse Miniature
This miniature spooky pumpkin is inspired by the practice of making pumpkins in the 1930s, which was sparked by the popularity of paper-mâché pumpkin lanterns at the time. This would be a great item for decorating your miniature Halloween dollhouse.
7. 1930's Jack O Lantern
The famous Jack O Lantern has been around for years. In fact, Halloween decorations would not be complete without him. This is an amazing replica of how Jack O Lantern looked back in the day. You would have to get creative with the decoration.
8. 1930s Halloween Black Cat
During the 1930s, Halloween evolved into the holiday we know today. New costumes, decorations, and candy emerged. Check out this Black Cat Wall Decor product which is a great addition to any home or office.
9. 1930s Halloween Placecard
The two owls in this picture look rather stern. The bat flying over the smaller owl is really creepy. However, this is the kind of decor that was used in the 30s.
10. Halloween Horn
This is a paper and board vintage Halloween horn. It has fantastic silhouette graphics of witches on brooms, jack o lanterns, and bats. The mouthpiece is wood. It will make a fantastic addition to your vintage Halloween decor.
Vintage Halloween Decorations In The 1940s
What did Halloween decorations look like in the 1940s? How did people make it extra scary back in the good old days?
In the 1940s, Halloween was a time to have fun with candy and costumes. At that time, most people celebrated Halloween by going around with friends. People also loved to participate in Halloween activities such as playing pranks on their neighbors.
Halloween decorations in the 1940s were not so far different than they are today. In fact, most of the things used back then can be seen in our modern age Halloween decors, just refurbished and better. However, most homes have gone from having haunted houses inside them to being outside in the form of decoration.
11. Dancing Skeleton
This is made out of paper and works great as Halloween decor. It was quite popular in the 40s, most houses had the famous "dancing skeleton" hanging on their walls. I would recommend adding this to that empty wall space in your home.
12. Vintage Owl Figurine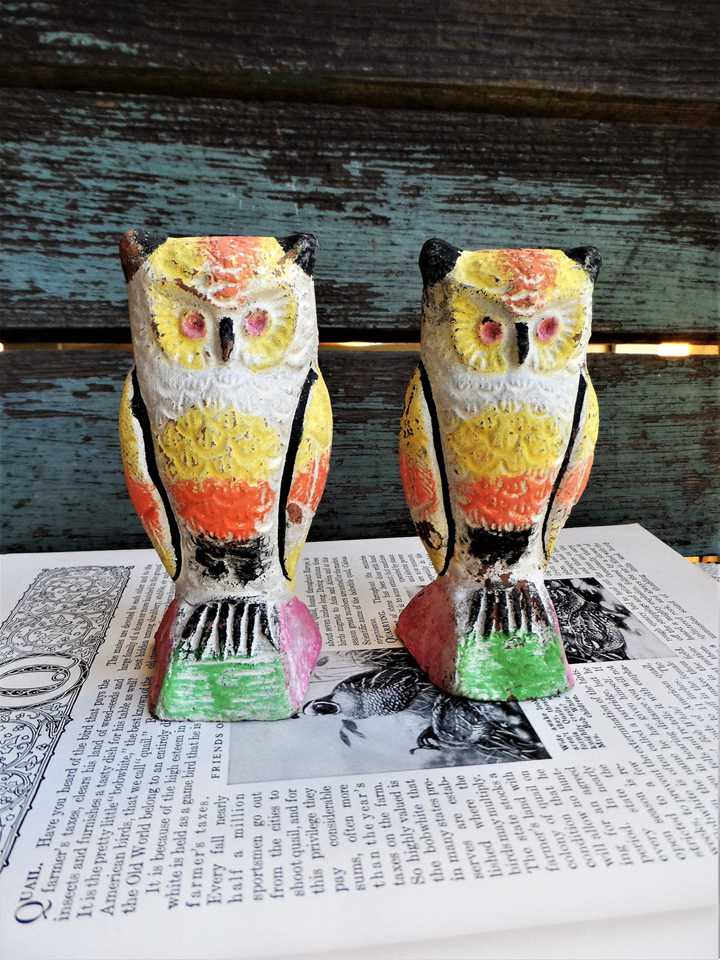 Owls and bats are definitely part of Halloween. They are made of clay and would be a great addition to empty shelves that need a touch of 1940's Halloween decor. These figurines also serve as a piggy bank for saving coins, win-win!
13. Pumpkin Paper Cut
This Halloween banner was made in the 1940s and has five original pumpkins with different facial expressions. The use of paper cuts for decor was very popular in the '40s. Back in the day, walls were not left empty. I think this would make a great vintage Halloween decoration for your home.
14. Vintage Inspired Halloween Decorations
Here's a good representation of a Halloween decoration. The use of pumpkins on the table gives just the right touch colors for the mood. Also, the use of the 1930's Jack O Lantern sums this up as an amazingly outstanding vintage Halloween decoration. Inspired by Charm
15. Vintage Halloween Decoration Idea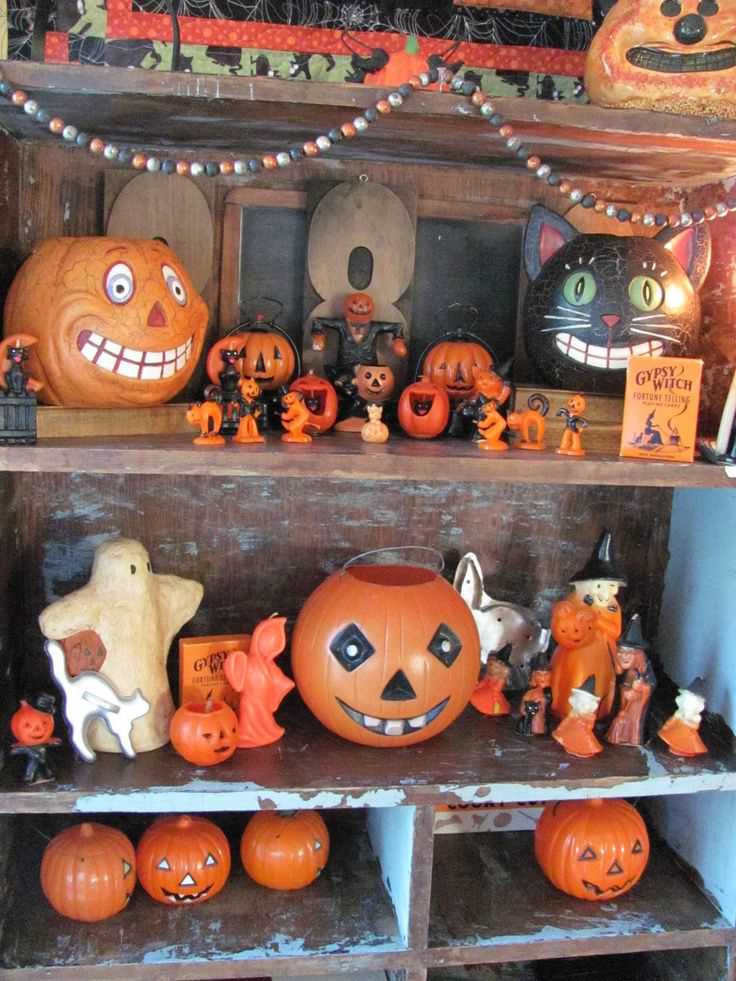 A vintage Halloween-decorated shelf from the 1940s displaying a lot of figurines and Jack O Lantern. Trust me, this vintage Halloween decoration idea works best with a rustic shelving unit. You can DIY one in the living room or anywhere you want. Pinterest
16. Halloween Party Decoration
Back in the 90s, many homes hosted Halloween parties, the decor was amazingly outstanding. You can choose to get most of the decor materials one after the other, however, this pack has most of the basic stuff you need.
17. Paper Mache Jack O Lantern
Most people think Halloween pumpkins look like they did many years ago, but that's not true. Back in the day, you'd see different facial representations of the famous Jack O Lantern. You can relive those moments by purchasing a couple of 40s Halloween pumpkins and doing justice to them decor-wise.
18. Pumpkin Glow Window Clings
Your windows are a great place to display your vintage Halloween decor. Back in the day, window clings were used by most households. All you will have to do is purchase the right one and apply it to where you have windows, trust me, it works perfectly. walmart.com
19. Vintage Halloween Pumpkin Image
Another thing I noticed about the 1940s Halloween decorations was the use of pumpkin printed images. Families would display this at strategic locations in their homes for that special Halloween feel.
20. 1940s Halloween Decoration
A graphical representation of a 1940s Halloween decoration with curtains to match. This image can give you an idea of how to approach your vintage Halloween decor. Or you can simply download it and display it on the wall remembering good old times.
Vintage Halloween Decorations From 1950-1990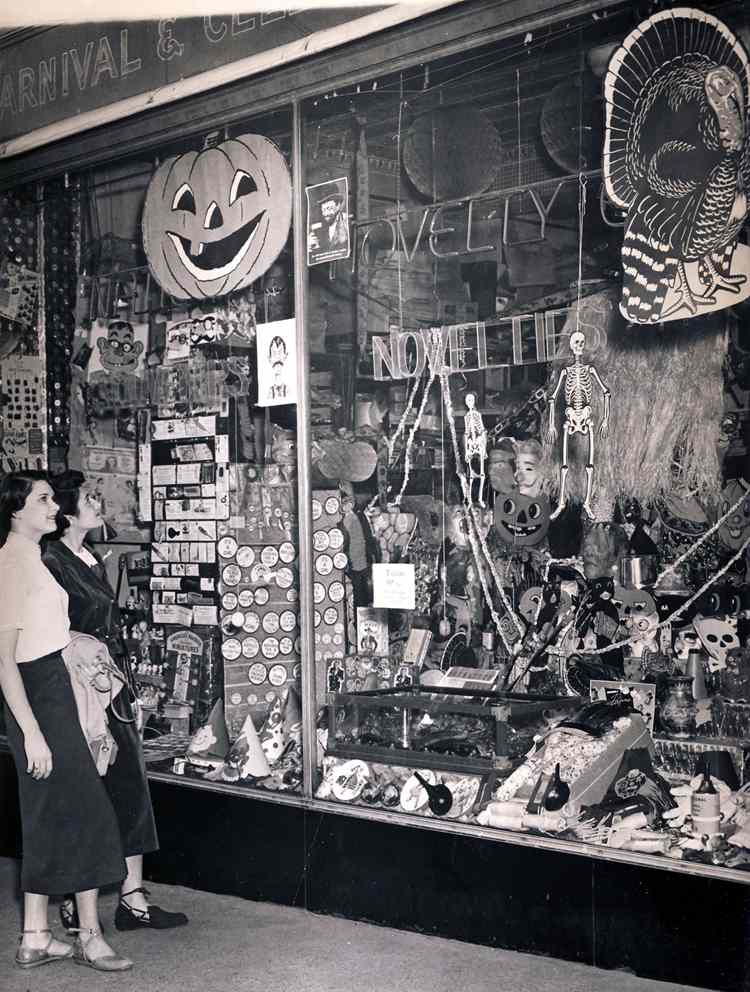 Halloween decorations over the years have become more terrifying than ever before. The development of technology has allowed people to create more realistic-looking Halloween decorations. From skeletal hands to giant spiders and bats, you can find anything these days. Pinterest
Halloween decorations from 1950-1990. Many of the decorations during this time period were plastic items that came in a variety of colors and shapes to represent different monsters. In the 1960s, people began to get more creative with different types of house décor.
21. Halloween Skeleton
Looks terrifying right? Well, during 1950-1990, the production of things took a whole new turn, creators were able to build more realistic-looking Halloween decorations like Mr. Skeleton here. walmart.com
22.  Mini Lanterns
These old-fashioned lanterns come with flickering LED candles. Use them to adorn your Halloween dinner party table or to line a walkway for cute trick-or-treaters. Trust me, these would work great in a Halloween party.
23. Music Box
You can use this music box to goose the Halloween spirit during your next party. And this wooden box also adds a rustic touch to your decor. Just turn the handle a couple of times, then let go, you should hear the spooky tune.
24. Throw Pillow Covers
Changing your throw pillow covers is an amazing way to decorate your home during Halloween. I found this creepy set of pillow covers that you can use to get in the mood for Halloween. The designs are quite realistic and would match almost any existing spooky decor.
25. Halloween Tissue Dancers
These tissue dancers are reproductions of the originals sold by The Beistle Company, which has made holiday decor since the 1920s. This package includes a witch, skeleton, and cat with dangly legs.
26. Classic Halloween Paper Cutouts
These cutouts from the 1950s onward decorated the walls of schools across the country.   Decorate your own windows and walls for classic Halloween style with these paper cutouts.
27. Halloween Plates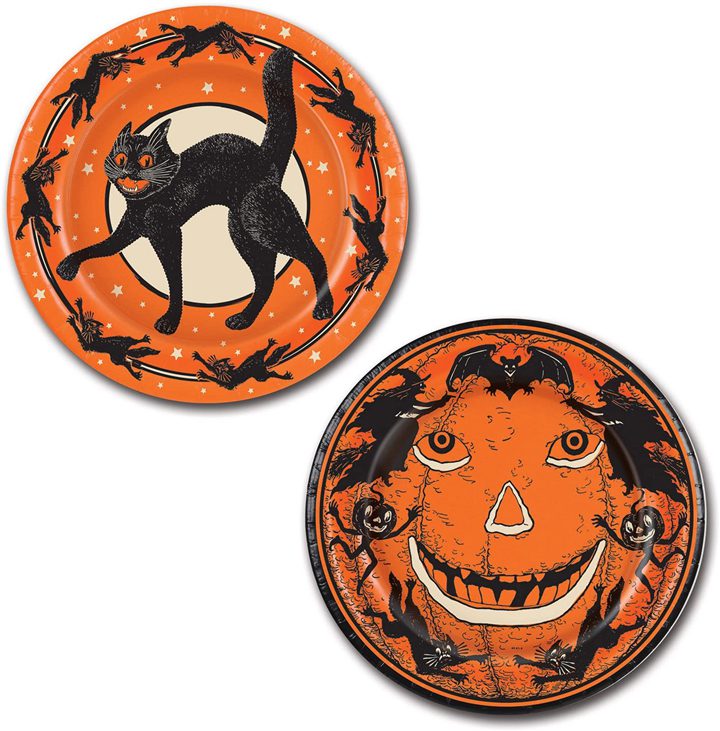 These vintage-style plates will add a touch of class to your Halloween dinner. Make sure the table is also adorned with a vintage Halloween table runner.
28. Vintage Halloween Table Runner
A classic Halloween style would make your dinner table look like how it should during Halloween. Do not forget the mini lanterns and Halloween plates.
29. Vintage Halloween Ornaments
Back in the day, people would place different ornaments around their homes for Halloween decor. Some of those ornaments can be found in online stores today, and you can use them for that classic Halloween feel.
30. Halloween Honeycomb Scarecrow
Halloween is just around the corner, and now it's time to make some serious plans about how you are going to scare your neighborhood. While carving out some pumpkin might be the thing you want to do this year, honeycomb scarecrows can be far more impressive.
Conclusion
There you have it, we have come to the end of our epic list of Vintage Halloween decorations ideas. We hope this article has been helpful to you. Feel free to go over our listing again and find the right items for your next vintage Halloween decoration.
Thanks for stopping by, if you have any questions or contributions related to this article, kindly use the comments section below and we will get back to you.