There is something intriguing about finding old treasures. Collecting classic trucks and restoring them is certainly not a cheap affair but one of the most rewarding experiences for classic cars fanatics.
If you are considering getting a vintage truck, below are 25 vintage trucks you should know about, add to your wish list, and possibly acquire one.
1.1955 Ford F-100 Pickup Truck
Ford models are some of the most sought-after classic trucks, and this 1955 Ford F-100 is no exception. It has stood out as a classic in the pickup genre owing to its beauty and usability. This classic can manage pretty well on highway speed and is equipped with reassuring brakes; therefore, compatible with today's road dynamics.
2. 1946- 1978 Dodge Power Wagon
The Power Wagon, one of the best-named trucks ever, stems back from World War II. It was initially designed as a four-wheel truck to be used by the Arm until 1946, when it arrives at Dodge.
Its debut saw it become the first factory-built 4 by 4 truck, which earns it its classic title. It is a rare find since Dodge stopped producing more in 1978. If you could get your hands on one, you ought to treasure it.
3. 1960-1984 Toyota FJ40 Truck
If you are into rugged, masculine vintage trucks, this Toyota FJ40 is top on the list. It is one of the most rugged and all-terrain 4 by 4 trucks in the world. This, together with the outstanding, masculine truck design, makes it a classic to seek. However, as with most Japanese cars, rust is a big enemy to your FJ40.
4. 1963-1987 Jeep Gladiator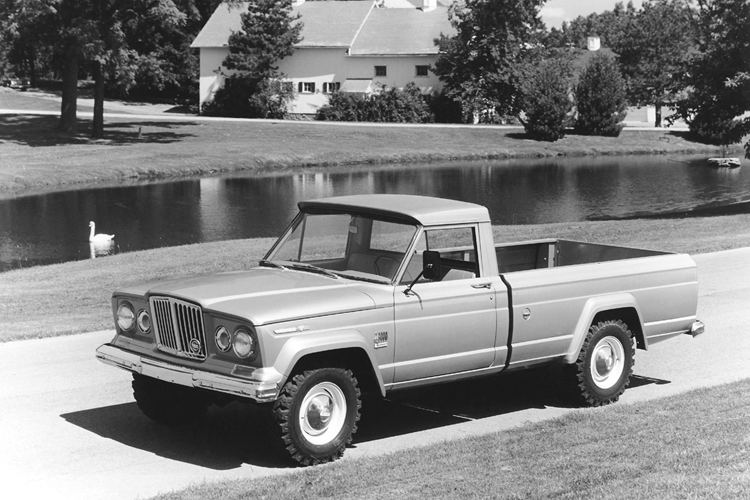 The gladiator was Jeep's replacement for the Willys Pickup and the FC to cater to more space requirements. The earlier models had an advanced six-cylinder engine which was one of the most outstanding features of the trucks.
The Jeep Gladiator is a true beauty, thanks to its masculine, all-terrain build. If you got your hands on one, you would enjoy much more than a cool truck parked by the driveway.
5. 1942 – 1959 Napco Chevy
The Napco trucks were initially not a popular buy since Dodge had been building 4WD's for over ten years before Chevy. Today, the Napco truck is a desirable collectible, thanks to its unique design and all-time performance. If you are crazy about Chevys, you would probably want to collect one of these.
6.1972 Datsun 620
If you are drawn to smaller trucks, the Datsun 620 is a great vintage truck to add to your collection. The 620 not only looks great but comes packed with several innovations adding up to its performance.
One, it was the first compact truck equipped with a long bed. Its 1977 model later came into the picture with a roomier interior, adding up to its practicality. It is definitely not flashy but a classic to have.
7. 1978 Dodge Lil' Red Express Truck
If you fancy red cars, the Lil' Red may tickle your fancy. Making its debut in 1978, the express truck was one of the quickest sold American vehicles. Its little red body for sure doesn't match the performance; with the improved tuning.
Dodge made a kill selling these back in 1979, and although they were in high demand, the classic feel they brought continues to linger over the years.
8. 1957 Jeep FC-150
One of the things that makes classic trucks stand out is the unique touches on the body. This Jeep classic is as cute as it can get; with the cap-over engine design. The unique design allowed Jeep to package a truck in a shorter chassis for easier maneuverability.
As little and cute as it looks, the truck shocked at how much speed it could take, not forgetting its adaptability from pavement to the countryside.
9. 1967 Kaiser Jeep M715
The '60s had several innovations as far as trucks were concerned, and this Jeep M715 is no exception. It was one of the coolest 60's pickup trucks with the strength and high performance it came with.
The truck stands out for its ability to crawl up a trail hike and easily hit the highway without hassle. Truly build for an adventurer, it is one of the best vintage trucks from Jeep.
10. 1967 – 1972 Chevy C/K Truck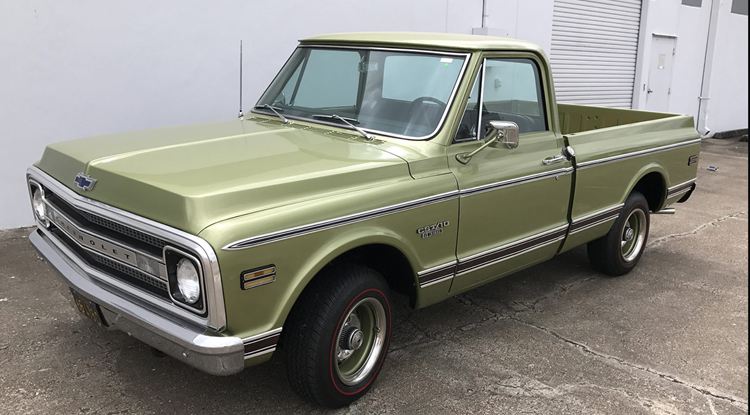 The 1967 Chevy truck was among the first GM trucks designed to meet the style and usability needs. They were much ahead in terms of looks and drivability, making them some of the best muscle trucks back in the '70s.
They were great innovations and paved the way for other Chevys in terms of style and functionality.
11. 1939-1947 Hudson Big Boy C28
These are some of those trucks that are a labor of love. Designed by Nash-Kelvinator and Hudson, this beautifully streamlined pickup made its debut in the early '40s. Known as the Big Boy, this classic truck had its fair share of hurdles during production.
One, it was designed by the first-ever female designer, went up in 1939, and later halted production between 1942 and 1945. It later spiked up in 1947. With a touch of history, this truck is a classic to hold on to forever.
12. 1967-1977 Ford F-250 Highboy Truck
Ford has always stood out in terms of producing high-performance, classic trucks, and this Highboy truck is definitely one for the books. It is tough-looking with a unique feature that allowed the switching of tires.
It can go from a normal-looking truck to a highboy with just a change of tires. How cool? It is one of the reasons why the F-series Ford trucks have remained the best-selling ever since.
13. 1976-1977 Chevrolet Blazer Chalet
One of the things that make this a classic is the fact that not many of them were built. In fact, just under 2,000 of them saw the light of day. As an upgrade to the Chevy Blazer, the Blazer Chalet came with performance improvement and a touch of style.
One, it features a pop-up camper body adding to the functionality of a motor home. It was a cozy ride yet tough enough to handle any terrain it could encounter, making it perfect for the adventurer.
14. 1967-72 Chevrolet Cheyenne
The Chevy Cheyenne is a classic luxury truck that any adventurer would enjoy. Even though these trucks were made for only five years, they remained popular over the years owing to their excellent performance.
They are well known for their front disc brakes, the classic radio, luxurious interior, and a carpeted-insulated cab. If you are after luxury in a classic truck, this is definitely a top consideration.
15. 1947 Chevrolet 3100
Going back to the '40s is this little, eye-catching Chevy truck. It was the light during the First World War period being one of the few commercial trucks introduced by Chevrolet at the time.
It was built to create more opportunities at work and came with the style to match its functionality. It was and still is a great classic choice over Ford and Dodge classics.
16. 1973 Dodge D100 Club Cab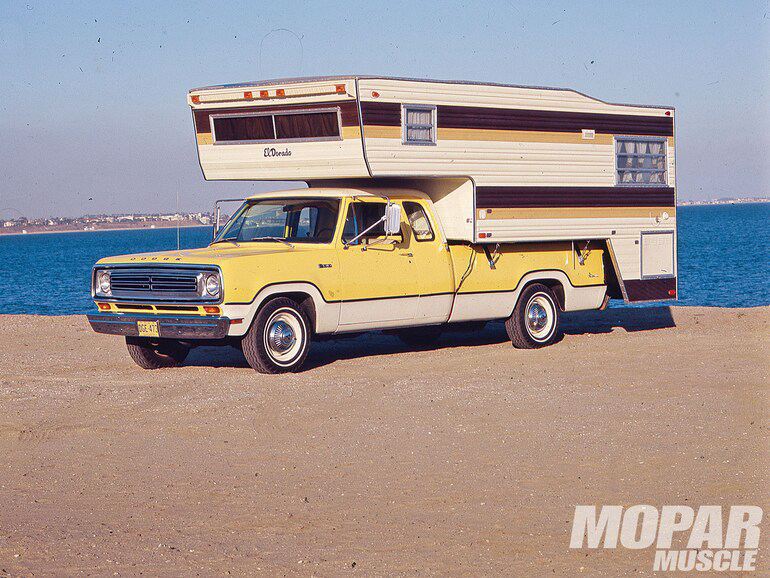 Something about the name of this truck pushed it into the markets back in the '70s. This is probably one of the reasons why Ford and other brands picked up the '100' tag. Designed as a work truck, the D100 came with pocket taillights and front suspension. These two features have stood the test of time and style too.
17. 1955-1958 Chevrolet Cameo
There are many beautiful vintage trucks out there, but this Cameo has an eye-catching style that has lasted the years. As a classic cars' fan, you will agree that it has an aura that no other truck of the time can deliver.
It was not only comfortable but also speedy; therefore, convenient for a balance of functionality and performance. Although it didn't bloom as expected, it is a classic that only a few can get their hands on.
18. 1974-1977 Mazda Rotary Pickup
Well, not an American truck, but it was made for the American market. The Mazda Rotary pickup is a classic that many have enjoyed over the years. This sounds quite contradictory considering only less than 15,000 were made, but truly, those that got their hands on it can attest to its style and practicality.
19. 1978 Dodge Midnite Express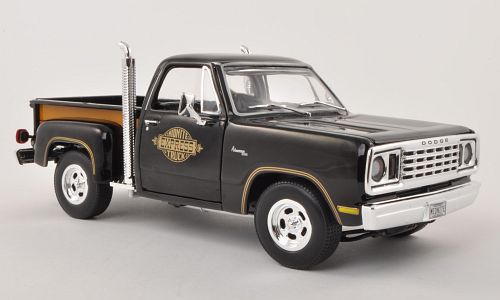 Remember the rare Lil Red truck? The Midnite Express was rarer, making it one of the classic trucks that are quite impossible to find. Not many of them were made, with only 270 original productions, so you might not even find any on the market. But if you do, it is a classic worth the investment.
The original of this was a cook truck that came with the 7.2-liter V8 engine, which was quite something. This upgrade added on to functionality and style, making this truck the best of both words
20. 1966-1977 Early Ford Bronco
The Ford Bronco was designed to meet the rising need for four-wheeling in the mid-'60s. The design was fun and youthful, taking the style of the Mustang. It was one of the few Ford cars with V-8 power, which was rare among smaller models.
Its most outstanding feature was its front suspension featuring a solid-axle design. Broncos came in various designs, such as roadsters, half-cab pickups, and wagons with a removable hardtop.
21. 1971-1980 International Scout II
 A touch of masculinity and performance; the Scout II was a heavy truck built from experience with heavy agricultural tractors and other equipment. It was one of the heaviest trucks, weighing around 3500 pounds, making it one of the heaviest classic trucks ever made.
The tough make contributed to its performance as an off-roader yet an excellent ride on the highways. The fact that it balanced these two made it a versatile fit for those that needed both conveniences.
22. 1986 -1955 Suzuki Samurai
Once considered among the cheapest to buy, the Suzuki Samurai is one of today's hard-to-find expensive classic trucks. This is because they were initially made with unique parts that became pretty hard to find after production.
If you are looking for a classic truck to start your collection, it is probably one of the most favorable ones as you could get one in good condition retailing at less than $10,000.
23. 1957 Chevrolet C-6 Truck
This is one of Chevy's outstanding trucks and probably one of the most expensive ones to bag. The design took hours on end to perfect, not forgetting the advancement of parts to serve as an upgrade to older models.
It was built to perform with the C6 suspension and the 402CID LS3 motor. The C-6 is truly a one-of-a-kind vintage truck that any fanatic would enjoy having.
24. 1948 Chevrolet Loadmaster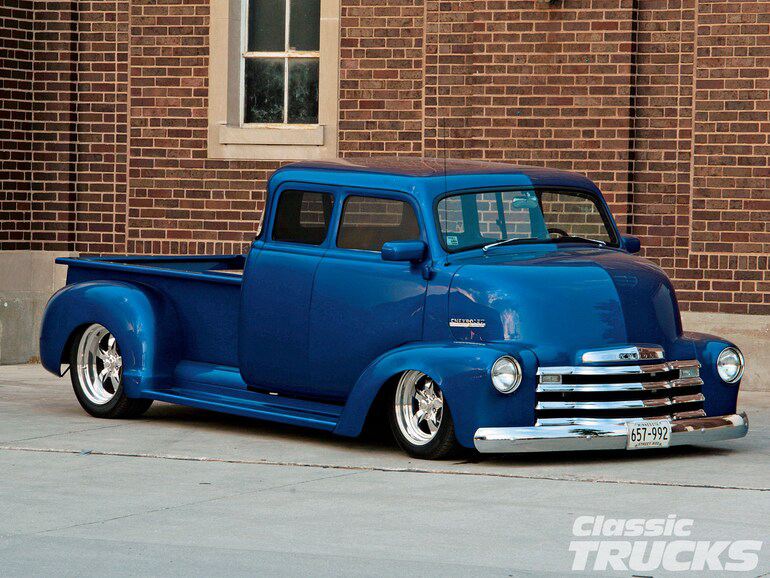 As the name suggests, this truck was designed to serve as a loadmaster. Its cab-over-engine design made it much more practical for hauling, keeping the driver above the engine instead of the back.
The Loadmaster design made it easier to carry a larger load in a smaller footprint of a truck which helped with maneuverability. As a popular truck for deliveries back then, it is a classic any hauler would enjoy having.
25. 1960 Chevrolet Apache
The most classic vintage trucks have a history attached, and so is this Chevrolet Apache. It came in a less rounded style featuring slab-like sides and nothing like that before. It stood out thanks to its torsion bar independent front suspension, making it quite impressive when it came to adapting to uneven roads.
The Bottom Line
Vintage trucks are not just outdated trucks that do not need attention. They are part of history, and most of them have a story attached to them. As their popularity takes off, they are starting to tickle many people's fancies which is something worth the attention.
The above-described trucks are some of the outstanding classic ones that have held their names high over the years. From leading manufacturers, these trucks have shown their relevance in the vintage truck world and upheld their classic nature ever since conception.