One company comes immediately to mind when you think about photography: Kodak. Kodak cameras have been around since the late 1800s, and the company has released a wide variety of models over the years. While some of these cameras are now considered antiques, others are still prized by collectors for their unique design or rare features. As a result, the value of an old Kodak camera can vary greatly depending on the model and condition.
And despite new digital cameras, drones, and highly sophisticated smartphones, a classic like Kodak cameras always comes out on top. Because of this, the price of a vintage Kodak camera is rising daily.
Nowadays, everyone wants to have an antique Kodak camera, including museums, professional photographers, and vintage collectors.
For those familiar with the models and the features that influence value, buying and selling retro Kodak cameras will be better. The desire for old Kodaks in good condition is driven by the fact that many of these old cameras are indeed functional today.
For example, a vintage Kodak Box camera from the early 1900s might sell for just a few dollars, while a mint-condition Kodak brownie camera from the 1950s could fetch hundreds of dollars at auction. As with any collectible, the value of a Kodak camera is ultimately determined by the market. However, certain models will always be more sought-after than others.
So did you stumble on an old Kodak camera while arranging and want to know what it's worth? Or are you a lover of old cameras and would love to add Eastman Kodak to your collection but don't know the prices? In this article, we shall walk you through all the necessary details.
Kodak Cameras: How it all began
The Rochester, Eastman Kodak Company, New York, was one of the vanguards of all the notable advancements in photographic technology from the late 19th century to the 20th century.
They introduced supple camera film sold in rolls and created the first sound-capablemotion picture film. Kodak created a new era for amateur photography by making cameras accessible, lightweight, and straightforward.
The Eastman Kodak company was established in 1878when George Eastman bought his first camera before traveling abroad. At the time, cameras needed bulky glass plates covered in several chemical emulsions and fixed a picture only when exposed to light.
Eastman started trying out different emulsion compositions. He created a new dry-plate technique in 1880 that employed a thin gelatin coating and a machine to produce the plates in large quantities.
The invention of compact, affordable cameras like the Brownie in 1900 gave people the ability to instantly chronicle their daily life through candid photographs, a legacy that endures today. Although "Kodaking" was synonymous with "photographing" within the next few years, it had become more than just a popular word.
The capacities of photographers have drastically changed as a result of this innovation. As a result, a person who wants to take a portrait does not need to remain motionless for an extended time.
This new technology could keep the plates safely for a long time, absorb light fast for shortened shutter speeds, and not involve instant processing like wet plates did.
Customers first used Kodak cameras to capture daily life. From marriages and anniversaries to family vacations and other events.
Also, complex photography methods like a darkroom soon became a thing of the past, making photography seem more enjoyable and straightforward to master.
Due to the requirement for heavy machinery, from the camera to the apparatus needed to process the film, photos were still exclusively shot in studios by professionals.
Due to the lengthy exposure durations, photographers also needed perfect control over lighting and backgrounds. With the handy Kodak camera, Eastman addressed this unwieldy approach in 1888 when Kodak launched the first camera.
When the film rolls elapse, the customer will mail the whole camera to Kodak as the slogan says, "You press the button, we do the rest."
For an extra cost, Kodak will reload the camera and deliver it back with new rolls and fixed prints. This company structure transformed photography incredibly. It made photography accessible for ordinary working-class folks to purchase. The constant need for processing and replacement cameras also generated significant revenue for Kodak.
George Eastman, who was just a bank clerk in Rochester, later received his induction into the National Inventors Hall of Fame in 1977.
Onset Of the Digital Age
Kodak was facing a single, pressing issue by 1975: modern cameras. Despite being the first to create such a camera, Kodak abandoned it for fear that it would interfere with their primary source of revenue processing.
However, the digital age was inevitable. As a result, Kodak would eventually have to change.
The majority of cameras purchased worldwide are now digital cameras. Since the profit margins on these cameras were drastically cut, many businesses entered the market. Kodak struggled to hold onto its position as the top brand.
However, enormous interest in early film photography rekindled because of how widespread cameras are today, thanks to contemporary technology. Vintage Kodak cameras have consequently gained a lot of popularity.
Today, Kodak manufactures many inexpensive, regular automated, and expendable film cameras. Ironically, though, their vintage cameras are among the most sought-after items.
Different Models of the Vintage Kodak Cameras
Since its founding in 1887, Eastman Kodak has produced countless camera models. George Eastman, who founded Kodak, pioneered the industry by working to make photography accessible and widely available.
In the future, Eastman and the Kodak firm introduced a wide range of distinct film formats and camera models. Below are some vintage Kodak camera models
Kodak #1
The launch of the Kodak #1 camera in 1888 was the most notable development in the chronicles of hobbyist photography.
The Kodak no. 1 model was a straightforward box camera that included a roll of film with 100 exposures already developed.
Furthermore, its features include a rapid rectilinear lens, fixed focus, parallel shutter face, shot by string, and lens plug attached. After exposure, they will use a key to wind the film to the next frame.
Because users did not have to worry about the complicated procedures and chemicals associated with creating their images, the camera quickly gained popularity despite its high cost.
Due to its short period (between 188-1895), known as the "Kodak jiffy," the camera hardly ever appears for sale on the antique market, especially in its original box.
Kodak #1 is the second camera from the Eastman Kodak Company but the first to bear the name "Kodak."
Kodak Brownie Cameras
The famous Kodak Brownie cameras can lay claim to having invented the photograph, that standard, and a clear snapshot of things precisely how they appear.
Eastman Company derived the name "brownie" for this model from a popular whim cartoon.
The Kodak Brownie camera, which debuted in 1900 in the USA, is arguably the most popular vintage Kodak camera.
The original camera was a wooden film carrier in a leather case—the original featured V sighting lines on top but no viewfinder. Also, loading only takes some elementary steps with this camera.
From August 1900, a reflecting finder was a clip-on device. It also had a removable film winding key.
Original leather case Brownie cameras made photography accessible for everyone selling at a cheap price as low as $1.
The Eastman Kodak Company produced Kodak Brownie cameras over time in different versions. For example, the box Kodak camera and the Kodak folding camera.
Box cameras are essentially a box with a lens, synonymous with a pinhole camera. The lens part of the Kodak folding camera may pull out from the body on a bellows thanks to a latch. Both are simple to locate in online and antique stores.
One of the notable score points of the Brownie is the 21/4 film roll format that is still in use today.
Brownie Hawkeye Flash
One way to describe the Brownie Hawkeye Flash is a faux twin lens reflexive camera. However, because the primary lens is only a portion of the viewfinder, it does not contribute to focusing; it is not a real twin-lens reflex (TLR) camera.
This camera, frequently described as Art Deco, belongs more to the sleek modern style. The Art Deco design technique, which first appeared in the USA in the 1930s and persisted in the 1940s, has a late variant known as streamlining modern.
Long horizontal lines, clean, glossy surfaces, and curved forms were the highlights of its design. The original Brownie Hawkeye and the "flash" camera variant are all Kodak innovations of 1949. With a speed of roughly 1/40 sec, it supports both Bulb and Instant modes.
Pocket Kodak (Instamatics)
The year 1963 witnessed the introduction of another wonder in amateur photographing, the Kodak Instamatic series. It was one of the significant achievements of the Rochester, New York, Eastman Company.
The Instamatic Kodak camera series was easy to use. Before Kodak Instamatics, The market was majorly driven by roll-film camera models, which come with all the loading issues associated with that kind of film.
KODAK BROWNIE HAWKEYE Flash Model Image Credits: eBayBut everything changed with the dawn of the Instamatic series. Now, people can load their cameras without worrying about ruining the film.
All users had to do was insert a film format 126 cartridge into the back. The camera took color slide film and black-and-white print film and had a flash for nighttime and indoor photographing.
Instamatic 50 was the first camera of the Instamatic series. Instamatic 100 followed a few months later, and then others followed.
No 1A Gift Kodak Folding Camera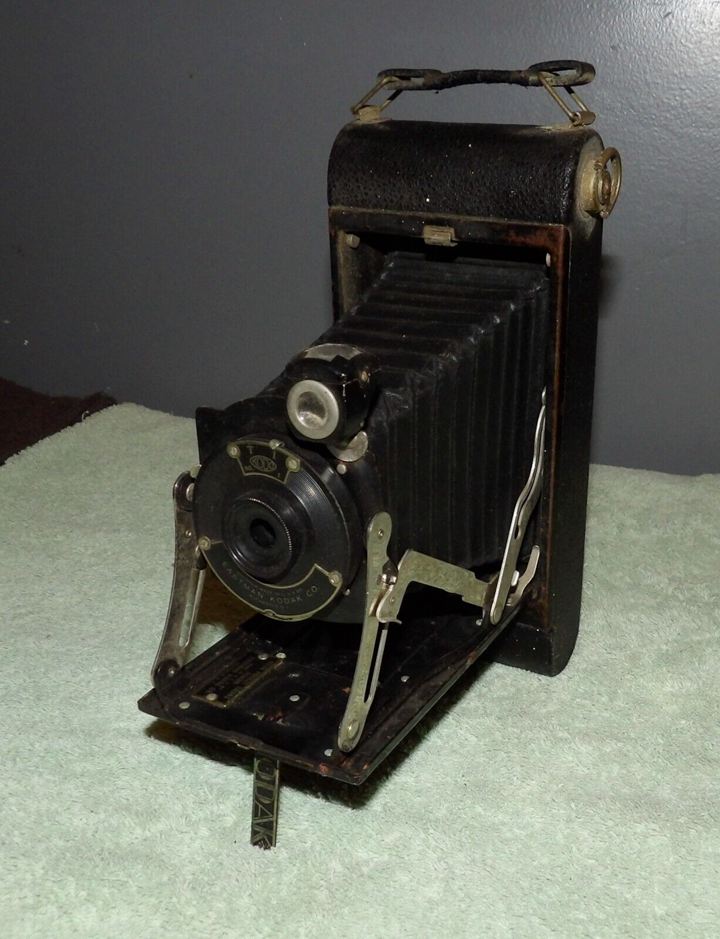 A variation of the Pocket Kodak is this well-known camera. It is a folding camera. Walter Dorwin Teague updated the No. 1A Pocket Kodak Junior, typically pure black, for the 1930 holiday season.
Walter Dorwin Teague styled an Art Deco design of interwoven geometric patterns in the colors black, brown, silver, and red. He took inspiration from the paintings of modernist artists like Mondrian.
The camera shows how art and industry have converged. As a result, the camera earned respect as one of the best by Kodak in 1930.
It uses 116 films with a neutral meniscus lens. A shutter with a timer and instant option is present. It spins on a circular plate with four stops that converge before the lens. For taking landscape photos, it also uses tripod mounting.
The Art Deco design lens panel, complimenting brown bellows, and enamel border adorned the brown leather case camera. In total, Eastman Kodak company produced ten thousand pieces.
Kodak Folding Cameras (Kodak Junior 620)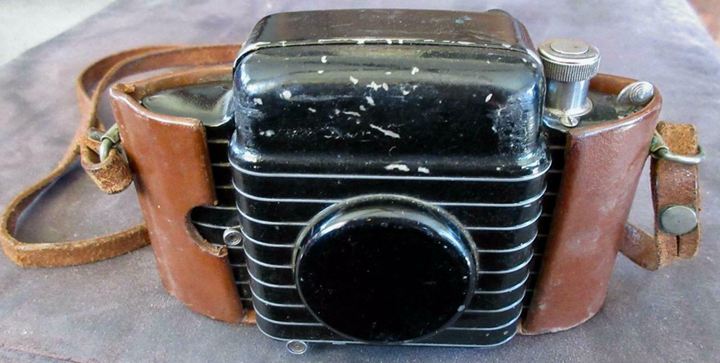 Introduced in 1933 and terminated in 1939, the Kodak Junior 620. It is a folding camera that self-erects and folds. This camera comes in various configurations with various shutters and lens designs.
However, Kodak added a body shutter face during an upgrade in 1937. Some 1937 versions had chrome-plated side panels. K4S or K8S shutters were other options for this model. The K number represented the number of shutter speeds, while the S stood for self-timer.
This model includes a wait timer and eight shutter speeds. It boasts a fantastic front-focus lens and can narrow its focus to 1.5m. Also, an optical folding viewfinder is present. For portrait and landscape settings, there are double tripod attachments available. The red bellows have a swinging cover.
Kodak Bantam Special
The Kodak bantam special is the most strikingly stunning of all Kodak cameras. Kodak made it between 1936 and 1948. The camera had a sleek Art Deco design made of cast aluminum that was black enameled.
Walter Dorwin Teague, a renowned industrial styling innovator who worked in the 1930s, created the Sleek art deco style.
The iconic Texaco service station and emblem and the first Polaroid cameras are just a few examples of the iconic designs created by Walter Dorwin Teague.
How to Date Vintage Kodak Cameras
If you find it hard to date your Kodak camera, here are a few methods for dating that you can use.
Patent Date
First, don't let patent dates engraved on the camera deceive you. These dates can also prove that there was no camera creation before that time, but the patent date only applies to the specific item with patent markings.
In other words, if a roll-holder, for example, has a 1953 patent date, that year relates to the year the film holder got a patent. The roll-holder may then be part of a camera created in 1956.
Use these dates when browsing the camera site for accurate information. For example, a camera produced between 1932 and 1942 may have components with a 1940 patent date. It means that the camera's manufacturing date falls between 1940 and 1943.
Admittedly, the method has a downside because the part may be from a repair or replacement. because of that, this method is not wholly efficient
Websites and Publishing
Another way of checking your Kodak date is by checking information on the Kodak company website, Books, and guides. The good thing about this method is that it is accurate if you can get what you seek.
Date Code
This dating method is the easiest and most effective with some cameras. Although there are several exemptions, many well-known cameras produced in the 1950s and 1960s had this code.
Numerous locations can have the code inscribed on them. Most cameras have it either carved around the lens, which resembles a serial number, or an imprint within the camera on the film holder.
| | |
| --- | --- |
| C | 1 |
| A | 2 |
| M | 3 |
| E | 4 |
| R | 5 |
| O | 6 |
| S | 7 |
| I | 8 |
| T | 9 |
| Y | 0 |
So, for example, some cameras include a code engraved into the lens that looks like this: OS98921. According to the "OS" from the values above, "O"= 6 and "S"=7, it indicates that this camera dates back to 1967.
But exercise caution! Some cameras' lenses or casings may be from repairs and replacement. Perhaps these new ones have special dates!
Valuing Your Vintage Kodak Cameras
Whether you are a seller or a buyer, here are crucial factors you must consider before discussing the price value of your vintage Eastman Kodak.
Condition
Any model of a vintage Kodak camera you have will be worth more if it is in good condition, regardless of the make. For example, the exterior appearance includes unpeeling leather case and clean, rust-free metal components.
It also denotes a viable state, though. Even while some people enjoy adorning with oldies like cameras, the most expensive Kodak cameras are still functional cameras.
Due to the Brownie Kodax's exceptional condition, this listing went up to $1,825.
The functionality of retro Kodak cameras is essential since some photographers will purchase them to use them.
It would help if you endeavored to screen the following extensively.
Take a closer look at the bellows' state. There shouldn't be any rips or breaks in them.
Check the lens to see whether it has many cracks or foggy spots.
Confirm that the shutter face is in good condition
Ensure the film door is tight when close and freely opens.
Ascertain the condition of the knobs to ensure they are in good shape
Model Number
Although there are countless old Kodak camera models, it is simple to figure out which one you have. The model number is typically imprinted directly on Kodak cameras.
This Kodak list website can be helpful if you can't locate any critical data written on your camera. Older models are more valued, everything else being equal.
Furthermore, the production of some Kodak models, like the Kodak Junior, did not continue. Because of this, they are now tough to find. However, since the Brownie cameras came in large quantities for many years, they will still be worth a lot of money if they are still in good condition.
So rarity becomes one of the contributing factors to the value of your vintage cameras. Because of that, the rare and most iconic Kodaks will add more money during business deals.
Film Type
At first, there were numerous diverse film sizes, and Kodak produced cameras to support each. However, only a few film sizes are still produced today.
The most widely available are 5×7, 8×10, 35mm, and 120. A Kodak camera model may have more excellent business value if it uses a film still in operation.
You also can check out the list of Kodak camera films online.
Values of Sold Vintage Kodak Cameras
The easiest way to know how much your antique Kodak camera is worth is by checking how recently sellers sold it.
Meanwhile, the simplest way to check for the previous price listings is by running a quick online search of auction stores—for example, eBay.
However, here are the values of some sold retro Kodak cameras:
In 2021, an Eastman Kodak 2-D 8×10 for $468 in good condition.
Around $220 was paid for a vintage Kodak Retina II 35mm camera with a leather case.
For around $750, a blue Art Deco Kodak Beau Brownie was sold in excellent condition and still working.
An untested Kodak Brownie Hawkeye was in an uncertain operating condition and sold for $5
The Instamatic camera has a value range between $10 to $25
Eastman View Camera has a value range between $300 to $500
Where To Sell Vintage Kodak Camera
Online Stores
For antique collectors, purchasing stuff online opens up a world of possibilities, particularly for items you might not find in neighborhood shops. Antique buyers have many choices, from locating affordable antiques to viewing a local variety without leaving their homes.
Some online platforms to sell your old cameras are:
Antique Shops
The next place you can sell or buy retro vintage cameras are in antique shops near you. You can quickly search online to find out which antique shop is selling or buying a particular model.
Do you intend to sell many antiques? The best places to sell antiques locally are in antique stores. You can reserve a place at the antique store, where you then set up a business to sell your products. Customers who enter the store will view your goods and purchase them.
Flea Markets
Selling your antiques in a local flea market, either permanent or mobile, is one option. The location of stationary thrift shops is typically a building or a sizable parking lot where vendors can rent space to sell their items.
On the other hand, a mobile flea market moves from city to city. To sell your goods, you will hire a booth. Then, you can sell your valuables when the market travels from town to town.
Flea markets are perfect for vendors who have an extensive collection of antiques to sell. These methods also apply to those who want to buy old cameras to add to their collection.
Final Takeaway
Vintage Kodak cameras are stunning illustrations of the development of photographic technology. The invention of George Eastman has contributed immensely to photography as we have today.
Whether you appreciate collecting cameras, studying the history of photography, or simply enjoying decorating with ancient cameras, the classic and iconic vintage Kodak cameras will always have a prideful place in any collection from its time.
You can find most of these cameras online, in thrift shops, and in antique shops. You may find a camera that looks stunning, performs well and is highly valued.
However, as highlighted in this post, you must conduct thorough research before valuing your item. Following the guidelines in this post will help to
Know your camera model
Know how much it is currently selling
Place the best price for it and
Know the right place to sell
Do you have other favorite models of vintage Kodak cameras? Please, tell us in the comment section below.