We get it. You are a fashion enthusiast with a knack for collecting vintage and antique fashion gems. Or maybe you are starting out and purses are the first thing on your radar. Now, besides getting your money right from the onset, because there are vintage and antique purses worth your money, there's a few other things to look out for.
A good starting point is by learning everything you can about these treasures and looking at some of the most valuable vintage purses out there.
This post offers just that, but first let's see the difference between antique and vintage as well as a little history of purses!
Vintage Vs Antique Purses
What differentiates vintage from antique purses? While these two terms are oftentimes used to describe older pieces, they mean different things. Obviously the first dissimilarity is in the names. Pediaa states that Antique purses are 100 years older while vintage purses are younger. They are at least 40 years old today and most of them were made between 1922 and 1999.
Be advised that the meaning of vintage may vary and a last season item may be considered vintage depending on one person's perspective. What would you consider vintage as a purse buyer?
Let's look at the history of vintage and antique purses.
History of Vintage and Antique Purses
Vintage and antique purses have been popular for ages, thanks to their beauty but also history which translates to value in the vintage fashion world. With the continued evolution of the fashion industry and the fact that age can considerably affect clothing, makes purses and handbags a good collectible option to invest in as long as they are in perfect condition.
The furthest bags used for personal possessions date back to the Ice Age. According to McClard Segotta, the body of a man said to have lived 5,300 years ago was found in the Tyrolean Alps and a leather pouch with herbs along with it. So yes, bags existed in the medieval period but our focus in this article will be purses from the 16th century to the 20th.
Each colorful vintage or antique purse you come across has a story to tell and will do so in its own statement depending on the era it comes from.
16th Century Purses
This century saw the rise in popularity of Tiny Bags but make them a status symbol, ornate dress handbags and Elizabethan purses.
Purses in the 16th century were mostly made by hand from vegetable tanned goat and calf skins were dyed using period dyes. Embroidered purses also came up in the century's last quarter and were known as sweete bags. They were often gifts and served for carrying scented herbs or gold coins.
See how beautiful the Elizabethan sweete bags are!
This 16th century lady pear shaped purse that was inspired by Pieter Bruegel's 1568 'The Peasant Dance' painting was sold by the leatherworker Karl Robinson for $76.
17th Century Purses
Before the 17th century, both men and women owned and carried purses for utilitarian purposes by wearing them on their belts or fabric waist bands. The end of the 16th century saw the emergence of men's clothing with pockets, rendering purses a luxury rather than necessity for men. This didn't stop the transformation that these fashion items went through in the 17th century as these items became more stylish and more feminal.
Purses in this century were made from silk and velvet and were mostly no bigger than 5 by 4 inches. The purses had tassels and carried perfumed powder or dried herbs and flowers. They were also used as sewing kits or gaming bags and came in more intricate shapes and embroideries as more men stopped carrying purses.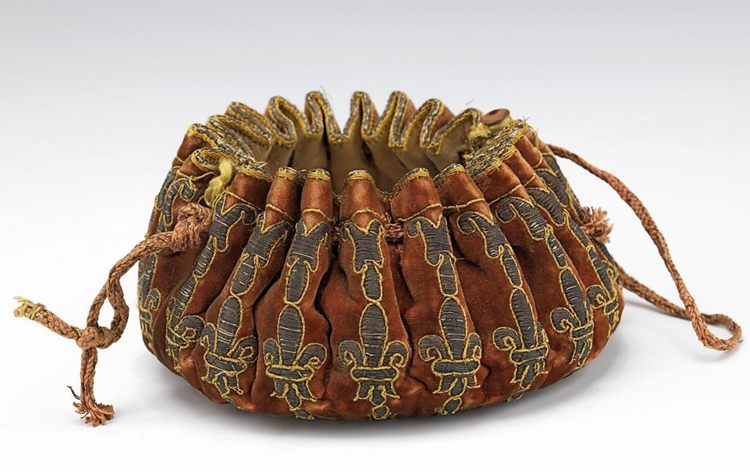 18th Century Purses
Some of the most enchantingly beaded and embroidered purses were made in the 18th century. In fact, no efforts have come to this and that is why as a collector looking to buy something worthy, you should probably keep an eye out for these antique purses. The complex Queen's stitch was especially preferred over other stitching like Irish stitch, satin stitch or buttonhole when creating reticles and pocketbooks and you would want to come across one that was made in America.
Beadwork pocketbooks were highly irresistible too, especially if they were the famous sable ones with very tiny beads from Paris, thanks to the fine artistry that went into creating them.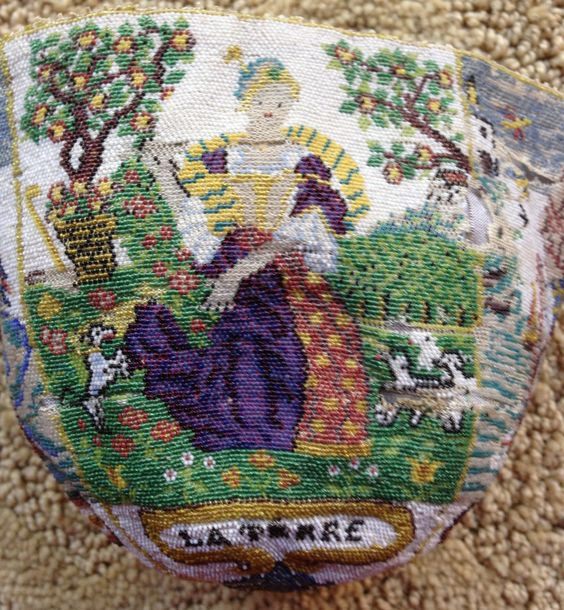 Did we mention misers? These were also known as ring, stocking or long purses. Made from silk, they were usually 19 to 24 inches long and were rather popular in France and England. Misers had a vertical slit where people could retrieve coins and sliders to close the purse ends. Misers either came as striped or colored and their ends usually had silk tassels.
19th Century Purses
When the 19th century finally showed its face, you couldn't count the countless purse designs that came with it. It didn't help that visual artist and French empress Josephine was into designer purses.
They called them reticules or ridicules during this Victorian era and they were made with different shapes, pattern decorations and materials, from straw, paper, wood, ivory, you name them. They either had drawstring tops or were sewn flat by hand so ladies could flaunt their feminine prowess.
There were even purses mounted on frames in addition to pockets and misers. Unfortunately, the quality of misers had long been downgraded by this point as they were crotched and not knitted.
20th Century Purses
The 20th century has got to be a favorite of many fashion collectors looking to collect antique and vintage purses from one century! Purses were sizable and with the Industrial era having taken off, women used them more for traveling.
Most of the leather purses made during this period by popular makers like Cameo and Bosco came mounted in Jemco frames as the fashion industry embraced more mirror design trends and uncommon materials, as well as items that reflected ethnic and cultural motifs.
Types of Valuable Vintage and Antique Purses
Antique Gold Mesh Purses
These metal mesh purses especially gained popularity towards the end of the 19th century and the start of the 20th century. Made from gold or silver material, the purses were skillfully crafted by hand in unique, cool textures and styles. When they started using inexpensive materials like brass, steel and metal, it meant more people could afford these coveted purses in versions like the Sears mesh purses.
Today, if you get hold of one made of gold mesh, it will cost you a dime but no doubt make a good traditional dressy evening clutch like it did back in those good old days!
Jewel Framed Antique Purses
If you have seen an antique purse with its jeweled metal frames in real life, then you know how well crafted these collectibles are. Depending on the frame material and the jewelry, these purses can be quite pricey.
However, any avid purse collector would want to see sterling silver or gold on their purse and some are ready to pay upto $11,000 for an antique pure whose frame has diamond and emerald.
Vintage Lucite Handbags
Plastic items may be considered cheap and low quality today but it wasn't like that in the 1950s and 60s. Purses made out of thermoplastics had the glitz and glamor in lucite handbags and purses. Lucite is a durable sturdy plastic from polymethyl methacrylate, or PMMA that was created by the American chemical company DuPont in 1931.
The acrylic material went from being used in World War II military operations to being used in the fashion world in the late 40s through the 50s by companies such as Gilli Originals, Charles Foster, Arnold Originals and Charles S. Khan.
Vintage Purses by Fancied Luxury Brands
Surely, even the most fashion ignorant people have heard of Gucci, Prada and Chanel or purchased a fake Gucci t-shirt or shoe because everyone would want to be associated with a luxury brand and second, because these authentic items cost an arm and a leg, not many people can cut their value.
Other designer luxury brands you might want to consider for your purse needs include, Louis Vuitton, Celine, Dior, Hermes, Fendi and Versace.
Nantucket Lightship Basket Purses
Another type of valuable old purse is the Nantucket lightship basket purses. Like their name, these inviting purses made in the 1950s and 1960s look like baskets. Mostly handmade; they were first created by lightship crewmen looking for ways to pass time while at sea.
Nantucket purses by popular designers like José Formoso Reyes, Lisa Bessette and Stephen Gibbs were especially preferred and will cost you a good amount to acquire today not just because they are vintage – also due to the intensive labor that went into creating them.
Antique Micro-Beaded Purses
Now, would you sit and think of the time and skill it takes to make a purse whose design has thousands of tiny beads? That's what it took the makers of antique micro-beaded purses, no wonder they have so much value. If you find an antique micro beaded purse in perfect condition that's going for more than $2,500, don't question it, dearest purse collector.
Characteristics of Valuable Antique and Vintage Purses
While essential, the type and brand of vintage or antique purse aren't the only characteristics to look out for and which determine the value of the purse. Consider also;
Appearance
If an antique or vintage purse has unique designs, chances are it will be worth a good amount and even more if they are from a luxury brand or designer.
The Purse's Condition for Its Age
You might want to invest a good amount in an antique purse whose condition is exceptional. If it is a micro beaded one like the ones highlighted later on in this post, be prepared to cough up some money because these required perfect workmanship.
Check for signs of tear, stains and scuffs as well as odor to determine how much you are willing to pay.
Representative of its Period
You definitely want to get yourself an antique purse that is an automatic representation of its era. As you saw in the history of antique and vintage purses, different periods sparked different creative juices in the makers.
Where To Buy Vintage and Antique Purses
Online
Provided you know what to look out for, you will never go wrong with online shops such as Etsy, eBay, Ruby Lane, 1stDibs, Macy's Online and Nordstrom Second-hand Online Store may be good sources for vintage designer purses and handbags, many in excellent condition.
These popular sites make for a good substitute whenever you aren't ready to visit a physical local shop. Do not underestimate the power of typing in "valuable vintage/antique purses" into your google search.
Auctions
Depending on the type and availability of multiple vintage purses at live auction, you may or may fail to go home a happy purse collector. Online auction sites actually offer far much better odds.
Estate Sales
Yes, there are professionally overseen weekend estate sales near you where you will get vintage purses from other purse owners to satisfy your vintage fashion needs.
Specialty Retailers
A serious vintage buyer will go where they are sure to find something valuable without hassle and that is in vintage clothing boutiques, antique shops with clothing and accessories booths, or upscale clothing consignment shops
19 Vintage and Antique Purses To Buy
#1 A 1900s Russian Gold Mesh Purse
#2 An extremely rare 20th century mesh purse
#3 Ladies Antique Gold Mesh Purse
#4 Circa 1914 Antique Sterling Silver Mesh Purse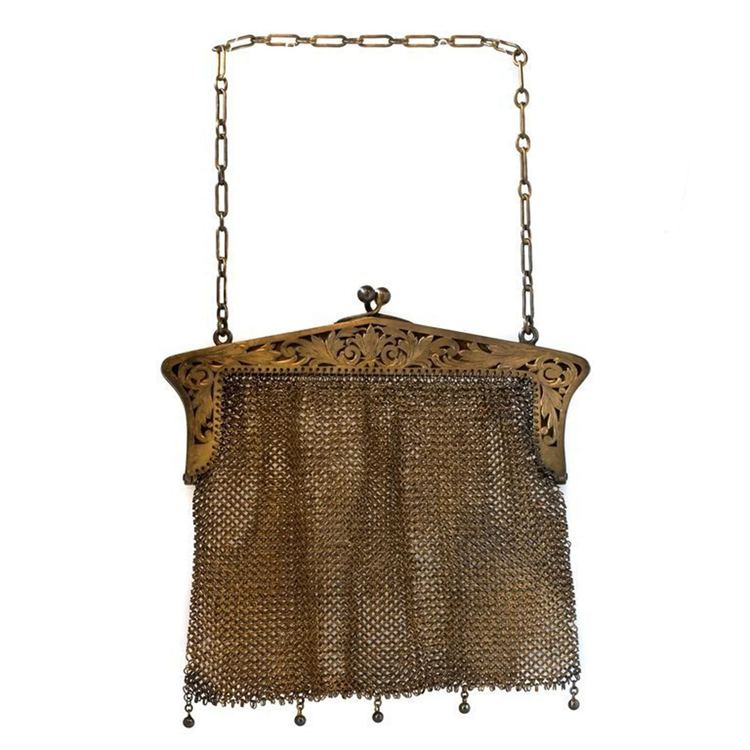 #5 An Antique Davis Hall Nantucket Lightship Basket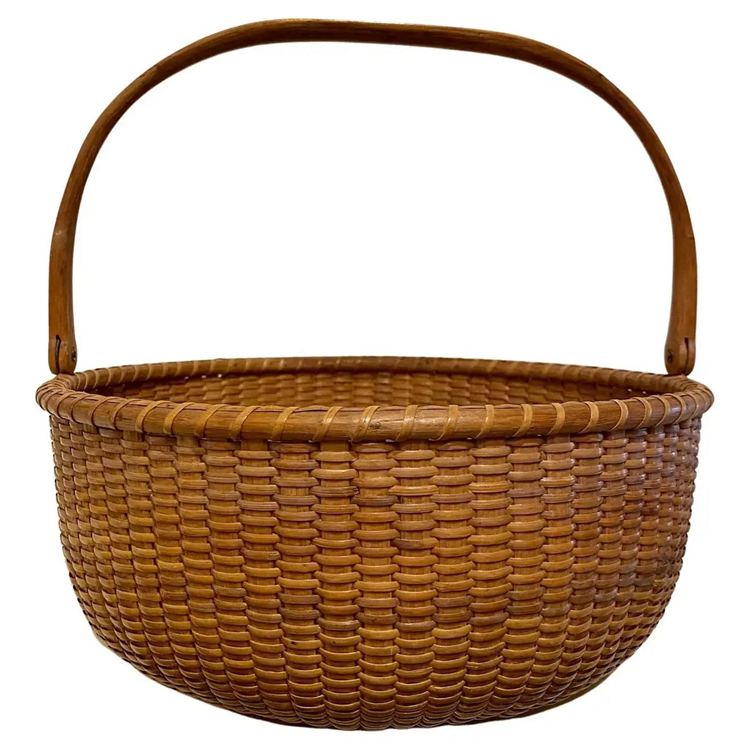 #6 Vintage Jose Formoso Reyes Nantucket Basket Purse
# 7 Rare Vintage Nantucket Lightship Basket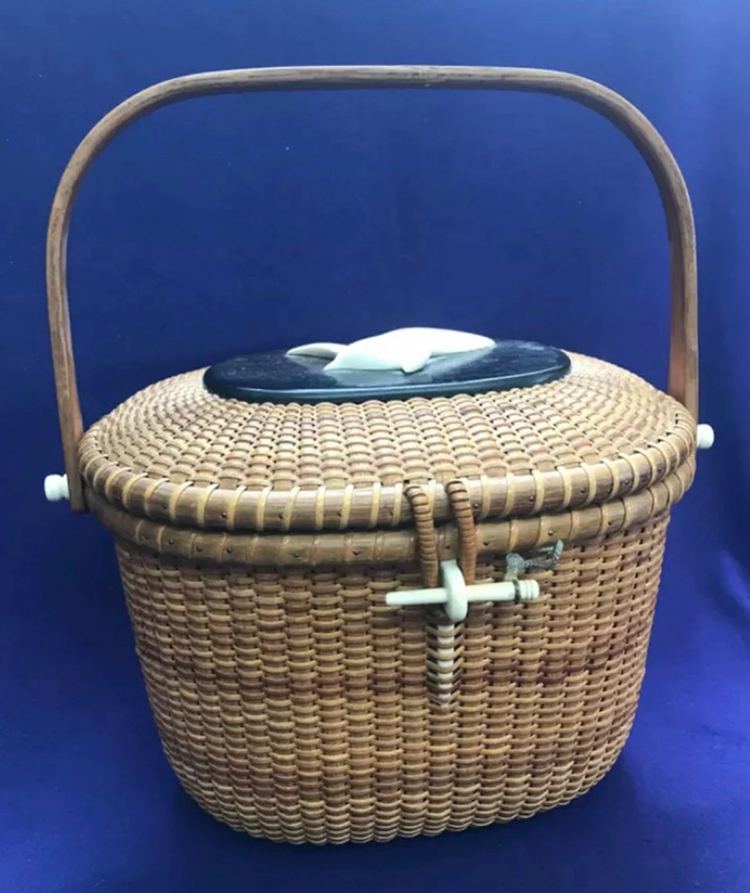 #8 A Lisa Bessette Nantucket Lightship Basket
# 9 Rare William De Lillo Jeweled Gilt Metal & Leather Evening Bag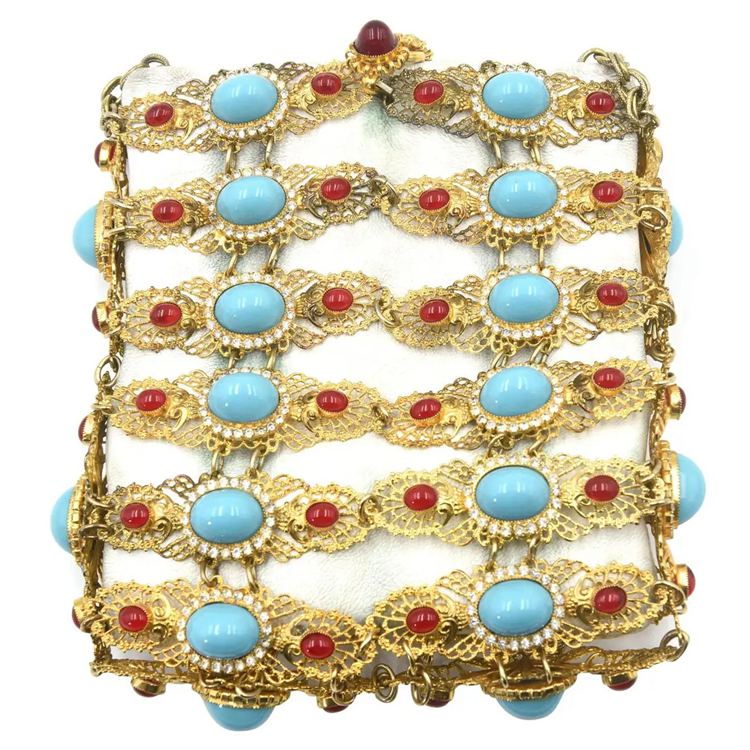 #10 Hobe Bezel Set Crystal Jeweled Encrusted Frame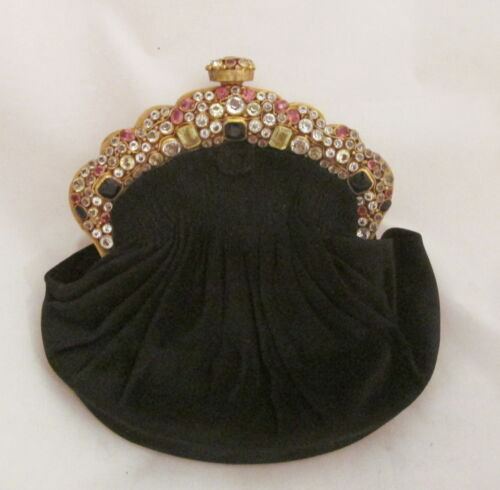 #11 An Antique Gemstone Encrusted Amethyst Victorian 800 Silver Purse Frame
#12 A Josef Bag w. HOBE Jeweled Frame Purse
#13 Antique Microbeaded Purse
#14 Exceptional Micro Beaded Purse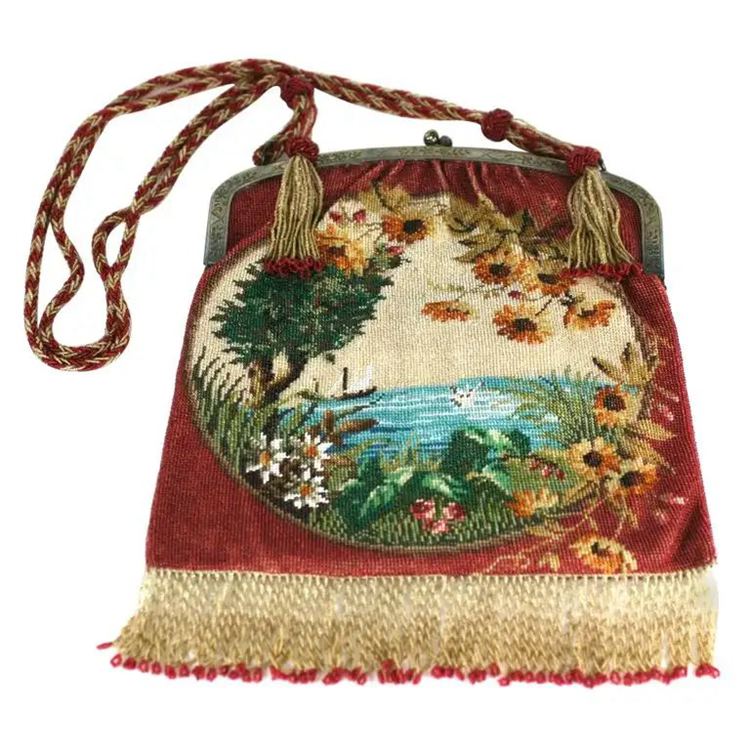 #15 Antique Beaded Purse
​​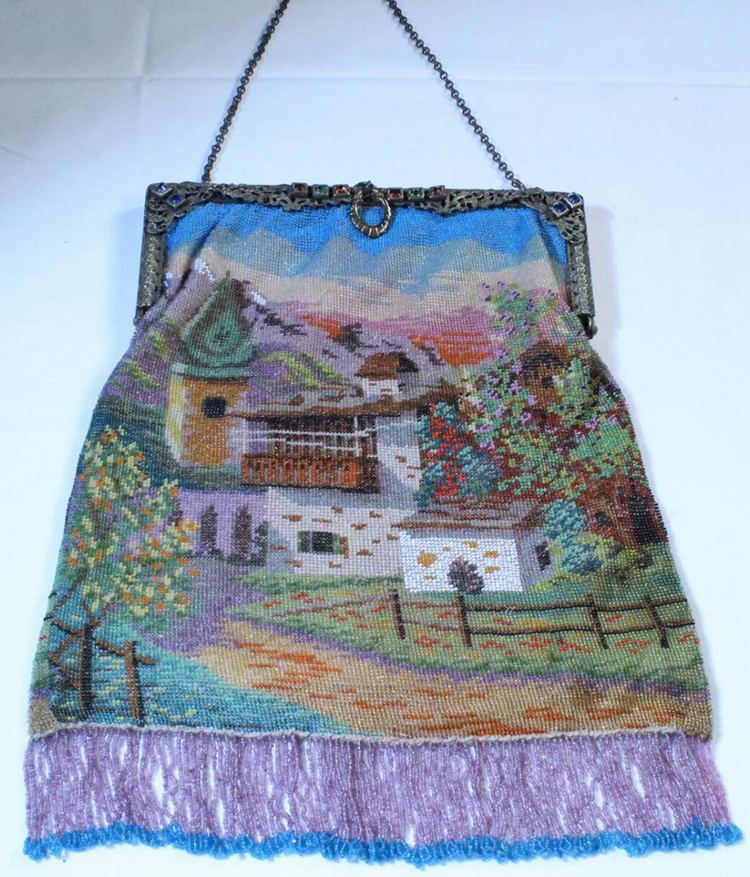 #16 Vintage Chanel Purse
#17 Vintage Louis Vuitton Luxury Bag
#18 Vintage Wilardy Marbleized Gray Pearl Lucite Purse
#19 A Vintage Lucite Purse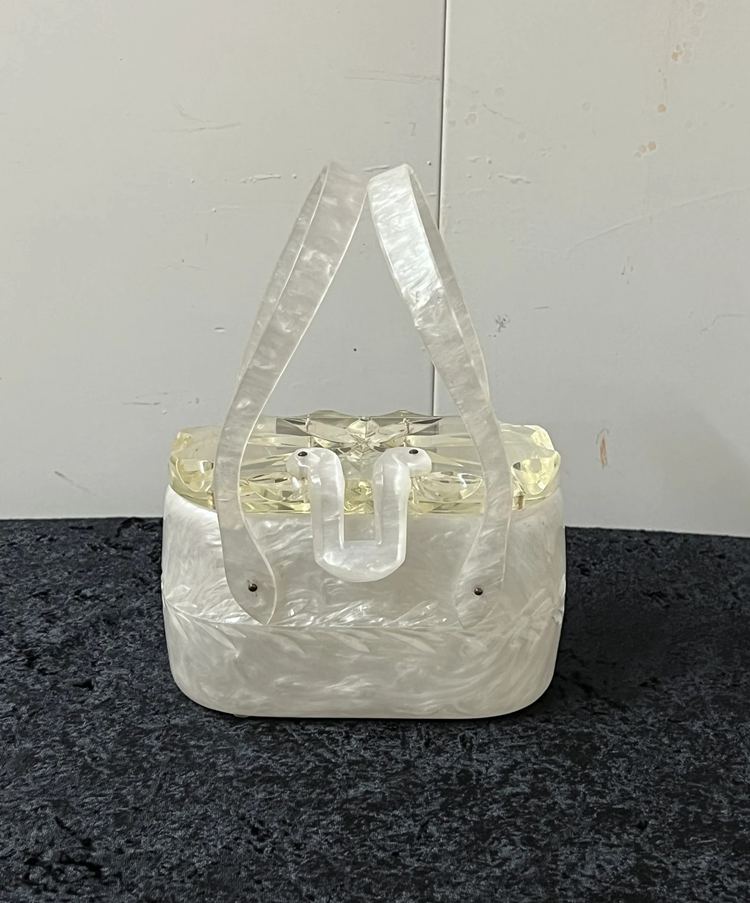 Conclusion
We have shared everything you will need to know before buying an antique or vintage purse. From the different types to characteristics and where you can buy your purse, as well as tips for identifying authentic old purses and 19 gorgeous purses worth your hard earned cash with links to buying sites.
You surely must have no excuse for not being the proud owner of a vintage purse at this point. Enjoy your new valuable antique or vintage purse!