Back in the 1960s, if you had a Barbie dream house, you were the kid of the town. Even though the first ever Barbie dream house was only made of cardboard, it was one premium toy.
It was popular not only because of the love it received from the kids. But it was also quite pricey. It was priced at about $8, equivalent to the present-day $80.
Ever since then, the value and price of Barbie's dream house and its variants have only increased. In this guide, we'll share the 19 most valuable variants of vintage Barbie dream houses and how rich you are if you currently own one.
Or how much you need to invest in this cute (but highly profitable) asset.
Let's get started!
Quick History Bits: Barbie is a CHILD's work
Before we get to measuring the value of each Barbie dream house, let's trace its invention. What's the origin? Why is it called the dream house?
Barbie's dream house was created in 1962 to facilitate the living of the sensational doll that came out in 1959 from the same toy-manufacturing company, i.e., Mattel.
Basically, Ruth Handler (the co-founder of Mattel) observed her little girl playing with make-believe paper dolls. Quite interestingly, her daughter fantasized about the lives of adult women and used to imagine them when playing with her paper dolls. She used to imagine what the future could look like.
This gave Ruth Handler the idea of creating a doll like the Bild Lilli, but for kids. It is for this very reason that the first version of Barbie resembled Bild Lilli quite a lot.
In 1959, when the prepared model of Barbie made it to the markets, it was named Barbara Millicent Roberts (Yes! That's Barbie's full name!). The doll got named after Ruth Handler's daughter Barbara. Later on, a male doll named Ken was also released. It got named after Ruth Handler's son named Ken.
However, the doll only brought part of Barbara's imagination to life. Part of it was still missing. The Barbie dream house appeared in 1962 to fix this.
The Barbie dream house provided a fully-equipped setting to facilitate the pretend play of young girls. Thanks to the ideal structure and supporting props, it soon became Mattel's second hit.
Types of Barbie Dream Houses
Technically, there are two types of Barbie dream houses:
Functional
Non-functional
There's only one non-functional Barbie dream house by Mattel, i.e., the first model released in 1962. The rest of the non-functional Barbie houses are a copy of Mattel's Barbie dream houses. Or they are different versions of Barbie dream house from other brands.
With that said, there's a further division in Barbie's dream houses concerning the release date. These are:
Vintage Barbie dream houses are the ones that were manufactured by Mattel and available in the market from 1962 – 1990, meaning vintage Barbie dream houses are usually 30-60 years old.
On the contrary, modern Barbie dream houses are the ones that Mattel manufactured from the 1990s to the present date. These models are relatively new and still readily available in the market.
Now, let's check out how many types of Barbie dream houses are there.
1962: Original Barbie Dream House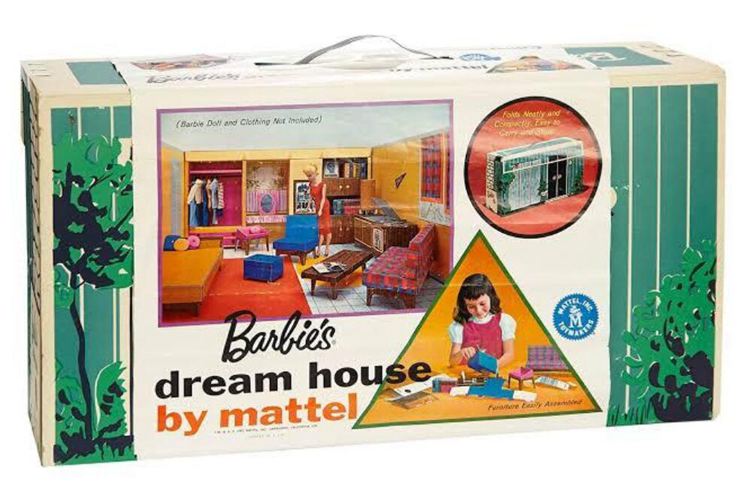 The original Barbie dream house featured an all-cardboard build. You could set and fold it up easily. Even the furniture pieces within the setup were made up of cardboard.
The space within this setup was enough to accommodate Barbie. However, there was no space for her friends and family. It also came with a handy case, which allowed kids to easily pack and carry the cardboard set up to different places.
1974: Barbie Townhouse
Twelve years later, Mattel introduced a newer version of the original Barbie dream house. It comprised three floors and a functional elevator.
However, unlike the original house, the settings in this house were not 3D or walk-in. Instead, these were picture displays with various pieces of furniture to place in front of the backdrop. In terms of size, it was taller.
1979: Barbie A-Frame House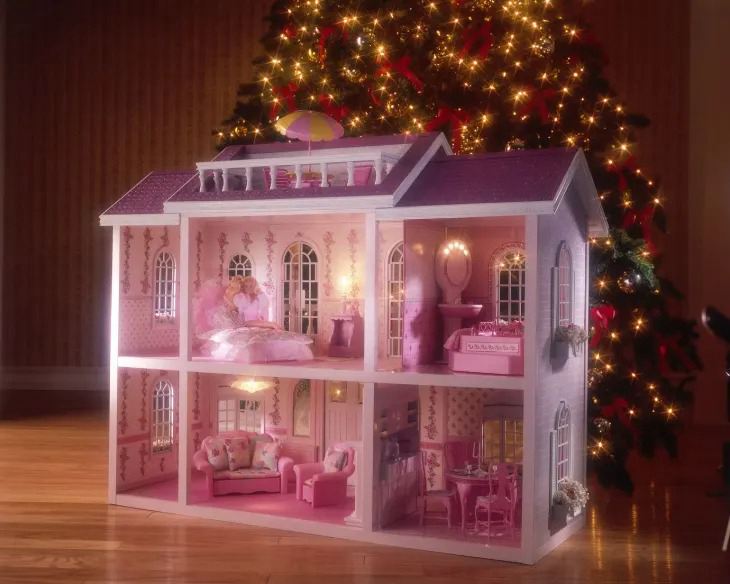 In 1979, Mattel introduced a fully-functional and enclosed version of Barbie's dream house. It comprised two floors, six rooms, a large window, and functional French doors.
The furniture in this setup was super chic and ultra-modern. It also featured the A-frame roof, which was particularly popular at that time.
1983: Barbie's New Townhouse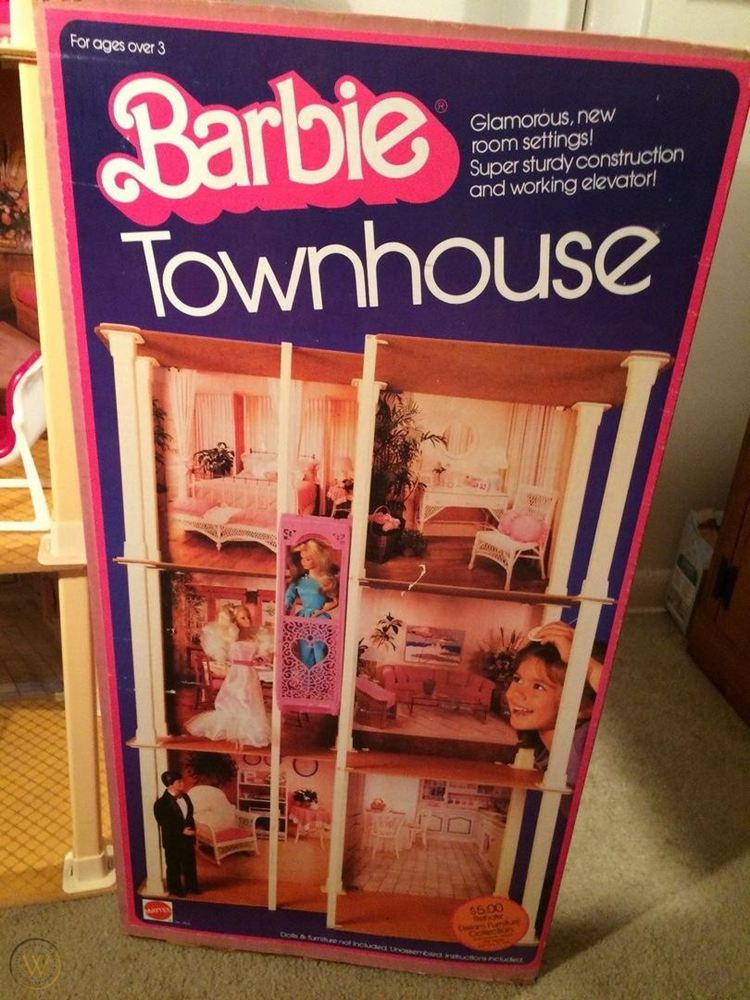 The 1983 version of Barbie's New Townhouse is not as popular as the 1974 version. If you check out timelines, you will not find this version mentioned in most places.
Why is that so? No one knows for sure. But considering the audience's response and general sales trend of Barbie dream houses, here are two possible reasons:
Since it wasn't an all-new design, it didn't receive much attention.
Mattel did not manufacture or market the product intensively.
The second reason is highly likely because Mattel launched a brand new design of Barbie dream house the very next year.
1984: Barbie's Dream Cottage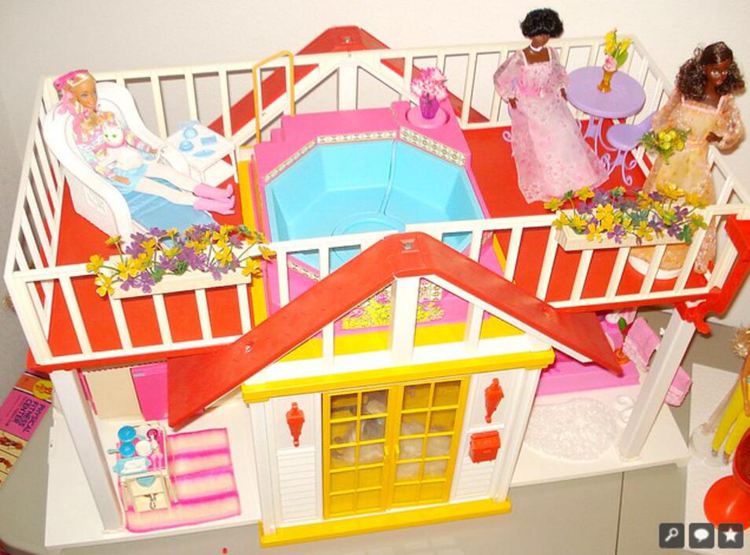 Barbie's dream house surfaced as a major jump from urban settings to sub-urban settings. This unique edition of the Barbie dream house featured a spacious rooftop and ground floor.
The purpose of these areas was to help young girls take a step ahead in their imaginary worlds. Using these, they could arrange pretend Barbeque parties and get-together for Barbie and her friends.
Overall, these settings were new to the Barbie world. The house structure was all enclosed and included functional doors and windows. Hence, it became yet another sensation amongst kids of the time.
1990: Barbie's Magical Mansion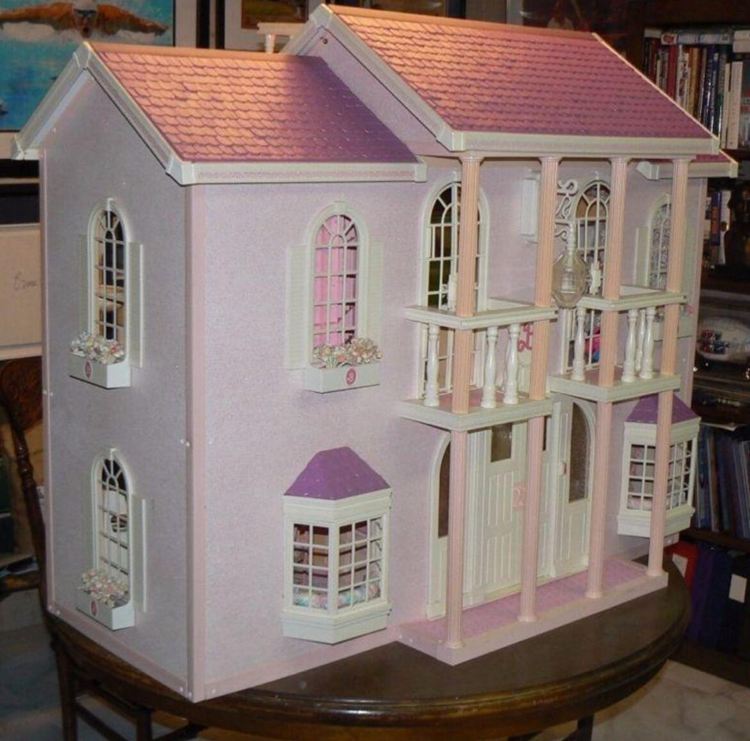 Here comes the last vintage barbie dream house, I.e., the magical mansion. Amongst all the releases until this time, this particular edition was the most luxurious one. Dimensionally, it was two feet deep and three feet tall.
It was special not only because of its huge size. But it also gained massive popularity and love from the kids because of its working electronics. This magical mansion featured:
A lit fireplace and chandelier
A ringing doorbell and phone
It had four different rooms and several functional doors and windows. The furniture within the house fit perfectly and gave a chic look on the whole. It's all pink color scheme happened to be another major attraction for young girls.
1998: Barbie's Deluxe House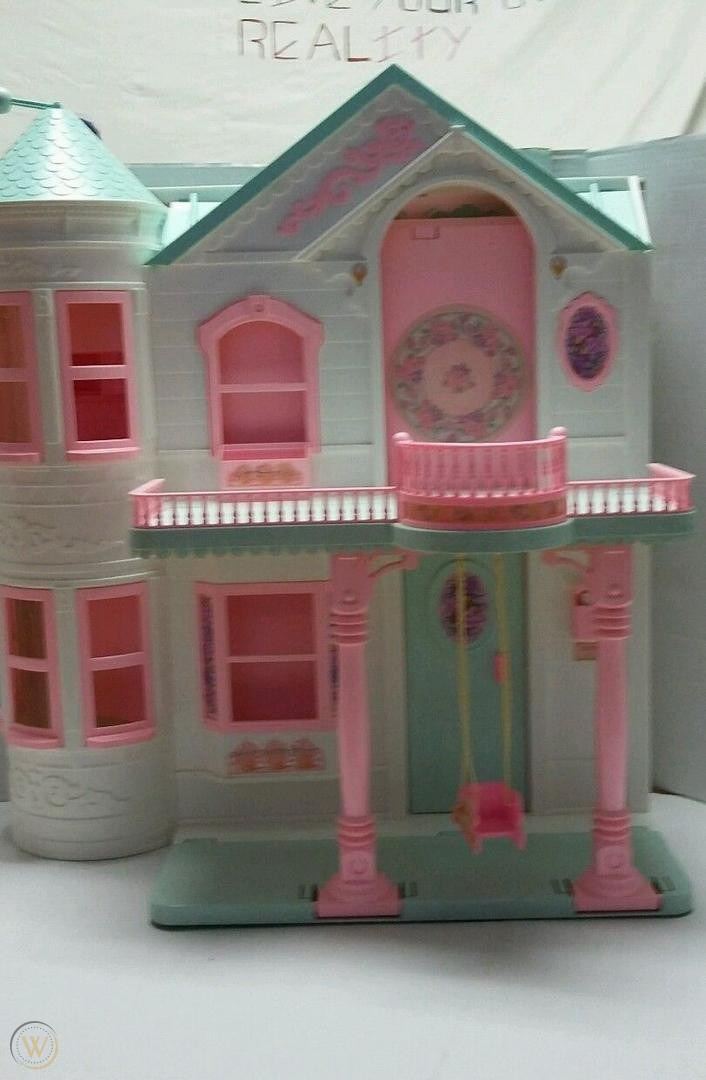 Most antique and vintage item collectors do not classify an item less than 30 years old as vintage item. Therefore, the Barbie Deluxe Dream House released in 1998, is not considered a vintage Barbie dream house.
But since we're discussing the types of Barbie dream houses, it's essential to know this type too. It will help you properly value vintage Barbie dream house later on.
Barbie's deluxe house feature a castle-like exterior. The color scheme was soft and subtle. Therefore, its popularity and success rate did not out-do Barbie's Magical Mansion.
The innovations were more or less the same previous ones. However, there was a mechanical upgrade; it was easier to assemble. That's because the shapes of its parts were visually detectable. There was also a swing for Barbie at the front door.
2008 – Present: Barbie's Modern Fully Functional Dream Houses
In 2008, the model that came out had greater details. It had a three-story structure with electronics that worked and a toilet flush that produced realistic sounds.
It is safe to say that Mattel upgraded a great in the 21st century. The details and realistic effects in Barbie dream house allowed young girls to recreate everyday scenarios.
You can visit the latest versions of Barbie dream house here on Mattel's website. The most recent version of townhouse integrates indoor and outdoor settings, while the dream house offers sufficient accommodation for up to ten dolls.
Barbie Dream House Guide: The Evolution
Since you've browsed all the types of Barbie dream houses, it's safe to assume you've noticed how the dream house developed over time. Even so, there are a few things about the evolution of Barbie's dream house that we want you to note.
They include:
Structure
Initially, everything about Barbie and her dream house depended on what was trending in the real world. If A-roof houses dominated real estate at the time, then that's exactly what Barbie's dream house looked like.
Even today, the ongoing real estate trends and building needs slightly influence the look and features of the latest Barbie dream houses. But they don't dictate it.
Why so? Well, that's because Mattel has found the sweet spot. Kids love a brightly colored, functional and spacious house for their dolls.
For that very reason, there's been no major structural change in Barbie's dream houses for the last three decades. All of them resemble one another and are a mixture of initial releases.
Functionality
Barbie's dream houses have had up-and-down fluctuations if we talk about functionality. 1962, 1974, and 1983 Barbie's dream house had little functionality.
However, the models released in 1979, 1984, and 1990 were much more functional. Even today, there's a clear division between heavily functional and less functional Barbie dream houses. Usually, models possessing greater functionality have higher pricing.
Pricing
Originally, the price for Barbie's dream house was about $8. With time and inflation, the price rose to $100 and now $224 to be precise. We see the price of a Barbie dream house rising in the near future.
19 Most Valuable Vintage Barbie Dream House
In this section, we've listed some of the most expensive and valuable Barbie dream houses sold to date.
1. 1962 Vintage Barbie Dream House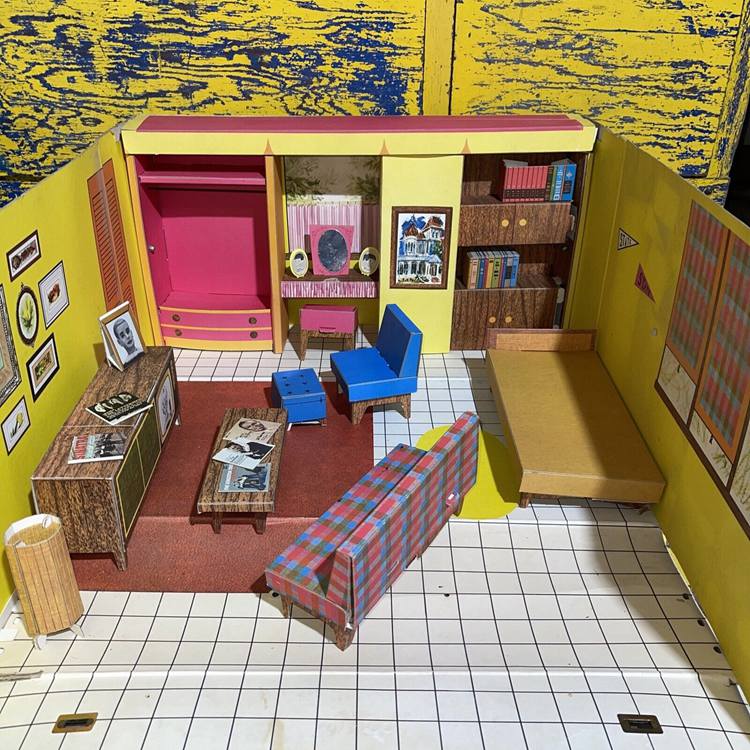 As mentioned earlier, the cost of this cardboard dollhouse is only eight dollars. The seller put this dream house up for sale at eBay's auction. After seven bids, it got sold out for around $76, and the shipping charges that the buyer paid to acquire this asset was around $114.
Overall, the buyer paid around $190 for the first edition of the original Barbie dream house. We'd say it's a wise investment for Barbie enthusiasts. It's not only emotionally beneficial, but its monetary value will increase further too.
2. 1962 Original Barbie Vintage Dream House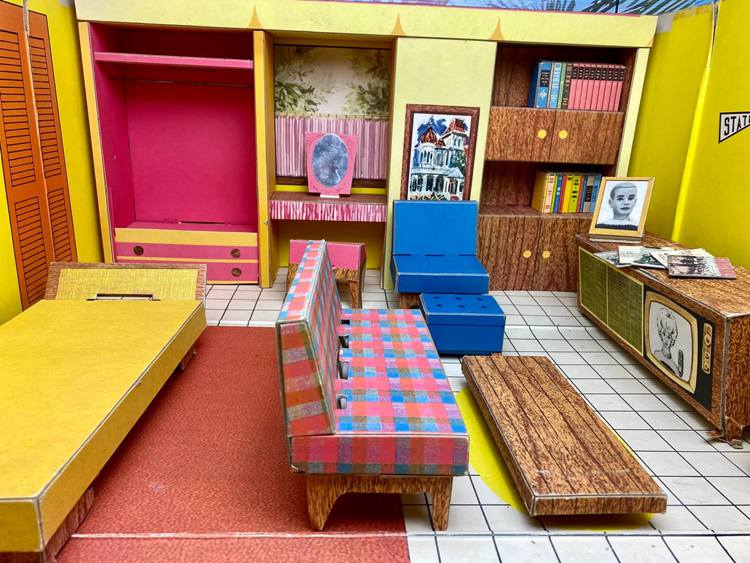 At Etsy, you're likely to find even more expensive variants of vintage Barbie dream houses. This particular listing is an excellent example.
The seller had limited stock of the original Barbie dream house and is now only left with one. The best part about this listing is that you'll get most of the original cardboard furniture and accessories that came along with it.
Plus, the carrying box is in good condition. But the shipping charges are about $47- $48. And that means the entire deal will cost you around $400.
3. 1963 Rare Vintage Barbie Dream House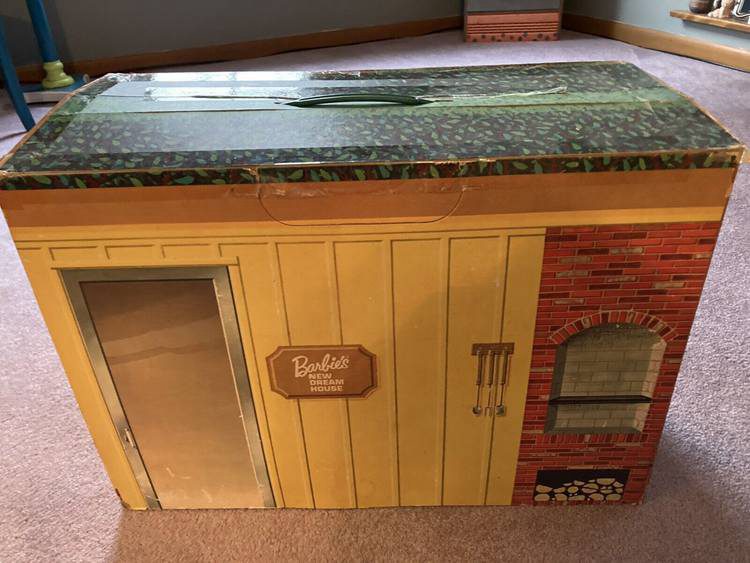 $375 is a bit too expensive for a cardboard Barbie dream house, even if we talk about vintage collectibles. However, we've included this one in our list of the 19 most valuable vintage Barbie dream houses because it's worth every penny. Unlike the 1962 Barbie dream house, this one was a much-limited edition, and you will not find many of its pieces available for sale.
4. 1968 Barbie Family Dream House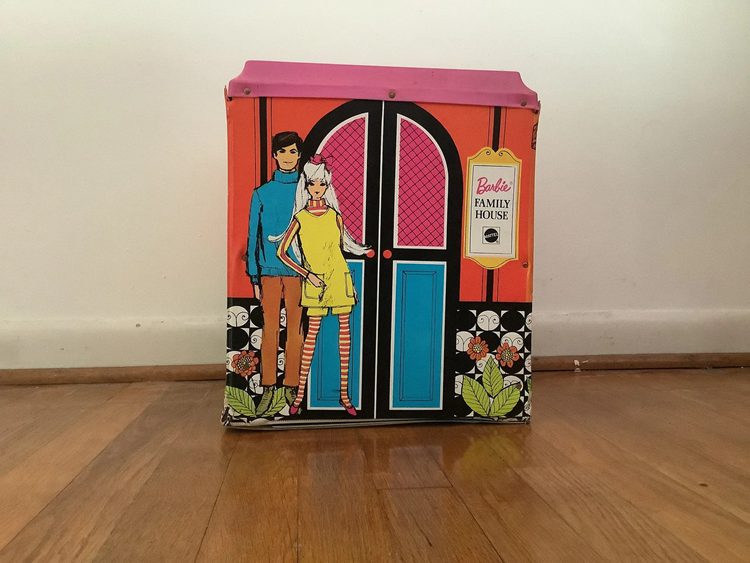 The edition of Barbie's dream house that got released in 1968 wasn't as popular as others. It built was the same more or less the same as the original 1962 Barbie dream house. But it was a bit more compact.
5. 1970 Barbie Dream House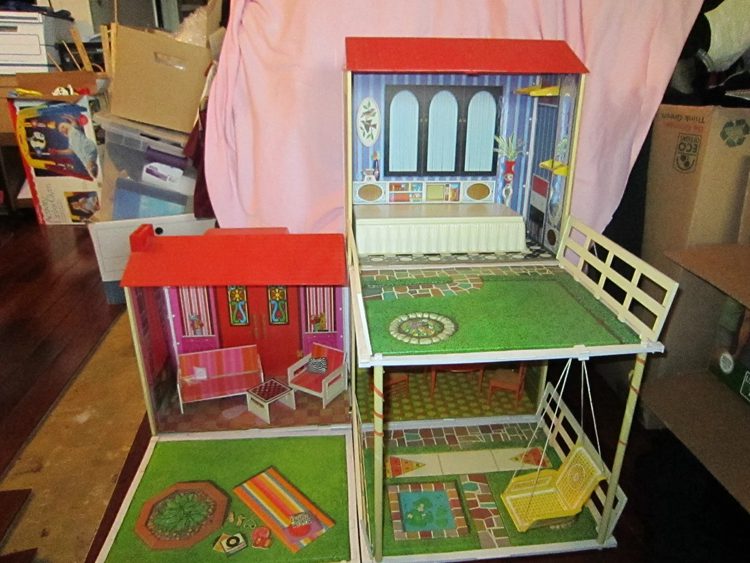 Here's another rare variant of the Barbie dream house. Unlike others, it's not as popular. But it can be classified under the 1962-type of Barbie dream house as well as the 1979-type of Barbie dream house. It comprises bits of both.
6. 1979 Vintage Barbie A-Frame House Unfurnished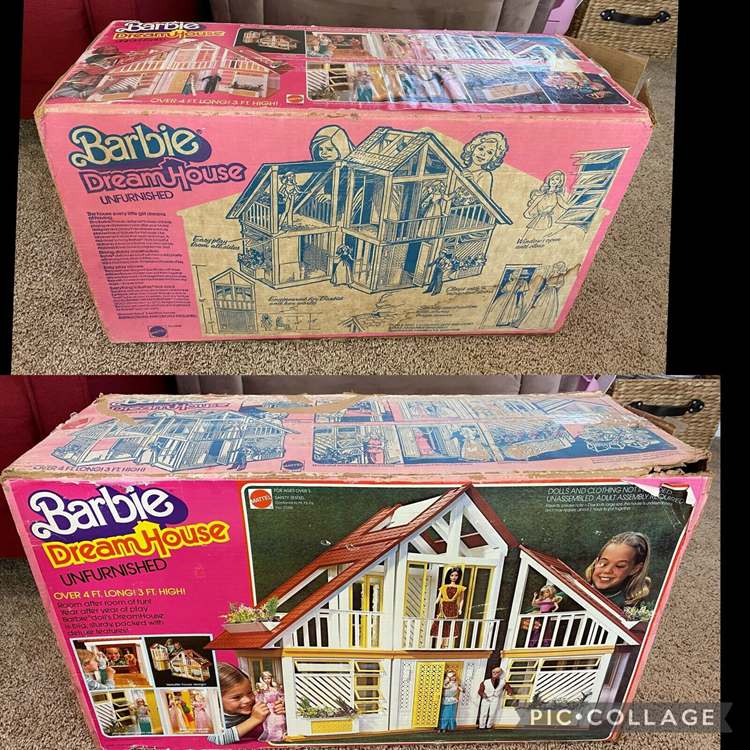 All vintage Barbie dream houses are rare. But if we talk about the quantity of the intact versions of older Barbie dream houses left around the world, the A-frame model from 1979 is going to win.
There are quite a lot of people selling A-frame Barbie dream houses from their childhood. This model is one of those. The seller sells it for a greater price owing to the excellent condition, accompanying booklet and instructions, and of course, the memories.
7. 1979 Vintage Barbie A-Frame House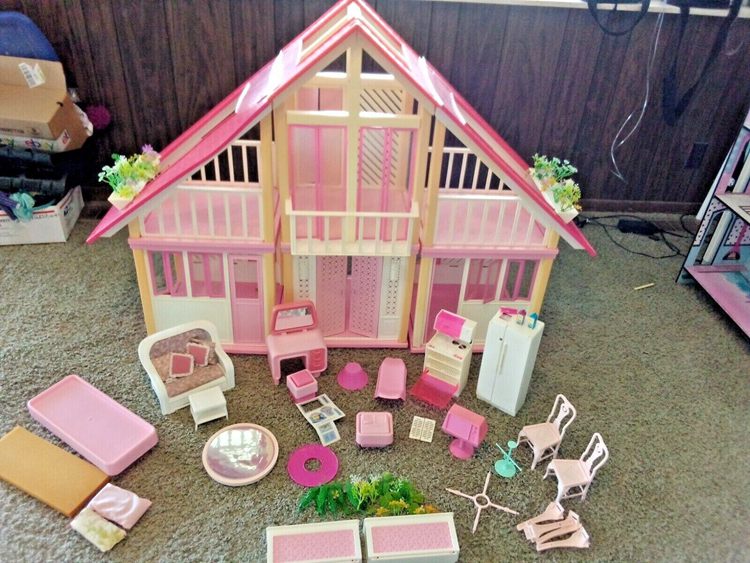 The color of this house is a bit different from what you'll usually see if you search for a 1979 Barbie A-Frame dream house. It's all pink.
This particular seller sold the house with the most original items, which explains why it's $175 and not more. It did not include all the original items or the original packaging.
8. 1979 Vintage Barbie A-Frame House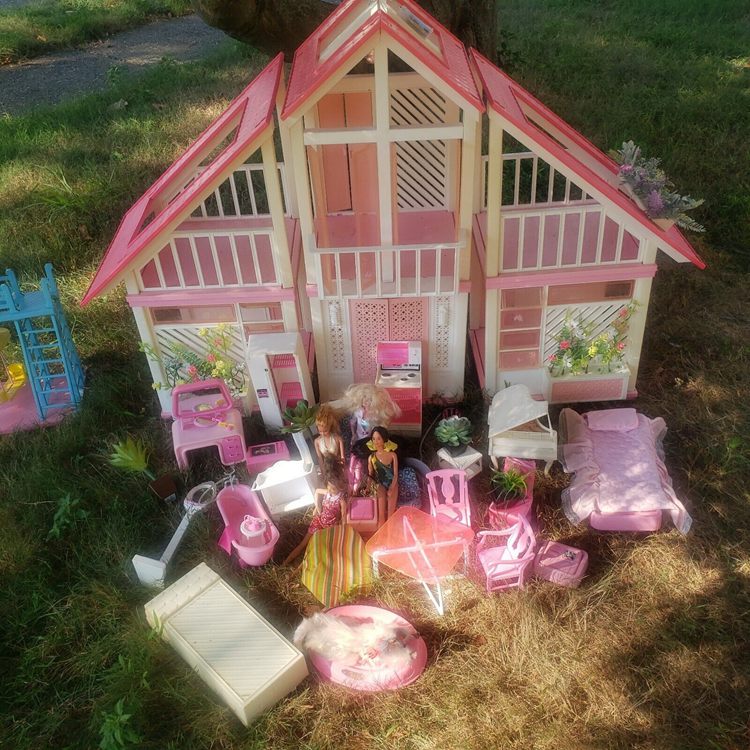 Here's another piece of the all-pink A-frame house that was originally got released in 1979. It costs more than the previous listing because it comes with all the original accessories, five full-sized Barbie dolls, two smaller ones, and replaced parts.
9. Original Barbie A-Frame House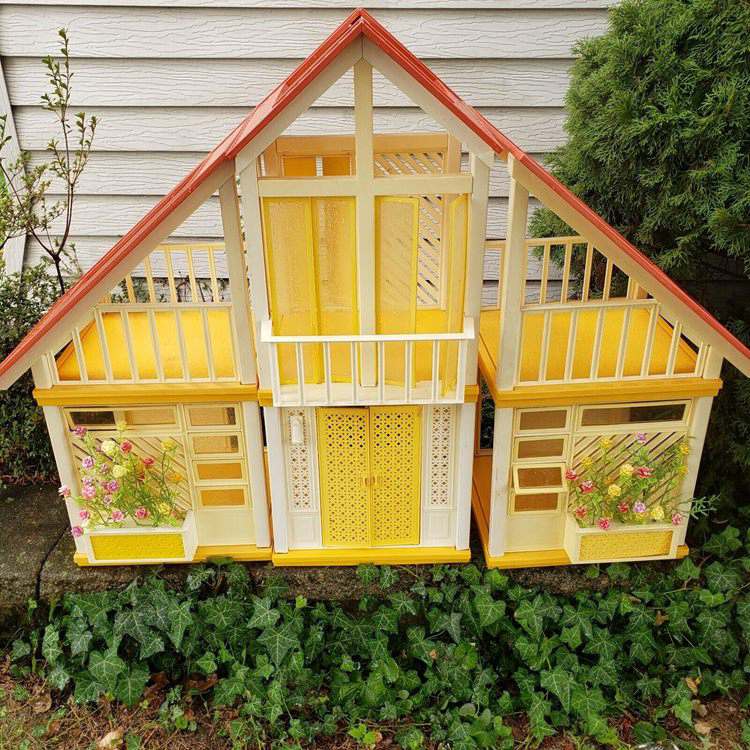 It features the more popular color scheme, i.e., red, white, orange, and yellow. This house also comes with original plants and a closet. The doors and windows were intact as in the original piece.
However, the seller did not sell the supporting furniture pieces with the house. These pieces were sold separately.
10. Original Barbie A-Frame House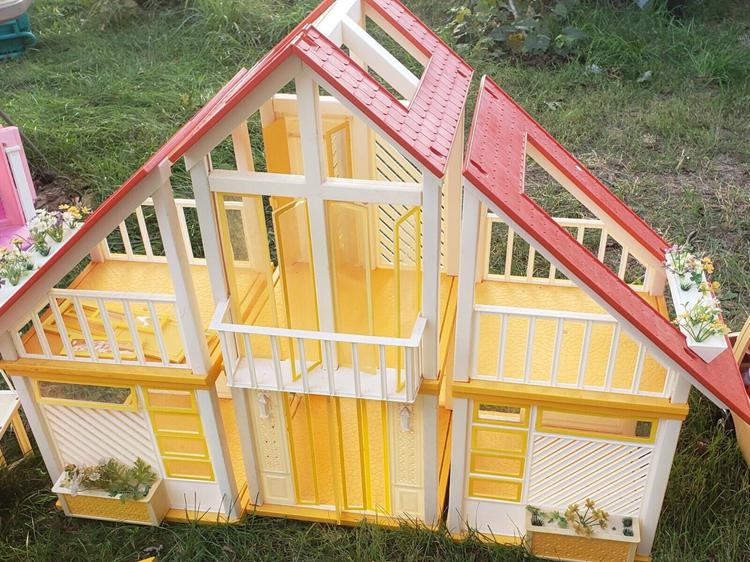 In our search for the best vintage Barbie dream houses, we witnessed an abundance of A-frame models. Although the ones with an all-pink color scheme are rare, it's apparent the 1979 edition of Barbie dream house was the most popular one.
You can get an A-Frame Barbie dream house in a range of $80 – $500. We particularly found this one valuable because you get about 100 additional pieces, along with the basic framework, at only around $285.
11. Original Barbie A-Frame Dream House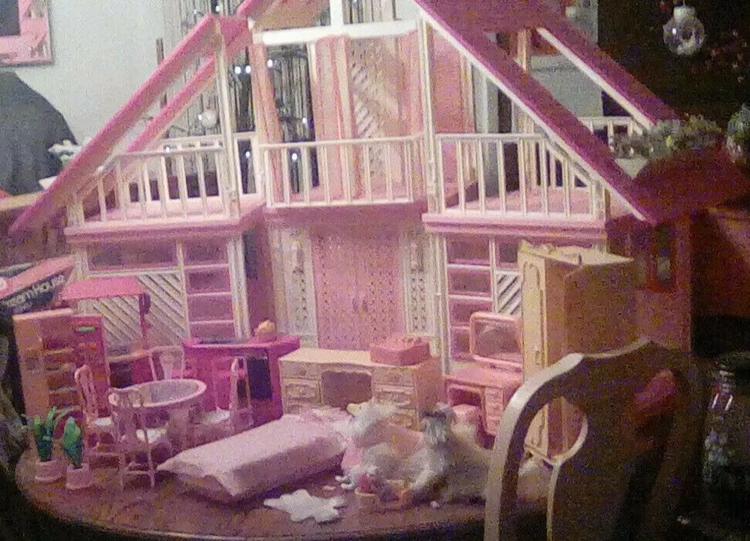 At the eBay auction, the original Barbie A-Frame dream house is available at $700. It comes with the accessories included in the original box as well as some added ones. Plus, the seller also provides Barbie and her family, comprising Ken and five baby dolls.
12. 1979 Mattel Barbie Dream House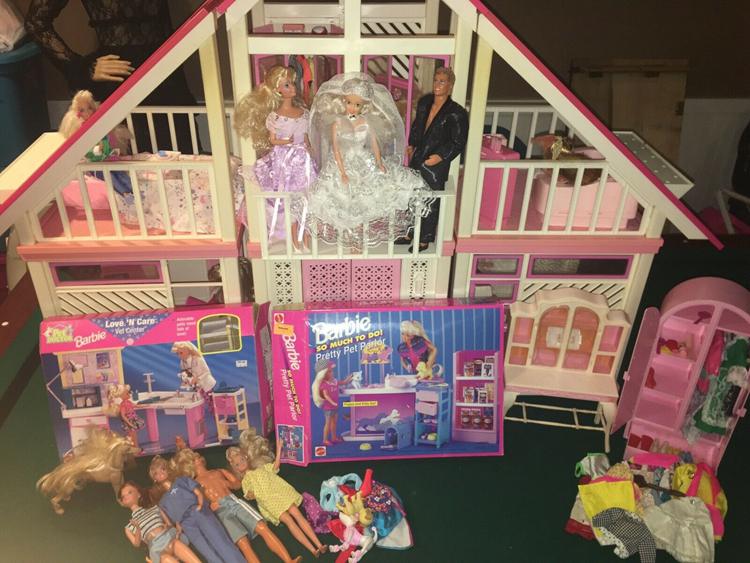 This particular dream house comes with lots of accessories, Barbie clothes, and additional Barbie playsets. The seller also provides several dolls with this dream house.
Two of the windows and a porch light are missing. But you can easily get replacement parts from eBay or Etsy.
13. Vintage Barbie Dream Townhouse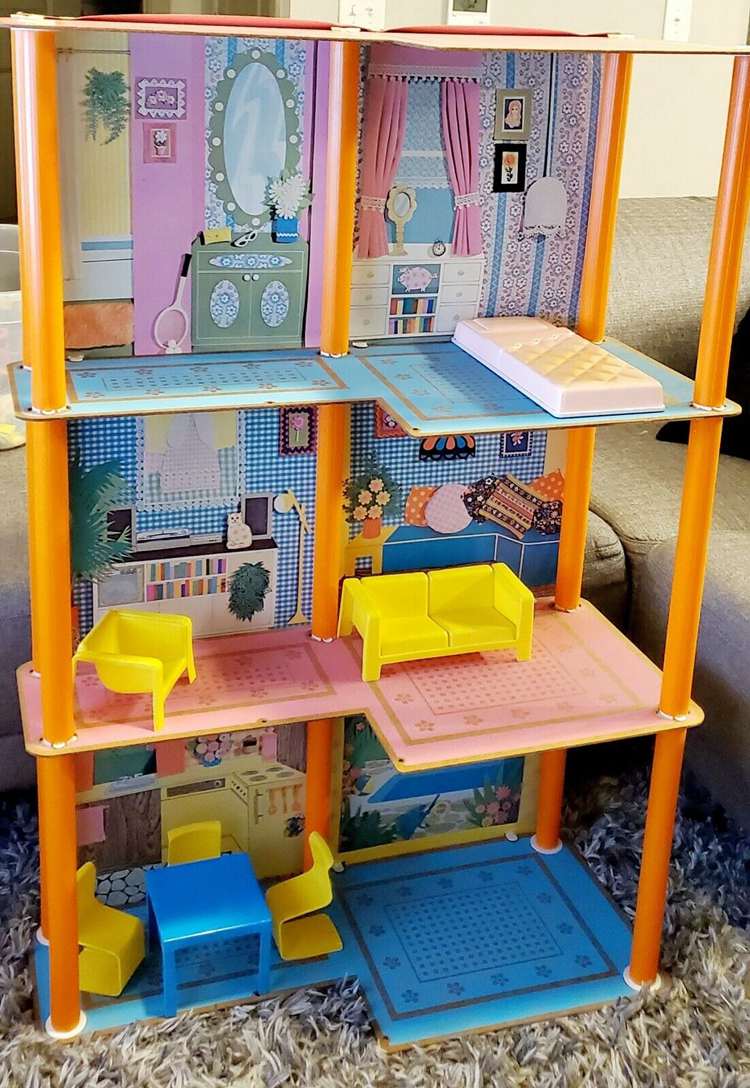 The earliest versions of Barbie dream houses did not offer a realistic feel. We can see that in this townhouse.
The background is not 3D. And although the surroundings are 3D, they are not very practical or interactive. Check out the construction of the bed, for example.
This is, by far, the cheapest valuable vintage Barbie dream house on this list. But it's worthy of mentioning, as it significantly depicts the evolution of Barbie's dream house.
14. 1983 Vintage Barbie Dream Cottage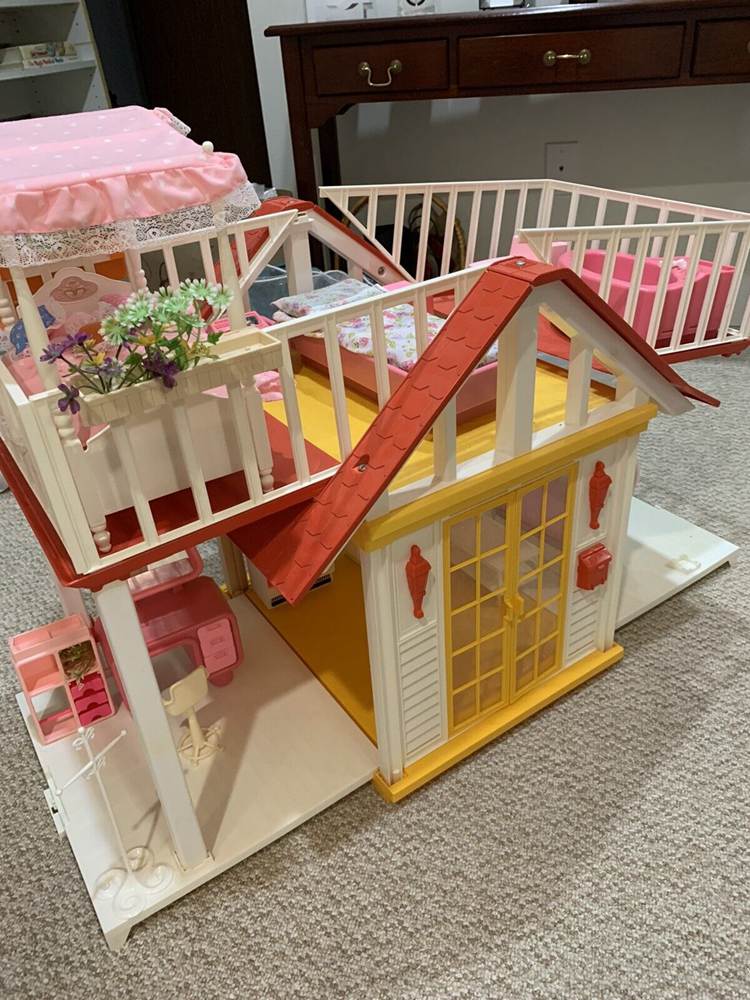 It's rare to find a Barbie dream house with all its parts intact and functional. This particular listing in eBay's auction section was one of such rare dream houses.
It took only one bid for this dream house to secure $100. Given that it got released in 1983, the house-made twice or thrice its original price. Note that the owner is not providing the furniture with the house.
15. 1983 Barbie's Dream Cottage with Pets
Although this version of Barbie's dream cottage is advertised as slightly brittle (owing to its age), it costs more than the previous one. Again, that's because all of the original accessories of the dream house come with it.
Additionally, the seller is also providing the pets and their supporting accessories. The buyer got Tahiti Parrot and Fluff cat.
16. Barbie Townhouse 1974 & 1983
We highly recommend considering this listing if you're a vintage Barbie dream house collector. The seller is offering both versions of vintage Barbie dream houses at only $350, meaning you get one for $175.
The coolest part is that each house comes with lots of accessories, including dishes, cookware, telephones, television, rugs, a record turntable with records, plants, a dog, and even food items.
17. 1983 Barbie Dream Townhouse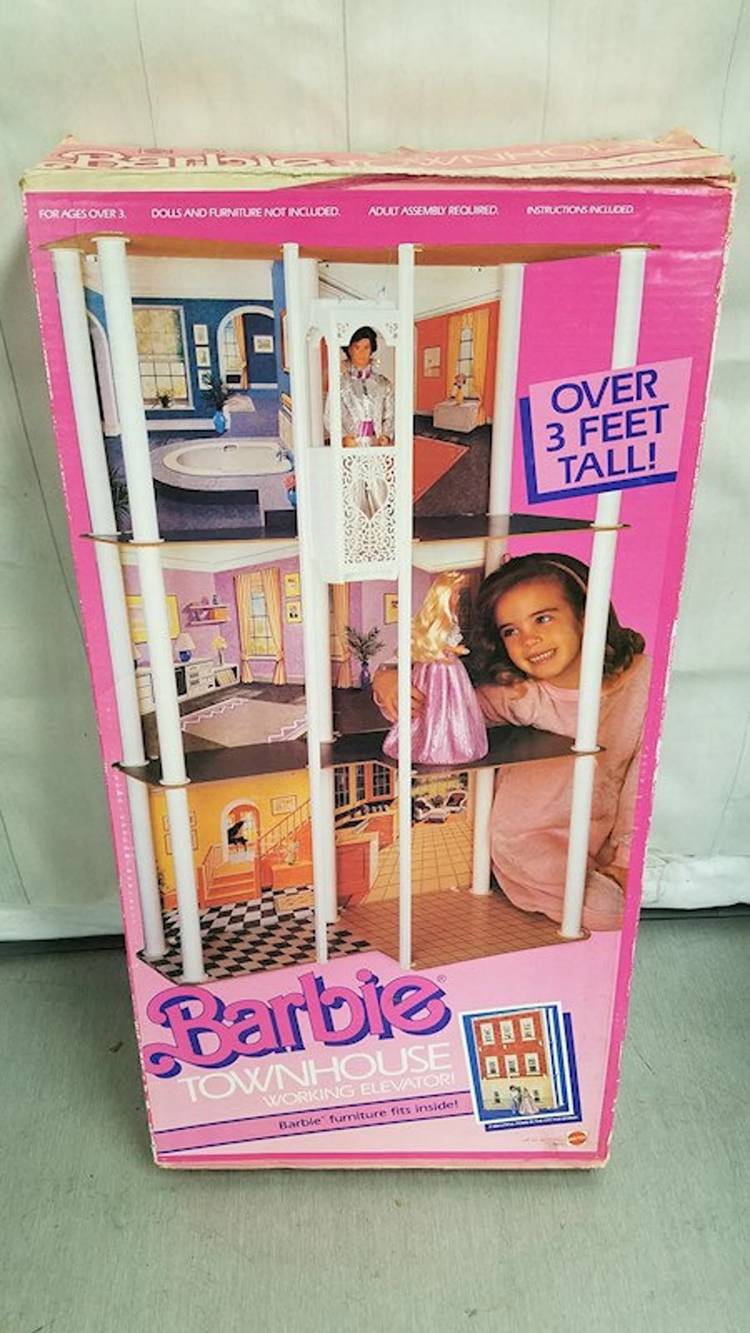 There's only one piece of the original Barbie 1983 townhouse offered by the seller. All pieces are in mint condition with minor scratches. The box is a bit worn off, but all originals are included in the package. Note that this seller does not promise any accompanying home decoration accessories or Barbie dolls.
18. 1991 Barbie Magic Sounds House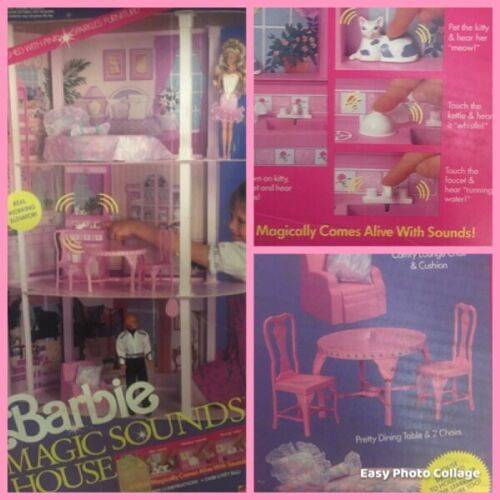 Barbie Magic Sounds House is not the same as Barbie's Magical Mansion 1990. Rather, it is a continuation. It comprises more or less the same structure as the original Magical Mansion but comes with added sound effects. Since it is quite difficult to find a version of the model released in 1990, this listing is the best bet for vintage Barbie dream house collectors.
19. 1998 Barbie Dream House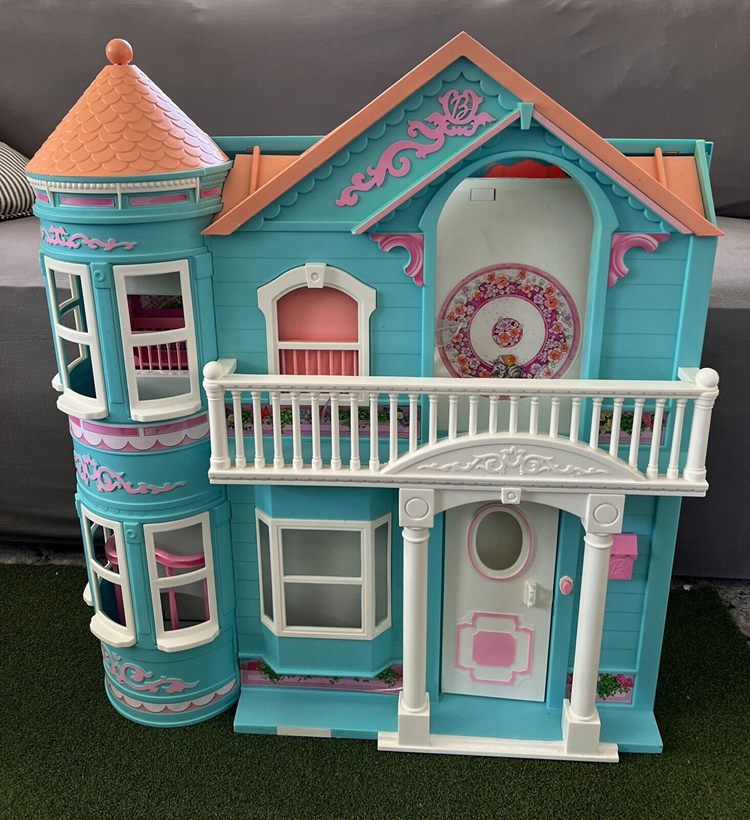 Only a few people categorize the 1998 edition of Barbie's dream house as a vintage collectible. If that's you, check out this valuable edition. It got sold for a total of $490.
Although the seller offered this rare edition is only $125, the shipping costs were around $290. But it's all worth it, given that you get to collect the Deluxe Barbie dream house from 1998 in a unique color scheme.
Vintage Barbie Dream House: Value Guide
By now, you're familiar with two essential things:
All possible types of vintage Barbie dream houses
All possible pricing brackets of vintage Barbie dream houses
Using this data, let's quickly summarize the factors you need to assess when buying an old edition of Barbie's dream house.
Condition
All of the vintage Barbie dream houses listed on the internet, or sold by anyone at all, are used. You've to check the degree or intensity of usage before purchasing.
If it is heavily used, you'll notice missing pieces, chipped edges, worn-off paint, broken parts, etc. It's a bad deal to buy such a vintage Barbie dream house because you will not be able to display it in your collectibles or resell it for a higher price. Also, buy the ones that come with a packaging box.
Portability
Over time the portability of Barbie's dream house has also changed. The original Barbie dream house was compact and easily movable to different places. It was also easier to assemble.
Today, however, the size of a Barbie dream house has increased significantly. Hence, you cannot carry it around with ease. It is also difficult to assemble.
Furniture Pieces
Research to find the original count and nature of furniture pieces that came with the original house. If you find one, compare it with what you're getting and negotiate the price accordingly.
By the rule of thumb, the more, the merrier.
Competition
Since a lot of people are selling their pre-owned Barbie dream houses, buyers have an edge in considering all available options and choosing the cheapest one.
You can also negotiate, depending on the saturation in your respective market. Never settle for costly deals.
Conclusion
Now that you know the top 19 most valuable vintage Barbie dream houses, along with their types and valuation, we hope you embark on your hunt for the right price or model properly. If you're selling an old Barbie dream house, browse the factors above to determine a fair price for your doll house.
If you'll buy one, our advice would be: now is a better time than later. Buy one right now, it's going to be one of the most valuable antiques in ten years' time. Good luck!