When it comes to antique furniture, china cabinets are among the most popular pieces. These cabinets combine functionality with aesthetic appeal, and they can be used to display a wide range of items. Whether you're an avid collector or simply enjoy having a few pieces of vintage china on display, a china cabinet is an excellent way to show off your prized possessions.
China cabinets are a popular type of furniture that can be found in many homes. They are often used to display dishes, china and other collectibles. If you are interested in purchasing an antique china cabinet, it is important to understand the different styles, manufacturers and values associated with them. In this blog post, we will provide you with everything you need to know about antique china cabinets!
What are Antique China Cabinets?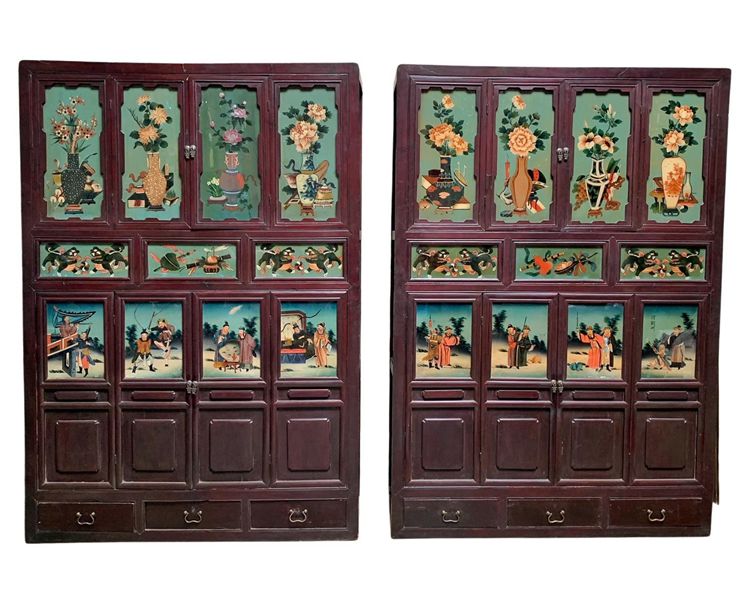 Antique china cabinets are beautiful pieces of furniture that can add a touch of elegance to any home. These cabinets are usually made of wood, and they often have intricate carvings and detailed hardware. Many antique china cabinets also have glass doors, which can showcase your china collection while keeping it dust-free. While these cabinets can be a bit pricey, they are definitely worth the investment if you want to add a touch of class to your home décor.
There's something special about antique china cabinets. Perhaps it's the intricate details or the beautiful craftsmanship. Or maybe it's the history behind each piece. Whatever the reason, antique china cabinets are truly unique pieces of furniture.
Brief History of China Cabinets
The history of china cabinets dates back to the 17th century, when they were first developed in Europe. These early cabinets were often quite ornate, with intricate carvings and detailed painting. As the years passed, china cabinets evolved into more simplistic designs. However, they still retain their elegant appeal and remain a popular choice for homeowners who want to add a touch of class to their décor.
China cabinets are often passed down from generation to generation, and each one has its own story to tell. For example, you might have an old china cabinet that belonged to your great-grandparents. This cabinet might be full of family heirlooms, such as fine china or silverware. Or perhaps you have a china cabinet that was used in a restaurant or hotel in the early 1900s. These cabinets often have interesting stories to tell about their previous owners and the places they've been.
Evolution of China Cabinets
These cabinets come in a wide range of styles, each of which has its own unique features, including Victorian, Edwardian, Georgian, Regency, and Modern. The most common type of china cabinet is the Victorian style manufactured from 1837 to 1901, which features intricate details and carvings. Edwardian cabinets, popular until the end of World War I, are less ornate than their Victorian counterparts, while Georgian cabinets are characterized by simple lines and modest decoration.
Regency cabinets are the most stylish of the bunch, featuring clean lines and minimal decoration. Georgian and Regency were dominant china cabinet styles between 1711 and 1830. The modern era of china cabinets began in the early 1900s and gained popularity after the First World War, and these cabinets are often characterized by their simple lines and minimal decoration.
How to Style Antique China Cabinets in Your Home
If you're lucky enough to own an antique china cabinet, you'll want to make sure it's properly showcased in your home. Here are a few tips on how to style an antique china cabinet so it looks its best.
First, take into account the overall design of your home. If you have a more traditional décor, your china cabinet will fit right in. If your home is more contemporary, you may want to give your china cabinet a more updated look.
Second, decide what you want to display in your china cabinet. Do you want to showcase your fine china collection? Or would you prefer to use it as a storage space for everyday dishes? Once you've decided what you want to display, arrange your items in an aesthetically pleasing way.
Third, add some finishing touches to really make your china cabinet stand out. Place a vase of fresh flowers on top or add a few family photos to the shelves. With these tips, you can be sure that your antique china cabinet will be the star of your home décor.
Cleaning and Maintaining Antique China Cabinets
When it comes to antique china cabinets, it is important to clean and maintain them properly in order to avoid damaging them. One of the best ways to clean these cabinets is with a soft, dry cloth. Gently dust the surface of the cabinet, taking care not to scratch or rub too hard. If there are any stubborn stains, you can try using a mild cleaner or a mixture of vinegar and water. Just be sure to test the cleaner on an inconspicuous area first and always use a soft, clean cloth when applying. In terms of maintenance, it is important to keep these cabinets out of direct sunlight and away from heat sources.
You should also avoid placing heavy objects on top of them. With proper care, your antique china cabinet will continue to be a beautiful and functional piece of furniture for many years to come.
Understanding Different Styles of Antique China Cabinets
China cabinets come in an almost infinite number of styles, but there are some that stand out as being more common than others. These include:
Step back antique china cabinets
Breakfront antique china cabinets
Hutch antique china cabinets
Corner antique china cabinets
Antique china cabinet with curved glass
Antique curio cabinets
Let's take a closer look at all of them.
Step Back Antique China Cabinet
Step back china cabinets are significantly less deep than traditional china cabinets, which makes them much less expensive. They are also shorter in height, which gives them a more compact appearance. This is a classic antique china cabinet 1920s style. Despite their smaller size, step back china cabinets still provide plenty of storage space for your treasured dishes. And because they take up less space, they are ideal for small apartments or tight corners.
Breakfront Antique China Cabinet
A breakfront cabinet is a type of storage furniture that features a set of doors that open outward, away from the center of the piece. This makes it easy to access your dishes, and it also provides a dramatic visual effect. Expertly crafted from wood or metal, a breakfront china cabinet features several shelves and doors that open to reveal ample storage space. Breakfront cabinets are typically made of wood, and they can be finished in a wide range of colors. They often have glass panels in the doors, which allows you to display your collection while keeping it protected from dust and damage.
Hutch Antique China Cabinet
Hutch-style cabinets typically feature two doors with glass panels, allowing you to easily see everything that is stored inside. The hutch-style china cabinet also has two drawers, providing additional storage for table linens, flatware, or other items. There is usually space between the portions that serves as a counter or showcase area.
Corner Antique China Cabinets
A corner china cabinet is a piece of furniture that can add both style and storage to your home. These cabinets are designed to fit snugly into the corner of a room, making them an ideal choice for smaller spaces. In addition to their space-saving design, corner china cabinets also provide a convenient place to display your favorite dishes, glassware, or collectibles. This cabinet typically has two top-opening doors and two bottom-opening doors. This was a popular antique china cabinet 1960 style but it can still be seen in many homes even today.
Antique China Cabinet With Curved Glass
There's something about an antique china cabinet with curved glass that just exudes class and elegance. Whether it's the intricate carving on the woodwork or the delicate curved lines of the glass, these cabinets always seem to add a touch of luxury to any room. Of course, they're not just for show – these cabinets are also excellent for storage, and can help keep your precious china collection safe from harm.
Curved glass was a popular design element in the Victorian era, and it helped to create the illusion of a larger, more spacious room. Today, antique china cabinets with curved glass are highly sought-after by collectors and interior designers alike. Thanks to their timeless beauty, these cabinets can easily adapt to any style of decor.
Antique Curio Cabinets
A curio cabinet is a type of furniture that is used to display collections of items. These items can be anything from antique dishes to family heirlooms. Curio cabinets are usually made of wood, and they often have glass doors to protect the items inside. Some cabinets also have lights, which helps to showcase the items on display. Cabinet sizes vary, but most are tall and narrow, which helps to save space in a room. Curio cabinets can be an excellent way to display treasured possessions, and they also make great conversation starters.
Antique China Cabinet Identification Guide: Do You Have an Antique Piece?
A common misconception about china cabinets is that they are all antiques. While it's true that many china cabinets are vintage pieces, there are also plenty of new cabinets being made today. So, how do you determine if your china cabinet is antique? You can tell if your china cabinet is an antique by looking for a few easy signs.
Examining the Construction
Antique china cabinets can be made from a variety of materials, including wood, glass and metal. The most common type of wood used in antique china cabinets is oak. However, you can also find cabinets made from mahogany, maple, cherry, walnut, pine and other types of wood. Glass is often used in the doors and windows of china cabinets, and metal is sometimes used for the hardware.
One of the most important things to look for is wear and tear. Antique furniture is often well-worn, with nicks and scratches that attest to its age. Check the hardware as well. If the handles and hinges are made of brass or other metals that have started to tarnish, it's a good indication that the piece is at least a few decades old. Obviously, you don't have an antique if you observe a lot of new hardware.
Additionally, look for evidence of old-fashioned joinery, such as dovetails or hand-cut mortise-and-tenon joints. These methods were commonly used in antique furniture but have since fallen out of favor. This was an especially popular antique china cabinet 1940s style. Antique cabinets tend to be more delicate and detailed, with intricate carvings and hand-painted features.
Dovetail joints are a sign of quality craftsmanship, and they were commonly used in furniture made in the 18th and 19th centuries. If you're not sure what to look for, take a close look at the corners of the cabinet. If you see diagonal lines that fit together snugly, then it's likely that the cabinet is antique.
If your china cabinet contains any glass, inspect it for air bubbles. Air bubbles or waves in glass are a sign that your china cabinet is, in fact, antique. Newer furniture pieces are more likely to have smooth glass surfaces.
Antique China Cabinet Manufacturers
Before you can begin to appreciate your antique china cabinet, it is important to have a basic understanding of its history. Where did it come from? Who made it? What is the story behind it? To find answers to these questions, start by looking for any defining marks or labels that might be hidden on the cabinet. These can often provide valuable clues as to its origins. Look inside the cupboards and drawers, on the back, underneath, and even under the shelves of your china cabinet.
Here are some manufacturers to keep an eye on because they have the most valued items on the market:
Thomasville china cabinet vintage pieces are prized by antique collectors for their classic style and craftsmanship. These pieces were first produced in 1904 by the Thomasville Furniture Company in North Carolina.
Bernhardt Furniture Companywas established in 1889 and is still in business today. Vintage Bernhardt china cabinet pieces are some of the most beautifully crafted pieces of furniture you can find on the market.
Stanley Furnitureis one of the leading manufacturers of china cabinets, and their products are known for their attention to detail and craftsmanship. Their first china cabinets debuted in 1925 and since then vintage Stanley china cabinet pieces have been gaining in popularity.
Bassett Furniturewas founded in 1902 and quickly became known for their high-quality furniture. Bassett china cabinet vintage pieces were often made from oak and other types of wood, and they featured intricate carvings and hand-painted details.
Drexel Heritageproduces fine furniture in a range of styles. Vintage Drexler china cabinet pieces can be quite valuable, depending on their age and condition.
The Duncan Phyfe styleis a particularly elegant and timeless form of furniture design. Named after the Scottish-born cabinetmaker who popularized it in the early 19th century, antique duncan phyfe china cabinet style is characterized by its graceful lines, delicate details, and rich wood grain.
Antique China Cabinet Value Guide
Antique furniture is always in high demand, and china cabinets are no exception. If you're lucky enough to own an antique wood china cabinet, you may be wondering how much it's worth. Values for antique china cabinets can vary widely, depending on the style, manufacturer and condition of the piece.
When determining the value of an antique china cabinet, condition is one of the most important factors to consider. A cabinet in excellent condition with no chips, cracks or other damage will be worth more than one that is in poor condition. Even a small amount of damage can significantly reduce the value of a cabinet.
While some antique china cabinets can sell for as much as $3,500, most will fall in the range of $500 to $1,500. Of course, the exact price will depend on factors such as the age of the piece and its condition. For example, this antique china cabinet 1930s piece with minor chips and scratches was sold for $1,650. On the other hand, this 1930's antique china cabinet made out of satinwood in the style of Louis XV was sold for $3,450!
Of course, these are the high-end china cabinets. This vintage Stanley china cabinet goes for $850, and this antique china cabinet 1960 in hutch-style goes for a little above $1000. A Thomasville china cabinet vintage piece in Regency style from the same era is listed at $850 on Chairish. These are some realistic prices you can expect.
Antique curved glass china cabinet value is usually higher because they're so delicate and difficult to build. For example, this simple vintage Bernhardt china cabinet was listed for $1500. A china cabinet with curved glass and removable crest is listed at $2,450. Prices can go as high as $8000 for rare antique wood china cabinet pieces in superb condition,
Curio and corner cabinets usually have a lower value than their curved-glass counterparts, but they can still reach a decent price. A vintage Drexler china cabinet from the mid 20th century was listed for $1500. A corner vintage 1970s china cabinet with high quality solid wood construction is listed at $1,450. This mahogany corner cabinet is selling at around $360 on eBay, which is a more common price for this type.
Where to Find Old China Cabinet Pieces
If you're in the market for an antique china cabinet, you'll be pleased to know that there are a number of places you can look. Local antique stores are always a good bet, as they tend to specialize in older pieces. Local antique retailers can be found on websites like Manta or Antique Store Finder, but you can also connect with local customers through Craigslist or Facebook Marketplace.
Auction houses like Pook & Pook or Michaan's Auctions are excellent places to find antique china cabinets. You can often find cabinets that are over 100 years old and in excellent condition. The cabinets at auction houses are usually very high quality, and you can often find great deals on them. Auction houses are excellent places to find antique china cabinets. You can often find cabinets that are over 100 years old and in excellent condition. The cabinets at auction houses are usually very high quality, and you can often find great deals on them.
You might also try looking online, either on sites like eBay or through specialty dealers like 1stdibs or Chairish. With a little patience and persistence, you're sure to find the perfect antique china cabinet for your home.
Conclusion
Antique china cabinets are pieces of furniture that are both functional and beautiful. Typically made of wood, these cabinets are designed to protect and display fine china dishes. While their original purpose was utilitarian, many antique china cabinets have been ornately decorated, making them works of art in their own right. Today, these cabinets are highly sought-after by collectors and often sell for high prices at auction.
While many modern china cabinets are mass-produced and lack any real value, some older cabinets may be true antiques. To find out if your cabinet is an antique, start by examining its construction. Antique china cabinets are usually made of high-quality woods like mahogany or oak, and they often feature intricate details like hand-carved moldings or inlaid design work. In addition, most valuable antique cabinets will have manufacturer marks or stamps somewhere on the piece. Thomasville, Bernhardt, Stanley, Drexler, Bassett, and antique Dduncan Phyfe china cabinet styles are especially valuable.
The value of old china cabinet pieces can range anywhere from a few hundred to a few thousands dollars. With a little bit of research, you can find out if your china cabinet is a priceless heirloom or a simple piece of furniture.