Any high or fine jewelry collection that does not include one or more vintage or modern rhinestone jewelry pieces cannot stand.
Vintage rhinestone jewelry is a carefully crafted adornment that has significant value. They are highly sought-after pieces that belong in every lady's jewelry closet. This fine jewelry brings a magical sparkle and motif to the wearer's face. However, there are less premium and undesirable rhinestone pieces of jewelry that are sometimes grouped as "original vintage rhinestone jewelry."
Luckily, this post covers all you need to know about vintage rhinestone jewelry, from its history to its styles, brand types, and even its value.
I've carefully curated valuable and comprehensive information to ensure you're on the right path to purchasing limited, authentic vintage rhinestone adornments.
Let's begin!
What Is A Rhinestone?
A native of Austria will answer by saying, "A rhinestone is a precious stone picked from and named after the Rhine River in Austria." While renowned dictionaries like Merriam Webster define a rhinestone as an imitation stone made of gems, gem quartz, or glass, Well, both accounts are not wrong.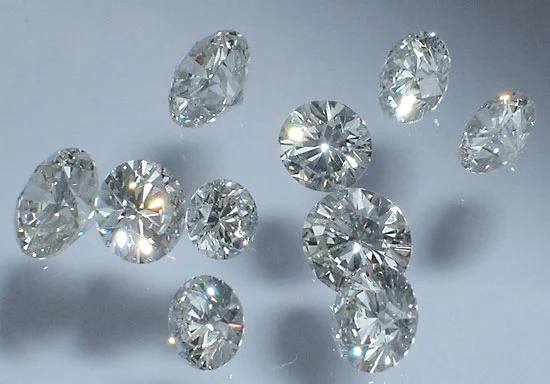 Rhinestones are classically glittering jewels that can be found in different types of jewelry and also on clothing. A quick visit to a fashion store will reveal that rhinestones are indeed everywhere—on the jewelry, on the bags, socks, and apparel. They add more sparkle when added to other accessories.
One common comment about rhinestones is that they are identical to diamonds. In some movies or stage productions, rhinestones are used as imitation diamonds because they're cheaper and can achieve an almost-similar effect on clothes.
In the past, the term "rhinestone" was used only to refer to precious gems picked from the Rhine river. The same word is now used universally to describe inexpensive plastic stones, regular glass stones, and Swarovski crystals.
Rhinestones can be found in different sizes and shapes. They can be oval, square, or rectangular. The round rhinestones, also called chatons, are the most popular.
When it comes to rhinestone colors and finishes, the Aurora Borealis rhinestones are the best.
Satin and matte finishes are commonly used to make the surface have a soft sheen or a proper base color, respectively.
The Origin of Rhinestone Vintage Jewelry
Rhinestones have been around for centuries, which holds for rhinestone jewelry. The history of rhinestone vintage jewelry started in 1680.
During this period, jewelers designed the first bead necklaces using "pebbles" from the Rhine River. Before use, the rhinestones were cleaned, cut, and polished. The finishing of the rhinestones gave it a more exquisite look, and as such, it was considered a "must-have" for members of high society.
A quick look at them would show you how dazzling the stones are. Note that the striking effect is brought about by tiny imperfections that cause light to move around.
As soon as designers found a way to create rhinestones artificially, they took their time to handcraft each piece individually. The diamond sparkle effect is due to the particular metal powder used to coat the backside of the glass. In the absence of metal powder, some designers or artisans used a metal foil to act as a mirror, reflecting light. The entire process of producing vintage rhinestone jewelry is time-consuming and energy-consuming. Expectedly, only the wealthy members of society could afford to include it in their jewelry collection.
In the late 1800s and early 1900s, some individuals measured the size of a person's wealth by the number of rhinestones in the jewelry they possessed.
A few years before the end of the 19th century, precisely 1892, the son of a Bohemian gem cutter named Daniel Swarovski designed an electric-powered stone cutting machine. This machine changed the tides in the production of rhinestone jewelry. Crystals could now be trimmed easily in record time. The most important aspect of it is that all these things could be done perfectly by hand. The machine kicked-started the mass-production of premium rhinestones, regardless of their lead content.
Swarovski single-handedly changed the game for players in the antique and jewelry industries. The sheer brilliance of the cutting stone machine introduced a superior era to the market. Simply put, Swarovski revolutionized and made the production of more-affordable rhinestones a reality.
The Victorian and Edwardian eras ushered in a time associated with extravagant jewelry. High and ruling society members adorned themselves heavily with rhinestones and other dazzling gems.
Imitation gems, aka rhinestones, aka rhines, have taken the place of their costly counterparts in bracelets, necklaces, and all forms of jewelry since Swarovski made his discovery. The original rhinestones found in Austria have since run out, and these fakes, popularly known as paste, strass, or diamante, remain in vogue.
Swarovski's Gabon-based business was a family business, which was later moved to Austria. Yet, the quality of his crystals remains undisputed.
In the Art Nouveau era, mass production increased. The exponential surge in production began when Coco Chanelentered the scene. The brand championed rhinestone jewelry and made it even more popular. Coco Chanel cemented rhinestones' reputation as credible fashion pieces.
Another Parisian, Elsa Schiaparelli, created a niche in the rhinestone jewelry line. She made outstanding dada-Esque bracelets and chokers with rows upon rows of dangling hot-pink stones. On the other hand, Chanel focused more on simple floral rhinestone earrings for customers.
Today, rhinestone jewelry serves as onyx, opals, rubies, carnelian, turquoise, and every other precious gemstone that can be copied.
Types and Styles of Vintage Rhinestone Jewelry
Rhinestone jewelry takes the form of many adornments like rings, tiaras, necklaces, brooches, pins, bracelets, studs, earrings, and even buckles. Any shape you can think of, rhinestones, aka paste, can be designed to imitate.
Styles of Vintage Rhinestone Jewelry
These adornments have appeared in many styles throughout history. The notable styles include Art Nouveau, Art Deco, and Mid-Century.
Art Nouveau
Vintage rhinestone jewelry in this style has sweeping lines and natural or floral motifs. Many of these jewelry pieces date as far back as the late 1800s. Some designers incorporated figural elements like women, animals, children, and birds in these rhinestones to make them stand out.
Art Deco
Vintage rhinestone jewelry in Art Deco styles is a major shapeshifter—the designers of these pieces were more concerned with changing up geometric patterns and shapes. The most recent vintage rhinestones in this style were produced in the early 1940s. Once you see a rhinestone piece with lots of sparkle and filigree, you'll know.
Mid-century
Soon after the world war, jewelry, especially rhinestone jewelry, was mass-produced for women to enjoy their newly established world peace. The designs included snowflakes, stars, and many others.
Types Of Vintage Rhinestone Jewelry
Vintage rhinestones can be grouped based on the materials used, their application method, place of origin, and the back of the rhinestones.
Based On The Materials Used
As mentioned before, rhinestones are imitated gems, and they've been designed after a couple of materials.
Plastic Rhinestones: These rhinestones are lead-free, low-cost, and lightweight. They are produced in mass as acrylics or resin jewelry. Experts argue that plastic rhinestones are some of the newer products and do not qualify as vintage.
Glass rhinestones: These vintage rhinestones are made of glass with a cutting device. Manufacturers add a layer of metal to coat the transparent glass material. This way, the backsides of the stones reflect light and shine almost as much as diamonds.
Other subtypes of vintage rhinestones based on materials include crystal, acrylic, and resin rhinestones.
Based On Method Of Application
This classification is based on how the stones are applied to different materials.
Sew-on rhinestones: This comes in different shapes as plastic or glass forms. They are incorporated with the materials by sewing. Vintage rhinestone jewelry applied by sewing took hours to complete. This jewelry can be attached to other fabrics.
Flat Back Hot-Fix Rhinestones:These are primarily vintage glass rhinestones. They are applied using glue and heat to create any design or pattern. They are chiefly small in size and generally easy to work with.
Mounting:These vintage rhinestones are embedded and mounted using mechanical equipment like prongs. This jewelry can be incorporated into leather apparel and shoes.
Other forms of vintage rhinestone jewelry based on application methods include glue on flat back rhinestones, claw rhinestones, and rim set rhinestones.
Depending on the country of origin
Rhinestones are sometimes grouped depending on the regions they're produced in. Some of these rhinestones include:
Czech rhinestones
Austrian crystal
Taiwanese rhinestones
Egyptian rhinestones
Chinese rhinestones
Popular Manufacturers of Rhinestone Jewelry
Before and after the Industrial Revolution, hundreds of designers created thousands, even millions, of custom jewelry. Even now, many manufacturers are still in the business of creating beautiful pieces of adornment.
Eisenberg
This company operated between the 1930s and 1970s. Eisenberg created timeless rhinestone jewelry, primarily set in metals like sterling silver. Chances are you may have unknowingly come across an Eisenberg piece in the shape of Christmas design pins or figural designs with jewelry set as eyepieces.
Butler and Wilson
This manufacturer produced finely detailed brooches and other figural pieces. Most of the designs imitated the shapes of dancing couples, animals, and a few inanimate objects.
Coco Chanel
Almost everyone knows this designer, Coco Chanel. They have trendy rhinestone jewelry bearing their hallmark (an interlocking C logo). Their pieces have plenty of sparkles and motifs.
Swarovski
As the first creator of rhinestone jewelry, it'll be a travesty if this brand is not on this list. Swarovski has been creating unique rhinestone jewelry since the onset. This is evident in the state of their valuable vintage jewelry pieces.
Trifari
This company has created beautiful rhinestone designs since 1920. Many Hollywood celebrities and VVIPs have adorned Trifari jewelry onset and for main events. These pieces have the habit of allowing the wearer to take center stage.
Carnegie
This American company began creating apparel in 1918. By 1939, Hattie incorporated costume jewelry, primarily rhinestone pieces, as finishing touches to the clothing lines. Since then, the jewelry has spoken for itself. Carnegie bracelets, necklaces, and earrings are owned by most celebrities, socialites, and regular American jewelry collectors.
Most Collectible Vintage Rhinestone Jewelry Brands
There are hundreds of rhinestone jewelry manufacturers that specialize in making rhinestone jewelry. However, only a few have outstanding products that can stand the test of time. When purchasing vintage rhinestone jewelry, it's advisable to check for a manufacturer's stamp to confirm the value and worth of the item.
The most collectible and valuable vintage rhinestone pieces are branded by:
Carnegie
The designs are modeled after Swarovski's gold mesh and include animals, florals, and crystals. The easiest way to identify pieces under this brand is to check for the company's logo, which is usually stamped on the piece itself. The symbol is often changed, but frequently it bears the owner's name or initials—Miss Hattie or M.C.
Some of Carnegie's rhinestone pieces are valued at hundreds of dollars to thousands.
Coco Chanel
This brand is more or less a household name in North America and neighboring countries. The vintage rhinestone pieces created by Coco Chanel in the 1920s remain a classic. These neckpieces and brooches are worth at least several hundred dollars.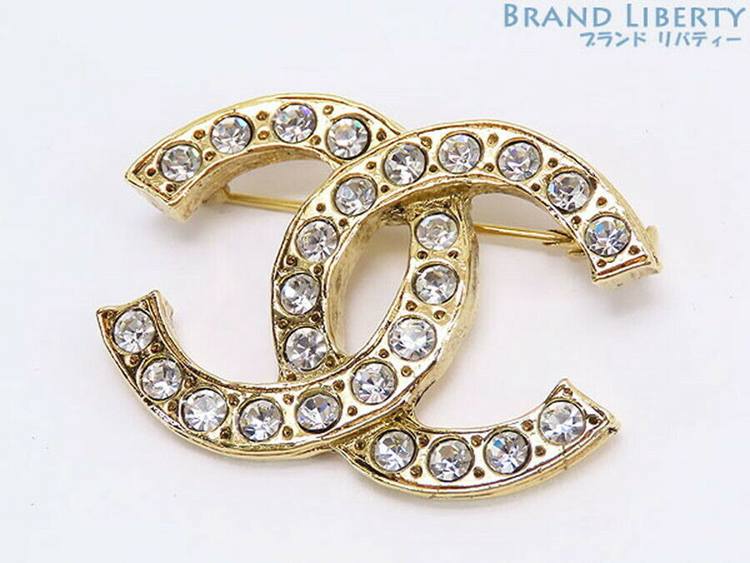 Coro
This brand may not seem as popular as the others, but this is not because it produces fewer outstanding pieces but rather because the company has undergone many name changes. It went from Coro to corocraft and, more recently, Vendome.
All vintage rhinestone jewelry created by this company is trademarked with "Coro." Rare rhinestone lines by Coro are worth at least one hundred dollars in online antique stores like 1stdibs and eBay.
Christian Dior
Dior is one of the leading fashion houses globally. The brand has worked with many famous designers like Henkel, Kramer, Grossé, and Josette Gripoix to create beautiful jewelry pieces. Dior's vintage rhinestone jewelry features Swarovski crystals, including the Aurora borealis rainbow rhinestones. Rhinestone jewelry like necklaces and earrings, marked by the Dior brand, ranges from $100 to several thousand dollars on Amazon, Etsy, or eBay.
Miriam Haskell
This brand incorporated floral motifs into Swarovski crystals to create rare vintage rhinestone jewelry. These collectible rhinestone pieces have faux beads and primarily utilize nature in their designs. Most Mirian Heskell creations are electroplated.
You can purchase a piece for about $150 and upwards. It is not so easy to identify these pieces because they rarely bear the brand's "Haskell" hallmark. The few that do are more valuable than the others.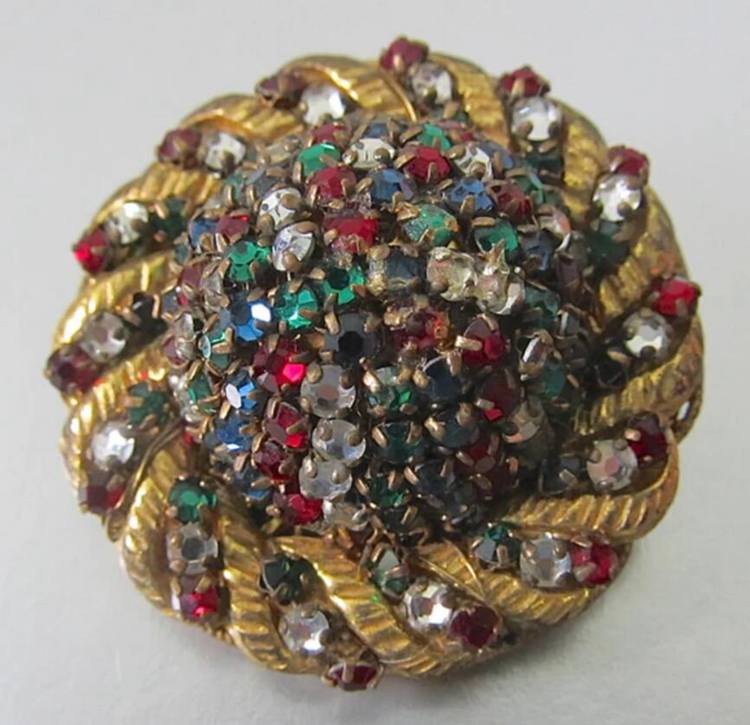 Hobé
The costume jewelry branded by this company is famed for its tassels, beads, and floral designs. Like other brands, this company regularly changes its trademarks over time. Rhinestone jewelry produced in the early 1900s bears the letters H and b in extended heights and shapes. The pricing of these pieces depends on how rare they are, the year of production, and the materials used.
How To Identify Your Vintage Rhinestone Jewelry
Vintage rhinestone costume jewelry has been around for more than two centuries. They have been produced as sparkling neckpieces, earrings, bracelets, and rings.
Millions of people in the middle class try out vintage rhinestones to get a feel for what it feels like to wear diamonds. The mass production of these pieces has left the market littered with fake pieces or replicas of vintage jewelry. Technology has also aided some companies in successfully copying the beautiful and appealing designs of rhinestone costume jewelry.
As an antique collector or appraiser, you must be very careful when assessing the authenticity of a piece. Some of the keys to ascertaining whether or not a piece is vintage are:
The Style
The rhinestones' style gives off accurate information about the period they were created. If your piece fits into the retro, Edwardian, Victorian, Art Deco, or mid-20th century style up to the 80s, then you may have a vintage rhinestone with you.
The Craftsmanship
You have to closely examine your rhinestone jewelry to note or identify the craftsmanship. Vintage rhinestone jewelry was not mass-produced. Therefore, if you notice any indication that the piece was one of many produced on a large scale, it may not be valuable or vintage. When assessing a vintage piece, check for handcrafting signs, which are the most helpful. Also, check out the finish from top to bottom, flip the piece over and check out the details on the underside.
The Materials
It is best to focus on the materials used within and outside the rhinestone jewelry. The material that vintage rhinestone jewelry is made of could make all the difference. Imagine having a rhinestone embedded into gold or sapphire material. For easy assessment, you can use a magnifying glass to check for materials like silver, platinum, and amethysts. While you're at it, check if the vintage rhinestones have the old cuts. This could influence the value of the piece.
The Condition
This involves assessing the state of the piece. First, check the clasps on the necklaces, bracelets, and pins to see if they are a telltale sign of a specific period. Bracelets and necklaces with box or ring clasps have a higher chance of being vintage. The well-known lobster clasp only became mainstream in the 1970s. Take the type of fastener into account; it helps.
The Designer
Rare pieces from famous designers like Chanel, Cartier, Hobé, Dior, and Tiffany often make subtle or noticeable marks on their rhinestone jewelry. Once you find evidence of one of such designers on a piece, you're good to go. Thoroughly scour your rhinestones to find that signature, and take note that this evidence of the designer could raise the value of your piece from a few hundred to thousands of dollars.
The Paperwork
If you have a means of tracking down your piece's paperwork, it helps. If you purchased the piece from a renowned antique store, there's a high chance they have the paperwork with them.
How to know if your vintage rhinestone is original and valuable
Another way of identifying a vintage piece is through research—source for photos or information on the inscriptions or markings on your vintage rhinestone piece to confirm. You could also visit online sites like Heritage Auctions to procure the services of registered appraisers.
How Much Is Your Vintage Rhinestone Jewelry Worth?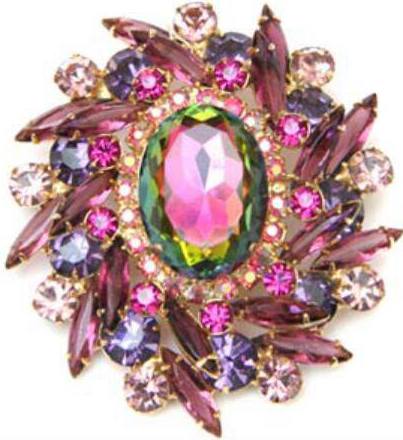 Not all vintage rhinestone jewelry is worth up to $100. Some standard pieces sell for less than $25, especially when their conditions are less than acceptable.
If you have an inherited rhinestone piece, or you're considering buying one, take enough time to research its worth. It would be awesome if you could spot an antique or collector's store around you to help with it. Or you could go through recently sold similar pieces on auction sites.
The condition of your rhinestone piece is a crucial factor in determining its worth. If the piece has a spoilt clasp, a missing, broken, or chipped stone, a replaced part, or is not in a good or secure working condition, I fear it may not be as valuable as you'd expect.
The quality and added features of the vintage rhinestone jewelry also determine whether its value should be higher or lower. For example, a piece with a hand-drawn bird or floral motif would cost more than a plain-designed piece.
Bottom Line
It's impossible to have enough authentic vintage rhinestone jewelry. The variety of pieces in stores and family treasure chests will always push you to get more.
The classic appeal and affordability are enough reasons to check local estate sales, online resellers, and even your family's sacred jewelry boxes in search of an original rhinestone collection you can call yours.
It's also perfect as an investment, lest I mention it. So, don't waste much time. Splurge on an authentic vintage rhinestone today. Or try to show off what you already have.