Looking to add more jewelry to your AVON collection? Or are you looking to track the value of your AVON jewelry at hand? Whichever the reason may be, you'll find answers here. As we discuss the history of the company, when the jewelry line was introduced, and what the signs or signatures mean.
AVON is one of the largest and oldest jewelry companies. It manufactured vast styles of jewelry such as pendants, stones, rings, earrings, necklaces, and brooches (accessories used for holding perfumes) since the 1960's. All of which have value in today's market.
Read on as we provide information to find the value of your antique piece. While giving you 10 Most Valuable Rare Vintage AVON Jewelry collectibles, in this Collector's Guide.
When Did AVON Start Making Jewelry
AVON was founded in 1886 where it strictly produced toiletries and perfumes. Several decades later,(1963) the first collection of jewelry was released for sale. Which started with precious stones and pendants. Before it expanded into making necklaces, rings, bracelets, earrings, brooches and many more (in 1970).
10 Most Valuable Rare Vintage AVON Jewelry
There are thousands of AVON jewelry made since the introduction of their jewelry collection. It's impossible to squeeze them all into a simple 10 item list. However, here are some top mentions we've presented for you. They'll provide you with a good idea of how the pricing works in the market for AVON pieces.
| | | | |
| --- | --- | --- | --- |
| No. | Name | Year | Price |
| 1 | Black Woman Cameo Necklace & Earrings | 1994 | 150 |
| 2 | "Little chick in the egg" Brooch | 1980s | 45 |
| 3 | Gold-tone Bell flowers Clip-on Earrings |  – | 40-45 |
| 4 | Vintage Gold-tone Crystal Pendant Necklace |  – | 60 |
| 5 | Vintage Sterling Silver Starburst Pin Brooch | – | 100 |
| 6 | Golden Vintage CollectorBottle Perfume | 1960-1970 | 45 |
| 7 | White Diamonds Faux Pearl Brooch Pin | – | $100 – $130 |
| 8 | Elizabeth Taylor's Royal Jewels Set | – | $350 – $400 |
| 9 | Avon Gold Tone & Beaded Pendant | – | $60 – $70 |
| 10 | AVON 'Parisienne Bloom' Earrings | – | $50 |
1. Black Woman Cameo Necklace & Earrings $150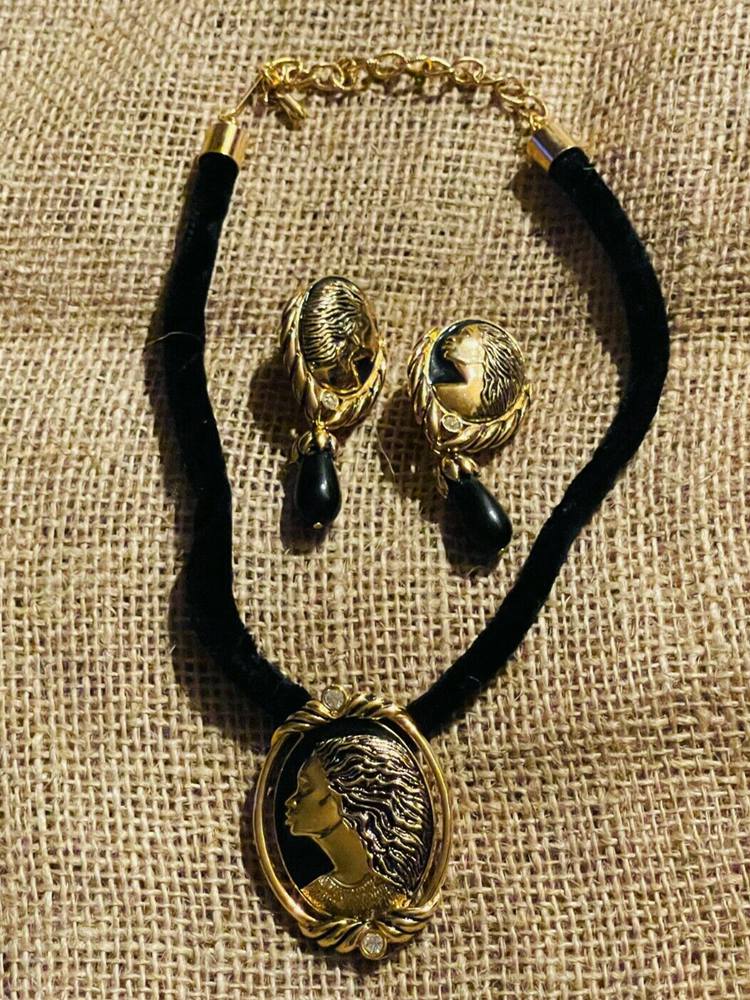 This product consists of a necklace with a clothed strap, gold metal detailing, a pendant, and some earrings. Which does possess a logo that displays Coreen Simpson's logo (which is the face of a woman). It's available at the price of $150.
2. "Little chick in the egg" Brooch $45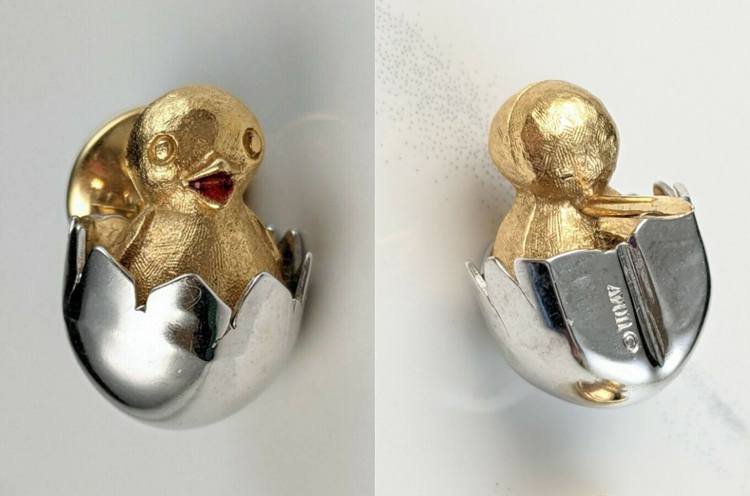 AVON provided many brooches of various designs. This little chick-in-egg brooch is one of the most uniquely designed and rarest jewelry AVON has made. You get it for the price of $50 or a bit lower ($45). Which is a big price range for many types of brooches.
3. Gold-tone Bell flowers Clip-on Earrings $45 – $50.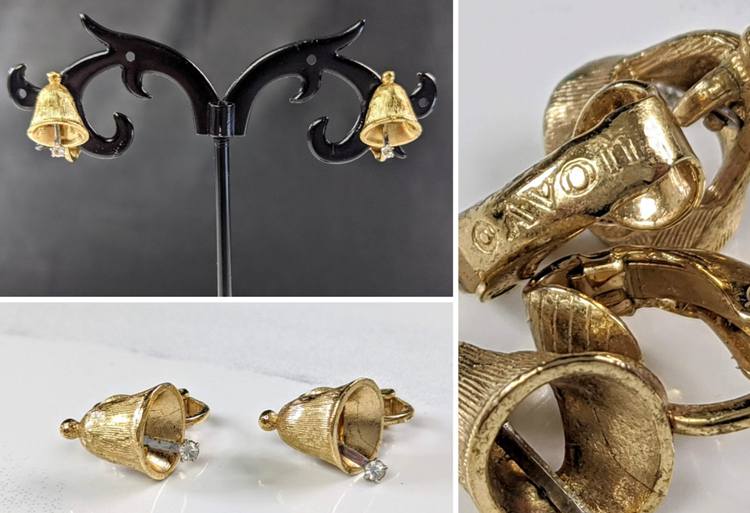 Here's another rare piece which is a pair of clip-on earrings that possesses a unique design. As the design consists of bell-like flowers. They usually cost between $45 – $50.
4. Vintage Gold-tone Crystal Pendant Necklace  $60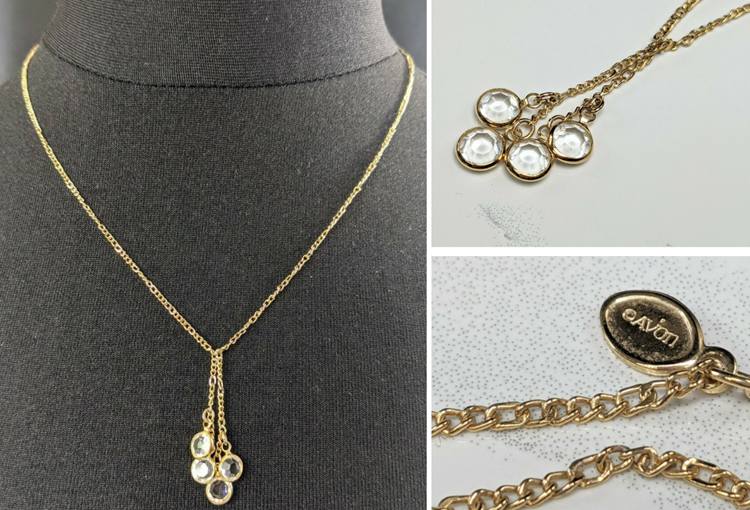 This is a sleek-looking AVON necklace due to its gold-colored metal chain which is supporting various precious stones. It costs around $60 in today's market.
5. Vintage Sterling Silver Starburst Pin Brooch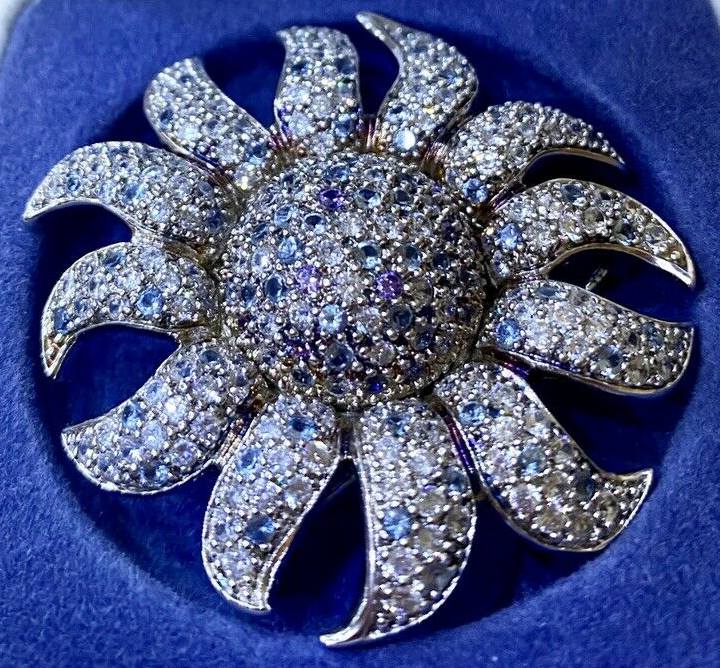 The Starburst pin brooch possesses a unique design. Which consists of many dots of blue, white, and silver stones fixed on the jewelry to express the sun-like design of the brooch frame. And It costs $100 apiece, due to its extreme rarity.
6. Golden Vintage CollectorBottle Perfume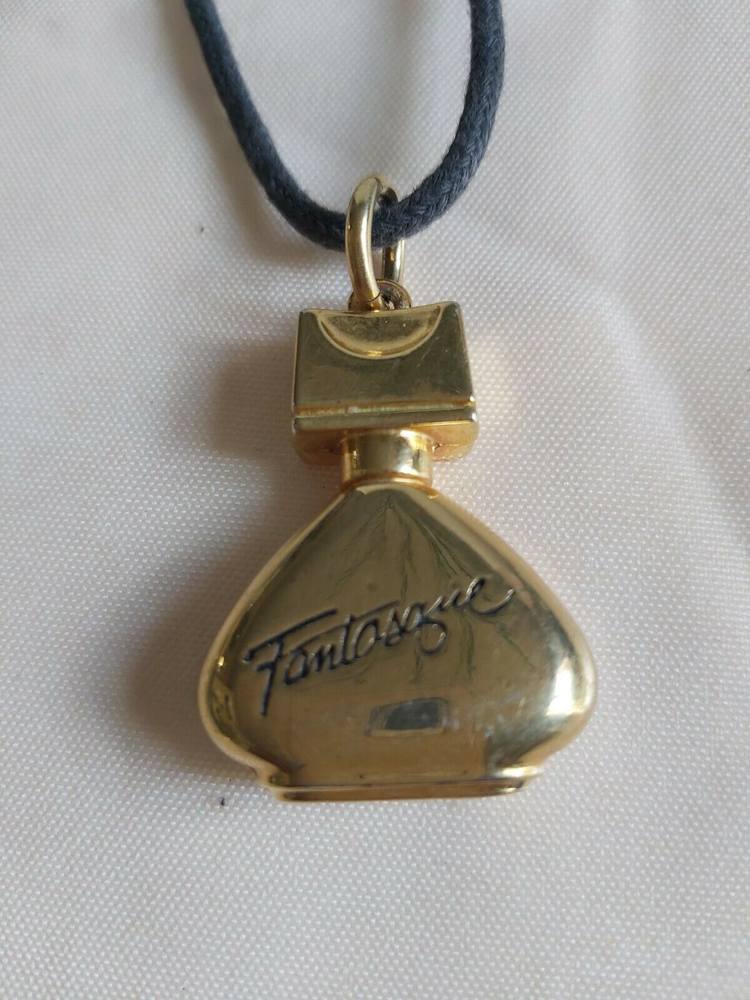 This is quite an old piece that is suspected to be made between the years 1960 to 1970. Since it was during that Era that AVON pieces of jewelry were given out to customers for buying perfumes. With the design of the pendant being the collector's bottle, it is clear this piece is more likely to be a less expensive product.
However, due to the uniqueness of the vintage market, the Louis Féraud Collector's bottle perfume you can get for the price of $45.
7. White Diamonds Faux Pearl Brooch Pin $100 to $130.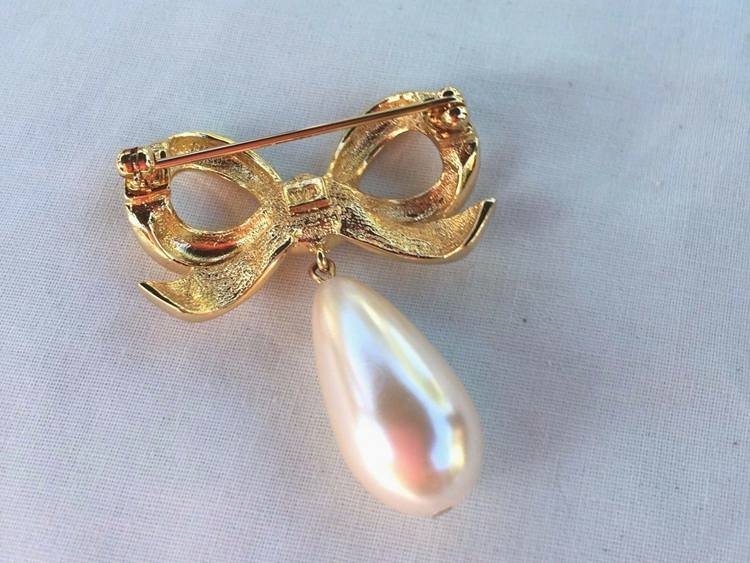 The Faux pearl brooch pin was designed by the actress Elizabeth Taylor for AVON. The brooch consists of a bow fixed unto a pearl tear-drop pendant. Its prices fall between $100 – $130. Due to its uniqueness in design, artist mark, and rarity in circulation today.
8. Elizabeth Taylor's Royal Jewels Set $350 to $400.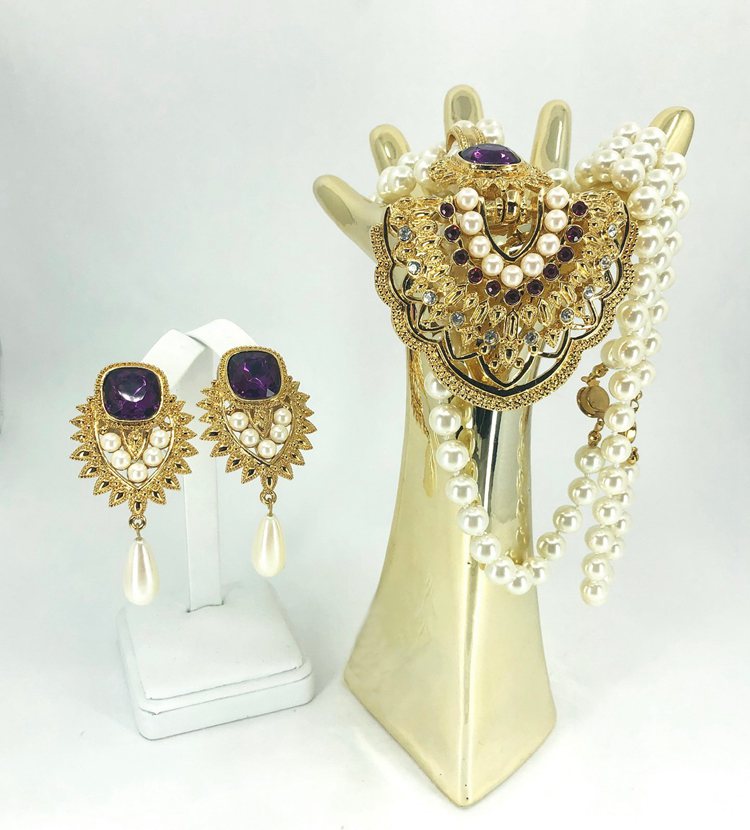 Here's another jewelry piece by Elizabeth Taylor. However, It's more of a set that consists of a necklace, a pendant, and a set of earrings. The design is a quite unique one with its elegant use of pearls, gemstone, and gold color combination.
This masterpiece is known to be sold at price within the range of $350 to $400.
9. Avon Gold Tone & Beaded Pendant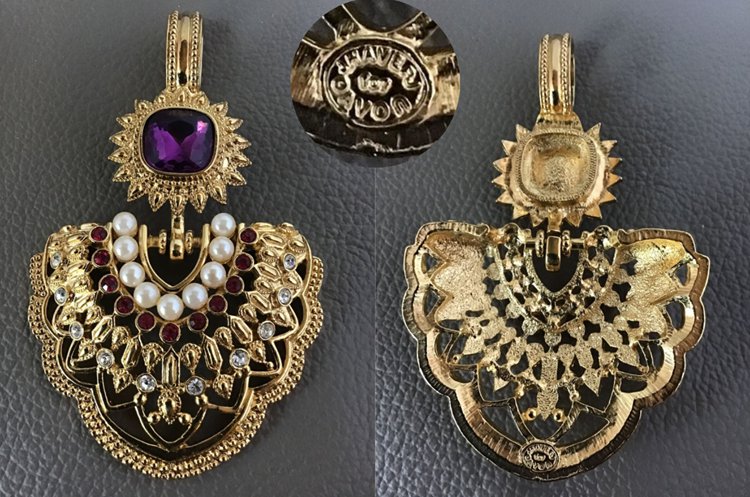 Covered with gemstones and pearls, the Shaill Jhaveri pendant would be a great addition to your AVON collection. It's a piece designed by an artist known as Shaill Jhaveri, which is one of the reasons why its price could be between $60 – $70.
10. AVON 'Parisienne Bloom' Earrings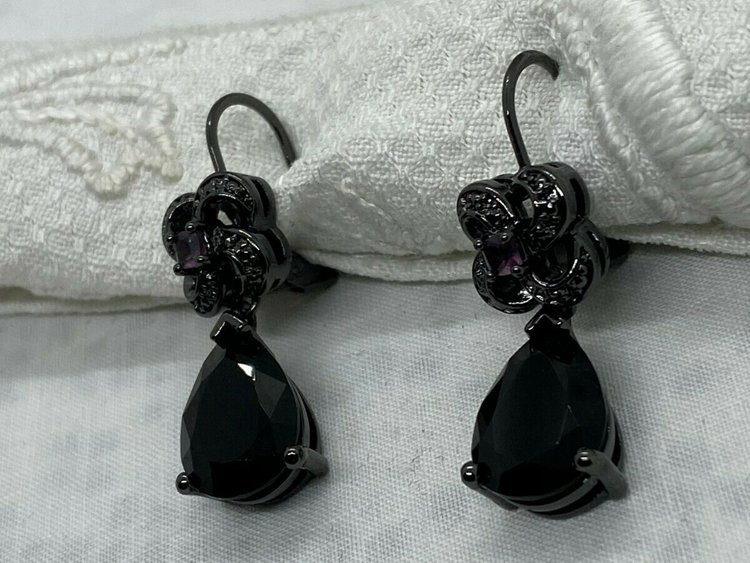 These are a pair of rare earrings that were designed by another jewelry designer company known as Ungaro. This set of hook wire earrings consists of a tear-drop style stone that is attached to another gem that is surrounded with a floral-like design. You can get or sell it at $50 a set.
What Is AVON Jewelry Made Of
During the first years of the company's collection release, jewelry was handed over as tokens for making a major purchase. Materials such as glass stones, fancy plastics like resin, thermoset, and lucite were primarily used to make such jewelry.
(from the year 1970) Newer designs of jewelry were made using precious materials such as diamonds, pearls, silver, and gold.

How To Identify AVON Jewelry
Avon jewelry is easy to identify because it has very few forms of brand marks. Where one is just the word "AVON" and the other involves the same word but with an oval shape drawn around it.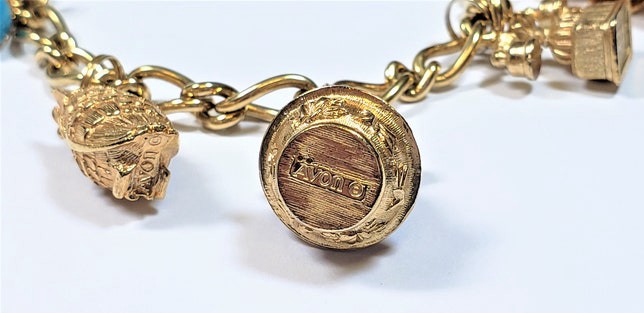 What does the vintage jewelry AVON signature look like?
Even in the case of collections made with artists and other jewelry companies, the trade mark "AVON" would still be present. For instance, Jose and Maria Barerra have made several jewelry pieces with Avon. The mark/stamp you'd see is "Barerra for avon".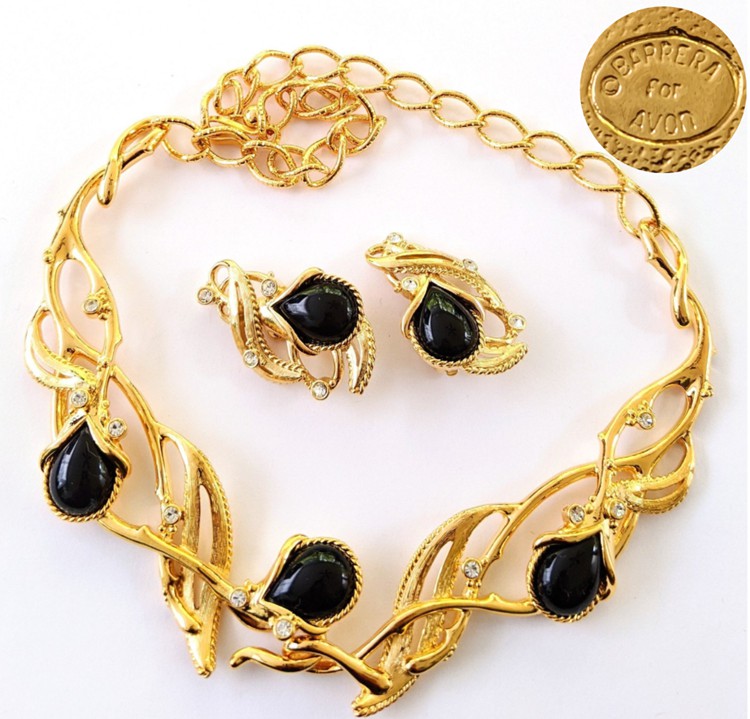 Sometimes the stamp could involve initials only. Like on the jewelry made with Kenneth Jay Lane (A world renowned jewelry designer). The stamp would appear like this "K. J. L".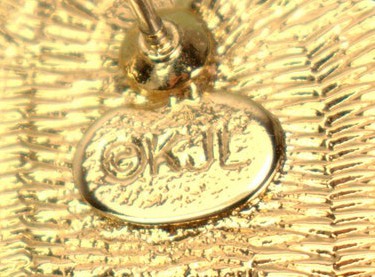 Here are various artist ls that worked stub Avon on jewelry pieces and collections (mark):
Kenneth Jay Lane (K. J. L)
Jose and Maria Barerra (Barrera for AVON)
Coreen Simpson (picture of a woman with flowing hair)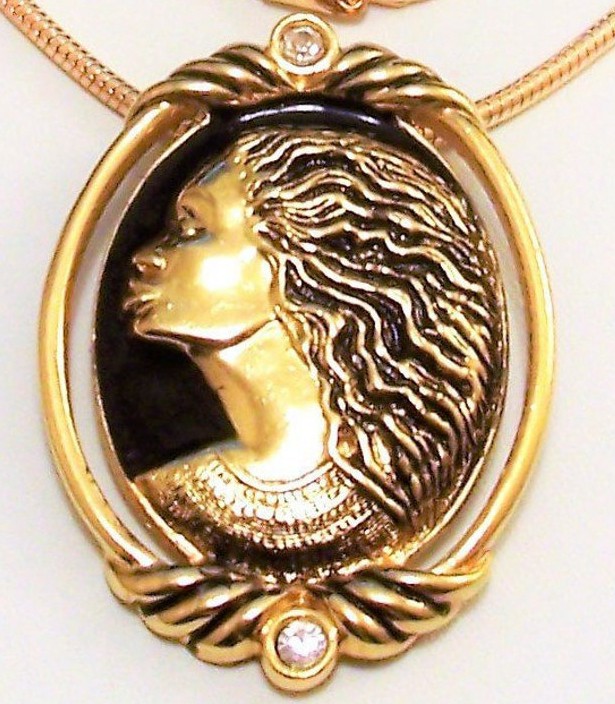 Louis Féraud (Louis Féraud Paris)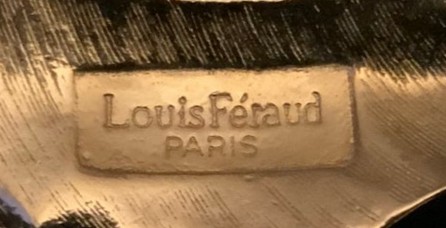 Elizabeth Taylor (white Diamond)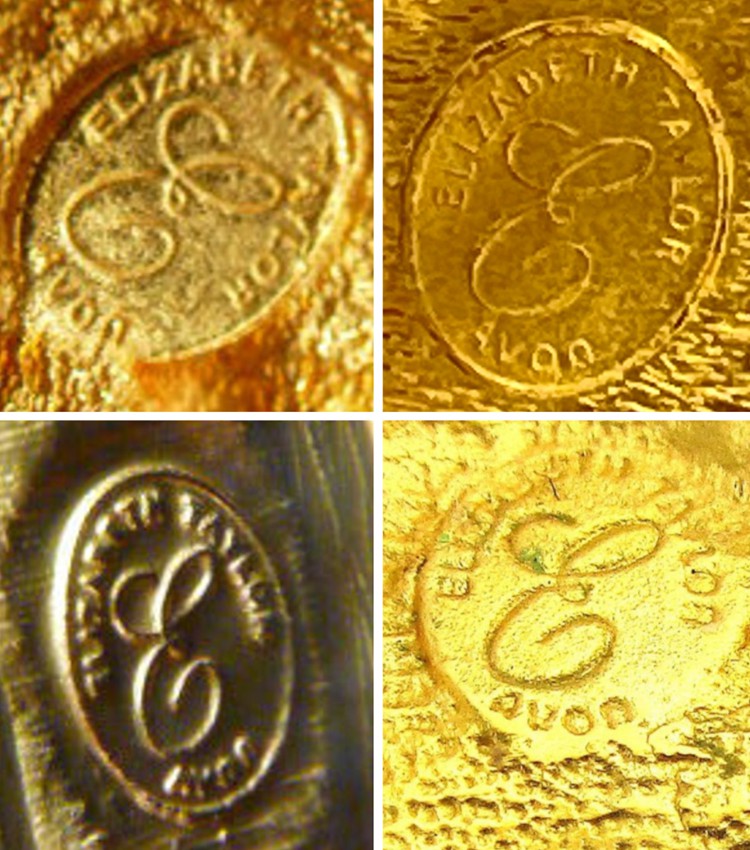 They also worked with other costume-jewelry companies to manufacture collections and jewelry pieces. Here's a list of their partners:
Ungaro
Swarovski
Centennial
Trifari
Celine Dion
Vintage AVON Jewelry Marks
There are many styles of jewelry made by AVON that possess markings. All of which come in different forms. As it could be in the form of a brand name, artist's initials, or production line code. For instance, the Brand name which is AVON is usually stamped upon discrete areas of most jewelry. However, certain AVON jewelry also possesses the brand name but it's enclosed in an oval.
Another good reason for marking AVON jewelry is to ensure the quality of your piece can be determined. For example, sterling silver jewelry which was made with top-level silver will be marked with the mum "925".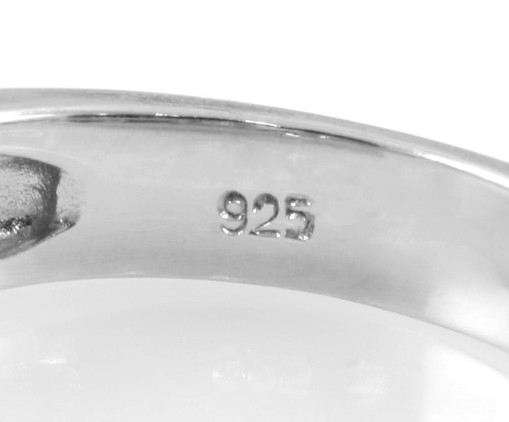 What Does sh/on/sp/hs Mean On AVON Jewelry?
Such markings are merely company codes. Used to give the product made at that particular time a mark for inventory purposes. However, some of these signs could be an addition to a special occasion. For instance, HS is among the few AVON jewelry that stands for Honor Society.
How Can I Date A Piece Of AVON Jewelry
Now that you're able to examine AVON vintage jewelry via its marks and brand. The next step to take is to help date your findings. That way you can have a good idea of the value their products carry in today's market.
How To trace when your AVON jewelry was made:
Here are Three ways to go about this process:
Examine The Markings
A good way to start is to look for markings. Which could be a sign of collaboration work with other companies or artists. Most marked AVON jewelry fit this description. And it clearly indicates your AVON jewelry pieces were most likely made with 1970 – date.
If there were to be little or no markings, then your AVON was probably made not far from when the jewelry line (1963) was introduced. Which is usually from 1963 to 1970 (AVON jewelry was given out as gifts during this Era).
Material Of The Jewelry
Another way to tell when your jewelry was made is to take note of its material. For instance, between 1963 to 1970 materials such as gemstones and fancy plastics like resin, lucite, and thermosets were primarily used. It was during the official sale of AVON jewelry that other materials such as diamonds and pearls were introduced.
Color Or Tone
You can tell when your AVON jewelry was made from the tone of its colors. Gold, as well as bright and pastel colors from rhinestone/gemstones, were quite common designs in the earlier years of the AVON jewelry line.
How To Sell Jewelry With AVON
After following the instructions and advice we've set out for you, then its value should be noted at this point. So that you can cash in on the jewelry. As you can't make a proper sale without having an idea of what your piece really costs.
How do you sell your AVON jewelry? 
Here are various ways to sell your AVON jewelry pieces:
Sell Near You
The easiest way to sell your AVON jewelry is by visiting a nearby jeweler, who might have all the necessary information to price your AVON piece. Another viable option would be to visit a pawn store. However, they are known to offer a lower price than its actual value.
Sell Online
You can also make use of the internet to make sales. For instance, the most popular site for selling antique vintage jewelry is eBay.
Auction House
This is also a great option for selling vintage jewelry. But the item at hand must have a high value which could damage thousands of dollars.
Frequently Asked Questions:
Q: What Does AVON s/s Mean On Jewelry mean?
A: The mark S/S stands for Sterling Silver. Which is used to indicate the quality of the silver.
Q: What Does RJ Stand For On AVON Jewelry
A: The RJ mark stands For Registered Jeweler.
Q: When Did AVON Jewelry Mark Earrings With Initials NV and acon
A: NV markings on the jewelry means the silver it's made of came from the Nevada Silvermine. Whilst Acon is another brand that worked with AVON on making an entire jewelry collection or piece.
When the jewelry line was released in 1963, AVON wasn't interested in making jewelry with silver and did not work with other jewelry designers until 1970. So NV and acon marks were probably added to various avon products such as rings, earrings, and others from 1971 to the '90s.
Q: Why Is Vintage AVON Jewelry Do Not Fade
A: AVON jewelry is known to last the test of time far better than most pieces of jewelry. As their metal products such as earrings and rings are usually covered with an anti-tarnish coating.
Conclusion
Ever since the introduction of the jewelry line in 1963, Avon has produced vast amounts of styles. So identifying/comparing your piece and finding its value is only going to be stressful. With this post, you should trace the value of your piece(s) fairly easily. As we've discussed how to date them from the markings and materials used in making them.
That way, you can tell whether your piece was once considered as a gift given out to customers for buying Avon perfumes ( before 1970). Or it's one of the pieces that were sold after 1970.
We've also provided 10 Most Valuable Rare Vintage Avon Jewelry along with their prices. So that you can have an idea of how to find and value your Avon jewelry piece at hand.