Rhinestones account for a sizable portion of the world's jewelry, which is understandable given that they are beautiful works of art or, in this case, beautiful jewelry pieces.
If you're considering purchasing rhinestone jewelry, you may wonder, "How much do they cost?" or "Where can I purchase rhinestone jewelry?"
Or are you a rhinestone jewelry collector who also collects antique jewelry? These are all good questions, and in this article, we'll discuss the various types of rhinestone jewelry, their manufacturers, and their prices. Continue reading for more information.
What Is Rhinestone?
A rhinestone is a man-made, artificial replica of a cut and polished gemstone. Rhinestone jewelry is thus any adornment with rhinestones, such as rings, necklaces, or brooches.
The History of Vintage Rhinestone Jewelry
Centuries ago, fine pebbles were found on the banks of the European Rhine River. These pebbles were increasingly sought after, and because of this, they depleted quickly.
The depletion inspired jewelers to create an imitation of what they saw. This imitation is what we know as rhinestones.
In the 13th century, rhinestones were referred to as Czechoslovakian or Bohemian glass in Bohemia and the Czech Republic. By 1918, the use of glass in manufacturing was no longer restricted to utilitarian goods such as furniture.
Austria is also credited for the manufacturing of rhinestones. Daniel Swarovski invented the new glass-cutting machine in 1891, which transformed the jewelry industry.
The machine was capable of cutting faceted glass and producing a finely finished product in a very short amount of time.
He didn't stop there, though. He also developed a vacuum plating technique for the backs of rhinestones with silver and gold, eliminating the need for human labor.
Swarovski's glass-making and glass-cutting abilities earned him a high spot in the creation of beautiful rhinestones.
19 Types of Vintage Rhinestone Jewelry
Rhinestones are commonly used to create necklaces, brooches, bracelets, earrings, anklets, and wristwatches. In this section, we will discuss 19 types of vintage rhinestone jewelry with monetary value.
1. Vintage Faux Pearl and Rhinestone Necklace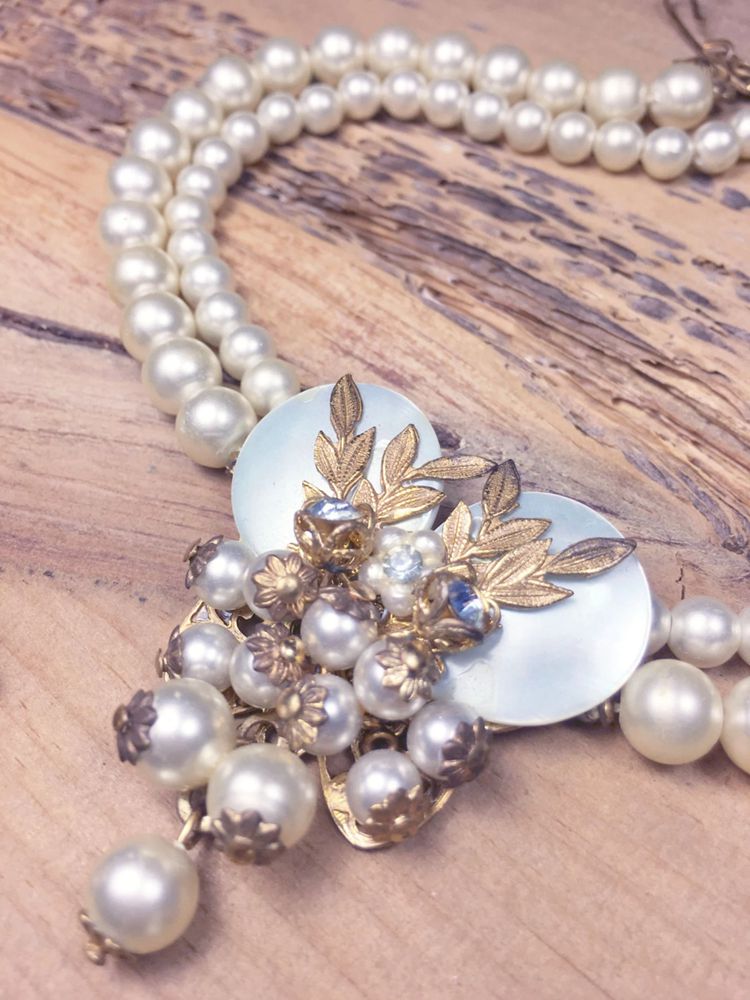 Faux pearls are imitations of genuine pearls, just as rhinestones are imitations of tiny pebbles found along the Rhine River in Europe.
Marine oysters and freshwater mussels produce natural pearls as a natural defense mechanism against irritants such as parasites entering their shells or damage to their fragile bodies. This resulted in the formation of a nacre, also known as the mother of pearl.
Makers of pearl jewelry can induce these marine creatures to produce pearls by injecting them with irritants that stimulate the production of pearls.
In 1686, Jacquin developed faux pearls out of hollow blown glass spheres coated on the inside with crushed fish scales dissolved in liquid.
Faux pearls and rhinestones can now be combined to make a piece of jewelry. On Etsy, the 1940 vintage faux pearl and rhinestone necklace shown above is priced at $260.
2. Vintage Clear Rhinestone Baguette Lily Flower Brooch
Unsigned jewelry, such as this one, may appear to be junk at first look, but the truth is that it may be precious. Unsigned or unmarked jewelry is not synonymous with mediocrity.
Although the silver unsigned brooch pin seen above is missing a few rhinestones, it is nonetheless precious, selling for $75 on eBay.
3. Vintage Rhinestone and Pearl Castle Brooch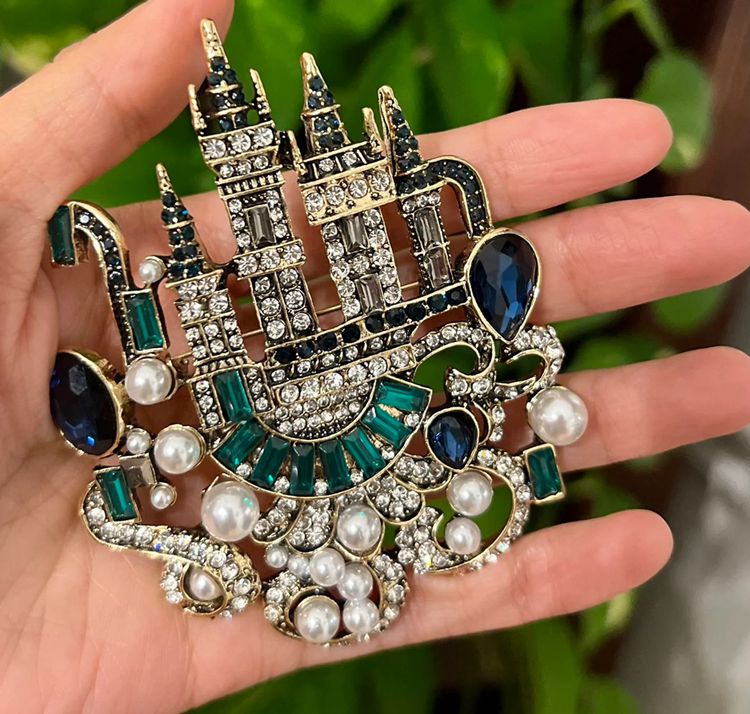 Rhinestone jewelry can come in a variety of styles, and this is one very unique kind. It is a vintage brooch with pearls and rhinestones in the shape of a castle.
It is a handcrafted object made of bronze. In addition, it is comprised of AAA material, the highest rating grade, which indicates exceptional quality and near perfection.
The design also employs a novel electroplating technique to ensure that the brooch will not fade quickly. On Etsy, the vintage castle-shaped brooch with rhinestones costs $79.
4. Vintage 1940 Crown Trifari Fur Clip Rhinestone Flower Brooch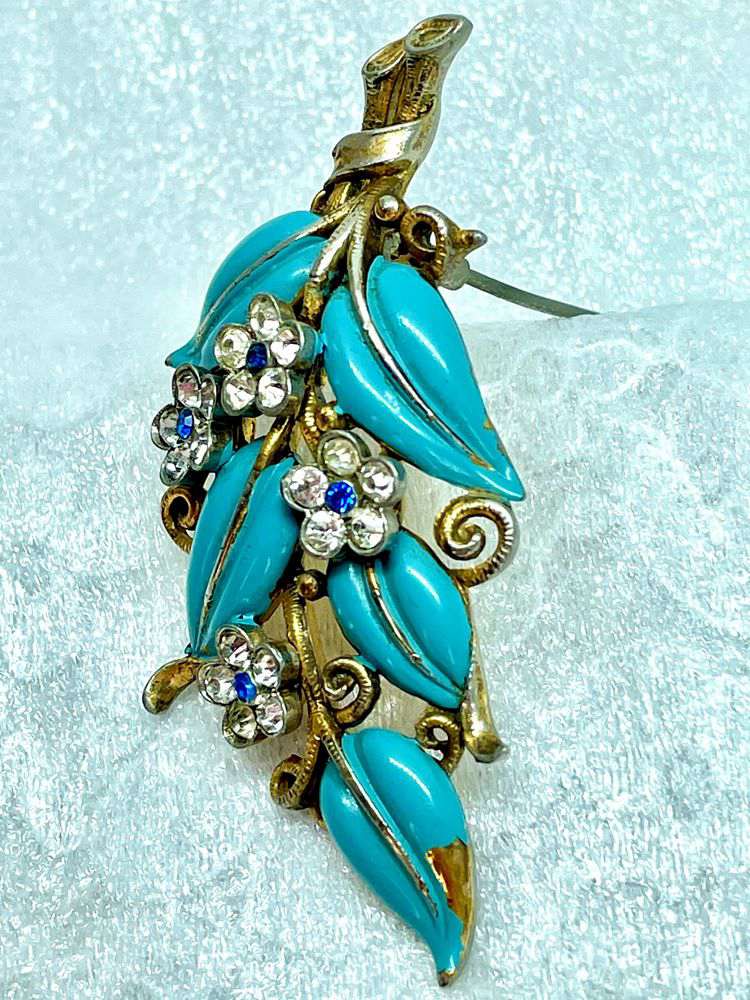 Trifari is one of the most valuable and sought-after vintage jewelry manufacturers. They've made a name for themselves by designing fashionable, high-quality jewelry. "Beauty" and "elegance" are often used to describe them.
The 1940 vintage crown fur clip is one of Trifari's many stylish costume designs, and it's worth $278 on Etsy. You should think about purchasing it right now because it is extremely rare.
5. Dodds Aurora Borealis Marquis & Baguette Rhinestone Pin & Clip-on Earrings Set
Dodds, which is owned by William Dodds, is another well-known rhinestone jewelry manufacturer. The original Dodds rhinestone jewelry depicted in the image is vintage, previously owned, silver in color, and features stones shaped like baguettes. It is priced at $180 on eBay.
6. Regency Vintage Faceted Glass Rhinestone Flower Brooch and Earrings Set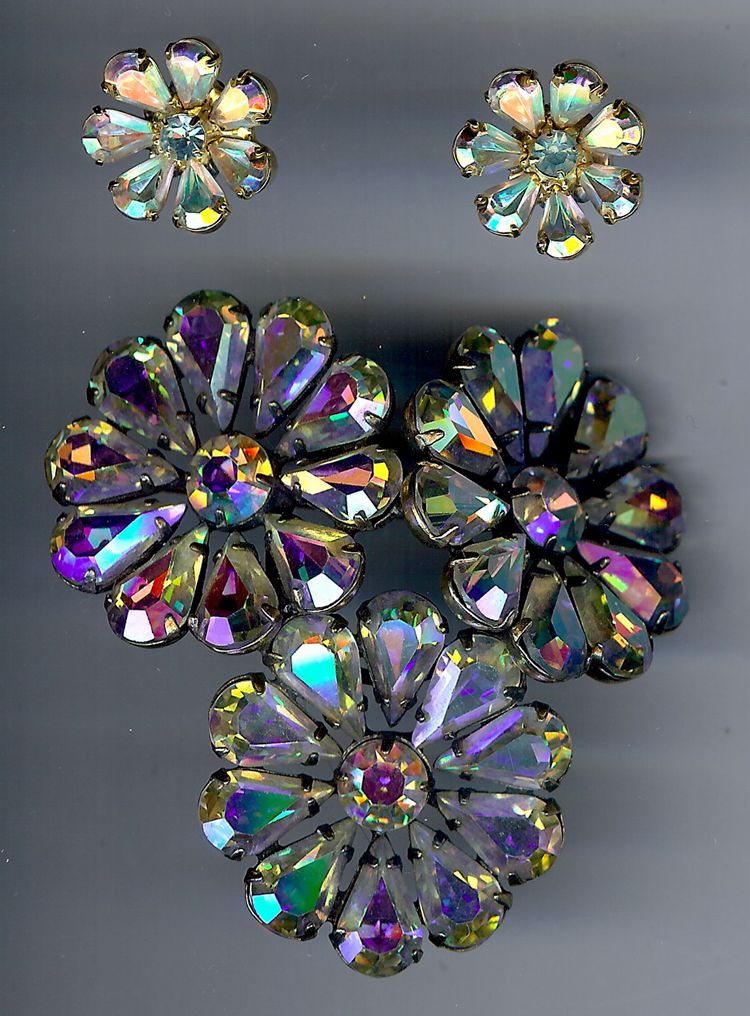 Regency has been a popular luxury jewelry brand in New York City since 1950. The business has patented "regency jewels" on its jewelry.
Only a few of the earrings from the Regency period are patented. The brand mostly has other jewelry pieces asides from the earrings marked "Regency." The faceted glass rhinestone flower brooch and earring set has an estimated value of $195 on eBay.
7. Vintage High-End Red Glass Rhinestone Necklace, Bracelet, and Clip-On Earrings Set
Red rhinestone jewelry sets are of the highest quality because red is a stunning, powerful, and emotionally charged color. Also, red is associated with solid qualities such as power and determination.
The unmarked high-end glass rhinestone jewelry set is available on eBay for $123. It comes with a necklace, bracelet, and clip earrings.
8. Vintage Kramer New York Clear Rhinestone Silver Necklace, Bracelet, and Earrings Set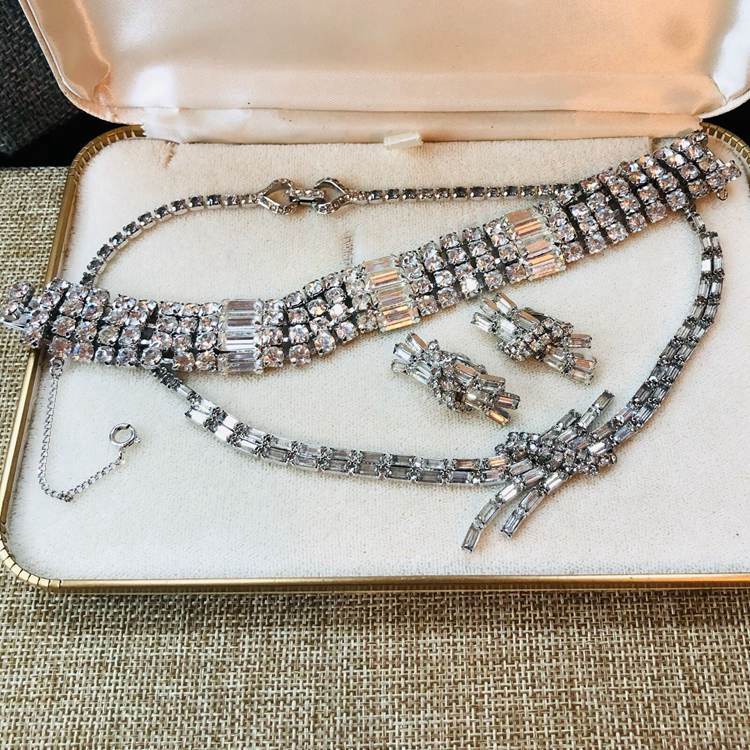 Louis Kramer, a jeweler, established the Kramer firm in 1943. In its prime, the company was known for producing some of the finest costume jewelry in the world.
New York's Kramer used Austrian crystals and high-quality rhinestones to create jewelry. The silver rhinestone necklace in the image above is no exception. It is a Kramer of New York silver-tone metal and clear rhinestone item. It is listed for $109 on eBay.
9. Blue Bridal Rhinestone Necklace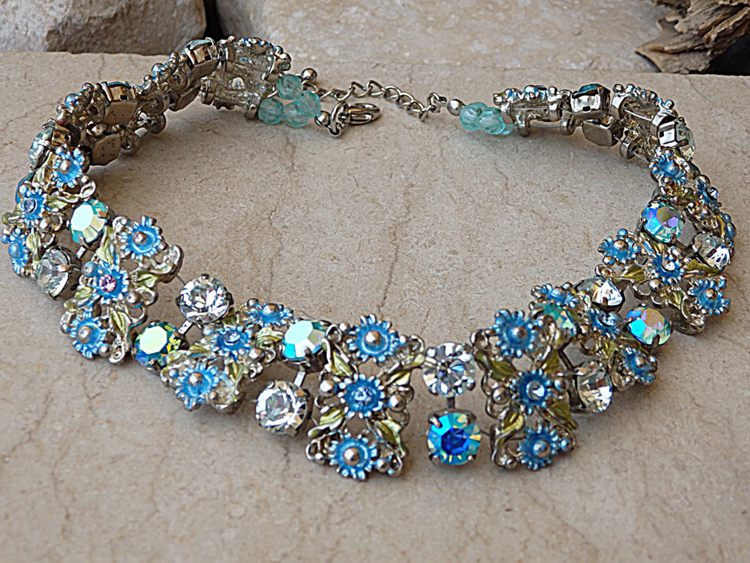 The blue bridal necklace is a one-of-a-kind, handcrafted creation from the early 2000s that is not associated with any particular designer. It features a silver enamel coating and crystal embellishments.
It's a wonderful addition to the bridal ensemble of the bride, bride's parents, or bridesmaids. You can get it on Etsy for $230.
10. Vintage Weiss Aurora Borealis Rhinestone Necklace
Weiss Jewelers, founded by Fred Weiss in 1915, is a family-run business that has thrived for over a century. The company has a reputation for designing and producing high-quality jewelry.
This 1950s Weiss aurora borealis rhinestone necklace retails for $88 on Etsy and features teardrop-shaped dangling stones.
11. Large Art Glass Navette Cabochon Rhinestone Green Brooch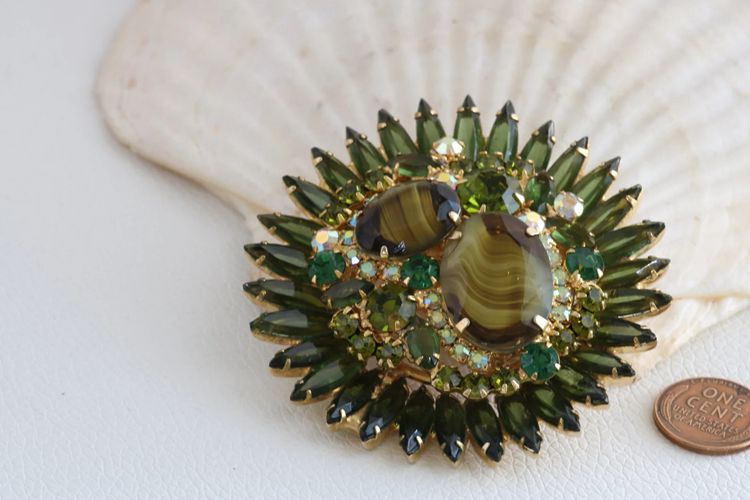 The navette cabochon design of rhinestones is a highly unusual and gorgeous type of jewelry. This unusual green navette cabochon brooch is made of glass, rhinestones, and gold-tone metal. It measures three inches and dates back to the 1960s. It can be purchased on Etsy for $150.
12. Vintage Signed Weiss Rhinestone Necklace
Weiss is, as previously stated, a family-run business with an eye for detail and a reputation for producing high-quality jewelry.
This vintage clear Weiss rhinestone necklace is another fine example of Weiss' craftsmanship. It is 15 inches long and a statement piece worth $150 on Etsy.
13. Vintage Iradj Moini Rhinestone-wrapped Ruby Heart Brooch
Iradj Moini has defined luxury costume jewelry since 1989 by combining the finest base materials and semi-precious stones with world-class craftsmanship.
Due to his background in architecture, Iradj Moini's founder, Moini, has a keen eye for detail, which he ensures is reflected in every piece of jewelry created.
The vintage Iradj Moini ruby heart brooch wrapped with rhinestones is made of glass, brass, and gold. Iradj Moini designed it as a tribute to the Italian jeweler Duke Folco di Verdura. It is available for $990 on Etsy.
14. Vintage Nancy and Raise Brooch
This vintage brooch from Nancy & Raise, a well-known jewelry company, is an eye-catching piece of jewelry that measures 1.5 inches in width and 1.25 inches in height.
The brooch's centerpiece is an opaline glass, and navette cabochon-shaped aurora borealis rhinestones are set along the sides. It can be purchased on Etsy for $110 dollars.
15. Vintage Gold Plated Clear and Black Kramer Rhinestone Leaf Bracelet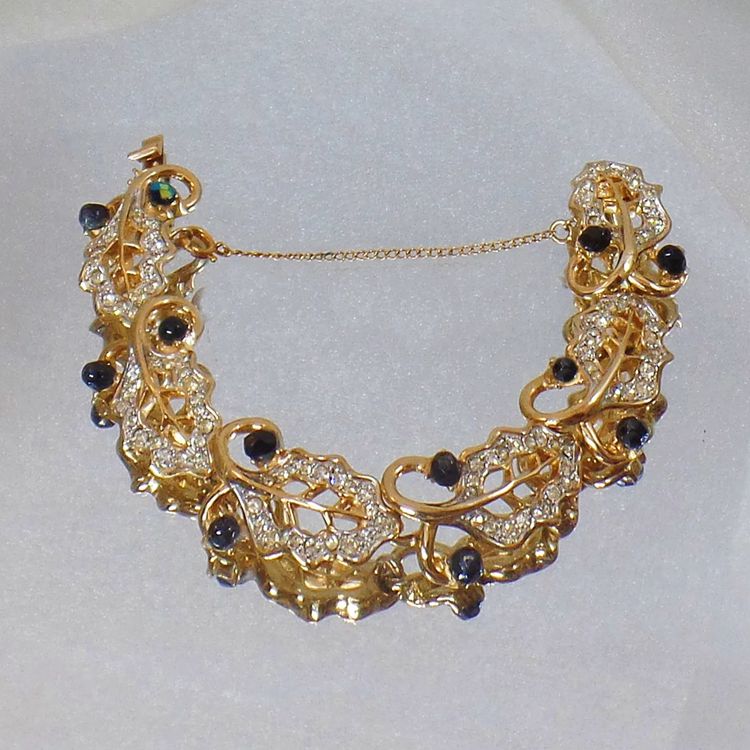 Another exquisite piece of vintage rhinestone jewelry crafted by Kramer, this one is distinguished by a design that incorporates both clear and black rhinestones that are gold-plated and leaf-shaped.
This particular gold-plated Kramer rhinestone is difficult to find. It measures six inches in diameter, is an antique, and dates back to the 1950s. It is available for $131 on Etsy.
16. Art Deco Emerald Cut Blue Ice Rhinestone Bracelet and Clip-On Earrings Set
This unbranded Art Deco emerald cut blue ice rhinestone set includes a bracelet and clip-on earrings. It is a silver-tone fashion costume design with a one-inch-wide earring and an eight-inch-wide bracelet. On eBay, it is valued at $190.
17. A Vintage Clear Rhinestone Necklace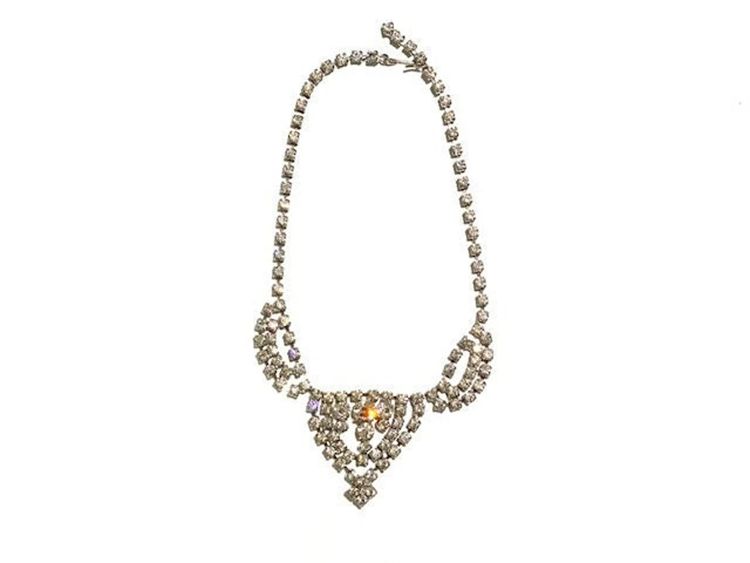 The silver-tone clear rhinestone necklace with the fish hook clasp is an unmarked vintage design from the 1940s. It is perfect for weddings, parties, or any social event or gathering. It measures 15 inches long, is quite rare, and can be purchased on Etsy for $199.
18. Vintage Lawrence Vrba High-End Designer Black Rhinestone Earrings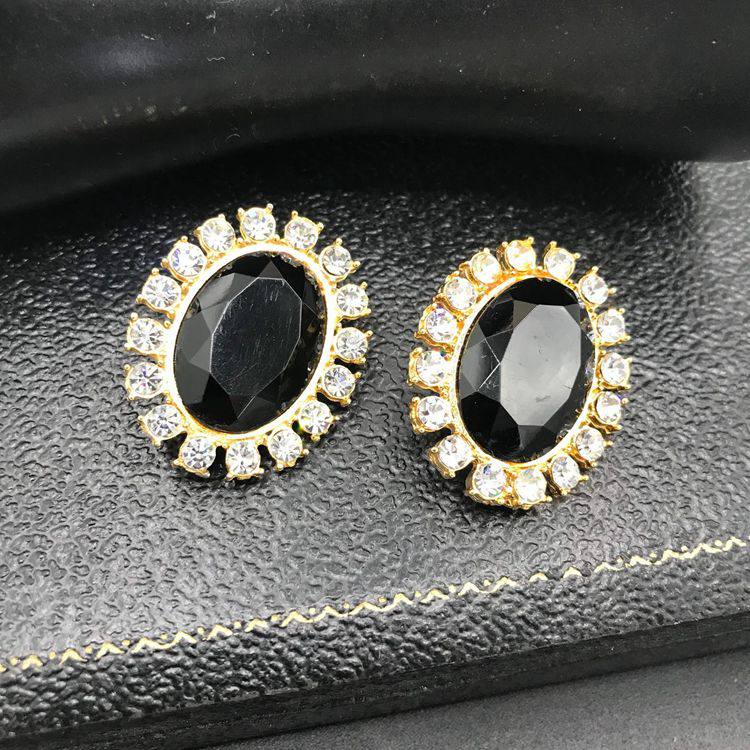 Miriam Haskel, an American costume jeweler, was well-known in the 1960s and 1970s. As her chief jewelry designer, Lawrence Vrba, a renowned jewelry designer in his own right, collaborated closely with Haskel.
Lawrence Vrba has transitioned throughout his 40-year career from working for other jewelers to designing and creating his own.
A pair of Lawrence Vrba designer rhinestone earrings is ideal as a bridesmaid gift or for a special occasion. It's an antique piece of glasswork that measures 5.5 inches in height and 2.75 inches in width and costs $115 on Etsy.
19. Vintage Penino Amethyst Rhinestone Bracelet
Oreste Penino founded the company in 1927, and collectors consider "Penino" jewelry rare and valuable. The company is renowned for its superior craftsmanship and only uses the finest rhinestones in its jewelry designs.
Since the company ceased operations in 1966, any original jewelry discovered to exist still is highly desirable and valuable. The antique Penino amethyst rhinestone bracelet, made of rhinestones and rhodium plated, is available on Etsy for $149.
Popular Rhinestone Jewelry Manufacturers
Rhinestones, by themselves, do not constitute or qualify as jewelry. For them to be considered jewelry, they must be assembled by a manufacturer employing additional materials. We'll go over a few well-known rhinestone jewelry designers from around the world.
Trifari
Gustavo Trifari, known as the "Father of Trifari Jewelry," founded the jewelry company. He was born in Italy into a family of exceptional goldsmiths, which influenced his future in the jewelry industry.
In 1910, he founded the Trifari company, which has since become known for producing high-quality rhinestone jewelry.
Weiss
Albert Weiss worked for Coro Jewelry in 1900 and realized he had a talent for jewelry creation, so he pursued it seriously and learned everything he could.
By 1942, Albert Weiss had established his costume jewelry company and hired artisans with expertise in the handcrafting of jewelry. Weiss jewelry quickly gained popularity because of their handcrafted and high-quality nature.
Unfortunately, the company folded due to financial difficulties in 1972. Despite this, the brand is still known for producing jewelry with high-quality rhinestones.
Kramer
Kramer is another well-known manufacturer of high-quality rhinestone jewelry. Louis Kramer founded "Kramer Jewelry Creation" in New York with his brothers Morris and Henry in 1943.
Over the years, Kramer has built a reputation for creating jewelry from the highest-quality Austrian rhinestones and crystals. They've also designed jewelry for companies like Christian Dior. To this day, Kramer is a popular jewelry brand for its creations.
Where to Find Vintage Rhinestone Jewelry for Sale
No matter how old they are, vintage rhinestone earrings, brooches, rings, necklaces, and anklets are still highly valued.
We previously discussed 19 distinct types of vintage rhinestone jewelry, most of which were linked to Etsy and eBay. Now, we will take a look at other options for finding vintage rhinestone jewelry for sale.
Amazon is a global corporation that specializes in e-commerce, cloud computing, digital streaming, and artificial intelligence.
It has been called "one of the world's most influential economic and cultural forces," and it is one of the most valuable brands in the world. It is a massive online marketplace where you can find almost anything, including vintage rhinestone jewelry.
1stDibs is yet another online marketplace that connects design enthusiasts to over a million unique items ranging from furniture and fine art to jewelry and clothing.
Listings on 1stDibs originate from a global network of reputable sellers who have all been thoroughly vetted by in-house experts.
Customers can buy directly from 1stDibs, negotiate a price, or bid on products at auction, as well as interact with sellers throughout the transaction, including item inquiries, price negotiations, and make customization requests.
BeadWorld, Inc. has been serving the Northwest Chicago Suburbs and the Chicagoland region since 1994, offering high-quality beads, collectibles, jewelry repair, and piercings, as well as vintage rhinestone jewelry, in-store and online.
The website Collectors Weekly is devoted to antiques, collectibles, and vintage items. The site combines live auctions with original content ranging from encyclopedia studies to multi-sourced articles intended to illuminate the cultural history of the items listed.
Ruby Lane is one of the largest online retailers of vintage items, with independent member dealers stocking antiques, vintage collectibles, apparel, jewelry, dolls, and art for retail sale.
Ruby Lane stores sell products at fixed prices rather than through auctions, and the company does not receive sales commissions.
ShopStyle is a digital shopping platform owned by Ebates that began in 2007 as a fashion Web search engine. It eventually evolved into a marketplace and source of fashion inspiration.
In addition to vintage rhinestone jewelry, ShopStyle offers approximately 14 million products in the categories of clothing, accessories, beauty, home furnishings, and children's items.
Rhinestone Rosie is a remarkable vintage jewelry company created to attract thousands of exquisite pieces of antique jewelry for sale, full-service costume and fine jewelry repairs, estate evaluations, and jewelry purchasing.
In addition to their online store, Rhinestone Rosie also operates a physical location in Seattle.
Pop & Glam Vintage is an established resource for stylists and vintage enthusiasts worldwide. They offer vintage items in good condition that have been hand-picked by an official based on condition, quality, and design.
Frequently Asked Questions
How Do I Clean Rhinestone Jewelry?
To clean rhinestone jewelry, soak a soft toothbrush in a mild soap and water solution. Rhinestones must be cleaned because there is a high possibility of buildup, which can cause damage if not removed properly.
How Do I Prevent My Jewelry's Rhinestones From Falling Off?
Rhinestones are prone to falling off. If a rhinestone comes loose, the best solution is to apply a dab of nail adhesive to the spot and reattach the stone. This keeps your rhinestone jewelry looking new.
Can Toothpaste Be Used to Clean Rhinestone Jewelry?
No, toothpaste is ineffective for cleaning rhinestone jewelry. It's a myth that's been around for a long time. Toothpaste can even cause jewelry to corrode and tarnish.
Final Thoughts
We have examined 19 unique types of vintage rhinestone jewelry, including the most popular necklaces, earrings, and brooches. We have also observed that numerous companies have produced rhinestone jewelry for over a century.
We hope this value guide has helped you understand the cost of rhinestone jewelry. Kindly leave any comments you have in the comment section.