Just before you pop the big question, you should know that there are many types of engagement rings out there, diamond ones are the most common, and almost everyone uses them to propose these days. If you want to stand out, you should consider vintage options.
Some people do not fancy the idea of purchasing an engagement ring for their spouse and then seeing another person wear the same piece. If you belong to this category of people, I would strongly advise that you say goodbye to regular rings and start considering vintage engagement rings.
A vintage ring is always rare and very expensive, some special pieces even date back to different eras and times. In this article, we have put together a list of vintage engagement rings that you might consider and also categorized them in different eras to suit your needs.
Are vintage rings worth it?
Yes, vintage rings are definitely worth it in terms of value, price, and other factors. However, not in all cases would you need to break the bank to purchase a vintage engagement ring for your spouse, while there are expensive ones in the market, there are also very affordable ones out there that give the same vintage feel.
Georgian Engagement Rings – Era (1714-1830)
The first 10 rings I will be showing you were all inspired by the Georgian Era, this era was a time of hyperactive social activity, and extravagant fashion. This era was named after the four Hanoverian kings. Due to the unique build of Georgian-inspired engagement rings, most brides would love it.
During this era, they were strict dressing rules that would have to be followed in order to gain social approval. Women would have separate dressing styles for different times of the day and these styles were strictly followed. Light colors were worn during the day and darker colors after sunset. There were also strict rules for wearing jewelry, pearls or diamonds were not considered appropriate to wear during the day. However, the ladies of this era always had lots of options at their disposal. Here are some Georgian era-inspired engagement rings;
1. Regency 9ct Gold, Garnet & Opal Cluster Ring
This 9ct gold ring was made around 1830. It is a claw set with six well-matched garnets. In the center is a cabochon opal with a smaller cabochon opal on each side. Either side of the shank is engraved with leaves. The stone combination is just lovely.antiquejewellerycompany.com
2. Georgian 15ct Gold & Silver, Cushion Cut Diamond Three Stone Ring
A lovely ring that was created between 1800 and 1820. The shank is 15ct gold and it's typical of the period with tulip shoulders and a well-decorated pattern.antiquejewellerycompany.com
3. Antique Georgian Diamond Aquamarine Mourning Ring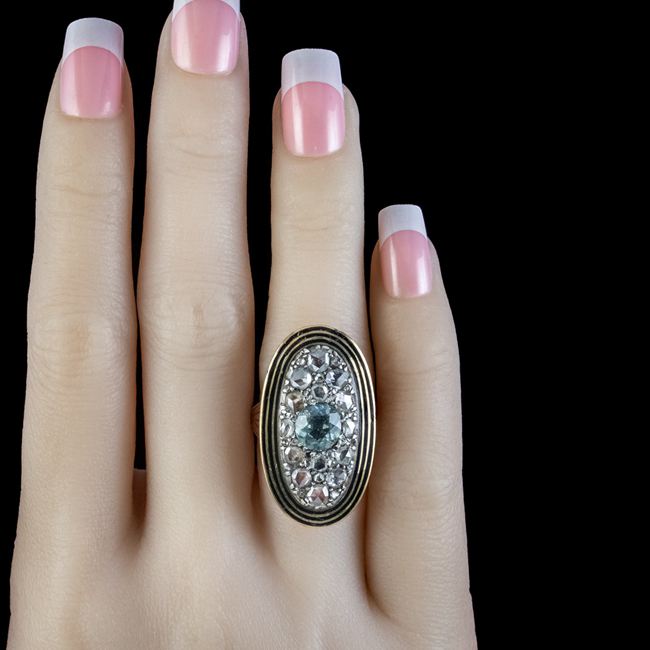 This particular ring belonged to the Antrobus family that descended from a medieval Cheshire gentry family based at Antrobus hall. Handcrafted in England by a master craftsman, this Antique Georgian ring features an oval face surrounded by a black enamel frame and a Silver center encrusted with sparkling Rose cut Diamonds.laurelleantiquejewellery.com
4. Georgian Style Rose Cut Diamond Cluster Ring
Brushed-Gold-and-Silver, the ring is made back and shank which features beautiful floral engraving down both shoulders.laurelleantiquejewellery.com
5. Georgian Style Diamond Snake Eternity Ring
A snake ring crafted in silver (metal) backed with gold (metal). The ring also features diamonds (gemstone).laurelleantiquejewellery.com
6. Georgian Gold, Foiled Citrine & White Topaz Cluster Ring
This Georgian ring was made around 1780. It has been set with a foil-backed citrine surrounded by cushion-cut white topaz set in silver pinch collet settings.antiquejewellerycompany.com
7. Georgian Gold & Diamond Oval Ring
A 15-carat gold ring was made around the late 18th century. It's oval, with a blue glass insert in it. It also has a diamond-set flower around it and is surrounded by pearl drops.antiquejewellerycompany.com
8. Georgian 15ct Gold Acrostic Ring
This vintage engagement ring was made circa 1800-1820. It is composed of a pansy. The pansy is a pun on the French words "pensee a moi" which means "think of me".antiquejewellerycompany.com
9. Georgian Antique Rose Cut Diamond Ring
Natural rose-cut diamonds are the most captivating because of their facet size, which allows the refraction of light from every angle.georgianjewelry.com
10. Georgian 18ct Gold Ring
This exceptional 18ct gold Georgian ring has an open ovoid-shaped shank that was made circa 1760-1780.antiquejewellerycompany.com
Victorian Engagement Rings – Era (1837-1901)
The next 10 sets of engagement rings you will see below are of the Victorian era. This was the period of Queen Victoria's reign. This era followed the Georgian era and it lasted for 28 years. It was the time of the world's very first industrial revolution. Women's fashion during this era was mainly dominated by full skirts.
During this era jewelers used an extensive variety of gems for creating rings and other jewelry, some of these gems include; Agate, amber, diamond, emerald, topaz, quartz and so many other precious gems.
Here are some amazing vintage engagement rings that were inspired by the Victorian era, in fact, some of the pieces listed might have actually come from that time.
11. Victorian 1.75 CARAT Engagement Ring
This Victorian antique ring is centered by a 1.75-carat old European-cut diamond and It's flanked by oval-shaped diamonds.erstwhilejewelry.com
12. Victorian 2.80 CARAT Engagement Ring
Here's a stunning antique ring, featuring as its centerpiece a gorgeous garnet cabochon. Surrounding the garnet are 19 small old European-cut diamonds.erstwhilejewelry.com
13. Victorian 1.13 CARAT Engagement Ring
This antique engagement ring in Victorian design features a VS2 certified diamond with a rose gold setting.erstwhilejewelry.com
14. Antique Ruby & Diamond Engagement Ring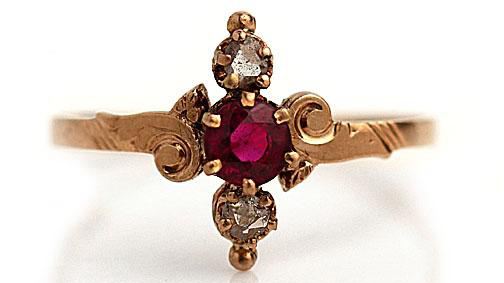 The ring has a natural pigeon's blood Burma ruby, along with two rose-cut diamond accents. The ring is crafted from 10 karats rose gold and features swirling metalwork and linear engravings.vintagediamondring.com
15. Victorian Solitaire Engagement Ring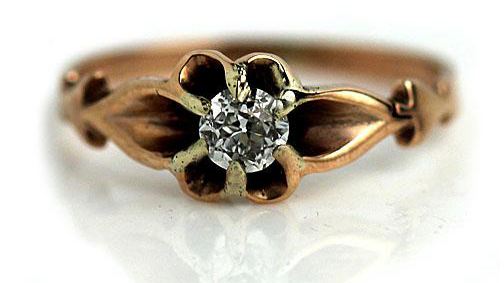 This diamond is surrounded by 6 prongs and sits in a knife-edge setting. The ring was originally made in the early 1900s.vintagediamondring.com
16. Victorian Mine Cut Diamond Ring
The Belinda is a great representation of vintage elegance. The ring features a lovely .25 carat H color diamond from the early 1900s.vintagediamondring.com
17. Diamond Buttercup Engagement Ring
This antique ring has been updated with a modern diamond! The sweet buttercup setting is complemented by subtle details along the shoulders of the ring.marketsquarejewelers.com
18. Unisex Diamond Engagement Ring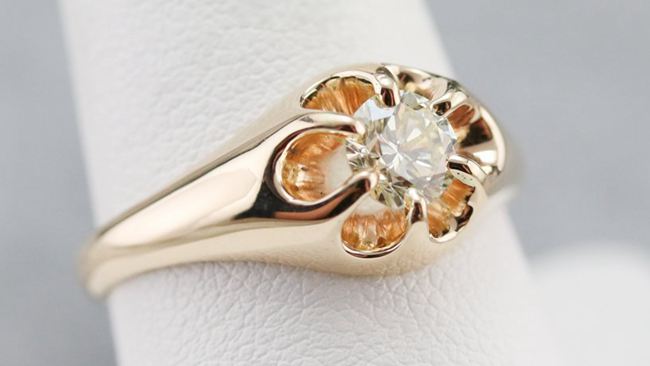 This ring is crafted of gold with a soft polish. In the center, a beautiful diamond rests on six corners like claws holding it in place.marketsquarejewelers.com
19. Victorian Tanzanite Engagement Ring
A warm yellow gold sits next to a bright blue gem in this Victorian solitaire ring. The low setting of the center stone is balanced by the polished sides.marketsquarejewelers.com
20. Victorian Engraved Belcher Ring
This is a classic Victorian belcher ring. The belcher was originally designed for a man's hand, named after its designer. It underwent many variations over the years.marketsquarejewelers.com
Edwardian Engagement Rings – Era (1901-1920)
The next 10 rings you are about to see belong to the Edwardian era, this was the last period in British history to be named after the ruler.
Shortly after Queen Victoria's era had come to pass, her son Edward VII became ruler, and then came the Edwardian era. It was in this same era that platinum became the preferred metal for fine jewelry.
Although this era was ruled by Edward VII for a period from 1901 to 1910, it is considered to have ended in 1914 at the outbreak of the first world war.
21. Antique Edwardian Emerald Diamond Ring
This antique Edwardian engagement ring is modeled in platinum and adorned with an old Colombian emerald claw set alongside two bright old European cut diamonds.laurelleantiquejewellery.com
22. Edwardian Style Tanzanite Diamond Heart Ring
A brilliant ring with a natural heart cut tanzanite surrounded by fourteen diamonds, it sparkles as much as your love.laurelleantiquejewellery.com
23. Antique Edwardian Diamond Ring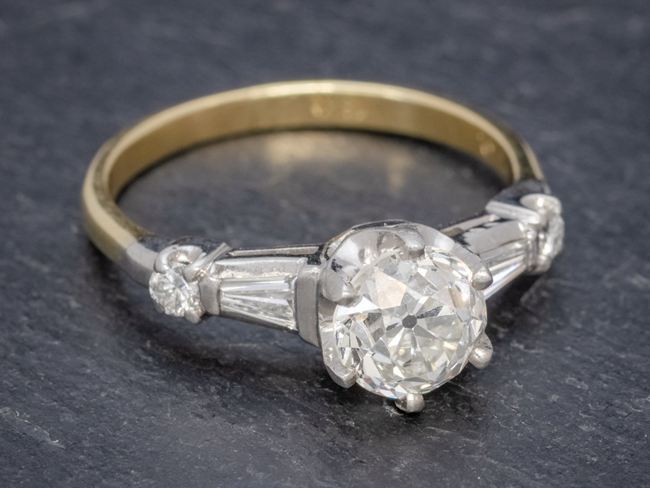 Here's yet another amazing Edwardian diamond engagement ring crowned at the top with a magnificent 1.49ct old European cut diamond.laurelleantiquejewellery.com
24. Edwardian Carat Marquise Ring
This antique ring set is 4.52 carats, marquise cut, I color/VS1 clarity within a scalloped designed gallery enhanced by single-cut diamonds which extend to the shoulders.erstwhilejewelry.com
25. Edwardian Oval Cut Pink Sapphire Ring
An Edwardian ring with an oval-cut pink sapphire of approximately 1.75 carats, mounted in milgrain platinum.erstwhilejewelry.com
26. Edwardian Open Faced Diamond Engagement Ring
The stone is set in a circular, open-faced setting, flanked by two bezel-set diamonds and surrounded by 18 other diamonds. The entire piece is crafted from platinum with milgrain engravings and swirls of intricate metalwork.vintagediamondring.com
27. Edwardian Diamond & Pearl Engagement Ring
Hand-crafted in platinum, this ring is a true piece of art. The intricate milgrain engravings and swirling metal work will make you fall in love with it!vintagediamondring.com
28. Edwardian Diamond Engagement Ring
The Greer ring is an authentic engagement ring from the Edwardian era. It is completed with open metal work and filigree engravings. A magnificent piece of authentic jewelry.vintagediamondring.com
29. Vintage Diamond Engagement Ring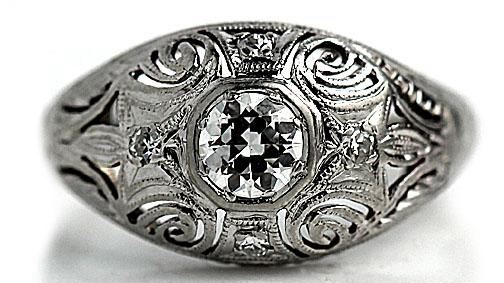 The diamond is surrounded by four single-cut diamond accents. Handcrafted in platinum, beautifully finished with swirls of metalwork and unique filigree engravings.vintagediamondring.com
30. Edwardian Solitaire Engagement Ring
An antique ring made of solid white gold. It is in good condition, with filigree engravings and open metalwork. The design is delicate and timeless, and the ring's solid construction means it can be worn for a long time.vintagediamondring.com
Art Deco Engagement Rings – Era (1920-1938)
The Art Deco period came right after World War I. With this period came modern styles. Art Deco was a prominent style for jewelry in the '20s. Jewelry in this period can be characterized by abstract designs and geometric patterns.
An Art Deco engagement ring would be the best option to buy for your spouse if he or she loves art, or is obsessed with lines and geometry. Most jewelry made in this period was fashioned in platinum or white gold.
Below are 10 more vintage engagement rings that are amazingly outstanding in beauty and belonging to the Art deco period. Unlike others above, some of these ones are quite affordable.
31. Art Deco Blue Sapphire Engagement Ring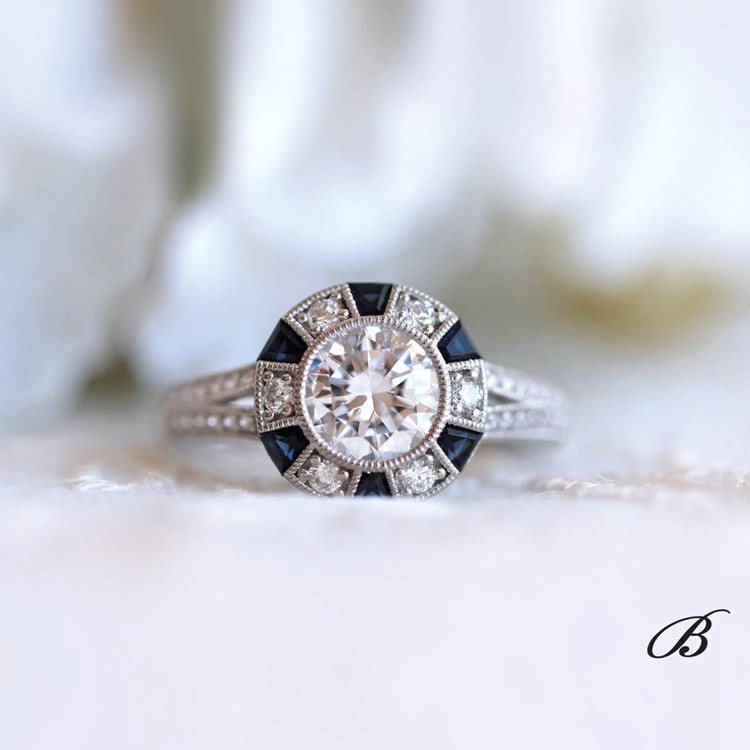 This is an amazing blue sapphire engagement ring that can also be used as a wedding ring. The geometry and lines are very unique.
32. Art Deco White Gold Diamond Ring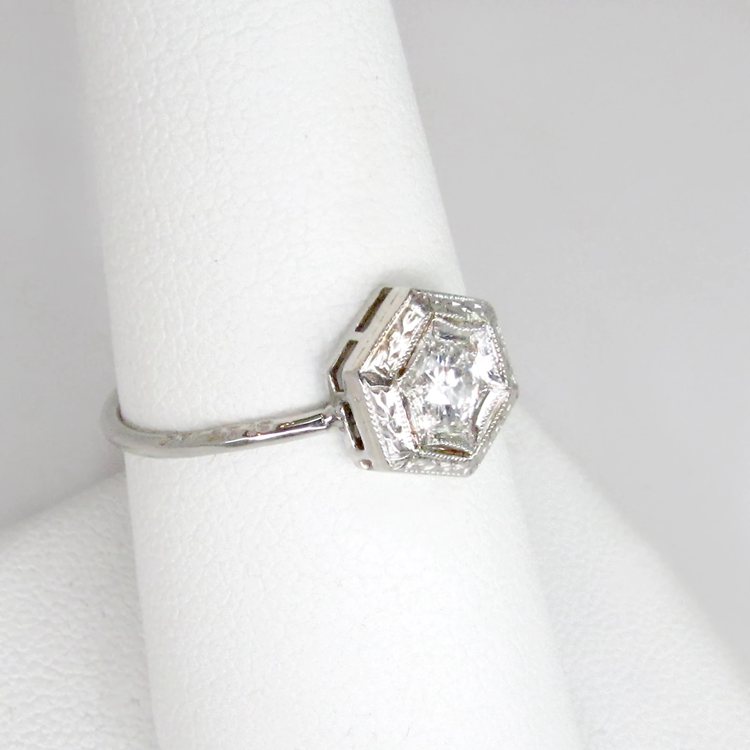 The combination of white gold and diamond makes this ring stand out. It has a hexagonal top and is very affordable.
33. Art Deco Engagement Ring Baguette Moissanite
The unique carvings and shapes on this Art Deco engagement ring make it stand out amongst others. I would highly recommend this product.
34. Art Deco Gold & Platinum Engagement Ring
Here is a vintage ring from the 1930s. The materials include white gold and diamond.
35. Art Deco Old European-Cut Diamond & Sapphire Engagement Ring
The center diamond of this piece  is an old European-cut with G-H color and VS1 clarity, accented by 38 old European-cut accent diamonds weighing in .25 carats.erstwhilejewelry.com
36. Art Deco Amethyst Engagement Ring
This is a vintage amethyst ring from the Art Deco era circa 1930s. The ring features 1.25 carats of natural purple amethyst.vintagediamondring.com
37. Art Deco Solitaire Engagement Ring
This ring is in very good condition. It has been crafted and finely finished using 18 karats white gold.vintagediamondring.com
38. Vintage Solitaire Diamond Ring
This art deco ring is crafted in gleaming 18 karats yellow gold and is accentuated with a beautiful openwork gallery.vintagediamondring.com
39. Art Deco French Sapphire Diamond Ring
A sizable Art Deco cocktail ring made in France, this ring is a treasure trove of sparkling diamonds.laurelleantiquejewellery.com
40. Art Deco Style Emerald Diamond Cocktail Ring
This is a lovely, rich green Emerald in the center weighing an impressive 2.39 carats.aurelleantiquejewellery.com
Mid-Century Engagement Rings – (1950-1965)
The designs of this period changed from the masculine and military styles usually seen in the 40s to a more feminine look and feel. In this century jewelers started creating stunning pieces of shiny diamonds. The build was very much modern with the use of gemstones.
The next 10 sets of vintage engagement rings are the kind of ones you would find in the mid-century period if you went back in time.
41. Mid-Century Emerald Cut Engagement Ring
An elegantly elongated emerald-cut diamond, weighing 2.76 carats, scintillates with an icy-white mirror-like gleam between scrolls of seamlessly set baguette diamonds, followed by a tapered baguette.langantiques.com
42. Coral and Diamond Cluster Ring
A square-cut emerald-cut diamond, weighing 2.76 carats, is located at the center of an 18k white gold ring surrounded by baguette diamonds in an elegant design.1stdibs.com
43. Cameo Ring in 14 Karat Gold
A special Cameo ring with rope is described in 14k Gold. This is quite beautiful for an engagement ring.1stdibs.com
44. Cartier Gold and Diamond Stack Ring
This ring fully envelops your finger in gleaming gold, which it "enhances" with radiant diamond and platinum sparkles.1stdibs.com
45. Natural Blue Sapphire Diamond Cocktail Ring
This is a cocktail ring made of 18k white gold and set with a blue sapphire and a diamond.1stdibs.com
46. 18 Karat Gold Emerald and Diamond Ring
This vintage 18 karat gold ring has a large diamond-shaped emerald in the center and brilliant diamonds on the stem.1stdibs.com
47. Mid Century Engagement Ring
A mid-century cocktail ring, crafted in 14 karats yellow gold, features an intricate design.1stdibs.com
48. Retro Diamond Bicolor Gold Band Ring
You will find this luxurious ring to be a very unique and elegant way to show off your love.1stdibs.com
49. GIA 14k Gold and Ruby Ring
This is a modernist design ring, crafted in 14k gold and encrusted with rubies.1stdibs.com
50. Jade Ring with Diamonds
This ring, with its Art Deco styling, actually dates to the Mid-Century.1stdibs.com
Retro Engagement Rings – (1935-1948)
Strong and independent women are often seen with this type of jewelry. During the retro times, jewelers started cutting diamonds in new shapes like pear, and the popular marquise-cut. Rings from the retro era were bright and bold.
If you have a confident and bold spouse, they'll surely love to have one of these as a vintage engagement ring. Below are 10 realtor engagement rings you might consider.
51. Retro Mint Green Tourmaline Diamond Cocktail Ring
Here's an extravagant and glamorous retro-style ring that features a unique tourmaline diamond.1stdibs.com
52. Vintage Italian Red Coral Diamond Yellow Gold Ring
A vintage Italian yellow and white gold ring with a red Mediterranean cabochon cut coral.1stdibs.com
53. Cushion-Shape Diamond Engagement Ring
A one-of-a-kind 18 karat rose gold French ring set with a cushion-shaped diamond.1stdibs.com
54. Gold & Diamond Retro Engagement Ring
An antique engagement ring that carries the mark of a famous jewelry designer.1stdibs.com
55. 18 Karat Yellow Gold and Sapphire French Retro Ring
This ring is hand-crafted by master jewelers. It features a line of 10 natural French cut blue sapphires, totaling about 3 carats.1stdibs.com
56. Two-Tone Round Moissanite Diamond Retro Era Engagement Ring
Handmade retro-era engagement ring made with gold, rose gold, silver, and white gold.
57. Retro 14K Gold Diamond Ring
This vintage ring is a classic example of retro jewelry and has an old-fashioned feel.
58. White Fire Opal Rose Gold Engagement Ring
This is a rose gold engagement ring with an opal and VVS man-made CZ diamond. The center opal is a 6.5mm round cut.
59. Old European Cut Diamond Vintage Ring
An amazing antique engagement ring with an old European cut diamond.
60. Pear Shaped Moissanite Engagement Ring
This pear-shaped moissanite engagement ring belongs to the art decor era but also has a place in the retro era.
Conclusion
The love of your life deserves the best and we have taken time to carefully select some of the very best vintage engagement rings. Feel free to go over the list again before making a pick. If you are finding it difficult to choose, we could help, simply describe your spouse in the comment section below and we would get back to you.
Thanks for stopping by, do well to share this article with your friends and family members that might be interested in vintage engagement rings.