Trifari jewelries have been around for ages; not only are they a household name when it comes to fashion. They are also very versatile and highly fashionable. The catchy names, unique designs, and themes set Trifari jewelry apart from other jewelries.
A 1933 Crown Trifari ruby red glass poinsettia flower brooch created by the popular jewelry designer Alfred Philipe sold for $7,499; making it the most expensive Trifari piece ever in history.
Here, we'll focus on showing you ways to determine the value of a Trifari jewelry and also how to properly identify the legitimate ones in a sea of inferior pieces. First, we start with the ten most valuable Trifari pieces in the world today.
The 10 Most Valuable Vintage Trifari Jewelry Around
The prices on the listed items were sourced from certified online stores, antique websites, and collector's lists. However, the costs may vary due to different sources, updated price lists, or vendors preferences.
| | | | |
| --- | --- | --- | --- |
| No. | Name | Release date | Price |
| 1 | Crown Trifari Ruby Red Glass Poinsettia Flower Brooch | 1933 | $7,499 |
| 2 | Alfred Philippe Jelly Belly Carnation Flower Brooch | 1945 | $6,500 |
| 3 | Alfred Philippe Green Crystal Flower Brooch | 1941 | $3,500 |
| 4 | Alfred Philippe Yellow Crystal Flower Brooch | 1940 | $2,500 |
| 5 | Alfred Philippe Red Enamel and Jade Belly Ming Bat Pin | 1942 | $2,345 |
| 6 | Alfred Philippe Sterling Jelly Belly Glass Blowfish Brooch | 1943 | $1,950 |
| 7 | Alfred Philippe Jelly Belly Spider Brooch | 1943 | $1,850 |
| 8 | Alfred Philippe Blue Crystal Clip Brooch | 1940 | $1,750 |
| 9 | Alfred Philippe Sterling Chrysanthemum Flower Brooch | 1944 | $1,500 |
| 10 | Jewels of India Triple Drop Set | 1960 | $999 |
1. Crown Trifari Ruby Red Glass Poinsettia Flower Brooch
Price: $7,499
Release date: 1933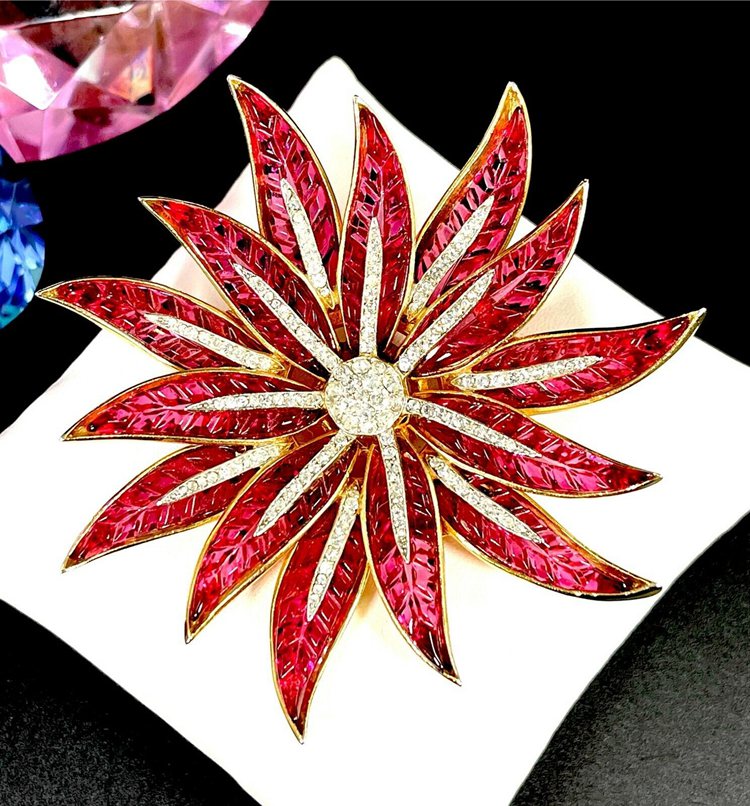 Alfred Philippe created this spectacular piece in 1933. Its so vintage yet very modern in its design and composition. This eye-catching beauty appears in a cool-toned ruby red hue with an invisible setting.
The silver details on the petals give it a realistic appearance, forms a beautiful contrast against the dominant ruby color and leads to a much bigger gem right in the middle of the big flower. There's also a Trifari mark right on the flip of the brooch.
This piece is a limited edition, and it sells for $7,499. Its delicate texture and tasteful design make it the center of attention.
2. Alfred Philippe Carnation Flower Brooch
Price: $6,500
Release date: 1945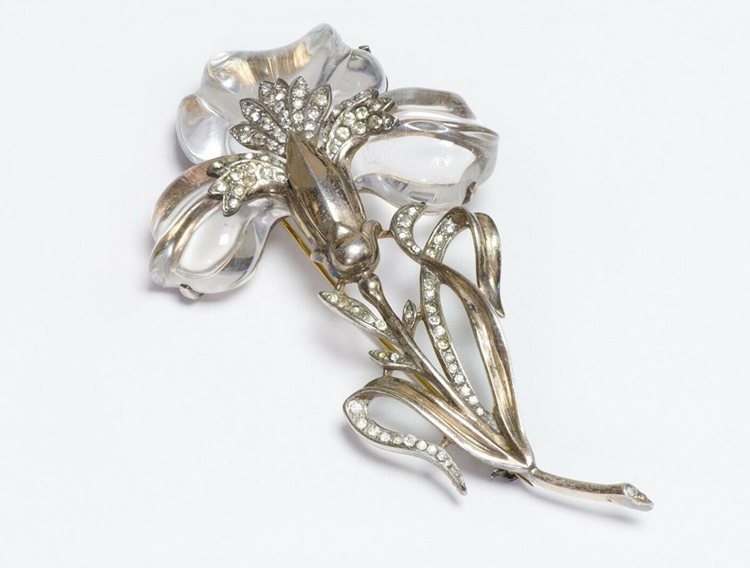 The brooch features a well-polished metal body complete with a row of silver details between clear Lucite stones at the top and similar silver stones on the leaves by the stem. You'll notice a pin on it which makes hold it easy and a trademark that takes away the stress of identification.
It was designed in 1945 by Alfred Philippe and retails for $6,500.
3. Alfred Philippe Green Crystal Flower Brooch
Price: $3,500
Release date: 1941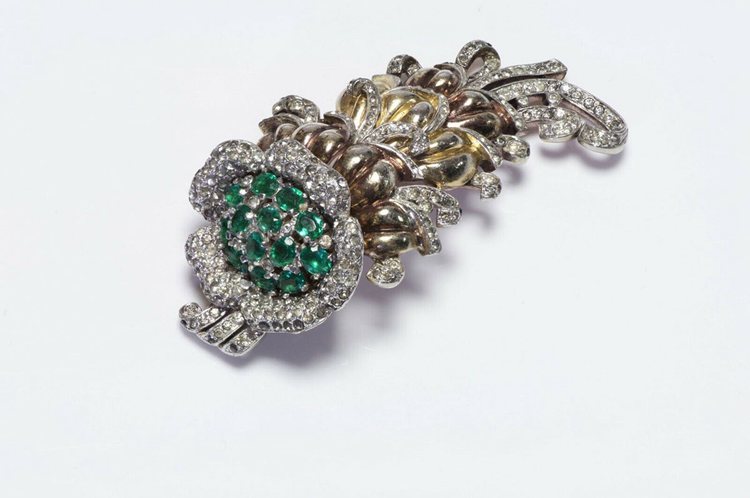 Shaped like a flower and featuring highlighted green gemstones sandwiched between small silver stones that are surrounded by an extensive round outline in silver highlight, we have the Alfred Philippe Green Crystal Flower Brooch.
On the body of the flower, gold details lead to the tail, which is also embellished in silver.
This piece is scarce and retails for a massive $3,500. It is a bold statement brooch that can accompany exquisite attires. It has a pin behind for attachment and the Trifari trademark.
4. Alfred Philippe Yellow Crystal Flower Brooch
Price: $2,500
Release date: 1940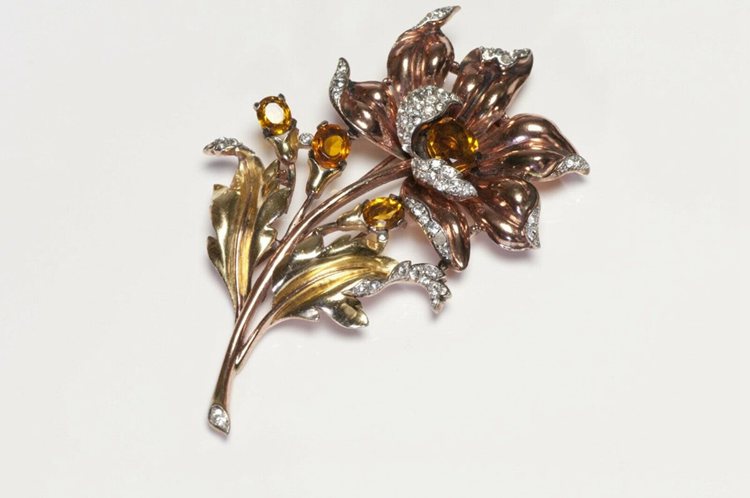 This Gold washed flower features three accompanying yellow-toned stones at the petal base with a tiny silver stone at the ears for extra glam. The leaves at the stem base also have shimmery silver highlights on their tip.
At the top of the flower, right on the surface of the Gold brushed petals lies silver stones. This creates a rather incredible contrast against the big yellow cabochon stone in the middle of the petal. It was designed by Alfred Philippe in the 1940s and goes for $2,500.
5. Alfred Philippe Red Enamel and Jade Belly Ming Bat Pin
Price: $2,345
Release date: 1942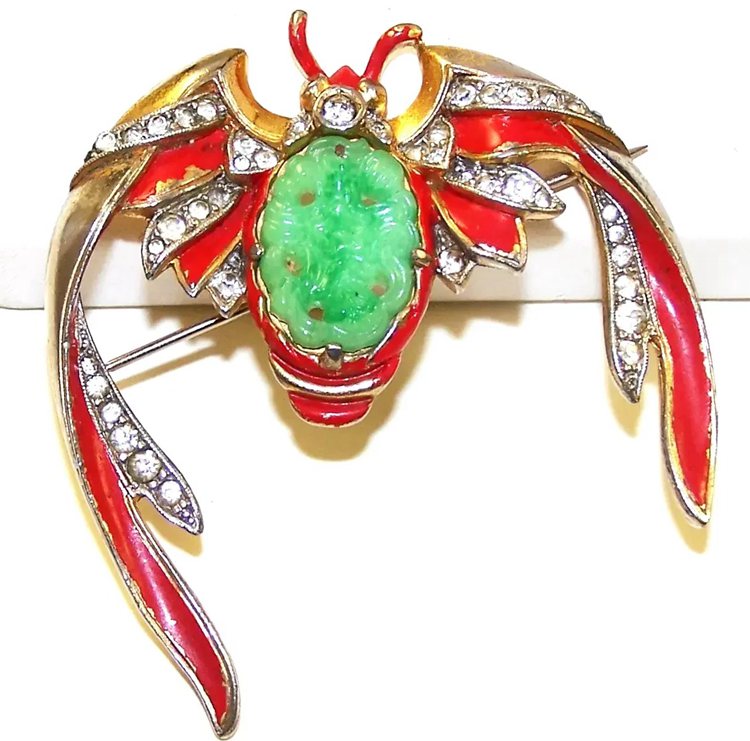 This piece is a brainchild from Alfredo Philippe, he designed it in 1942. The brooch consists of an artificial pierced jade stone at its belly, and it is surrounded by a radiant red enamel coating with clear rhinestone details on a gold-plated metal. It goes for $2,345.
6. Alfred Philippe Sterling Jelly Belly Glass Blowfish Brooch
Price: $1,950
Release date: 1943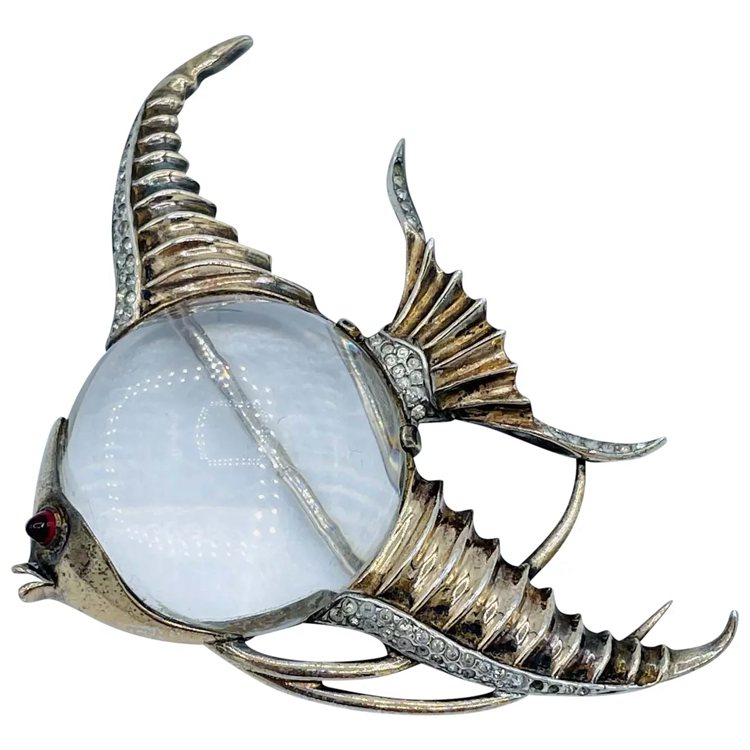 This rare $1,950 piece comes from the highly revered jelly belly collection. On the Fins and tails of the fish are shimmery silver details accentuating the polished metal and a red-colored stone at its eye.
A big round transparent Lucite sits at the belly of the fish. It also has a pin at the side for easy attachment.
7. Alfred Philippe Jelly Belly Spider Brooch
Price: $1,850
Release date: 1943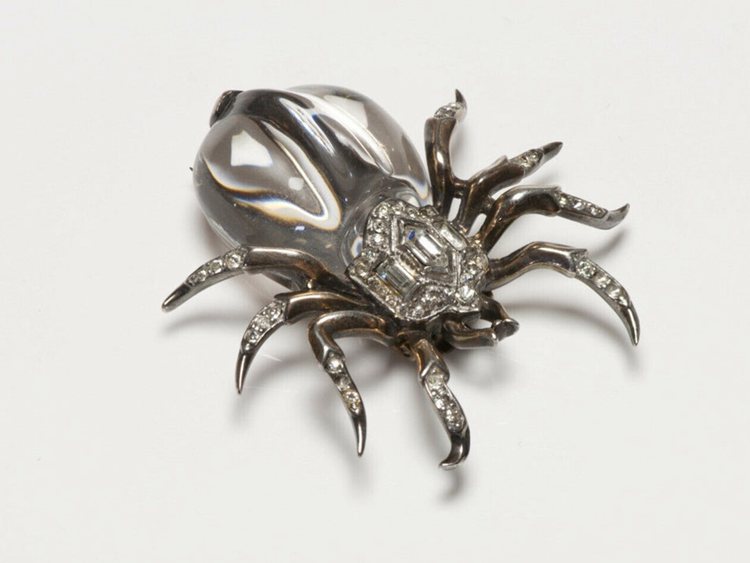 A true statement piece is shape, design, and appearance unmatched. This spider-themed brooch has a big transparent Lucite stone at the base and gold-plated silver claws with rhinestones at the tip and clasp.
This piece was designed by Alfred Philippe and it sold for $1,850. There's a pin behind to help with attachment and the Trifari logo to help you know it's legit.
8. Alfred Philippe Blue Crystal Clip Brooch
Price: $1,750
Release date: 1940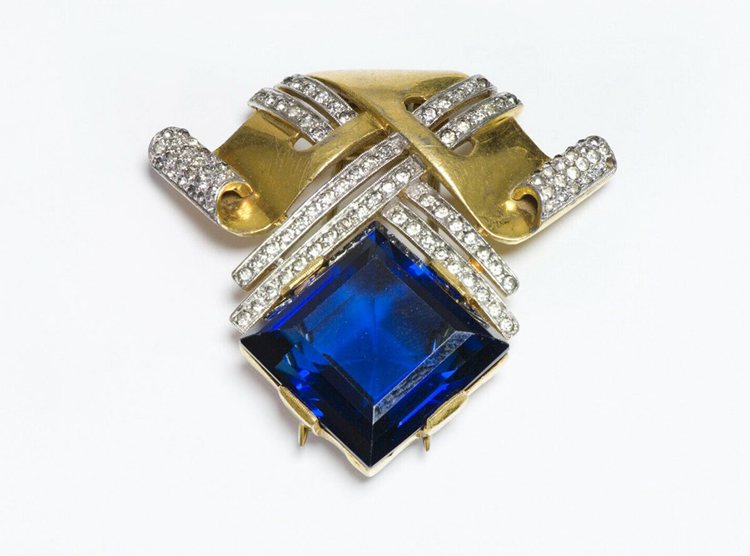 This beautiful crystal brooch is an excellent union of gold brushed metal, silver studs and a big blue cabochon to form one elegant piece.
One spectacular feature of Trifari pieces is the tasking techniques used to bring a concept to life. The crisscross affair between the gold-toned metal and silver stones right above the deep blue sea colored stone makes the work all come together.
A great accessory for jackets and dresses, this brooch goes for $1,750 and is designed by Alfred Philippe.
9. Alfred Philippe Sterling Chrysanthemum Flower Brooch
Price: $1,500
Release date: 1944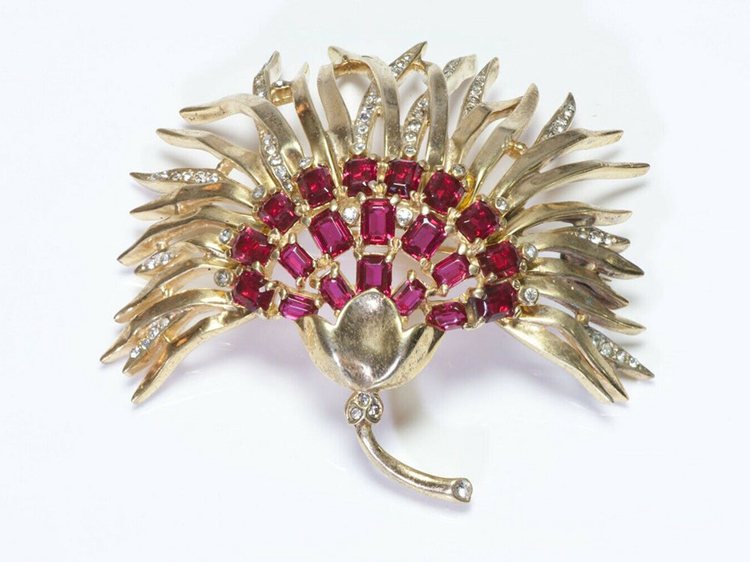 This flower brooch takes its imitation's true nature: colorful, elegant, and extravagant. A total of 20 ruby red and pink cabochon stones arranges in three rows to give this brooch a very distinct appearance.
Also, tiny silver studs rest against the gold brushed metal layers above the pink-colored section. This piece was designed by Alfred Philippe and sold for $1,500.
10. Jewels of India Triple Drop Set
Price: $999
Release date: 1960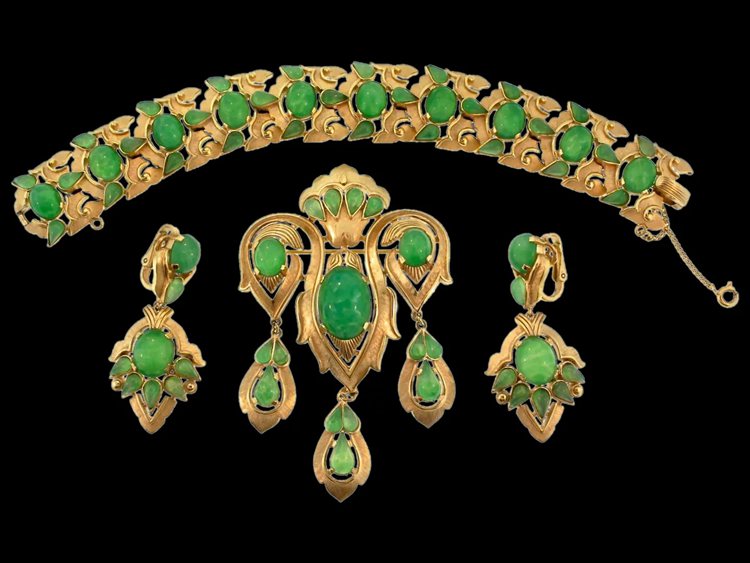 This $999 jewelry set features a gold-plated surface with faux green jade cabochons. They're an instant delight to the eyes. Within the set is a brooch with three teardrop stones in the same shade of green. They're also a set of earrings and a matching bracelet.
Alfred Philippe designed it in the 1960s, and its heavy outlook was inspired by Indian fashion.
A Brief History of Trifari Jewelry
Gustavo Trifari, a Naples native, brought the idea of Trifari jewelry to life. He was born into a family of goldsmiths; hence making jewelry a second nature to Gustavo. The company was created in 1910 and Gustavo relocated to the United States from Italy.
At first, Gustavo Trifari worked with his uncle under the Trifari and Trifari name. The production continued till his uncle left the business.
In 1925, the brand's name changed to Trifari, Krussman, and Fishel due to the business arrangement between Gustavo, Leo Krussman, and Carl Fishel.
Designers at the Trifari company were highly skilled and had previous histories of working with luxurious jewelry companies in the mid-20th century.
The Touch of Alfred Philippe
Alfred Philippe, a Parisian and a talented jewelry designer joined the Trifari company and was the head designer and creative director between 1930-1968. His era was popularly called the Golden era of Trifari.
Alfred elevated the status of the Trifari brand by introducing sophisticated designs and craftsmanship, including invisible settings that he had learned during his time at the Cartier, Van Cleef, and Arpels jewelry companies to the costume jewelry line.
Trifari under Philippe also ventured into creating costume jewelry for Broadway shows in the 1930s and Hollywood filmmakers for popular actors. This stellar marketing strategy pushed the brand to the top of the jewelry hierarchy. After an impactful run, Alfred retired in 1968.
End of An Era
By 1975, Trifari was bought out by Hallmark and was later sold to Liz Claiborne in 2000 along with Monet Jewelry- a top vintage jewelry brand who bought Trifari from hallmark in 1994. This purchase erased the existence of Trifari as an independent brand.
Not long after, Liz Claiborne relocated from the United States and continued production overseas majorly due to the economic advantages in this new country.
How to Determine the Value of Vintage Trifari Jewelry
Some factors such as age, design and condition determine the value of a Trifari piece. These are the things that collectors and buyers consider before acquiring any vintage jewelry.
Age of the Piece
Modern-day Trifari pieces are not as fragile, graceful, or popular as vintage Trifari jewelry. Since a significant majority of old Trifari designs are theme-based with catchy names and unique designs, you can be assured that they will sell for large sums at auctions or antique markets.
Design
Some collections under the Trifari line gained massive popularity due to their impressive designs and stories. For example, the coronation pieces were explicitly designed to celebrate the ascension of Queen Elizabeth the second to the British throne.
Also, the jelly belly with rare Lucite pearl set at the stomach of the poodle-shaped brooch, which is now a rare piece, and the American flag-inspired pins of 1940 called the patriotic collection. This jewelry is highly sought after by all and sundry.
Condition
A Trifari jewelry with a broken link or missing stone(s) will automatically depreciate. However, vintage Trifari pieces can easily break or lose parts due to their fragile nature. To prevent this, you need to handle your gems with care to get the correct value for your money.
How to Identify Vintage Trifari Jewelry
A vast majority of Trifari jewelries are made using different materials; this affects the quality. There are also quite a few others that imitations and of lesser quality, even the marks. We have come up with ways to help you spot legit Trifari pieces.
By their Hallmarks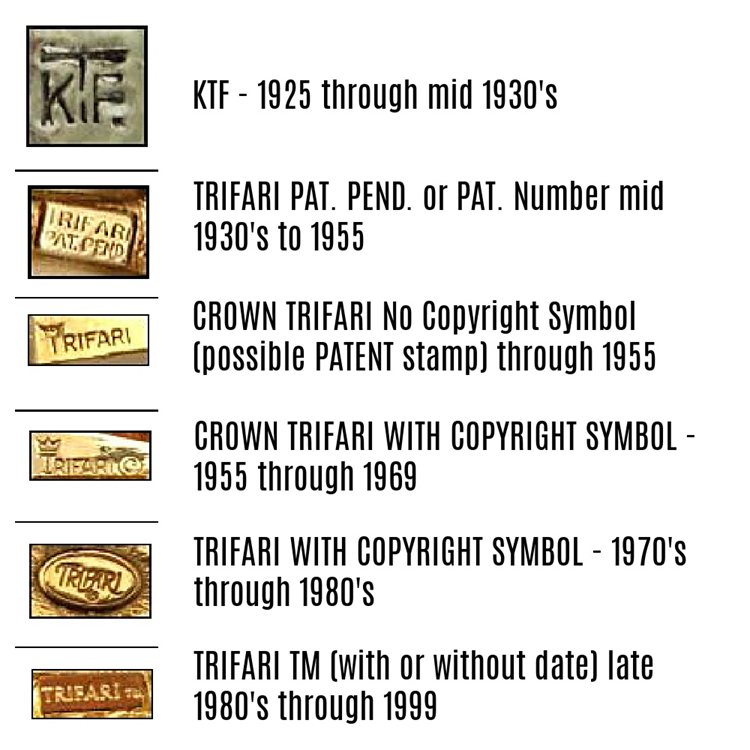 Trifari engraved all its collections; therefore, the first thing you should do when identifying a Trifari costume jewelry is to look for the Trifari signature on the body. So much emphasis was placed on these marks that an advert back in the day said, "if it isn't signed, it isn't Trifari."
Over the years, Trifari marks evolved. First, the KTF logo with a big letter T indicated the Trifari name in the 1920s to the TRIFARI PAT. PEND mark in the early 1930s. From late 1930 to 1955, the TRIFARI PAT. PEND mark was accompanied with a crown right above the letter T for Trifari.
The 1955 to 1969 pieces used a Trifari crown and copyright mark well into the 1970s, and 1980s jewelry was marked with the Trifari and a copyright symbol to accompany it.
From the late 1980s to 2000 and until the company eventually packed, the pieces had the Trifari TM mark. Check below for pictures of stamps/marks used by the company.
By the materials
Owing to the effect of the second world war on the industrial sector, Trifari resorted to using new materials to ration pot metals. The company designed its new pieces with expensive sterling silver metals which increased the cost price of Trifari pieces.
However, in the 1950s, after the war, the company returned to using cheap metals for its costume jewelry. It pushed out a custom- made gold tone alloy and non-tarnishing metal called Trifanium which featured an unpolished finish.
The designs
Trifari created pieces called Diamante that looked like natural diamonds. They were set in metals that resembled gold, silver, and platinum. Other themed collections such as patriotic symbols, eagles and flags, and jelly bellies filled the market throughout the 1940s.
Another collection called the Clip Mates was pushed into the market. These pieces were multifunctional and could double as two dress clips separately and a big brooch when combined.
Another unique design on the Trifari line is crown pins with singularly arraigned rhinestones and colorful cabochons- a glazed superficial stone with a flat rear and rounded front. The Cabochons replaced local and handmade stones used on jewelry.
Online Websites and Antique Stores
Because Trifari pieces are rare, information may be limited or difficult to access by yourself. Consult online websites or physical antique markets to get the service of a jewelry appraisal to help identify your piece and help you with other necessary information.
FAQs
Who made Trifari Jewelry?
Gustavo Trifari created Trifari jewelry in 1910 and employed the help of talented designers like Alfred Philippe in later years.
Where can I buy Trifari Jewelry?
You can purchase Trifari jewelry at estate sales, antique stores, flea markets, art exhibitions, and stores specializing in selling classic vintage costume jewelry.
What is Trifari Jewelry worth?
Trifari pieces range between $30- $8000 dollars.
Who is Alfred Philippe?
A. Alfred Philippe is a phenomenal jewelry designer with years of experience who worked in the Trifari company as the creative director and produced most of its most popular and rarest pieces to date.
Parting Words
Now that you have a comprehensive idea of Trifari collections, their values, and how to identify them correctly, we've compiled a few points for you to bear in mind on your search to collect, purchase or sell these pieces.
Check for Hallmarks on the body of your piece for easy identification
Vintage Trifari pieces are very fragile. Make sure to always carry with utmost care to prevent losing important parts.
Watch for rare and unique designs. They sell for more money and are highly sought after.
When in doubt, consult the services of an appraiser to know the true worth of your jewelry.