Why do you want an antique hand saw? For decoration or function? This primitive tool, an intricate part of history, is a staple in the flea market.
You'll easily find antique hand saws at auction sites and any antique store. The consensus is that antique hand saws have the highest quality blades and can last longer than a new one.
However, when choosing an antique hand saw, you need to be cautious. Unlike pure wooden items, old age doesn't signify the quality of the saw's blade here. So, here's a quick history lesson for a better insight into man's first tool.
Brief History on Hand Saws

The hand saw existed from the Neolithic era before the stone age. It's a sharp-edged blade screwed onto a wooden handle. The primitive man formed this tool to build shelter and perform other daily tasks.
The earliest account of a hand saw in modern civilization was in 1500BC. Historians found this tool in ancient Egypt and Southern France. Over the centuries, they found other variations from the 4th century through the 17th.
Settlers from Sheffield, England brought the hand saw into America in the 1600s. By the 17th century, there was an increased demand for woodwork, leading to sawmills as fuel, which further led to a boom in the sawmill industry.
At the beginning of the 19th century, American manufacturers overtook the English innovators. They created sophisticated designs that gained popularity amongst the masses. This was the era of the notorious hand saw maker Disston & Son.
Known Antique Hand Saw Manufacturers
A cheat code for identifying antique hand saws is knowing the manufacturers. With this information, you can build your knowledge based on the company's growth.
Although Disston & Son seem to overshadow other hand saw companies, they aren't the only producers who dominated the 1860s.
These are the names that matter when talking antique hand saws;
Simonds Hand Saw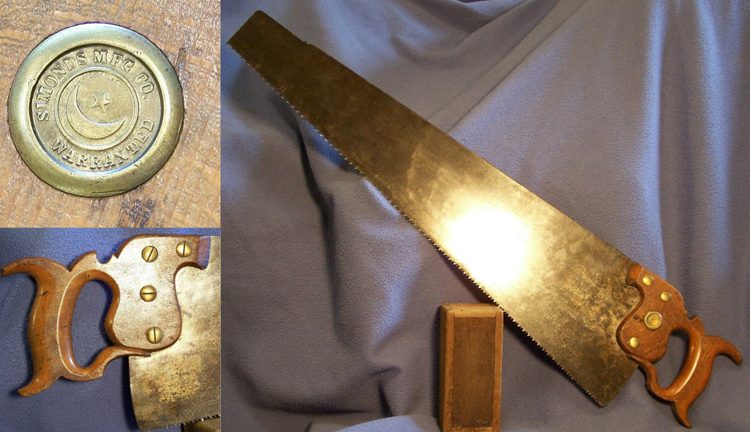 In 1832, 20-year-old Abel Simonds produced hand saws as a single proprietor before bringing his brother-in-law J.T. Farwell on board. They became J. T. Farwell & Co until 1851 when the partners ventured out individually.
Simonds manufactured hand saws from 1901-1926. There's no explicit distinction between the steel used even though they were different grades.
Disston & Son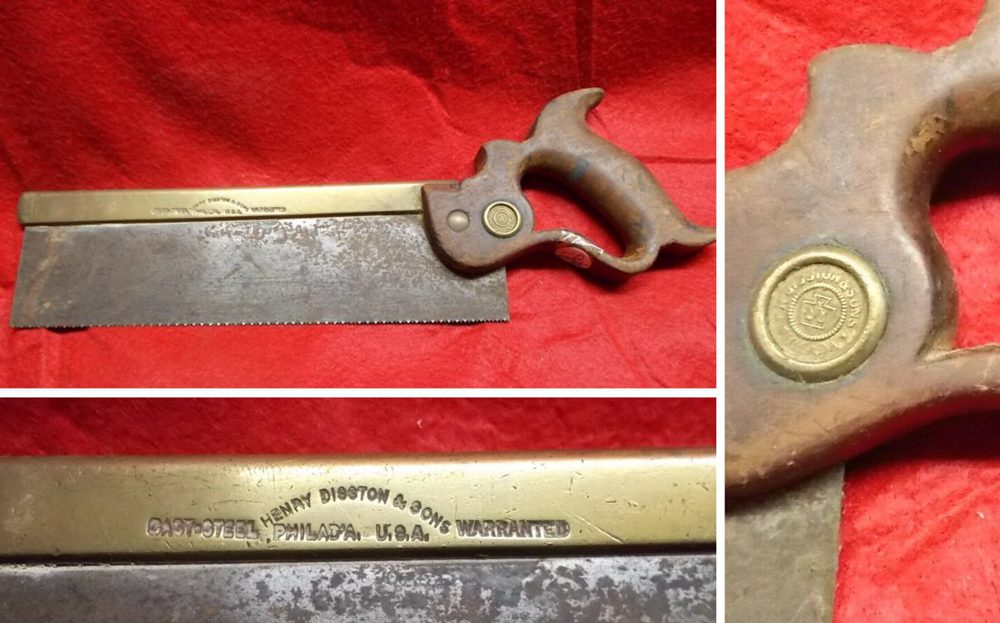 This brand was first called the Walter Cresson in 1840 before changing its name to Disston. It later turned out to become Disston & Son in 1865 when Disston's son joined the company. It's the biggest name in the American hand saw industry today.
According to the Disstonian Institute, you can get an accurate timeline of a Disston hand saw from the medallion embedded in the saw.
Harvey Peace Company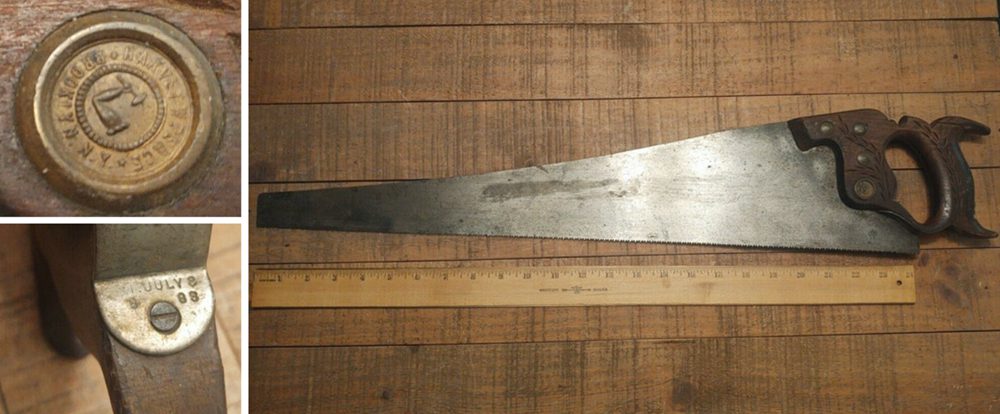 Although a small company compared to Disston, Harvey Peace made top-quality saws in 1863. Their specialty was in the production of cross-cut saws, re-saws, and veneers.
E.C Atkins & Co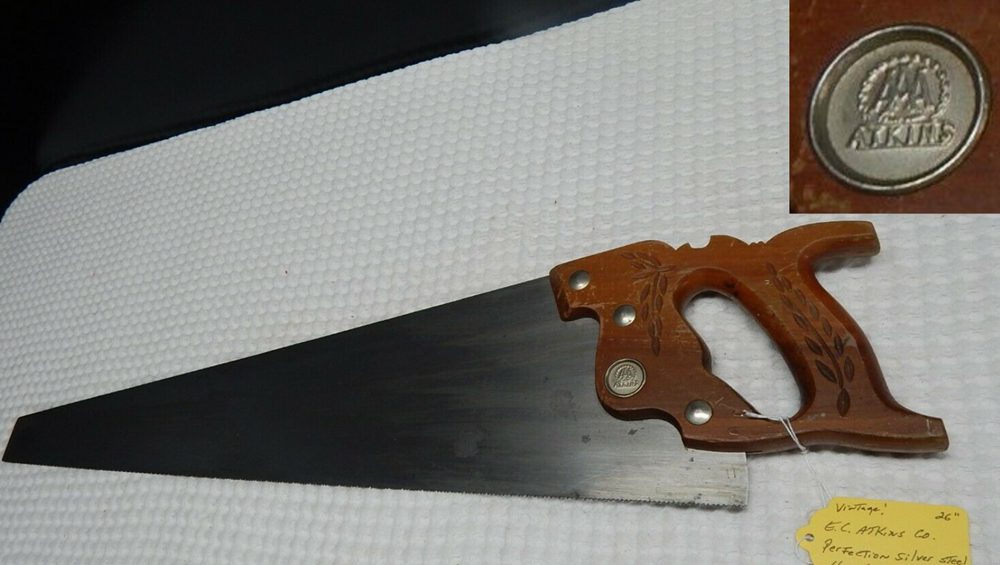 This saw brand, established in 1855, produced circular saws, blades, bandsaws, and hand saws.
In 1952 however, Atkin sold the business to Borg-Warner Corp, who then sold it to Nicholson File Company in 1966. This limited production period makes Atkins hand saws a prized find.
Types of Antique Hand Saws
Now to the more exciting section of this piece. Like you'd expect, an ancient tool like the hand saw has multiple variations. Each type comes with a different shape and is unique for a particular task– there's no one-size-fits-all saw.
The one difference you should never forget is that large saws cut planks while small ones work for details. So, let's cut to the chase.
Panel Saw (Hand Saw)
The classic panel saw is excellent for general cutting on the grain. It has wide teeth that can saw through thick wood. This saw type is the most common and inexpensive.
Rip Saw

This is smaller in size than the classic hand saw. Ripsaws cut along and across wood grains.
Cross-Cut Saw
This tool cuts the length of logs. Each tooth is filed straight at two angles so it can sink into a wood. As a result, it looks like tiny triangles lumped together.
Here's a video illustrating the difference between the Rip Saw and the Cross-Cut Saw.
Pit Saw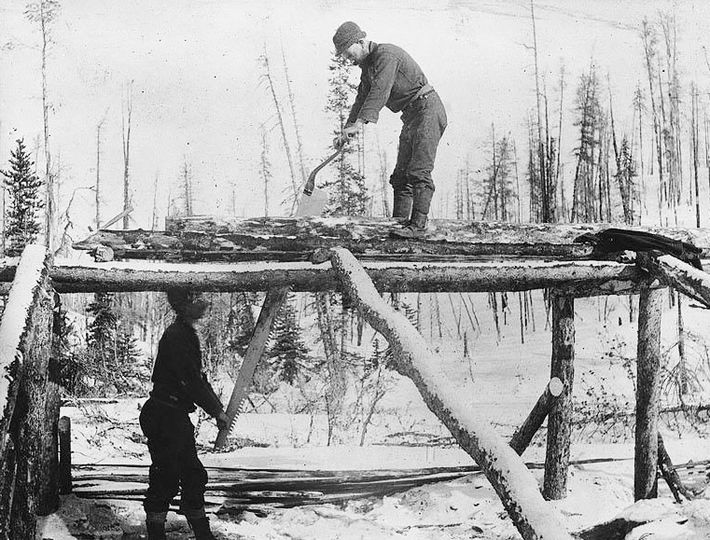 When you need to cut deep into a wood, the pitsaw is your friend. It's a two-person tool, so it has double handles.
Compass Saw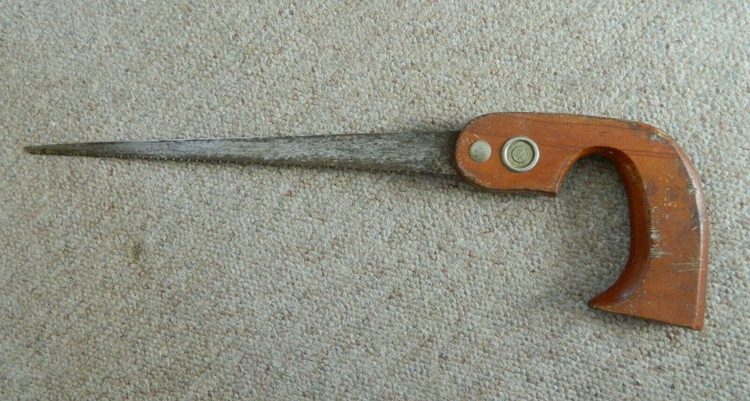 This saw is a precision tool, just as the compass shows you the correct part. Its narrow-pointed blades are ideal for middle cuts. These saws are the epitome of "don't judge a book by its cover" and can expand a tiny drill hole.
Tenon Saw (Backsaw)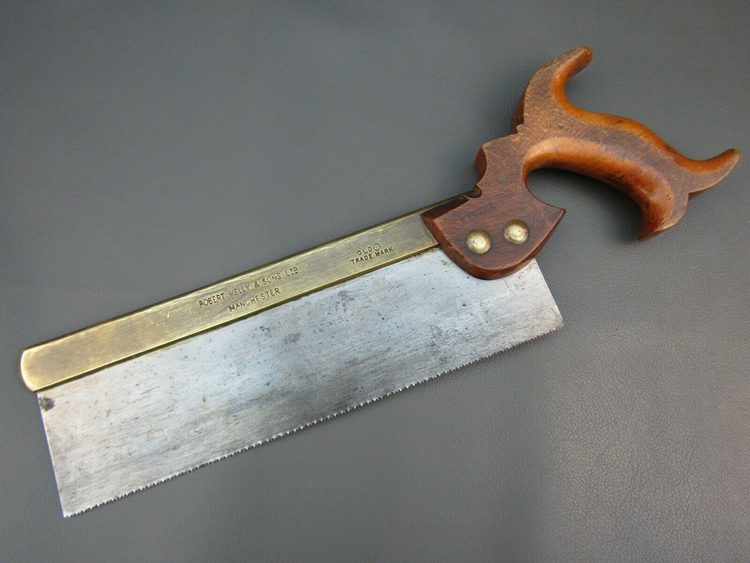 This tool has a thick iron or brass reinforcement that holds its razor. Its thin metal blade delivers a fine cut.
Framed Saw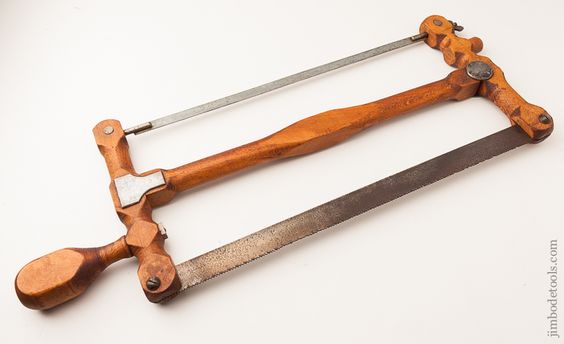 It's called a Framed Saw because it's a blade inside a wooden mount. The razor is long and thin, so that you can use it for precision carving.
Bow Saw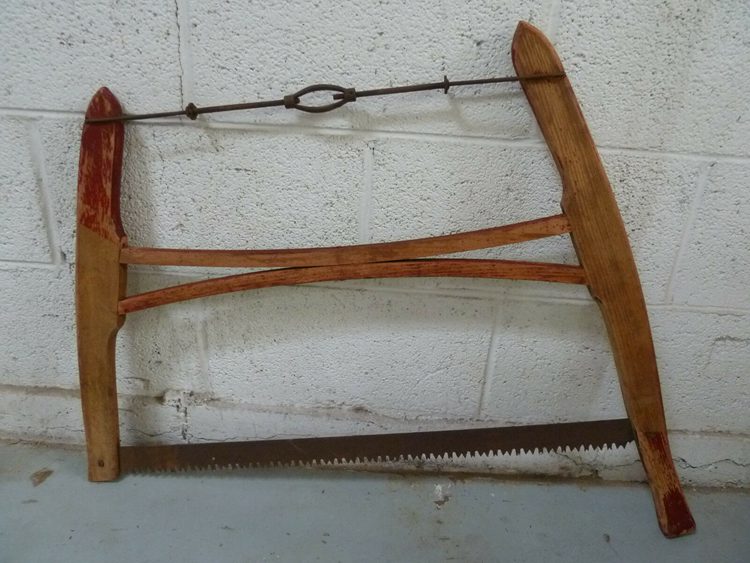 With the rise in demand for apothecary cabinets, carpenters needed a saw to carve curved edges and nuts. That led to the invention of the bow saw.
Felloe (Chairmaker's Saw)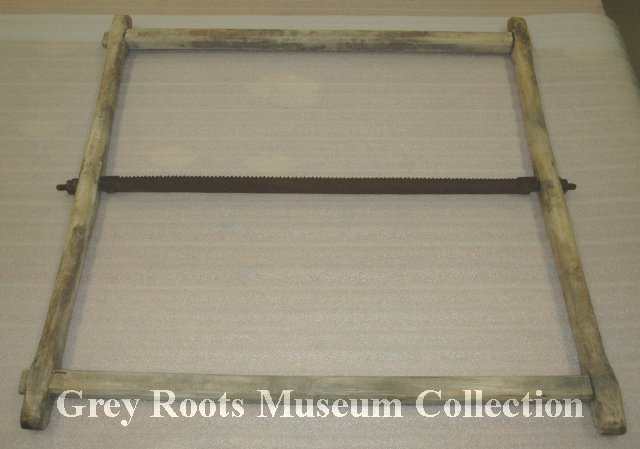 This specialized saw lasted for a short period. However, it was phased out in the 1890s, so it's a rare find and a prized possession in the antique community.
Identification of Antique Hand Saws
Are you feeling like a pro already? Wait till we get a load of what this section of the article has to offer; you'll never fall victim to fraudsters. How can you tell if a hand saw is antique?
Short answer – the devil is in the details. When you assess all the hand saw parts, you'll notice signs that tell a story. Keep your eyes out for these signs;
Popular Brands
The essence of buying hand saws from notorious manufacturers is the assurance of quality. These brands became famous because of their top-shelf tools. If people sought after them then, they most likely will be sought after now.
Also, within the top brands, there are premium qualities that were bestsellers – Disston & Son 12, 16 and D8; Simond's 4, 4½, and 5; Atkins 400, and 68. Please note that we ranked them in descending order.
Another benefit of gunning for famous brands is their medallion. It's easy to identify fakes through logos and signature markings.
For instance, Atkins hand saws had "Inset AAA" at the beginning of production then changed it to "AAA Circular Saw," by the 20th century, it became a "Block text logo."
You can visit their websites for more information.
Blade
Antique hand saws have tight, thick teeth and thin tops. The teeth are the sharp edge of the blade that's smooth or jagged. Their cuts produce a narrow slit, unlike modern saws (they cut wide) so, take note.
Also, antiques have jointed teeth with straight edges making them light ground blades.
Handle
It would be best if you looked at the handle's material. High-quality hand saws used applewood while ordinary ones had beechwood.
A shaved top shouldn't bother you unless you want the tool for aesthetics. Sometimes, owners cut the top of the handle so the hand saw could fit into a toolbox.
Joinery
Please take a look at the nuts on the saw; for one, they should be handcrafted. A key detail is that before 1875, artisans joined saws with split nut screws.
Antique Hand Saws Valuation Guide
Hand saws are everyday items in the antique community, so they don't cost so much. Certain factors add to their value, while others might make them worthless. When assessing the steel quality, your focus should be the purpose.
Why are you buying an antique hand saw? If it's for decoration, you may not mind a bent plate or rust. Also, a loose screw isn't a deal-breaker if you can tighten it with a screwdriver.

The bottom line is that the brand name will play a huge role in determining the antique hand saw's value.
This is why an average antique Disston costs $70.64. In contrast, a regular hand saw is about $48.06. You can infer quality from the included medallion as well. "Warranted Superior" means low-quality materials.
Unique designs like antique Keyhole, Compass, and Pruning saws are expensive because they're rare. However, as a collector, you should be deliberate about maintaining your antique hand saws. Tools that stay in good condition over the years appreciate.
You can sell it for more money than you bought later on, which will be only possible if you maintain the tool. Alternatively, you can repurpose the saw blades by changing them to knives.
Final Thoughts
An antique hand saw is an excellent addition to your collection. Be careful, however, not to pack junks at a high cost. And if you end up with a worthless antique hand saw, there are recycling plants that can repurpose your primitive tool.
Whenever you're appraising an antique hand saw, remember the basics;
It's easy to identify quality from known brands signs.
Materials are a time-stamp of their era.
Consider your reason for getting an antique hand saw.