There's a booming market for Antique railroad lanterns because they're aesthetic, easy to identify, fewer fakes are in circulation, reusable, and a fair amount of them exist today.
The only issue you may have as a new collector or serious investor of antique lanterns is valuing them. Certain factors such as the manufacturer, condition, model, and age can affect its pricing.
In this post, we'll guide you into effectively pricing your antique lantern or collection in hand so that you can enjoy the possibility of having to hold all the power when negotiating with a potential buyer. Such knowledge would also give you a good head start in the market when you're looking to invest and make maximum profits.
Popular antique railroad lanterns brands/Railroad.
These are some of the most popular antique railroad lantern brands. Each has a unique history and style that makes them collectible. Many of these brands are still in production today, so you can find new and vintage lanterns to add to your collection.
Star Headlight & Lamp
Dietz
Keystone
Handlan-Buck
Dressel
Pennsylvania railroad Adlake Chicago
Note: The rarer the brand, the more valuable it garners. It's also the same if the brand has fewer models, as it creates more uniqueness given that a model can offer 20 to 30 variations.
10 Most Valuable rare antique railroad lanterns Worth a Fortune
Here's our top ten list of valuable rare antique lanterns you can use to compare with the lantern or collection you've found. It's also a great list to start with if you're looking to make investments in antique lanterns:
10. Antique Railroad Lantern- The Adam's and Westlake Co. Adlake Reliable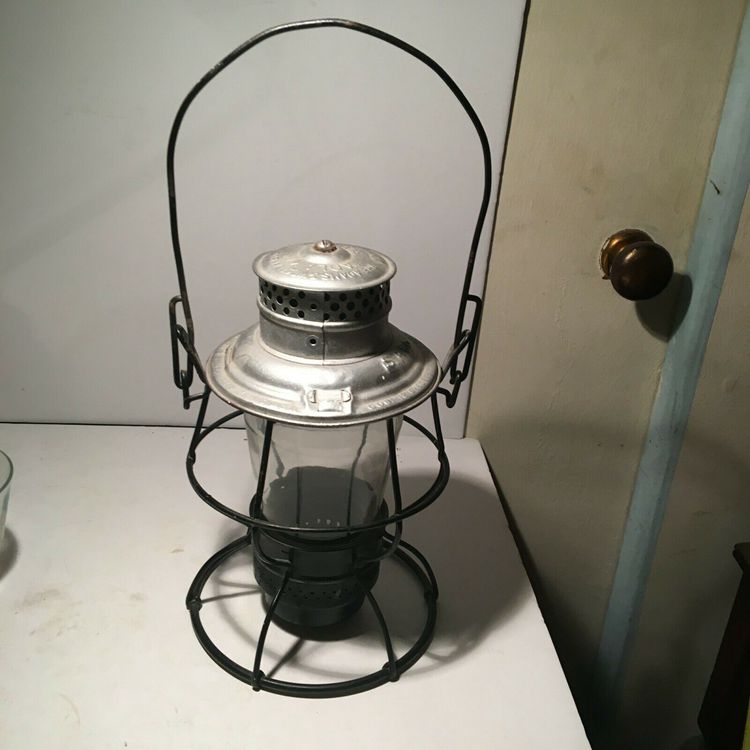 It is an early 1900s portable lantern (1908 – 1923) with a glass jar for a globe. And a strong aluminum frame with a handle. However, you could have trouble seeking the piece at a reasonable price with the burner being absent and a rust hole left behind at the bottom. So overall, the condition of this piece is good.
Price$(50)
9. PENNSYLVANIA RAILROAD ADLAKE CHICAGO Antique Oil Lantern w Burner PRR lamp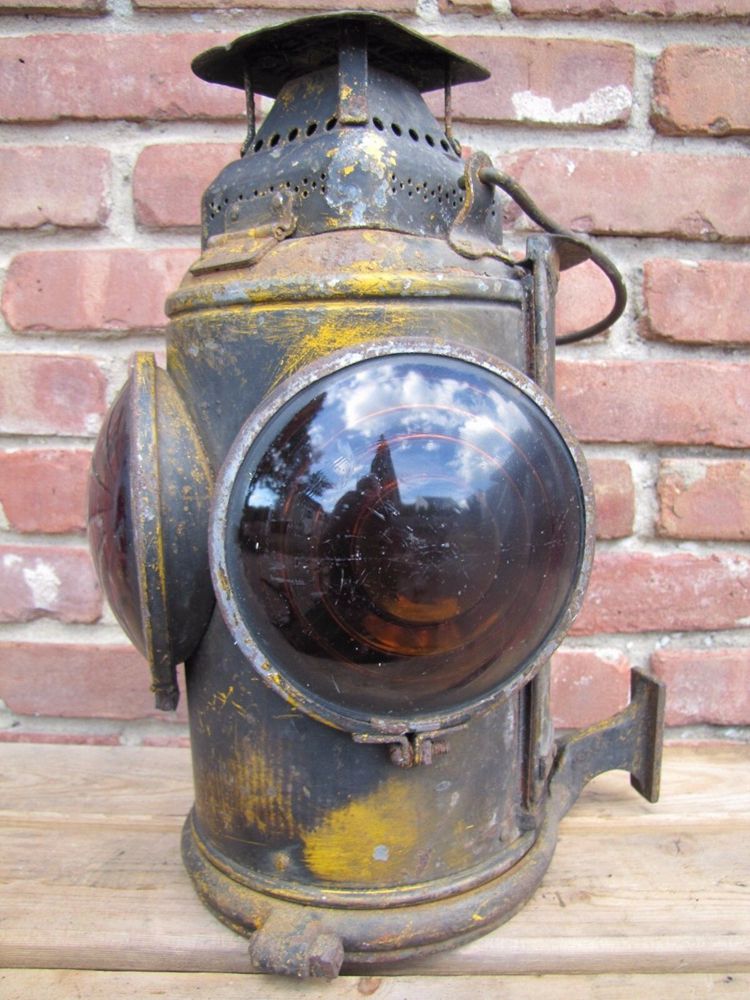 Here's a tall stationary railroad lamp with the PRR initials stating that it's from a track in Pennsylvania. It possesses up to three lenses, all of which light up via oil. The condition of this lantern is excellent, as it's a working piece with wears and scratches exclusively due to its aging.
Price$(750)
8. Railroad Lantern Rare K-C Hocking Valley Marked Frame and Clear Cast HVRy Globe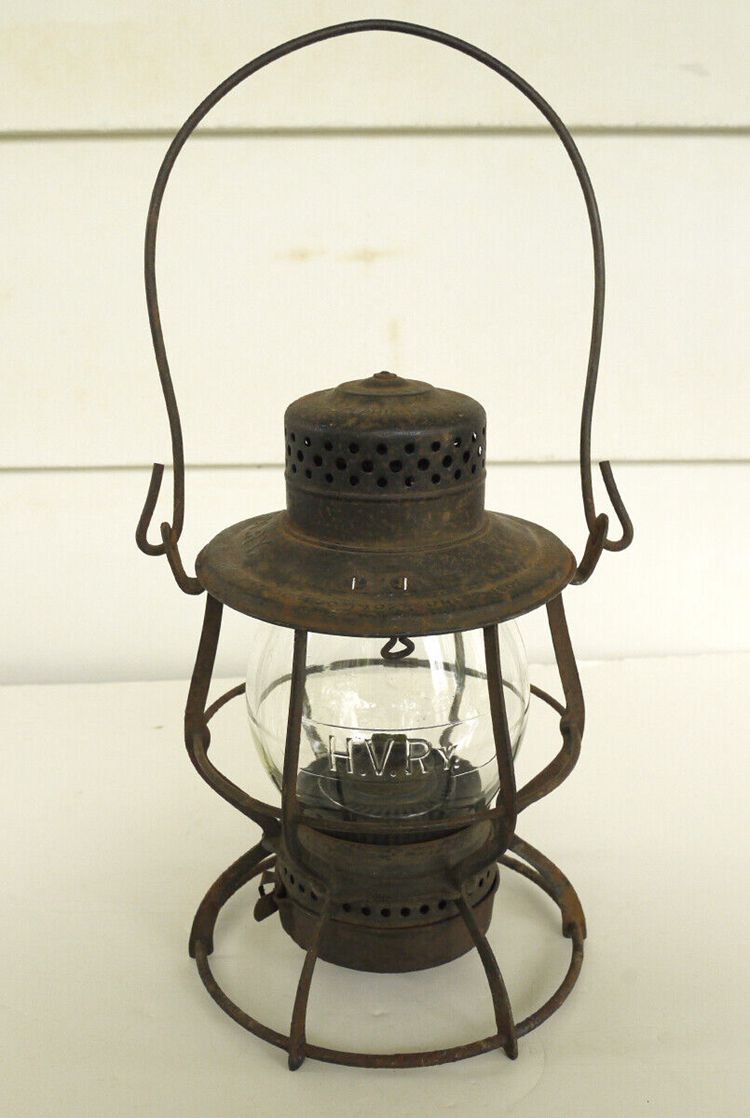 Lanterns from the keystone company are rare and valuable in the antique lantern market. Especially one from a specific place such as Hocking Valley, which is why this piece holds a pricey tag. The patent dates on the lantern say it's from the early 1900s (1902 – 1903).
Its condition is excellent, with no cracks on the corned globe and minor rust on the frame.
Price$(550)
7. Antique DIETZ ACME INSPECTOR LAMP Railroad Lantern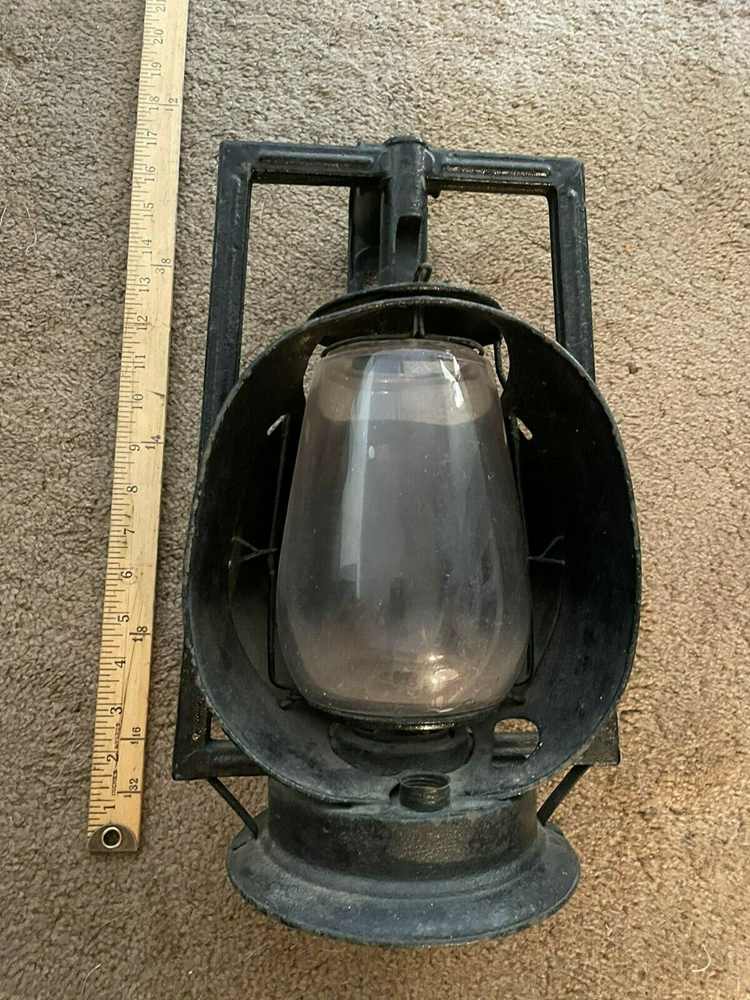 It is an early 1900 kerosine railroad lantern for inspection around the railroad. It consists of a conical globe that's free of chips and cracks. It also has metal with minor rust or rust that's not obvious due to the black paint. There's a hole at the bottom of the lantern.
Price$(110)
6. Vintage NYCS Dietz No. 999 Railroad Lantern With Blue Globe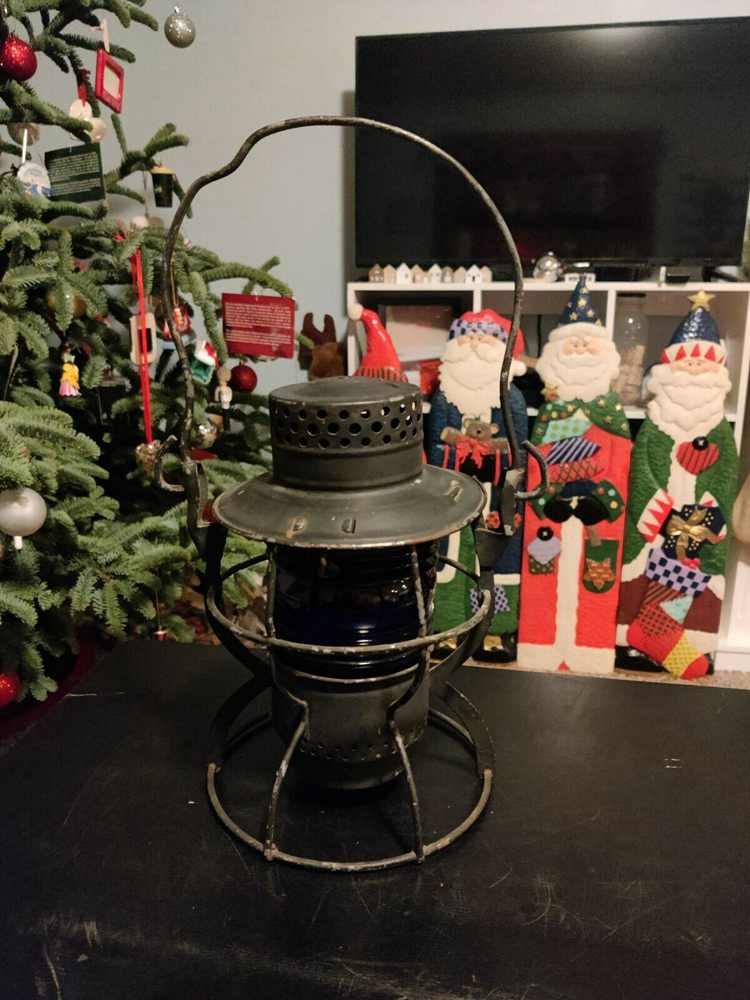 Here's a unique vintage New York City railroad lantern in black. It has a strong frame with fewer scratches and a partially disfigured handle. Its globe is still pristine as there are more irregular cracks, chips, and scratch marks. Also, it has a unique feature which is the glove is blue.
Price$(225)
5. Antique German Heinrich Gillet Railroad Signal Lamp Lantern Red Blue Glass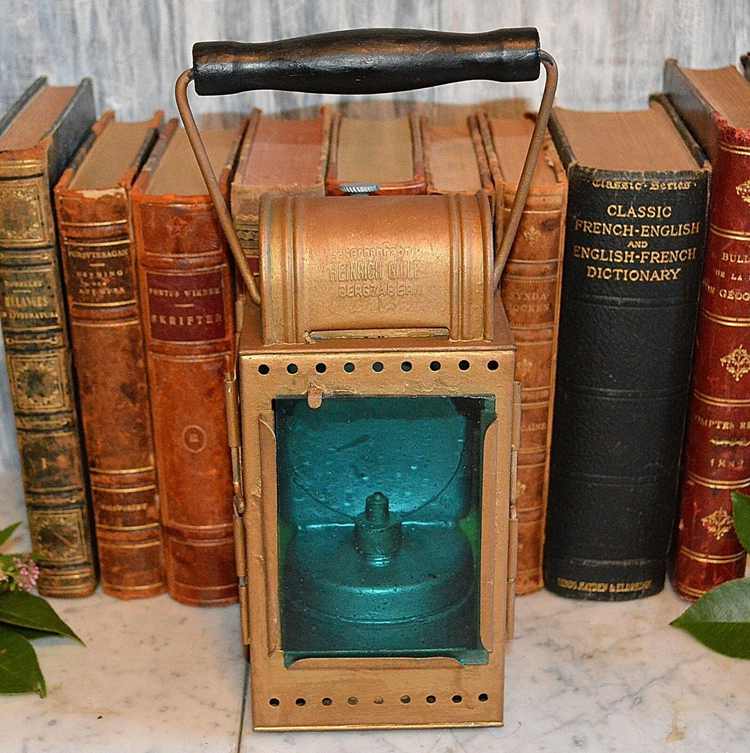 It is a german made railroad lantern from the famous brand Heinrich Gillett. The lantern on display has a boxy shape with a blue slide of glass that consists of its lens instead of a conical globe. The marks show that it is a piece from the late 19th century. The condition of the lantern is good. However, some cracks or scratches on the glass and rust on the metal frame. Luckily these are just signs again, which have a more negligible effect on its price.
Price$(200)
4. ANTIQUE RAILROAD LANTERN Reliance Dark lamp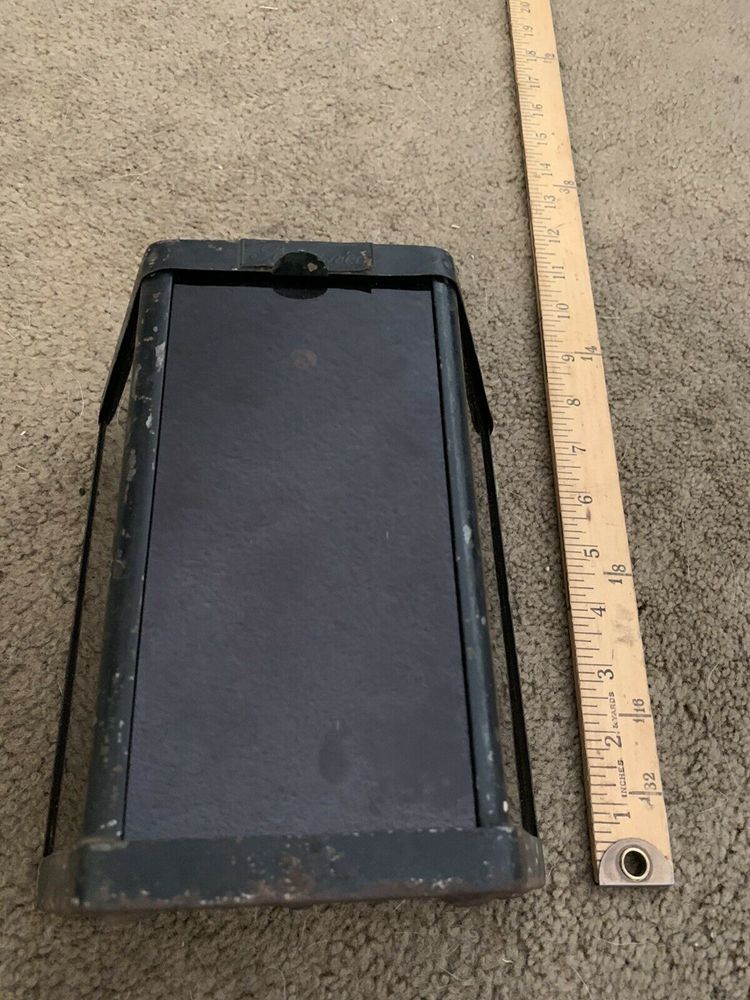 It's a large and tall stationary railroad lantern with a metallic frame that holds a sizeable dark-colored slide of glasses, three in number. Two are red, while the center slide of the glass is amber. However, It does not have its source of lighting attached to it. But it's still. Value because it's an actual antique from the late 1800s.
Price$(500)
3. Antique Railroad Locomotive Lantern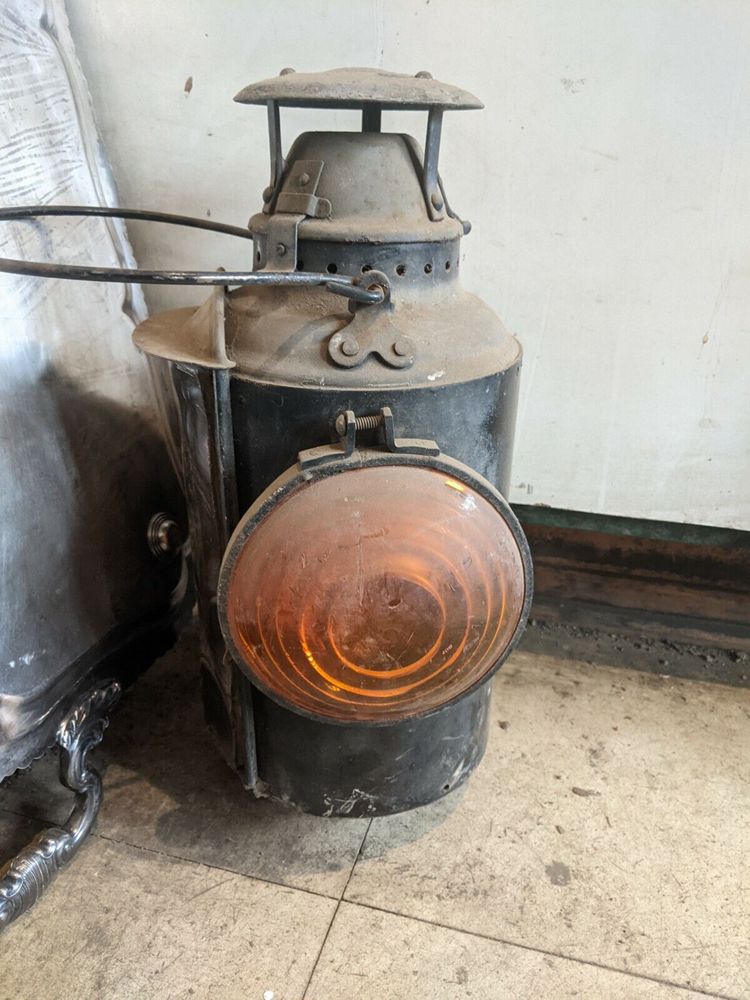 It is a significant inspection lantern with a cylindrical metal frame and handles which holds a curved orange lens. It has markings and designs that say it's from the late 19th century. You can fuel this oil lantern from the side. Also, its overall condition is excellent as you can reuse the device effectively. The only issue could be the scratches on the lens and signs of rust on the side.
Price$(1033)
2. Antique Brass Onion Globe Railroad Fixed Globe Lantern C1880 Marine Anchor Lamp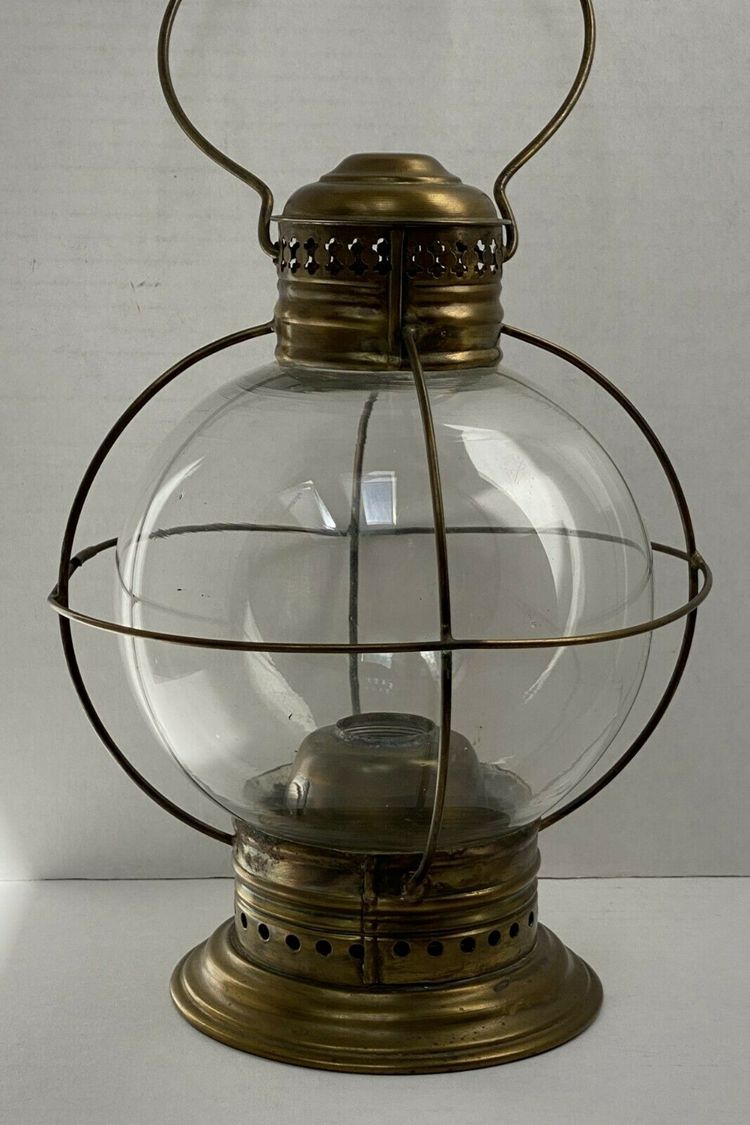 Unlike most on the list, the design of this antique lantern is quite impressive. You can see it from its attractive brass frame, which comfortably holds the fat globe that imitates the shape of an onion. Also, this lantern happens to be 130 years old. However, its previous owners have tampered with the design as it is no longer an oil lamp but an electrified one since the mid-century. It is why the price did drop despite being an actual antique piece.
Surprisingly the condition of this lantern is pristine, with minimal scratches or dents on the frame. And the glove is almost transparent.
Price$(200)
1. Vintage Dressel Kerosene Lamp Lantern S. Ry. Go Southern Railway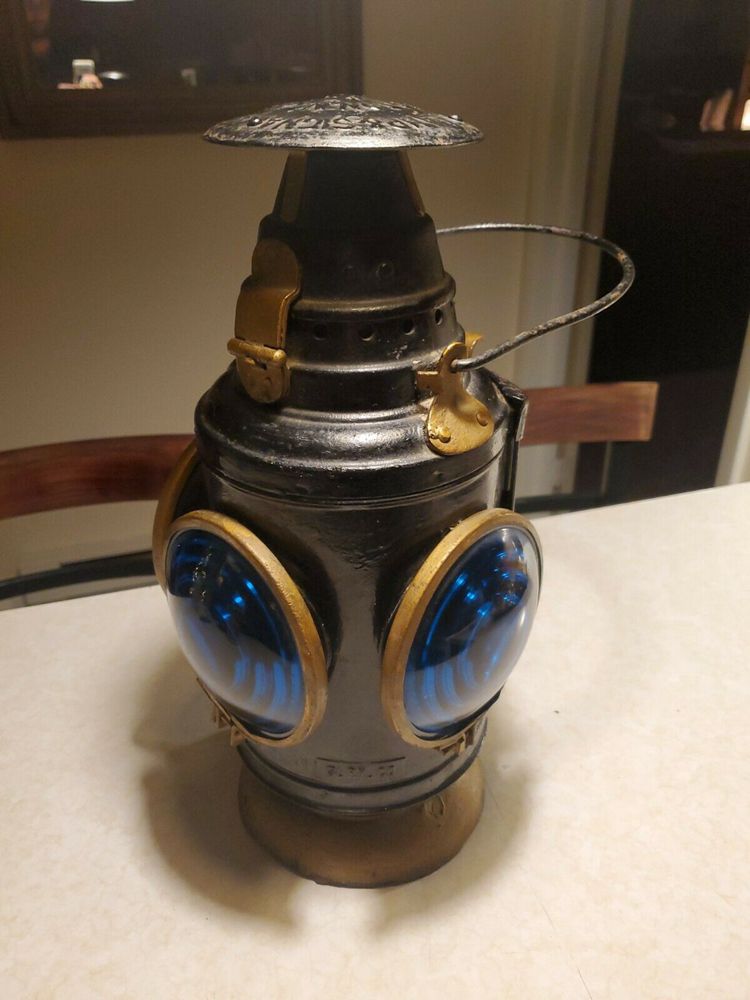 It is a tall (15inches) Dressel kerosene railroad lantern with up to three lenses of two colors (two blue, one red). Its body is reinforced metal with minimal signs of rust, dents, cracks, and scratches, which is surprising given that it was from the late 19th century to the 20th century. However, the kerosene compartment is not attached to the lantern, but it is in good shape.
Price$(500)
What Makes Rare Antique Railroad Lanterns Valuable?
Here are the factors that can affect the value of your rare antique railroad lanterns:
Age
One of the factors that will have a significant effect on the value of your antique lantern is its age. It is due to older lanterns being the ones most likely to have unique discontinued designs, which are high in demand. For instance, an antique lantern from the mid or late 1800s will most likely be more valuable than lanterns from the early or mid-1900s as long as there's valid proof that it is indeed from that time.
Type
Another factor that can affect the price of your antique lantern is the type or design of the lantern in question. And you can make this type of classification for antique lanterns based on two elements:
Globe design
And the source of light
In terms of globe design, there are three types of lanterns. All of which help to identify its time of manufacture. For instance, we have the fixed lantern, which usually consists of a fixed globe in a pole or supported by a beam, usually in a railroad around the track. Such types of antique lanterns were popular from the mid-1800s to the late 1800s.
Another type of lantern is the one with taller globes. And they were popular from the late 19th century to the early 20th century. By the mid-20th century, lanterns with smaller globes became popular.
However, in terms of the lantern's lighting source, there are three types. Such as oil, kerosene, and electric lanterns. Oil and kerosene lanterns were quite common from the mid-1800s to the early 1900s. But lanterns that get their source of light from electricity were quite popular among those made in the mid-1900s.
Note: sometimes, oil railroad lanterns can be electrified.
Condition
The condition of the antique lantern is another factor that can affect its price. Because if yours happens to be a hundred-plus-year-old and it still maintains its pristine state, its value is bound to be high. But if your antique lantern has scratches and dents, and it's missing crucial parts like its lighting source, it may lose most of its value.
So, if your antique railroad lantern happens to be in a fair condition, other factors like age won't be so significant in evaluating its price. For instance, an antique railroad road lantern from the late 1800s, originally an oil lamp and then electrified around the mid-20th century, is more likely to drop in price.
Manufacturer's mark
Another factor that can affect the value of your Antique railroad lantern is the manufacturer's mark. Such marks will help you identify the value of your antique railroad lantern because certain brands have high demand in the market and possess a particular logo or initials. Where can you find the manufacturer's mark? They usually appear embossed at the bottom base of your lantern. Sometimes you can find them directly on the globe or on the top part of the lantern. Apart from the name of the manufacturer, you can also find the name of the railroad from which the lantern is.
How To Tell How Much Your Rare Antique Railroad Lanterns Are Worth
Rarity
Antique railroad lanterns with rare features tend to have a lot of value in the market:
Color
For instance, your antique railroad lantern may possess a colored globe or glass slide. Such types of glass are uncommon as clear glass is the usual globe color for most railroad lanterns in the market. Also, antique railroad lanterns possess up to two types of colors and sometimes three. Such lanterns also tend to have a lot of value in the market.
Two manufacturers
Another rare feature to look for in an antique railroad lantern is parts that have different makers. It is not an error but a significant feature you should consider important when valuing your lantern.
Brand rarity
Sometimes the value of an antique lantern can also hinge on the rarity of your brand. For instance, your antique railroad lantern could be worth several thousands of dollars if the brand happens to be one with a very low lifespan. It works the same for railroads from which the lantern is from because railroads from remote areas or unpopular places can offer your antique lantern more value.
Manufacturer's Popularity
The brand's popularity is a good way of valuing your antique railroad lanterns. It also applies to railroad-marked lanterns from popular cities such as New York and Pennsylvania.
Type of Fuel
The market consists primarily of antique lanterns that use oil and kerosene as a fuel source. However, particular antique lanterns use an uncommon authority of fuel, like this Ruby red globe which uses whale oil.
Compare to Recently-Sold units.
Another great way to test the value of your Antique railroad lantern is by comparing the piece with already sold replicas or similar antique pieces in the market. Doing this will allow you to have a good idea of the price range of your antique railroad lantern. You can find such information from popular online peer-to-peer marketplaces that deal in antiques like eBay, Etsy, and 1stdibs.
Here are various types of rare antique railroad lanterns to compare your antique lantern with:
An Antique Adlake Non-Sweating Lamp Chicago Railroad Train Switch Lantern was sold for $250 on June 9th, 2022
Here's a Rare Antique Chas L. Seely Presentation Conductors Railroad Lantern from Afton, N.Y. It was sold for $1300 on April 28th, 2022
An Antique 1800s Patent Brasstop Bellbottom Railroad Lantern from CHICAGO Mfg Co was sold for $640 on 20th, 2022.
Hire an Appraiser
Suppose you don't have the time to perform all or any of the methods mentioned above in determining the value of your antique railroad lantern. In that case, you should consider hiring a professional appraiser. Especially ones that are experts in selling antique railroad lanterns specifically. You wish to value them because they're sure to have a better idea of what to look for in the antique railroad lantern or collection.
Where can I find them? You can find them in places such as general appraiser sites, working in antique stores, or you can find them in forums meant specifically for antique railroad lanterns.
How To Effectively Restore Your Antique Railroad Lantern
As long as the damage isn't severe and the only reason it is in such a bad state is because of aging, then it is more likely to be restored successfully. Here's a step-by-step process on how to effectively restore your antique railroad lantern to a like-new state or close to it:
Step one: Dust Up The Lantern
Make use of a paintbrush or any type of duster, and then try to remove as much dust as possible. Then get a damp piece of clothing and then scrub the body of the lantern down.
Step two: Study The Lantern And Take It Apart.
The following action to take is to study the lantern's body as you take it apart. It will allow you to know which part fits into another part. If possible, you should document it by taking pictures so that you can easily make references when you're confused about its structure.
Note: While talking the lantern apart, keep the globe or lens in a safe spot.
Step 3: Apply Paint Stripper
If the lantern still has some old paint, you should apply a paint stripper. It will wipe the color of your lantern until you can only see its metallic surface. At this stage, you should be able to see the scratches and rush that under the old paint.
After that, you can go on to clean the lantern's surface by applying water and grease to remove traces of the detergent; then, you use a clean rag or dry up each piece of the lantern.
Note: Restoring your antique railroad lanterns usually doesn't affect their value.
Step 4: Get Rid Of The Rust and Repaint Each Part
Now that your antique railroad lantern has no paint, it's time to clean up the rust. And the best product to clean up the rust is naval jelly. After removing the rust, the next thing to do is repaint your lantern. And it must be anti-rust paint to prevent any chances of the price rusting again.
Step 5: Clean The Globe Or Lens
Now that your antique lantern is free of paint and scratches, you have the freedom to handle the globe or lenses. You can clean them by immersing them in a container of white vinegar. Then make use of warm water and dish detergent to clean the scratches and marks so that the globe would look spotless.
Where To Sell Rare Antique Railroad Lanterns
One of the most convenient ways to sell your antique railroad road lantern is via peer-to-peer online marketplaces because they offer various advantages for antique collectors. Such as:
The fees are affordable
It has a more extensive customer base
You can close a deal in the comfort of your home at any time.
However, it does come with its disadvantages. For instance:
they don't guarantee sales.
It's pretty hard to make sales of high-value antique railroad lanterns with hefty price tags because the buyer would love to play it much safer by visiting a store or auction.
The probability that the antique could get damaged before reaching the buyer is high.
Apart from online peer-to-peer marketplaces, you can decide to make sales physically as you can include them in an estate sale, auction, or antique store. Such places may not have the reach of an online marketplace, but they have the trust of serious collectors that wish to make significant purchases.
FAQs
Can a restored rare antique railroad lantern still have value?
Yes. Restoring your antique railroad lantern isn't affect its value in today's market.
How can an antique railroad lantern be faked?
There are several ways to fake an antique railroad lantern. Here are the standard methods:
Sometimes the marked under part of a high-value antique lantern in a poor state may be reattached to a low-value replica.
Acid is applied slightly to the globe or lens to etch out a popular antique company name to make it look authentic.
Conclusion
Investing in antique railroad lanterns is an excellent hobby and can be very profitable. From this post, it is clear that your antique lantern or collection in hand must meet specific requirements, which we've provided for it to be considered a pricey collectible (either in the hundreds or several thousands of dollars). Along with that, set out a round-up of antique railroad lanterns with their different prices to give you an idea of how the market works for them.