Antique analog tools such as wrenches are quite difficult to Identify. Given that many variations of wrenches were made (both branded and unbranded) and probably too dusty or rusty to identify. This dilemma leads antique wrench collectors to perform some level of guesswork in trying to correctly determine their value. The only significant hint is the unique design of the wrench itself sometimes.
With various antique wrenches in circulation today, it would be a big miss not to identify their values before purchasing or selling. As any of them could possess significant monetary value. Ranging from $20 to $20,000. But it depends on factors such as age, the manufacturer (not always necessary), and unique design.
In this post, we're going to discuss how to identify a proper antique wrench, its value, and its price tag. So you can make an educated bid at the pawnshop or auction house.
Special Features Of An Antique (artistic) Wrench That Push The Price Up
Old wrench reproductions possess basic features that don't stand out which makes them somewhat unattractive to collectors, even though they're antiques as well. But wrenches with rare designs are usually sought after. Because their innovative style can be considered a form of art.
Here are special parts you can find in a rare antique wrench:
Handle style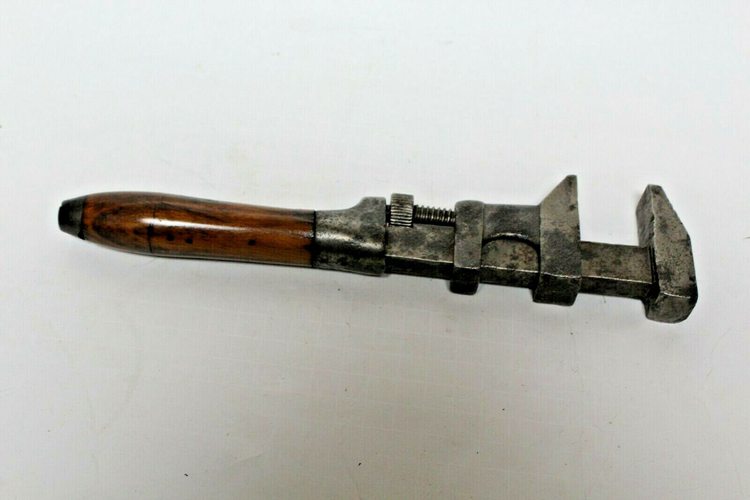 Wrench reproductions possess a more generic look, which usually involves a metallic shaft with little or no arm grip for comfortable use. However, other antique wrenches possess a handle around their Shaft. Which could be wooden, ceramic… Etc. This uncommon feature ensures its rarity and thus shoots the price tag up.
Shaft Style
Another special feature to find is the design of the shaft. Regular reproductions tend to have a straight Shaft, which is ok for the user's torque but not so good in hard-to-reach places. Which was the sole purpose of the s-shaped wrench. As they're best-used fastening and unfastening bolts in locomotive engines.
Due to the wrenches' special shape and purpose, it becomes a more specific tool than the general straight shaft wrench.
Note: some come in an L-shape or T-shape.
Head style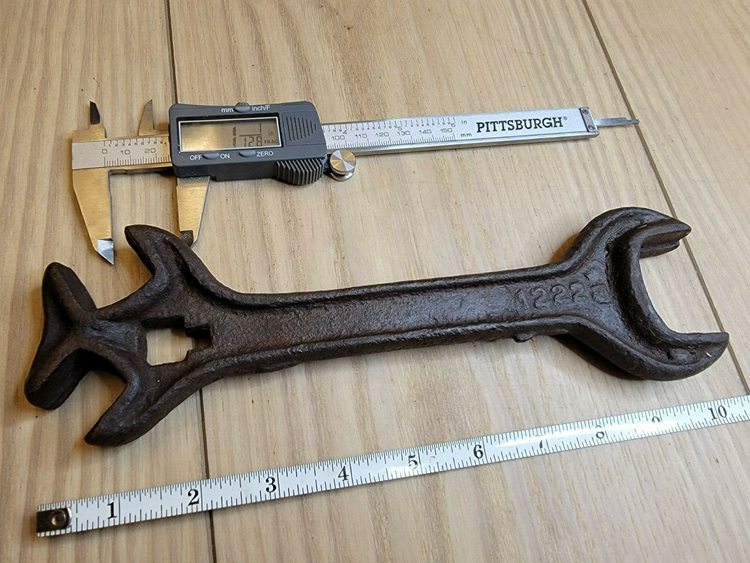 Generic reproductions are known to have one or at most two heads positioned on opposite sides of the shaft. However, there are special wrenches with several heads of varying profile sizes (2 or 3 heads on one end of the shaft). To ensure convenience while handling bolts or nuts of varying sizes (as though an adjustable wrench would).
Profile Combo
Another special feature to look out for is the combination of profiles. As antique wrenches with several heads tend to possess more than one profile. For instance, an antique adjustable wrench could have four heads with two spanner profiles and a box-end at the center (all on one shaft). While there's a spanner profile at the other end of the shaft.
Cutouts
You can tell a wrench is old from the excessive cutouts on its body. And you'd notice various cutouts (as well as several profiles) not only on the heads but also the shaft of the wrench.
Crude Appearance
Far before mechanized reproductions, tools appeared a lot cruder because they were made by hand. So if you notice any poorly shaped cutout, shaft, or bend on the wrench, then it's most likely a very old one.
Patent Number
Most sought-after antique models have usually patented ones. So if you notice a parent number on your antique wrench then it's most likely a costly piece.
How To Identify Your Antique Wrench (using marks)
From The Foundry
Your antique wrench could possess a name, logo, and initials from a foundry or forging company. Such wrenches usually have identification numbers engraved onto them in the form of a die (paint). Or they could come in the form of a mold.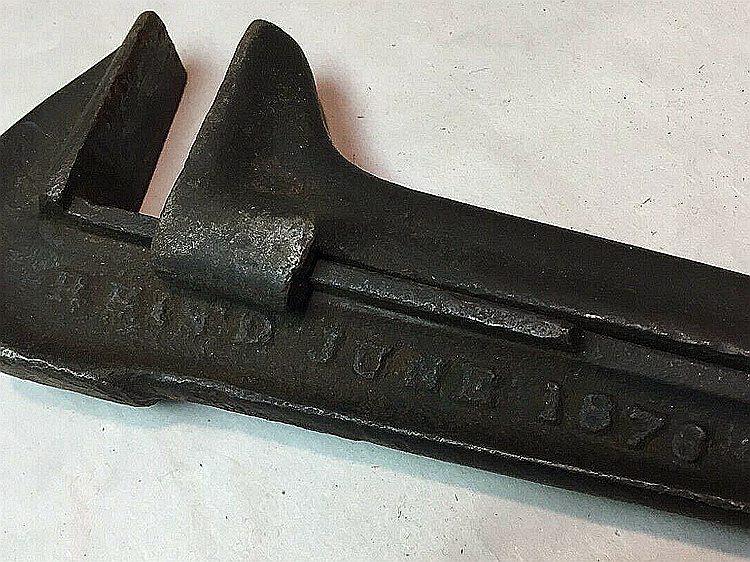 Note: this was quite popular in the 19th century.
From The Manufacturing Company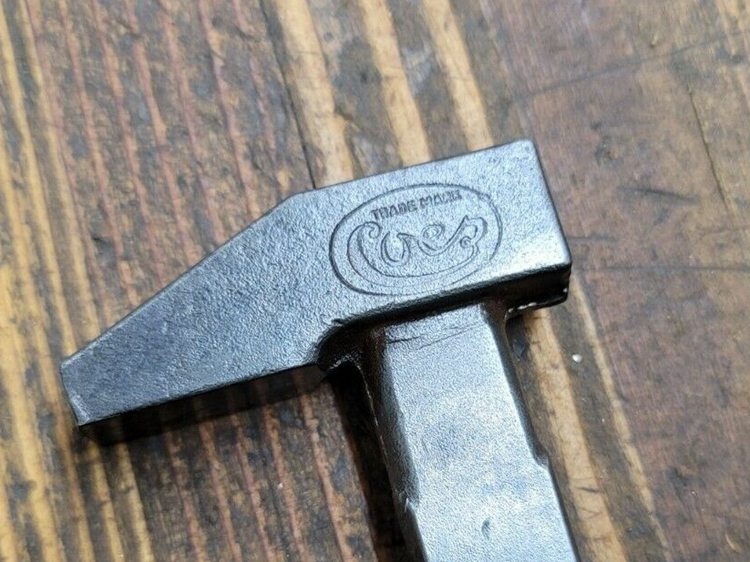 Instead of the foundry markings, your wrench could possess a trademark from the manufacturing parent company.
Tools For Product
You could also get wrenches from the toolboxes meant for certain machines or even power tools. Such as tractors, lawnmowers, metal or woodworking machines.
Store Brands
Hardware stores were also providers of wrenches, but not necessarily manufacturers. As they could work with foundries to manufacture various tools (such as wrenches) and just put their names, logos, and initials on them for their store customers.
Size Standards
Apart from the company name, initials, and logos, you can also identify the origin of your antique wrench from its size standard markings. And there are two in existence, which are "SAE" & "USS". With SAE being the standard size markings for countries in Europe and USS being a standard for the USA.
Catalog Number
Along with the trademark, size standard mark, and size is the catalog number or model number to signify the tool's variant.
Top Antique Wrench Companies To Refer To
This is a famous wrench brand that was created in 1927. It provided a wide range of top-notch hand tools (wrenches) which are great for domestic maintenance and for taking care of their main products such as their lawn power tools and gardening machine products.
Craftsman wrenches over the years have been known to possess unique designs that make them stand out in today's antique market. A good example is the craftsman speed spinner ratchet wrench which is known to cost up to $200 in the market. Due to its more personalized design.
How to identify them – the name "Crafts Man" is milled into the shaft of the wrench.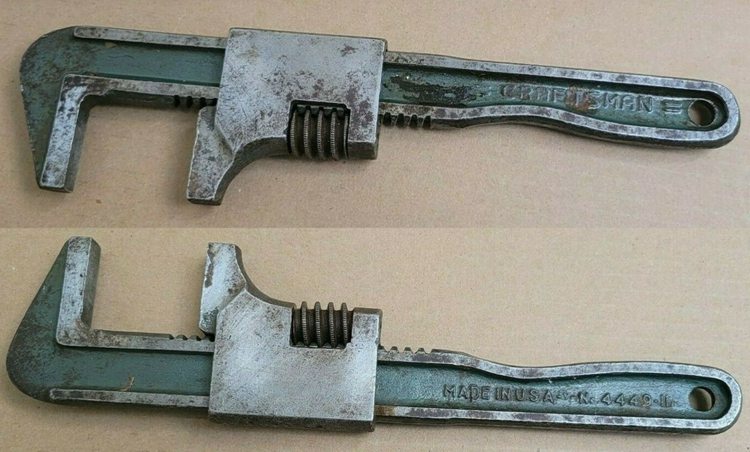 John Deere
John Deere's deere & company was established as far back as 1837. They manufactured mainly agricultural power tools and heavy machinery as well as hand tools for these machineries such as wrenches.
Due to their presence in the market during the early 19th century,  antique John Deere wrenches appeared a lot cruder, especially their embroidered trademark. However, a John Deere wrench was sold for as much as $15,000 and all due to its rarity.
This particular was one of the few hundreds that were made specifically for an experimental engine and tractor (all-wheel-drive, four-cylinder, three-wheel tractor). Right before the project was abandoned.
How to identify them – you can't miss the big "Deere" mark milled into the shaft of the wrench.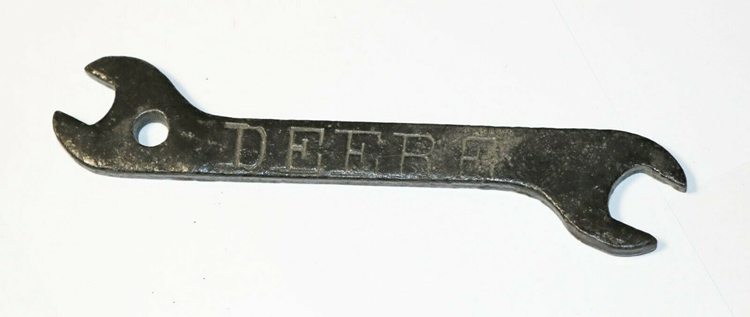 The Hazet tool kit
HAZET-WERK Hermann Zerver is a popular german hand and power tool manufacturing company that has been running since 1868. Most of their old wrenches today are sold within the range of $10 – $200 max.
How to identify them – a sleek "Hazet" sign is usually present on the shaft. Along with the "SAE" sign. Given it's a European (German) product.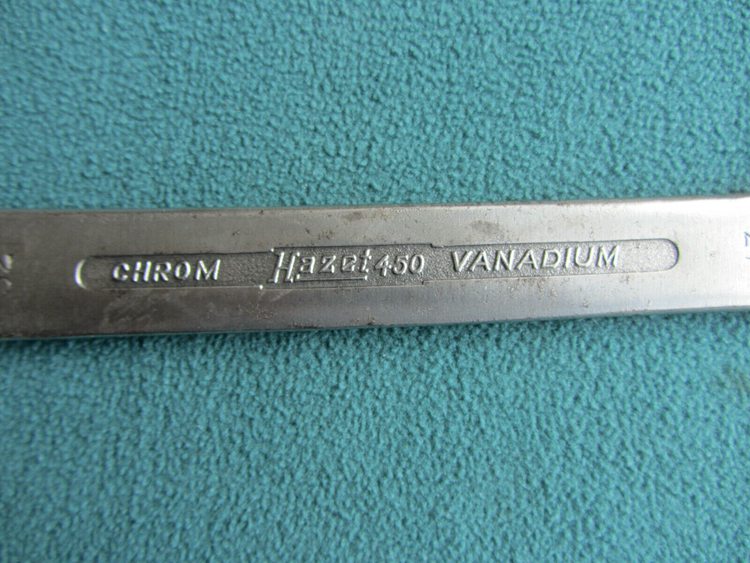 This is the trade used by an American company known as Simmons hardware company.
How to identify them – However, keen Kutter is the official mark on their wrenches. Along with their model initials and profile size.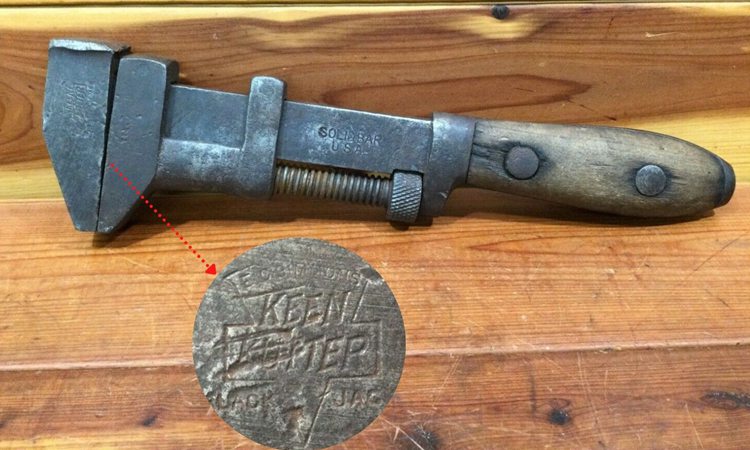 SK Wayne
SK Wayne company is well known for its top-notch automobile hand tools. Especially their patented fine-tooth and round-headed ratchet which was best for handling motorcycle repairs due to its convenient design. In terms of comfortable use and impressive portability.
How to identify them – you should notice the S-K sign or SK Wayne mark on the shaft. Along with the profile size.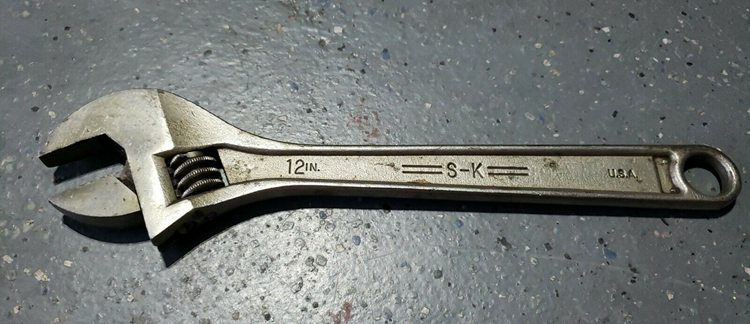 This tool company is well known for its impressive detailed design on the shaft and handles. In some of their tools, premium wood such as beech and Brazilian rosewood are used to make handles due to their hard nature along with the beautiful colors. Also, Stanley adds details to the metal surfaces of their wrenches as well.
How to identify them – Their highly demanded antique models are patented. So you should notice patent numbers stamped onto them.
This is one of the best manufacturers of hand tools. Especially the simplistic and convenient interchangeable socket wrench. And other drive tools as well.
How to identify them – the big snap-on mark is usually engraved on the shaft of the wrench.
Antique Wrenches And Their Prices – Price Guide
No.

Antique Wrench

Special Feature(s) 

Price Range ($)

1.

●      Size standard sign

$200 – $250

2.

●      L-shaped build

$100 – $150

3.

●      Lever wrench (old design)

$450

4.

●      Unique Torque Wrench design

$150

5.

●      Mini adjustable wrench

$63

6.

S-K SK WAYNE TOOLS 1/2″ DRIVE RATCHET SOCKET WRENCH – 42470

●      Patent number

$25

7.

●      Long shaft

●      Unique handle

$300 – $350