One way to get the best warmth is the antique wood stoves. These functional pieces have been manufactured for more than two centuries; with several of them rivaling today's modern stoves with their extravagant and well-made designs. However, because they lacked efficient means of heating, and some posed fire hazards, they were quickly replaced.
Since stoves were created for indoor usage, most antique wood stoves can be found in pristine functioning conditions. Or, at worst, they would require basic repair and maintenance.
If you desire to determine the value of an antique wood stove, identification of the piece is necessary. This guide contains tips that will help a newbie collector determine the age and value of an antique wood stove.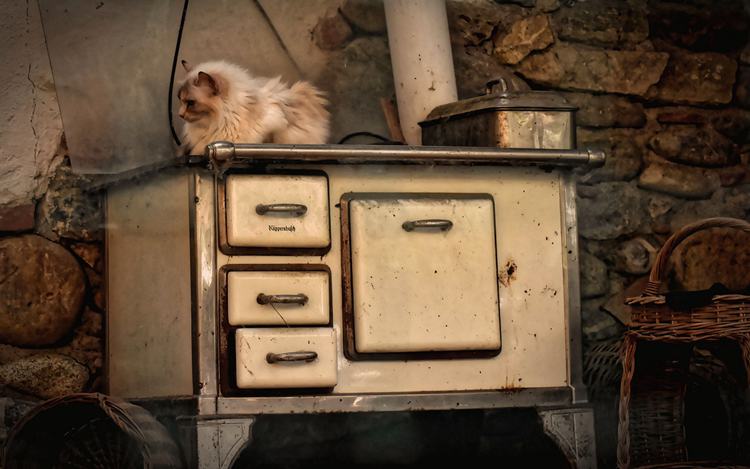 What Is An Antique Wood Stove?
An antique wood stove was manufactured for the sole purpose of heating an intended environment. By extension, it was developed as an appliance for cooking and even laundry.
Brief History Of Antique Wood Stove
Before the arrival of the wood stove, cooking was majorly done over open fires which also served as sources of heat. But, in 1728, cast iron stoves were manufactured in quantity and introduced to replace the open fires. They were called 'Five Plates' or 'Jamb Stoves' and were designed in Germany.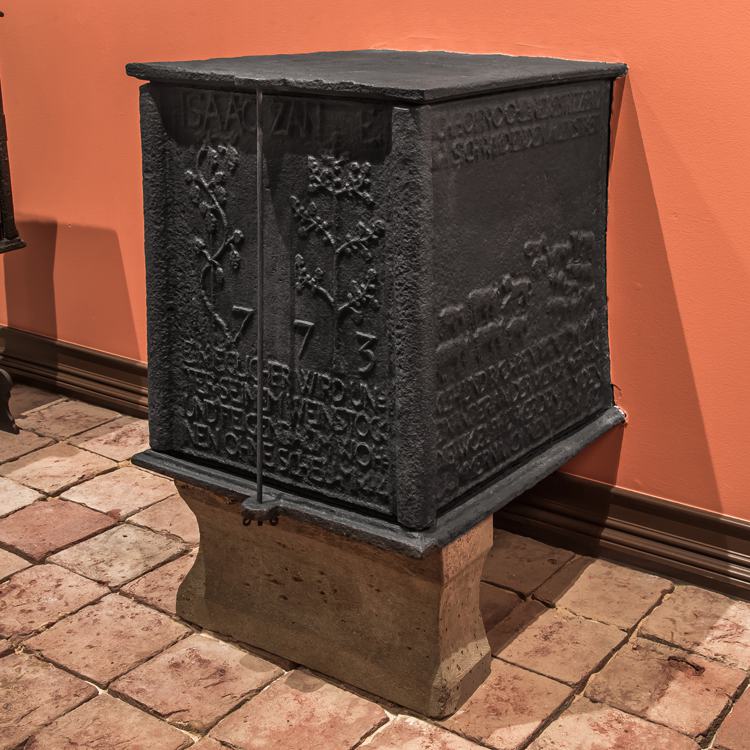 This century also brought the six-plate closed stove in 1740; and by 1760, the 10-plate cook stove with two hinged doors and an oven emerged.
In the nineteenth century, wood stoves became common sights and very few houses still had fireplaces. The wood stoves in this century were lighter, finely cast than the 18th-century ones that had six plates.
The Early-Twentieth Century
With the advent of the 20th century, wood stoves got more innovations. The stoves were larger with wider surfaces and came with extra features. Above or beside the ire box, you would find a warming drawer or a water reservoir.
Ceramic surfaces were introduced for a fancier look and to add color to the kitchen or parlor. Extravagantly designed handles and drawer pulls were also added for a modern look.
How To Identify Antique Wood Stove
Identification Based On Classification
As common as these antique pieces were, it is expected for several types to crop up. Based on defining features of your antique wood stove, you can determine the type of stove you own. The common ones are:
1. Franklin Stove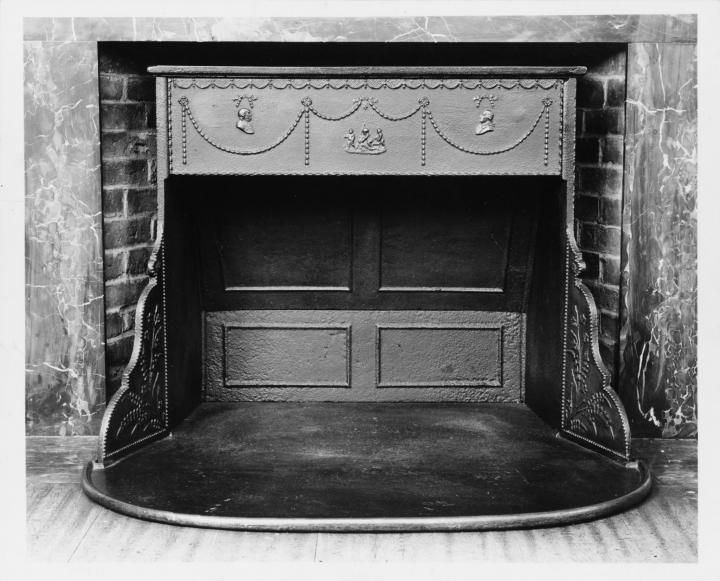 First created in the 18th century (precisely in 1728) by Benjamin Franklin, this stove became an inspiration to future wood stoves that would emerge.
The Franklin stove, with its three-sided iron-hinged doors, is quite alike to a fireplace insert. However, due to the hazard posed by the open front and its rapid ability to burn wood, the original design was discouraged.
2. Eisenglass Stove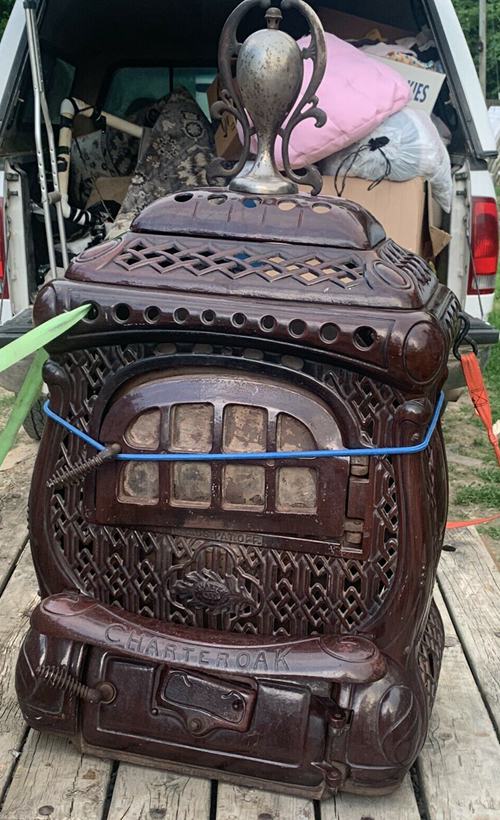 The Eisenglass stove was made with thin sheets of 'Mica' that were transparent and flexible. The upside to the stove was that it had a fire viewing window by which people could look through.
However, the Eisenglass is known to flake and lose its natural color with time. The Charter Oak Stove Company was the maker of this stove during the 18th century.
3. Ceramic Wood Stove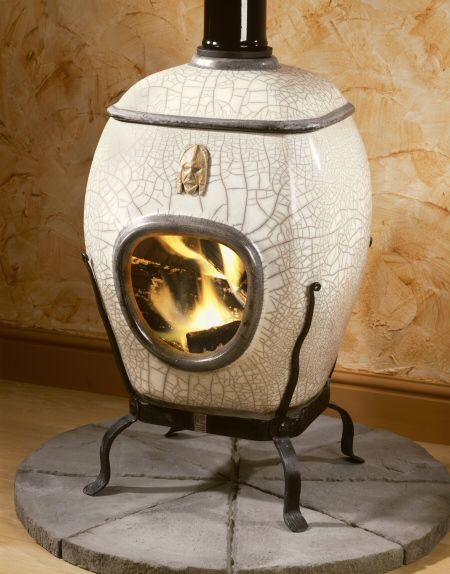 This wood stove featured ceramic tiles that were good conductors of heat and could keep the cold out even after the fire had died. It was quite popular in the 1800s but fizzled out as modern designs were introduced.
4. Soapstone Wood Stove
The Soapstone wood stove has its defining features is the fact it is constructed from soapstone unlike most stoves, and in its capability of conducting heat effectively.
5. Pot-belly Stove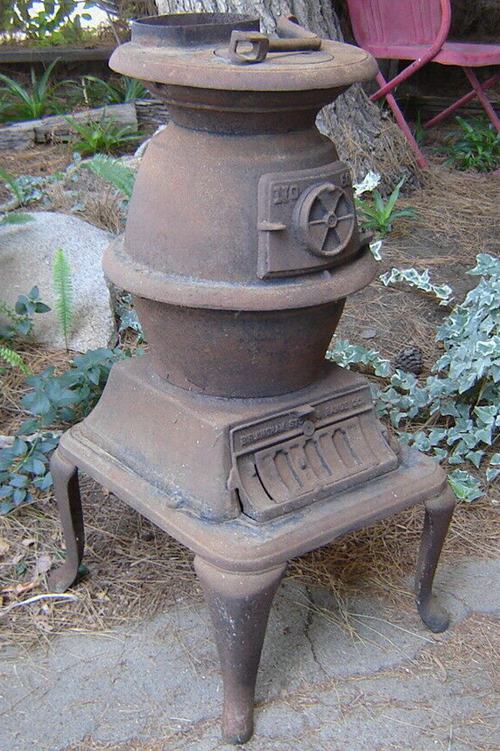 The distinctive feature of this type of stove was its bulging rounded fire loading area and pipe siphon that extends from the top of the stove.
6. Cast-iron Wood Burning Stove
When people think of a wood stove, the cast-iron wood stove is what comes to mind. As the name implies, this model stove is made from cast iron and has a door or inerting wood and a pipe that extends from the back of the stove.
7. Wood Cook Stove
The Wood Cook stoves were designed specifically for kitchen purposes. They had burners at the top (ranging from one to four), an oven on one side, and a stove box on the other for burning wood–to start the fire.
8. Parlor Stove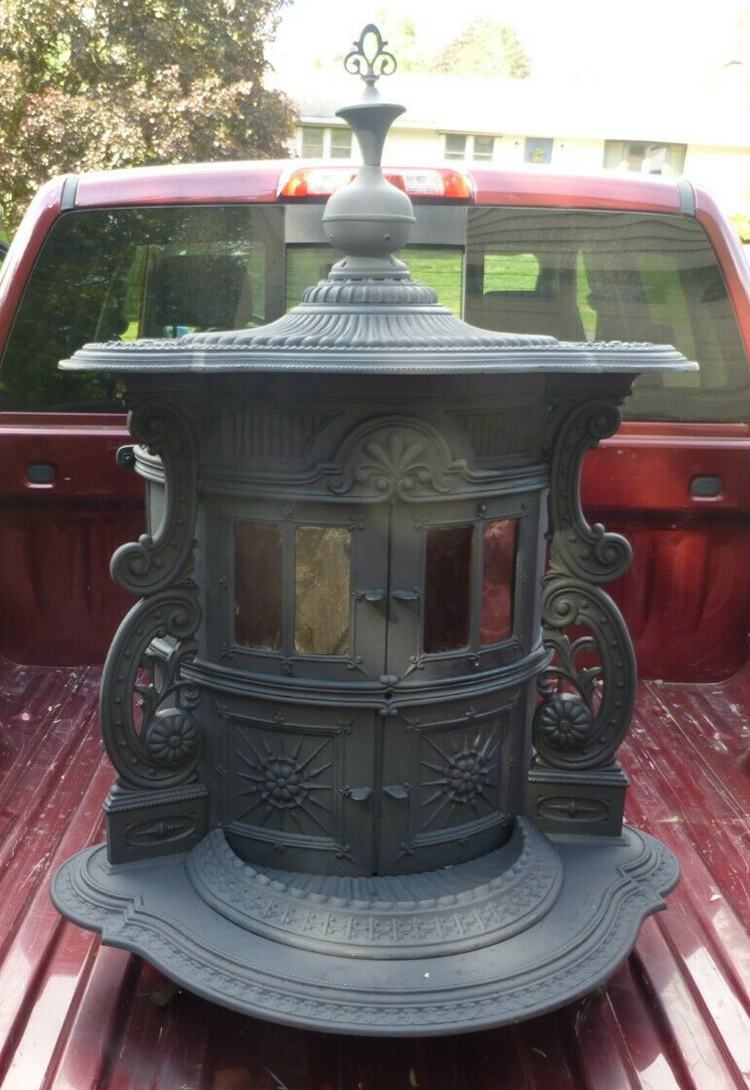 The parlor stove was very common during the Victorian era. They were smaller and more extravagantly crafted than the other stoves. Due to their small size, they could only heat a room or two.
Identification Based On Heat Source
Over the years, as wood stoves gained popularity, manufacturers began to look for other means of heat source. In the 17th century, wood stoves were made to burn wood, despite their use.
But as the coal and iron mining business grew after the civil war, coal-burning designs were introduced. When the Age of Invention grew stronger (between 1880 and the 1900s), manufacturers began searching for another source of heat; aside from coal and wood. This led them to gas.
Look at your stove closely. A wood-burning stove would have a solid base with no section for an ash pan. It also has a controllable vent underneath the stove that feeds air above the fire.
A coal-burning stove, however, burns better when the source of air comes below the flame. Thus, you will see, upon observation, a top vent that supplies air to the bottom of the fire. You will also notice a metal grate at the base of the firebox which allows ash to fall through; it also prevents blockage of air from below the fire.
The ash falls into a separate compartment, into an ash pan which can be removed and emptied between fires to prevent the buildup of ashes.
If it has a valve that hooks up to a gas line, you most likely have a gas stove in your hand. If you have a cord attached or a section where a cord can be attached, you have an electric stove. These kinds are more modern and are around 100-150 years old.
Identification Through Manufacturer's Mark
The placement of this information varies from manufacturer to manufacturer, but in most cases, many antique wood stoves have a brand mark along the body of the stove. Most cast iron stoves usually have the brand name embossed into the metal of the stove door.
If you still can't identify the manufacturer, look carefully at the sides or the back of the stove; particularly the undersides.
Also, look for a metal plate attached to the stove that bears the manufacturer's name and sometimes, model number. Newer stove models are known to have this type of identification.
Common manufacturer's name mark you might see includes:
Glenwood
Charter Oak Stove Company
Acme
Clarion
Queen Atlantic
Home Comfort
Barstow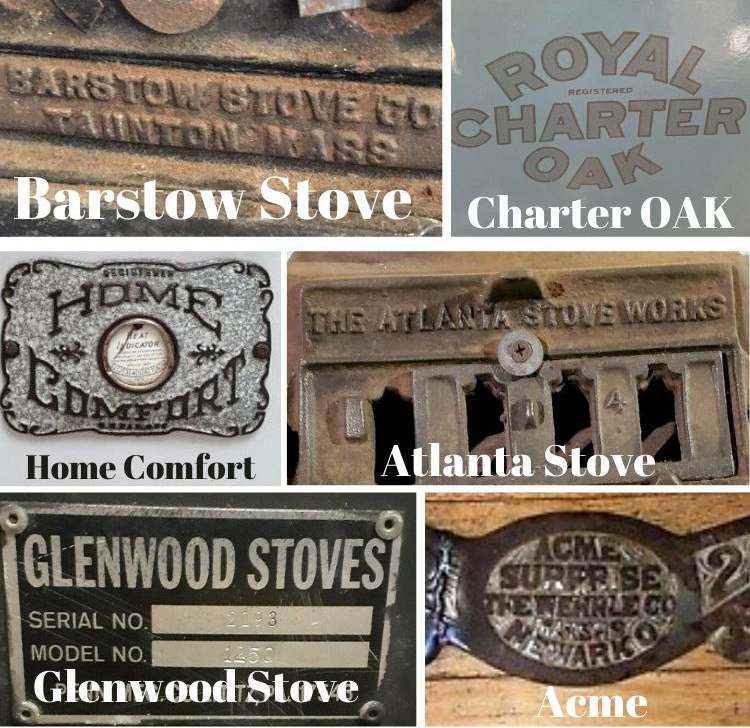 Pro-Tip: When identifying a gas stove that has a gas line attached to it, DO NOT move it. You could accidentally knock the connection loose and start a fire.
Identification Through Patent Number
In addition to the manufacturer's mark, antique wood stoves come with a patent number for identification; especially cast iron stoves. Examine the length of the stove for a set of numbers, sometimes starting with 'PAT'.
Look up the number on patent databases (e.g. The United States Patent Office) or charts for patent numbers. These charts, in most cases, contain the year the patent was issued. Thus, helping you determine your stove's age.
Pro Tip: Antique dealers or restoration companies are also a potential source of information. Since they work with different types of stoves, you can show them a picture and they will help you figure out what model your stove is.
How To Value Your Antique Wood Stove
An antique wood stove can range from a few dollars to several hundred dollars. Generally, the older a stove, the higher its value.
However, the value of your antique wood stove is still heavily dependent on the condition. If your antique stove has severely rusted parts, missing individual parts, cracks, or other considerable damage, the value will be lessened.
Another factor that can affect the value of the antique wood stove is the rarity of the model.
If you want to find the precise value of your antique wood stove, you can get a professional appraisal for a nominal fee. Or, you could compare your antique stove with other stoves on existing online listings such as on eBay, Vatican, and Craigslist. These would give you an approximate and current value of antique pieces.
If you own a 10-plate stove (one of the earliest brands) in pristine condition, it can hold a value of over $3000. A vintage enamel cook stove can be sold anywhere between $1200 – $2500.
Final Thoughts!
Antique wood stoves come with a measure of value even in our daily activities; from heating your home during winter in cases of a power outage and cooking meals. Asides from that, they add vintage decor to your home and carry a nostalgic feeling.