The value of old whisky bottles depends on a variety of factors. It is only possible to determine a bottle's market value by evaluating the factors listed below. However, a knowledgeable person about antique bottles can give you the most accurate evaluation.
Assessing the key factors that affect your bottle's values
Are there any hidden treasures in your drinks cabinet? It is understandable that people are always curious about what their antique whiskey bottles or spirits are worth. And following factors will help determine the value of your old whiskey or spirits:
Brand name
Some brands are more collectible than others, such as Macallan (single malt Scotch) and Rémy Martin (Cognac). Even if your bottle is not produced by one of the world's most renowned brands, it doesn't make a huge difference. A group of ardent collectors may highly value collector whiskey bottles.
Vintage statement
The age is given as a number on the label representing how many years the whiskey has matured in the cask. Some antique whiskey bottle makers specify a vintage – the year of distillation – along with or in place of an age statement.
The ABV
ABV Meaning: ABV is an acronym that stands for Alcohol By Volume. This means the percentage of pure alcohol in a drink. Most drinks have an ABV around 5-10%, but there are some exceptions. Keep in mind that the higher the ABV, the more potent the drink will be. So make sure to pace yourself when enjoying those high-ABV beers and wines!
Robust whiskies have always been famous, and those with a higher ABV are generally more sought after. Whiskies that have been bottled at cask strength have been bottled according to their alcohol content. Moreover, it also means that they have been bottled without adding any water to them.
Does it look like a distillery bottle?
Depending on the distillery or brand, a spirit can be bottled by the distillery or company that made it. Or it may be bottled independently. A spirit's value is affected by the specific series and purpose for which it is bottled.
Does it come in a limited edition whisky bottle?
Distilleries and brands that produce limited editions produce products that are not part of their core offering. From thousands of bottles of a themed release to just a few bottles harvested from a single cask, this can be anything. As you can imagine, scarcity is a factor that influences value.
Identifying the vintage of your whiskey
It is possible to identify the distillery and year of whiskey bottles using several clues.
Glass dates:
On the bottom of most expensive whiskey bottles, manufacturers molded the year in 2-digit format into the glass. When looking at the bottom, it is usually in the lower right corner (some are much easier to discern than others). If you find this, you'll usually be able to tell when the whiskey was bottled within a year or two.
The same bottle can often have two different 2-digit numbers, usually separated by a dash or space. Generally, the first two digits pertain to the "liquor bottle permit number." And the last two digits typically refer to the year the bottle was manufactured. The two digits following the first two digits are the liquor bottle permit number. The requirement for liquor bottle permit numbers began around 1935, and it was phased out in the early or mid-1980s. You can view a list of permit numbers as of 1969.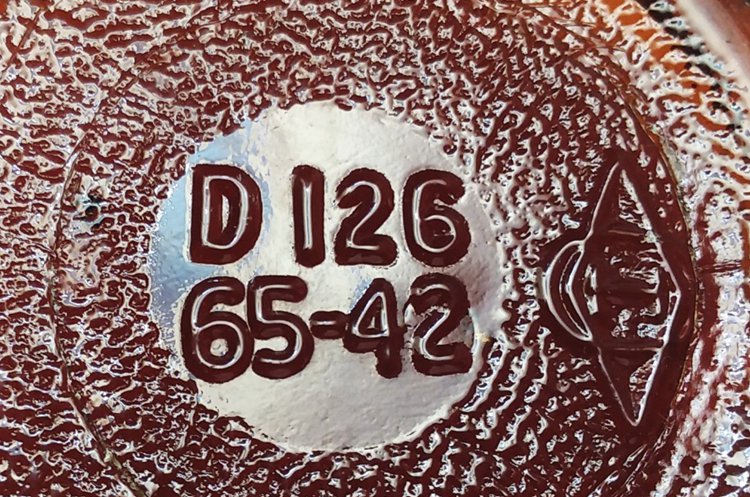 Tax strips: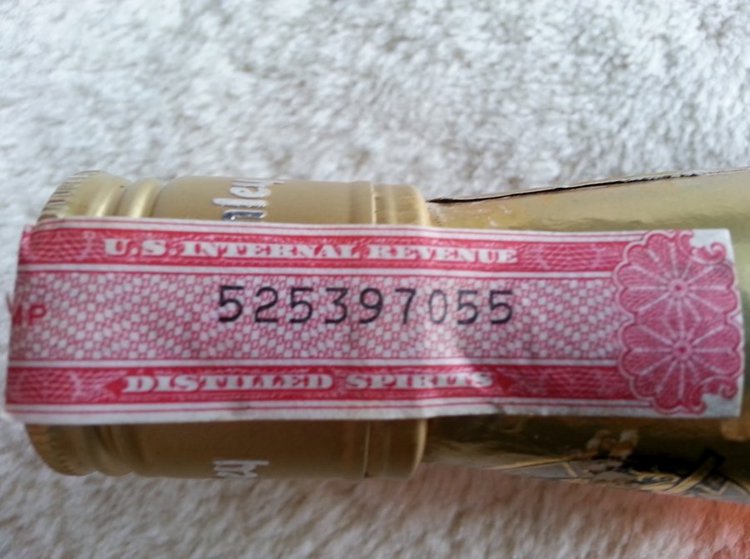 Between 1985 and the present, most bourbons and ryes have their cap sealed with a tax strip. There was an increase in the number of fake tax strips, which appeared similar to an official tax strip. But they were not from the government.
Whiskey that was bottled in bonds will likely show the distillation and bottling years if it doesn't fade. The tax strips of bottles in bonds are green; those of non-bottles are red but do not specify the year.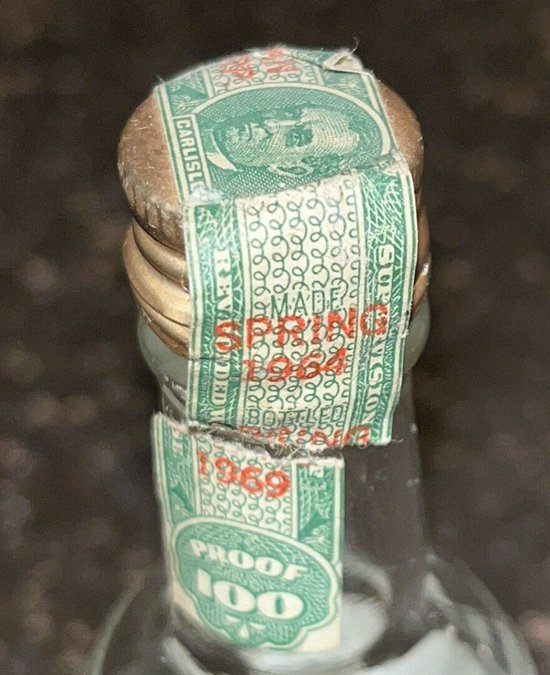 Tax strips in blue colors were for exports from the United States only, but not all exports used them. Beginning December 1, 1982, Bottled in Bond strips were no longer available.
On one end of the green bonded strip, there was a label denoting the bottle size, 4/5 qt. This requirement was abandoned in 1973. It does not appear that this requirement is applied to red strips.
There is no series listed near the eagle on top of the red strips from 1934-to 1944.
After 1945, the words "Series" and "111" are displayed below the eagle in the middle of red strips.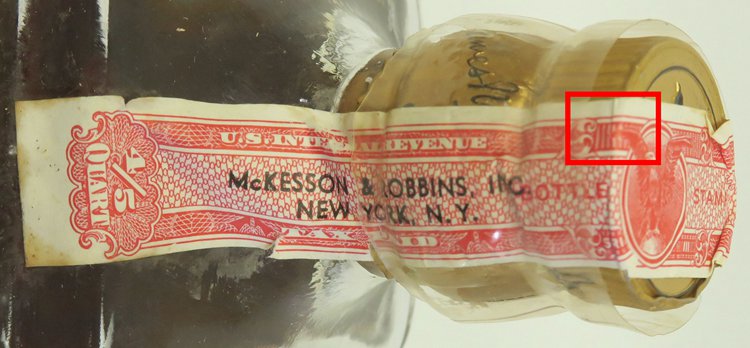 The "Series 111" labels on red strips were changed to "Series 112" in 1961. And the bottle size no longer appeared at the end of non-bonded strips (except for mini bottles).

The strips used to refer to the Department of Revenue before 1977.
The strips referred to the Bureau of ATF from 1977 to 1985.
As of 1982, the words "Tax Paid" and "Distilled Spirits" on the bottom of the strips were removed. And were replaced by the phrase "Distilled" and "Spirits."
UPC Codes
UPC codes first began to be used in the late 1970s/early 1980s, which could give you an idea of the period.
Additionally, you can sometimes determine what company packaged/sold the whiskey from the prefix on the UPC code. And you can also find out about the old whiskey bottles' value:
80244 – Buffalo Trace
80432 – Wild Turkey
83924 – Heaven Hill
85676 – Medley
88004 – Buffalo Trace
89319 – Old Rip Van Winkle
80660 – Barton Brands
80686 – Jim Beam (newer OGD)
81128 – Brown-Forman
96749 – Heaven Hill
88508 – Stitzel Weller (though some Old Fitz bottled by HH have been seen to have this UPC)
Bottled in Bond info:
Accordingly, bond spirits are required to display the following statement on their labels, which became effective July 1, 1938: "This bottle has been filled and stamped in compliance with Internal Revenue Code Section 2903-9, inclusive."
The bonded statement was updated on August 16, 1954, to read: "This bottle has been filled and stamped in accordance with Internal Revenue Code sections 5008 and 5243."
The bonded statement changed in August of 1959 to read: "This bottle was filled and stamped pursuant to Internal Revenue Code sections 5205 and 5233."
The repeal of section 5233 took effect on January 1, 1980, so the section would not appear on the label.
According to federal law, bourbon can only be bottled in a bond if it is at least eight years old. Therefore, even if a bottle is 100 proof and meets all the other bonding criteria. It wouldn't qualify as bottled in a bond if it was older than eight years. In the early days of the Very Old Fitzgerald 12yr, despite being 100 proof and distilled the same year. It was not considered bonded and wore a red tax strip.
In addition, the bottled-in-bond code is only applied in the USA. So you often see bonded export bottles that are less than 100 proof.
Metric vs. Imperial:
Up until 1980, US bottles were measured in imperial measurements (pint, quart, gallon, 4/5 gallon, etc.). From 1980 on, all bottles will be measured in metric (750ml, 1 liter, etc.). During the transition, some rare whiskey bottles will indicate both metric and ounce measurements.
It is interesting that the term "fifth" refers to a bottle of liquor because, for many years, a gallon was the standard size.
Government Warnings:
In 1989, liquor labels must include a health warning.
The government required the following text from 1935-to 1964 in the aftermath of prohibition:
"This bottle may not be sold or reused."
Glasses usually have the name embossed on them, but labels can also have it. You probably bottled the bottle between 1935 and 1964 if it shows these words. Nonetheless, some companies continued to use the warning symbol in their bottle molds for a few more years after the fact. Bottles with the warning can still be seen from the 1950s until the 1970s.
Date Codes:
There are some bottlers who use date codes, which are also known as matrix codes, to identify the date/time a bottle was filled. And also used to identify a particular bottling line. In the 1990s, date codes became more popular. The date codes of some distilleries are more cryptic.
How do you determine the value of antique whisky bottles?
Have you ever wondered how much your whisky bottles are worth?
In order to understand how unique each whisky bottle value is, we must first know that each whisky bottle auction is impressive. Researching is essential. You should examine past auction results as well as current retail prices when comparing price trends.
Compare auction trends
Find out if the whiskey has already been sold on Whisky Auction by searching. Comparing the auction prices and dates of each bottle, we can see how much they fetched. Take into consideration the price change, whether it's increasing or decreasing, as well as the rate of change. Check to see if the pricing has stayed the same over time or if it has changed from month to month.
An excellent Negroni can be made using Campari from the 1970s, which is especially popular with both bartenders and collectors. In recent months, prices have risen again after briefly declining. The Glenfiddich Snow Phoenix is another well-known auction regular, but its price has remained steady with less fluctuation.
Consult the original retail price
Additionally, you should check retail sites for the original market price or 'primary' market price. The bottle may sell for less at auction if it is readily available at retail.
It's possible that your bottle will sell for more than the most recent retail price if it's challenging to get at retail. In 2018, Hidden Spirits released a bottle of Ben Nevis 12 Year Old Highproof retailing for around £100. As with Hidden Spirits' bottling, single malts from the Ben Nevis distillery are popular with whiskey drinkers, so this batch sold out quickly. This batch sold at auction for £130 in August 2019.
Retail vs. Auction
You should take care when estimating the auction value of your bottle based on retail prices. When looking at retail list prices, it can be helpful to think of them as opening offers. Auction results, in contrast, show what people actually paid and when. In some cases, retail list prices are overly optimistic, unreasonable, or just simply out of date.
Remember that retail prices in the UK are already 20% higher since VAT is included. While on the other hand, no VAT is added to auction hammer prices. It is essential to allow a profit margin of at least 20 percent for retail list prices. As a general rule, retail prices will be 20% to 100% higher than the price they originally paid. So you must assess the available pricing of the shop and adjust accordingly.
Is the bottle in good condition?
Also, the condition of the bottle must be compared to that of other bottles that have been sold. Examine the fill level and the closure. Does the item have the original box? Is the label damaged in any way?
You should keep in mind the condition of the bottle when considering the price. Imagine two bottles of 1964 Macallan Campbell, Hope, and King bottled for Rinaldi in the 1970s. Bottles with original boxes and clean labels sold significantly more in March 2019 than those with stained labels and no boxes.
Could this bottle find a market?
The value of the bottle depends entirely on how much someone is willing to pay for it. Demand for a bottle will increase its value if it is in high order. No matter how unique a bottle is, if there is no market for it, it won't fetch as much money. When you're buying, this is good news.
What if your bottle has never appeared on the market?
When you can't find a match precisely for the bottle, you want to value. You can look for trends in auctions for similar bottles. For more insight, find a bottle with the same category, bottling era, historical value, reputation, maturation period, producer, etc.
List of the most valuable records of whisky bottles ever auctioned
Can you justify spending several million dollars on a bottle of whisky? Regardless, we've got the ultimate list of the world's most expensive whiskey bottles!
Whiskey bottles with these labels have broken records. Among these are whiskies aged more than half a century, distilled by master distillers, and bottles adorned with diamonds and in artful decanters. All these malts share one feature in common: they've shattered the bank.
There is a Gaelic word for whiskey called Uisge Beatha. This means life's water, which is why whiskey can be so expensive.
There's no doubt that these malts can carve out a niche for them. In the following sections, however, we'll discuss the most expensive whiskey bottles and what makes whiskey so expensive. What does a bottle of whiskey weigh, and what goes into making it? It's pretty interesting to learn what makes it so expensive!
The Macallan M Scotch Whiskey – $628,205
A number of factors contribute to the Macallan M being one of the most expensive whiskey bottles in the world. To begin with, it's a 6-liter bottle of fine, sophisticated whiskey, but that's not its biggest selling point.
This single malt whiskey has been aged in Spanish oak barrels for 70 years, so its quality is pretty high. The Macallan M is most valuable in its handcrafted crystal decanter and crystal stopper, which combine to create a masterpiece decanter. Macmillan brand, Lalique crystal, and creative director Fabien Baron made this iconic bottle.
The Yamazaki 55-Year-Old Malt Whisky – $795,000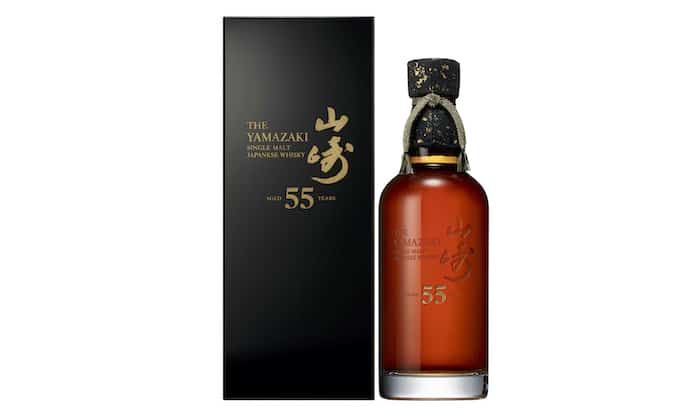 Collectors made headlines when they bought Yamazaki Single Malt Whisky for $559,200. Unlike most expensive whiskey bottles, it wasn't purchased at auction. In fact, he had purchased it from the Duty-Free shop at the Istanbul Airport in 2021.
The price of another one of the 100 limited-edition bottles of The Yamazaki 55-Year-Old changed to another bottle from the same year. And bottling became the most expensive Japanese whiskey. During an auction in Hong Kong, it sold for $795,000, which was 10x its pre-sale estimate.
The incredible price sets a new benchmark for the Japanese whiskey market. Although the 46% ABV blend is packaged in a crystal decanter with gold dust, it makes sense.
The Yamazaki 55-Year-Old Japanese whiskey is the oldest in history. From 1960, the wine was aged in barrels made from Japanese Mizunara oak. In 1964, it was aged in white oak barrels.
The Macallan Peter Blake 1926 – $1.04 Million
The fact that only 40 bottles of this fine whiskey were ever released from cask #263 seasoned with ex-Sherry barrels already makes it one of the rarest whiskeys around. One of Macallan's most prestigious spirits is Peter Blake, and it's pretty old as well! After being distilled in 1926, it was only bottled in 1986, precisely 60 years after it was manufactured.
Among the 40 bottles of whiskey, two renowned artists created 24 bottles of 'holy grail' whiskey. Sir Peter Blake hand-painted the designs on twelve of these antique whisky bottles. Co-designer of the Beatles' album cover for Sgt. Pepper's Lonely Hearts Club Band was known for his sleeve work. A bottle from the collection sold for a million dollars at auction in March 2018.
The Macallan 1926 Valerio Adami – $1.1 Million
During the development of the Macallan 1926 series, the Italian artist Valerio Adami designed and crafted another set of 12 bottles. Its blend of rareness and vintage status makes it cherished liquor and million-dollar malt.
An auction in Edinburgh in 2018 sold the most expensive whiskey in the world, the Macallan 1926 Valerio Adami.
The Macallan 1926 Michael Dillon – $1.53 Million
You might have noticed that the most expensive whiskeys are evolving into a theme. After a month, a November London auction has set a new world record for the most costly whiskey with The Macallan 1926 collection.
The design on this bottle was hand-painted by well-known Irish artist Michael Dillon who is known for his historical decorations. It is true that there is only one bottle like this in the world. This was regarded as one of the whiskey's landmarks.
The Macallan 1926 Fine and Rare – $1.9 Million
There was a time when the Macallan 1926 was the most sought-after bottle of Scotch whiskey. An auction in London cost a staggering $1.9 million for one of the 40 The Macallan 1926 bottles a year later. This is one of 14 bottles of the 1926 collection that was never signed by an artist, just the Fine & Rare label.
It is considered the oldest whiskey produced by The Macallan. And it was also the base for the Fine & Rare series, which is still one of the most coveted whiskeys.
Isabella Islay – $6.2 Million
One of the most expensive and valuable bottles of whiskey in the world is the Isabella Islay luxury Scotch whiskey. Although most expensive whiskeys are bottled cask-strength, it is a single malt scotch. Exactly why is Isabella Islay a multi-million-dollar whiskey?
It is primarily the extraordinary white gold bottle encrusted with 8,500 natural diamonds and 300 rubies that contributes to its high value. This bottle of whiskey is supposed to be good as well, but who would speak poorly of a $6 million bottle of whiskey?
A cheaper version is available in the company Special Edition Whiskey bottled in the finest English crystal for $740,000.
The Emerald Isle Collection — Price $2 Million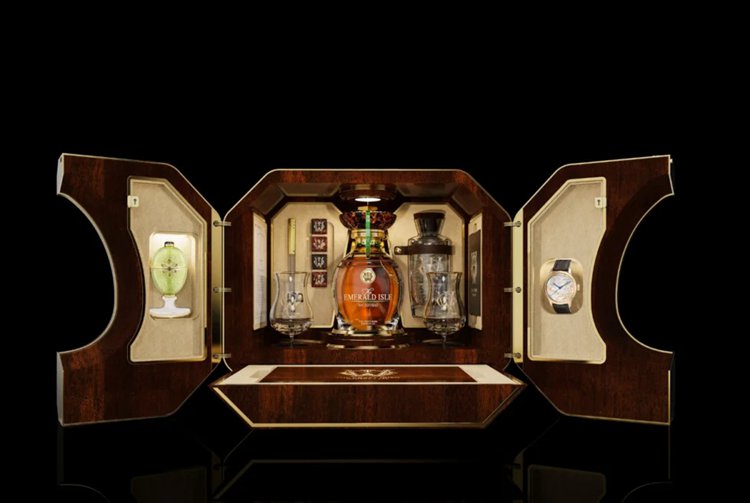 There was a record-breaking sale of the world's most expensive whiskey collectors set for $2 million (€1.68 million).
Fabergé and The Craft Irish Whiskey Co. have teamed up to create a $2 million personalized gift bundle. In an elegant walnut box, this whiskey is meant to symbolize the breathtaking natural beauty of Ireland. This design shows off the stunning natural beauty of the country. In addition to the artwork and geographical coordinates of Ireland's Seven Wonders, each box will also include artwork.
The package includes two bottles of triple-distilled whiskey from The Craft Irish Whiskey Co. Once the whiskey is distilled, it is matured in 200-liter "first-fill" American oak barrels for a period of time.
The unique flavor is derived from the process of distillation and aging in a Pedro Ximénez sherry cask. It is then aged in a second 40-liter Pedro Ximénez barrel. In the end, the brand's distillers had notes of bananas, leather, cigar smoke, vanilla, and meringue, with hints of vanilla, maple syrup, and cinnamon.
Conclusion
Rare bottles are typically bottled prior to the year 2000 or those from limited editions. For vintage bottles bottled before the 1990s, there is a premium. The size of these bottles is identifiable, as they state 75cl, 750ml, or 26 33 fl ozs as their volume. Among the top single malt whiskey brands, Macallan continues to command top prices, but distilleries such as Highland Park, Bowmore, Laphroaig, Ardbeg, and Bruichladdich are also much sought after.