Although skeleton keys are easy to find and most of are relatively cheap, we want you to know that there are still quite a few that are highly coveted and rare.
If you're an avid collector looking to expand your collection, read on. We are about to unlock a whole new world and introduce you to the rarest antique skeleton keys.
Antique skeleton keys usually sell for $10 or even less. However, it can go up as high as $1000 due to age and the presence of more intricate details.
Just what do we have in store for you? Well, how to identify rare skeleton keys and how to properly value that skeleton key in your possession are some of the things you'll learn here. However, before this, here are 5 of the rarest skeleton keys you'll find today.
Top 10 Rarest Antique Skeleton Keys Around
The prices here are from verified online stores, antique websites and online auction platforms.
| | | | |
| --- | --- | --- | --- |
| No. | Names | Release Date | Price |
| 1 | 1920s Metal Skeleton Key | 1920 | $595 |
| 2 | Vintage Skeleton Key With Faces | 1950-1959 | $550 |
| 3 | Antique French Iron Skeleton Key | 1800 | $143 |
| 4 | Brass Bow Antique Skeleton Key | 1890 | $139 |
| 5 | Ottoman Rustic Skeleton Key | 1980 | $72 |
| 6 | Rustic Antique Steampunk Skeleton Key Set | 1890 | $60 |
| 7 | Antique Georgian Skeleton Key | 1900 | $59.99 |
| 8 | Antique Steel Dolphin Fish Skeleton Key | 1900 | $46 |
| 9 | Dutch Antique Skeleton Key | 1930-1940 | $22 |
| 10 | 1920 Vintage Skeleton Key | 1920 | $12.60 |
1. 1920s Metal Skeleton Key
Release Date: 1920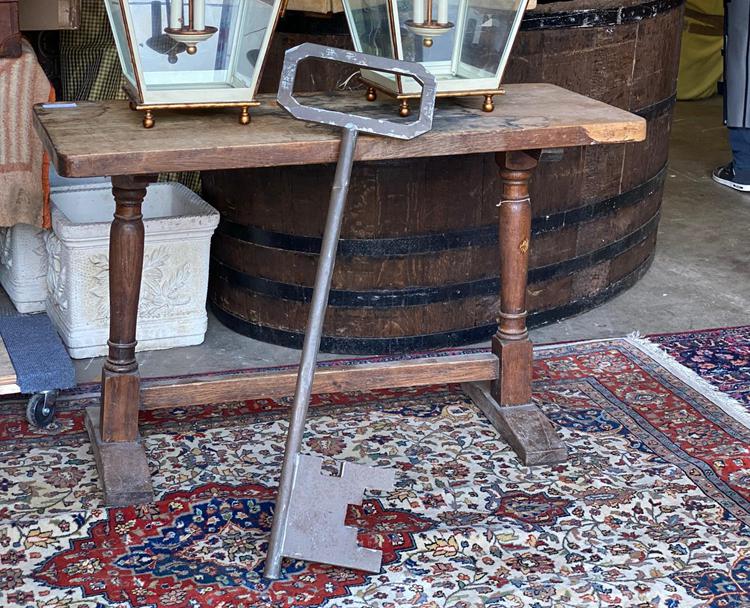 This model was sourced in France and is made from metal sheeting. The bow is round with a very slim body. The 1920 piece retails for $595.
2. Vintage Skeleton Key with Faces
Release Date: 1950-1959

This particular skeleton key is scarce and features faces made of steel. It bears the Cocteau drawing and has "THE REGENERATION". It seems to represent one of the most significant art movements of the twentieth century. It sold for $550.
3. Antique French Iron Skeleton Key
Release Date: 1800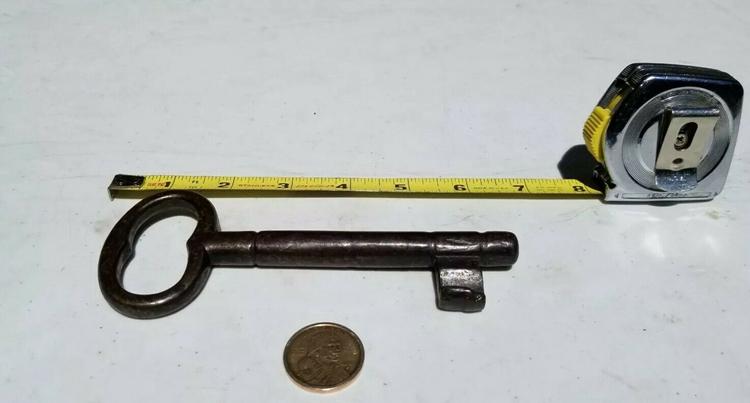 This skeleton key from the 1800s is also of French origin. It is made of solid old metal, over 6 inches long and sells for $143.
4. Brass Bow Antique Skeleton Key
Release Date: 1890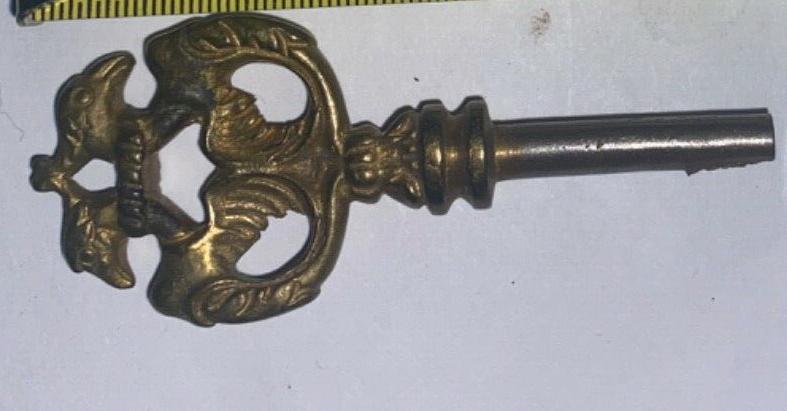 This mystical looking brass key also from Paris in the 1890s is beautifully decorated with bird like figures. Keys with unique bows like this are very rare and pricey, this particular one goes for $139.
5. Ottoman Rustic Skeleton Key
Price: $72
Release Date: 1980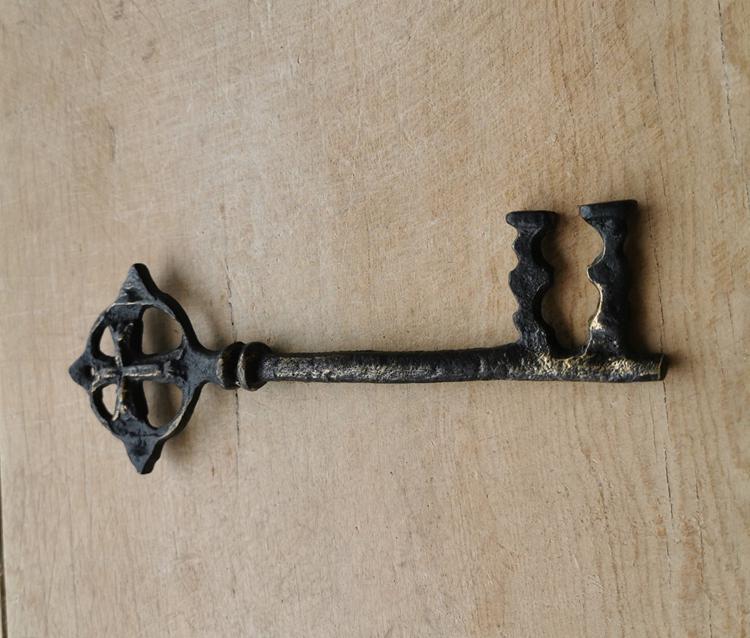 This key of Turkish origin has cut cross pattern at the bow with unique teeth and cuts. The 19th century masterpiece is hand crafted from casted iron and is on sale for $72.
6. Rustic Antique Steampunk Skeleton Key Set
Price: $60
Release Date: 1890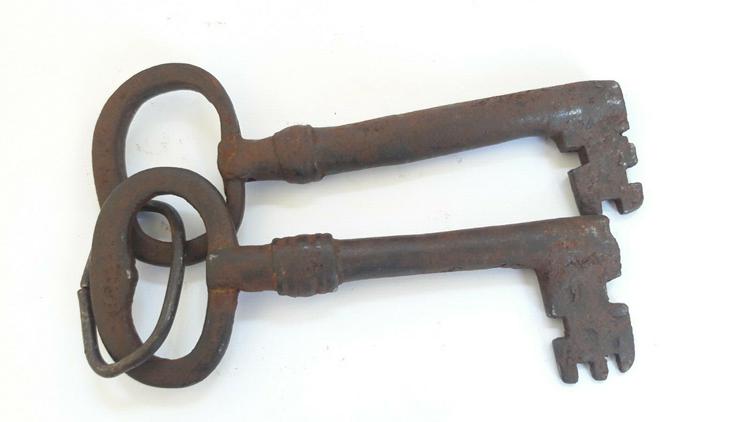 Made from pure iron, this rustic skeleton key set was designed in 1890, the jagged ends make it easy to unlock any lever. The round bow allows for easy gripping and sells for $60.
7. Antique Georgian Skeleton Key
Release Date: 1900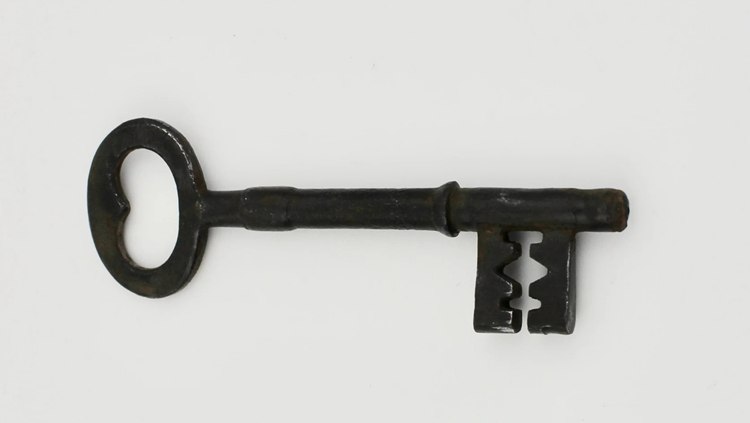 A 19th Century beauty, this Georgian inspired skeleton key is made of heavy iron. It is 5.25 inches long with ribbed body and a unique jagged edge with a slightly flat heart-shaped bow. It retails for $59.99.
8. Antique Steel Dolphin Fish Skeleton Key
Price: $46
Release Date: 1900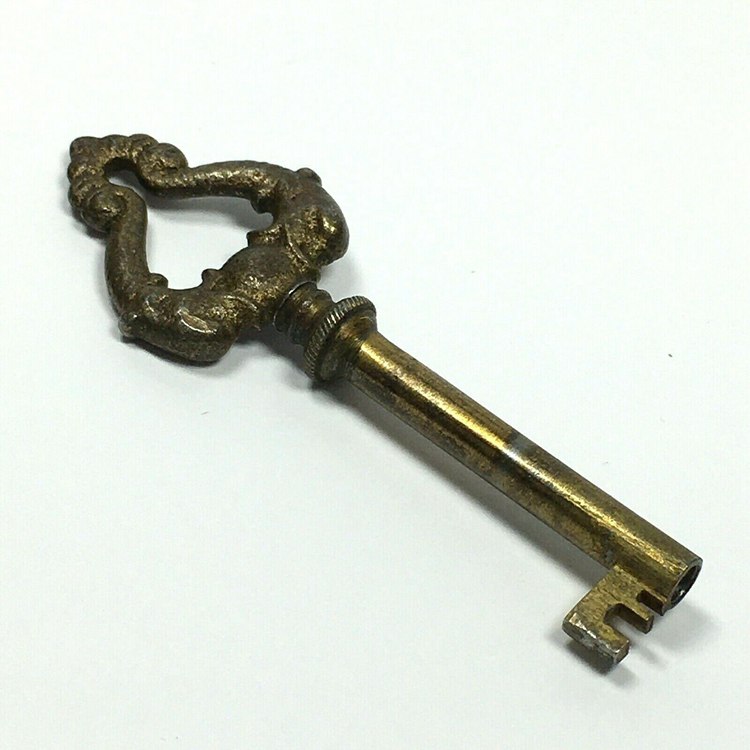 This $46 gold plated iron steel key was made in the 1900s and has an interesting dolphin shaped bow with ribbed ends for extra grip. It has a single ribbed body with horizontal jagged teeth.
9. Dutch Antique Skeleton Key Set
Price: $22
Release Date: 1930-1940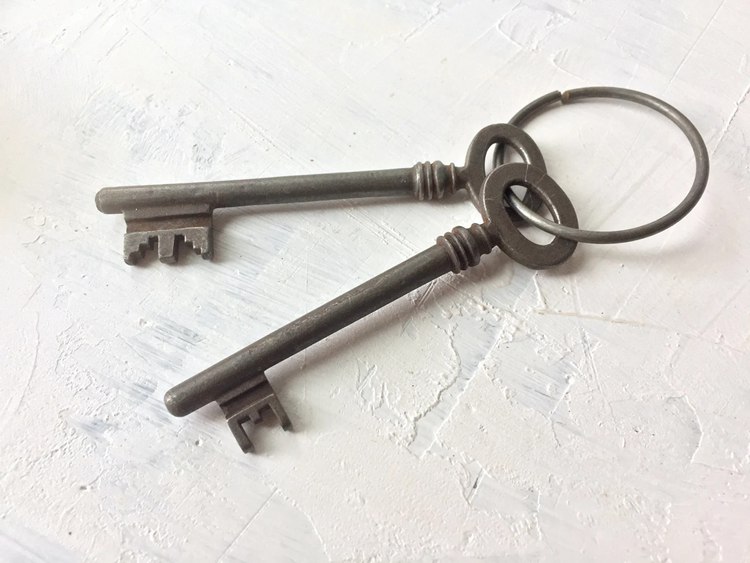 There're two models of keys in this set, a 1930 and 1940 Dutch skeleton key, they're made from cast iron and metal. These keys have round bows with different jagged shaft. It retails for $22.
10. 1920 Vintage Skeleton Keys
Release Date: 1920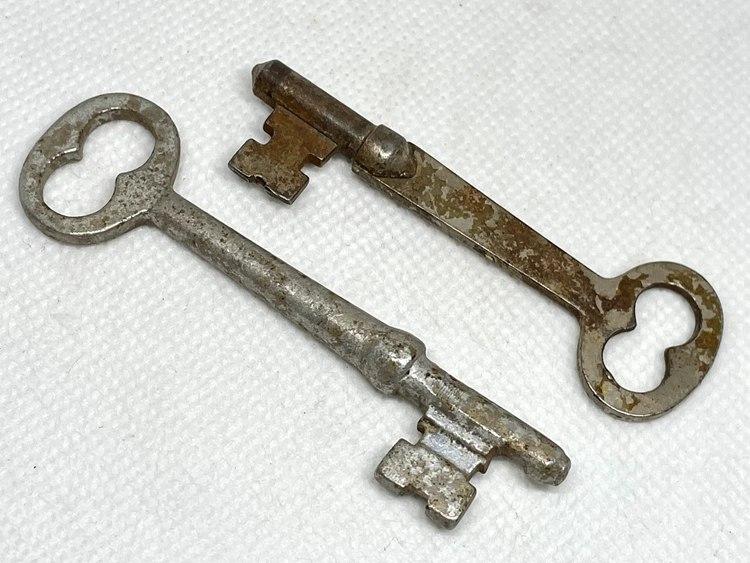 A vintage skeleton key set from the 1920s, they're pure steel keys with spiral bow and flat sides. They have two jagged tip for easy access. This set is a rare find and they retail for $12.60.
How do Skeleton Keys Work?
Skeleton keys work with warded and lever locks. If you have a warded lock, skeleton keys can open it because of the absence of interior notches that fit with the wards. The incompatibility of the key and the lock creates an obstruction that forces the safety to give way.
In the lever system, each lock has a key that matches the ward. All a skeleton does is that it bypasses the wards and pushes the lever to the right height to open the lock. It can easily do this because it's a master key. You'll find lever locks in big establishments.
How to Identify Skeleton keys
Do you have a skeleton key in your hands with zero ideas on how to identify it? Well, this section addresses that issue. We've helped you with a list of things to look for when searching for information on your item.
Size of the Skeleton Key
All skeleton keys come in various sizes, ranging from an inch to over five inches in length. The size of your key is variable to its use and valuable it is. There are four categories of skeleton keys according to their sizes.
The tiny keys are used for unlocking jewelry boxes, trinkets, locked pendants or every other simple lock. Small keys are more prominent than small keys; they usually measure between 2-3 inches and unlock furniture and sealed cabinet.
Medium keys went up to four inches long and were made to unlock doors- wooden doors, metal doors and all sorts of door locks. They're commonly sold with vintage doorknobs.
Large keys are the biggest and last in this category. They open gates and industrial locks.
By Their Marks
Many skeleton keys have marks, engravings, and inscriptions that can help you identify the history, origin, and maker of the key. Sometimes, you may find names of hotels and room numbers on the keys. Finding these marks will help your research a little further.
By Their Craftsmanship
Handcrafted keys have some rough and rugged feel, and they have uneven shapes and sizes. Unlike factory-made keys that are sleek, precise and uniform in size, shape, appearance and texture.
So the next time you spot a skeleton key, pay attention to the texture. If you get a rough feel and see the features listed above, then you have a legit piece, anything otherwise has most likely been retouched.
By Their Parts
You can confirm the authenticity of your skeleton key by examining the shaft- it must be longer and heavier than the barrel key. Next, move to their teeth. Skeleton keys have two short grooved teeth at their base that goes into the lock.
By an Appraiser
We can't stress this enough. Consulting an appraiser will ease the load of identifying a skeleton key you most likely don't know anything about. Appraisers will help you do this and even show you ways to sell your products and make the most.
Online Guides, Libraries and Catalogues
Check for catalogues or online for previously sold keys to identify the model you have in your hands. Libraries are also a great place to start your search as there are endless books written on skeleton keys, their history, and even prices.
How to Determine the Value of Skeleton Keys
The following factors below will help you correctly determine the true worth of your antique skeleton key.
The Key Material
Skeleton keys are usually made from two materials, iron and Brass. You can identify the one made from iron with the help of a magnet. The one from Brass does not attract a magnet. Any other material apart from the ones listed above is considered a retouched version or inferior, which can significantly affect your item's value.
The Rarity
Skeleton keys used as far back as the 1700s or even earlier are tough to find, and in fact, there's little to no information about this category of keys anywhere. So if you have a key used during this period in your possession and can confirm the authenticity, you have struck gold.
The Detailing or Decoration
Skeleton keys with unique bow shapes are precious to collectors. Other exciting designs such as lions, the sceptre, crown and hearts also attracts people. They are wound by hand. Endeavour to deepen your search and look for these shapes
The Keys Age
The older a skeleton key, the rarer it is and the more valuable it becomes. Look out for handmade keys that are stamped with a date. Check the date to determine how long they've been around.
The Condition of the Key
Skeleton keys with chipped off parts, cracks, rough appearance and wiped marks are significantly undervalued. Try to keep your keys in mint or near mint condition as much as possible. The goal is to earn reasonable profit from whatever size or shape you have in your hands.
Usage
Antique skeleton keys with catchy engraving or bold statements come in handy as souvenirs, pendants, wind chimes and even framed wall decorations. If your old skeleton keys can function as the things listed above, best believe the value will skyrocket.
Online Price Guides, Auction Websites
Check online stores and antique websites for the possible prices of skeleton keys. Antique items are at the mercy of market demands and supply, so always check regularly to be abreast of current costs and values.
How to Clean Vintage Skeleton Keys
Due to years of existence, their materials, exchange and human contact. Skeleton keys are prone to rust, dirt and even greasy leftovers. Here're ways to get your keys all new and shiny again.
Rusty Vintage Skeleton Keys
To get rid of the rust, you'll need vinegar, a saucepan and a rag. Put the keys in a saucepan and pour vinegar into it; cover and let simmer for a few minutes. When this is done, pour the vinegar into a separate container, remove the keys and wipe the body with a clean rag.
Restoring Shine to Brass Skeleton Keys
Make a paste from equal parts of salt, flour, and white vinegar, coat your brass skeleton key with the paste and leave to marinate for 60 minutes, rinse the paste off with warm water and pat dry with a clean, dry rag.
FAQs
How much are skeleton keys worth?
Typically, the cheapest skeleton key you can find the range between $5-$10, and they can go as high as $1000 in some cases.
Where can I find antique skeleton keys?
Go to the nearby estate sales, flea market, yard sale or antique store near you to look through an endless collection of skeleton keys and make a choice. You can check online auction websites or collector's lists for more options.
What are skeleton keys used for?
Skeleton keys are used as master keys to manoeuver ways around every lock. Their plane and rounded edge give them the advantage to open doors in their system. They range from tiny to substantial skeleton keys.
What can I use my antique skeleton keys for?
You don't have to discard your old skeleton keys. They can still come in handy, especially in the wardrobe area. A fancy skeleton with catch engravings can make the perfect pendant for your necklace.
They also look great in candy jars, lanterns, wall frames. Hang them on hooks, use them on your ceiling fan as decorative pulls, put them on your key holder for keeps and fun. Skeleton keys are versatile and shouldn't be so quickly discarded.
Parting Words
These artsy keys do not only help you get locked out less, but they also make great relics and fashion accessories. Before you look into collecting them, here're a few extra points you should bear in mind.
People will only pay for keys in excellent condition; make sure collect only antique skeleton keys with intact parts to avoid loss of value and money.
Look out for skeleton keys with exciting shapes such as bows, hearts, crowns and animals; they're rare and highly sought after.
Beware of reproduced versions; old skeleton keys are usually made of brass and metal materials.