A perfume is a work of art, and the object that contains it must be a masterpiece". Those are the famous words of Robert Ricci of The House of Nina Ricci.
Over the years, many of the perfume bottles that have been produced have been nothing short of masterpieces. Many of these vintage perfume bottles are now serious collectibles that are very valuable. They are now sought after as much as the fragrances they once held.
In this vintage perfume bottle price guide, we'll look at 10 of the most valuable vintage perfume bottles and their worth. The top 10 are:
10 Most Valuable Vintage Perfume Bottles
1. Galle French Cameo Perfume Bottle
Year: 1900
Value: $17,500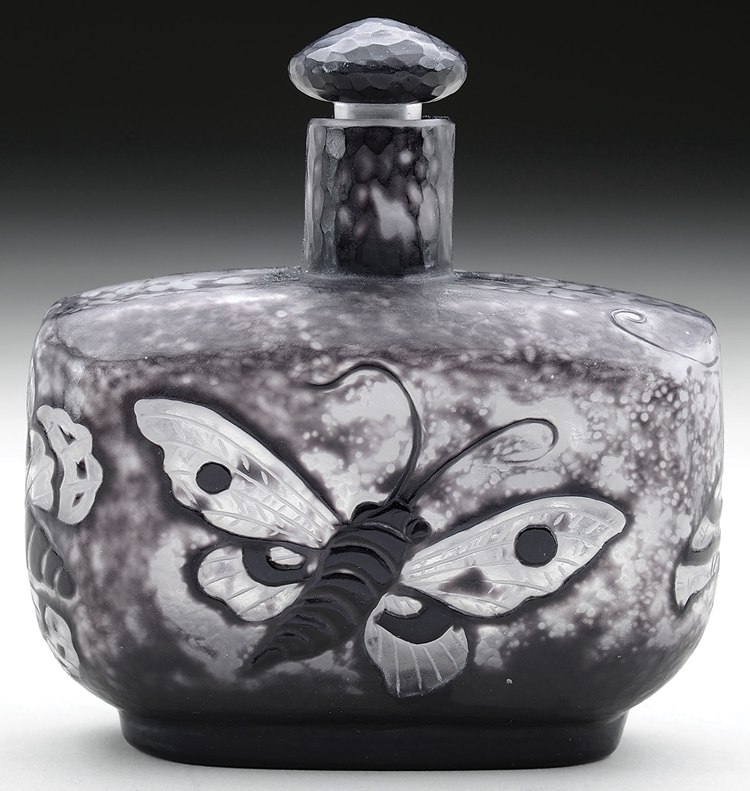 This is a fine French cameo glass bottle that is signed "Galle". This tells you that this is a piece by Emile Galle, who is arguably the most outstanding French glassmakers of the nineteenth century.
The beautiful glass atomizer has calming pale colours. It features beautifully carved white and black butterfly designs against an ash and white background. The cameo styling raises the details beautifully. The bottle is banjo-styled, with a round body and thin cylindrical neck, and comes with a matching glass stopper.
The Galle glass bottle can be dated to 1900. Interestingly, it is in excellent condition. So, it is very valuable. In an auction (Morphy Auctions), still ongoing as of writing, it had received a bid of $17,500.
2. Rare Thomas Webb Cameo Glass Perfume Bottle in Case
Year: 1880
Value: $15,600
This iconic bottle from Thomas Webb is shaped as a fish. The white fish bottle has red eyes and a blush of red in the nose area. The fish bottle features the intricate detailing that is characteristic of Thomas Webb. The gills, pectoral fins, and the scales over the body are very detailed, and in the raised cameo styling. It comes with a silver tail which is hallmarked.
The 5-inch long fish perfume bottle is marked "Rd 15711". It was made in about 1880.
Apart from being well over a century old, this vintage perfume bottle is in excellent bottle. There are no damages whatsoever, and it has not been repaired. All of these make it very valuable. Another thing that adds to its value is that it comes in its original case. The velvet fitted box is marked "Mappin & Webb Silversmith To The Queen". It is about 6 ½ inches long and 2 ½ inches wide.
While the case shows some wear, this bottle + case combination is very very hard to get. In an auction on December 5, 2018, after 24 bids, the piece sold for $15,600.
3. Rare Thomas Webb Cameo Glass Perfume of Swan
Year: 1880s
Value: $12,300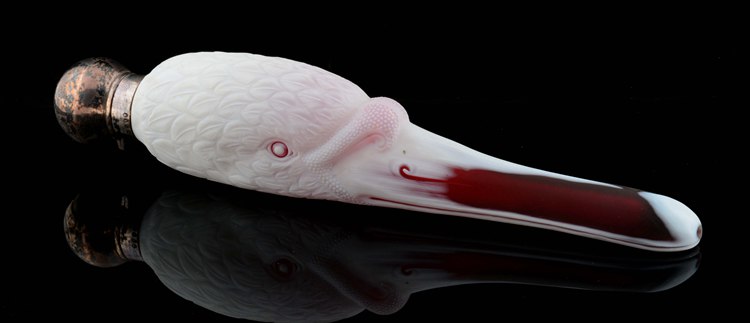 The beauty of this swan vintage perfume bottle is captivating, and that applies to even those that do not like the swan bird. The bottle is designed to look like the head of a swan, with the beak/ bill forming over half of the bottle's length. The part of the bottle that is the swan's head features great feather details in raised cameo styling. The vintage swan bottle come with a sterling hinged lid with original stopper. The lid is hallmarked.
The glass bottle measures about 9 ¼ inches in length and 2 ½ inches wide. It is marked "Rd 11109". The bottle can be dated back to the 1880s. It is in excellent condition. There is no cracks or chips. All of these make it very valuable. When bidding ended on December 5, 2018, this item sold for $12,300.
4. Rare Webb Cameo Falcon Head Perfume Bottle
Year: –
Value: $11,400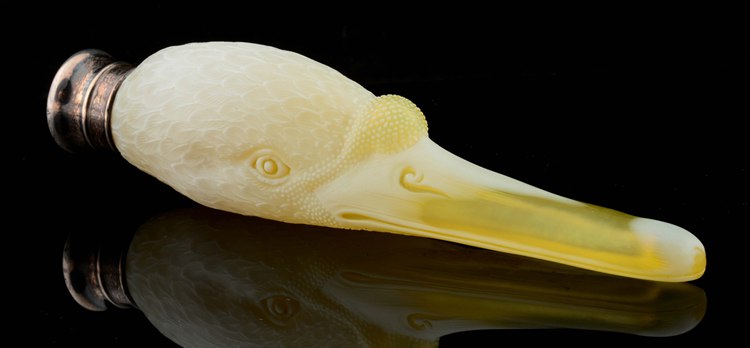 This beautiful glass perfume bottle is a Webb blank carved by master glass engraver Roland Max Erlacher. The bottle is shaped like a falcon's head. The detailing is amazing, from the huge beak of the falcon, to the open eyes and feathered head of the falcon. The cameo styling is used, which means the feathered detail is raised.
The bottle which is about 7 inches long is fitted with a sterling hinged lid which is marked "G Kellen".
This falcon head vintage perfume bottle is in excellent condition. It does not have any sign of damage. Its age, intricate detailing, and condition makes it very valuable. In a July 15 auction, after 15 bids, it sold for $11,400.
5. Thomas Webb Cameo Glass Perfume Bottle
Year: 1880
Value: $11,250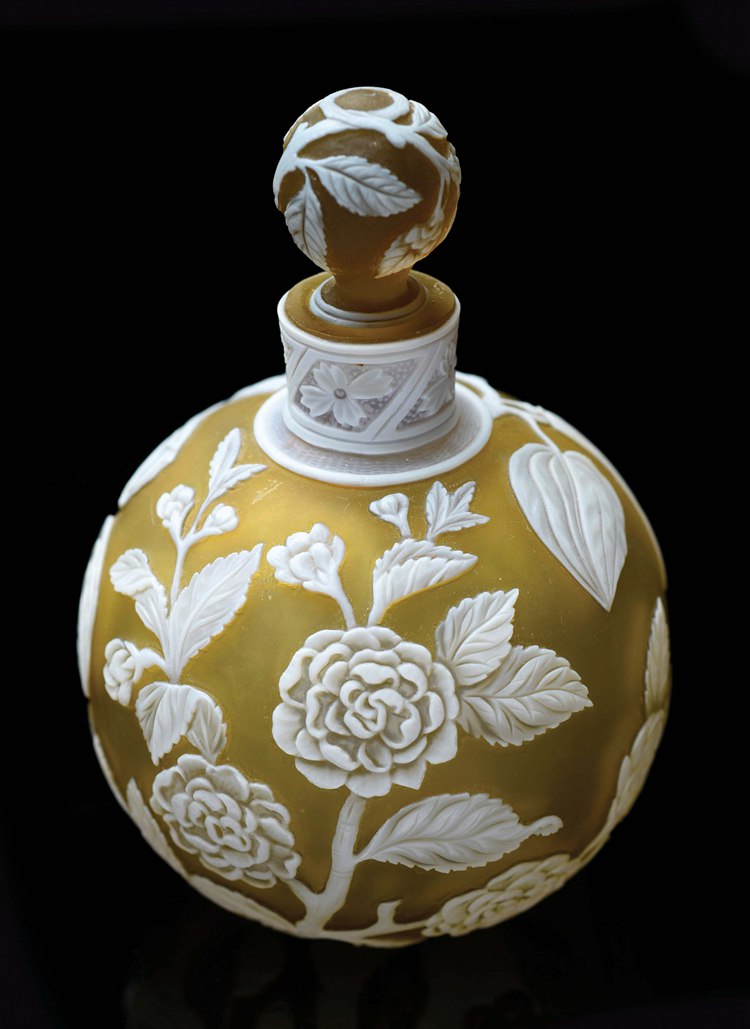 This glass bottle is produced by the celebrated British glass makers Thomas Webb and Sons. The golden-green bottle features white fruits and leaves in the cameo style. The detailed reliefs are raised, and contrast beautifully with the yellowish-greenish background colour of the bottle. The bottle comes with a screw top sterling lid.
It was made in about 1880. The bottle is really small. It measures about 3 inches tall and 2 inches wide. However, its age and rarity make it very valuable. It is also in excellent condition. There is no damage whatsoever. In an auction that closed on Thursday, December 6, 2018, this Thomas Webb cameo vintage glass bottle sold for $11,250.
6. Webb Cameo Owl Perfume
Year: 1885
Valuation: $10,285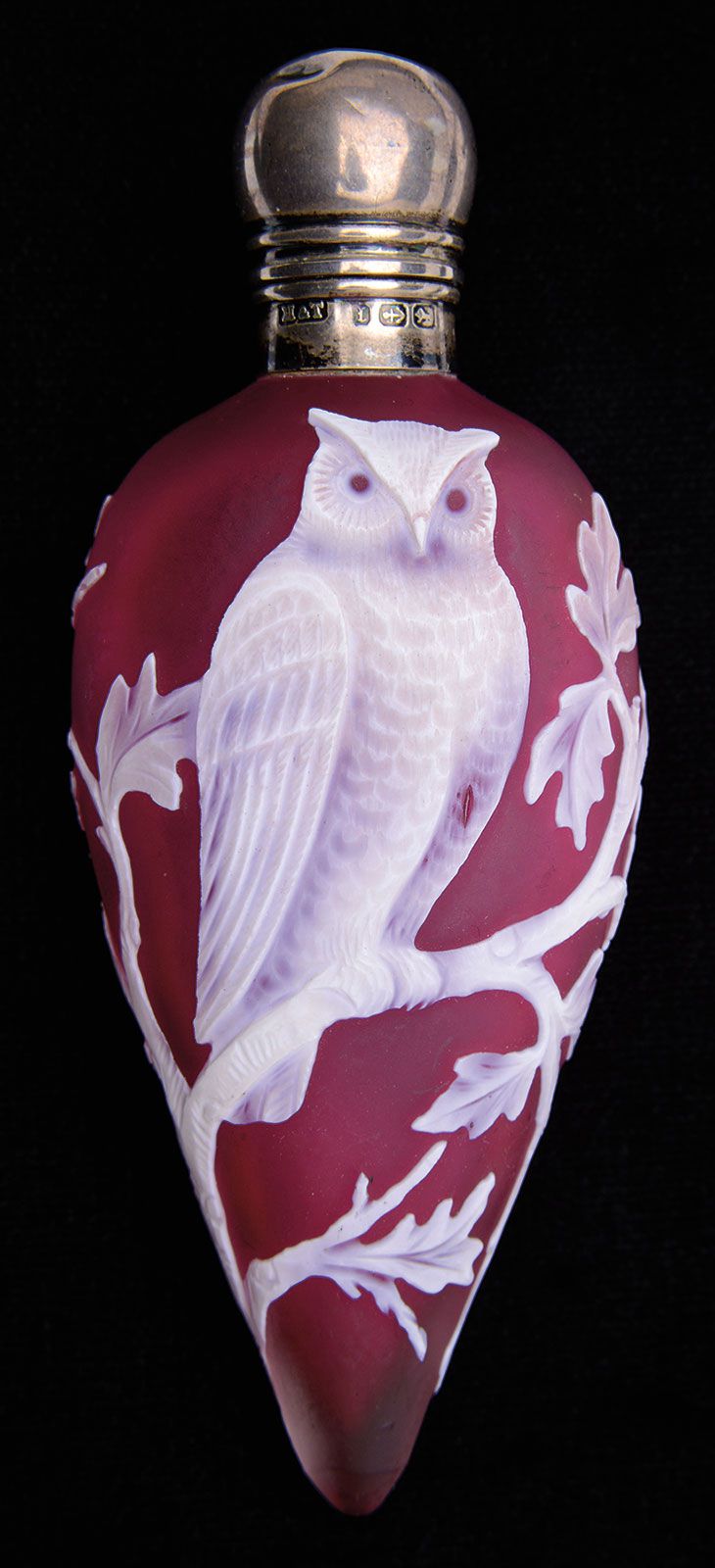 If you've not notice already, Webb Cameo dominates the vintage perfume bottle market. While there are many other great makers out there, the bottles from Webb Cameo often go for the highest prices and that's for good reason.
This particular bottle is decorated with a beautiful white owl which is majestically perched on the branches of an oak tree. Those branches go around the bottle for the most amazing bits of detailing that you've ever seen.
All of that detail looks particularly incredible on the deep background which makes the owl stand out even more. The collar of the bottle is made with sterling silver and has a hinge on it with a hallmark that shows it was made in 1885.
The condition isn't perfect but it is very good. There are a few minor dents in the lit and a minuscule bubble in the owl wing which is barely perceptible. Aside from those minor details, this is a phenomenal piece of art and one of the best perfume bottles ever made.
7. Webb Cameo Swan Perfume Bottle
Year: –
Valuation: $9,600

Here we see another of the Webb Cameo Swan bottles. In truth, we could easily complete a list just full of these amazing creations. This bottle has a light blue hue along with a dark blue beak that makes it stand out when compared to many other models.
The 18K Yellow Gold cap has hallmarks, marked "S.M." for Sampson Mordan. Not only is the bottle itself in great condition but it is also in the original fitted box with "Thomas Webb & Sons" written on silk liner.
It's rare to get something this beautiful in such good condition. This is the third and final bird bottle that we have on this list from Webb Cameo but there are plenty of others out there is you wanted to check them out. Not all will be as expensive as this but they may not be in the same perfect condition.
8. R. Lalique Butterfly Perfume
Year: –
Valuation: $9,000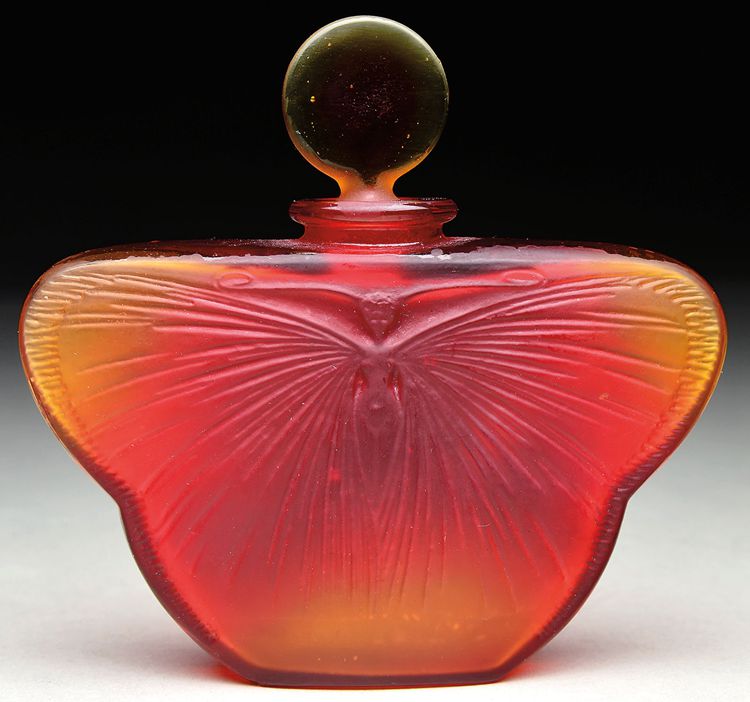 When we talk about vintage perfume bottles, it would be hard to find something more beautiful than this. It is a fine example of craftsmanship and you'd be scare to handle it in case you ever broke it. Thankfully this has stood the test of time.
The name of the bottle comes from René Lalique. He was a French jeweler born in 1860 who specialized in making stunning glass art. Looking at this bottle, there is no doubting his genius. The depth of red colors look stunning.
Any Lalique piece is going to be sold for a lot of money and this is no different at $9,000. Whoever owns this piece will know that they are getting one of the most stunning perfume bottles ever created. The butterfly has plenty of fine detail and the stopper is perfectly rounded.
9. Large Steuben Paperweight Perfume Bottle
Year: –
Valuation: $8,500

Steuben Glass is an American glass company which has been making beautiful pieces since they were formed in 1903. This perfume bottle is a brilliant example of the exquisite works of art that they can create.
You have everything here that you'd want in a high-quality perfume bottle. That includes there being no damage or scratches. This is in perfect condition which includes having the original stopper. The price of $8,500 seems a fair one for something so beautiful. It sold for that price back in 2018 so there is a good chance it has increased in value since then.
10. Large Steuben Paperweight Perfume Bottle
Year: –
Valuation: $6,500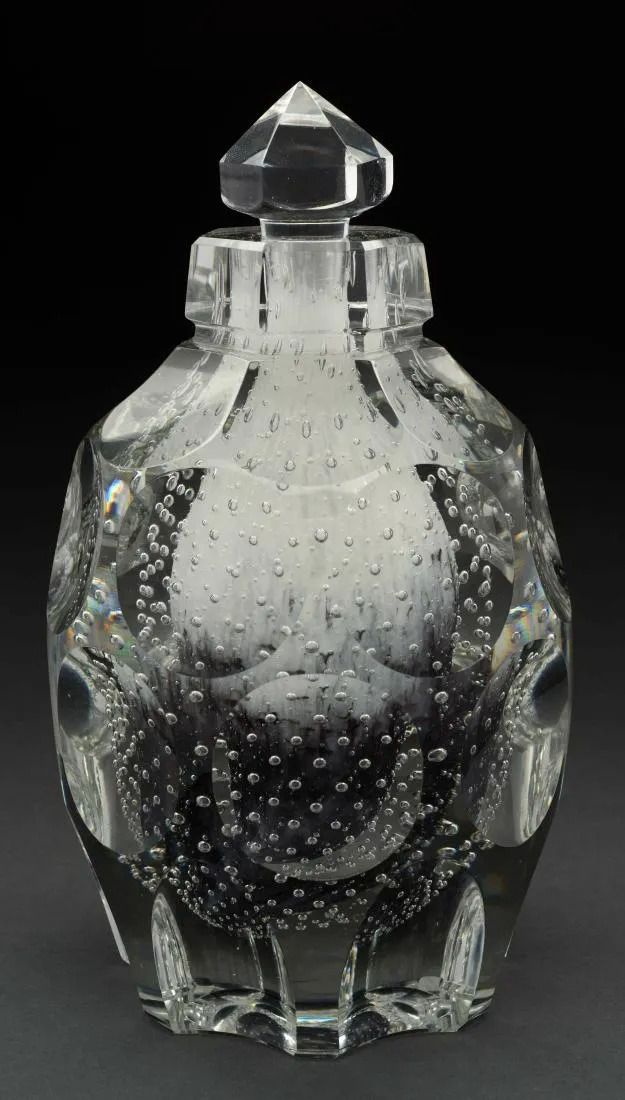 This is another brilliant piece from the Steuben. The company nearly ended its existence in 2011 when the factory was shut down which was a sad end to its vast history. Thankfully, the companies name was rescued by Corning Incorporated.
The legacy of the company is quite impressive but the commercial appeal of unique glass pieces isn't the same as it once was. There aren't many people looking to pay good money for a beautiful perfume bottle such as this one, which is a shame.
If you like heavy perfume bottles, then you'll love this. It has a significant weight and feels very sturdy in your hand. The condition is very good too. You won't notice any scratches or chips in the surface which shows the value of keeping things in pristine condition. It still has the original stopper too.
5 most Valuable Perfume Equipments
1. 1¢ Cast Iron "Purity" Perfume Vendor
Year: –
Value: $15,600
This is an ancient coin-operated perfume vending machine. It is a self-selling machine that is placed on counter top. For the machine to self-dispense perfume, you simply drop a penny into the slot, and push down the handle. Just ensure you stand close to or hold a handkerchief over the opening in the rose. That is where the "purity perfume" will spurt out from.
This self-selling perfume solution is made from cast iron. It measures 14" x 8" x 6 ½". Around the handle, it is clearly marked "Self Selling Sales Co. Columbis Ohio" and "Purity Perfume Vending Machine. Pat Apld For". It still retains its original marquee. It is also in its original painting. Though patina is evident, it is in very good condition.
This classic is referred to in page 256 of the Bill Enes book "Silent Salesman Too", which is by far the most comprehensive reference book ever published on vending machines.
In a June 20, 2020 auction, this silent salesman of a perfume bottle sold for $15,600.
2. 1¢ Bull Novelty Co. Bull's Head Perfume Dispenser
Year: 1905
Value: $12,000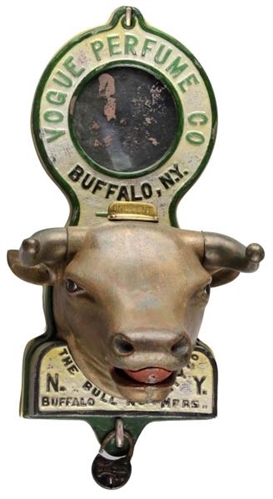 This is a figural bull perfume dispenser that is designed to be mounted on the wall. An amazing thing about this vintage perfume bottle is that the top part is a round shaped mirror. This part is marked "Vogue Perfume Co.".
The lower part of the bottle, below the bull head is marked "Bull Novelty Co." For easy mounting on the wall, the figural bottle comes with a recast wall mounting bracket.
The piece measures 16" x 9" x 7". It dates back to about 1905. Being so ancient, it is very rare and hard to find. Though it shows paint loss in some areas, it is in very good condition, making it very valuable. Thus, when the auction closed on January 29, 2016, this vintage bull's head figural perfume bottle sold for $12,000.
3. 1¢ Mills Novelty Co. Miniature Perfume Sprayer
Year: –
Value: $12,000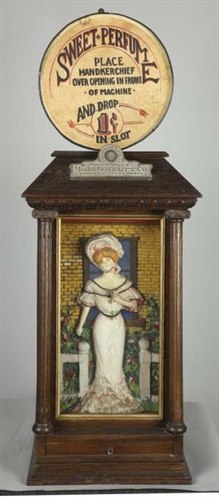 This perfume bottle is designed as a counter top perfume dispenser. For a penny, it'll dispense "sweet perfume" onto your handkerchief.
This is clearly stated on a round marquee attached to the top part of the perfume dispenser. It says: "Sweet Perfume. Place handkerchief over opening in front of machine. And drop 1¢ in slot". The front part of the bottle features a colorful paper mache lady.
This coin operated vintage perfume dispenser is very very rare. Also, it is in very good condition – all writings are legible, the artwork is still sharp, and the original painting is still good. In an auction that closed on Saturday, May 14, 2016, the piece was sold for $12,000.
4. 1¢ Mills Novelty Co. Miniature Perfume Sprayer (free standing)
Year: 1905
Value: $10,200

This is another Mills Novelty Co. miniature perfume sprayer that is very valuable. It is just a free-standing version of the counter top perfume dispenser mentioned above. The self-dispensing perfume machine is mounted on a wood base.
Its operation is described on the round wood top marquee – place a handkerchief over the opening and drop a penny in the slot, and the machine will spurt out perfume onto the handkerchief.
The upper part of the machine features an art piece – a colorful paper mache woman with a thin tube extending from a flower on her white dress.
Overall, the perfume dispenser is 74 inches long and 17 inches wide. It can be dated back to 1905, so it's well over a century. The dispenser is in fine condition (albeit it's restored – the stand and marquee has been remade).
However, given its age and rarity, it commands top dollar. In a February 29, 2016 auction, it sold for $10,200.
5. 1¢ Mills Whiffs of Fragrance Perfume Vending Machine
Year: –
Value: $9,250
This is another vintage self-selling perfume dispenser from the Mills Novelty Company. Unlike the self-dispensing machines mentioned above, this one allows you to choose from four different scents.
Its operation is simple. You turn the indicator at the lower part of the machine to the scent desired, and then put your handkerchief over the opening corresponding to scent you want dispensed. After this, you drop a penny in the slot and then push down the machine handle for it to dispense.
The front of the machine features intricate detailing of a garden – with cupids (the god of desire) tending to the flowers, and insects buzzing around. It also has a see-through glassed area that shows the four different perfume bottles.
The machine is designed as a countertop perfume dispenser. It measures 17" x 13 ¾" x 10". It is in great condition, with original painting. Though there's some paint loss in the front casting, it's unrestored.
To tell you how valuable this vintage piece is, it is referenced in page 254 of the vending machine encyclopedia (Silent Salesman Too by Bill Ernes). In a June 20, 2020 auction, it sold for $9,255.
Where to Buy Empty Perfume Bottles
Empty antique perfume bottles are valuable collectibles, and have become as sought after as the scents they were designed to hold.
Usually, the antiques bottles have long been decommissioned so you won't find them being sold by their original manufacturers or any part of the original supply chain. Rather, they are usually in the hands of individuals or collectors.
For this reason, you can only buy vintage empty perfume bottle in:
Garage sales
Personal online sales platform like eBay and etsy
Auction sites
Vintages stores
Who Designed Perfume Bottles?
A perfume bottle is simply the vessel that houses the fragrance. Thus, perfume bottles are as old as the art of perfume making, which can be traced to ancient Egypt.
The ancient Egyptian perfume bottles were made by sculptors and potters as they were carved from stone (specifically travertine marble) or molded from faience. As technology evolved, perfume bottles came to be made by glass makers using the core-forming process, and later on, the glass blowing process.
Throughout history, perfume bottles have been influenced by fashions and artistic movements of the day. Metal workers entered the fray, with a host of cast-iron self-dispensing perfume machines.
However, some of the antique perfume bottles that are very valuable today include the works of:
How Much Are Old Perfumes Bottles Worth?
Old perfume bottles are very valuable bottle. Depending on the artist, detailing, age, rarity, and condition, an antique perfume bottle can cost anything between from a few hundred dollars to tens of thousands of dollars. As our ten most valuable vintage perfume bottle shows, many of these old pieces are worth 6 figures.
Final Thoughts
If you are looking for the most valuable vintage perfume bottles, you can't go wrong with any of the 10 listed above. There are a wide variety of designs and each of them look incredible. Their value can change due to a number of different factors but sometimes you fall in love with an antique and there's plenty to fall in love with here.