Postcards are a unique form of communication. To send message to friends and family quickly, postcards are created but over time, they have become much more than that. Today, postcards are considered works of art, and some of them can be worth a lot of money.
Here we will look at the 15 most valuable vintage postcards in the world. We will also provide a valuable guide so that you can see how much your postcards might be worth. Without further ado, let's take a look at the most valuable postcards in the world!
15 Most Valuable Vintage Postcards Worth a Fortune
| | | |
| --- | --- | --- |
| No. | Name | Valuation |
| 1 | PABLO PICASSO (1881-1973). "EL CIEGO", Barcelona, 1903 | $95,000 |
| 2 | HOWARDENA PINDELL (1943- ) Oval Memory Series | $80,000 |
| 3 | The Patty Asker Nickel Tour Postcard Collection | $60,000 |
| 4 | Artist's postcard 'Female nude, reclining sideways.' | $59,000 |
| 5 | Artist's postcard 'Reclining woman with dog', undated | $44,000 |
| 6 | 'Two yellow houses,' 1911 | $40,000 |
| 7 | Walt Disney Hand-Written & Signed Photo Postcard | $40,000 |
| 8 | Jean-Michel Basquiat (1960-1988) | $37,000 |
|  9 | 'Gardener' artist's postcard, 1922 | $36,000 |
|  10 | 1915 Boston Red Sox with Rookie Babe Ruth Real | $34,000 |
|  11 | Ferrari Francesco Baracca, 'Die berühmte Postkarte' | $33,500 |
|  12 | Artist's postcard 'Woman at her Dresser,' 1917 | $33,500 |
|  13 | PICASSO PABLO: (1881-1973) | $33,500 |
|  14 | 'Tower behind trees,' 1911 | $31,000 |
|  15 | 1939 Hall Of Famers Induction Signed 5×4 Postcard | $30,000 |
1. PABLO PICASSO (1881-1973). "EL CIEGO", Barcelona, 1903
Valuation: $95,000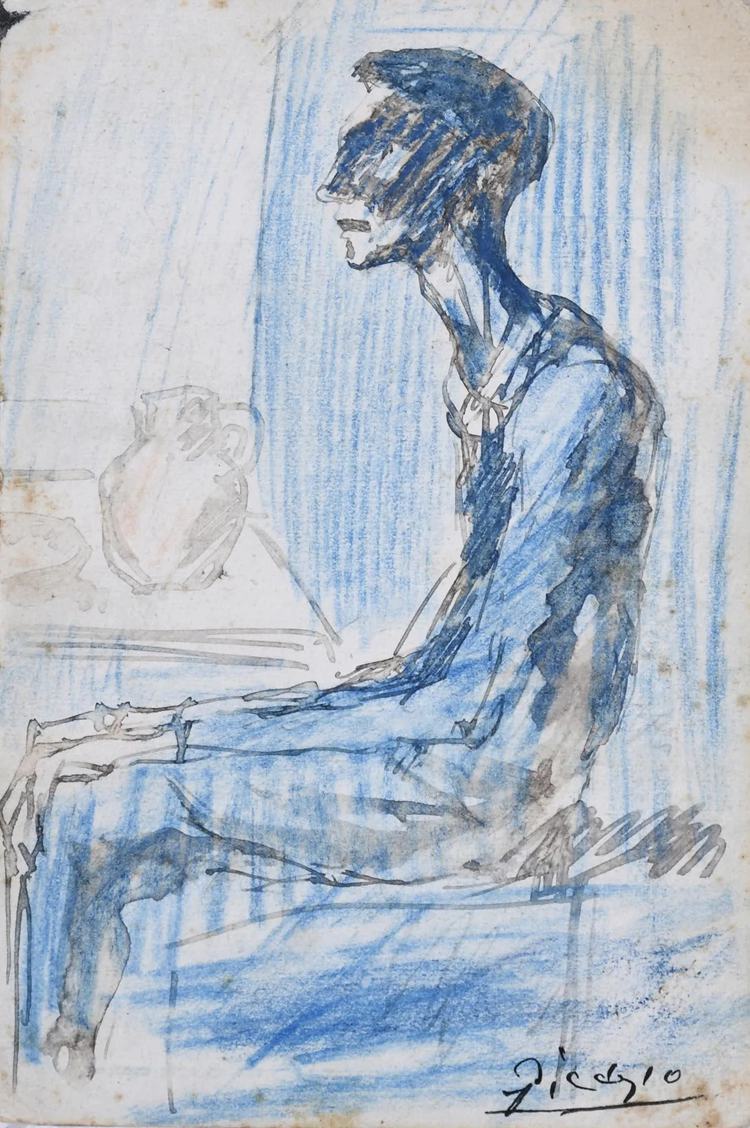 This blue ink pencil drawing Pablo Picasso postcard dating back to 1881-1973 still has the original "Union Postal Universal" gluing and handwritten inscription barely invisible on it. On each side, you find stickers. One of Picasso's preparatory drawings and masterpieces, the "La Comida del Ciego."
It is one of his few creations from his blue period and is still part of the private collection held in Barcelona. Still, the signature found on the Zervos reproduction is a forgery and was removed. However, Picasso signed it later on in 1950-1960.
Hence, you see the work displayed publicly in color with his autograph signature.
2. HOWARDENA PINDELL (1943- ) Oval Memory Series
Valuation: $80,000
Howardena Pindell, born in Philadelphia, pursued her passion for art at a young age. From 1965 to 1967, she receives both her BFA (Boston University) and MFA (Yale University) degrees.
She worked at the Art's Education Department at the Museum of Modern Art in New York. Howardena was one of 22 co-founders of the New York AIR Gallery, the first dedicated artist gallery for women artists in the USA. In 1977, Howardena became an associate curator at the Prints and Drawing Department at MoMA.
Starting her career at SUNY, Stony Brook, she had a car accident resulting in acute memory loss. Howardena's passion for working with hole-punched circles and counting and numbering each creating art comes from her father's passion for working with figures and writing them down in a gridded journal.
She loved working with acrylic, glitter, baby powder, or watercolor. The Oval Memory Series from 1980-81, dated in pencil, depicts her journey to reconstruct her memory. It is one of the first in the series on auction and part of a private collection in Los Angeles in 1981.
Then it became part of a New York private collection exhibited by Lerner-Heller Gallery and still has the gallery label found on the back frame. The second series, her autobiography, is in the artist's exhibition. The third series Castle Dragon you see at the Metropolitan Museum of Art.
3. The Patty Asker Nickel Tour Postcard Collection
Valuation: $60,000
One of the most definitive books on Disneylands History was self-published in 1995 by Bruce Gordon and David Mumford. The book traces the history of all the postcards sold in the park for over 50 years. The revised edition was published in 2000 to create an unequaled visual record.
With Nick Farago and Roger Le Roque, they compiled a list of all the known postcards produced in the park. The complete set belongs to a collector, Patty Asker, and approximately 1,514. On auction is Patty Asker's collection based on both editions of the Nickel Tour books with 1,458 postcards.
One of the most complete collections on auction related to the Disneyland postcards. You find some rare cards in the collection, including the unused Sleeping Beauty Castle record postcard. The Nickel Tour is also the only one Live Auctioneers has ever seen.
Then, you have the rare Puzzle Postcards and Silver Banjo Card from the Nickel Tour collection included. The whole collection represents thirty years of persistence, passion, and research impossible to duplicate in today's time. There are also two signed editions of both the Nickel Tour Books included.
4. Artist's postcard 'Female nude, reclining sideways.'
Valuation: $59,000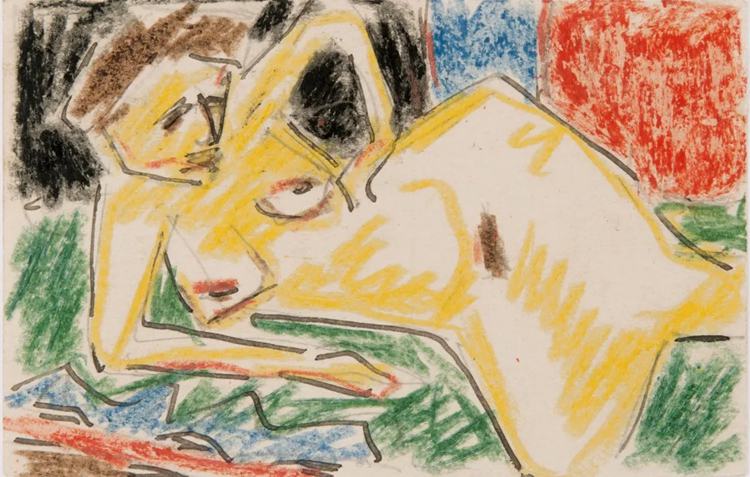 Another rare yet interesting postcard is this one from Karl Schmidt-Rottluff. The ink and color crayons card is on a stamped postcard addressed to Dr. Elsa Hopf, Hamburg. The verso inscribed in ink is "Frau Dr. Elsa Hopf, Hamburg, Bieber Str. 3/5 Mit Dank quittiert. Herzliche Gruesse zugleich Ihr S-R." Karl was a German expressionist painter and a printer. He was one of four founders of the Die Brucke artist group.
5. Artist's postcard 'Reclining woman with dog', undated
Valuation: $44,000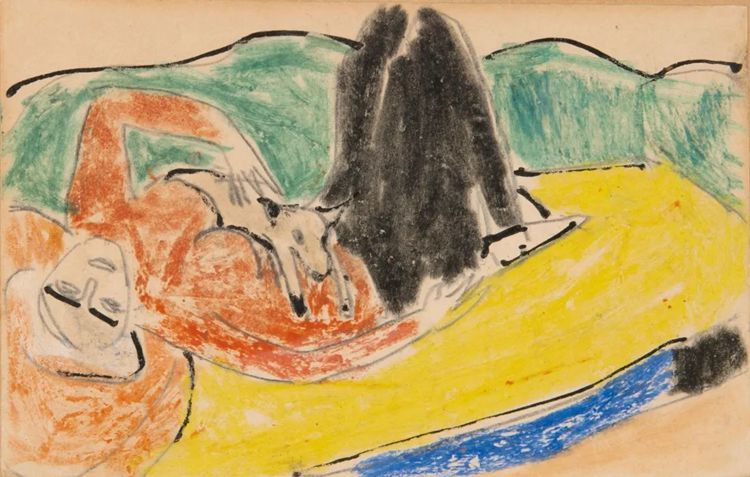 Another German artists postcard up for auction is the Reclining Woman with Dog from Erich Heckel. Another card with ink on pencil and colored crayons addressed to Rosa Schapire. Erich was also a printmaker and co-founder of Die Brucke as Karl Schmidt-Rottluff from 1905-to 1913. In addition, he painted for many art competitions at the Summer Olympics in 1928 and 1932.
6. 'Two yellow houses,' 1911
Valuation: $40,000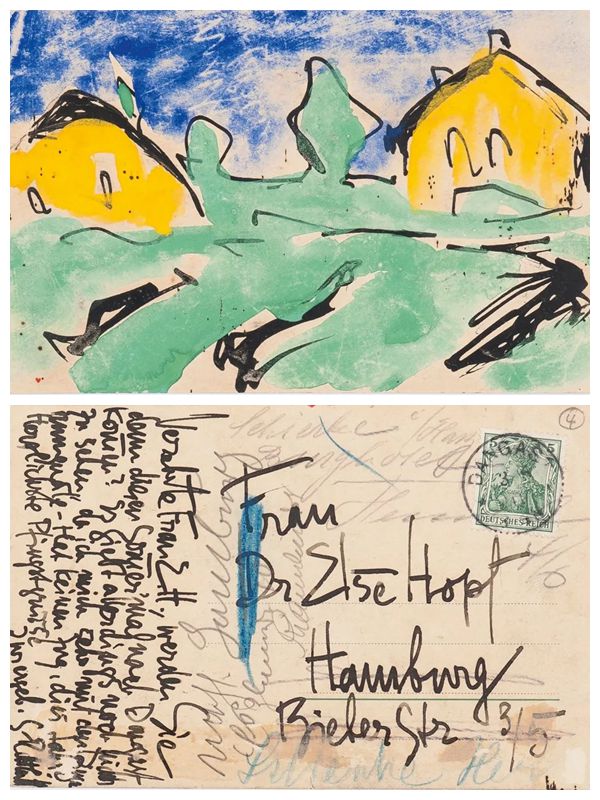 Another postcard up for auction by Karl Schmidt-Rottluff is the "Two Yellow Houses" dated 1911. It is a stamped postcard addressed and dedicated to Dr. Elsa Hopf, Hamburg, in watercolor over ink. In ink you find the artists handwriting reading "Frau Dr. Elsa Hopf Hamburg Bieber Str. 3/5 Verehrte Frau E. H., werden Sie denn diesen Sommer mal nach Dangast kommen? Es gibt allerdings noch nichts zu sehen, da ich mich sehr mit den Dingen herumquaele. Hat keinen Zug, dies Jahr. Herzlichste Pfingstgruesse Ihr ergeb. S-Rottluff" There is alos several annotations made by the postal service reading change-of-address in pencil.
7. Walt Disney Hand-Written & Signed Photo Postcard
Valuation: $40,000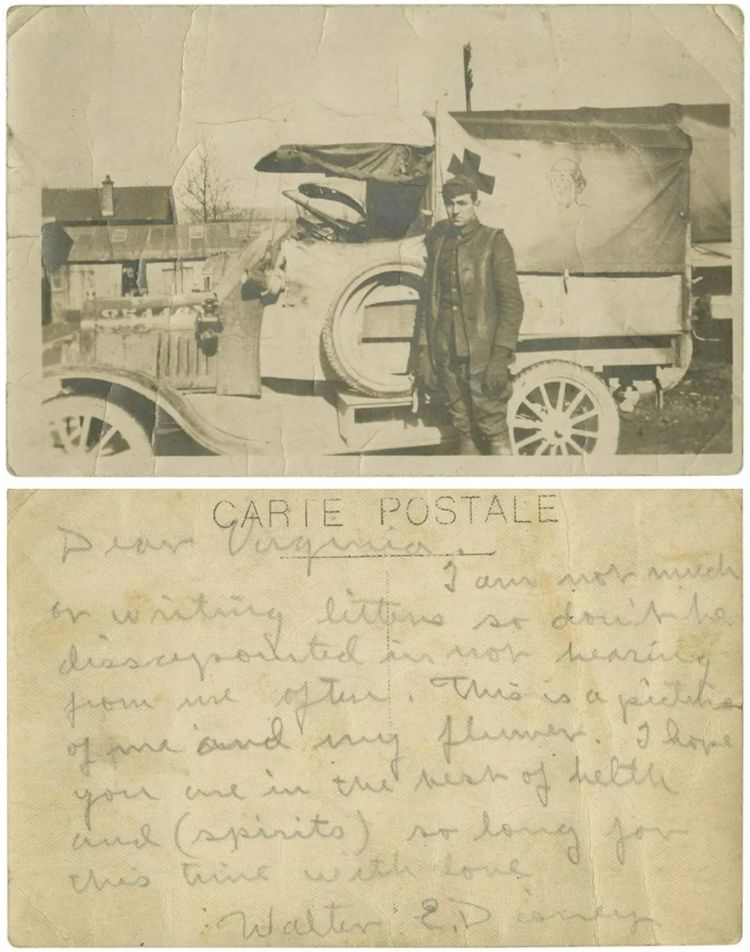 A one of a kind postcard from World War I is the Walt Disney handwritten and signed photo postcard (Disney, c.1918-19). It shows a young Walt Disney with a Red Cross uniform. The postcard was sent to a close friend and former classmate, Virginia Baker.
It is a handwritten letter, and Walt writes, "Dear Virginia, I am not much on writing letters, so don't be disappointed [sic] in not hearing from me often. This is a picture of me and my fivver [sic]. I hope you are in the best of health [sic] and (spirits). So long for this time with love."
The postcard is signed as "Walter E. Disney." One remarkable artifact comes from the Disney historian collection of expert Phil Sears. The postcard's history is widely recorded in the book "In the Service of the Red Cross" by David Lesjak.
There is a copy of the book included with the postcard. A fact is that this same postcard was sent in 1985 by Virginia Baker's daughter, Leslie Riddell, 1985 to the Walt Disney Archives to make copies for the collection.
It even comes with a letter of history from David Smith, the former director of the Walt Disney Archives, and another letter sent to Riddell in 1985 thanking her for lending the postcard. The postcard is in excellent condition with some yellowing with creases to show its actual age and usage.
Lastly, it is a museum-quality piece from Walt Disney's life and a one-of-a-kind artifact.
8. Jean-Michel Basquiat (1960-1988)
Valuation: $37,000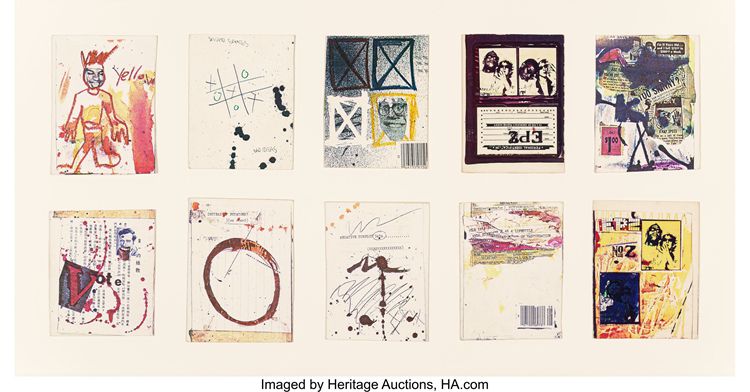 Jean-Michel Basquiat's created this annotated collaged postcard at the beginning of his career. He sold them on New York streets. In his postcards' early stages, you can already notice his attestation to the African-American hybrid language.
In the postcards auctioned, you see artwork unique to this artist, using textual elements with photocopied images. In 1984 criticizer, John Russell described it as a piece of art where the marks seemed to be unrelated but it still works well together.
While many described his work as primitive, the postcards show the artist's refusal to agree with the statement made. To ensure the card's authenticity, you find expression as "bad ideas" and "stupid games" combined allusions.
In addition, there is a barcode and photographs with the money value "only $1" with "negative surplus data" on them to suggest instability.
9. 'Gardener' artist's postcard, 1922
Valuation: $36,000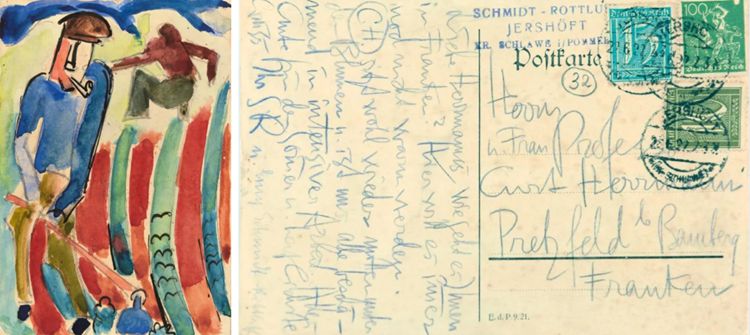 Another sought-after postcard from Karl Schmidt –Rottluf is the "Gardener' artists" postcard dating to 1922. It is watercolor over ink and a pencil card stamped addressed to Professor and Mrs. Curt Herrmann, Pretzfeld, Bamberg. The verso artist stamp address is inscribed in pencil; Schmidt-Rottluff Jershöft Kr. Schlawe i. Pommern.
10. 1915 Boston Red Sox with Rookie Babe Ruth Real
Valuation: $34,000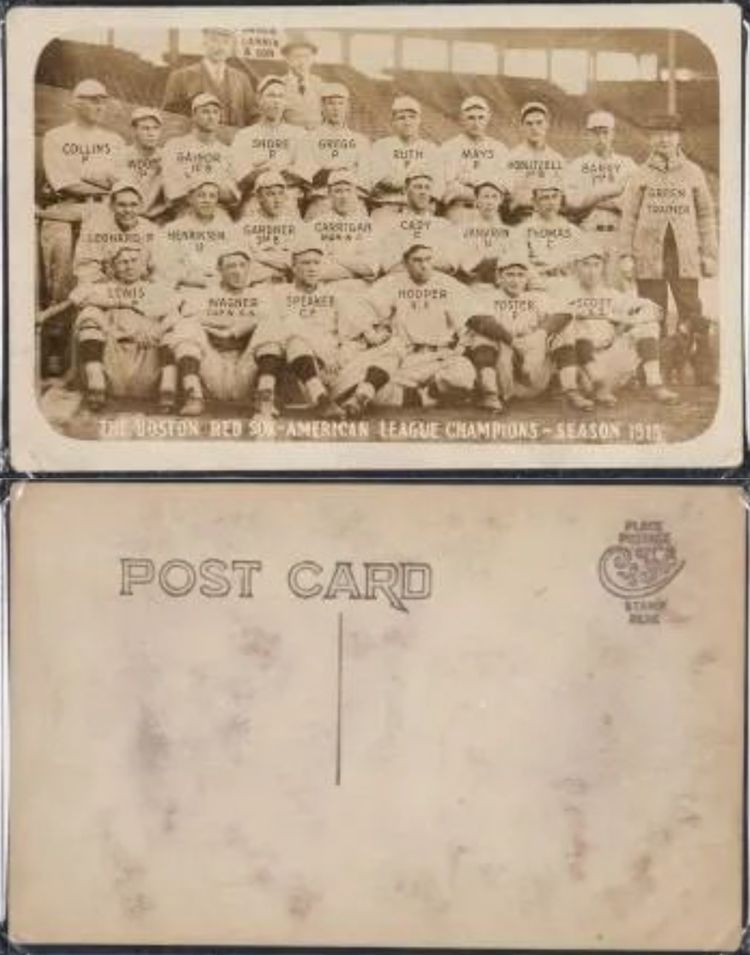 When the postcard was made in 1915, Ruth Real was 22 years old. At the time, he was 710 home runs away from his record career that lasted for four decades after retiring. While he had slugging skills, the eighteen-and-eight pitching record during the official rookie season made him a Fenway fan favorite.
Spectacular pitching for this Red Fox team put them on the map. All five starters recorded a winning percentage of .682, earning a run average of 2.44 and lower. One of Babe's best baseball foil made a Fall Classic appearance with a two-and-a-half-game margin over the one hundred victory Detroit squad.
Ruth earned his team's 101st win in the bottom half of an October 6 doubleheader to finalize the pennant. Later at Baker Bowl, the World Series would launch in the National League Champion Philadelphia Phillies home park two days later.
It is suspected that the photo on the card greeted the Braves Field hometown fans for the 3rd and 4th games of the World Series. The text at the postcards bottom edge of the team images depicts the production before the Boston Red Sox World's Championship reading, "The Boston Red Sox–American League Champions–Season 1915."
You find each player in the classic team shot identified with their position and surname printed in bold text. In the back row center, you see Ruth has no slivering and lacks handwriting correspondence. There are minor corner wear, edge wear, corner creases, and reverse soiling.
It is one of the earliest known collectibles issued before Ruth's trading card appearance.
11. Ferrari Francesco Baracca, 'Die berühmte Postkarte'
Valuation: $33,500
This is an original postcard depicting the complementary handover done by the Barcapprox family of the "Cavalino rampante." With the simple wording found on the card it sealed the deal of one of the most renowned automobile brands we all know today.
12. Artist's postcard 'Woman at her Dresser,' 1917
Valuation: $33,500
The stamped crayon over ink postcard from artist Erich Hecker addressed and dedicated to Kaethe Bleichroeder in 1911 is up for auction. The 'Woman at her Dresser' has the post stamp Berlin SW 17.11.19.11. It also has verso handwritten text on it.
13. PICASSO PABLO: (1881-1973)
Valuation: $33,500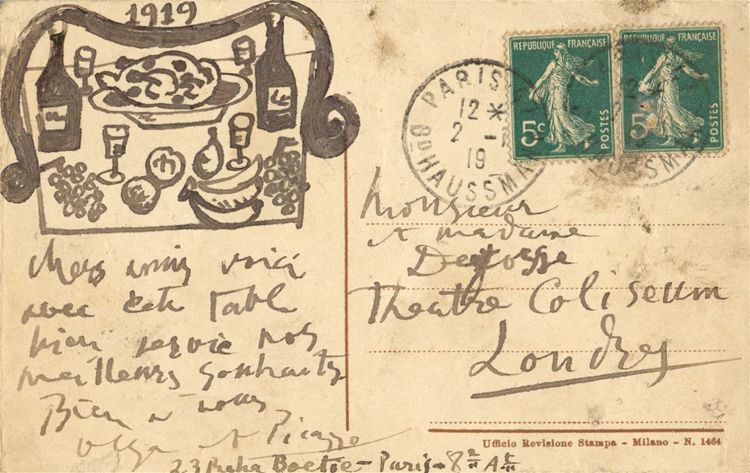 The Picasso Pablo (1881-1973) postcard of the Spanish painter is up for auction. You have an exceptional illustration of his wife Olga et Picasso's signature to the one side. In addition, there is an image portraying a Christmas winter scene in Paris on January 2, 1919, addressed to a Mr. & Mrs. Defosse in French.
Finally, you have a pen and ink drawing of a Christmas dinner for four people at the head of the postcard letter. The upperparts are adorned with a decorative flowing line with the year 1919. Beneath the drawing, Picasso writes a short message inviting their friends to dinner.
The drawings are detailed from the earlier stage of his career, rarely seen on auction. There is minor age wear.
14. 'Tower behind trees,' 1911
Valuation: $31,000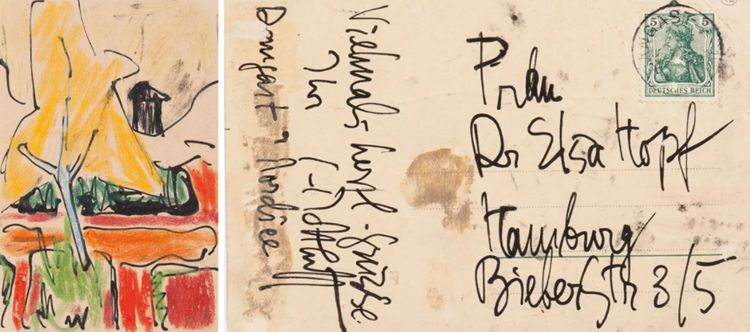 The "Tower behind Trees" dates back to 1911 and is originally from artist Karl Schmidt-Rottluff. A stamped postcard addressed to Dr. Elsa Hopf, Hamburg, in color crayons over ink. There is also a verso handwritten note by the artist himself.
15. 1939 Hall Of Famers Induction Signed 5×4 Postcard
Valuation: $30,000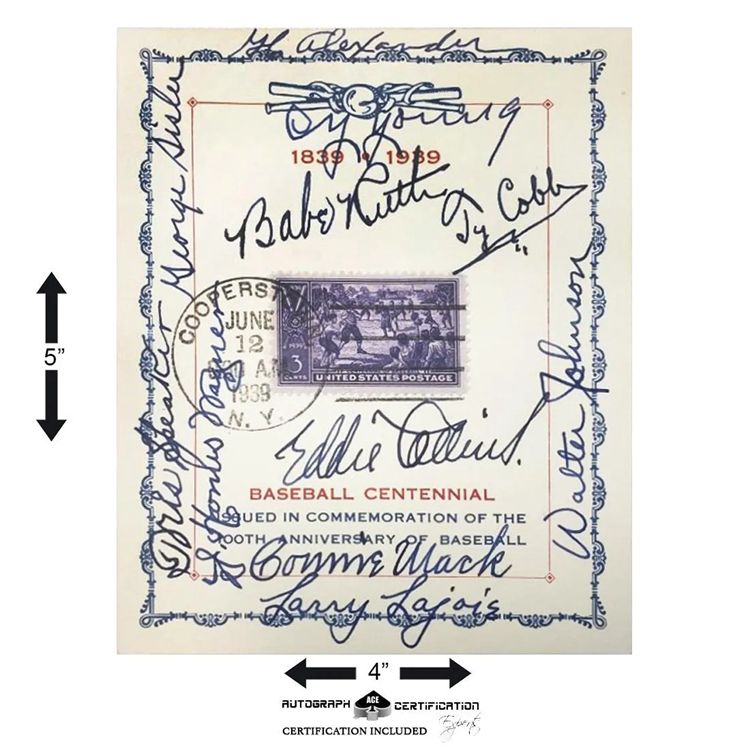 Another sought-after baseball postcard is Babe Ruth, Larry Lajoie, Tris Speaker, Grover Alexander, Cy Young, Ty Cobb, Walter Johnson, Eddie Collins, Connie Mack, George Sisler, and Honus Wagner. It is a Hall of Fame Postcard signed by all the players in 1939.
How to Date Vintage Postcards?
Vintage designs are prized possessions that have been treasured for decades. They bring back memories and help us connect with our past, whether it be through nostalgia or by providing a sense of history. Vintage design is an item produced in the past and has important historical value.
Vintage generally refers to high-quality materials or craftsmanship, which makes it characteristic of a specific time period compared with other pieces from this artist's workmanship style(s). The term can also refer to anything between 40 – 100 years old.
The size of a postcard can help you date it. If the card is old and larger than 3 1/2″ x 5″, it's likely from before 1898. A slightly smaller but still within this range will lead us towards 1902-1910 or even later "year." The third option – measuring just over 35 mm wide by 55 mm long might mean that your vintage piece was made between 1920 and 1970.
What Are The Most Valuable Vintage Postcards?
When it comes to postcards, the most valuable is also one of its oldest. This card depicts "Penny Peanuts" and sold for a staggering £31K at an auction in 2002- that's more than any other price recorded by Guinness World Records!
Where to Find Vintage Postcards?
You may find some at estate sales or garage sales, where family members simply want to clear out belongings. Antique stores and fairs that deal solely with collectibles are good for finding good postcards. By visiting an antique market near you, you can examine different varieties of collectible cards and other items. You can also search online for the easy option.
Where to Buy Vintage Postcards?
Auction houses in towns and cities across the country offer a variety of opportunities for buying postcards, but be sure to check whether there's an auction near you before investing time or money. Some large companies like Phillips have specialist auctions twice per year while other smaller ones such as Sotheby's run monthly sales with more than three thousand lots on offer each month!
Over the past few years, online auction sites have become a popular way to sell collectibles. These Internet traders often offer goods with photos and descriptions forbid by inviting bids from interested buyers who want such items in their collections or homes.
How to Determine the Value Of Vintage Postcards
Age: You may be able to get a higher price for your postcards if they're older. Determining their age can help you determine the worth of it. A 1907 card could be much more valuable than one from 2000. Prices vary depending on what they are and when it was printed/ mailed in history.
Rarity: Older and more rare hard to find postcards tend to be more valuable than newer ones.
Limited Edition: If you have a 1907 postcard signed by the artist or part of a limited-edition printing, its value will be even greater.
Real Photo Postcards: Collectors are interested in rare images, whether it's a photo of an ocean liner or railroads. Photos from the early 1900s that feature homes and families fall under Real Photo Postcards. They have greater monetary value than other types/periods covered by this genre, making them popular postcard subjects!
How to Find the Value of Vintage Postcards?
The value of a vintage postcard is determined by several factors, including its age, rarity, and condition. Generally speaking, older and rare postcards tend to be more valuable than newer ones. And cards in better condition will fetch a higher price than those damaged or faded.
There are a few ways to find the value of vintage postcards. The most accurate way is to look up each card in an online price guide or catalog. This can be time-consuming, but it's the best way to get an accurate estimate. Another option is to use a general pricing guidebook, which will give you a range of values for different types of cards. Finally, you can search for similar cards online and see what they are selling. This is a less accurate method, but it can give you a general idea of value.
How to Evaluate the Condition of the Postcard
The condition of your postcards is an important factor in their grade. The more pristine and timeworn they appear, the higher value you can expect for them at auction or from collectors willing to pay top dollar for older cards with known issues like stains that are hard (or impossible)to detect without thorough examination under magnification! Many different conditions can affect postcards, including creases and bends. The best way for a collector's item in good condition would be if it does not have any major damage, but there may still not be some minor scars or scratches on them.