In the early days, buttons were used as ornamental embellishments and signified status and wealth. However, as centuries passed, buttons evolved from embellishments into practical items. The invention of the buttonhole in the Middle Ages revolutionized clothing and created a slightly higher demand for buttons.
However, buttons remained a preserve for the rich and fabulous for the years that followed. It was not until mass production was invented during the Industrial Revolution that buttons became a ubiquitous staple.
While buttons today are available in a variety of shapes and colors, collectors still prefer antique buttons. The most valuable and rare antique buttons are sold at $500 on the lower end and can reach $3,900 on the higher end.
In this detailed guide, we will help you discover the 10 most valuable antique buttons.
10 Rarest and Most valuable Antique Buttons
| | | | |
| --- | --- | --- | --- |
| No. | Antique Button | Year | Cost |
| 1.  | Enamel & 18K Gold Cuff Buttons | Between 1819 and 1838 | $3,900 |
| 2.  | 9ct Yellow Gold Golf Buttons | 1910 | $3,370 |
| 3.  | Men Fox Buttons with Ruby Eye | 1900 | $2,000 |
| 4.  | Sterling Silver Buttons | 1904 | $1,945 |
| 5.  | Mother of Pearl Shell Disk Buttons | 1890 | $1,200 |
| 6.  | D Coat Button | Between 1861 and 1865 | $775 |
| 7.  | Victorian Buttons | 1860s | $750 |
| 8.  | Satsuma Chinese Button | 1850s | $565 |
| 9.  | Paste Buttons | Between the late 18th century and early 19th century | $559.99 |
| 10.  | Victorian Marijuana Weed Coat Button | 1910 | $499.99 |
1. Enamel & 18K Gold Cuff Buttons $3,900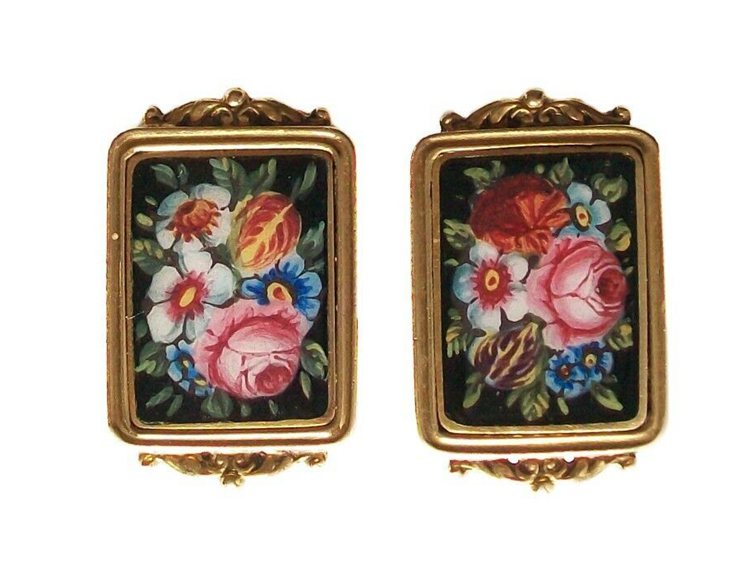 Originating from France, these Enamel & 18K Gold Cuff Buttons date back to between 1819 and 1838. The handmade cuff buttons are made of a combination of 18k yellow gold and enamel.
Featuring painted flowers on their upper side, the buttons are attractive to look at. The handmade, rectangular, unisex buttons weigh 3.89 grams and feature a left-facing ram's head.
Currently listed on eBay, the Enamel & 18K Gold Cuff Buttons have a price tag of $3,900 attached to them. At this price, the buyer will get 2 buttons.
2. 9ct Yellow Gold Golf Buttons $3,370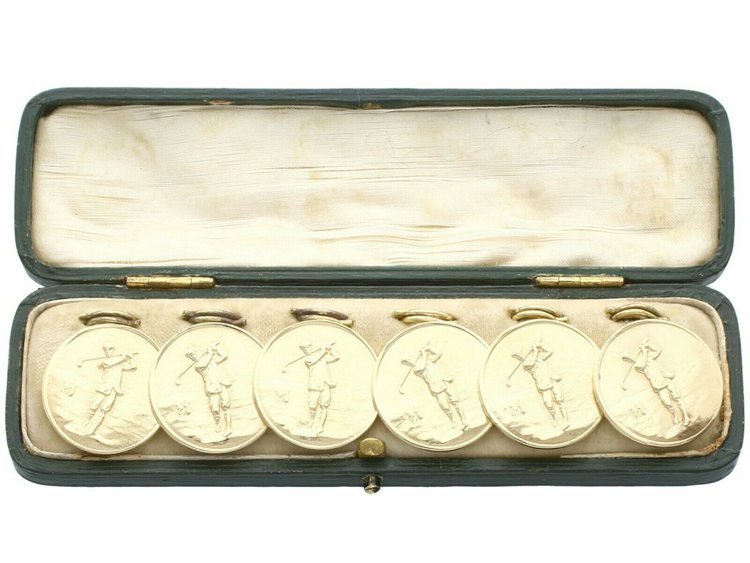 Dating back to Circa 1910, the 9ct Yellow Gold Golf Buttons were designed in the Edwardian period. Ideal for jackets and coats, the buttons were made with yellow gold.
The gold-colored antique buttons are round in shape and depict an impressive cast golfing scene that shows a man in full swing, with a golf course terrain behind him. The buttons also carry a yellow gold split ring.
The seller notes that all the buttons are in excellent condition. Currently, on sale on eBay, the antique buttons are selling at $3,370. For this price, the seller notes that the buyer will receive 6 antique buttons in their original casing.
3. Men Fox Buttons with Ruby Eye $2,000
Combining 14k yellow gold and ruby stone, these antique buttons were produced at the beginning of the 20th century. Designed for men, the antique buttons have impressive Fox art on the front part. The button's designer used the ruby stone to create the eyes for the fox, making the art even more real-looking.
The round antique buttons have varying diameters – two of them have diameters of 16 mm while the other four have a diameter of 12 mm. According to the seller, the 6 buttons weigh 24.1 grams.
Currently selling on eBay, these antique buttons have a price tag of $2,000 attached to them. The seller, however, indicates that the buttons do not have any signs of wear or tear.
4. Sterling Silver Buttons $1,945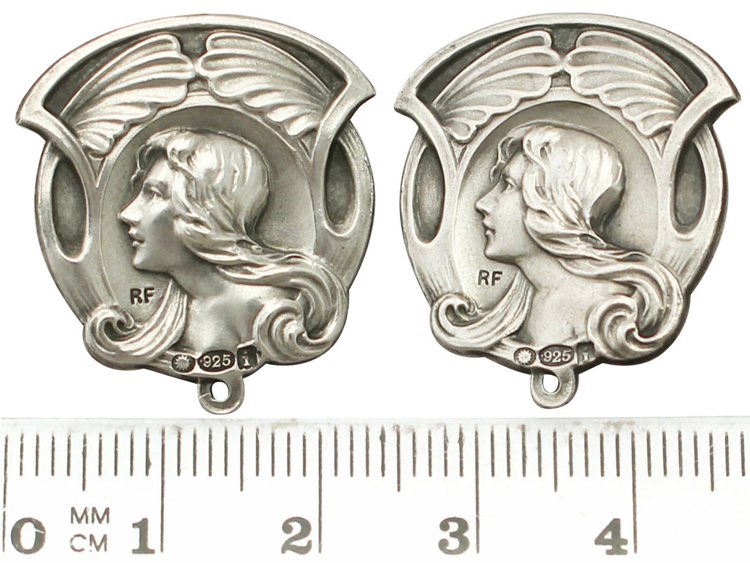 Originating from the London Import Hallmarks, the Sterling Silver Buttons date back to 1904. These antique buttons are a production of Robert Friederich.
Featuring a novelty shape and made of silver, the antique buttons weigh 29.7 grams. Utilizing the Art Nouveau style in their design, these buttons are designed to create interest in any clothing.
According to the seller, the 6 antique buttons are still in their original package. Featuring an excellent condition, the buttons are currently listed for $1,945 on eBay.
5. Mother of Pearl Shell Disk Buttons $1,200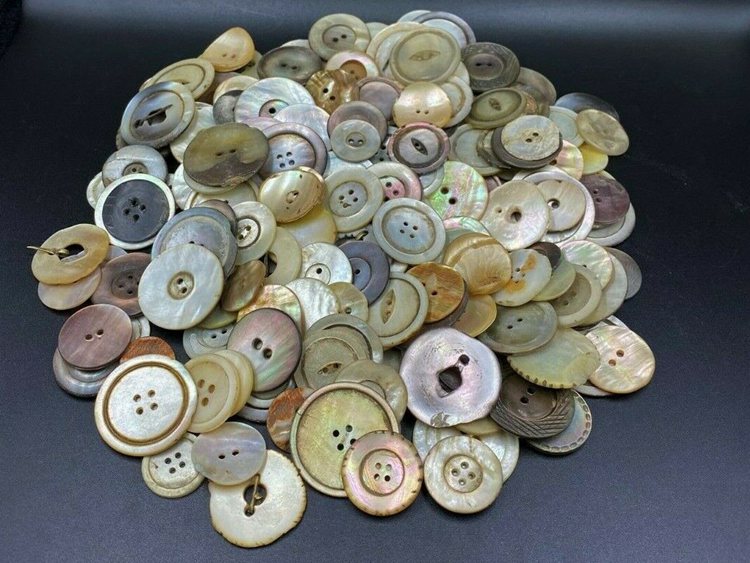 Manufactured towards the end of the 19th century, these buttons were made using shells. Originally, the antique shell buttons were used as decorations in the Himalaya regions of Afghanistan and Pakistan.
According to the seller, the current listing on eBay features 170 buttons. The buttons are available in varying colors.
Still in good condition and showing very minimal signs of wear, the antique buttons are listed for $1,200.
6. D Coat Button  $775
Manufactured during the Civil War, this D Coat Button dates back to between 1861 and 1865. Despite being over 1.5 centuries old, the button is still in excellent condition, with no scratches or other sides of wear.
The circular antique button features a 23 mm diameter and comes with a shank. According to the seller, the gold-colored button was manufactured using 95% gold gilt.
The first valuable antique button with a price below $1000, the D Coat Button is listed on eBay at $775.
7. Victorian Buttons $750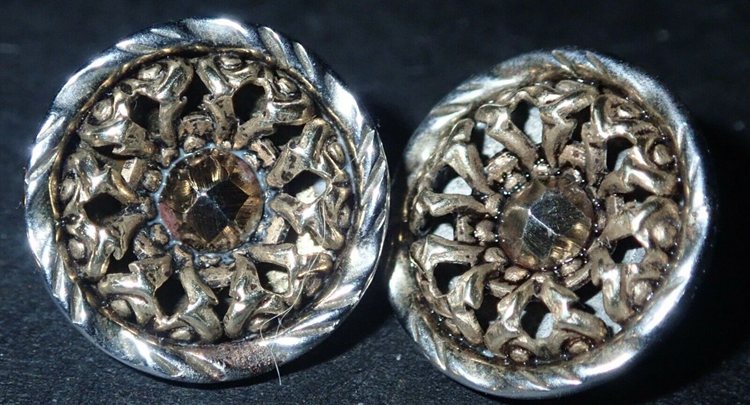 Over 150 years old, these antique Victorian Buttons were manufactured in the 1860s. The manufacturers combined 14K yellow gold with silver to produce the buttons.
According to the seller, the antique buttons have a 0.5-inch Marcasite inserted at the center. The buttons feature a round shape although the circular shape is not perfect.
Listed on eBay, these antique Victorian buttons will cost you $750. For this price, you will get two buttons.
8. Satsuma Chinese Button $565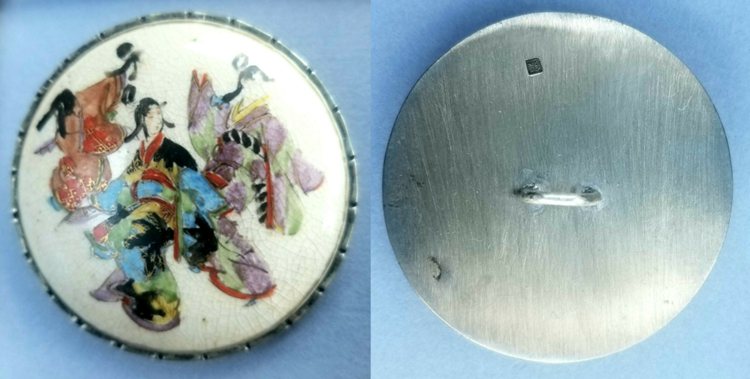 A large 2-inch button, the Satsuma Chinese Button dates back to the 1850s. Manufactured with porcelain, the antique button has some evident signs of wear.
The button, however, is capable of creating interest with its impressive Chinese drawings. The round antique button is listed on eBay for $565.
9. Paste Buttons
Produced between the late 18th century and early 19th century, these paste buttons are made of several gems. The seller notes that the stones used on the buttons allow them to sparkle like diamonds.
Despite being over 2 centuries old, the seller notes that the antique buttons are still in good condition. Out of the 5 antique paste buttons on sale, only one has a sign of wear – the button has lost 2 of its stones.
Three of the antique buttons are perfectly round while 2 of them are flattened. Currently listed on eBay, the buttons are selling at $559.99.
10. Victorian Marijuana Weed Coat Button $499.99
A mega-rare button, the Victorian Marijuana Weed Coat Button was produced in the early 20th century. The dark green button depicts marijuana leaves on its top part.
The button is round and is still in perfect condition except for some dirt.  The seller notes that the button was designed for use on a coat. Currently, on sale on eBay, the button has a price tag of $499.99 attached to it.
Frequently Asked Questions (FAQs)
How Can I Identify Old Buttons?
For a button to be considered antique, it has to be over 100 years old. While vintage buttons produced after 1920 may still have value, antique buttons manufactured before 1920 have the highest value.
Below, we have outlined some tips that you can use to identify antique buttons:
The button shows signs of being handmade – a good example here is the lack of uniformity.
The button's back lacks a uniform texture.
The button has an antique style – for example, this could be Art Deco or Art Nouveau.
The button does not have mold lines. Mold lines indicate machine manufacturing. If a button has no mold lines, there is a high chance that it was handmade.
How Can I Date Antique Buttons?
The easiest way to date antique buttons is to consider the materials utilized in their manufacture. Below, we will take a look at some of the materials used in button-making and the years in which these materials were popular:
1860s Civil War Buttons
Metal buttons manufactured during the Civil War depicted figures of firemen and policemen. These buttons also featured a cloisonne or enamel surface.
The 1840s Ceramic Buttons
Ceramic buttons were largely produced in the 1840s in China. The porcelain/ceramic buttons feature paintings and small colored decals on them.
The 1890s to 1920s Shell Button
Shell buttons were largely produced between 1890 and 1920. These fragile buttons are extremely easy to identify because they often feature an opalescent lister with rainbow colors.
The 1890s to 1920s Wood Buttons
These are the easiest antique buttons to find. Look for antique wood buttons that feature an aged patina caused by vanish aging or handling. Antique wood buttons were manufactured using the Tagua nut obtained from the Corozo palm tree.
These antique buttons are often dyed green and brown, with raised designs, and are soft-brown-colored. You must be extra careful when purchasing antique wooden buttons – this will help you avoid purchasing wooden buttons manufactured in the 1990s.
What Buttons Are Most Valuable?
Valuable antique buttons feature a variety of special characteristics. Below, we will look at the major characteristics:
Non-Plastic Materials
Technically, it is very unlikely that you will find an antique button made of plastic. However, few exceptions exist, especially when it comes to an earlier plastic known as celluloid.
The rarest – and most valuable – buttons were not produced with plastics. Instead of plastic, the old, rare buttons were crafted with the following materials:
Ceramic or porcelain– This material clinks when tapped. It also feels light and cool.
Shell and mother of pearl– These two materials are iridescent in most cases. They also show variations within the button.
Wood– This shows a wood grain and may also feel lightweight.
Metal– Antique buttons made of metal may be wrapped around the base and may have stamped details.
Glass– When you tap an antique button made of glass on a hard surface, it should clink.
Jet– A black natural material, Jet is often curved and lightweight.
Bone– Ivory, bone, and antler buttons show subtle variation and grain.
Tortoiseshell– A lightweight material, tortoiseshell features a natural color variation that shows in the shades of grey and brown.
Gemstone and stone– These materials feel heavy and cool to the touch.
Precious Metals
While it is possible to find metal buttons in everything from brass and steel to gold and silver, the rarest and most valuable antique buttons will be made of precious metals.
You can find the button's metal content by flipping it over and checking the maker's marks and hallmarks. Antique sterling silver buttons, for example, feature the number "925" or the word "Sterling".
Hand-Painted Details
Hand-painting makes antique buttons extra special. A hand-painted antique button can be one-of-a-kind even if its design is not too unique.
Hand-painting indicates that the decoration was added by an artist – for this reason, no two hand-painted antique buttons are similar. Look for pictures of animals, miniature portraits, country scenes, and florals when identifying valuable antique buttons.
Figural Designs
Figural design refers to an artistic design that represents a mystical creation, a strong motif, animal, or a person. These buttons resemble something special.
Art Nouveau designs feature women with flowing hair, entire pastoral scenes produced in miniature, and buttons designed to resemble flowers or fruit. Figural antique buttons are some of the most sought-after collectibles – this makes them extremely valuable.
Hand Carvings
Instead of their decorations being made with a machine, antique buttons may feature hand carvings. Hard carvings feature variations in depth of carving, texture, and may feature a slight lack of uniformity. If the hard carving is well done, the antique button can be extremely valuable.
Micro Mosaic Art
Some rare antique buttons may carry tiny mosaics made of pieces of shell or stone. Others may be enameled with colored glass that is fused to the surface to create a decoration.
Special touches can make the button unique and rare. This increases the button's overall value.
Conclusion
While buttons today may be too common for us to care about them, this was not always the case. In their beginning years, buttons were so prized that sumptuary laws restricted their use.
While buttons produced later in the 20th and the 21st century may not be that valuable today, buttons produced before 1920 are extremely valuable.
In this article, we have taken a deeper look at some of the most expensive antique buttons. We have also answered the most common questions that surround antique buttons. If you feel you need more information on antique buttons, please let us know in the comment section.