For many children, troll dolls were a cherished childhood toy. These colorful little figures with their big hair and wide grins were more than just playthings – they were also a source of comfort and companionship. Often given as gifts, troll dolls quickly became firm favorites, and it wasn't unusual for children to have entire collections. What made them so special was that each troll doll was unique, with its own distinct personality.
Do you remember Troll Dolls? If you grew up in the late 1990s or early 2000s, there's a good chance you do. These little dolls were all the rage back then, and for good reason! They were so cute and colorful, and they had such fun hair! In this blog post, we will take a look back at these nostalgic toys and discuss some of the things that you'll remember if you grew up with them.
The History of Troll Dolls and How They Became Popular
The first Troll dolls were created in 1959 by Danish woodcutter Thomas Dam. He carved the dolls from wood and then painted them with bright colors. His daughters loved the playful dolls, and soon Dam's workshop was churning out thousands of them. In the 1960s, Troll dolls became popular in the United States, and they have been a mainstay of popular culture ever since.
Part of the appeal of troll dolls for children was their unique appearance. Unlike most other dolls, which are designed to look like human beings, trolls have bulbous noses, wild hair, and skinny bodies. This distinctive look helps to set them apart from other toys and makes them more interesting to play with. Unfortunately, the popularity of Troll Dolls has also led to a proliferation of cheap knock-offs. In some cases, these knock-offs were of poor quality and failed to capture the charm of the originals. In other cases, they were simply cheap imitations that sought to cash in on the popularity of trolls.
While interest in troll dolls may have waned in the late 1960s, the toys experienced a resurgence in popularity among a new generation of children in the 1980s.Thanks to a new generation of kids, troll dolls once again became one of the hottest toys on the market.
The Magic Trolls And The Troll Warriors was a 1991 animated show created to promote Troll dolls.Many more cartoons were made in the following years, but this was the first and remains the most fondly remembered by fans of the franchise. In 1995, the troll doll made a cameo appearance in the Disney/Pixar film Toy Story. The troll doll made its second cinematic appearance in the 1999 sequel Toy Story 2. The troll doll's appearances in Toy Story and Toy Story 2 helped to revive interest in the toy.
Today, troll dolls are enjoyed by kids and adults all over the world, and they show no signs of going out of style anytime soon.
How Have Troll Dolls Changed Over the Years
Since their inception in the 1960s, troll dolls have undergone a number of changes. The first troll dolls were carved in wood and had glass eyes and woolen hair, but when Dam Things obtained the rights to produce the trolls in the United States, they began mass-producing them in soft rubber. In the late 1960s, Dam Things released a new line of trolls made of vinyl, which quickly became the most popular type of troll doll.
Though they are commonly known now as troll dolls, these toys have undergone a few name changes throughout the years so you might know them as Dam Dolls, Treasure Trolls, Norfin Trolls, or Wish-nicks.
DreamWorks' upcoming movie about trolls has been receiving a lot of attention for its updated take on the classic characters. The new trolls have large heads and stubby bodies, just like the originals from the 1960s, but their facial features are far less oversized and wrinkly. These days, you can find troll dolls in all sorts of different styles, including ones with huggable plush bodies.
The Comeback of Troll Dolls and Why They're Popular Again
In the early 1990s, troll dolls were all the rage. With their colorful hair and big, oval eyes, these plastic figures were a must-have for kids of all ages. But by the end of the decade, troll dolls had fallen out of favor, and they seemed destined to become a forgotten fad.
However, in recent years, troll dolls have made a comeback. Thanks to a series of popular movies and TV shows, these lovable creatures have once again captured the hearts of children and adults alike. One of the most significant factors in their renewed popularity is the fact that troll dolls can be found in a wide variety of sizes and styles. Whether you're looking for a desktop figurine or a life-size plush toy, there's a troll doll to suit your needs.
What's more, troll dolls are also relatively affordable, which makes them an attractive option for budget-conscious shoppers. And with their cute antics and positive attitude, troll dolls are sure to put a smile on your face – no matter what your age.
Remember These? 15 Popular Vintage Troll Dolls
Over the years, there have been many different iterations of the troll doll, each with its own unique features. Here are 15 of the most popular vintage troll dolls:
5 Rare Vintage Troll Dolls from the 90s
Vintage 90s Troll Purple Hair Bunny in Pink Polka-dot Jumpsuit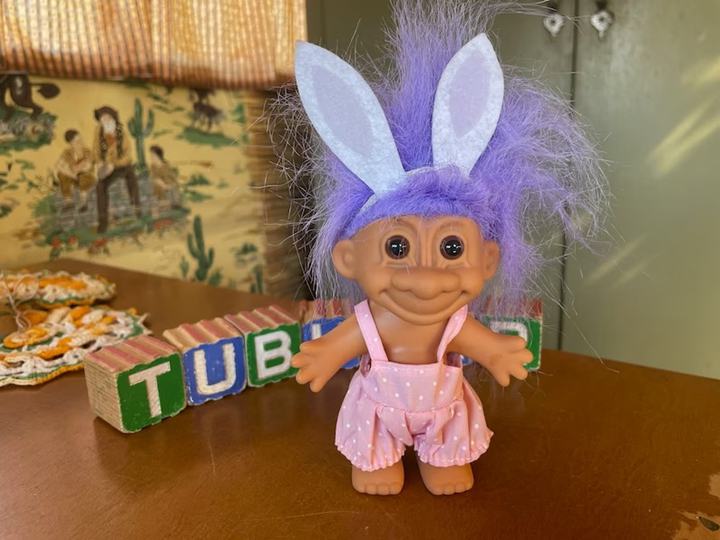 This Russ troll is too sweet for words! She has the most adorable purple hair, and her pink polka-dot jumpsuit is simply precious. But what really makes her stand out are her removable bunny ears. They give her a fun and festive look that is perfect for Easter or any other springtime celebration.
Wizard Troll Doll in Cloak and Hat
One of the most recognizable troll dolls is the wizard troll doll. These dolls have a pointed hat and long, flowing robes. They sometimes carry a staff or wand, and their hair is usually wild and unkempt. While wizard troll dolls are often associated with magic and mystery, they can also be mischievous and playful.
Rainbow Hair Troll Doll
The Rainbow Hair Troll Doll, in particular, was one of the most popular trolls, thanks to its bright colors and unique appearance. His hair makes him stand out from other troll dolls, and children love to play with it.
Tennis Pro Troll Doll With Orange Hair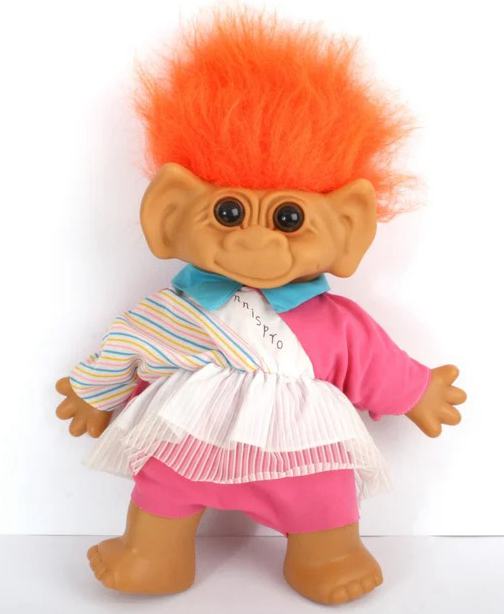 Large tennis player troll dolls with orange hair are especially interesting toys because they are so unique. There aren't many other toys that look like them, which makes them stand out from the rest. They also have a very distinctive style, which is sure to appeal to any child or adult who loves tennis.
Pirate Troll Doll With an Eyepatch, Hat, and a Gun
Amongst the vast array of troll dolls that have been created over the years, there are few that have been as popular as the pirate doll. This particular doll features a troll with purple hair, dressed in a traditional pirate costume complete with eye patch and a gun. Thanks to its distinctive appearance, the pirate troll doll has become a firm favorite amongst collectors and children alike.
10 Vintage Troll Dolls from the 60S
Dam Tailed Troll With Original Tags & Outfit
Dam Tailed Troll With Original Tags & Outfit comes in at just 3 inches tall, making it a very rare vintage troll doll. What makes this troll extra special is that it still has its original tags and outfit, both of which are in great condition. The attached original tag increases its value, and one of these sold for $687 on eBay!
Christmas Troll With Reindeer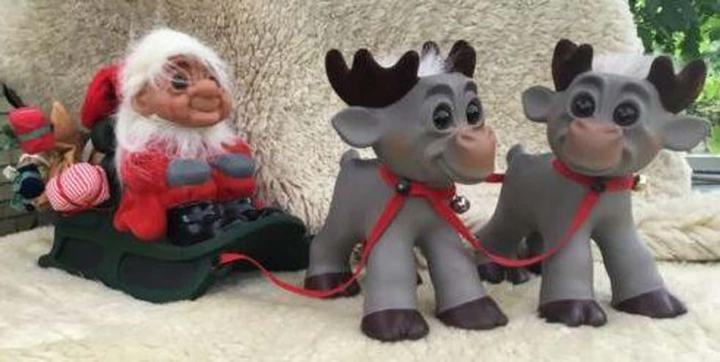 A sleigh and two reindeer are included with this vintage Christmas Troll doll. The reindeer contribute to the collectible's value because animal trolls are more valuable. The value of this one can reach $600!
Troll Doll With White Hair and Pink Eyes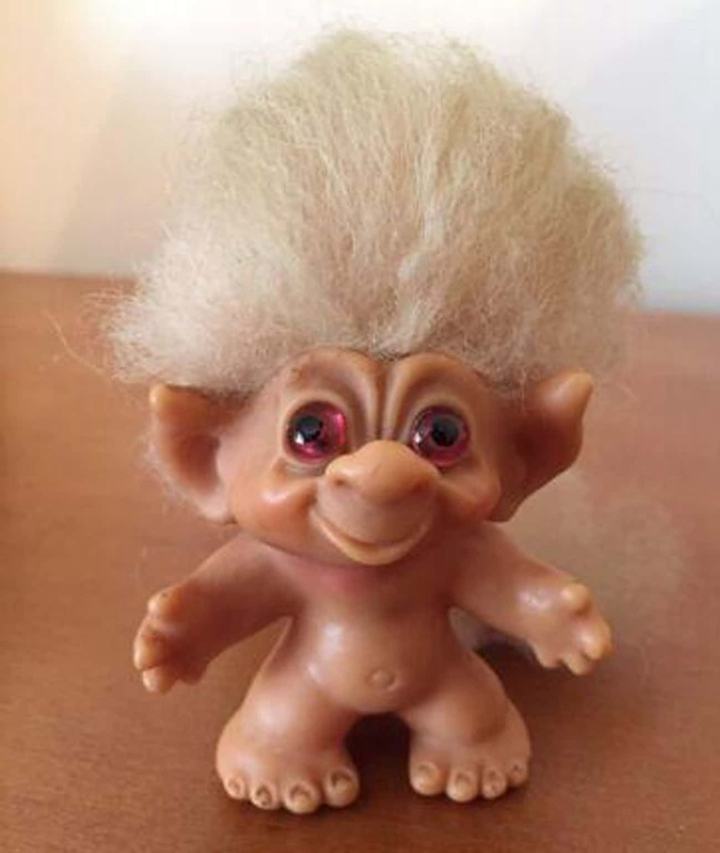 One of the rarest types of troll dolls has white hair and pink eyes. These dolls are so rare that even without clothes they can be worth a few hundred dollars. In Nordic folklore, the white-haired troll doll is thought to represent the most mischievous of all the trolls.
3" Troll With White Hair, Dress and a Hat
One of the rarest of all trolls, this 3 inch tall doll with white hair and a dress has been known to collectors for years. Such a doll would be highly sought after by collectors and could fetch a high price.
Iggy Normous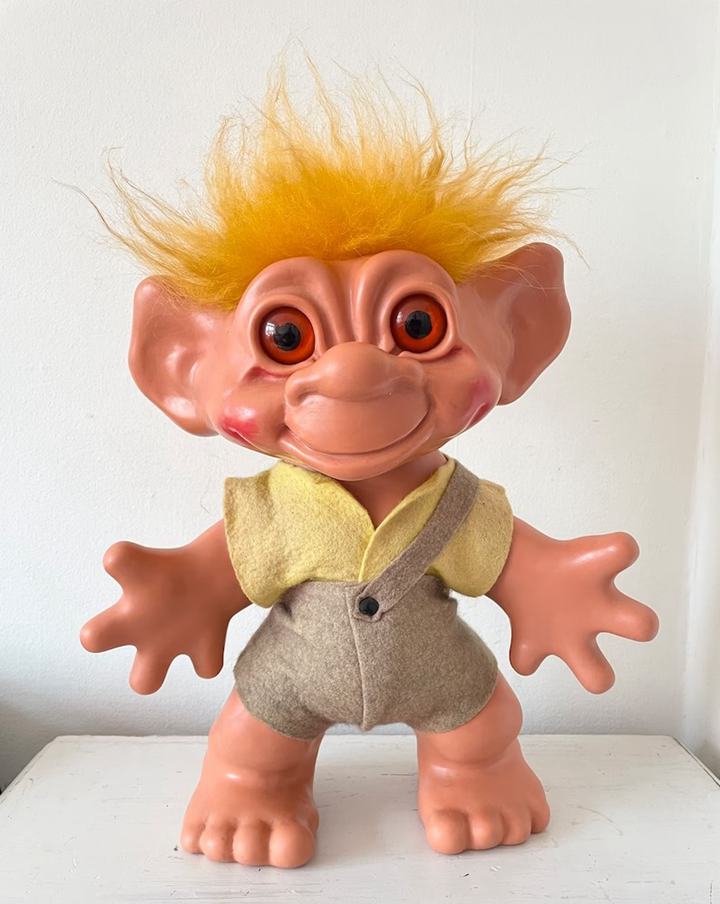 Iggy Normous is a troll doll that was created in the 1960s. He is one of the most recognizable and collectible troll dolls, thanks to his unique features. In his original clothes he is a rare find, and collectors are willing to pay a premium for him.
Naked Troll Doll With Blonde Hair and Green Eyes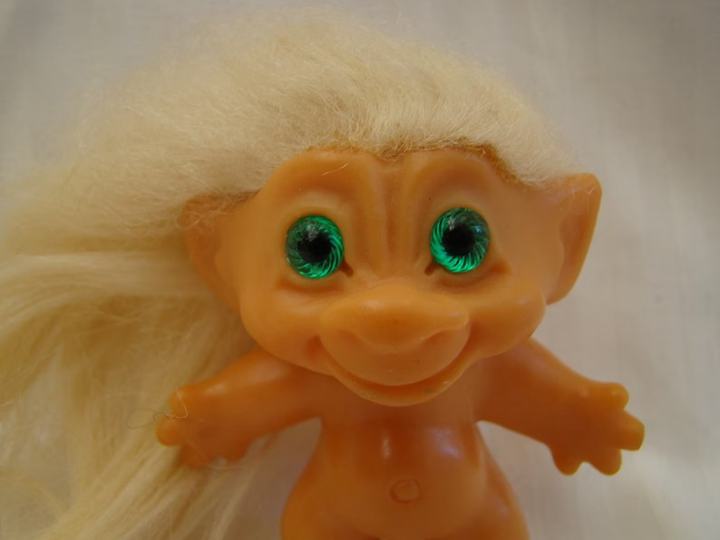 If you're lucky enough to own a small troll with blonde hair and green spiral eyes made in the 1960s, then you have a rare and valuable collectible on your hands. Because they're so rare, these trolls are highly sought-after by collectors, and they can fetch a hefty price at auction.
Troll Doll With Burlap Attire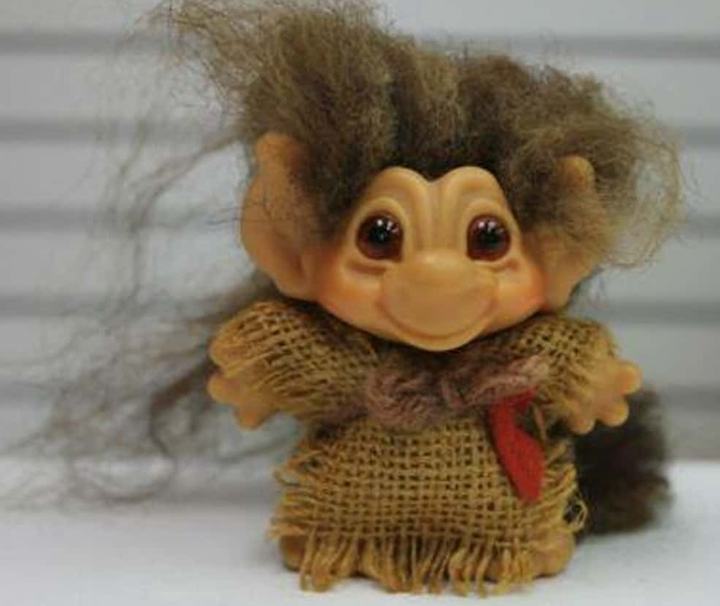 At first glance, the troll doll with burlap attire might not seem like anything special. However, this particular doll is quite rare and, as a result, is worth a significant amount of money. One such is sold on ebay for $421.
Troll Doll With Open Mouth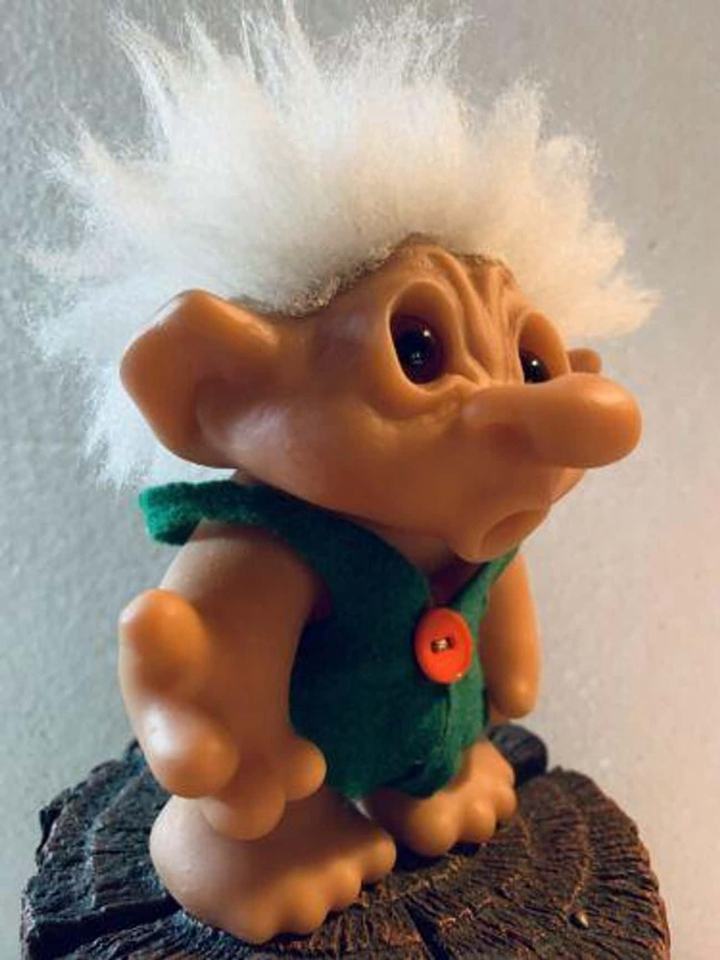 One of the rarest pieces is the troll doll with a mouth that gapes open. While this version of the doll is less prevalent, it is also more valuable. Because it is less typical, it appeals to collectors who are looking for rare and unusual items.
Yellow-Haired Troll With Blue Attire and Green Eyes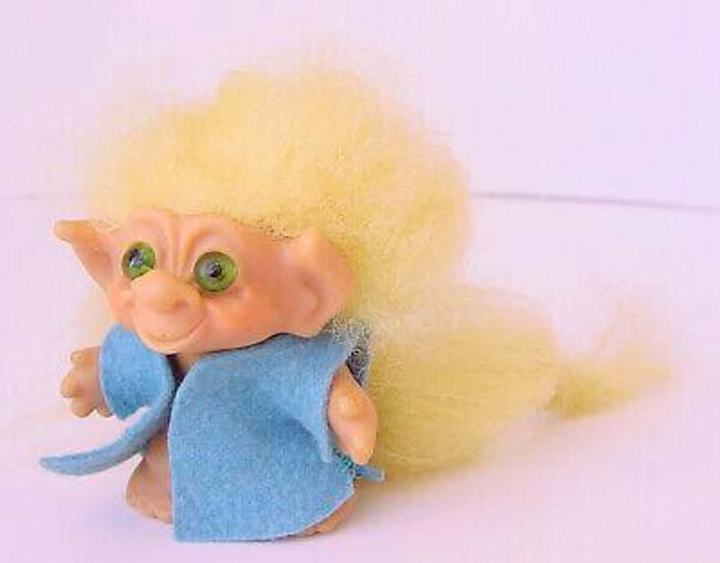 This troll doll is an adorable addition to any collection. The 3-inch figurine has piercing green eyes and long yellow locks, and it is covered by an adorable felt top. One such doll sold for $382 on eBay.
Female Monkey Troll Doll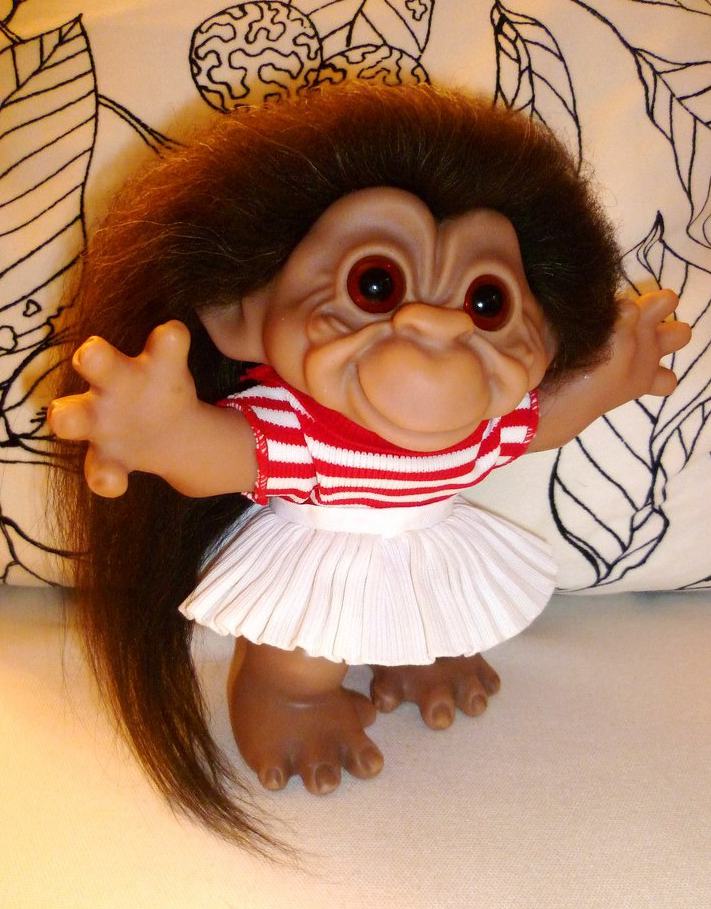 The vintage monkey troll doll is something of a rarity, and it is loved by collectors for its uniqueness. While monkey trolls come in a variety of colors and styles, the most coveted are those with bright and big, expressive eyes. Thanks to their rarity, these dolls can fetch a high price among collectors.
How to Identify a Vintage Troll Doll
Though Dam Things is the company most well-known for producing trolls, many other companies began to produce their own versions of the toy. Unfortunately, these imitations are often of low quality and not as collectible as the original trolls.
One way to identify a genuine troll doll is to look for a stamp on the bottom of the foot, the back, under the chin, or on the belly (if it is an animal). However, not all troll dolls have a stamp which makes things a little more challenging.
When attempting to determine if a troll is real or fake, one of the most important things to look at is the level of detail in its design. Fake trolls usually have less detail, weird airbrushing and may even be made of plastic.
Here are some resources from the 90s that can help you identify your troll doll:
The Different Types of Troll Dolls That Are Available
There are over 4,000 different types of trolls, ranging from the ugly and mean to the pretty and gentle. Some trolls are even holiday-themed, such as the Santa Trolls or Easter Trolls. They can be made out of vinyl, wood, hemp, rubber, glass, porcelain, and ceramics.
Amongst collectors of troll dolls, there is debate over which are the rarest and most valuable. However, there are a few that stand out. Animal trolls are highly sought after, as they are both rare and adorable. Similarly, moon trolls are also quite rare, and their celestial theme makes them popular amongst collectors. 2-headed trolls are perhaps the rarest of all, with only a handful known to exist. Black trolls are also very rare, and their striking appearance makes them highly desirable. Finally, large Dam trolls are extremely desirable, due to their size and rarity.
How to Value Troll Dolls
The value of a vintage troll doll depends on several factors, including age, condition, and rarity. 1960s trolls are typically worth more than later versions, and those in excellent condition with their original tags are the most valuable of all. Finally, some troll dolls are rarer than others. This can also play a role in determining value, as collectors will be more likely to pay a higher price for a rare doll.
Common troll dolls can be found for as little as a few dollars, while rare 1960s Dam Things animal trolls can command prices of over $200. Smaller, more common animals usually fall somewhere in the $25-$50 range, while non-Dam troll animals can be much cheaper, especially if their tags are not attached. Similarly, small 1960s trolls can usually be had for prices ranging from $15-$30.
To find out how much is your troll doll worth you can compare it to similar ones on websites like eBay. This can give you a rough idea of what the market value is for trolls of that era. Another option is to get your troll appraised by a professional. This will give you a more accurate estimated value.
Where to Find Troll Dolls for Sale
Sites like eBay have a wide variety of troll dolls available, and you can often find some great deals. Other good sources include online retailers specializing in vintage toys like Vintage Toy Emporium, as well as brick-and-mortar antique stores. Another option is to check out online auction sites like Live Auctioneers. These sites usually have a wider selection of troll dolls, but the prices can sometimes be a bit higher.
What to Look for When Buying a Troll Doll
When buying vintage troll dolls, there are a few things to keep in mind. First of all, look for original 1960s Dam trolls. These trolls are considered the most valuable, and their value only increases if they are in good condition, with their hair and body intact.
Take a close look at the paint job. Many trolls were mass-produced, so imperfections are to be expected. However, beware of any dolls with cracks or missing paint, as these can devalue the doll significantly.
It's also important to make sure that the troll is wearing its original costume. If possible, try to find a troll that comes with its own certificate of authenticity, as this will further increase its value. While replacements can be found online, they will never be as valuable as an original piece.
How to Care For Your Troll Doll Collection
With a little bit of time and effort, you can keep your dolls in tip-top shape for years to come. Here are a few tips:
Always store your troll dolls in a cool, dry place. Exposure to sunlight or excessive heat can damage the dolls' hair and paint, so it's best to keep them out of direct sunlight whenever possible.
Be careful when handling your trolls. The paint is easily scratched, so avoid using them as stress toys or playing with them roughly.
Be sure to dust your dolls regularly. A soft, clean cloth will do the trick – just be sure not to use any harsh chemicals or abrasives, as these can also damage the dolls.
If your dolls start to look a bit dull, you can give them a gentle bath in lukewarm water and mild soap. Avoid using harsh cleaning products, as these can damage the trolls' finish.
FAQ
Who Invented the Troll Doll?
The original Troll Doll was invented in the 1950s by Danish fisherman and woodcutter Thomas Dam.
What Year were Troll Dolls Invented?
Troll Dolls were invented in 1959.
Are trolls evil?
Some people believe that these small, furry creatures are harmless fun, while others insist troll dolls are actually malevolent beings that are just waiting for an opportunity to wreak havoc.
The meaning behind the popular saying "Trolls live under bridges"
Traditionally, trolls are depicted as being ugly, mean-spirited creatures that enjoy causing mischief and harassing passersby. Because of their unpleasant dispositions, it is said that they prefer to live in dark, isolated places like caves or under bridges.
The cultural significance of troll dolls
The cultural significance of troll dolls goes beyond just being a toy. For many people, troll dolls represent happiness and nostalgia. They remind us of childhood memories and make us feel happy every time we see them. This is why they have remained popular for so many years, and why they are likely to continue to be popular for many more.
Conclusion
Troll dolls first became popular in the 1960s, and they have remained a collector's item for many people since then. There are many different types of troll dolls, but they all share certain features, such as big hair, bulbous noses, and brightly-colored clothes. Some people collect troll dolls because they remind them of their childhood, while others simply appreciate the campy kitschiness of these colorful creatures. Either way, collecting troll dolls can be a fun and rewarding hobby.
One thing to keep in mind when collecting troll dolls is that there is a wide range of prices, depending on the age and condition of the doll. Newer troll dolls can be found for as little as $10, while more rare and vintage trolls can sell for hundreds or even thousands of dollars. However, the most important thing is to buy what you like and enjoy adding to your collection.