Barbie has long been regarded as one of the gold standards of dolls in the toy industry, but in 2001, Mattel, the company that makes Barbie dolls, was challenged by Bratz dolls by MGA Entertainment.
Like Barbie, Bratz products include more than just dolls — they also have clothing, playsets, video games, and a 2015 stop-motion movie. The Bratz dolls have won several awards from the toy industry throughout the years, including the LIMA and Toy of the Year.
Further, people seek out the rarest and most valuable Bratz dolls, typically challenging to locate. If you're also looking for the rarest Bratz dolls but can't find them, don't worry, as we are here to help. Here, you will find the 10 Rarest Vintage Bratz Dolls ever made. So, keep reading.
What Are Bratz Dolls?
MGA Entertainment is the company that makes Bratz dolls and merchandise, which Carter Bryant designed. May 21, 2001, marked the release of the original four dolls-Yasmin, Cloe, Jade, and Sasha which became quite popular.
They looked stunning, with almond-shaped eyes embellished with glossy lips. Additionally, the dolls also have several playsets that reflect extraordinary lifestyles, and they come with loads of accessories.
Bratz dolls measure 10 inches tall but feel heavier than Barbie dolls, measuring 11.5 inches. Little Bratz dolls were introduced in 2002, a pocket-sized version of the famous doll. A new set of dolls followed in 2015. These include all four original dolls plus the addition of Raya.
There are two types of vinyl used to make the Bratz dolls since the head and body contain rigid vinyl, and the arms and legs of the dolls have soft, bendable vinyl.
In addition, Bratz dolls feature a unique feature in that when their shoes are changed, their feet also change since the shoes and feet separate from one another.
Even though it isn't entirely realistic, it is fun to play with, and it eliminates the problem of losing tiny doll shoes and getting them all vacuumed up.
When Did Bratz Dolls Come Out?
Carter Bryant, an ex-Mattel employee, came up with the idea of creating Bratz dolls in 2001. When Bryant came up and ultimately sold the view to rival MGA Entertainment, it became the company's most successful venture to date.
The initial four Bratz dolls were named Shasha, Yasmin, Cloe, and Jade, which became popular worldwide. While the core four were fashion-forward in a practical, encouraging way, they were refreshingly diverse.
Their racial ambiguity allowed them to be widely represented, as each doll had a distinct skin tone and hair color. Shasha, Yasmin, Cloe, and Jade formed a group of tokenless multi-ethnic friends with no leader.
In all its quintessential 2000s glory, frosty make-up, chunky shoes, and bobbleheads were a part of the decade. The first Bratz edition was a massive success due to its broad appeal.
In its first year, sales topped $97 million worldwide, with revenues rising to two billion by 2005, many Bratz spinoffs, such as the Bratz Petz, a line of plush dogs, cats, and foxes based on the core four.
Following this, Meygan, a redhead who came with a pink orangutan stuffed animal and her pajamas, was added to the group and given the nickname "Funky Monkey."
10 Rarest Vintage Bratz Dolls
Here is a list of 10 of the most precious vintage Bratz dolls.
| | | | |
| --- | --- | --- | --- |
| No. | Name | Year | Price |
| 1 | Rainbow High Winter Ruby Anderson Doll | 2005 | $27.27 |
| 2 | Bratz Action Doll Yasmin | 2013 | $29.99 |
| 3 | Bratz Yasmin Fashion Doll | 2001 | $36.89 |
| 4 | Rainbow High Series 3 Georgia Doll | 2021 | $39.62 |
| 5 | Bratz #SelfieSnaps Doll | 2015 | $40 |
| 6 | Bratz Fashion Doll Camero | 2001 | $43.59 |
| 7 | Bratz Fashion Doll Sasha | 2001 | $49.99 |
| 8 | Bratz Study Abroad Doll | 2015 | $64.99 |
|  9 | Bratz® x GCDS Yasmin Fashion Doll |  2005 | $69.99 |
|  10 | Bratz Cloe Collector Doll |  2018 | $79.99 |
1. Rainbow High Winter Ruby Anderson Doll
Price: $27.27
Year: 2005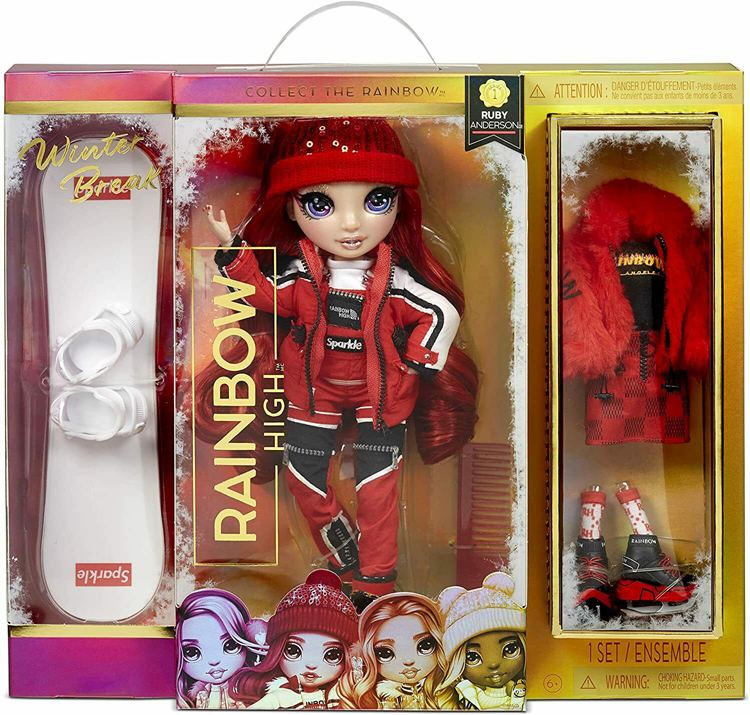 There are two complete winter outfits for Ruby & a snow gear doll accessory. She comes with two beautiful winter outfits in her signature red color. It is easy to dress your character in any fashionable look, then mix and match the pieces you pick to make sure she's comfortable on and off the slopes.
Ruby Anderson doll had her hair and make-up transformed to hit the slopes in style. To keep up with the latest fashion trends. This playset lets Ruby showed off her unique style through her two outfits and winter clothing essentials.
This playset will inspire endless creative thinking and imagination. The set includes all the essential winter gear items that Ruby needs, such as a sequined beanie, a warm jacket, ice skates, etc.
With this playset, you will be able to give your kids endless fun and endless story-telling opportunities. She is fully articulated, and possible that you can use her both as a toy and display piece. You can also transfer the snowboard into a doll stand, making it easier to display her.
2. Bratz Action Doll Yasmin
Price: $29.99
Year: 2013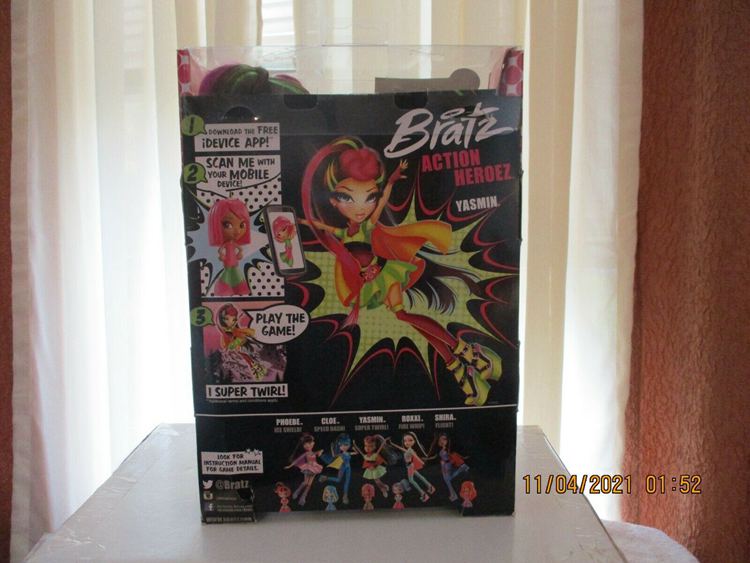 The Bratz action doll Yasmin comes with outfits and capes that are bright and colorful. She is wearing a green and pink dress with high heels, which give a vibrant feel.
No one else can unleash the action hero better like the Bratz doll Yasmin. This package also includes the activation code. Inside the pack, you will also get a comb and a mini-doll.
3. Bratz Yasmin Fashion Doll
Price: $36.89
Year: 2001
Celebrate Bratz's 20th birthday with these special edition fashion dolls presented in gorgeous foil packaging. This doll features a 20 years motif and a collectible hologram poster.
The Yasmin doll comes with two outfits that can be mixed and matched in many ways. Her passion in fashion is to wear earth-toned clothes with stunning textures and earthy colors.
4. Rainbow High Series 3 Georgia Doll
Price: $39.62
Year: 2021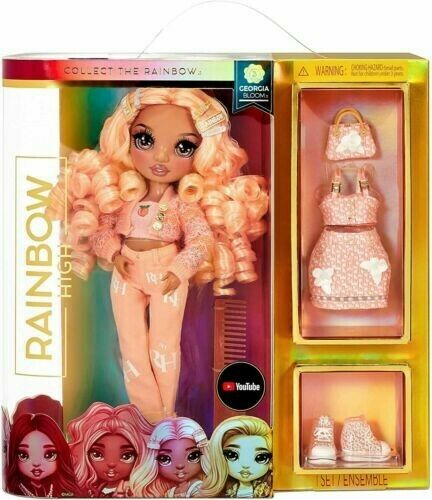 With Georgia, you'll receive two complete doll outfits, including clothing for the doll, shoes, and accessories. Make her look beautiful using all the outfits and mixing and matching the outfits and accessories to offer imagination and story-telling opportunities.
Georgia Bloom is adorable, featuring a unique design and a peach color scheme from head to toe. In addition, she has a stylish fashion style, beautiful hair, long eyelashes, and gorgeous glass eyes. This fashionable fashion-themed doll is part of the Rainbow Collection.
There are so many fun poses you can perform with her. Her arms and legs can bend for so many glamorous poses, or you can display her on the display stand that comes with the doll. You will get a fashion doll, clothing, shoes, and doll accessories within the pack.
5. Bratz #SelfieSnaps Doll
Price: $40
Year: 2015
Bratz #SelfieSnaps Doll is dressed in a pink top with loose suspenders camo pants to complete her sporty outfit. Doll Jade from the Batz #SelfieSnaps series is inspired by her nickname and urban style that is elegant and edgy.
With this package, you will receive a smartphone with two interchangeable cases designed to match her style and the spirit animal of the cat she represents.
It comes with 13 accessories, including a Bratz Hairbrush which is iconic in the Bratz line. You can make her look stunning with a red cat-eared hat, a keyboard-inspired crossbody bag, cat-eyed sunglasses, and more chic accessories.
6. Bratz Fashion Doll Camero.
Price: $43.59
Year: 2001
Bratz Fashion Doll Camero. is a fan favorite re-release. This special edition doll features a 20 Years motif and a collectible poster celebrating Bratz turning 20 years old, presented in gorgeous foil packaging. The set includes two doll outfits that can be mixed and matched for loads of fun.
Cameron is passionate about edgy, relaxed, and cool in the fashion world. In the package, you will receive the following products: 1 Bratz doll, bag, comb, and other accessories.
7. Bratz Fashion Doll Sasha
Price: $49.99
Year: 2001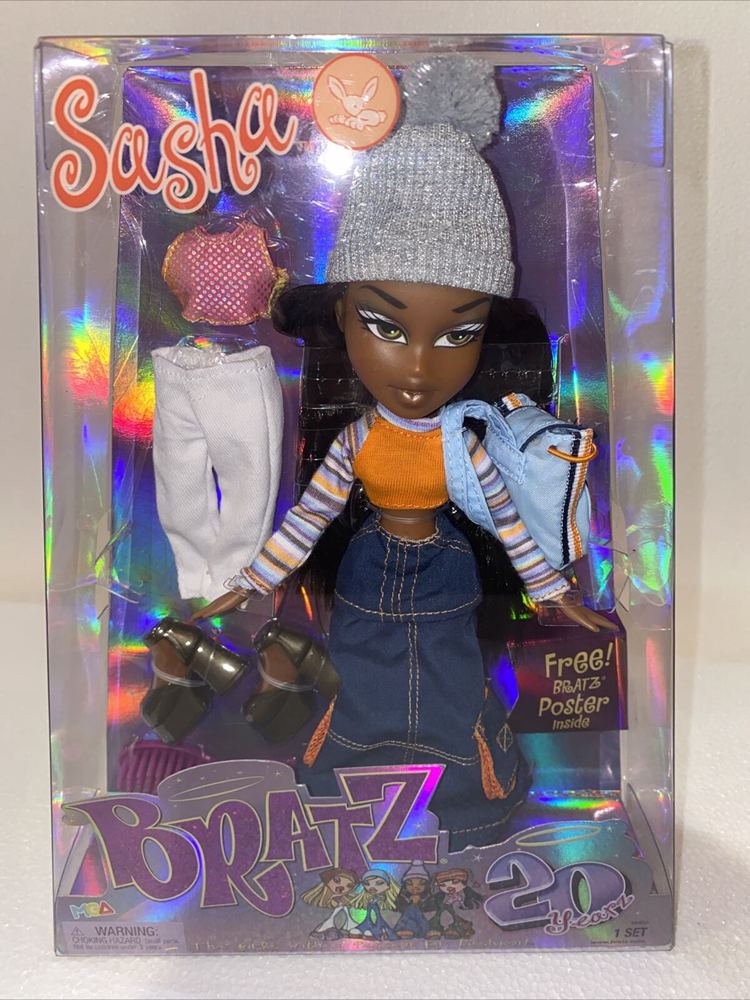 As a fashion enthusiast, Bratz Doll Sasha is fond of urban streetwear like beanies and jeans skirts. To create endless mixing and matching possibilities, you can mix and match Shasha's two completely different outfits.
You'll receive original fashion dolls, outfits, accessories, bags, hairbrushes, and posters as part of the package.
8. Bratz Study Abroad Doll
Price: $64.99
Year: 2015
This package contains a 2-piece outfit with patterns inspired by the adventures of this young woman in Russia. Jade, the Bratz Study Abroad Doll, gets back from her trip to Russia wearing a black zip-up sweater, red boots with floral prints, a yellow skirt with a pleated pattern, and an all-over faux fur hat.
Make sure to decorate her luggage with the sticker sheet. Further, you will get 14 additional accessories with Bratz Study Abroad Doll. There is also an iconic Bratz hairbrush included in the set.
It also contains a silver purse, nesting dolls, and jewelry accessories which can easily be attached to the blue luggage. An adjustable handle to the luggage is also present.
9. Bratz® x GCDS Yasmin Fashion Doll
Price: $69.99
Year: 2005
GCDS And Yasmin Fashion Doll collaborate to bring you this special edition Yasmin Doll which boasts a wide range of high-quality clothing and accessories.
It comes in a geometric trapezoid box that looks sharp and contemporary due to its foil finish and graphic elements based on iconic pieces from GCDS fashion shows.
Upon opening the lids of the package, you will find an all-over foil Bratz print on the inside of the box. Yasmin embraces a long hairstyle with a pulled back part and a hair charm, for she features ankle-length, premium quality hair.
10. Bratz Cloe Collector Doll
Price: $79.99
Year: 2018
The Bratz Cloe Collector Doll was designed by Hayden Williams, one of this generation's most renowned fashion illustrators, designers, and all-around Bratz fans. Fans of Bratz and fashion doll collectors will find love for this Cole doll.
All new on-trend fashions are styled on this doll with detailed patterns that bring out its unique character. This doll has two premium outfit options, just like the original Bratz dolls.
It allows you to create the best-looking doll by mixing and matching the outfits. This limited-edition collection of Bratz is the culmination of the attitude, friendship, and passion for fashion that made the brand successful worldwide.
There is nothing like Cloe's look to make her friends call her "angel" because it is hard to deny it. Fashion appears to be her passion as she combines glam with athletic styling and a rocker vibe. She likes to dream big and tends to say what she wants.
How Much Are Bratz Dolls Worth?
An antique Bratz doll made before 1990 can fetch up to $700 or even more. Dolls made after 1990 are more likely to sell for less than $100. No matter what model you have, whether it dates from the 1960s or the 1990s, these can sell for anywhere between $20-10,000 or even more.
A 1960s action figure can sell for up to $2,000, and its accessories are worth quite a bit. In most cases, the availability of the Bratz dolls determines their cost. Several Bratz dolls have been discontinued, as well as their matching accessories.
While they have re-released some of the Cool Bratz of 2001, the price and availability can vary greatly. Four individual dolls in the original Bratz line featured rooted hair that could be combed and styled for enhanced imaginative play, including Sasha, Yasmin, Jade, and Cloe.
Collectors tend to purchase these Bratz dolls as soon as they are released because they are only available for a limited time. You should take advantage of the opportunity to buy a Bratz doll as quickly as possible if you need to find a specific one.
Where to Buy Bratz Dolls?
Buying old Bratz dolls is something that you can accomplish in several ways. Online auctions have become the best place to find and purchase your favorite Bratz doll.
Online auctions allow you to keep track of changes in the price of your Bratz dolls and changes in the demand for them. The best way to observe price changes for Bratz Dolls would be to participate in online auctions such as those offered on eBay.
When searching for rare Bratz dolls, you must search for completed listings and not just active listings. There are several auctions for one particular Bratz doll, and each one has a very low or no bid.
Some eBay auctions do not receive bids until the last day of listing, so the fact that bids appear only at the end of the listing does not always indicate the prospect of interest. A quick look at recently finished auctions will let you see how many people are interested and the demand for the item.
What Do You Need to Know Before Buying a Rare Bratz Doll?
Before purchasing a Bratz doll, consider some factors, such as playsets, availability, and collectors' editions.
1. Playsets
Many modern-day accessories exist in Bratz playsets, such as shoes, hair, karaoke machines, etc. Aside from that, each set also includes a collection of collectible furniture available to mix and match for a whole Bratz community.
There are usually two doll outfits and numerous accessories included with the Bratz dolls. Nonetheless, each doll and collection has its assortment of clothes and shoes. These additional accessories are another thing that you should consider before buying the rare Bratz doll.
2. Availability
Currently, many original Bratz dolls are no longer available. For a limited time, however, collector's editions are also available. This lack of availability increases the Bratz doll's price and makes them rare. You'll want to make sure that you purchase a specific Bratz doll as soon as possible if you have your eye on it.
3. Collectors' Editions
In May 2021, Bratz celebrated its 20th anniversary. A special group of fan favorites has been released by MGA Entertainment to commemorate this milestone.
A collectible holographic poster is present with each Bratz doll and a special foil package in this collection. In honor of the 20th anniversary, Yasmin, Cloe, Sasha, and Jade are some of the most popular Bratz dolls to appear.
Conclusion
As a former employee of Mattel, Carter Bryant was responsible for coming up with the idea for the Bratz dolls introduced in 2001. As a result of Bryant's idea and the eventual sale to MGA Entertainment, the venture became the company's most profitable one.
The original four dolls were released on May 21, 2001, and have become quite popular. They are Yasmin, Cloe, Jade, and Sasha. Their eyes had a beautiful almond shape embellished with eyeshadow, and their lips had a fantastic glow to them.
The playsets also reflect the cool lifestyles of the dolls and a lot of accessories that come with them. There are 10 inches of height to the Bratz dolls. However, they are a lot heavier than the 11.5 inch Barbie dolls.
A miniature version of the famous doll, Little Bratz dolls, entered the market in 2002. Eventually, there was another set of dolls that replaced them in 2015. In addition to the original four dolls, Raya was also available in that set.
There are two types of vinyl used to create the Bratz dolls. Despite the dolls' hard vinyl heads and bodies, their softer, bendable vinyl arms and legs are among the highlights of the doll.
A characteristic of Bratz dolls that makes them unique is their shoes are connected to their feet, so changing their shoes also changes their feet.
If you are looking for a rare Bratz doll made before 1990, you may be able to find one for up to $700. The price of a doll made after 1990 is more likely to be under $100 compared to before 1990.