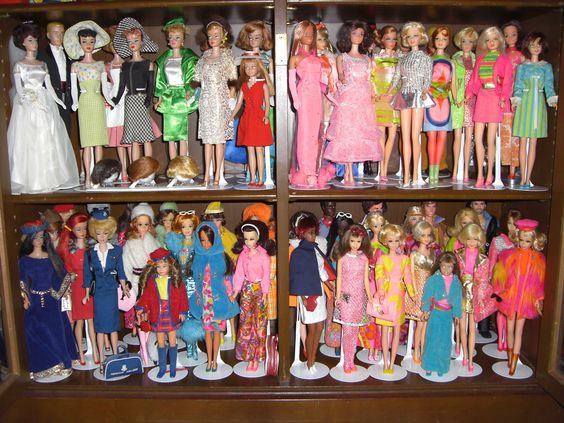 There's hardly any female child born between 1960 to the early 21st century who'd say they didn't play with Barbie dolls. Since its introduction in 1959, Barbies have become a staple toy for little girls and gained worldwide popularity leading to more variations.
Today, there are thousands of Barbie models, including limited editions made on special occasions like the Holiday Barbies and Promotional Barbies.
With these many options, you ask, "are Barbies worth anything?" If yes, "How much is the first Barbie worth?" and more.
In this complete Barbie collector price guide, we've answered all your asked and unasked questions, from the brief history of Barbies to identification by years and valuation including the first Barbie doll value.
Brief History of Barbie Dolls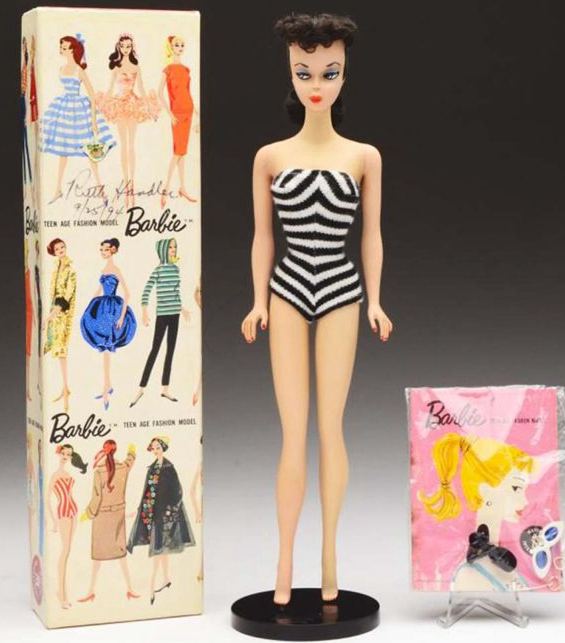 The blonde, blue-eyed doll from Malibu, California, came to life in the garage of toymaker Ruth Handler and her husband, Elliot. After watching her play with flat paper dolls, the designer created the 3D doll for her daughter, Barbara.
The first Barbie doll, whose real name is Barbara Millicent Roberts (namesake to Ruth's Barbara), made her national debut at the New York Toy Fair on March 9, 1959, under the Mattel Inc. brand.
Before her Barbie doll, there was already a German 3D doll – Bild Lilli – but Handler bought the rights to avoid copyright conflicts. She modeled her Barbie after the Bild Lilli doll but changed the features to American-style.
Her first appearance was in a striped black and white sleeveless one-piece swimsuit with ponytail bangs, blonde hair, and red lipstick. Over the years, the doll has undergone several variations in her clothes and body features.
This Barbie Collectors Price Guide helps you sift through the thousands of models designed from 1959 to date, including their identification and value.
Watch Ruth Handler narrate the history of Barbie Dolls on watchmojo.com
How to Determine the Value of Barbie Dolls
Knowing there are different vintage Barbie Dolls, the next step is distinguishing between valuable models and regular models. Why? So that you don't pay more than you ought to when buying a Barbie or receive less than they're worth when selling.
Factors influencing value
Have a look at some of the factors that might influence the value of your barbie dolls
Model
Over the years, Barbies were made for different purposes, whether as limited editions from Mattel Inc. or special designs for promotions. These characteristics add to the Barbie doll's value because they make them special and interesting.
For example, Mattel Inc. made the most expensive Barbie ever sold as a one-time-only edition for auction at the Breast Cancer Research Foundation fundraiser in Oct. 2010.
Two years before that, the company made the Diamond Castle Barbie to promote its Direct-to-Video animated movie, Barbie and the Diamond Castle. Here are some of the expensive, exclusive and rare Barbie doll models ever made;
| | | |
| --- | --- | --- |
| Barbie Model | Year | Cost |
| Stefani Canturi Barbie | 2010 | $302,500 |
| Diamond Castle Promotional Barbie | 2008 | $95,000 |
| De Beers 40th Anniversary Barbie | 1999 | $85,000 |
Stefani Canturi Barbie 2010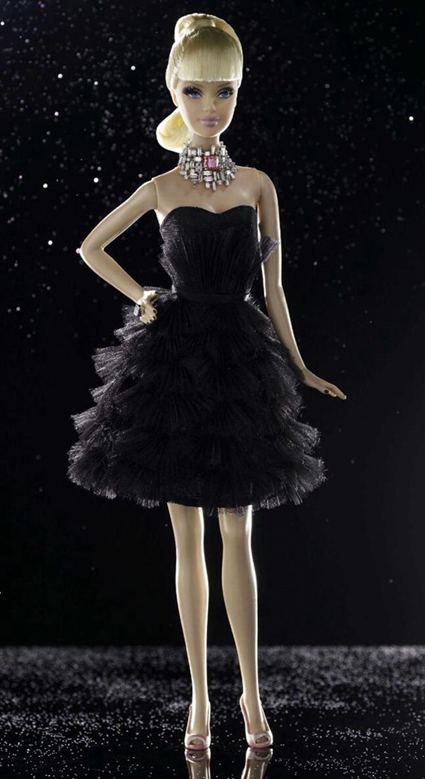 (Source: Pinterest)
The noblest Barbie of them all is the Stefani Canturi Barbie, despite her outfit being modest. The $302,5000 doll raised funds for Breast Cancer Research with her black tiered dress and emerald-cut Australian pink diamond jewelry.
Diamond Castle 2008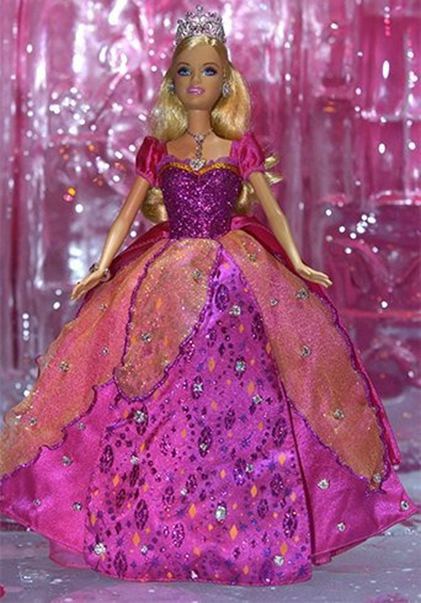 (Source: Fashion Lady)
Diamond Castle Barbie was a special limited-edition doll who wore a two-toned pink ballgown with a Tiara like the character in the movie.
Her dress had 318 diamonds impressed on it, and although it wasn't sold, it was valued at $94,800 now, $95,000 per iPrice.
DeBeers Anniversary Barbie 1999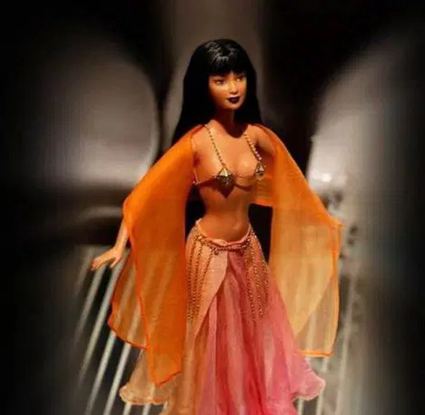 (Source: Luxuo)
Talking of exotic-looking Barbie dolls, the DeBeer 40th anniversary model is one of a kind with a unique outfit. Although she came about 10 years after the first Afro and Hispanic Barbies entered the market, she outshone her predecessors and peers.
She wore a bright orange shawl over a scant-clad diamond-cut bra with a maxi low-waist floral skirt. Her accessories, however, take the cake with the 160 diamond pieces valued at $85,000.
Of course, there are others, including the OG 1959 Barbie doll, but you can read more about them below.
Condition
Because Barbie dolls typically come in customized boxes, yours must remain intact if you want to sell them for top dollar. A Barbie doll without/ with a damaged box will sell at a premium because it's an extremely rare model like the OG doll.
Mattel's Grading System
Watch the video below to see the Mattel Grading System.
Mattel made its four-tier structure in 2004 to help buyers identify collectible Barbies. They are Platinum, Gold, Silver, and Pink, with Platinum being the most exclusive and pink being the least.
Rare Barbie dolls are Platinum labeled because there are less than 1000 produced, and even lesser remain as the years progress. With Gold labels, the number cap is 25,000, while silver labels cap at 50,000.
As you must've guessed by now, Pink Labels have no quota, thereby making them the least collectible, as earlier mentioned.
eBay's Grading System
eBay made a rating list it uses to categorize Barbie Dolls according to collectors through the years. This lingua will help you with online shopping and labeling if you're interested in selling your Barbie Doll.
The C-grading system rates Barbie dolls from 1 to 10, with 1 being the least and 10 being the best. So, you'll see letters and figures like C-1 to C-10. Other hints include,
Hard To Find (HTF) – This simply means rare.
Modern Barbie – Because the doll's production spans 63 years, Barbies made after 1972 are classified as Modern Dolls, while pre-1972 models are vintage. It follows the technical rule of vintage and antique attributions of 50 and 100 years, respectively.
However, the time limitation to 1972 will increase to accommodate the new timeline as the years go by.
Original Swimsuit (OSS) – This is typically used for the 1959 Barbie doll in reference to the iconic zebra sleeveless swimwear.
On that note, there are four categories of Barbie doll box conditions, especially with Holiday Barbies.
Never Removed from Box (NRFB)
Mint In Package (MIP) / Mint in Box (MIB)
Mint No Box (MNB)
Near Mint (NM)
Barbies sold without the box must either be MNB or NM to fetch a reasonable amount of money. Any visible damage such as missing parts, scratches, broken limbs, scanty hair, or more significantly devalues the piece.
How much are they worth?
"How much are Barbie dolls worth?"
Each Barbie doll's worth differs based on her age and model because some were made in the same year but with different variations. Based on the factors outlined above, some Barbie dolls are extra rare and thus worth thousands of dollars.
Of course, you want to know which Barbie Dolls are worth money, so here's a list based on sales records across the internet.
How Much is an Original Barbie Doll Worth?
The original Barbie doll value of $3 wasn't expensive in the Fifties, but it wasn't cheap either. Today, you may wonder, "How much is the original barbie doll value worth?" and that's a valid thought.
You don't have to think further because you've come to the right place for answers.
According to Money Inc., the 1959 Barbie doll value ranks 3rd amongst the most expensive Barbie dolls worldwide and can fetch up to $8,000 in poor condition and even more at $27,500 in mint condition. We'll talk about condition scales later on in this guide.
Invaluable says Mattel Inc. sold over 300,000 in its first year thanks to the promotional commercial during the Mickey Mouse Clubhouse Tv show.
Note, however, that the first Barbie model with golden eyes and blonde hair had two editions with varying values in today's market. The first edition had holes in her feet connecting her black shoes to them, but not the second edition.
However, the value of the first Barbie doll didn't influence the subsequent price of the new models. Instead, it saw a steady price increase.
Types of Barbie Dolls
Other notably exclusive Barbie Dolls that fetch a lot of dollars include;
| | |
| --- | --- |
| Limited Edition Barbies | $1,000 – $7,000 |
| Holiday Barbies | $50 – $2,000 |
| Color Magic Barbie | $500 – $1,000 |
| Collectors Edition Barbies | $100 – $600 |
| Customized Barbies | $100 – $500 |
| Midge Barbie | $200 – $300 |
Collectors Edition Barbies
When Mattel Inc. noticed that Barbie dolls were collectors' favorites, it made exclusive Collector Barbies meant for hobbyists.
Late celebrities like Elizabeth Taylor, Elvis, Lucille Ball, Marilyn Monroe, Princess Diana, and Scarlet O'Hara are labeled Timeless Treasures. Although she's still alive, pop icon Cher is also categorized under the Timeless Treasures dolls.
There's a group called The National Barbie Doll Collectors that holds yearly Conventions.
Customized Barbie Dolls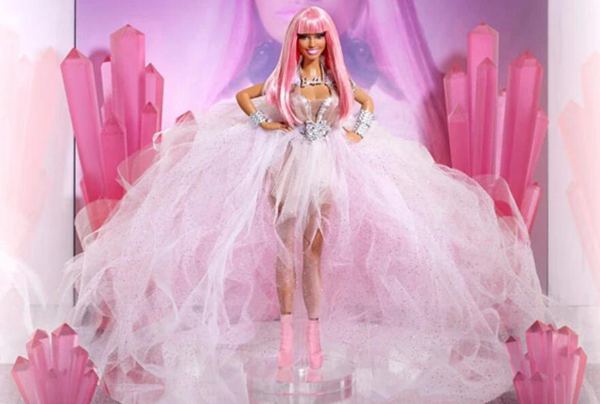 Mattel Inc. partnered with celebrities, brands, and various organizations to create Barbie dolls specifically for their events or person. Barbie Media cites Oscar de la Renta as the first collaborator with Mattel in 1985.
Celebrity Barbie Dolls like Nicki Minaj (Pink Friday), Beyoncé (Destiny's Child), Laverne Cox (the first transgender doll), and more are called by their names.
Limited Edition Barbie Dolls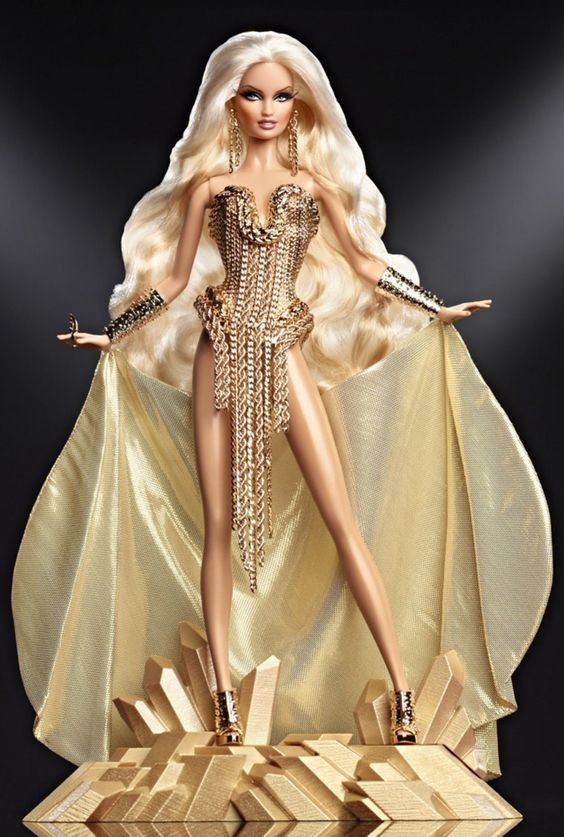 Unlike customized Barbie Dolls, limited-edition models are made in restricted quantities significantly lesser than the typical 35,000/more Mattel Inc. produces.
1962 Barbie Doll Value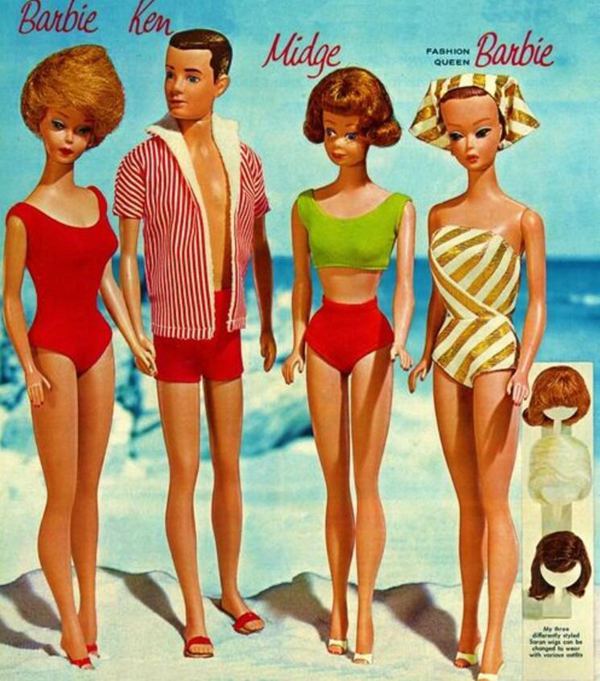 Mattel Inc. introduced the pregnant Barbie Midge doll in the sixties in fulfillment of their promise of representation. The original 1962 – 1963 Midge Doll Value lies between $200 – $300 for rare models and less for regular designs.
The OG Midge doll (1962) had a skinny waistline but was distinguished with her lemon top and red bottom bikini set, and bubblecut bob blonde/black hair typical of the sixties. Later, Mattel produced her as a pregnant lady in 2002.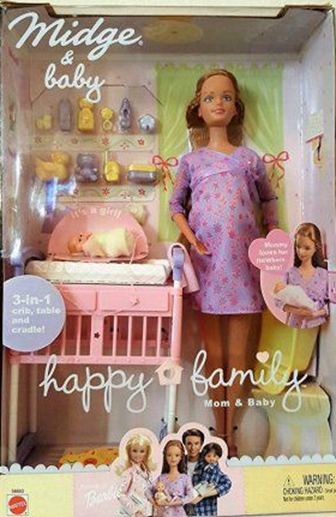 ABC News reported that the single package depicting her as a lonely mother-to-be caused a controversy that made the company recall Midge from distribution.
She also has bendable legs like the rest of the Made in Japan dolls of the sixties.
Read more about that below.
1966 Barbie Doll Value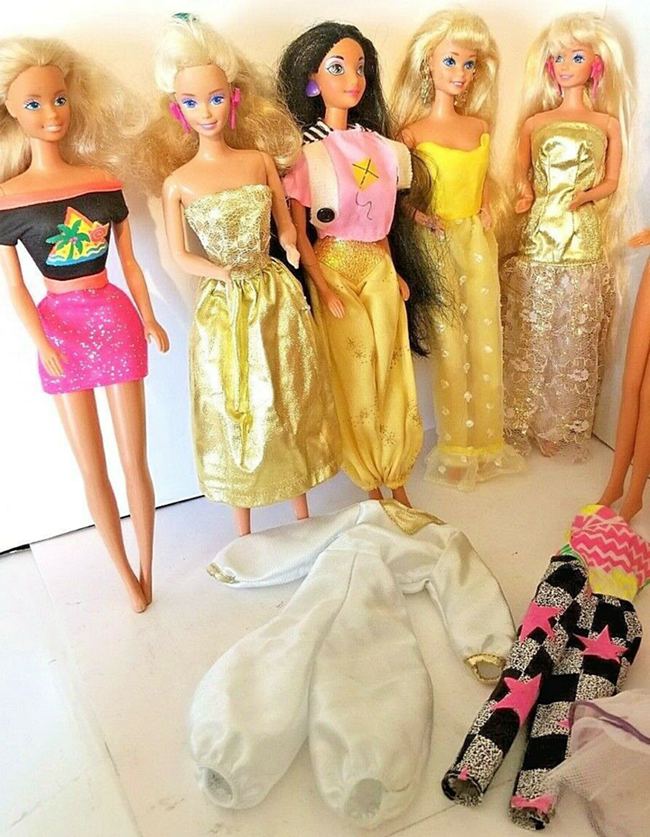 According to Marl & Be, five different Barbie Dolls were introduced in 1966, and they were all made in Japan. The flexible-legged American girl with a "Color Magic" face was sold exclusively in the Asian country.
Because 1966 was the same year Mattel patented its Twist N Turn waist design which continued into 1999, all dolls made in that window have the patent year impressed on their bodies.
An alternative identification is looking at the manufacturing country's impression on the doll's body like, 1959 – 1972 JAPAN. The 1966 Barbie doll value is between $500 to $1,000 apiece.
1988 Holiday Barbie Value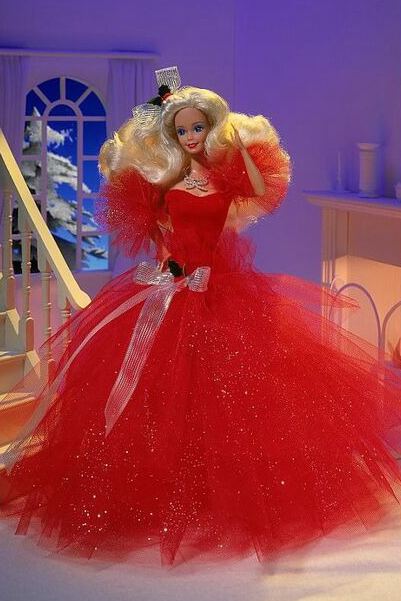 In 1988, Mattel introduced the annual Holiday Barbies dressed in extravagant gowns for the festive season. Their limited-edition status makes them rare models, and they sell upwards of $300 – $1,000, but the recent models rake in a regular $50 – $100.
Holiday Barbies became the first limited series in Mattel's Collector Barbies since they appealed to the older generation. The tradition has carried until now, but the highest-ranking valued Holiday Barbies are the models made pre-1995.
It's undergone numerous changes, including its name in 1999 (Millennium Princess), 2000 – 2002 (Celebration Princess), 2003 (Winter Fantasy), and now Holiday Barbie (2004 – date).
A few models like the 1990 Happy Holidays Barbie and 2000 Celebration Barbie had keepsakes in their boxes.
1997 Holiday Barbie Value
A few Holiday Barbies stand out from the rest, and the 1997 Holiday Barbie is amongst them. There's a catch to that increased value, though. According to a seller on Etsy, the first set Mattel made had blue eyes, which was a factory error.
So, the company recalled it before sending out the intended brown-eyed model. This means that the factory error 1997 holiday Barbie has a higher value than the corrected version because it's rare.
Millennium Barbies Value (1999)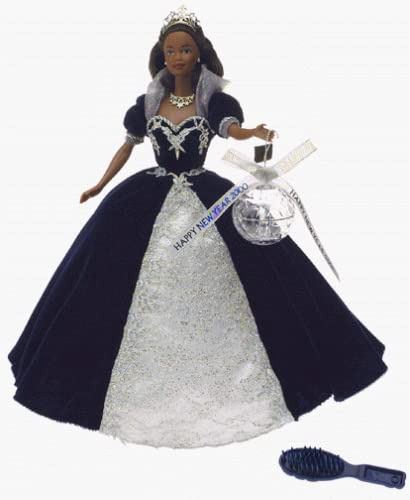 Mattel designed the Millennium Barbies to usher in the new Century/Millennium at the turn of the century. She's propped in a box named Millennium Princess, wearing a silver and Navy ballgown.
The blonde-haired doll also has a silver disco ball ornament with a chiffon ribbon that reads – Happy Year 2000. She's the last creation of the 1000s, which gives her a special place amongst her peers. The Millenium Barbie value is $800 – $1500 on retail sites.
Celebration Barbie Value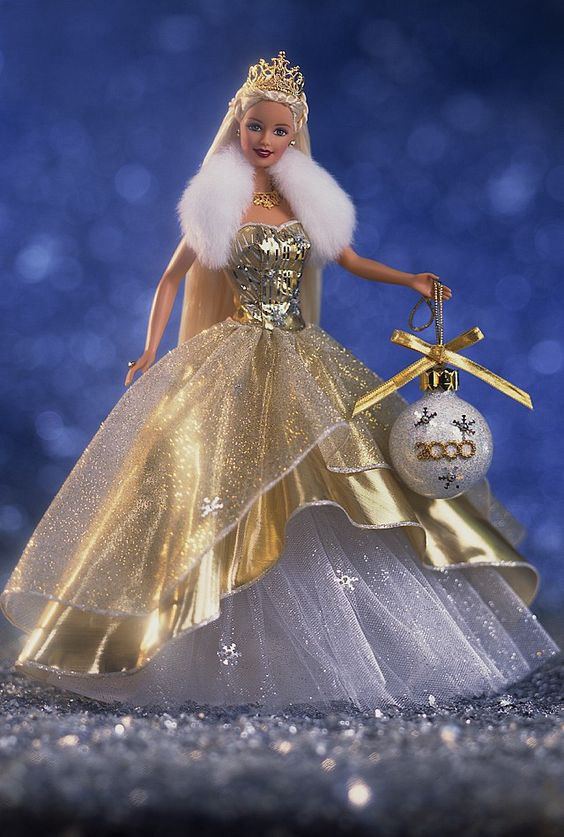 Her shiny gold ball gown and white fur shawl mimicked the splendor and glamour of the new year. Like her counterpart, the Millennium Princess closed in the 1000s; Celebration Barbie opened in the 2000s hence her festive name.
In her box, she's also one of the few Holiday Barbies with a keepsake (a white ornament designed with silver snowflakes and the number 2000 in gold shimmer). She also has a separate name from the rest – Celebration Barbie.
2001 Holiday Barbies Value
The 2001 Holiday Barbie doesn't have any unique features that increase her value exponentially. It fetches about $9 to $35 which is the average price of regular Holiday Barbies.
Where to Buy Collectible Barbie Dolls
Collectible Barbie dolls are more in demand than you think; hence you can find them almost everywhere that sells antique and vintage dolls, including online markets. The difficult part is finding a credible retailer and rare Barbie Dolls since there are many old ones.
Now that you know how to tell if a Barbie is worth money, here are a few websites you can check for Collectible Barbie Dolls
Amazon
The number one online marketplace for any and everything. As the pioneer in online shopping, it's no wonder that Amazon sells Vintage Barbie Dolls. There are over 1000 listings on the website and various Barbie Dolls, including promotional models.
They range from Coca-Cola Barbie to Marilyn Monroe's Iconic The Seven Year Itch breeze-blown white dress. Amazon sells these Collectible Barbies for as low as $50, upwards of $200 on an average.
eBay
Arguably the biggest online secondary retailer worldwide, eBay also sells collectible Barbies. There are also listings with naked dolls and separate clothes for collectors who want one.
eBay Barbies sell between $50 to $1,000 on average and upwards of $10,000 for rare models, including Karl Lagerfeld's Platinum label. Note that the expensive Barbie dolls on eBay are Never Removed from Box pieces.
The exception is the original Barbie Doll which is worth more even in its poor state based on its intrinsic value.
Etsy
Since its inception in 2005, Etsy has recorded millions of sales, including its collection of collectible Barbies. Although most of the expensive ($100 – $200) listings on the website are bundles, it still has the most independent sellers, which are the rarest models.
Most notable is that Etsy's over $1,000 listings are Holiday Barbies, so you know where to look if that's your interest.
Mattel
Why not go directly to the source? Mattel Creations still offers rare Barbie dolls (especially tributes made after notable celebrities) at affordable prices. You can get a vintage Barbie for as low as $20 and no more than $125.
Where to Sell Collectible Barbie Dolls
After studying the guide thoroughly, if you're convinced your Barbie doll is worth a couple of thousand dollars, there are a few places you can sell them. However, we advise that you first get an appraisal from professionals to confirm its value.
You can search Appraisers near Me on your preferred browser or use any of these accredited appraisers –
Dr. Lori, who has a Ph.D. in antique and vintage items appraisal
Value My Stuff online, which offers 24-hours results.
Some collectors prefer using secondary online marketplaces for sale because of their wider reach. You can try that too. However, there are limitations to using such media.
Unless you're an accredited seller with a proven sales track record, it's unlikely that people will trust your account. Also, you may be subjected to paying a percentage of your earnings to the website.
An alternative and more reliable option is to employ a notable auction house like Sotheby's or Christie's to be the middleman. After all, the most expensive Barbie Dolls worldwide were sold by auction houses.
In 2006, Christie's sold a lady's 1959 Original Barbie for 2,880 pounds, more than double the estimated price of 800 – 1,200 pounds. You also have the opportunity of doubling your estimated value. Service Charges may also apply.
Barbie Dolls by Years
According to watchmojo.com, Barbie's physique and style mirror the fashion of the era she's designed in. Notable time jumps include the 1959 debut, where she had a rolled-up ponytail of blonde hair with arched eyebrows, sideways looking eyes, and red pouty lips.
The first two Barbie editions were a blonde and brunette, but in 1961, Mattel launched the redhead model alongside Ken (the Male doll). A year later, the company introduced the Barbie Dreamhouse, a hit in the market – one is sold every 2 minutes per Barbie Media.
In the 1970s, she was tan with long straight blonde hair, and her eyes faced forward for the first time (a model that'll continue for years).
In the 1980s, her blonde hair frizzed out into a big puff as she started her Rock band, mirroring the disco era. That decade also ushered in the first diverse race models – Afro and Hispanic Barbies.
The 1990s introduced the Totally Hair Barbie, giving players a foot-length blonde wavy hair to play with. This new model is recorded as the best-selling regular Barbie, with more than 10 million pieces produced and sold.
As the 20th century turned into a new millennium, Barbie became more flexible with "an athletic physique" and a belly button. She also switched her dress into more modern casual outfits separate from her previous formal wear.
Barbie broke up with Ken in 2004 as part of her girl power campaign. She has since challenged more gender stereotypes, especially with the career Barbies.
Insider made a comprehensive list with pictures for a fun game of "Here's what Barbie looked like the year you were born."
Final Thoughts
Barbie Dolls worth money isn't very many, considering the number of products Mattel releases into the market yearly. However, on the rare occasion you find a unique doll, especially one with intact packaging, get an appraiser because you may be lucky.
The value of Barbie dolls still in the box is higher than those without their original boxes or damaged packaging. So, if you're prepping for the future, these are a few things to consider.
FAQs
Q: What's the most expensive Barbie Ever Sold?
A: The 2010 Stefani Canturi Barbie doll designed as part of an auction haul for the Breast Cancer Research Foundation's fundraiser carries a whopping $302,500 value. Legendary fashion designer Stefano Canturi designed the jewelry pieces.
Apart from her noble cause adding to her worth, the doll wears expensive jewelry, including an Emerald cut Australian Pink diamond necklace. Each one-carat pink diamond on the chain has a three-carat white diamond enclosing its worth.
Her hair is platinum blonde, while her lips are bright red with a dark beauty mark on the top left corner.
Q: What Online Resources are available?
A: You can check online Price Guides like this one or compare sold values on auction sites like Christie's, 1stDibs, and Sotheby's. Or, you can check private blogs like LoveToKnow, invaluable, and The Spruce Craft.
Note that Sotheby's sells pictures of the vintage dolls as photographed by David Levinthal.
If you don't like online resources, you can buy a price guide book via Amazon Books like Warman's Barbie Doll Field Guide: Value and Identification, 2003. However, it's best to use online guides because they contain updated prices, unlike paperbacks with old lists.