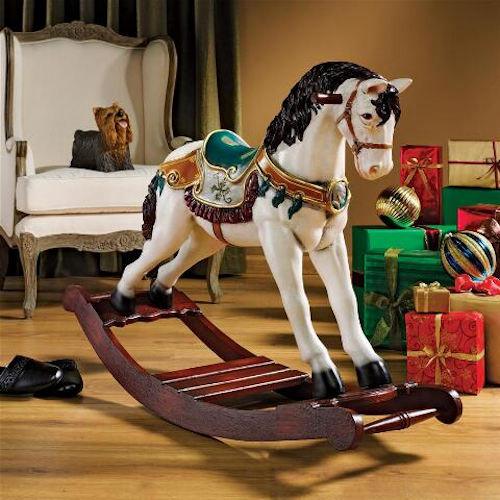 So, you're clearing out your attic, and you think it's finally time to throw out that old rocking horse you quite haven't been able to let go. Seriously, who talked you into it?
Antique rocking horses were childhood favorites and today several collectors out there would gladly pay you good money for them.
That's right! You had money sitting and collecting cobwebs and dust in your attic.
Authentic antique rocking horses are worth between $2,000 and $7,000. Although this depends on several factors like age, manufacture materials and skill level of the craftsman.
Since the introduction of the first rocking horses, toymakers worldwide – both famous and unknown – have not stopped creating these timeless pieces that bring nostalgia to many Gen X individuals and millennials, and then pure joy to the little ones.
The History of Antique Rocking Horse
The origin of antique rocking horses can be traced back to the 17th century in Europe. Prior to this time, the hobby horse was the most popular children's toy (a straight stick that held a model horse-head on one end of it and sometimes a wheel on the other end – with a grip on the stick.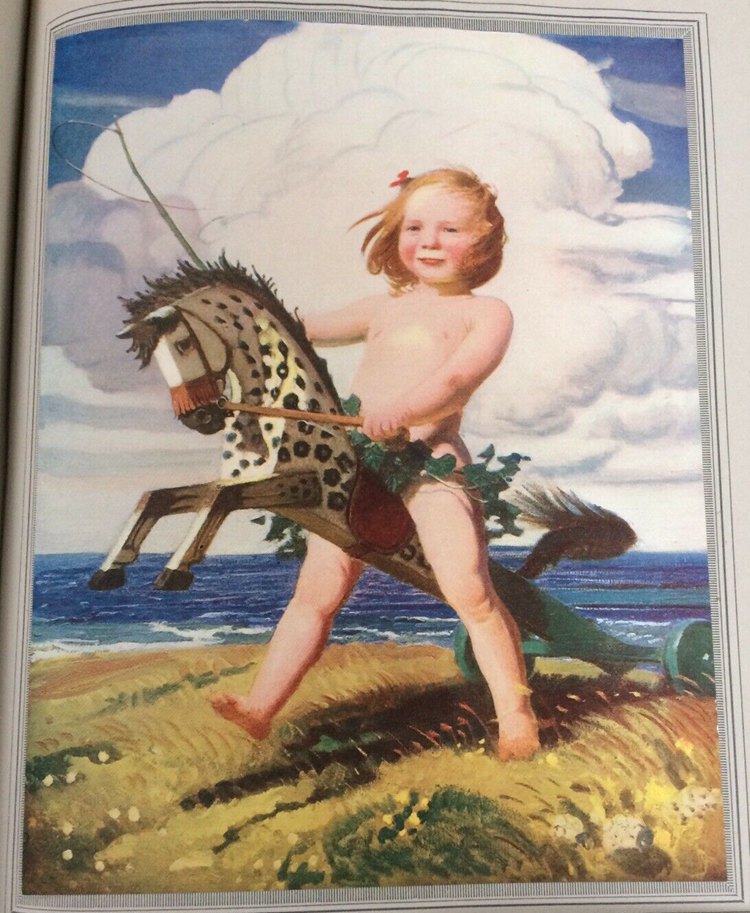 Children will stand over it, their two legs on each side as they pretend to ride like they would a horse. This was the inspiration for the rocking horses we know today.
Horses were the primary method of transportation back in ancient times. Young men and fathers would go off to war, go hunting, and go for a drive on horses. Hence, the intention of rocking horses was never to be used as a toy.
They were made for instructional purposes. To teach the young male children from well-to-do British families how to ride a horse.
As centuries progressed and automobiles took over the scene, children hoped to ride cars instead, so rocking horses were only in demand as play products.
The earliest rocking horses were made out of solid wood and were said to overturn often because of their heaviness and high center of gravity.
To meet safety standards and provide better "riding" experiences, newer models and styles of rocking horses were designed and released as time progressed.
Despite this, some private antique collectors and museums today still own and house a few of these vintage pieces – including the one ridden by King Charles I of England during his years as a child.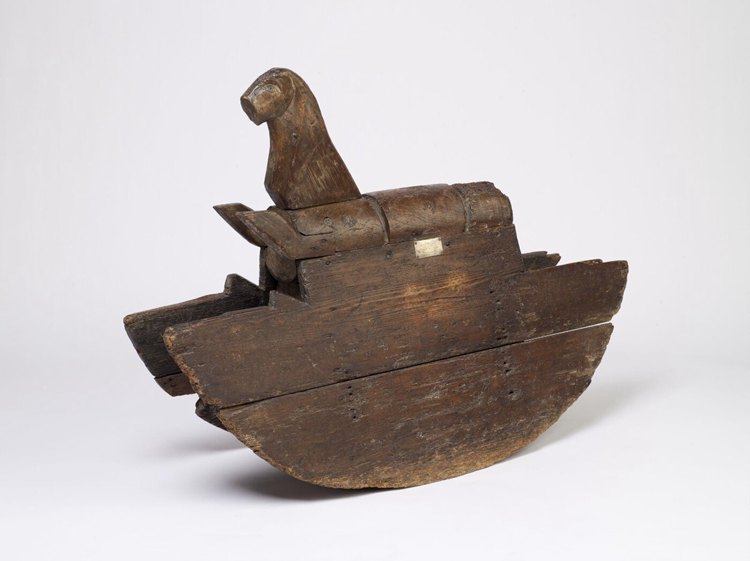 Let's look at the various rocking horses crafted after the 17th century.
Types of Antique Rocking Horses
As earlier mentioned, the wooden rocking horses that were earlier introduced evolved into lighter, stable, and more sophisticated play products. After the 17th century, many different rocking horses came into existence.
Variations
Rocking Horses
Date
By Style
Bow Rockers
1610
The Marqua Swing Stand
1878
By Material
Vintage Wooden Rocking Horses
1610
Vintage Spring Rocking Horses
1950s
Vintage Metal Rocking Horses
1950s
Vintage Plastic Rocking Horses
1960s
By Age
Victorian Rocking Horses
1878
The 1900 Rocking Horses
1900s
The 1950s Rocking Horses
1950s
The 1960s Rocking Horses
1960s
The 1970s Rocking Horses
1970s
By Style
By style, the two most popular rocking horses were the
Bow Rockers and
Marqua Swing Stand.
Bow Rockers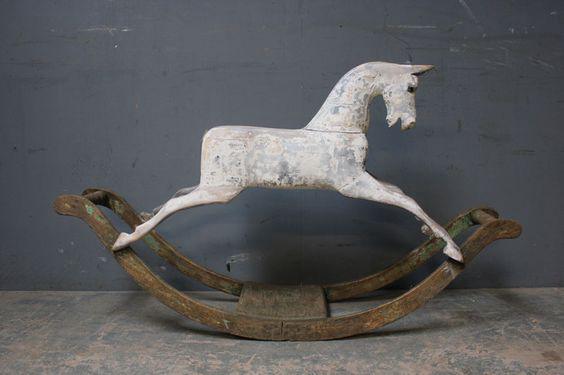 You're on point if you think of Rocking chairs when you hear about the Bow Rocker Rocking Horse.
Ancient toymakers drew inspiration for this rocking horse from rocking chairs and cradles. This antique children's toy was modeled after an actual horse and featured two parallel curved rockers along the bottom that mimicked the gallop of a real horse when "ridden."
The Bow Rocker Rocking horse was a popular toy among children from wealthy families. It is said that these particular types were the ones used to prepare kids for real horse-riding experiences, as that was the primary means of transportation at the time.
Although the children had a lot of fun with the bow rockers – enjoying hours of soothing rides and long swings, the antique toy had a few drawbacks.
For the most fun experience, the children would spin the bow rocker around by leaning to one side as they rocked. Doing this required a lot of room space as the rocking horses were made to be about 8 feet long.
The fact that the bow rocker often moved across the floor when driven at a fast pace didn't help either.
Also, children were susceptible to hurting their feet under the bow as they played. These flaws and more were reasons other rocking horse styles came about – and it leads us to the next style of antique rocking horse we mentioned earlier.
The Marqua Swing Stand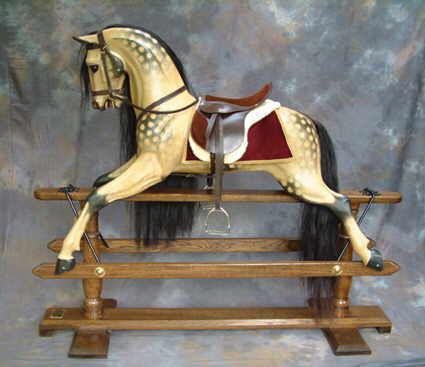 The Marqua swing stand was invented in the 1880s by Philip Marqua of Cincinnati, Ohio, and patented in England.
Also known as the "safety stand," the antique rocking horse featured a glider-type base in place of the curved ones the Bow Rocker had. The base was made up of sliding bars and swing irons that caused the toy horse to glide smoothly.
So, when in motion, the Marqua Swing remained firm on the floor, notwithstanding its ridden pace – this was contrary to how the Bow Rocker operated.
It took up minimal room space, and parents also didn't have to worry about the toy horse squashing their children's feet beneath it while they played.
Despite the safety considerations, children under the age of 3 had to be closely supervised when they wanted to ride the Marqua Stand Rocker, as the toy had moving and sharp parts that could pinch.
The patent rights on the rocking horse weren't renewed, so toymakers from far and wide could imitate the design – making it available to many children across the globe.
By Material
As the times progressed, several toymakers became more imaginative with the creation of rocking horses.
They did not stop at producing different styles of rocking horses but also used various materials in the making of these toys, ranging from wood to metal and from plastic to spring.
Let's see how unique these vintage pieces were:
Vintage Wooden Rocking Horses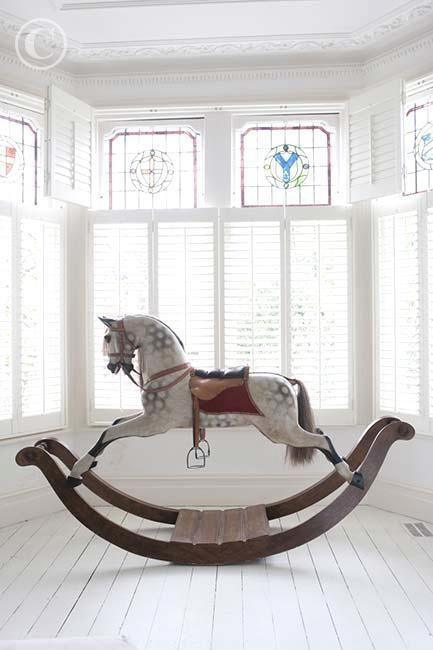 The earliest designs of rocking horses, such as the hobby horse, were made from wood and these exquisite wooden horses were the signature toy found in wealthy British homes back in the 17th and 18th centuries.
Initially carved from elmwood and rosewood, artisans would apply several coats of gesso to achieve a smooth, silky texture and shiny finish.
Some sculptors would create only a certain horse breed and hand-paint the toy adding details such as glassy eyes and flowy manes – this usually gave each creation a unique and attractive look.
Today, many sculptors and toymakers around the world use different types of wood other than the ones mentioned earlier when making rocking horses.
Vintage Spring Rocking Horses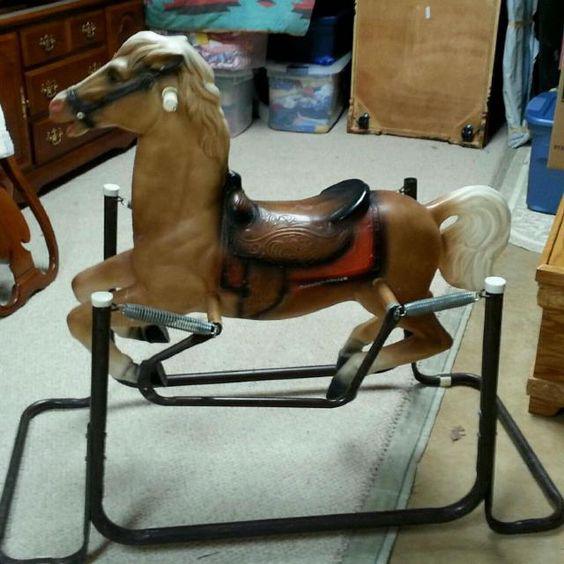 Spring rocking horses became a thing in the 19th century, and though invented in Denmark, it was patented in Pasco, Washington.
Unlike other rocking horses, the spring toy horse had a large metal spring beneath it and was commonly found on playgrounds, moving and bouncing back and forth when ridden.
Other designs of the old-fashioned spring rocking horse found in homes featured a sturdy metal frame with coiled springs attached to them – allowing for long hours of full range motion.
Compared to other styles and designs of rocking horses, the spring rocker was a safer alternative as it had handles and multiple stirrups to accommodate different levels of foot placement. This guaranteed balance and safety for children as they played.
Modern designs of the spring rocking horse feature huggable push and in-built horse sound such as galloping, trotting, and neighing, providing several hours of entertainment for the kids.
Vintage Metal Rocking Horses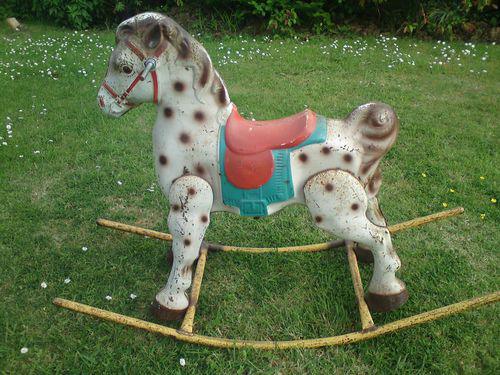 For a long time, hand-crafted rocking horses were a sign of affluence in ancient British times. Then, with unrenewed patent rights, many toymakers across the world were able to imitate original designs and explore other styles and materials, hence the existence of metal rocking horses.
Antique metal rocking horses had frames at the base made out of Tin. These frames were shaped just like the bow rocker, allowing children to enjoy long swings as they rode.
Some other vintage designs had a small seat attached, so more than one child could enjoy riding the rocking horse.
Vintage Plastic Rocking Horses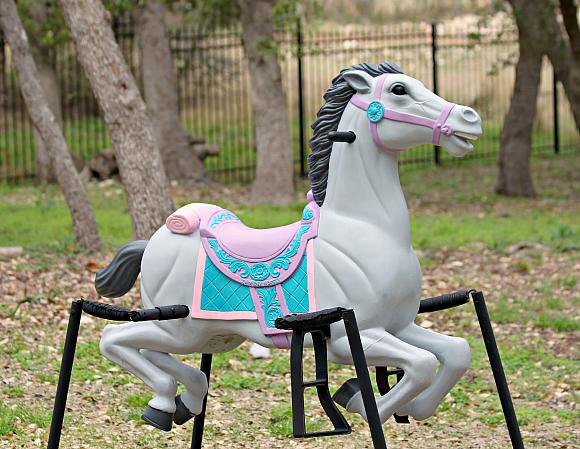 In the late 20th century, rocking horses had cheaper variations that almost everyone could afford. This plastic rocking horse was the most common. Some designs featured wooden or metal bases aided with coiled springs for long-range motion.
Some plastic rockers had their bases shaped like the bow rockers, also providing children with long bouncy rides. Also, many toymakers fixed saddles and handles on the toy horse with children's safety in mind.
By Age
These days, people often slap the term "antique" on just any old stuff they collect.
I mean, how can you tell that a thing is antique? Because looks can sometimes be deceiving, several antique-inspired items are on the market today.
So, how exactly would you know?
No, the item doesn't necessarily have to look terribly old and ratchet – you just have to be sure of the date it was made.
Antique items can be dated 100 years ago or older, and many people confuse them with vintage items. The difference is that vintage items are usually 50 years or older.
Antique rocking horses can be distinguished by their era. From the 17th century, when rocking horses became a thing and were in demand, to the late 19th century, when their popularity began to decline, antique rocking horses have evolved a great deal.
Based on their age, let's look at some different types of antique rocking horses.
Victorian Rocking Horses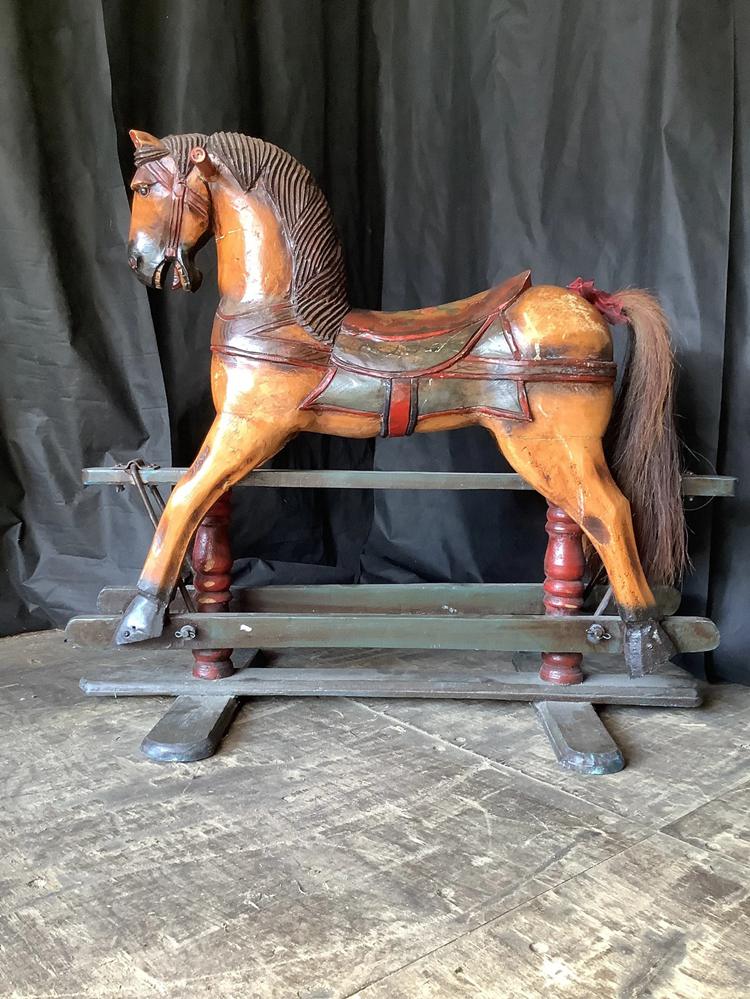 As the name implies, the Victorian rocking horse was introduced in the Victorian era, which started in the year 1837 and ended in 1901. The era was named after the period of Queen Victoria's reign till her death.
The Marqua Stand Rocking Horse was the most popular in that era, and as mentioned previously, it was an improvement on the 17th century's Bow Rockers Rocking Horse.
Some models of the toy horse featured an underbelly compartment. Some households even used them as a family heirloom to store photographs and other precious items for future generations to discover.
The most popular design of the Marqua Stand Rocker in this era was the Dappled Grey Rocking Horse, which was a favorite of Queen Victoria. It was said that her love for the toy increased its popularity during that time.
The 1900s Rocking Horses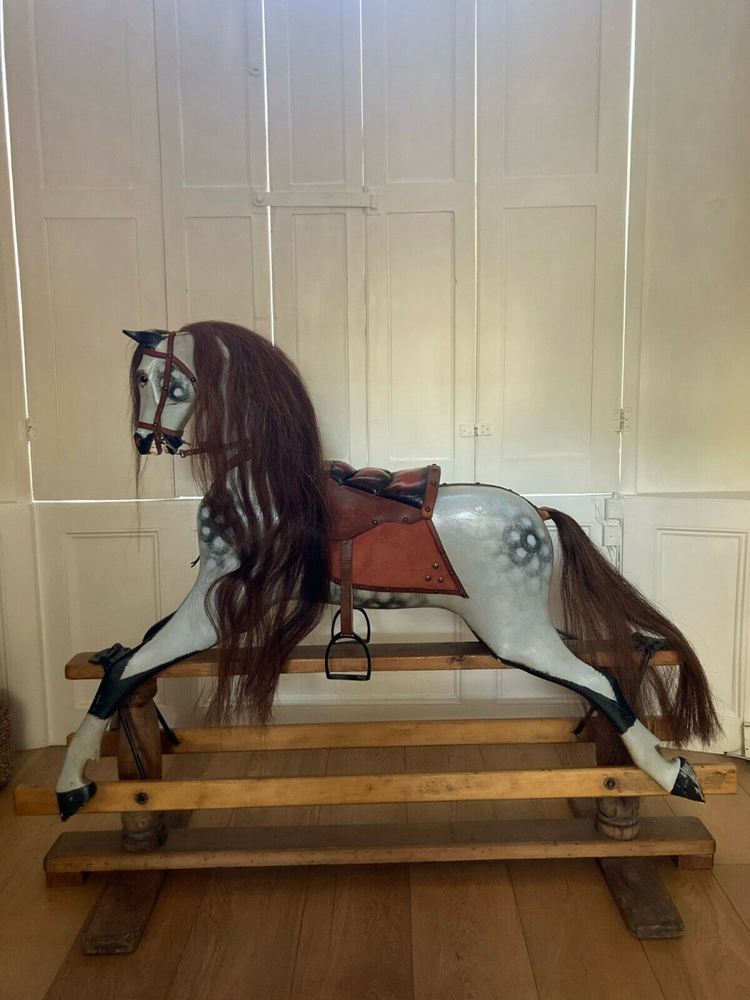 Baby Carriages Rocking Horses, formerly known as Hills and Harrison, was a rocking horse manufacturer in the early 1900s, and their product was one of the most popular designs of rocking horses around this time.
Several kids had access to the rocking horse due to its affordability, unlike those created in the 17th and 18th centuries. The factory was located in Liverpool where it traded for a long time under the name "Rambler" before shutting down in 1963.
The 1950s Rocking Horses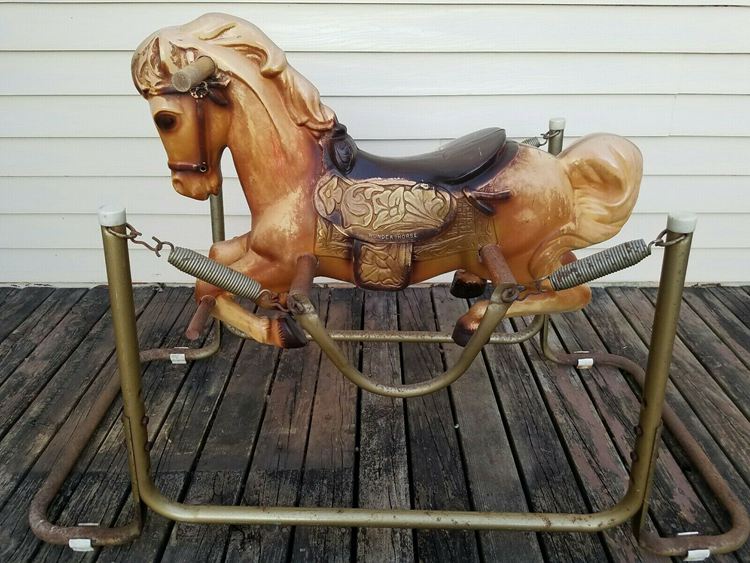 Spring rocking horses were invented in the early 1950s and were manufactured for home use. Unlike other materials used in creating rocking horses, the spring rocking horses made in 1950 had a lighter build, and hence, only little children could ride them.
Wonder Products Co. was the first manufacturer of spring rocking horses around this time.
The 1960s Rocking Horses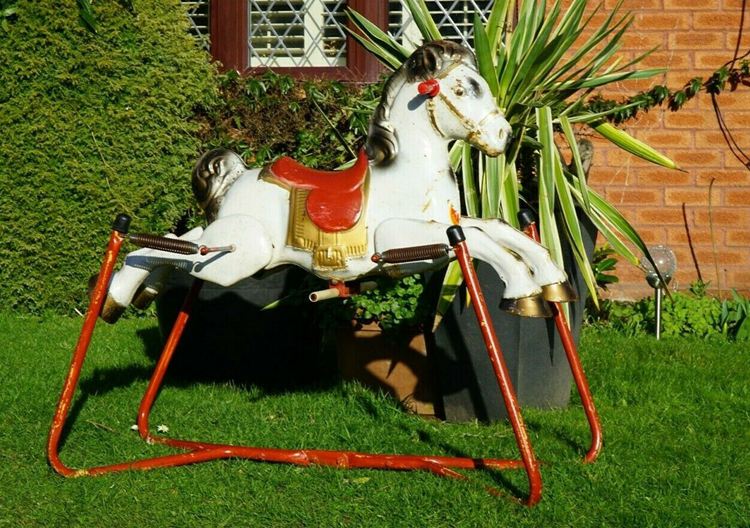 The Mobo rocking horses became popular around the 1960s and were founded by D. Sebel & Co. in East London.
The company made rocking horses between 1947 to 1972, and one of its most popular products, Mobo Prairie King Rocking Horse, was made to be suspended on a metal frame (much like a spring rocker). Other designs were mounted on a metal bow rocker.
The 1970s Rocking Horses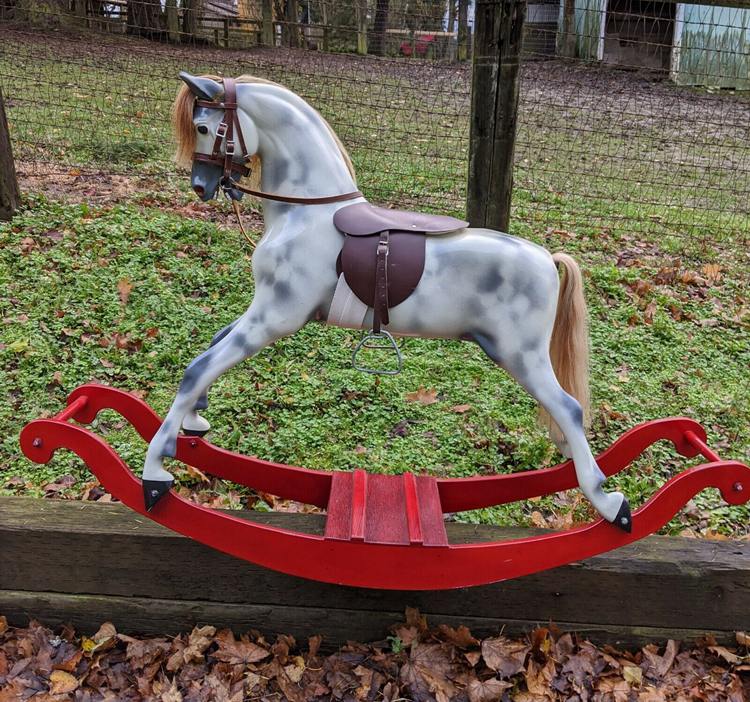 The first 1970 Haddon Rocking Horses, founded by John and Mary Labouchere in Oxfordshire, England, was inspired by their godson. Afterward, the couple established their company, and then the rocking horses became excessively high in demand.
The company, today, has emerged as one of England's Oldest established rocking horse makers. Most designs have their horses suspended on a wooden safety stand and feature dark beady eyes, real horse manes, and neatly designed leather saddles.
Antique Rocking Horse Manufacturers
The wood crafters who created rocking horses in the 17th century were skilled but unknown. But in the 19th and 20th centuries, several new talented artists and carpenters emerged, creating more elegant rocking horses.
This was owed to the expiration of the patent on the Marqua stand toy horse, allowing several imitations of this antique rocking horse for children across the world.
Each of these manufacturers had its own carving, painting, and marking style. When the toy horses couldn't be identified by the stamp or label imprinted on them by their manufacturers, the design, style, or woodwork usually gave a clue as to who the maker was.
Below are the names of some of the most popular antique rocking horse manufacturers:
| | | |
| --- | --- | --- |
| S/N | MANUFACTURER | DATE |
| 1. | F. H Ayres Ltd | 1864 |
| 2. | G & J Lines Ltd | 1850s |
| 3. | Collinson & Sons Rocking Horse | 1836 |
| 4. | J. R Smith | 1886 |
| 5. | Paul Leach Rocking Horses | 1850s |
F.H Ayres Ltd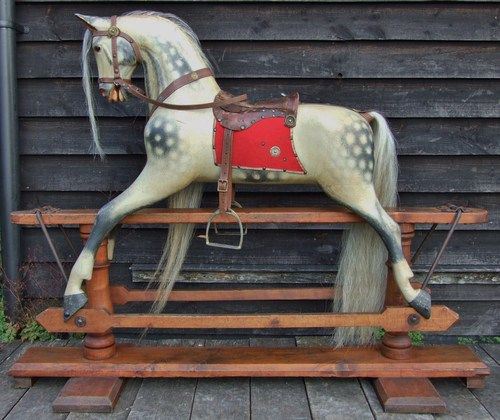 Frederick Henry Ayres was the most popular English rocking horse maker in the Victorian era, and the rocking horses he made were both Bow Rockers and Marqua safety stands.
Today, antique rocking horse collectors consider the toy horses made by this company the most sought after alongside its competitor (G.J Lines Ltd).
Rocking horses made by this manufacturer were big in size and could be easily identified by their finely carved shape and intricate head design – which were usually turned slightly to one side. The toy horses had subtle dappling and glassy eyes highlighted with paint.
F.H Ayres toy horses had brown or gray manes and tails made from real horsehair. It also featured real leather saddles and bridles, with pointed and beveled hoof rails.
In that era, F.H Ayres rocking horses could be found in most popular London department stores such as Harrods (in Knightsbridge) and Selfridges (in Oxford Street). The store names were usually stenciled on the baseboard of the toy horse stand.
Later designs of the F.H Ayres rocking horses lacked the intricate carving to the neck and back legs the earlier models had but could still be easily identified as Ayres toy horses thanks to their other distinctive features.
In the late Victorian era, this manufacturer also created a few rocking horses with moveable heads, but these types weren't so successful; hence, their production stopped.
Around 1895, the company introduced spring rocking horses which were more successful and remained in production for longer.
The design of the spring rocking horses featured two strong metal springs attached to the wooden base of the toy horse, where the swing irons and hoof rails were located.
In 1940, F.H Ayres Ltd was acquired by William Sykes Ltd, and as a result, the horses' production was moved to Horbury in Yorkshire.
With this take-over, the label on the rocking horses, which was "F.H Ayres Ltd," became "manufactured by AYRES LONDON," and the quality of the horses was drastically reduced.
Today, you'll find original Ayres rocking horses on online antique stores for about $4,000+.
G&J Lines Ltd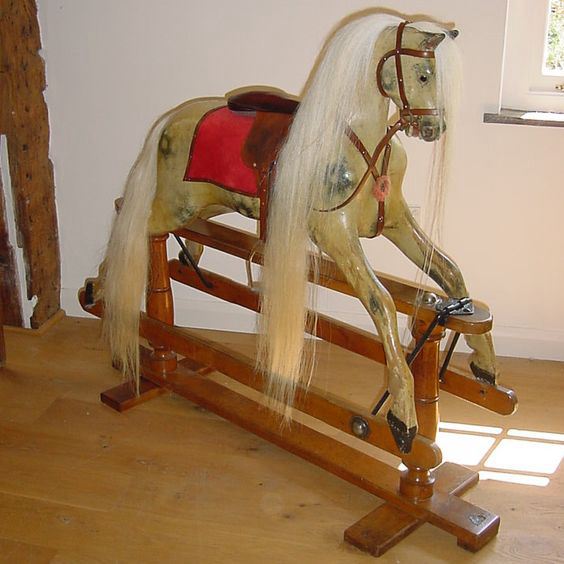 Previously known as Lines Ltd, G&J Lines Ltd was a family firm established in the mid-19th century.
Two brothers; George Lines – who in 1860 set up a store in London, producing wooden toys and baby carriages – and Joseph Lines – who had toy trade experience and possessed great business skills – joined forces in 1876 to start a company that would become one of England's largest toy companies for years to come.
Among other toys, the company produced rocking horses of all sizes and types (including wooden and metal wheeled rocking horses) for the whole of Britain.
The G&J Lines rocking horses were manufactured around the same time the F.H Ayres rocking horses were – making them fierce competitors.
The Lines Brothers' products were quality rocking horses that could be easily distinguished by their beautiful carving and a more feminine appearance than its competitor.
The toy horses also featured glass eyes and real horsehair for manes and tails. They had a thistle logo that was usually fixed at the front or right side of the toy horse for easy identification.
Earlier designs of the Lines rocking horses were mounted on safety stands and had dished faces, flared nostrils, and long, carved ears. Unlike the Ayres rocking horses, the Lines horses had round-ended hoof rails with a short paddle shape.
All through the company's existence, its name was changed severally, and by 1890, George Lines retired, leaving the business to Joseph and his sons.
The company traded under different names throughout its existence, including Lines Ltd, G&J Lines, J&G Lines, GJ Lines, G&J Lines Ltd, Line Brothers Ltd, Triang, Triangtois, Sportiboy, and Swallow rocking horses.
Collinson & Sons Rocking Horses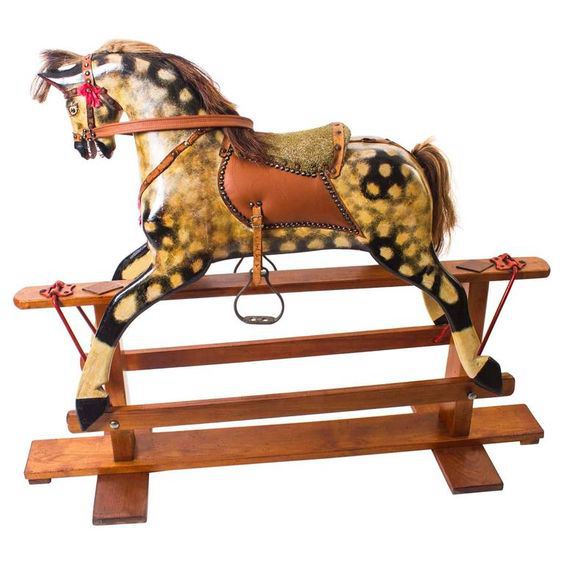 The Collinson & Sons Rocking Horses, created in 1836, was a family-established business in Liverpool consisting of a father and his son, Jervis and Steven Collinson. The company continued as a family business throughout its existence, living through five generations until December 1993, when it shut down.
The rocking horse manufactured by the company had very distinctive features that made them easy to identify. They had rectangular vertical pillars on the stand with a diamond-shaped piece of wood covering it; they also featured corduroy or velvet saddle tops and metal stud eyes.
Sometimes in 1851, Queen Victoria visited the Collison & Sons factory and especially liked the Dapple-Grey Rocking Horse, which led to it being mass-produced.
J.R Smith Rocking Horses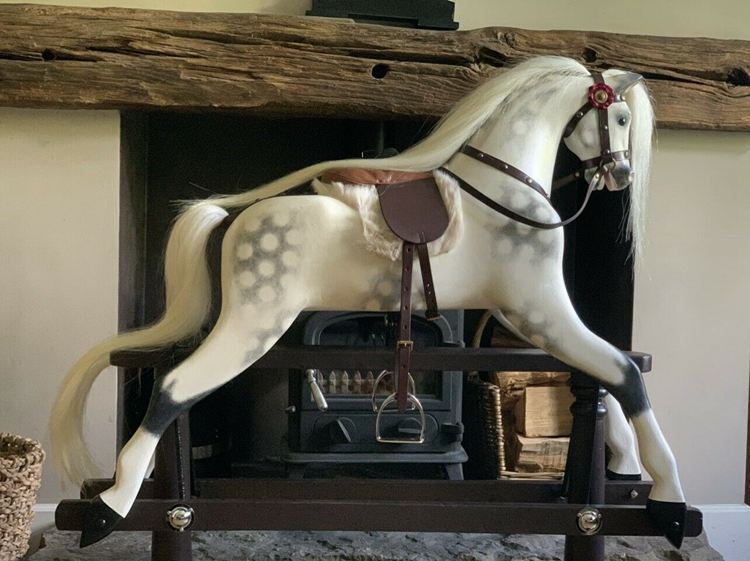 J.R. Smith was a London rocking horse maker who produced his rocking horses from 1886 to 1916. The rocking horses were not easily identifiable, but they were mounted on Marqua safety stands, and the horses' hoofs were usually pointed and unnotched.
Unlike other swing stand rocking horses, the swing irons were almost vertical, and also the horses had a neat leather saddle attached to them for comfort.
The original designs of J.R Smith rocking horses are very hard to come by, and only restored models can be found in physical and online antique stores today.
Paul Leach Rocking Horse Makers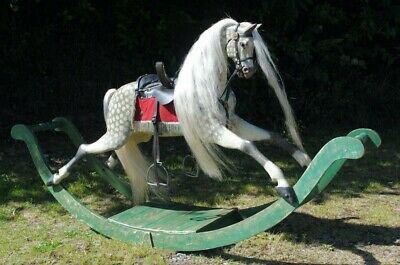 The company began as a family business with Paul Leach of London and his son in the Victorian era. The rocking horses were distinguished by their life-like carving and well-proportioned features.
The horses' facial expressions were designed in so much detail that they looked like real horses instead of a toy.
Today, you will find an original Leach rocking horse on online antique stores like ebay at around $9,700+.
Other rocking horse manufacturers from the 19th and 20th centuries include; Stevenson Brothers, Crossley Brothers, Ragamuffin Toys Ltd, Brassington & Cookie, Parker Brothers, G. Woodrow.
How Much is Your Antique Rocking Horse Worth?
Rocking horses made before the 20th century are usually worth way more than those created in succeeding years. Hence, original antique rocking horses are usually valued at around $2,000 to $7,000, depending on several factors.
As with most antique items, when determining the value of your antique rocking horse, an antique shop owner or collector will take the following into consideration:
the condition of your rocking horse,
its manufacturing date,
the quality of the materials used in making it,
and probably the manufacturing company.
So, instead of throwing that old toy out, you might want to clean it up real nice and see how much profit you make once you cash out your "investment."
That is, of course, if you don't plan to pass it down to your kids or something.
Antique Spring Rocking Horse Value?
Based on the factors mentioned above, most online antique shops would value an authentic spring rocking horse at around $980 to & $2,000.
Antique Wooden Rocking Horse Value?
Antique wooden horses are the most popular material variant of the toys that antique appraisers and shop owners collect. Their prices on online antique stores can range from $980 to $5,900.
Final Note
If you are considering selling off your antique rocking horse, as we stated earlier, you will have to make sure it's in pristine condition; otherwise, its value will decline.
Don't worry if it's not in a perfect state, you can always have it restored – but only by a professional. Doing this will increase the strength and life span of your horse.
So, to recap, antique rocking horses can be distinguished in three major ways:
Their style
Their material, and
Their age