Madame Alexander dolls have been around for more than a century. Without a doubt, they have maintained a reputation of exquisite quality and smooth craftsmanship. Like their aim to promote a kinder world, these dolls have helped parents raise excellent kids.
These dolls sell between $100- $500. Limited editions and rare models can cost as much as $20,000.
Sit back, relax and soak up this insightful read on Madame Alexander's collectible dolls and their impeccable history of quality and compassion. We'll also include a detailed rundown of the rarest and most valuable MA vintage dolls.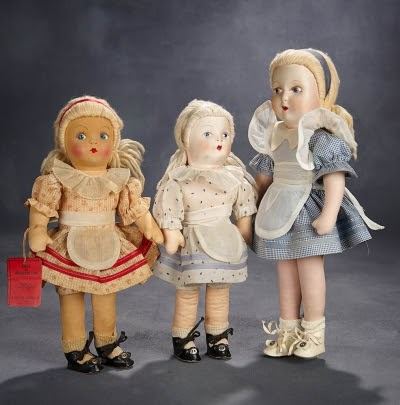 The Evolution of Vintage Madame Alexander Dolls
The Madame Alexander Doll Company; this company that manufactured collectible dolls in America was established in 1923 by Miss Beatrice Alexander, a woman of Jewish descent residing in New York.
Beatrice produced the pioneer dolls based on a verified character Scarlett O'Hara from a book and the movie titled Gone with the Wind. She created these dolls in great numbers, and they imitated living people.
In 1936, Madame Alexander created the Dionne quintuplets' dolls and an additional 36 Queen Elizabeth II dolls that were specially crafted to celebrate the 1953 coronation events in Britain.
This doll manufacturing company had over 1,500 people in its service. It rolled out a handful of the line, both international, fashion, first lady, and baby dolls. There is also a doll replica of Madame Alexander herself. It was crafted in 2013, but the doll was crafted in her 1920s image.
Let's check below for how these dolls evolved over the years and became the phenomenon they are now.
1950s Madame Alexander Dolls
Madam Alexander launched the company's most popular doll during this period.
They rolled out about 36 detailed sets of dolls, including the royal family characters, the royal guards, pages, choristers, and archbishops. They were all adorned in attires made by the same British mill that made the original royal coronation mantles.
The company exhibited these sets at Abraham and Strauss department store in New York. However, they were later donated to the children's museum in Brooklyn.
You'd be surprised to find out that the Wendy dolls, which measure a whopping 8-inch and are made of plastic, consistently sell for an impressive amount.
Yet another classy series is the 'Cissy. This series is the first all-American fashion doll that stands at 21-inch; it made its debut in 1957, and dolls in this series were designed for four-year-old children. This was right before Barbie dominated the scene.
The Cissy dolls had tiny hat boxes attached to their wrists during points of sale and were marked "Madame Alexander, New York". You'd also be pleased to know that there are mini versions of these dolls known as Cissette, adjoined as companions.
These dolls also came with a sophisticated yet stylish appearance that got them a modeling gig with London's Yardley company. The Yardley company used these Cissy dolls in their perfume and toiletries Ad.
Finally, the 1950s Madame Alexander dolls came with synthetic hair and vinyl bodies. These materials made the dolls very durable, soft to feel and touch, and washable.
1960s Madame Alexander Dolls
By the 1960s, the company had added several Disney characters to the lineup, including Peter Pan, Sleeping Beauty, and Pollyanna.
Also, in 1961, a toddler doll known as Caroline made her debut in the collection; Caroline bore a striking resemblance to President John Kennedy's daughter and included a Jacqueline doll in a mini version of Jacqueline Kennedy Onassis's white gown for the inauguration.
Subsequently, Madame Alexander added other vintage dolls from Argentina, Ecuador, and other international regions to the collections.
1970s Madame Alexander Dolls
The Scarlett O'Hara doll continued this year, and it even featured more colors, modified outfits, and additional accessories. By 1970, the Nutcracker doll came into existence, with rich dark hair, forehead bangs, and bright tangerine-colored lips.
These models sold for $50 or less and are not as expensive as the earliest variants.
5 Rare And Most Valuable Vintage Madame Alexander Dolls
Below are the rarest and most valuable Madame Alexander dolls. The information accrued below is sourced from verified platforms and the most recent sales.
| | | | |
| --- | --- | --- | --- |
| S/N | Name | Release Date | Price |
| 1 | Fashion Of a Century Doll | 1951 | $25,000 |
| 2 | Marie Antoniette Doll from the Portrait Series | 1946 | $20,000 |
| 3 | Mystery Series "Ballet Des Fleurs" Doll | 1951 | $17,000 |
| 4 | Mystery Series "Champ-Elysees" Portrait Doll | 1951 | $5,000 |
| 5 |  Cissy 'Slyly Kissed' Doll | 1955 | $4,200 |
1. Name: Fashion of a Century Doll
Release Date:1951
Price: $25,000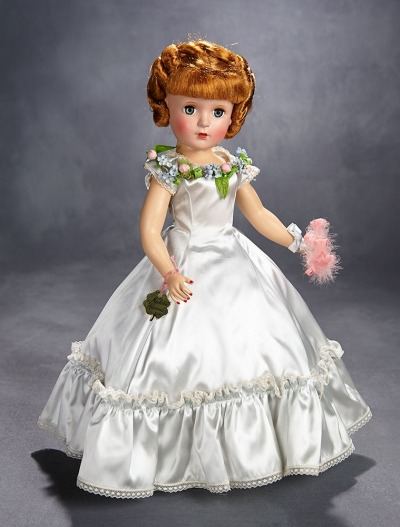 The dolls from this collection were the pioneer plastic set. However, a particular model 6018 launched in 1951 sold for $25,000.
This doll wore a tagged blue satin dress representing the progression into a new fashion era with classy braided silk and cotton auburn colored swept up hair.
The series was produced for the mid-century exhibition in 1950 and is incredibly rare. It is carefully preserved and features a flawless porcelain facial finish.
2. Name: "Marie Antoinette" Doll From the Portrait Series
Release Date: 1946
Price: $20,000
The composition dolls included material made from a sawdust-based composite popular among dollmakers before the introduction of hard plastic, which made it extinct.
The dolls in this category were produced between 1942-1946, and this particular Marie Antoinette doll was auctioned off for $20,000.
She wears the extravagant and unique original costume made in the 18th-century aesthetics with a rose silk faille gown, a heart-shaped bodice in gilt metallic edging, ruffled lace sleeves, rose cotton underskirt, and rich general decoration of bows, leaves, and metallic rick-rack.
The doll channels Marie Antoinette of the 18th-century royal court of England. She is widely known for her flair for flamboyant costumes with intricate details, unique styles, and hand-painted facial makeup.
3. Name: Mystery Series "Ballet Des Fleurs" Portrait Doll
Release Date: 1951
Price: $17,000
The Ballet Des Fleurs portrait doll was launched in 1951 as a part of the mystery series.
This particular model featured a burgundy-almost brown wavy hair exposing the beauty of the doll's face and a black snood adorned with rhinestone accents at the nape of her neck with unique handcrafted facial features.
The doll wears a white Alencon embroidered lace and satin tulle skirt with an accent of rhinestones and chunky silk flowers in a repeated sequence.
4. Name: Mystery Series "Champ-Elysees" Portrait Doll
Release Date: 1951
Price: $5,000
The Champ Elysees, also known as Lady with Rhinestone Beauty Mark, was exhibited at the Madame Alexander's Portrait Mystery Series showcased in 1951. This particular model bears the Fashion Academy gold medal from the year.
Champ Elyses wore a gleaming ash-blonde wig with brief bangs swept up to expose a flow of curls at her scruff with black lace and rhinestone coronet accessories.
Her facial features are hand-painted, and they include a bright colored eyeshadow and rich red lips, an extended eyelash with a distinct rhinestone beauty mark spotted on the left cheek. She wears a pink satin sheath-shaped ball dress overlaid with black lace and rhinestones accents.
5. Name: Cissy 'Slyly Kissed' Doll
Release Date: 1955
Price: $4,200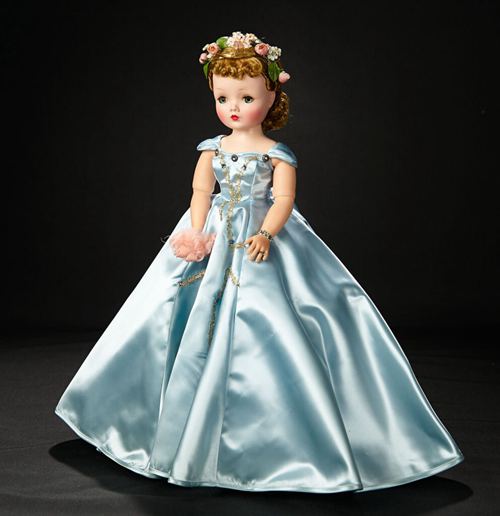 Cissy is the name given to the head and face figure of the first American fashion doll; Cissy existed way before Barbie emerged and gained popularity.
Cissy appeared in many sub-models like red-headed brides and debutantes dressed in tulle ball gowns.
The rare Cissy doll is from the "A Child's Dream Come True" series, which debuted in 1955.
MA dolls are known for their grand and over-the-top attires; this doll wore a blue heavy satin dress with cap sleeves, synched at the waist and complete with a wide flared skirt and trimmed with silver metallic braid accents embellished with rhinestones.
How Much are Madame Alexander Dolls Worth
Madame Alexander dolls can range from $100 to $30,000, especially the earliest models AKA "the classics". However, a few factors affect the value of your vintage Madame Alexander dolls. Check out the next section for a detailed explanation of these factors.
How to Find the Value of Your Madame Alexander Doll
You must prioritize a few criteria when determining the value of Madame Alexander dolls. Like many antique items, their values differ, and you must ensure that your facts are rightfully sourced.
Consider the Market Factors
One of the most important things you must observe is the ever-fluctuating principles of demand and supply concerning the current doll sphere and how they affect the values of Alexander dolls.
Make sure to do your background check about prices and every other factor involved in buying and selling these dolls.
Find an Appraiser
You need to seek the help and opinions of a qualified appraiser to know which Madame Alexander dolls are valuable. (MA here stands for Madame Alexander).
This is an excellent decision, especially if you're new to the collecting game and the world of vintage dolls in general.
Here're a few appraisers you can reach out to.
How old is Your Doll?
Early models of Madame Alexander dolls like the 1950s are high in demand and very well priced due to their status as the pioneer dolls to ever relate to the modern market or make headway.
If you have any of the dolls from this year with you, you're sitting on a huge pile of dollars.
Rarity
People place much value on hard to come by or hard-to-find things. If you have a rare doll in your hands, its demand automatically doubles, attracting more value.
Some rare vintage Madame Alexander dolls have already been discussed in a preceding section of this article. Limited edition versions or special runs are used to commemorate special occasions. These types are usually out of circulation today or are now highly prized possessions, hence the rarity.
Is your Doll a Special Edition?
As Madame Alexander's company flourished, she sought permission to create dolls celebrating popular events and representing iconic individuals.
MA created dolls to commemorate Queen Elizabeth's coronation, the return of the US troops from Operation Desert Storm, and the movie's debut. A strong feature of these characters is historically accurate garments, accessories, and hairstyles.
Here's a video identifying the different types of MA dolls.
Condition
The state of your antique doll matters a lot regarding the value placed on it. You must endeavor as much as possible that all the important parts of your item (by important, we mostly mean all) are complete and not ill-shaped.
The emphasis on the completeness of your antique madame alexander doll is to ensure that you get the right value for your money and the necessary attention, as people will not drop a penny or a reasonable fee for any item with a visibly missing part.
Faded dolls, dirty furs, plucked out eyes, broken arms, or dolls with torn or fake clothes are largely unacceptable in antique dolls.
The Cissy dolls, for example, featured added wardrobes, and any doll found in this condition sold for an impressive amount of money.
Preference and Desirability
Human choice and preference go a long way to determine the value of an antique item (an item only has value as long as someone decides to attach intrinsic value to them or tag a price). A widely desired item attracts huge value.
Presence of the Wrist Tag
The attached tag on the wrist of your madame alexander doll is proof of authenticity and also contains needed information on your doll. If the tag is absent, it may not get the needed attention or sell for its true value.
Look for Trademarks
Trademarks are proof of validity and authenticity for Madame Alexander dolls. They are marked with "Mme Alexander '' or "Alex" at the top of the neck.
However, do note that not all MA dolls are inscribed; you can locate other company marks at their hairline, feet, soles, and back. They're also usually attached to the labels on their garments or other clothing materials with MA signatures.
Feel The Material
Before the permanent introduction of plastics into their collection in the 1950s, which is now one of the most highly collectible models, Madame Alexander used to create their dolls from felt and other soft fabrics in the 1920s.
The 1930s and 1940s models were created using plaster and sawdust material.
The purpose of studying the materials used is to help you know how much your madame alexander dolls are worth and help yourself from being ripped off due to simple ignorance.
Online Database and Guides
Another way to determine which Madame Alexander dolls are valuable is to consult digital outlets to search for current doll prices and market information. All you need to do is, input a keyword or find a serial number on the doll's body and check it into the database. Dollsvalues.com is your go-to place for this.
Below is a list of printed guides you can also consult for more information on values.
Here's a video on how to determine Madame Alexander dolls' worth.
Comparing Classic MA Dolls with Contemporary Models
The Madame Alexander company hung its boots and was sold to Kahn Lucas, who owns the Dollie and Me toy company, in 2012. we're going to check out the difference between the earliest models and the most recent production.
Material
The most important difference between classic and contemporary MA dolls is the material.
For early versions, the company used cloth (Like the Alice in Wonderland doll), then later switched to composition (as the name implies, it's a conglomerate of different materials like sawdust, paper glue, and plaster).
From 1948, dolls were made from hard plastic and painted in skin-like tones. In later years (Post WWII and the 1990s Madame Alexander Dolls), the transition to rose-colored plastic began. They displayed high durability, fine finish, and sharper features.
Facial Features
As fashion and beauty standards progressed, Madame Alexander's dolls caught up. The Classics wore soft-toned makeup with short lashes.
The more recent dolls had elongated lashes, warmer makeup, and brightly colored lips. Some even had blush on their cheeks for effects.
More Characters
The classics played it safe with their characters and only stuck to the popular ones. For contemporary MA dolls, long-range inclusivity is their watchword; even Disney characters made their debut in the company's toy world.
Size
The last but not the least on this is the sizes. Early MA dolls range between 6-8 inches. The switch in size was on a grand scale, and contemporary dolls now extend up to 21 inches of portrait dolls in height.
What Makes Vintage Madame Alexander Dolls Valuable
Many factors make Vintage Madame Alexander Dolls very valuable, and we'll be checking them out below.
History
First and tall among these factors is the history attached to these dolls. They came when kids and everyone at large needed durable toys. Madame Alexander's toys served as the perfect breakaway from fragile, porcelain toys; they were cozy, soft, and fluffy to play with.
Craftsmanship
Madame Alexander's dad owned a doll hospital which gave her first-hand access to the interesting world of dolls, their parts, and how to fix them.
This knowledge helped her build some of the world's most delicately and skillfully crafted dolls that displayed high-end design with 100% attention to every detail.
Accessories
The extra details like hair, rhinestones, bracelets, bonnet, sleeves, footwear, and quality dresses make these dolls valuable. You can't find any doll with this level of detailing existing, especially at the period madame alexander rolled them out to the market.
Their Inspiration
The fact that madame alexander dolls are made to resemble strong, iconic figures adds to the value. Kids could learn and get familiar with these humans and what they represent while having the healthiest and simplest form.
There're figures commemorating the coronation of Queen Elizabeth, celebrating blockbuster movie characters, and portraying significant women of the 18th and 19th centuries like Mary Antoniette.
Where to Buy Madame Alexander Dolls
The Doll Club
The madame alexander doll club organizes annual events and conventions all over the states to launch new doll models and auction old limited editions and rare finds.
If you're looking to procure a piece for yourself or conduct research on these dolls, locate a madame alexander doll club near you.
The Madame Alexander doll club was established in 1961 by Miss Margaret Winson. It started as a pen pal club where the members exchanged information through letters.
From 1961 to date, they've held different regional symposiums and conventions all over states in the United States.
Online Stores
e-stores like eBay, RubyLane, Etsy, and a host of others have a library of vintage Madame Alexander dolls for sale at different prices to fit into individual budgets.
The best part about online stores is that you're even eligible for discounts and special promos. All this is done in the comfort of your home and without constant trips to the store.
Auction Sites
Auction houses like Theriaults, Liveauctioneers, and Others specialize in selling off vintage dolls and playthings. One of the advantages of auctions is the healthy competition among buyers and bidding. Items in auctions are highly prized, rare, and very collectible.
Flea Market
A flea market just down the road or somewhere around town is one of the top places you should look at when buying vintage madame alexander dolls. Due to their size, relatability and reputation, you rest assured of getting only vintage dolls at these markets.
Where to Sell Madame Alexander Dolls
In this section, we'll show you places you can sell and how to sell your old Madame Alexander dolls and make significant returns.
Yard Sales
Perhaps you're cleaning out your attic and coming across these special dolls. You can organize a yard sale in hours and hit the ground running. For yard sales, it's easy to gather a crowd because they're familiar people in your area and neighborhood.
Thrift Shops
Items in thrift shops are often pre-owned and used. So if you're bored of your MA dolls or feel the need to discard them, you can sell them to a thrift store and make a few bucks. To increase value, selling to thrift shops should be done in bulk or in bundles.
Custom Doll Online Stores
Platforms like Dolls.sell4value.com are custom made and designed for the sale of dolls. So they encourage antique doll owners to bring their dolls and sell them to collectors or interested buyers.
However, there are major factors they consider before buying your dolls. First, they'll check if your doll is in the original package.
Then they check if it has ever been removed from the box, how readily available your dolls are, the condition of the doll and its box, the demand for your collectible, and their current inventory on that item (whether they're out of the model or not).
For this site, you can sell in two ways; by bringing them in yourself after making a due appointment, or you can decide to mail them in if distance poses a problem.
Vintage Madame Alexander Dolls Selling Tips
These tips will come in handy and help you on how to sell your rare and common vintage madame alexander dolls.
Ensure that the tags on your dolls are present to certify authentication and ensure that your antique dolls are in a perfect state.
There're forums for you to get limited edition and rare versions of madame alexander dolls. Ensure to join them.
It's strongly advisable to leave your vintage MA doll if it's not in the original packaging. Oddly, people tend to pay high for dolls exhibiting visible signs of wear, aging, and even some specks of old dust!.
Parting Words
Madame Alexander dolls are highly sought after by collectors worldwide due to the many milestones they've accomplished. They created many firsts in the industry and have maintained a steady celestial state amongst all and sundry.
While collecting these vintage beauties, here're a few tips you must bear in mind.
Vintage Madame Alexander Dolls from the 1940s and 1950s are extremely valuable and highly sought after.
The Scarlett O'Hara doll, a character from Gonewith the Winds, is Madame Alexander's personal favorite, and they're quite rare.
The production of MadameAlexander dolls also cut across international borders as there are various adaptations of popular European characters.