Over the last few years, the matchbox has been the most popular collectible die-cast car. But this wasn't always the case though. Now that matchbox is resurfacing again; collectors are delighted to see this trend continue.
This trend started with the Matchbox cars from Lesney, and they are returning to take over again. Some of them, especially if you enjoy restorations, are still very affordable – similar to Hot Wheels. Others, however, like any collecting hobby, go beyond the standard.
Besides, because of the large number of matchbox cars available, it is hard to find the right one with a better worth. But do not worry because we are here to help. This article will reveal the 11 most valuable Matchbox cars worth a fortune.
What Are Matchbox Cars?
Founded in 1953 by Lesney Products, Matchbox is a well-known toy brand. However, later in 1997, Mattel, Inc purchased the brand. Die-cast Matchbox toys first gained their name because they originally came packaged similarly to matches.
Over time, the brand expanded to include large-scale die-cast models. It appears that matchboxes switched to "blister packs" in the 1980s from the traditional plastic and cardboard boxes that other die-cast toy brands used.
11 Most Valuable Matchbox Cars
Following are the 11 most valuable matchbox cars that you should purchase.
| | | | |
| --- | --- | --- | --- |
| No. | Name | Year | Price |
| 1 | Mercedes Benz 230 SL | 1967 | $16.3 |
| 2 | Chevy Monte Carlo | 1988 | $18.21 |
| 3 | Ferrari 308 Matchbox Car | 1982 | $24 |
| 4 | Toyota MR2 Matchbox Car | 1984 | $29 |
| 5 | Aveling Barford Road Roller | 1953 | $32.88 |
| 6 | BP Dodge Wrecker 1965 – Reverse Color | 1965 | $50 |
| 7 | 1968 VW Bug | 1968 | $68 |
| 8 | Major Scale Quarry Truck | 1958 | $98 |
|  9 | Ford Fairlane Police Car |  1961 | $98.04 |
|  10 | Opel Diplomat Sea Green Matchbox Car |  1966 | $4,489 |
|  11 | Magirus Deutz Crane Light Brown |  1961 | $11,000 |
1. Mercedes Benz 230 SL
Year: 1967
Price: $16.3
Three different colors for Mercedes Benz 230 SL models were available: white, yellow, and white (Superfast). Apple Green was the most valuable color of this vehicle available in 1967.
Moreover, the original production of these vehicles was 1966 to 1968, but that color is not present on our vehicle release list. Worse, it is not entirely clear why this vehicle is so valuable.
It appears that it is rare to see it in the wild. It was sold last around 1999, over 20 years ago. It sold for an astounding $6,765 – that's roughly $10,000 now if you consider inflation.
2. Chevy Monte Carlo
Year: 1988
Price: $18.21
In the 1980s, the Monte Carlo was a legendary Chevy model that remained in production until 2007. Despite being a 2-door coupe since its debut 37 years ago, the model underwent several drastic redesigns during its production life.
The model began life as a large chrome slab in the 1970s but later evolved into a completely redesigned model in the 1980s. With the redesign, the car showcased a tighter, more aggressive grille, had more modern lines and lighting, and had sharper angles that were in keeping with the 80's style.
Similar to the Toyota MR2, the matchbox version of this car debuted in 2021 in a pastel blue paint with neon green doors. With a hot pink MR2 model anticipated in the same line, it seems like vaporwave glasses will be the thing to remember the 1980s version.
Vaporwave is a music genre that reimagines the '80s plasticity and turns it into an aesthetic that evokes the best of nostalgia and alchemy.
Because of the different manufacturing methods, there are very few vintage matchbox cars from the 1980s. Companies are only now utilizing the nostalgia of the 1980s, albeit very delayed and as a limited supply.
3. Ferrari 308 Matchbox Car
Year: 1982
Price: $24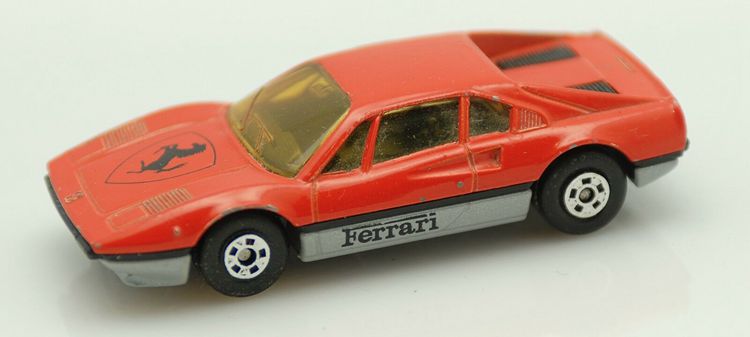 Tom Sellek starred as Magnum PI in a TV show that was a hit back in the 1980s. His character drove a Ferrari, which inspired a lot of kids to purchase one.
Most children today would be unable to buy a Ferrari, and they certainly won't be able to drive one, so the matchbox version was the only option.
4. Toyota MR2 Matchbox Car
Year: 1984
Price: $29
In 1984, Toyota introduced the MR2. It is a mid-engined, rear-wheel-drive sports car directed at middle-class families while still ensuring fuel economy. There is a sense of classic decadence to every design choice on this car, from the black leather interior to the pop-up lights.
This vehicle has experienced a modern resurgence in pop culture, featuring stylized artwork for vaporwave music on YouTube and Soundcloud.
Consequently, the 2021-22 release date may result from some romanticization, but it is all just speculation until we hear any further marketing or information about the new vehicle.
5. Aveling Barford Road Roller
Year: 1953
Price: $32.88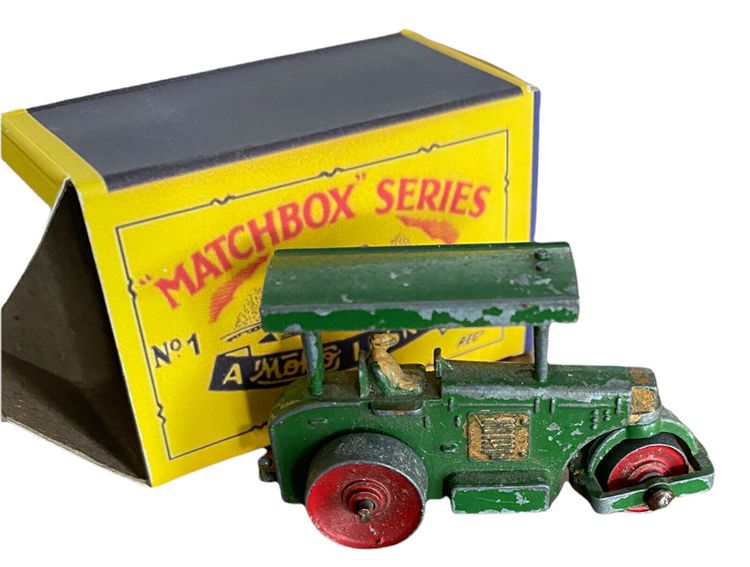 Even though it's among the least expensive on our list, it's still worth a lot of money. It had to be a first for Lesney when they began producing Matchbox cars. Road Roller Originally had been designed to be a larger vehicle, but it shrunk in size to make it easier for kids to use it as a toy.
At the moment, what you need to know about this car is that it was the first Matchbox car ever produced on a 1:64 scale. There are two versions of roofs: one with a more extended roof and one with a shorter roof.
Even though it was the first Matchbox car to appear, is it the company's most prized possession ever created? Among the two editions (and the older one), the Road Roller with the more extended roof is the most valuable.
Fortunately, there is good news! You can find one in good condition fairly easily. The only difference is it is collectible based on its legacy rather than its value. You are much less likely to find one with the original box in good condition.
You will likely need to spend around $30 to get your hands on a unique piece of Matchbox history and the original die-cast car in mint condition. If you're looking for a shorter roof edition, it usually costs around $20.
6. BP Dodge Wrecker 1965 – Reverse Color
Year: 1965
Price: $50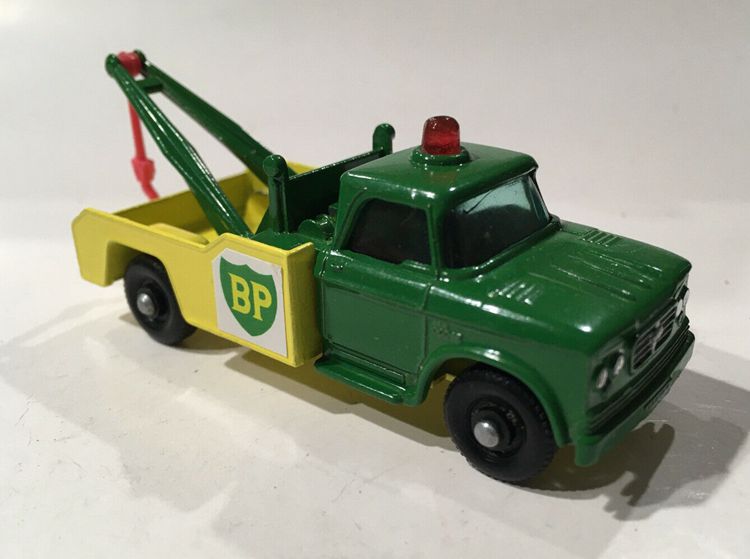 Factory errors are among the top things that make collecting so interesting. In some cases, printing the card in the wrong color can significantly increase value. As for the BP Dodge Wrecker, they miscalculated when it came to the icon's color.
Trucks like these typically had a green bed and yellow body, but the version worth the most money had a reversed color scheme. The reverse color version is easily distinguished from a fake by notable differences.
The reverse color version's crane base is narrower. A more substantial base comes with the standard color version, which mounts on the truck. Secondly, looking at the BP logos, you can tell the model's age.
On later tracks, decals would be better instead of paper stickers. It is clear from the reverse color version only that the BP logo is a paper sticker, making it an obvious giveaway,
Later versions lacked the silver sprayed grille and headlights found on the green versions. With these factors in mind, you should be able to recognize fakes. The real ones, however, come with a hefty price tag.
There are known to be a lot of collectors out there who collect reverse color BP Dodge wreckers. One reverse color wrecker sold for $9,500 in 2005 came in mint condition in its original box.
7. 1968 VW Bug
Year: 1968
Price: $68
These small cars tend to fetch a higher price for their distinctive color or other features most of the time. An excellent example of this is the 1968 Volkswagen Bug. There was a unique roof on this car, and the interiors were different from that of the American version.
There was only a right-hand drive interior, and there were no windows. One of the most valuable colors of the cars made is orange and copper, each worth more than $1500 on the open market.
8. Major Scale Quarry Truck
Year: 1958
Price: $98
One of the rarest Matchbox cars ever existed is the Major Scale Quarry Truck. There is no 1/64 scale on this truck; it is much larger. This giant truck stood about 11 inches long, whereas most Matchbox cars are about 2 inches long.
Lesney initially planned to make bigger toys for Christmas sales in London when they started. Leslie and Rodney Smith (they combined their names for Lesney) came across Jack O'Dell and hired him.
The toy he designed was a smaller version of Lesney's popular Road Roller that can easily fit inside a matchbox. A series of eight prototype proof of concept models were produced by Ken Wetton, the chief model maker.
Unfortunately, the line never took off, and almost all prototypes went missing. Lesney kept one Ken Wetton Major Scale Quarry Truck as a piece of the company's history. Ken Wetton's only work still exists in the form of this truck. The truck was thought to be an indestructible company treasure.
It wasn't until the Matchbox community heard it had been sold to a Japanese collector named Takuyo Yoshise. In 2010, he sold it, so we don't know how much he spent on it. In an auction, this unique treasure sold for a staggering $15,000.
9. Ford Fairlane Police Car
Year: 1961
Price: $98.04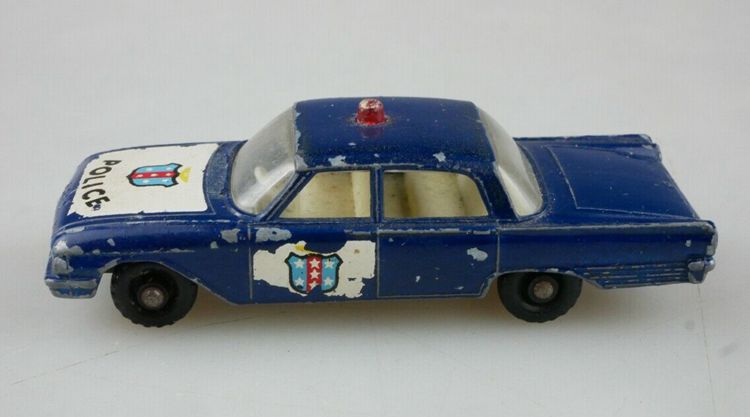 Ford Fairlane Police Car isn't your typical model in much the same way as most of what we've listed. Prices aren't too different from the basic versions.
The average model earns about $30, which isn't much. Unlike average blue Fairlane police cars, the one we are talking about has one main difference. There was something very unique about the Ford Fairlane, their gray wheels.
To non-collectors, the difference is insignificant, but to avid fans, it makes all the difference. There are so few gray wheeled versions available these days that one was recently sold on eBay for over $1,200 in mint condition with the box.
10. Opel Diplomat Sea Green Matchbox Car
Year: 1966
Price: $4,489
Many Matchbox collectors consider the Opel Diplomat in the color of "Sea Green" as a "grail worthy" model. The word grail does not get tossed around lightly, but this car falls under that category, as do many other items on this list.
If you are looking for the Metallic Gold version of the Opel Diplomat, you shouldn't have a problem finding it. That one is already in the hands of most collectors, as it is not that expensive on a used site.
It's a different story from the Sea Green version. The collection originally came with the first transporter set – and you might expect that it will fetch an even higher price under the new market conditions.
There are many cheaper cars within the group, but not close to the Sea Green Opel Diplomat price. The value of this rare turquoise vehicle is approximately $9,000.
11. Magirus Deutz Crane Light Brown
Year: 1961
Price: $11,000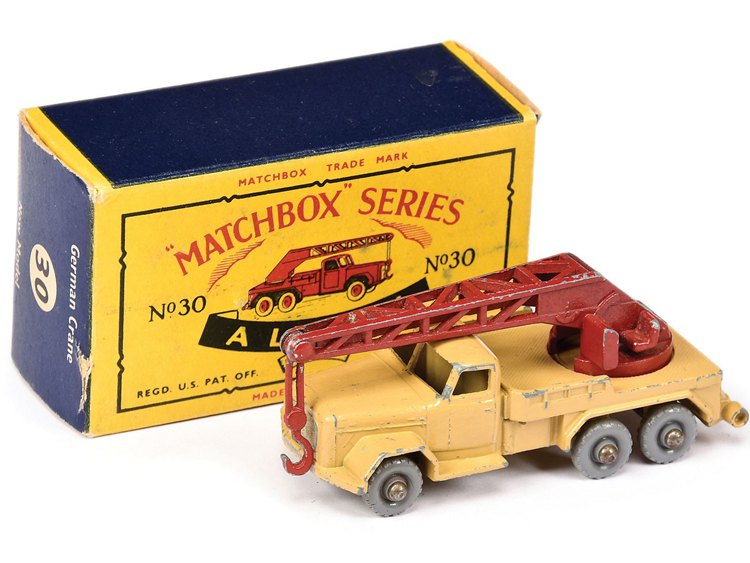 There aren't always good reasons to collect this crane. The majority of versions of it cost about the same as a nice dinner. There is one version that's worth its weight in gold. Generally, Magirus Deutz Crane's arms are orange, while the bodies are silver.
The models differ only in small details such as rivets and wheel size, but overall – they are very similar. Pre-production models, however, are unique. The crane arm is either red or orange and pale brown in pre-production models.
It is not entirely likely that you will find one in your collection, but it is not impossible either. Among the most valuable Matchbox cars ever is the brown Magirus Deutz Crane.
It made our top 11 list of the most valuable and rare matchbox cars considering the car's value. It is also the most valuable matchbox of the 1:64 scale on this list. It's a rare car, and if you want to collect it, you will need to save it.
How Much Are Matchbox Cars Worth?
The worth of matchbox cars may range from a few hundred to several thousand dollars. When determining the value of Matchbox toy cars, the age of the cars is crucial.
For instance, a model manufactured in large quantities in the 1940s would be more valuable and rarer today than one manufactured in similar quantities in the 1970s.
The Magirus-Deutz Crane ranks as the most expensive in Matchbox cars. This little brown 1961 crane truck sold for $10 at a garage sale, according to reports.
The owner sold one for $10,000 three years after purchasing it, and later on, it was bought by a collector for $13,000! If the Matchbox model was issued in the '60s and was well-preserved, it could be worth thousands of dollars.
How to Find out How Much Matchbox Cars Are Worth?
Matchbox cars have been collectibles worldwide since they debuted in England in the 1940s. Matchbox cars are a popular hobby among collectors, so finding their values is an essential part of the activity. Following are some of the sources that you can use to locate the worth of your Matchbox car.
· Online Auctions
There is no better way to observe rises and falls in the prices and demand of matchbox cars than through the internet using online auctions. eBay, for instance, hosts many online auctions.
Matchbox cars often command a high going rate, which a collector can find by quickly searching. It is important to consider several factors when evaluating eBay results for a particular car.
Make sure you are searching completed listings, not only the active auctions. A particular Matchbox car may be the subject of a dozen auctions, all with very low (or no) bids.
There are some eBay auctions for which bids don't appear until the last day of listing, so this is not always indicative of interest. Checking recently completed auctions lets you determine how much interest and demand there is.
· Collector Shows
If a Matchbox collector is interested in buying, selling, or learning about car values, he should visit a collector show.
While eBay has helped "diminish" the hobby by giving everyone access to Matchbox cars, dealer shows remain a great place to exchange information and buy and sell Matchbox cars. Collectors often find the best deals at dealer shows because online auctions tend to be less competitive than dealer shows.
Conclusion
Since Matchbox cars first appeared in England in the 1940s, they have been collectibles worldwide. Finding their values is an integral part of Matchbox car collecting, a popular hobby among collectors.
In 1953, British manufacturer Lesney Products rebranded its miniature toy vehicle line, and Matchbox cars were born. Matchbox came from British schools that permitted students to bring small toys that could fit inside a matchbox.
Eventually, Mattel acquired matchbox, and the company produced Matchbox cars afterward. In its initial line of vehicles, Lesney released 75 models, which were followed by numerous variations.
Over the years, the number of vehicles has increased substantially, especially since Mattel acquired the company. Matchbox cars are worth a few hundred dollars to several thousand dollars. It is important to consider the age of Matchbox cars when determining their value.