Careful not to dispose those old toys on the shelf; they may just hold the key to huge returns and extra bucks. From Beanie Babies, Fisher-Price toys and the beloved Pokémon Cards, these fun items helped us create a world of ours, full of pure fun, peak creativity and curiosity.
A vintage 1965 Barbie (blonde) with a black and white swimsuit and high heels can cost as high as $23,000.
We're about to take you on a blissful ride with this article by curating a list of the 50 most valuable old toys worth huge bucks today.
The 50 Most Valuable Old Toys Around
The items in this list have been sourced independently; prices are sourced from verified online stores, auction websites, catalogs, and value guides and are subject to change due to market factors and vendors' preferences.
| | | | |
| --- | --- | --- | --- |
| No. | Name | Prices | Release Date |
| 1. | Action Comics No.1 | $3.2 million | 1938 |
| 2. | Mario Kart 64 | $1.56 million | 1996 |
| 3. | Magic The Gathering Card (Black Lotus Alpha) | $511,100 | 1993 |
| 4. | The Honus Wagner Baseball Card | $475,960 | 1906-1911 |
| 5. | Harry Potter and the Sorcerer's Stone (U.S Version) | $471,000 | 1998 |
| 6. | Diamond Choker Stefano Canturi Barbie | $302,500 | 2010 |
| 7. | Teenage Mutant Ninja Turtles #1 | $245,000 | 1984 |
| 8. | Boba Fett Action Figure | $204,435 | 1979 |
| 9. | Mickey Mouse Motorcycle | $185,000 | 1930 |
| 10. | Volkwagen Beach Bomb Prototype | $150,000 | 1969 |
| 11. | The Original Monopoly Game | $146,500 | 1993 |
| 12. | Pikachu illustrator Pokemon Card | $50,000 | 1996 |
| 13. | Where the Wild Things Are (First Edition) | $31,250 | 1963 |
| 14. | The Princess Diana Beanie Baby | $25,000 | 1997 |
| 15. | Luke Skywalker Action Figure | $25,000 | 1978 |
| 16. | Pogs | $20,000 | 1990s |
| 17. | Nintendo Game Boy "Super Mario Land" | $13,200 | 1989 |
| 18. | Peanut Royal Blue Elephant Beanie Baby | $10,000 | 1995 |
| 19. | Atari "Air Raid" 2600 | $10,000 | 1972 |
| 20. | Fisher Price's Push Cart Pete | $9,200 | 1936 |
| 21. | Garbage Pail Kids | $7,643 | 1985 |
| 22. | Master Of the Universe Eternia Playset | $7,499 | 1986 |
| 23. | "Molly" the American Girl | $3,750 | 1986 |
| 24. | Cabbage Patch Kids Doll | $3,500 | 1978 |
| 25. | Vintage Defender Dan Toy | $3,499 | 1964 |
| 26. | The Skeletor Action Figure | $2,025 | 1982 |
| 27. | Lego Sets | $1,986 | 1949 |
| 28. | Tamagotchi | $768. | 1990 |
| 29. | PEZ Candy Dispenser | $499 | 1927 |
| 30. | Original Transformers Action Figure (Optimus Prime) | $420 | 1984 |
| 31. | Vintage Strawberry Shortcake Dolls | $408.02 | 1979 |
| 32. | Wonder Bread Savage He-Man | $325 | 1981 |
| 33. | Little People Family Garage | $259.99 | 1970 |
| 34. | Original Furby | $250 | 1998 |
| 35. | G.I. Joe | $222 | 1964 |
| 36. | Mighty Morphin Power Rangers Trading Cards | $215.25 | 1994 |
| 37. | Teddy Ruxpin | $195 | 1985 |
| 38. | Electronic T-Rex from Jurassic Park Action Figures | $189.75 | 1993 |
| 39. | Lite Brite | $180 | 1967 |
| 40. | Polly Pockets | $147.99 | 1989 |
| 41. | Larami Super Soaker | $100 | 1989 |
| 42. | Legoland Town Shell Station | $52.82 | 1986 |
| 43. | Toy Story Toys (Buzz Lightyear) | $49.95 | 1995 |
| 44. | The Original Easy-Bake Oven | $45 | 1963 |
| 45. | Aquapet | $39.77 | 2003 |
| 46. | Inspector Gadget | $35 | 1999 |
| 47. | Fisher-Price Kermit the Frog | $31.98 | 1976 |
| 48. | Vintage Colorforms | $27.98 | 1951 |
| 49. | Galoob Sky Dancers | $24.88 | 1994 |
| 50. | My Little Pony | $20 | 1981 |
1. Action Comics No.1
Price: $3.2 million
Release Date: 1938
The most expensive of its kind to ever be sold, this comic heralded the emergence of superman into the world, and an even more interesting fact is that they're only about 50 of them left around the world. Collectors and comic enthusiasts highly covet it.
2. Mario Kart 64
Price: $1.56 Million
Release Date: 1996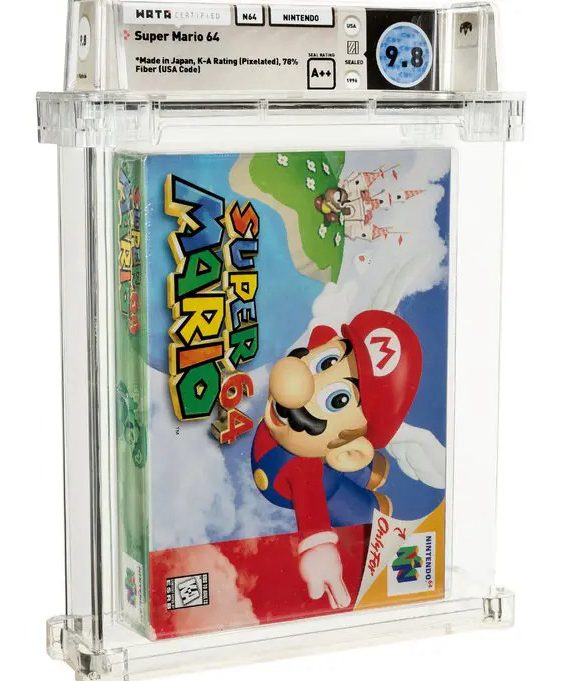 This kart racing video game emerged as a second entry in the Mario kart franchise series and succeeded the Super Mario Kart for the Nintendo entertainment sphere. It was released in Japan in 1996 and introduced Mini-Turbo boosts and four-player support.
The Mario Kart 64 used a 3d graphics technique for its environmental layout, such as real walls that can block views enhanced aesthetic features and introduced elements of elevation.
3. Magic the Gathering Card (Black Lotus Alpha)
Price: $511,100
Release Date: 1993
The Black Lotus 1993 gathering card is the most valuable of the pack. You don't need mana to play this card, and the artefact adds three mana of any color to your pool. This card is very valuable; you can use it to cast powerful spells very quickly.
Its special feature is that it is signed by Christopher Rush himself.
4. The Honus Wagner Baseball Card
Price: $475,960
Release Date: 1906-1911
After you read this, you may want to run a quick check across your collection of cards. If you're lucky enough to find an original "Honus Wagner" baseball card in that box, you're in for the big bucks.
This card is one of the most valuable, the rarest and the most famous sports trading cards in the world.
5. Harry Potter and the Sorcerer's Stone (First Edition U.S. Version)
Price: $471,000
Release Date: 1998
As a child, the books you read are also as valuable as your childhood plaything.J.K. Rowlingreleased Harry Potter and the Sorcerer's Stone in 1998, and it started the entire Harry Potter franchise.
When collecting these books, look out for autographed copies as they sell for higher prices.
6. Diamond Choker Stefano Canturi Barbie
Price: $302,500
Release Date: 2010
Auctioned off for a good cause and created by Stefano Canturi for breast cancer awareness this 1999 masterpiece comes with its pink diamond choker with one karat square pink diamond stones amidst other smaller stones while adorning a black strapless evening dress.
7. Teenage Mutant Ninja Turtles #1
Price: $245,000
Release Date:1984
This pricey comic book became a success shortly after its release in 1984, it's a Peter Laird and Kevin Eastman production which heralded the first peep of TMNT characters into the world of kids and television.
8. Boba Fett Action Figure
Price: $204,435
Release Date: 1979
From the stable of Star Wars, this action figure is that of Boba Fett, a bounty hunter in the TV show and a fan favorite. The rocket bearing figure was recalled before it went on sale because of safety concerns and re-distributed without rockets and the originals only exist as prototypes.
Currently, the Boba Fett figure is on top of every collector's list, and if it's in mint condition with every part intact, it'll sell for an impressive price.
9. Mickey Mouse Motorcycle
Price: $185,000
Release Date: 1930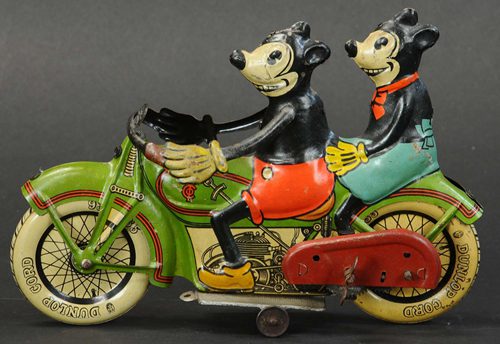 Walt Disney created the mickey mouse franchise in 1928. It had sold over 3 billion pieces as of 2018, with the most expensive being a tin wind-up motorcycle carrying both Mickey and Winnie.
This toy piece was created for the U.K. populace in Germany. As of today, only 18 of these figures exist.
10. Volkswagen Beach Bomb Prototype
Price: $150,000
Release Date: 1969
A very rare find and a limited-edition production, this toy car features surfboards peeping outside the rare window and big wheels that were too large for Mattel's race tracks. Collectors are crazy about this piece, and they go for thousands of dollars.
We'd advise that you shouldn't get your hopes up on finding one, as the Mattel company only made a piece of this prototype and discontinued it after being declared unfit for production and sale.
The pink Volkswagen is the rarest of this lot, due to its delicate color, the heavy bottom and originality in the prototype design.
11. The Original Monopoly Game
Price: $146,500
Release Date: 1993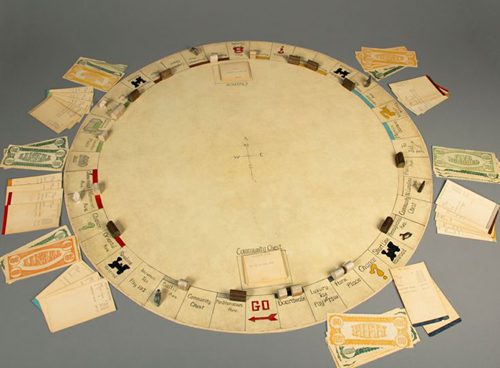 The first-ever monopoly board game was handmade by Charles Darrow in 1933. This board game is the last surviving circular-shaped board with a carbon typescript rules sheet made from oilcloth.
12. Pikachu illustrator Pokemon Card
Price: $50,000
Release Date: 1996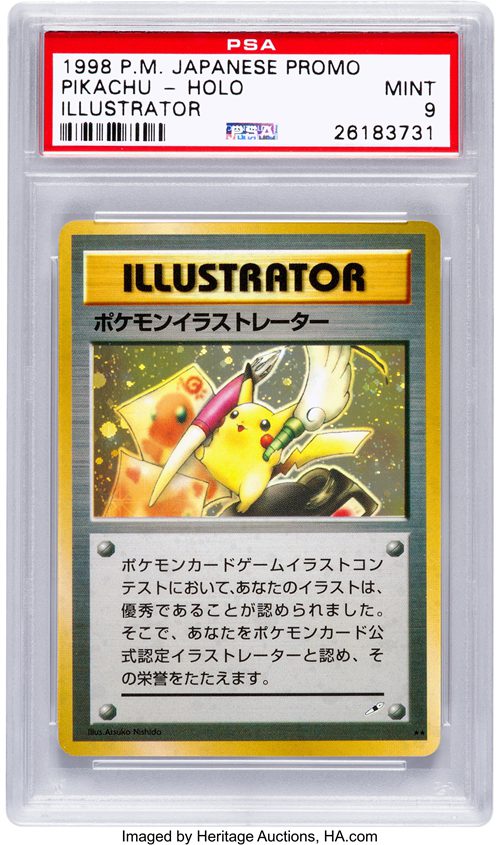 This Pokémon card currently holds the record for the most valuable Pokémon card globally and is likely the rarest.
It was initially presented to winners of contests held circa 1997 and 1998 by a Japanese magazine outfit, CoroCoro Comic. There are a total of 41 Pikachu illustrator cards in existence.
The art design on this card is an original work of Atsuko Nishida, the creator and designer of the Pokémon character. It is the only card from the Pokémon franchise to read "illustrator" at the top instead of "Trainer".
13. Where the Wild Things Are (First Edition)
Price: $31,250
Release Date: 1963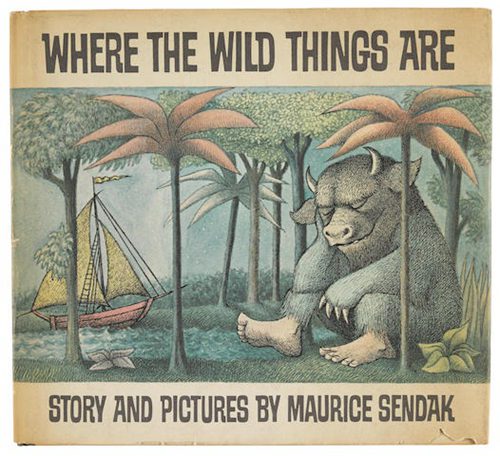 The first edition of Maurice Sendak's classic children's storybook is a one of the few childhood books that can sell for high price especially if still in mint condition. This copy of "Where the wild things are"sold at a 2012 auction, is signed and was found in excellent condition.
14. The Princess Diana Beanie Baby
Price: $25,000
Release Date: 1997
Hot on the heel of Princess Diana's death in 1997, T.Y. INC. introduced the purple beanie baby with a white rose on the chest to commemorate her death. The stuffed animal came with a heartfelt note in the tag and swiftly rose to become one of the most popular beanie babies yet.
15. Luke Skywalker Action Figure
Price: $25,000
Release Date: 1978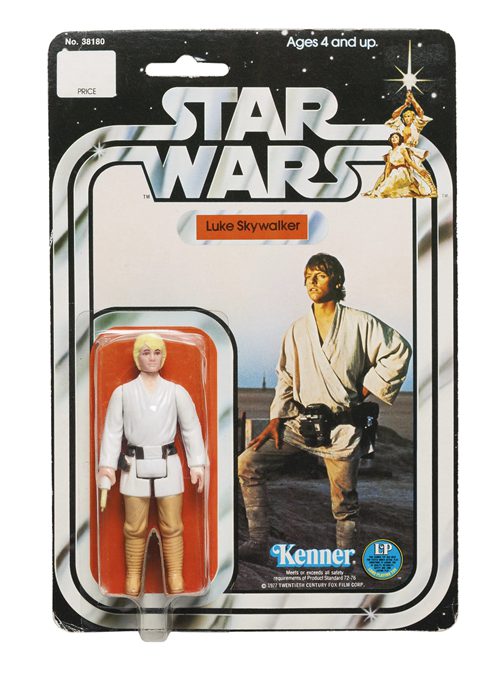 The Kenner toy company created the oooooooStar Wars action figures in the late 1970s, and these interesting figures were housed in clear plastic cases and stood at 3 inches tall.
There're only 20 of these figurines around the world today. Nigo, a Japanese designer and the creator of A Bathing Ape, decluttered his range of Star Wars souvenirs in 2015 and placed the Luke Skywalker action figure up for auction.
16. Pogs
Price: $20,000
Release Date: 1990s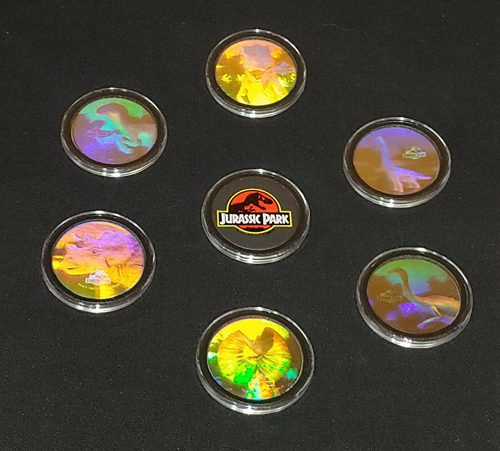 When you think Pogs, you think coins made with cardboard with fancy images on them, you may see them as something of little value, but by the rarity of some sets, they've become very expensive, they're even of higher value if you get there in mint and complete state.
This Jurassic Park complete holographic Pog set is on auction in eBay for a handful of cash.
17. Nintendo Game Boy "Super Mario Land."
Price: $13,200
Release Date:1989
The super Mario land was one of the first monikers for game boy toys and was released in 1989. It's the first Mario game from the franchise to feature on a handheld console and had similarities to the 1985 super Mario version and could fit on a much smaller screen.
18. Peanut Royal Blue Elephant Beanie Baby
Price: $10,000
Release Date: 1995
Peanut the Elephant is a first-generation beanie baby and one of the nine originals which was rolled out on June 3, 1995. It has a first-generation tag swinging down its right ear and a poem in its honor.
Due to a production error, the peanut royal blue beanie baby took a darker shade against the intended light blue; about 2000 of these toys were affected. This model is now highly sought after and very scarce too.
19. Atari "Air Raid" 2600
Price: $10,000
Release Date: 1972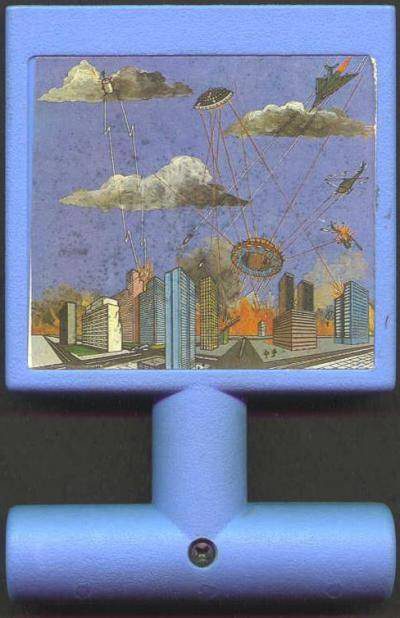 The Atari company was founded in 1972 and led the modern video game movement into the modern world. The Atari 2600 popular "Air raid" game, popular for its unique T-shaped cartridge handle is in demand even after the company folded up in 1984 due to bankruptcy.
20. Fisher Price's Push Cart Pete
Price: $9,200
Release Date: 1936
The 9-inch long 1936 beauty can rake in cool cash if it's in mint condition. It's a toy controlled by a simple string staring a stubborn and displeased "pete" pushing a cart.
21. Garbage Pail Kids
Price: $7,643
Release Date: 1985
These gems were wildly popular in the 1980s, so they were banned from schools. Topps Company designed the trading cards to parody the popular Cabbage Patch Kids dolls.
Adam Bomb was a notable figure on the trading card as the creators used its image on the first five series.
Each card had a garbage kid character portrayed with some abnormality and facing a terrible fate with a funny theme name such as Blasted Billy or Brutal Brad.
22. Master of the Universe Eternia Playset
Price: $7,499
Release Date: 1986
Mattel released this large playset in 1986 and discontinued it a year later. For fans of masters of the universe, this playset was the most coveted toy. Everything connected to the playset is valuable and worth a few bucks, whether whole or in parts.
23. "Molly" the American Girl
Price: $3,750
Release Date: 1986
American dolls were girls of the girls of the 90's, and everyone wanted a piece on their shelf. These days, retired pieces like Felicity, Samantha, Kirsten, and molly are high on demand. Molly is the most popular of this category, and if found complete, it has great value.
24. Cabbage Patch Kids Doll
Price: $3,500
Release Date: 1978
The Cabbage patch kids dolls toys were first rolled out in 1978 from the talented hands of Xavier Roberts.
Interestingly an official collector's club with a membership fee of $35 was formed just for these dolls. The most valuable cabbage dolls were made in 1979. Xavier hand signed the inscription Little Peopleon their bottoms himself.
In the later years, the toys grew more popular, and people began adopting them rather than selling, most of the adoption came from the Babyland General Hospital, and all adopted dolls came with adoption and birth documents.
25. Vintage Defender Dan Toy
Price: $3,499.99
Release Date: 1964
The very rare defender automatic toy was created by the Deluxe Reading Toy Corporation in 1964. It's a belt-fed machine gun inspired by the real-life 5.0 caliber BMG and is 3ft long, reaching up to 2ft in height.
This toy gun is made of metal and strong plastic materials, allowing four bullets to be shot consecutively until the spring pull back lever is activated and prepares it for a second launching.
26. The Skeletor Action Figure
Price: $2,025
Release Date: 1982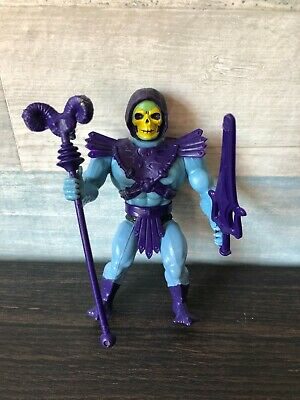 The Masters of the Universe franchise paired the He-Man superhero against Skeletor, the evil villain of the show. The popularity of Skeletor stems from that fact alone and this has a gained the Skeletor a community of die-hard collectors.
In some cases, this villain piece even sells higher than the story's hero.
27. Lego sets
Price: $1,986
Release Date: 1949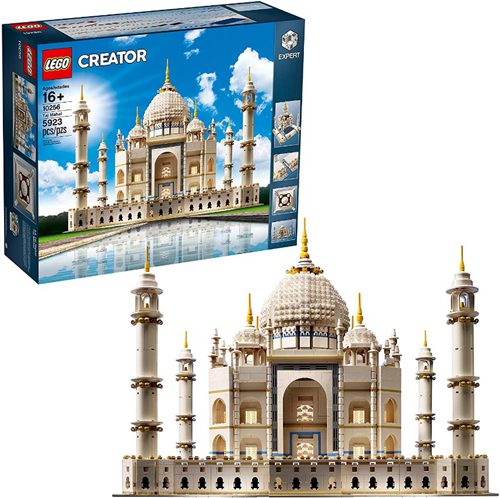 Lego sets cuts across generations and has grown to become one of the world's most popular toys. They're extremely rare, and the retired sets are highly coveted by collectors worldwide. Various subsets have developed from the Lego set like the six Legoland amusement parks worldwide.
A Lego advance Taj Mahal 2008 model set sold at a Catawiki auction for a very impressive price in 2018.
28. Tamagotchi
Price: $768.88
Release Date: 1990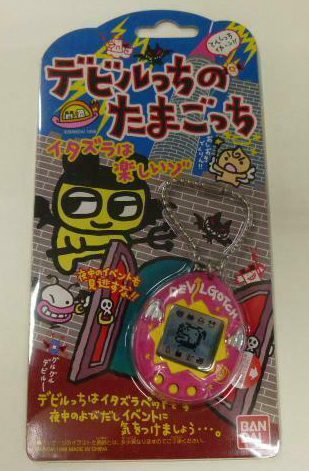 Over 75 million pieces of these interesting items have been sold worldwide since its invention in Japan. Kids would feed, nurture and play with the virtual Tamagotchi pet. This device has more than 44 versions rolled out by WIZ, the toymaker from Japan.
The popularity of this product led to the creation of video games and was even adapted into a movie in 2007. However, earlier models from 1996-1998, like the very rare "Devilgotchi", sold on 100 copies worldwide before being discontinued, sold for reasonable prices.
29. PEZ Candy Dispensers
Price: $499.99
Release Date: 1927
This candy dispenser emerged on the scene in Vienna, Austria, in 1927 and has remained a global favorite amongst collectors to date. Over 550 pieces of this unique item have been produced and sold by the Pez candy company.
They have also rolled out interesting historical figures from Paul Rever to Batman and Daniel Boone, and there're sworn collectors who pay a huge sum of money to collect these pieces every year. A popular "Astronaut B" dispenser prototype manufactured for the 1982 World's Fair sold at an auction in 2006 for nearly $32,000.
30. Original Transformers Action Figures (Optimus Prime)
Price: $420
Release Date: 1984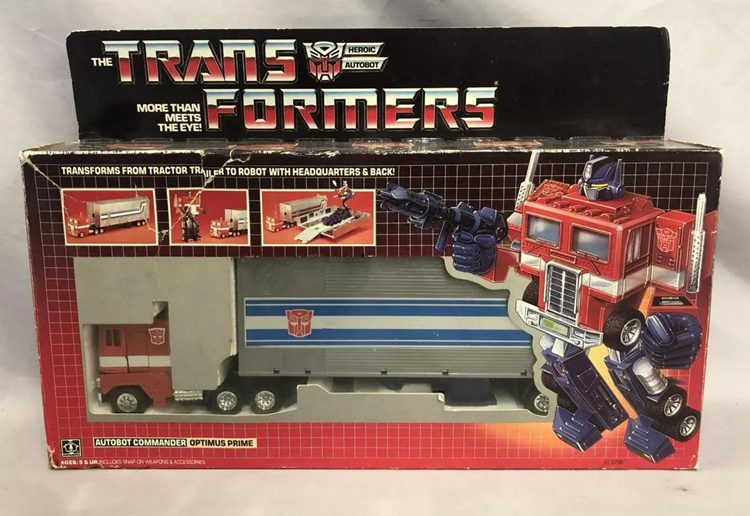 The Hasbro company rolled out popular Optimus Prime in 1984 by the Hasbro company and it has since received the largest number of toys for any individual character from the Transformer's TV series due to its popularity and status as a heroic figure to children.
31. Vintage Strawberry Shortcake Dolls
Price: $408.02
Release Date: 1979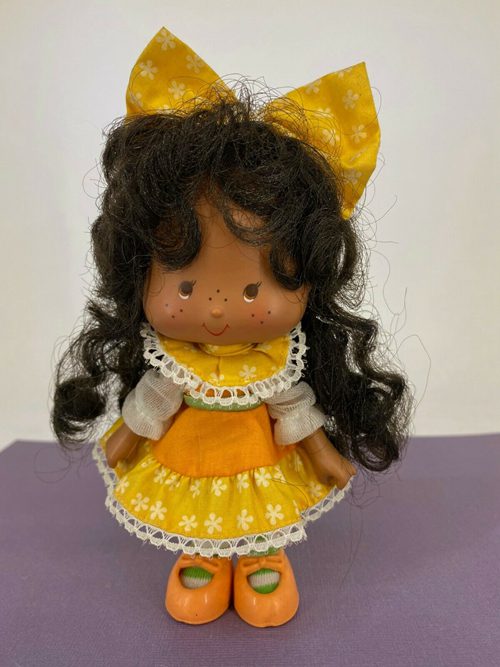 The toys from this collection were uniquely named after desserts and was a hot cake amongst collectors and young children back in the day. There were 21 characters and they were popular for their scented smells, hat, dresses and striped socks.
32. Wonder Bread Savage He-Man
Price: $325
Release Date: 1981
This item was never listed for sale; rather, it came as a prize included in a Wonder Bread free giveaway, each kid opens a pack and finds the rare, limited edition He-Man action figure.
The amount it sells for these days is very impressive, considering that Mattel never sold it in the first place.
33. Little People Family Garage
Price: $259.99
Release Date: 1970
One of the first editions of the fisher price set, the action garage is an original little people model with scanty accessories and characters- possibly the scantiest of all the playsets. They include wooden people, an elevator, the garage itself, a red and white hose for fuel, and a big stop sign.
34. Original Furby
Price: $250
Release Date: 1998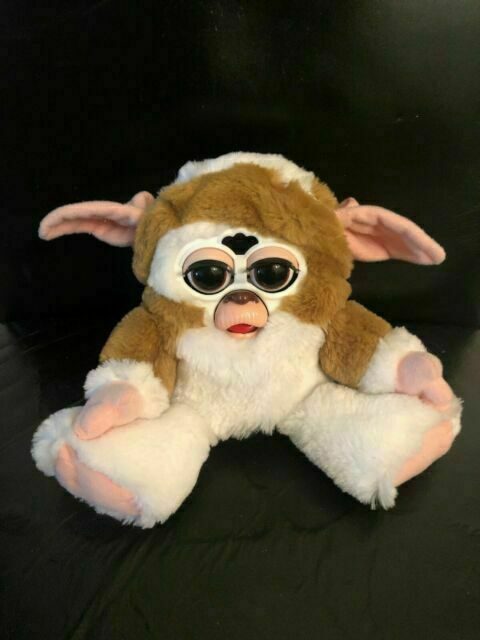 With its striking resemblance to the owl and the hamster, Furby toys controlled the 1998 toy scene and created a frenzy amongst children and collectors. They were interactive toys created by Tiger Electronics.
Over 40 million pieces were sold in 3 years and each was programmed to learn different languages- up to 24 languages. It earned the First "domestic robot" title and increased in value year in, year out. A brown Gizmo Furby is currently up for auction on eBay.
35. G.I. Joe
Price: $222
Release Date: 1964
The Hasbro company has been rolling out G.I. Joe figures since 1964; the toys are so popular that various conventions are being held around the world to collect and display new G.I. Joe pieces each year.
The first edition G.I. Joes' especially models from the early 1960s, are the most valuable, and in 2013, a prototype figure sold at an auction for the price indicated above.
36. Mighty Morphin Power Rangers Trading Cards
Price: $215.25
Release Date: 1994
These cards were rolled out in 1994 and became an absolute fan favorite. They increased in intrinsic and aesthetic value over the years and sell for a very impressive amount.
37. Teddy Ruxpin
Price: $195
Release Date: 1985
Ken Forsse, with the help of two other technical genius, created this animatronic masterpiece in 1985. The teddy ruxpin toy helped children read bedtime stories through a built-in audio player and even mime to them. It grew in fame and became the best-selling toy of 1985 and 1986.
38. Electronic T-Rex from Jurassic Park Action Figures
Price: $189.75
Release Date: 1993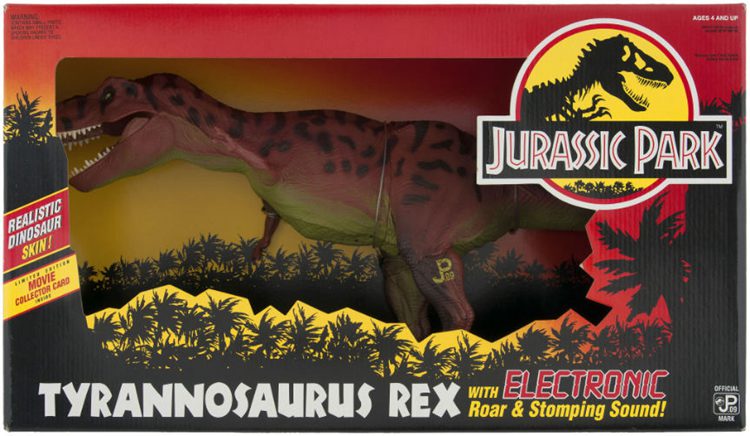 Jurassic Park left its imprints on everyone's heart, especially the kids, so much so that company created numerous merchandises from the show. An example is T-Rex, a fan favorite and a big oversized figurine released immediately after the film.
An electronic dinosaur with plastic arms, legs and jaws with rubber materials on its back forming a realistic skin-like texture. It makes roaring sounds, jaw and arm movement with stomping sounds.
39. Lite Brite
Price: $180
Release Date: 1967
This set allowed kids to channel their creative side by letting them fit small, colored plastic tags into a glowing board to create an illuminating figure. It emerged on the scene in 1967 and was invented by Burt Meyer for the Hasbro company.
40. Polly Pockets
Price: $147.99
Release Date: 1989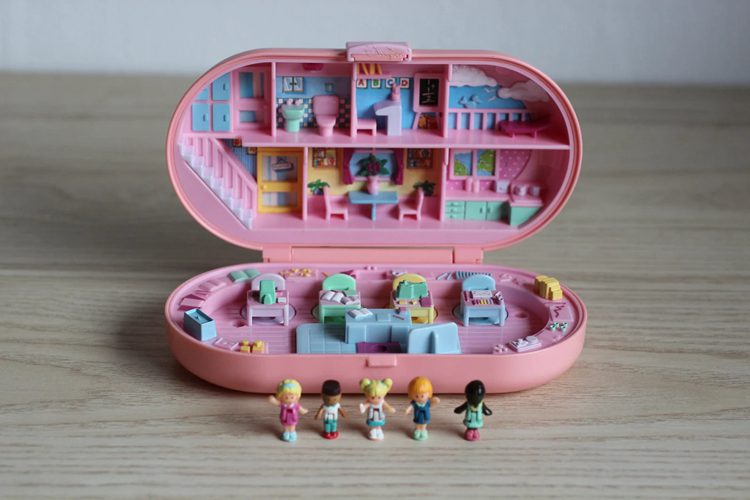 If you have a complete set of these tiny wonders, you're in for a killing. They were popular in the 1980s and 1990s as they let kids build little playsets for dolls into small cases imitating compact powder cases.
Make sure the ones you intend to sell are in the whole condition and unopened to get the true worth.
41. Larami Super Soaker
Price: $100
Release Date: 1989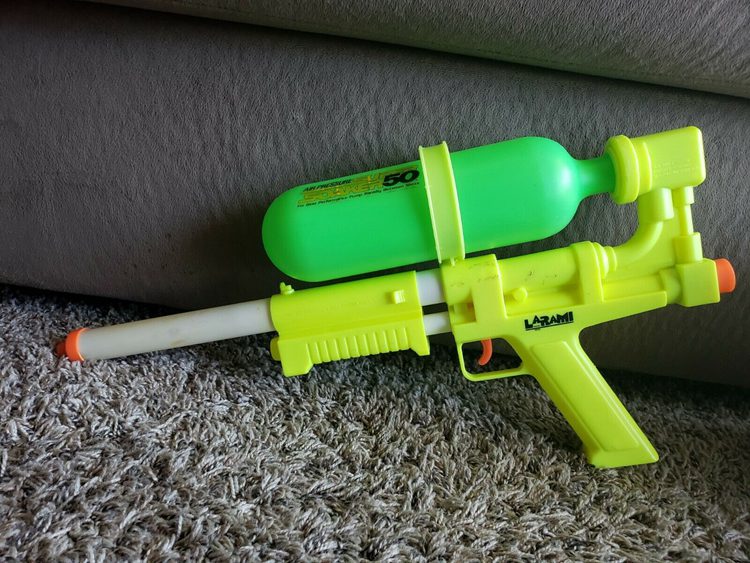 Nerf, a toy giant, manufactured the super soaker water guns. With each passing time, the toys get sleeker and more complex with interesting new additions. Recent times have seen the Super soakers join high tech toys that could hold large gallons of water.
The simpler and original models were rolled out circa 1989- early 1990s; these have captured collectors' hearts and are heavily demanded. Although they can't hold as much water as the current ones, the nostalgia behind them is everything.
The 1989-1991 models were initially named "power drenchers" but later changed to "super soakers" and has generated over $1 billion in sales over the years.
42. Legoland Town Shell Station
Price: $52.82
Release Date: 1986
Perhaps it's time you should dust off your Legoland town shell collection and list it for sale (the complete set, of course). This set has all the elements you need to construct a tastefully furnished mini shell station.
43. Toy Story Toys (Buzz Lightyear)
Price: $49.95
Release Date: 1995
These toys are from the Toy Story movie; they're hot on the market currently, and bagging a few means cool cash. Main characters, aliens from the toy story, and even machine parts popular in the movie sold for impressive money.
44. The Original Easy-Bake Oven
Price: $45
Release Date: 1963
Introduced in 1963 by the Kenner toy company, this toy launched very close to the Christmas period, making it very timely and causing a spike in demand. Every girl wanted a piece of easy bake oven on her shelf.
Their design imitated real household kitchen set at that time and came in attractive shades of teal or bright yellow.
45. Aquapet
Price: $39.77
Release Date: 2003
Wild Planet released these toys in 2003; they were interactive electronic playthings wired to register and respond to sounds and commands made to them by kids and other aqua pets.
They also came in a transparent water-filled case that housed a small-sized figure with microphones.
46. Inspector Gadget
Price: $35
Release Date: 1999
The original cartoon series recorded a major hit in cinemas and box office; hence McDonald's jumped on the trend in 1995 and created a happy meal toy of Inspector Gadget. The toys could blow up and be rearranged with different animated features to fight crime, just like the main series.
Each limb could function individually or assembled to function as a whole; they had detailed designs and unique colors with a propeller hat that made a real-life helicopter sound when pressed. This toy is of the finest quality and difficult to find due to high demand.
47. Fisher-Price Kermit the Frog
Price: $31.98
Release Date: 1976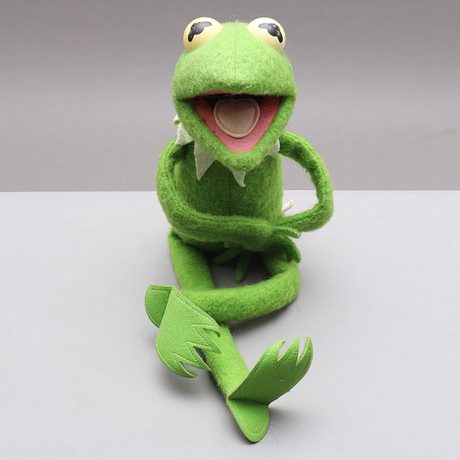 How can we forget Kermit the Frog, one of our favorite fisher price toys imitating the character created by Jim Henson from the popular T.V. show- Sesame Street and The Muppet Show. This plush toy is made with the softest material and has a large clientele.
48. Vintage Colorforms
Price: $27.98
Release Date: 1951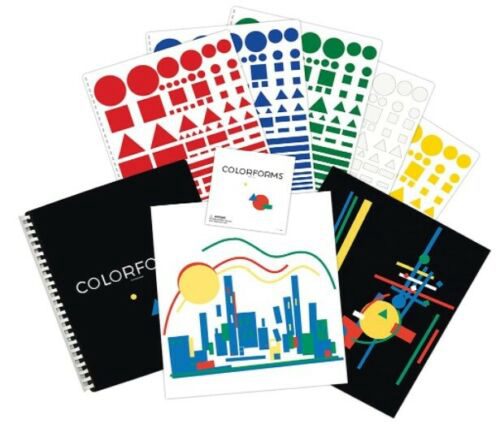 An original 90s kid toy, the vinyl toys let kids peel and stick shapes to their heart's desire- think of it as wishing aloud. They initially consisted of painted geometric shapes and were later centered around celebrities, TV shows and popular movies.
49. Galoob Sky Dancers
Price: $24.88
Release Date: 1994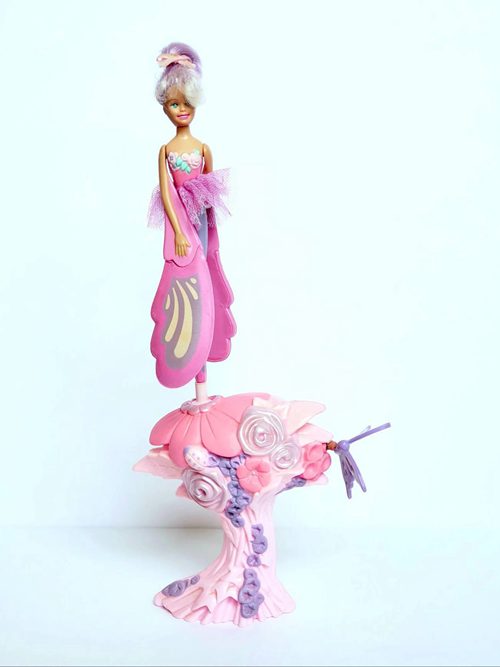 The bright mesmerizing colors and ability to fly just with the pull of a string endeared kids to these fun toys. More interest grew when people discovered that these figures could also be dangerous and weaponized by kids in a fight.
The hazard these toys posed caused a recall, but this move only made them scarce and now heavily demanded by the public.
50. My Little Pony
Price: $20
Release Date: 1981
These fancy ponies were launched in the 80s in an array of bright colors, and they've remained a classic extending into today's toy scene. The rare 1983 "firefly" pony is still the most valuable, and others come at fair prices.
Parting Words
After this eye-opening read, you're probably searching through your old pile of toys now. Before you take further steps here're a few tips you should bear in mind.
A toy appraiser must be on your speed dial when collecting old toys. They'll help determine the value and identify your toys correctly.
Variations are important in toys, a slight difference in models from the same company is normal, and they might even earn you extra bucks.
Unmarked and incomplete toys will reduce your profit by a significant percentage. Collect mint toys only and always keep them safe.