Growing up as a kid, I had always admired record players, especially vintage ones. They looked so classic and sturdy. Long ago, there was nothing like record players, our ancestors had to watch their favorite musicians perform live.
I know you think that was a dark age, but they sure did have fun! The introduction of record players completely changed music history.
Thanks to this work of art, people could listen to their favorites from the comfort of their homes. It seemed like magic at first, but with time everyone got used to it.
Brief History Of Record Players
The record player first came to light in 1877. At first, it was a phonograph and not the regular turntable we know, regardless it was still considered to be the very first record player. The gramophone was later invented in 1887, it became the basis for the modern record player.
We have Thomas Edison to thank, he was the one who invented the very first record player. As time went on, other inventors were able to create better versions of the record player.
List Of Vintage Record Players
1. Second Phonograph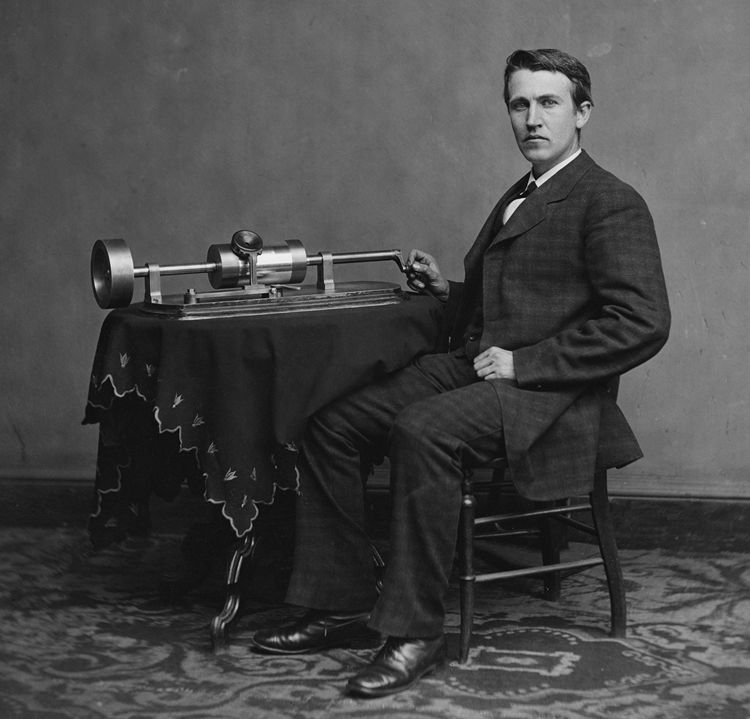 Here's a popular image of Thomas Edison and his second phonograph. It didn't look like the best, but it was everything in its time. With this device, you'd have to manually rotate it, this process would enable it to produce sound.
2. Gramophone
At the time, the Gramophone seemed like a better build, it was invented by Emile Berliner in 1887. This invention consisted of hard rubber and shellac. Vinyl was used for later versions of the Gramophone. This vintage record player is considered to be the basis of the later made versions.
3. Victrola Upgraded Vintage Record Player
The Victrola Navigator Record Player retains the classic, antique style of the old Victrola record players, but its internal mechanisms are much more modern. It's equipped with a built-in CD player and cassette player, is compatible with Bluetooth devices, and comes with a remote control that will allow you to skip tracks or adjust the volume.
4. Vintage Gramophone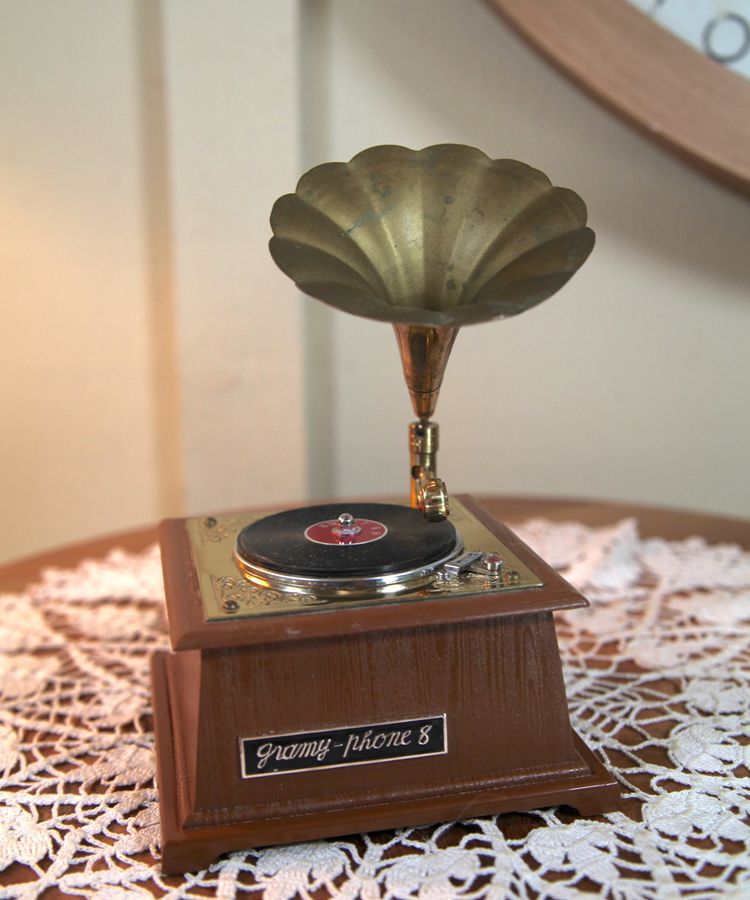 This item is a rare find and quite hard to come by. It has the look of an old gramophone record player from the 60s. The sound produced from it is quite amazing! However, it is an AM radio only, you might not be able to play records with it.Source: Etsy.com
5. Art Deco Vintage Record Player
During the Art deco period, vintage record players like these were rampant. This particular player is an upcycled product from 1957. Some new features have been added to it like Bluetooth, recording function, and powerful speakers.Source: Etsy.com
6. Wooden Vinyl Record Player
This is a vinyl record player that has been upgraded with lots of amazing stuff in our modern era, like the 20W full-range speakers and built-in Bluetooth, and more. Getting an actual vinyl record player from way back is almost impossible, your best bet might be to get something with almost the same build.
7. Victrola 3-in-1 Record Player
Victrola is a name that has been popular in the vintage record player business for decades. Here's another classic from them. This is perfect for vinyl lovers as it comes with a very realistic vinyl that has 3 levels of speed. It also has a couple of modern-day features embedded in it.Source: victrola.com
8. Victrola 5-in-1 Vinyl Record Player
With this vintage record player, users do not need to worry about where to place the record player. It comes built with a stand. It has a 3-speed turntable making it ideal for playing your old-time favorites. The build might take a fair amount of space in your home but it is also very portable.Source: victrola.com
9. Vintage Vinyl Music Box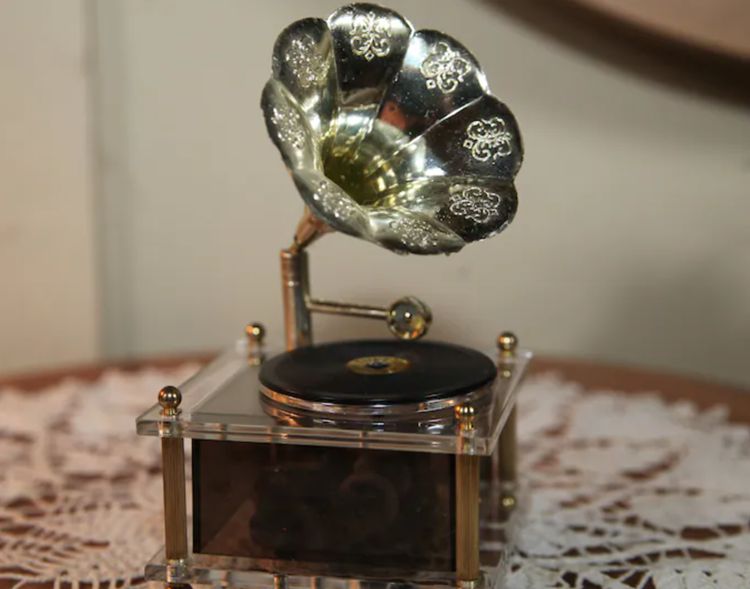 This vintage vinyl player won't play your favorite vinyl tracks, it is a music box in the shape of a vintage record player. However, you are sure to get cool love tunes from this classic player. Think of it as a cheap version of the gramophone.Source: Etsy.com
10. 1960 Vintage Dansette Record Player
For those of you interested in the real deal, this is an original 1960s vintage record player. It is finished in an amazing combination of red and basketweave rexine. It even features the 50s/60s sound output, exactly what you would hear back in the day. About 8 different records can be stacked in it.Source: ebay.com
11. Vintage Dansette Record Player
Yet another vintage record player first sighted in the 1960s, it features a volume, bass, and treble adjuster. It sounds just like it did in the 60s. It has 4-speed settings and would play any of your favorite vinyl. You can also stack singles in this record player. It would be a great addition to a retro club or lounge.Source: ebay.com
12. Vintage Sansui SR-333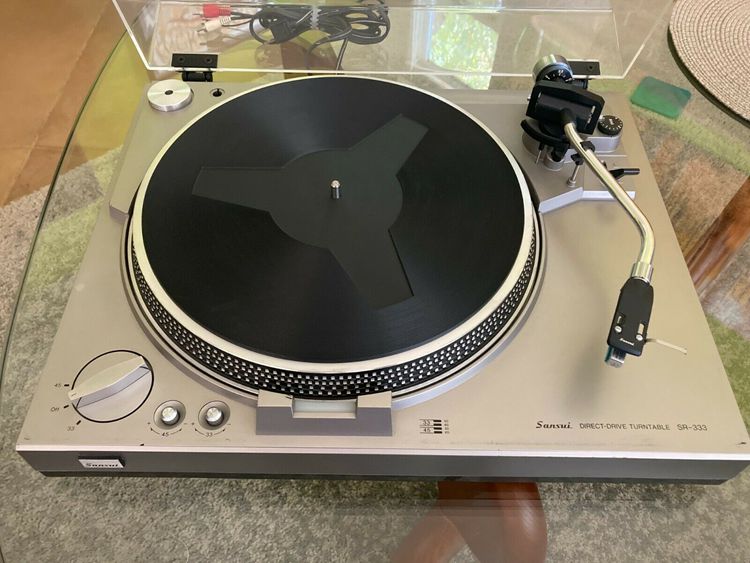 Vintage records players like this were made decades after the introduction of record players. The vintage Sansui SR-333 is an amazing work of art, you can't stack vinyl with it but it is still a good pick for your vintage collection. There are some basic controls on the machine that let you control the bass, treble, and volume of the player. It doesn't have a built-in speaker, so you will need an external source. Source: ebay.com
13. 1950s Philips Portable 45 rpm Record Player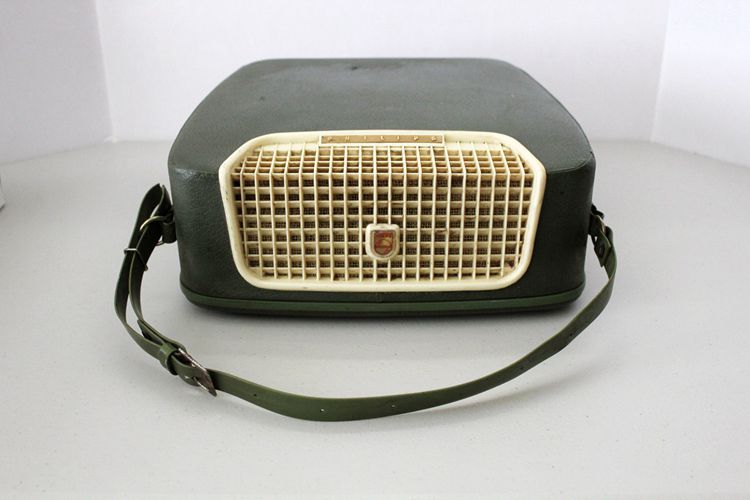 A 1950s Philips portable 45 rpm record player. Using this was very simple back in the day, just insert the vinyl and wait for the record player to do its thing. The volume isn't the best compared to modern products out there, but as a vintage collector, this could be gold! Source: etsy.com
14. Vintage Gramophone Record Player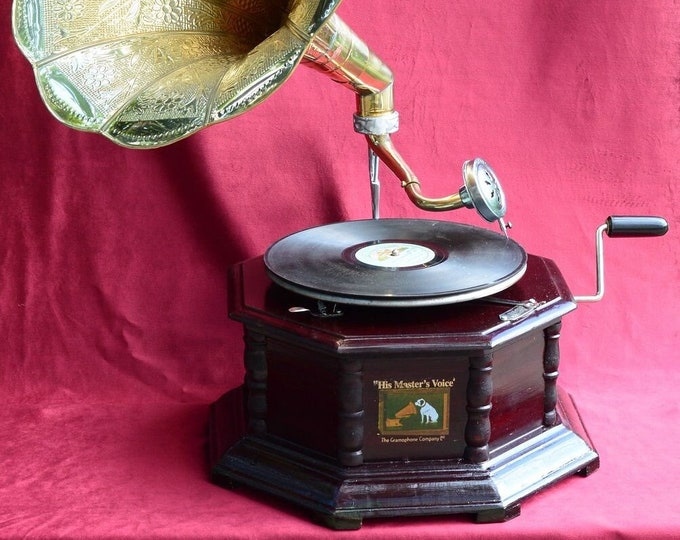 Gramophones are my favorite of all the vintage record players available. Maybe because they are much older or due to the intricate design. This gramophone comes ready to play 78 RPM recordings.etsy.com
15. Vintage Record Player In Briefcase
In the early days, some record players came in briefcases, this made storing and carrying the record players much easier. Simply close the briefcase and you're good to go. Some briefcases even had handles and straps for easy carriage. Source: etsy.com
16. The Austin
The Austin is yet another amazingly outstanding antique record player from Victrola. The Austin 4-in-1 Bluetooth Record Player is perfect for vinyl lovers with its 3-Speed Turntable and Mid-Century Modern look. It comes with a built-in FM radio and an auxiliary input to play music from.
17. The Avery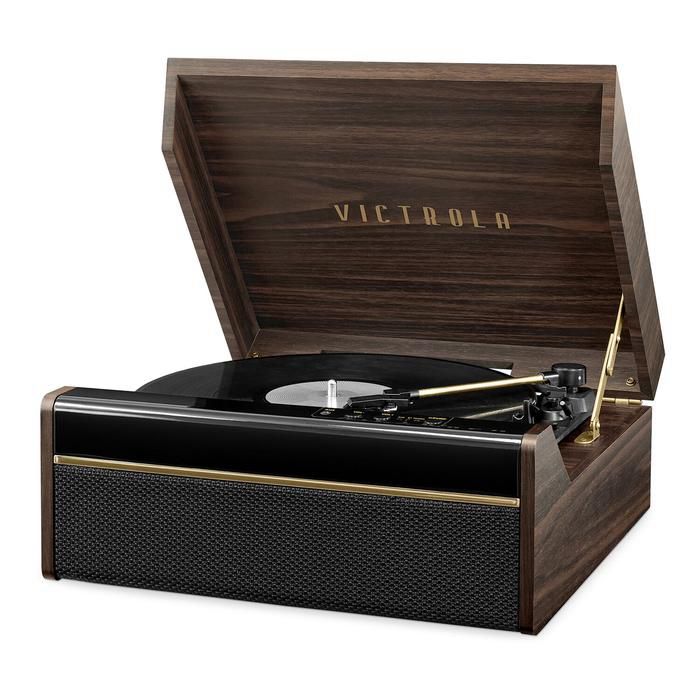 Victrola's Avery 3-in-1 stereo component comes in a traditional design that will add style to any listening space. Its classic mid-century design includes a three-speed, belt-driven turntable, Aux-in, and high Bluetooth connectivity. Source: victrola.com
18. SKEVONO Portable 3 Speed Vinyl Turntable
The SKEVONO portable turntable has one of the most simple-looking designs I have seen. You can use it when you are in the mood for a classic vinyl moment with friends, it also has modern features like an auxiliary input/output and a powerful Bluetooth connection.
19. The Ellington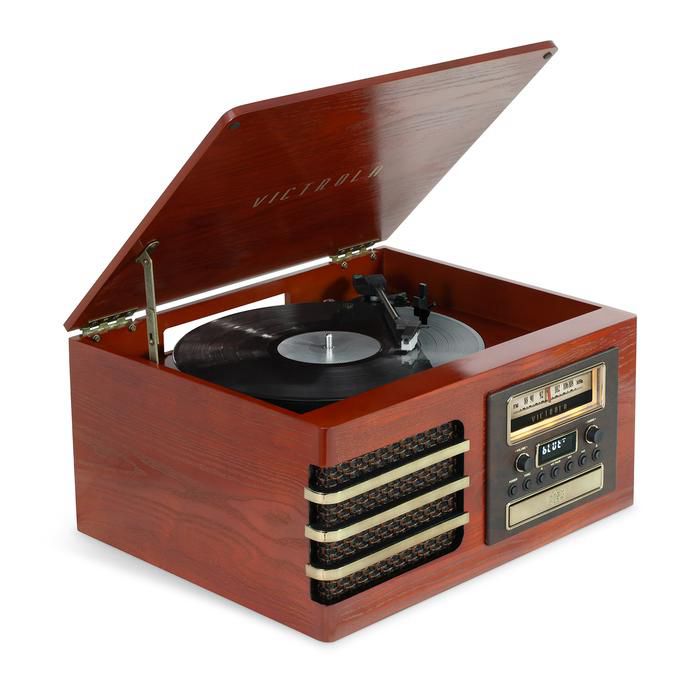 Built with a premium ceramic stylus, the Ellington 3-speed turntable plays all your 33 1/3, 45, and 78 RPM records with stunning clarity. With Bluetooth connectivity, you can also stream music from your smart device through the built-in speaker. The Ellington has a vintage-style speaker grill which looks like the speakers you'd find in the past. Source: victrola.com
20. The Modern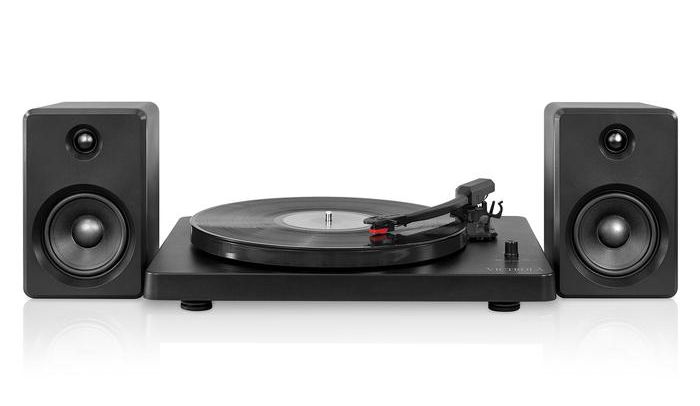 This is more like a mixture of vintage and modern features. Enjoy the sounds of all your vinyl records with the 3-speed belt-driven turntable (33 1/3, 45, 78 RPM) playing through the dual stereo 50-watt full-range speakers. Source: victrola.com
21. 1970s Fidelity Vintage Record Player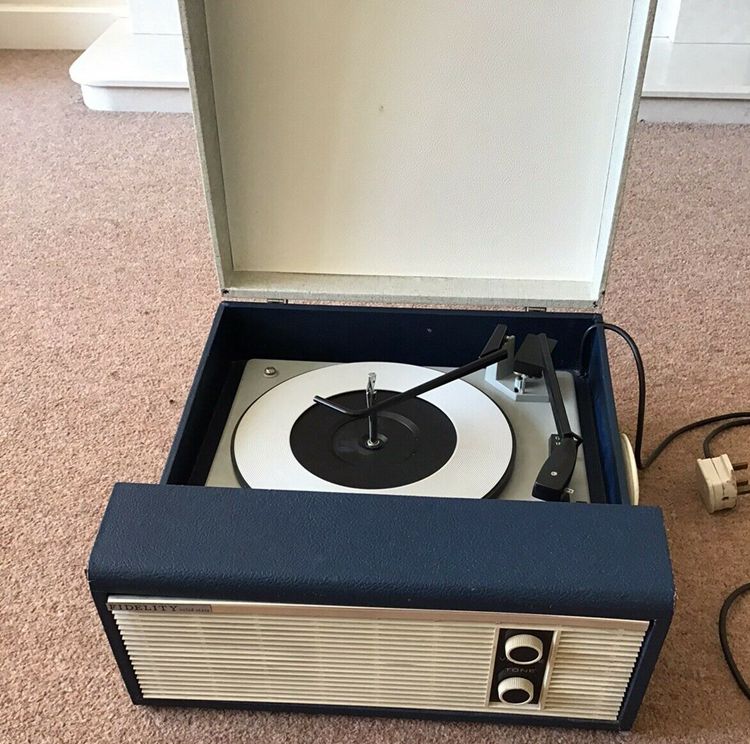 This doesn't have modern features like the bluetooth, and aux input. Truth is, that is how you differentiate a 100% vinyl player from upgraded ones. It's needle has different play speeds that can be adjusted to suit your needs. The speaker isn't the best thing, but I guess it will do! Source: ebay.com
22. The Empire Signature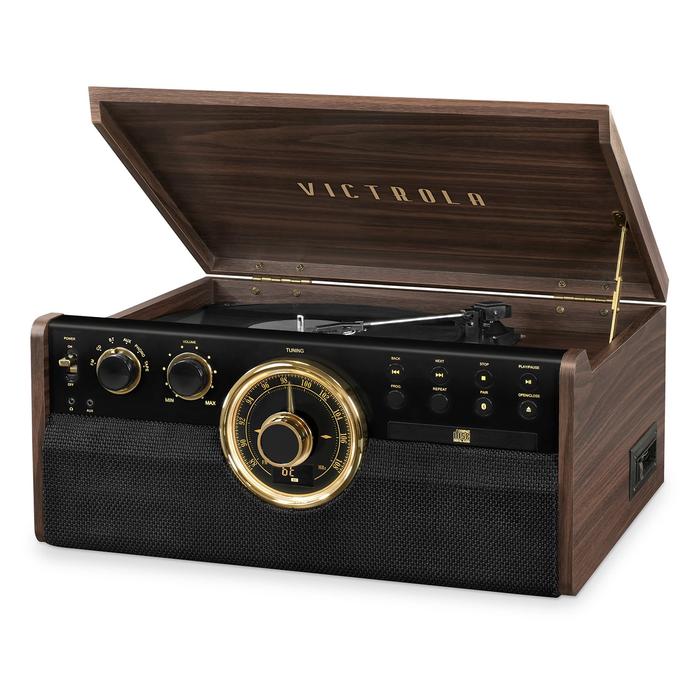 The Victrola Empire Signature 6-in-1 Bluetooth Record Player is perfect for vinyl lovers with its three speeds and mid-century modern look. You can stream your music via Bluetooth, play your favorite tunes on the FM radio, or from the CD Player. Victrola
23. The Brighton
In 1906, the first Victrola was introduced and the legacy lives on. The Victrola Brighton features a sleek, classic design, molding upgraded features such as external Bluetooth connectivity with classic Victrola sound. This 3-speed record player plays all your favorite 33 1/3, 45, and 78 RPM records. Victrola
24. Vinyl Record Player Turntable
A lot of actual products from the 60s, 70s and 80s might not produce the ideal sound you need. However, manufacturers have been able to upgrade old vinyl record players without getting rid of the classic look. This vinyl record player will play all your songs, it also has some modern features like bluetooth, aux port and more.
25. Bluetooth Gramophone
Technology advancement keeps getting better by the day. This is just amazing. A classic gramophone fused with modern day features like the USB port. This vintage record player would most definitely add a touch of class to your vintage home.
26. The Cambridge
The Victrola Cambridge Record Player combines comfortable farmhouse style with modern features to create a piece that will instantly become the center of attention in any home. Do you love rustic designs? Then you'll love this piece even more. Victrola
27. Retro Record Player
Victrola 50's inspired Record Player is designed to be a blast from the past.  But don't let its fun retro design fool you—it's loaded with all the music-playing technology of the past 70 years. This would look absolutely amazing in your vintage lounge or bar. Victrola
28. Travel Vintage Record Player
Taking your vintage player on a road trip is amazing. A travel vintage record player as the name implies is the kind of record player you would take on a country road journey. The player is fused with a briefcase making it easier to transport around. With the sturdy design, you can take your music anywhere without the fear of the player getting bad. Victrola
29. 1969 Shure Vintage Record Player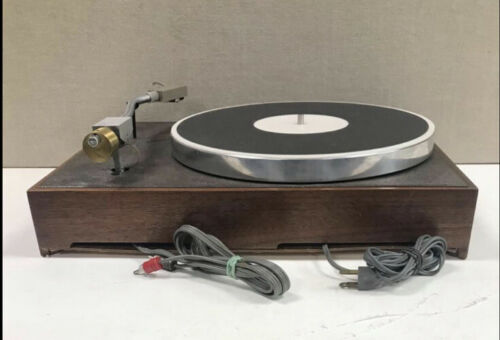 Not a fan of the modernized versions of vintage record players? No worries, here's an old 1969 Shure record player. If you lived in the era of these record players you would surely remember this classic device. Ebay.com
Conclusion
Vintage records players have always been a thing and will always be a thing. Although there has been a huge switch, a lot of people prefer using modern gadgets to play their songs. However, a few of us will cherish vintage record players forever.
Thanks for stopping by, I hope you had fun going through this article. Before you leave, share this with an old friend who is into vintage record players. I'm sure it will put a smile on his or her face.