If you are an antiquary and love to collect vintage glass insulators, then you might have come across Hemingray 42. This distinctive model is offered in a wide variety of hues, some of which are scarce and expensive.
You do not need to surf the internet anymore to locate and get the best version of the Hemingray glass insulator for yourself.
This article will provide you with all the necessary information you need as well as a step-by-step guide using which you can find the original Hemingray42 glass insulators.
Let's learn about the Hemingray 42 Glass Insulator's history, value, how to spot these vintage Hemingray 42 Glass insulators, and what are some of the authentic marketplaces where you can find this vintage glass insulator.
What Is A Glass Insulator? And What Is Hemingray42?
Before we finalize the best places to purchase the right vintage Hemingray42, we would like to throw light on the significance of the glass insulators.
Historically, glass insulators like Hemingray42 were used on the power lines and telegraph lines to prevent wires from getting in contact with wet poles. They were also employed to build the communication network and prevent current loss during transmission.
Given the wide usage of glass insulators, the Hemingray Glass Company was founded around a similar time. In 1848, Robert Hemingray and Ralph Gray manufactured the company.
Due to its rapid succession of mass production of millions of glass insulators, Hemingray Glass became a well-known name in the manufacturing sector, with its glass insulators considered the most valuable and worthy items.
Although Hemingray was best known for its telegraph insulators, the company produced many other glass items, including bottles, fruit jars, pressed glass dishes, tumblers, battery jars, fishbowls, lantern globes, and oil lamps.
According to Hemingray Info, the Hemingray 42 glass insulators have become one of the most common styles of glass insulators to be used on telegraph and telephone poles. Millions of them were produced between 1921 and 1960.
With the telephone and telegraph poles getting outdated, you can now find these glass insulators in antique stores, flea markets, and even garage sales.
These glass insulators drew the interest of antique collectors naturally since they were so diversely used across the nation.
You will always find Hemingray 42 glass insulators top of the list when it comes to buying and collecting antique glass insulators by antique collectors.
Types of Hemingray 42 Glass Insulator
The Hemingray 42 glass insulator was manufactured in two popular variations known as the standard variation and a rarer variation.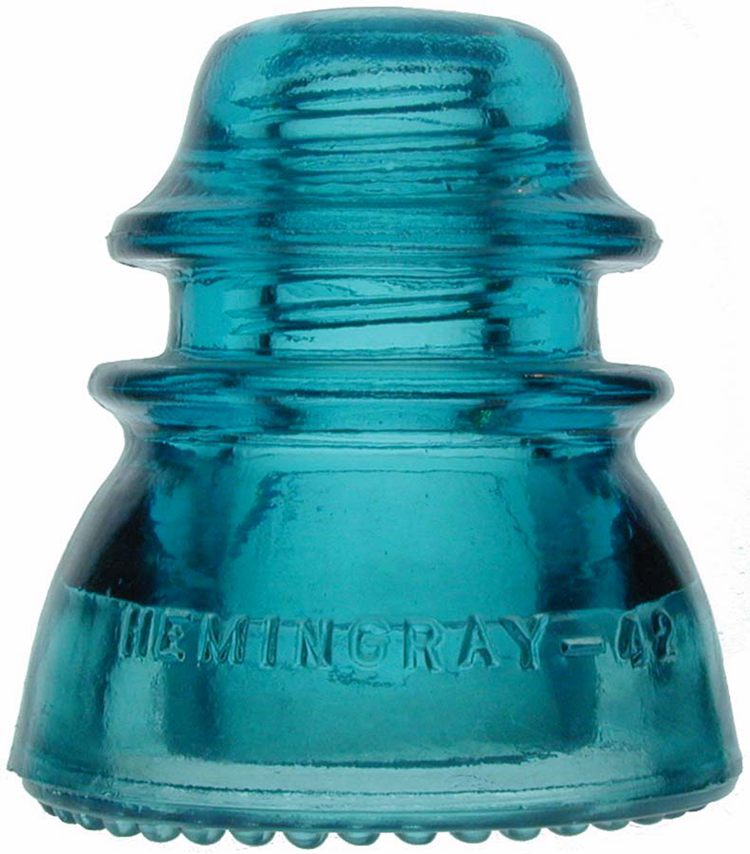 For the standard style, the drip points along the bottom of the glass base were round. It's sharp for rarer variations.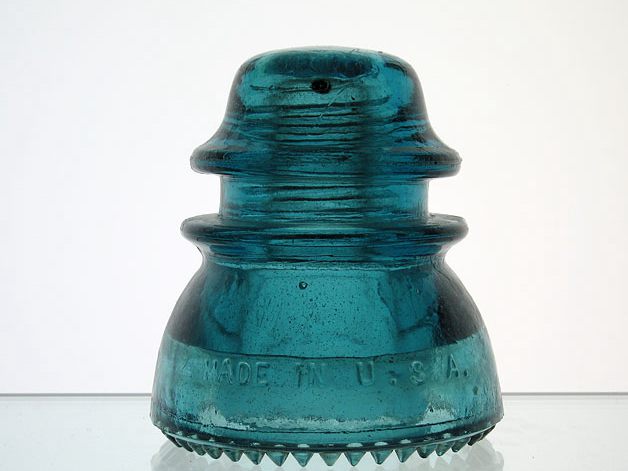 The insulators were also produced in a variety of colors. Some colors were more rarely produced, like 'cobalt blue,' which only adds to the value of this antique insulator.
For example, if you sketch a value comparison between Hemingray blue colored glass insulator and the Hemingray cobalt blue glass insulator, you will find a striking difference between their value.
Cobalt blue antique Hemingray glass insulators can cost up to as much as $500.
How to locate the original Hemingray 42 glass insulator?
| | |
| --- | --- |
| Manufacturer | Hemingray |
| Style number | 42 |
| Size & Weight | 3 5/8″ Wx 4 1/8″ H |
| Production date | 24 oz |
| Usage | 1921-1950's |
The old Hemingray 42 was first produced in 1910 got replaced by the Hemingray42 1921 version.
What makes Hemingray 42 different from other glass insulators is that it is made up of a double petticoat type. The double layers provided protection from rain splashes as well as prevented their contact with the wire groove.
Here are some common identify markers to identify Hemingray 42 Glass insulators.
Consolidated Design Numbers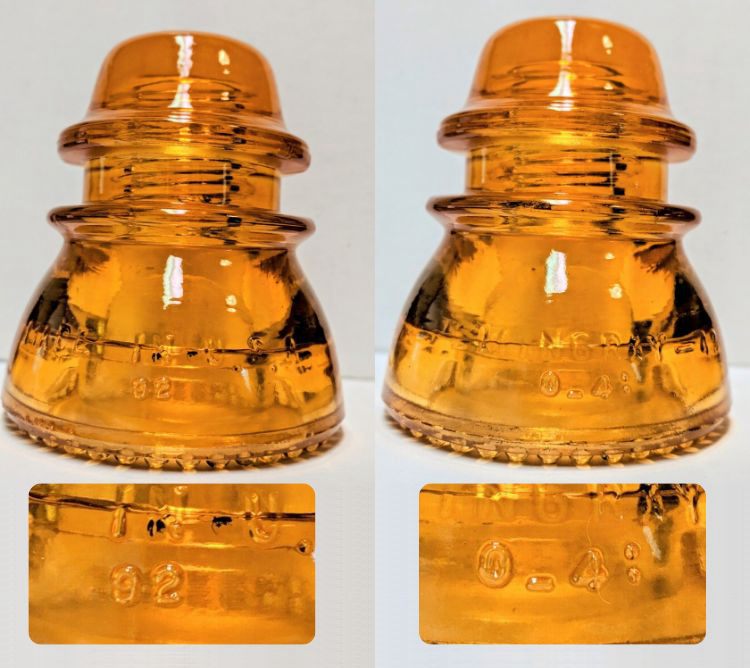 All insulator manufacturing companies assign a consolidated design number, also known as a CD number, to each unique insulator design. CD number is a helpful tool for discovering and learning more about the style of the glass insulator.
On the original Hemingray 42 glass insulator, there is a date issued on the front of the glass. Name and style number are plainly printed on the insulator, and both are stamped on the glass.
Other indicators, such as numbers, dashes, and dots, might also be present.
The numbers and other markings on an insulator can help you establish a manufacture date for it. After 1933, the company began to include these marks to indicate the production date.
However, to locate Hemingray 42 glass insulators, you have to look for specific numbers. Previously, the company printed single digits on the glass, e.g., O-9, O-4, which meant the years 1939 & 1934.
Later, the corporation discovered the single-digit year number would no longer work in 1940. Thus it began using the range 23–42 (and other numbers).
They switched to labeling the back of the insulator with a mold number and a year number. Since the year number comes after the set of numbers, in the case of 23-42, the insulator mold was created in 1942.
While shopping for Hemingray42, you can easily locate the required digit.
By looking at the Cd number of the Hemingray glass insulator, you can easily tell about its authenticity and value.
Variations of Hemingray 42
Common Colors: Blue, Red, Ice blue, Aqua, Ice green, Cobalt blue, Hemingray blue, Sage green, and clear.
Hemingray insulators come in a wide range of hues. Hemingray blue, a very clear teal hue that many people associate with glass insulators, is the most popular color for Hemingray-42 insulators.
But you may also frequently get them in aqua, light green, transparent, and pale ice blue. Deep, clear green, and ruby red, two tones that resulted from the changing of glass colors.
Bases
Hemingray 42 glass insulator came with either a round, smooth base or sharp drip points.
The area surrounding the insulator's bottom outer circle (skirt) is known as the base.
Hemingray produced glass insulators' bases in 4 different varieties: Sharp Drip Points, Round Drip Points, Corrugated Bases, and Smooth Bases are the first three types of drip points (SB).
Most Hemingray 42 glass insulators come in round shapes, and most have drip ends like a soda bottle at the bottom.
Embossing Styles
Over time, Hemingray used various embossing styles for their glass insulators. In the very beginning, a hand-engraved embossing style was used, which transformed into metal stamps.
Following are some of the important embossing styles that mark the antiqueness of these insulators.
1. December Patent Styles
You will find this type of embossing style on glass insulators produced between 1871 to 1887. The embossing on each of the insulators was hand-engraved at either the front crown or the front skirt of the insulator.
2. Early Script Style
This type of embossing style became popular on glass insulators produced between 1887-1894. These were also hand-engraved letters, but the letters were bigger and more prominent in comparison to the December patent style.
3. Transition Style
Glass insulators from 1893 to1895 have this form of embossing style where a patent date was also added to the embossed text.
4. New Script Style
With the New Script Style, the embossed name of the company changed from H.G.Co to Hemingray. New Script Style was widely used on glass insulators produced around 1895-1898. Hand-engraving continued to be used for embossing the patent on the insulators.

5. Prismatic Style
Used for only a handful of years, from 1895-1901, this embossing style is especially appealing to antique collectors because of its sharp design as well as a limited number of glass insulators carrying them.

6. Large Stamped, Old Style
Another antique embossing style used on early Hemingray glass insulators was large stamped, old style. This style continued to be used for embossing insulators from 1902 till 1919.
This embossing style is also unique in the fact that instead of hand-engraving, a metal stamp was used for the first time to emboss the insulators.
Now that we have established some of the distinctive characteristics to indemnify original Hemingray glass insulators, let's move on to how you can determine the value of the Hemingray glass insulator.
Hemingray 42 Glass Insulator Value
The rarity of the Hemingray42 glass insulator defines its value. The rarer the features are, the more worthy the product is.
You should also pay great attention to Hemingray 42's unusual editions because they are expensive and have a lot of value.
Some of these rare characteristics include:
Unique appearance like "carnival glass."
Rarer hues, such as deep and two-toned shades
A smooth round base
Distinctive embossing collection
If an insulator is in good condition, it will fetch a higher price at auction. Common Hemingray 42 cobalt with no damage or marks can sell for $20 or more at auction.
Hemingray 42 might not be very valuable when sold separately. However, some collectors opt to sell a number of insulators in conjunction with a larger collection.
Following are some of the videos following which you will be able to assess the value of collecting glass insulators and their historical significance.
Where To Find And Shop The Vintage Hemingray 42 Glass Insulator?
There are plenty of platforms from where you can buy antique glass insulators.
We have listed down some specific places where you can find the best and original Hemingray42 glass insulators.
Some of the common hotspots to find Hemingray-42 are antique stores and auction sites like eBay, Worthpoint, and Etsy.
Depending on their condition, model, and color, you can evaluate their worth and place your bid.
Additionally, you must know that Hemingray42 also comes in a variety of insulator styles where it is sold depending on the shop and the seller.
Let us deep dive into the right places for you to make your purchase.
Hemingray42 Glass Insulator On eBay
Being one of the most popular and well-established e-commerce sites online, eBay sells a variety of products online and provides services like international shipping.
Users can also offer goods for sale, and other users can then place bids on those goods in the auction. Despite the option to bid, eBay recently added the ability to purchase products at face value and get them shipped to your place.
We have surfed eBay and have created a list of some original and valuable Hemingray 42 glass insulators for you to make a purchase.
1. Hemingray Glass Insulator #42 Aqua Blue Green Beaded Bottom Made In USA Vintage
This glass insulator is one of the original products of the Hemingray42 glass insulator since the digits are printed on the front of the glass. The digits show the product is credible and original.
This product falls under the category of a "buy it now" product instead of a product that is sold for bidding. You can purchase it at face value and ship it. This original product is worth $29.0 dollars.
The 99.8% of seller reviews entail the credibility of the seller and the product, which is budget-friendly. Considering the product's antique design, its price is justified.
2. Hemingray-42 Glass Insulator Made In Usa Vintage
This product also falls under the category of "buy it now." It comes in a dark faded green color, depicting its antique existence. It has small glass drips at the bottom instead of a clear round bottom.
This particular product is worth $24.0 dollars, excluding international shipping. It is comparatively cheaper than the first product since its condition is old and antique. Even the color of the product is a bit faded.
However, the originality of the item is not compromised. The older it looks, the more antique it is. And it is best for the antiquary to collect such a valuable product.
The owner of the shop has 99.70% positive seller reviews, which makes it a credible place to shop from.
3. VINTAGE/ANTIQUE Hemingray No.42 Blue/Aqua Glass Insulator Made In The USA
This double petticoat type is worth $14.99 dollars on eBay. It can be found in the category of bidding, aka "make your offer" and "buy it now." This product looks slightly old and used since it is preloved and was owned by someone else.
There are some spots on the front of the glass and tiny scratches. The overall outlook of the glass insulator makes it more unique and antique. Despite being old, the product's price is lower than expected.
On the internet, most Hemingray42 glass insulators are worth hundreds of dollars, depending on how antique they are. The seller seems a credible person to sell it since he has gotten 99.6% positive reviews.
Perks Of Buying From eBay
You can purchase the item in the "buy it now" category or even make an offer of your own. This option is available for those consumers who like to bid at auctions. It gives the users a choice to choose between both categories of buying the original Hemingray42 insulator.
Hemingray glass company products on Worthpoint.com
The mold number 42 is ingrained on the product's front, making it a more credible and authentic article to purchase.
Worthpoint is a platform that supports both supply and demand of the customers. However, WorthPoint is obviously not free to use. And you're at the right place if you've been wondering if some platforms or brokers offer better perks, better pricing options, or a bigger selection of goods.
WorthPoint has hundreds of antique products and collectible items at various price ranges. The following links provide access to different Aqua, Ice Blue, Sage green, Cobalt green, Ice green with sharp drip points, round and smooth base, and a variety of Hemingray 42 glass insulators.
You can surf wide varieties of Hemingray 42 on Worthpoint according to your choice.
Thrift stores/Antique stores
Thrift stores are also a great way of finding perfect antique glass insulators for your homes.
By buying a Hemingray42 glass insulator from a thrift store, you will not only be buying an addition to your collection of glass insulators but will also be giving money to a charitable cause.
There is a chance that you might come across a valuable piece at a lower price. Although it is a hard task to find your desired product in thrift stores, it is always worth exploring if you happen to find one.
Auction Sites
There are numerous auction sites available like Insulators.info, where you can find the potential auction places mentioned along with the dates and timings to choose a suitable event for you to visit.
You can easily find Hemingray 42 glass insulators at auction events and claim them by bidding your price.
With a whole host of different colors, shapes, and sizes, it's no wonder people from around the world are eager to collect, buy and sell these antiques.
Once again, if you're considering expanding your collection, make sure that you have done your thorough research and have enough information about your targeted antique so that you can easily differentiate the original from fake and as well as bid a suitable price for it.
Beware of Fake Hemingray 42 Glass insulators
Some sellers sell fake glass insulators fabricating the appearance and sometimes even the structure of the glass.
Some people even attempt to offer copies or restored glass insulators to dupe buyers and customers into thinking the glass is more valuable and original. To raise the value of the insulator, they could fix chips or cracks or dye it a peculiar color.
We have already outlined above some of the unique features of the Hemingray 24 glass insulator to help you identify the original from the fake.
However, if you are still in doubt, you can always visit Hemingrayinfo.com and verify your purchase or purchase product. Often some selling brands or platforms provide product specifications which makes it easier for the customer to locate the originality of the product.
Finding Your Perfect Antique
Finding the perfect Hemingray 42 is hard, but with the right knowledge and tools, you can find the perfect addition to your collection of glass insulators.
However, your search for an antique Hemingray 42 glass insulator should be a lot less difficult now that you know how to spot a fake insulator from an antique, the different styles that exist, the different colors they come in, and what specifications they carry which makes them unique from other glass insulators.
We have also mentioned some shops with the specific and original Hemingray 42 insulators that can help you in buying your desired insulator without the fear of any deception.
If you still have some queries, you can reach out to us through comments or email. Your thoughts and ideas are always welcome.
FAQs
What were Hemingray insulators used for?
To shield one object from another, whether it is a battery platform, power line, lightning rod, telephone pole, or telegraph pole.
Was my insulator manufactured by Hemingray?
If you want to know whether your glass insulator is manufactured by Hemingray, you can refer to this chart and find it out for yourself. The chart entails a variety of embossing that fall under the category of Hemingray glass insulators.
Which Hemingray insulator do I have?
Your Hemingray insulator is embossed with a style number (such as HEMINGRAY-42 or № 16). The style number tells which model of Hemingray glass insulator you own.
What do the numbers on my Hemingray insulator mean?
The numbers on the Hemingray insulator entail the model number manufactured in a specific year. Refer to this site and get more information on your purchased product.
How do I clean my Hemingray insulators?
Use Oxalic acid (wood bleach crystals) and water combined in a 2-gallon plastic paint bucket. For every 1.25 gallons (20 cups) of water, approximately 0.5 pounds of oxalic acid is an acceptable ratio.
Never use oxalic acid with carnival glass, flashed amber, opalescent glass, or insulators with metal parts. You'll destroy them.
Where can I sell my Hemingray insulators?
You can sell your Hemingray insulators on eBay, Etsy, and Amazon, but first, you have to register yourself as the seller of the product.