Due to childhood love for these adorable creatures, the price of Steiff stuffed animals has remained stable for the past 100 years. Some of the first "Teddy" bears, made in 1902 by Margarete Steiff, have sold for more than $100,000. Dust off those stuffed animal bags and see if you have one of these cherished bears stashed somewhere in your closet.
Teddy Bears: A Brief History
An important invention of the twentieth century was the teddy bear, which has been bringing joy and solace to children and young adults for more than a century.
Stieff Bear
The history of the teddy bear has been the subject of two different theories. One was made by German toymaker Richard Steiff, who is claimed to have been inspired by seeing bears in a circus while traveling America.
This inspired him to create a brand-new toy: a bear with movable arms, jointed legs, and a doll-like head. At the Leipzig Spring Toy Fair in 1903, he showed his avant-garde toy called Friend Petz.
Michtom's "Teddy's Bears"
President Theodore (Teddy) Roosevelt went on a fruitless hunting vacation in the USA in 1902, meantime. According to the legend, his helpers had brought him a bear cub to shoot in order to make up for his failure, but he declined.
The next day, a cartoon depicting the occurrence was published in newspapers across the country. Morris Michtom, the proprietor of a Brooklyn confectionery shop, saw it and was inspired to create Teddy's bear as a new toy.
His wife manufactured the jointed bears after he came up with the design. Teddy's bear, which was sold in their candy shop, became popular right away. When his company had to shut due to its amazing popularity. The largest toy firm in the world at the time, "The Ideal Novelty and Toy Company," was founded by Michtom.
Teddy bears have evolved from their simple origins to become one of the the more well creatures ever, with toy companies in Europe, America, and Britain all producing distinctive variants of the stieff teddy bear.
Rising Teddies Popularity
One of the most well-known teddy bear collectors was actor Peter Bull, who is likely credited with contributing to the current level of popularity for bear collecting.
With his collection of teddy bears, which included the bear shown in Brideshead Revisited, he toured the country.
In this undated image published on June 4, 2007, in London, we can see Aloysius the teddy bear. Aloysius, now 100 years old, is too worn out to go back to Brideshead.
Auctions for Teddy Bears
A Sotheby's auction in 1982 was the first to sell teddy bears. An auction held by Christie's in London in 1994 saw the highest-ever price for a bear. A total of £110,000 (British Pounds) were generated. An auction was held by Colonel Bob Henderson, and the item was purchased by a Japanese collector. The bear is claimed to have been given a first-class ticket to return to Japan.
Although they are brand-new and manufactured for multi-millionaires, there are costly teddy bears available.
Types of Antique Teddy Bears
The market is filled with many varieties of vintage Steiff bears. The value will change depending on the type you own. Here are the most typical categories of vintage teddy bears for your reference: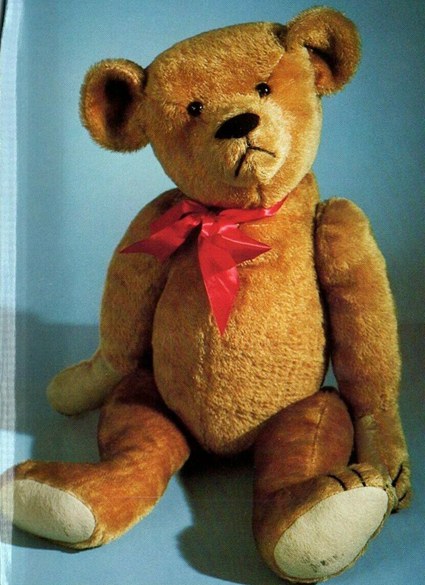 The Ideal Novelty and Toy Company created the first American bear known as The American Bear in 1902.
The French Antique Bear was created in 1919 by Le Jouet Champenois, which is credited with being the country's first manufacturer of stuffed animals.
The British Antique Bear was produced by the London-based J.K. Farnell firm between the years of 1906 and the 1960s. They were Britain's first teddy bear makers.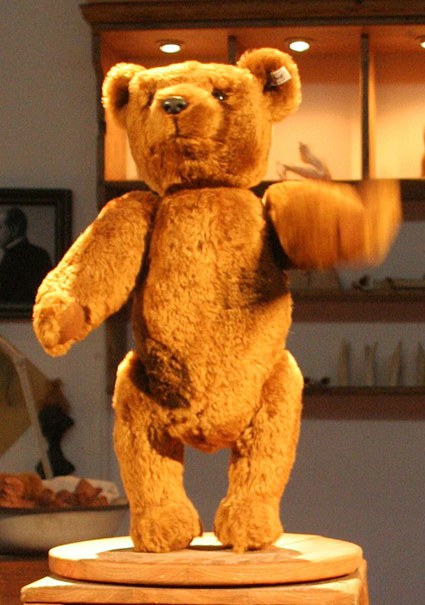 The German Antique Bear, made by the Steiff Manufacturing Company in 1902, cost five cents at the time it was released. Its market worth is $1,000 right now.
Identification of Vintage Stieff Bear
The original Steiff bears, which were the forerunner to the adored teddy bear we know today, first appeared on the market in 1892. Antique Steiff bears are highly collectible, therefore it's a good idea to be aware of some of the fundamental traits of real Steiff's before selling or purchasing one if you believe you have one or are considering buying one. The Steiff bear is the iconic toy bear collected all over the world. You can use a quick guideline for the identification of a vintage Stieff bear whether your stuffed animal is actually a Steiff before rushing to take it to the appraisers.
Metal Button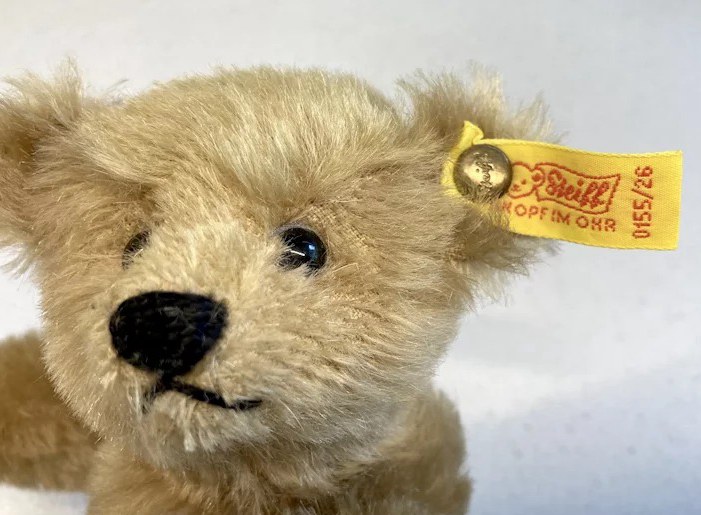 Each Steiff bear has a metal button affixed to the left ear. Look for it. Steiff began including these buttons in their goods in 1904. Over the years, different metals, such as nickel-plated, iron, brass, and, for special limited edition bears, gold-plated, have been used to produce the buttons. One of the first Steiff bears is identified by a nickel-plated button without raised lettering.
The Steiff bear is the most popular toy bear in collections all over the world.
One of the first Steiff bears is identified by a nickel-plated button without raised inscription on it.
Tags
Either look for tags made of cloth or ones sewed into the fabric in the part of the chest. Look for printing on the tag that says things like "Steiff original," "Made in Germany" and "Made in US-Zone Germany." Model numbers will be on certain tags. The color of the tags has changed over time, ranging from white to red to beige to yellow.
In the area of the chest, either search for textile tags or ones is woven into the fabric.
Check the tag for marking that reads "Steiff original," "Made in Germany," and "Created in US-Zone Germany."
Body Material
Analyze the bear's body's manufacturing material. Mohair was used to make extremely antique bears. The bodies are built using synthetic fiber, which has been the standard since 1947. Verify the contents of the body's stuffing. They were filled in 1904 with wood wool, commonly referred to as excelsior, a type of slivered wood shaving previously employed for box packing. Additionally, the Steiff bears featured voice boxes. Foam rubber and fake snowflakes were first used as filling in 1960. The soft synthetic filling has been used since 1970.
Verify the material of the body's stuffing.
Foam rubber and fake snowflakes were first used as filling in 1960.
Eyes
Check out the materials used to make the eyeballs. Old shoe buttons from the Victorian era were once used as eyes on Steiff bears. Glass eyes then followed around 1910, and starting in 1960, bears have had plastic eyes sewed on.
Pads and Claws
Take a close look at the bear's claws and pads. The 1904 bears featured five claws and felt-pad feet. In 1906, each paw's five claws were reduced to four. Since 1976, jersey knit fabric has been used to make the bears' pads. Since 1970, there have been no more claws.
Take a close look at the bear's pads and claws.
The bears' pads have been composed of jersey knit fabric since 1976.
Arms and Legs
The bear can move its arms and legs. Initially, the arms and legs of Steiff bears were immobile but later on, the bears were given movable joints. Some of the cutest Steiff bears are those that stand on four legs and have spoked iron wheels that can be pulled or ridden by very little children.
Furs
Initially, mohair fabric was typically used for bear fur; however, after the 1950s, other fabrics, such as silk or cotton plush, were also employed. Early bears of high quality had felt paws, whereas bears of lower quality had paws made of brushed cotton. Some bears had paws fashioned from velveteen, cotton fabric with a leather-like appearance, or simply from utilizing a different color of plush starting in the 1930s.
Steiff Bear Values
The price of a Steiff bear has remained consistent over the years, and bears in good condition can fetch hundreds of dollars. One such 1909 bear is valued between $520 to $800 and is currently on the market at Christie's Auction House in London. These bears' worth fluctuates according to their condition, just like other antiques from the era. Conversely, bears with less evident signs of wear and tear would sell for closer to the $300 and $400 levels. These bears also include complete Steiff buttons.
In contrast, antique Steiff bears made in the 1950s to 1980s have much lower market values because of their age and less realistic appearance. The Old Teddy Bear Shop, which specialized in selling vintage and antique Steiff bears, places an average value of $60 for each bear made in the 1950s and 1960s. Even though these softer, rounder bears may not sell as well as their stiff-backed counterparts, there is still a sizable demand for them among toy collectors.
Steiff Bears that Sold for Expensive Prices
The mohair teddy bear you just took out of the attic suitcase, nevertheless, might be worth just as much or even more than these expensive auctions.
| | | |
| --- | --- | --- |
| Stieff Bear | Auction Year | Cost |
| | 2000 | $182,550 |
| | 2000 | $156,273 |
| | 1994 | $100,000 |
| | 1908 | $160,000 |
| | 1925 | $66,000 to $105,000 |
Valuable Stieff Bears
Leading 10 Expensive Steiff Bears includes:
| | |
| --- | --- |
| Stieff Bear | Cost |
| Louis Vuitton Bear | $ 1025748.97 |
| Teddy Girl Bear | $ 133347.5 |
| Titanic Mourning Bea | $ 131296 |
| Happy Teddy Bear | $ 123090 |
| PB28 Rod Bear | $ 1.0258 |
| Diamond Eyes Bear | $ 9.2336 |
| Harlequin Bear | $  72828.25 |
| Blue Elliot Bear | $ 59505.1 |
The value of stieff bears fluctuates constantly, but there are a few ways to obtain an idea of the range of prices that particular bears can fetch. You can either subscribe to auction houses that organize teddy bear auctions or look at the guide pricing for the bears.
Record Keeping
If you're a dedicated teddy bear collector, you'll need to know how much you spent for the bear as well as other significant details that could influence its sale in the future. This may sound very dull, but a collection can quickly outgrow your memory.
The more information you have, the easier and more extensive insurance you will be able to obtain since insurance firms like thorough facts when insuring specialized collections.
It is possible to preserve records on paper or electronically, however as a general guideline, the following should be recorded:
Paid price
Who made the purchase and when?
An image of the bear (front and side view)
Design a bear
Manufacturing date
It is also prudent to notice the following for the most dedicated collectors:
Label specifics
Any alterations and repairs
Materials, such as glass eyes
Dimensions
History, if relevant
Ensure that each of your records has a unique number and that each bear has a corresponding number.
Stieff Bears collectibles maintenance and repair
If your bear is a treasured memento from your youth, you will still want to take good care of it and prevent it from getting worse.
Dealing with Bugs and Insects
If a collectible teddy bear has insects like parasites, moth larvae, or furniture beetle larvae, you should take precautions when buying it.
The bear should be placed in a plastic bag with no holes, sealed, and placed in the freezer for a few days. Leave the bear alone for at least a week if it is a large bear. As an alternative, you might fill the bag with insect or moth repellent and keep it closed for around two weeks.
If the bear was frozen, lightly brush its fur once it has been taken out of the bag and dried completely.
Regular Cleaning
Regular cleaning with vacuum and sponge washing can be done. But with proper care to make tour Stieff bear looks clean and free from insects and infections.
Repair
Always have a professional restorer fix expensive bears. Unprofessional repairs may reduce their value and, in some situations, render them unsellable.
If you choose to do your own bear repairs, make sure to follow the original's instructions to the letter. Avoid attempting to use different eyes or stitching.
If your bear has exposed stitches and is otherwise damaged but you are unable to repair it yourself or have it fixed, protect it to prevent further harm. Utilize infant clothing, such as mittens, booties, or a bodysuit.
Value Your Steiff Bear by Visiting an Appraiser
It is crucial to have your potential bears valued because a wide range of characteristics, including the fur condition, date of manufacture, historic significance, and rarity, affect the values of Steiff bears. Experienced appraisers like Dr. Lori Verderame can assist you more accurately determine the worth of your vintage Steiff teddy bear, whether you decide to sell it or retain it. The first step in determining if your closet bear is merely a family companion or a priceless artifact is to pursue authentication.
Some FAQS About Stieff Bears
How to Recognize an Antique Teddy Bear's Authenticity?
There have been a lot of imitations or copies of vintage teddy bears over the years. Collectors of vintage teddy bears should properly authenticate them before purchasing them because the majority of reproductions feel and look like a genuine model. To be on the safe side, check the bear for any tags or labels that may be fastened to it. In the dearth of it, you should have an expert inspect the object first to look for wear and tear or other clues that it might be a genuine antique or replica.
Why are Stieff Bears so expensive?
Due to the high cost of production and importation, mohair bears like those made by Steiff sell for the most money. For both handcrafted and mass-produced bears, the acrylic pile is frequently utilized. Steiff, the second-oldest still-operating German toy business, has influenced how people play around the globe.
How is the value of a Steiff bear can be determined?
The item must be in New Condition or be NRFB (never removed from box) in order for Steiff Values to apply. Current Retail Prices, as well as Closed Auction Sales, are used to determine the Steiff Value.
Why is Steiff teddy bears so unique?
Internationally famous for its extraordinary quality, Steiff continues to use time-tested materials and production processes to produce its one-of-a-kind and highly sought-after goods. Since 1880, Steiff has produced plush toys and collectibles of the highest caliber.
How can I verify that my Steiff bear is genuine?
The left ear of each Steiff bear has a metal button placed into it. Steiff installed these buttons for the first time in 1904. Nickel-plated, brass, iron, and gold-plated for special limited edition bears are just a few of the metals used to make buttons over the years.
What type of fur is on a Steiff teddy bear?
Teddy B is painted in the traditional brown hues, has shoe button eyes, stitched lips and nostrils, a shaved muzzle, long arms and legs, stitched claws, felt paw pads, and is clothed in the Teddy B clothing made of cotton. It is tan in color as well. Despite some minor fur loss, the condition is great overall.
How can I determine the value of my teddy bear?
Determine an Antique Teddy Bear's Age
Identify the manufacturer, if you can.
The fur or fabric can indicate age.
The Stuffing Is Very Significant.
Teddy bear shapes evolve over time.
The age of a teddy bear can be inferred a lot from its eyes.
A Unique Nose May Be Found on an Older Teddy.
Do Steiff bears qualify as collectibles?
It brings enormous joy and satisfaction to collect Steiff Teddy bears and other animals. No other collectible provides the owner as much joy as this one does, after all. German-made Steiff collector products hold a unique place in the hearts of their owners since they are frequently based on ancient or antique designs.
What is the value of vintage Steiff bears?
A twenty-inch Steiff teddy bear selling at auction for roughly $10,000 may go for up to $500 per inch of bear in perfect condition from the same era. Original Steiff Bear 28 PBs from 1904 can fetch up to $40,000.
Which stuffed bears are valuable?
The most expensive teddy bears ever include:
Teddy Girl Steiff Bear Sold: 1994.
Louis Vuitton Bear and Steiff Bear. Sold: 2000.
Steiff stuffed bear. Sold: 2000.
Titanic Mourning Bear by Steiff. Sold: 2000.
Happy Anniversary Teddy Bear from Steiff. Sold: 1989.
Harlequin Teddy Bear by Steiff.
Diamond-Eyed Bear by Steiff. Sold: 2008.
Teddy bears Elliot from Steiff.
Where to sell and buy from the Stieff Bears in the USA?
In the USA, there are several online shops and websites from where you can purchase the unique and rare Stieff Bears. Also, you can sell your collectibles there. These shops include online Stieff shop, eBay, Amazon, etc.
Why is Steiff bears so unique?
The leading producer of designer toys and collectibles in the world is Steiff. As the inventor of the Teddy bears in 1902, Steiff is perhaps best known for its bears. More than 16,000 unique animal designs have been produced since Margarete Steiff began the company in 1880.
How much money can I earn selling Stieff Teddy Bears?
That is the crucial query, though! There is considerable risk involved with investing in collectibles. The greatest thing you can do is take our recommendations for the bears you should choose. If you invest correctly, you could earn a few hundred Pounds or Dollars, conservatively. To make a profit, you'll probably need to wait a few years before selling.
Our Takeaway!
We sincerely hope that our article on Stieff Bears: Values and Guides is helpful to you and enables you to quickly decide whether a bear is a Stieff bear or not.
In the comments section, you are free to ask any Stieff Bears-related query. We would be delighted to answer your queries.
Thank You!