Since the beginning of time, fishing has been practiced, and antique bamboo fly rods have been a loyal accomplice in making this possible. These fishing tools have survived years of development and evolution.
The average antique fishing rods usually go for less than $50 or even less than $20 in some cases, but an ultra-rare H.S. "Pinky" Gillum rod was auctioned off for $10,030 in 2013 at a Lang's auction. This figure represents one of the highest prices fishing rods have ever sold.
From simple wooden poles that were designed to hold a pole and hook to transitioning into one of the finest implements on the market both for sports and survival. Follow us as we take you through the history of antique fly rods and their journey through human history, how to identify them and their values.
The Fascinating History of Antique Fly Rod
The first-ever reference to fly fishing rod was in a book published by Roman Angler Aelian over 2000 years ago, which explains the Macedonian fishing style made of red wools and amateur hooks tied to wooden branches.
In this period view, the wooden rods were stiff, heavy, and were nothing but ordinary tree bows that weighed almost 20 pounds.
By the 17th Century, these long and heavy branches started shifting shape and took on a modern form with artisans making hollows in fly rods to reduce their cumbersome weight, and this was a notable development for fishing rods.
The makers of fishing rods didn't stick to just one wood; they experimented with various woods and mixed pieces to produce custom-made rods based strictly on demand and human preference.
The materials used to produce fly fishing rods varied according to their geographical location, but the greenheart wood species was a crowd favorite. The 1960s Hardy Fly Rods are now heavy in demand.
However, the Bamboo fly rod became greatly popular in the 18th Century for its lightweight nature and flexibility.
Samuel Phillipe, in 1845 produced the first split cane fly fishing rod that led many American anglers to build new tapers and adjust old ferrule systems to fit into the newly discovered aesthetic.
Hiram Leonard allegedly created the first-ever 6-strips rods, while others have argued that Samuel Phillipe's friend Charles Murphy birthed the concept and brought it to life.
This is a detailed account of fly rod history.
Fly Rods in the 19th Century
The popularity of fly rods continued to leap well into the 19th Century, and co-incidentally, rod makers discovered new techniques of splitting cane and creating tapers with a beveling machine.
A few companies sprung up from this initiative; The South Bend Company, Hardy Brothers, and Montague Company. The split cane style maintained groundbreaking popularity and was the most preferred material for fishing rods until the early 20th Century, when fiberglass and resins took the market by storm.
Dr. Howald broke his split cane rod in 1946 (An honest mistake) and used the fiberglass tube to adjoin it back. Due to this, the Shakespeare company released its pioneer fiberglass rods and tagged it the "Howald Process."
These fiberglass rods had fiberglass materials circling a steel spindle. Filaments of extra fiber, carefully adjoining the centerline of the mandrel, rest delicately over the fiberglass material.
A Switch from Fiberglass to Graphite
Fiberglass fishing fly rods greatly progressed in development and provided a very affordable cost of manufacture and availability of the production equipment to interested buyers and artists. Split cane began to decline drastically but served the needs of traditional anglers.
The move that pushed them into the modern sphere was the graphite fly fishing rods that entered the market for the first time in 1973. Fenwick and Hardy both claimed production credit for the pioneer graphite rods.
Over the next few years, more companies started embracing the new development and refurbishment of the first graphite rods. The introduction of fly rods revamped the fly-fishing industry and influenced the anglers' fishing technique today.
The adjustment in rod aesthetics and advanced creation process aimed at producing stronger, lighter, and more flexible fly rods have led to the fruitful evolution of the trending fly fishing rods. Boron especially was a top pick among materials to create rod blanks, but graphite still outweighs it and would remain so for a long while
The 5 Most Popular Antique Fly Rod Manufacturers to Collect
The facts and figures in this table have been compiled from independent sources and contain verified data. Any similar information is purely coincidental.
| | | | |
| --- | --- | --- | --- |
|  S/N | Name | Release Date | Price |
| 1 | Gary Howells Fly Rod | 1979 | $3,650 |
| 2 | HL Leonard Hunt Special Fly Rod | 1982 | $2,650 |
| 3 | Ed Fody Bamboo Fly Rod | 1996 | $1,500 |
| 4 | Vintage Hardy J J H Bamboo Fly Rod | 1922 | $506 |
| 5 | Wright & McGill Granger Bamboo Fly Rod | 1937-1952 | $429 |
1. Name: Gary Howells Fly Rod
Release Date: 1979
Price: $3,650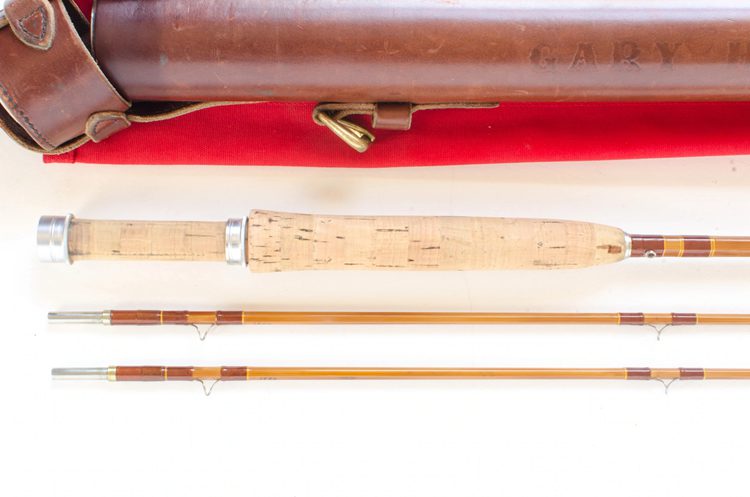 The fishing rod is Gory Howell's rod from his birthday collection and has the 1979 manufacture date written on the body and an accompanying letter proving its authenticity. Gory died in 2000 and passed the ownership to Craig Lynch, who lived in Ridgefield.
You'll find the serial number inscribed on the wrap flat of the tips. Jeff Walker at Winston embossed Gory's name on the rod's body at Winston.
Howell's rods are built to taste and embody the elements of western civilization from the Montana, Wyoming, and Idaho rivers that Gary fished from time to time.
2. Name: HL Leonard Hunt Special Fly Rod
Release Date: 1982
Price: $2,650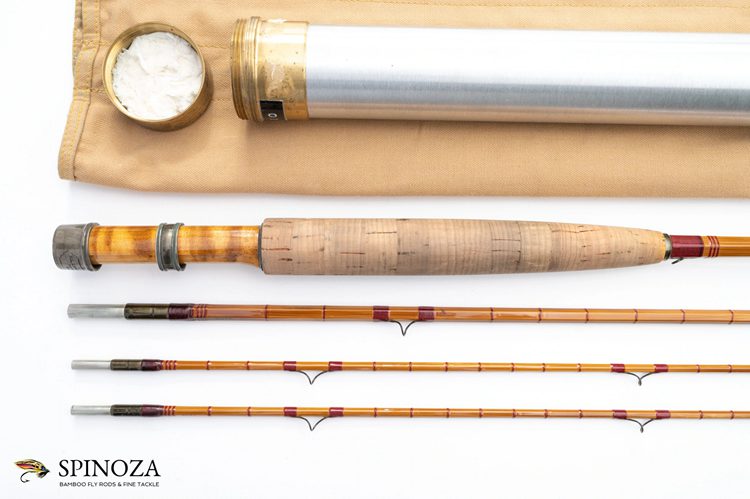 Built for a #5 line, it's a special model with plum wraps, complete intermediate and one agate stripper. The rod was built in 1982, just after Tom Maxwell left the company.
3. Name: Ed Fody Bamboo Fly Rod
Release Date: 1996
Price: $1,500
Ed Fody designed this masterpiece in 1996, and he wrapped the rod in dark brown with orange at its keeper with male ferrule.
4. Name: Vintage Hardy J J H Bamboo Fly Rod
Release Date: 1922
Price: $506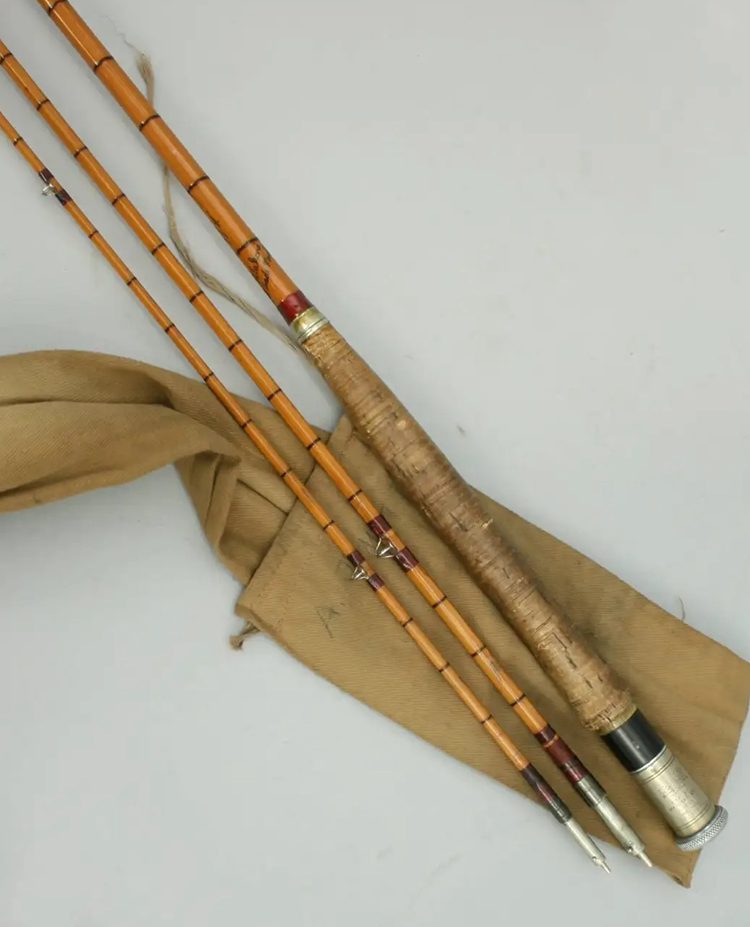 The J J H handcrafted fly rod is a split cane palakona trout fly rod produced by the Hardy company based in Alnwick, England in 1922. There's the 'J J H', 'Palakona' and 'Regd Trade Mark' written boldly in black circling around the shaft
5. Name: Wright & McGill Granger Bamboo Fly Rod
Release Date: 1937-1952
Price: $429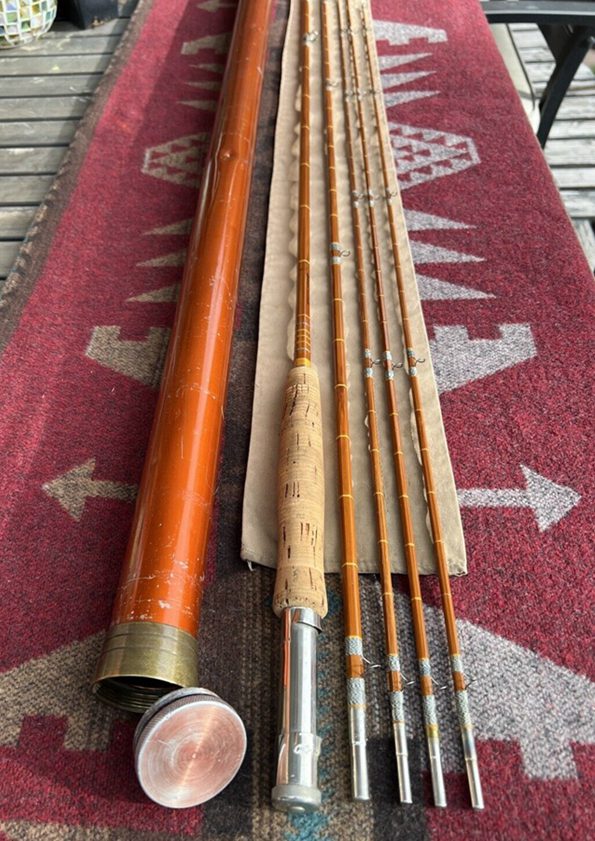 One of the best steelhead rods ever produced, the Wright & McGill rod was a limited-edition item that ran through 1937-1952. It has striking black and white jasper silk wraps and gold full intermediates that has grown to become one of the most popular Granger designs over the years.
Guide to Identifying Antique Fly Rod
One of the major problems collectors or even random people encounter is how to properly identify antique items (Antique Fly Rod inclusive). So, in this section, we've compiled points for you to look out for when trying to identify old fly rods.
Appraise Away
You should always find an appraiser to help identify your fly rod. You'll get the bulk of the information you need from these qualified personnel. Here're a few appraisers you can contact to get the job done.
Marks
Some vintage rods have aluminum tags with artisan names boldly inscribed on their bodies or marked. These tags are either glued or inscribed on the cork handle or wrapped at the base of the bamboo length.
Should in case you can't find a tag, find a way to confirm that it has fallen off or the tag has been removed.
Check The Material
Antique fly rods were usually made from heavy European wood like the greenheart in the early 17th and 18th Century, making them super heavy and hard to lift, while granite and fiberglass appeared on the scene in contemporary times.
Find The Age
You must confirm the date of your fishing rod to properly identify them, and it's as simple as looking up the serial number or researching when and how different artists make their rods. You can search for the serial number online and run it through the database to get the date.
Here's a list of online databases that can help you identify your fly rod.
Contacting the manufacturers via email or call can also help.
Join a Forum
Groups like the Classic Fly Rod Forum have a large arsenal of members and collectors vastly experienced in collecting fly rods and identifying them. Here you can trade ideas and compare models.
Books and Guides
Different authors, explorers, and collectors have written books, guides, and records on fly rods and how to easily identify them. The first guide on fly fishing was authored by Robert Vernables and is titled "The experienced angler." It was compiled as early as 1662.
You can also watch this video for more info.
How to Determine the Value of Antique Fly Rod
A couple of factors determine the value of an antique fly rod we'll be examining below. But first, check out this video.
Appraise your Item
You should consult certified personnel with valid experience if you want to determine the value of your antique fly rod. These individuals have introduced a new level of ease to collectors by supplying them with necessary info regarding antique items.
Find the Age
Is your fly rod a 17th/18th-century beauty, or was it made for modern use with upgraded aesthetics and easy to use the material? These are the questions you must answer, and you can by simply looking for evidence of Bamboo and heavy wood (For antique fly rods) and fiberglass/graphite (For modern fly rods).
Finding the right age will help you establish your rod's status and place a particular value on it.
Check for Marks
Look thoroughly at the body of your antique fishing rod for any maker's mark or signal indicating the maker's name.
A signed fly rod gives the buyer/collector assurance that he's not being defrauded or given a reproduced copy. Some makers' names are highly reputable and instantly attract great interest from buyers and collectors alike.
What's the Condition?
The condition of your fly rod greatly affects the value and leaves a lasting impression in the minds of your buyers. You must be careful while handling your fishing rods as they're old and, as a result, quite delicate.
Broken fly rods with missing parts or faded paint are largely unacceptable for buyers and collectors. Ensure that your fly rod is intact and in the best condition before selling.
Note your Rod Type and the Composition
Fly rods are mostly made from either Bamboo, fiberglass, or graphite, also known as carbon fiber, and can range between $700 to $2500, especially bamboo fly rods. Although saltwater rods created by Tycoon Tackle, Vom Hofe and Kovalovsky sell for high prices, unlike their counterparts.
Bamboo fly rods are labor inclusive as they demand more time to construct and more skills, and the cost of raw materials is on the higher side than graphite or glass rods.
Market Factors
Forces of demand and supply affect antique items just like every other object with a monetary value on them. So, at the end of the day, whether your item will sell well or not depends largely on what the market is saying at that time, regardless of the status of your collectible.
How Rare is your Fly Rod?
Limited edition spare rods or special runs are scarce and hard to collect, making them highly demanded and more valuable than random spare rods.
Make your research and certify that you have a rare find in your hands, and you may have the next big thing in your possession. The C.F. Murphy rod belongs to the rare category as only 15-20 of them currently exist.
Preference
Different buyers like different antique items for different reasons, which goes a long way in determining the value of that item. If you don't fancy a product, it's of no value to you.
Special Features
Special features connote extra characteristics and added parts that set some items apart from the rest.
It may be the color, shape, or extra design. All these extra details attract extra attention and increase the intrinsic value of your antique item.
Popular Vintage Bamboo Fly Rod Manufacturers to Collect
Numerous companies from countries worldwide joined the fly rod frenzy and produced some. We'll be checking them out below.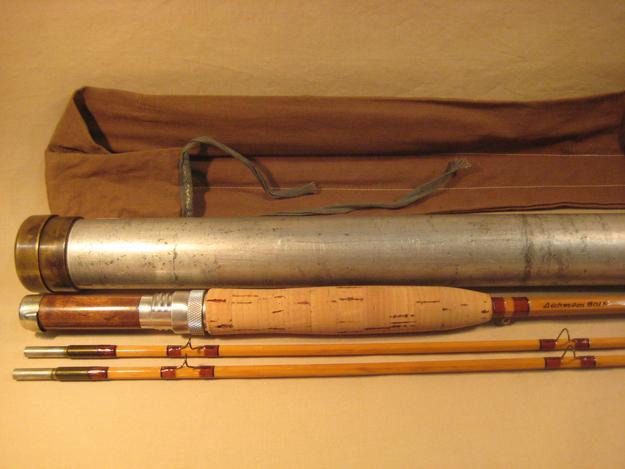 Lyle Dickerson ventured into making fishing rods after losing his job during the Great Depression Era. He perfected the craft of making fishing rods so much that he became a master in the field and was widely recognized among the Midwest section of notable fly rod builders.
His fast two-piece rods were popular, and Lyle Dickerson ruled the 1930s with his smart and simple innovation, especially his custom-made rods.
During the era, Harold Gillum was a highly regarded rod mark and was tagged as a perfectionist who was popular for frowning on the mishandling of fishing rods. His biggest influence includes E.W Edwards, sharing a space with George Halstead, and a strong bond with Jim Payne.
Harold died in 1966 and left behind a solid legacy of rare and highly sought-after fly rods that are now valuable.
3. C.F Murphy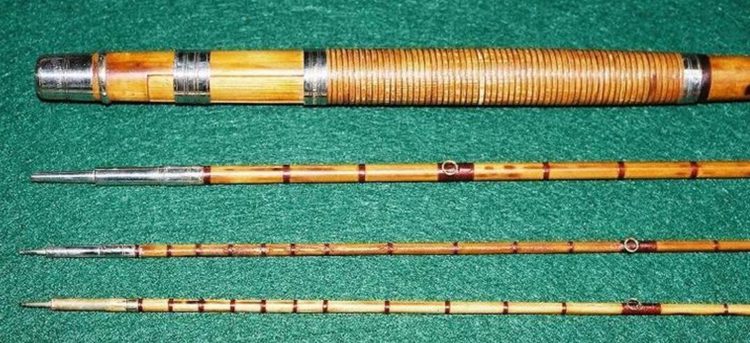 Charles Frazee Murphy was a renowned American fly rod maker who majored in Bamboo. He was one of the first makers of bamboo rods and the first to produce a commercial 6-strips rod. About 15-20 out of the 200 rods made by Murphy exist. They're rare and very collectible.
4. Thaddeus Norris
Popularly regarded as one of the early makers of American fly fishing, Thaddeus Norris (1811-1877) recognized earlier than most people that the English chalk-stream tactics were not particularly suitable for American waterways and rivers.
To salvage the situation, Thaddeus merged his experience on fishing trips around the country and his in-depth knowledge of fly fishing to produce "the American Angler's Book" in 1864.
He propagated the use of a less weighty, one-handed rod over the usual two-hands used by the British. The one-handed rod proved perfect for American rivers and gave way to the development of the split bamboo rod.
5. Thomas and Thomas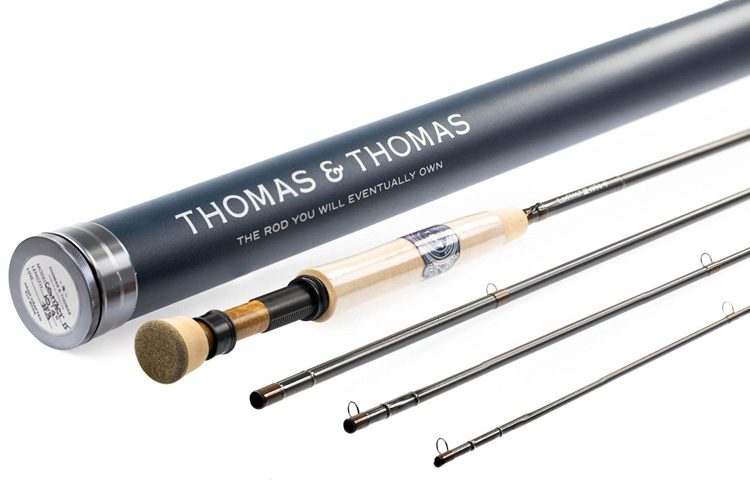 The company was established in 1969 by Tom Dorsey and Thomas Maxwell and early in their careers. They majored in bamboo fly rod construction. The company advanced and began looking toward graphite and fiberglass fly rods. \
All their fly rods are handcrafted and distributed widely in the U.S., with their headquarters in Greenfield, Massachusetts. The Exocet Rod Series is one of their most popular series.
6. Marty Karsetter
Marty karsetter is a darby Montana native who makes handcrafted bamboo rods known as classic examples of fly rods. Marty is also renowned for suave craftsmanship and constantly advocating for the use of these tools.
7. F.E. Thomas
Fred E. Thomas began creating fly fishing rods in 1896 in Maine under the auspices of his employee Hiram Leonard and H.L. Leonard Rod Company and later relocated his facility to Central Valley, New York.
They have the perfect split bamboo rod to meet whatever requirements the buyer or collector has.
8. J.C. Conroy
John Conroy created his company around 1830, making him one of the oldest running fly rod companies whose name is now associated with high-quality rods.
9. Montague Company

The Montague rod company was created in the 1900s, and it became the largest fishing rod producer at that time. The company purchased the Chubb rod company, merged their operation in Montague City, and finally ceased operation in 1955.
10. Heddon & Sons, James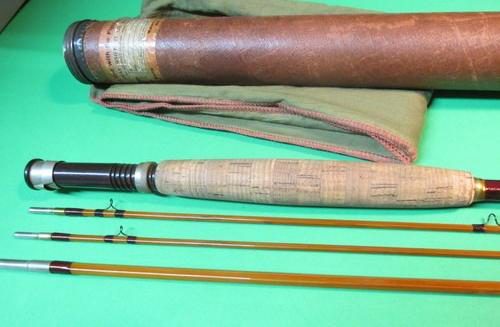 James Heddon and Sons began in 1911 and were vital in creating fishing lures and bamboo fishing rods that were efficient and affordable at the same time.
They had a variety of styles, sizes, and models that captured the attention of collectors and fishers. It stopped production in 1956.
Where to Find Antique Bamboo Fly Rods for Sale
We've listed some places you can collect antique bamboo fly rods should you ever develop an interest.
Antique Stores
You can walk into an antique store and go through their old fly bamboo rods aisle to get yourself a piece of these functional tools. One of the benefits of antique stores is that everything is certified old, so there's no fear that you're getting a reproduced version.
Museums
Due to the rarity and features of some antique fishing rods, they're usually displayed at the museums for admiration by the general public. Museums are the final resting place of most antique items, and they're well preserved, so you don't have to worry about their condition.
The American Museum of Fly Fishing is situated in Manchester, Vermont, and has over 1400 collections of rods from individuals like Babe Ruth, Ernest Hemingway, and the rest.
Online Stores
Online e-platforms like eBay, Etsy, and a host of others have a special section for the sale of antique items. The best thing about this platform is that you have a wider range of items to select from and pick a price best suitable for you.
Auctions
Antique items are mostly sold at auctions but to the highest bidder. The competition at auctions is on the high side. You're fighting with a host of interested buyers to procure a certain item. The prices are usually high, so this may not be the best route if you're looking for an affordable purchase.
Flea Markets
At flea markets, you'll most likely find very old items; they may even be in poor conditions due to long-term storage and wear; you need to be meticulous in your selection process so you don't pick a distorted item.
Yard Sales
Perhaps a neighbor is clearing out their attic and stumbles on a few pieces of old fishing rods to sell. You can grab one for yourself. Yard sales are small, intimate, and very affordable. They're usually held in the neighborhood, so you don't have to go through the stress of traveling long distances.
Parting Words
Fly fishing rods hold a dear place in the heart of sea lovers and collectors alike. In your hunt to get them, we understand that you need all the help you can get, and so we've gathered new tips for you to always hold dear.
To easily identify your fly rods, check the body for brand inscription or embossment.
Antique fly rods are usually heavy, stiff wood, while modern ones contain graphite and fiberglass. Hence, they're lightweight and very flexible.
A museum of fly-fishing rods is located in Manchester with over 1400 pieces of rods on display.