Vintage signs add charm and character to any outdoor space. Intact or weathered, one-of-a-kind or reproductions, they add the perfect amount of history and intrigue to your garden, patio, entryways, walls, and more!
Vintage signs are a very valuable collectible. If you have a vintage sign or a lighted box sign it is an investment that will only rise in value over time.
Check out some of the rarest vintage signs below;
1. Dad's Garage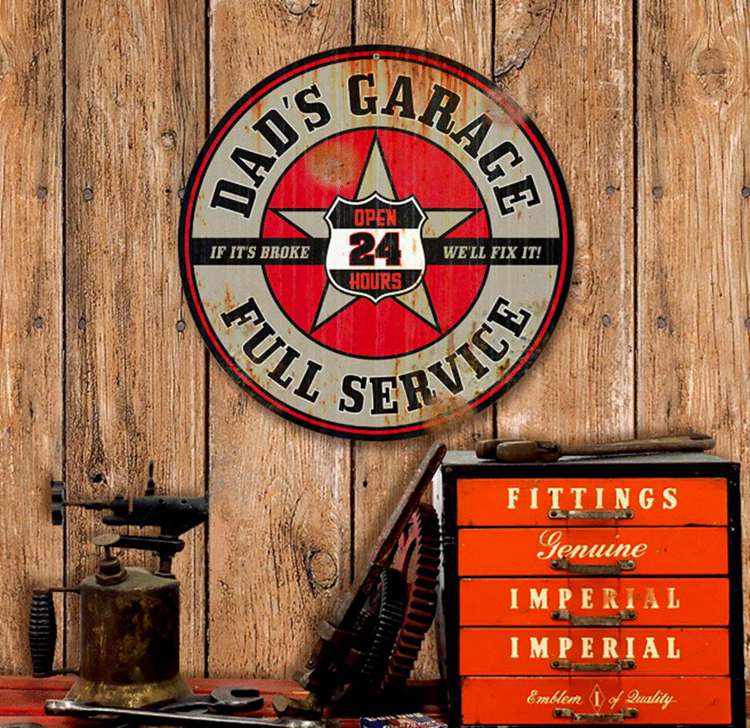 Dad's garage is a fun place for a kid to hang out – in fact, it's probably more fun in Dad's garage than at the mall. Here's an amazing vintage sign for fathers, I think it would make a great gift too if your dad has a garage.
2. Pay Toilet Distressed Bathroom Steel Sign
If you want a classic look, this is the right toilet sign for you. It's made with a vintage design and is meant to look rusty and old. It's made for indoor use but you can use it outdoors if you don't mind the effect outdoors.
3. Coca Cola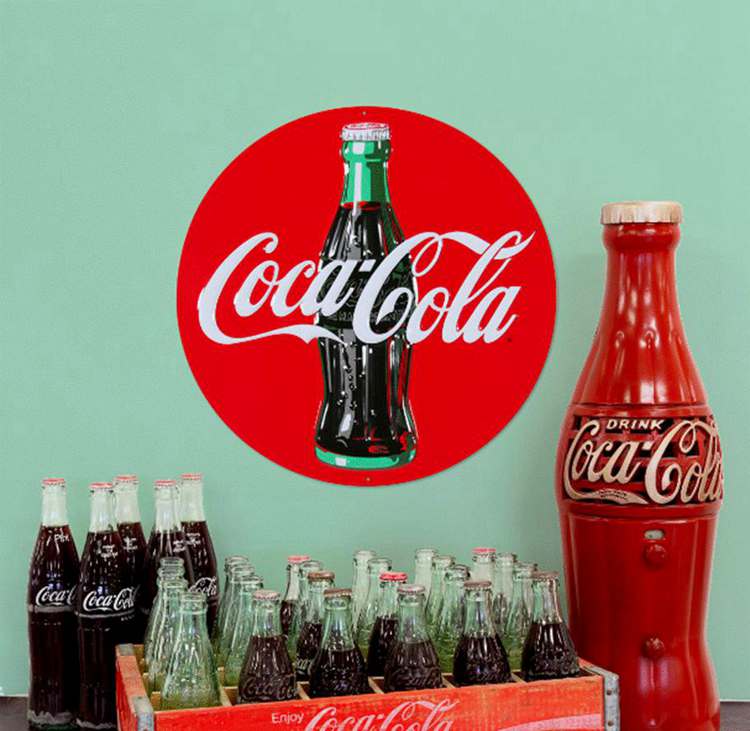 This Coca-Cola ® Disc Die-Cut Sign is a beautiful design with a classic bottle of Coke ® that will look great in all Coke ® enthusiast's rooms. It sure does look like the perfect mixture of vintage and modern.
4. Fresh Eggs in Bowl
If you're looking for a stylish and affordable way to infuse your home or business with a rustic country theme, the eggs in a bowl rustic tin sign is a perfect choice as it offers a unique blend of country and vintage styles.
5. Cadillac Authorized
Do you know how to service Cadillacs? Well, there's a vintage sign for it. This is a rare Cadillac service sign, perfect as a gift for someone who specializes in repairing Cadillacs, this would be a great gift for a repairman.
6. BBQ Vintage Sign
The mere sight of this would remind potential customers how good BBQ was back in the day. This is a beautiful vintage-style sign with a weathered appearance that adds nostalgic appeal to a kitchen or business.
7. Big Daddy's Garage LED Neon Light Sign
Light up your man cave, auto shop, garage, or bedroom with this sign that features green neon lighting around fun graphics and typography. This led neon light sign is a perfect gift idea for Father's day, dad's birthday, or for anyone that loves to tinker in their garage. American Art Decor
8. Pepsi Cola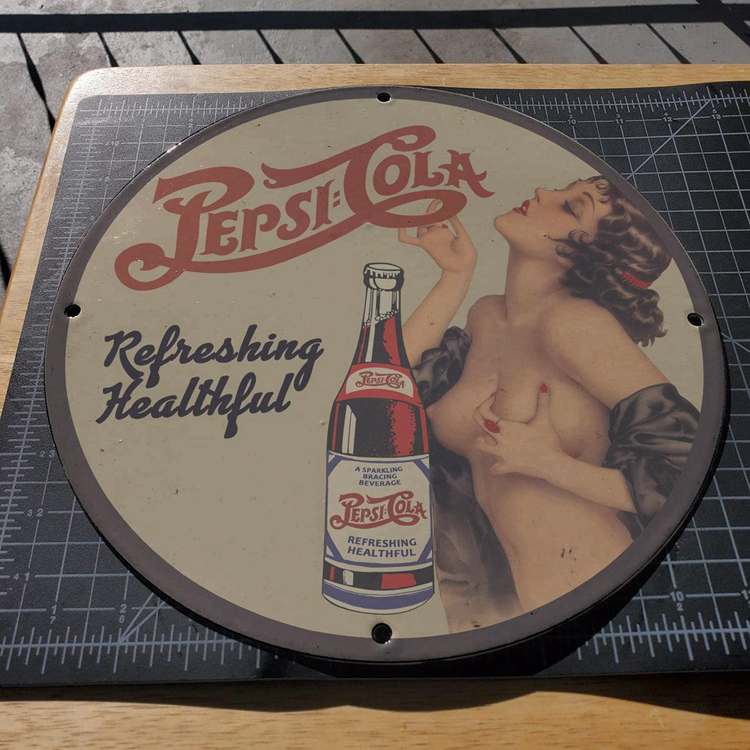 Back in the day, some people would refer to the famous Pepsi drink as "Pepsi-cola". It wasn't until later that people started calling it just "Pepsi" This vintage sign is from before 2000 and would make a great item in your vintage-themed home. Etsy
9. Pilots Drinking Society
This vintage sign is a three-dimensional, gold-painted resin sculpture of a vintage pilot's profile as well as appropriate catchphrases. It also has a Keyhole hanger for easy mounting. Perfect for your aviation-themed bar or man. A simpler time
10. 1970s Mines Sign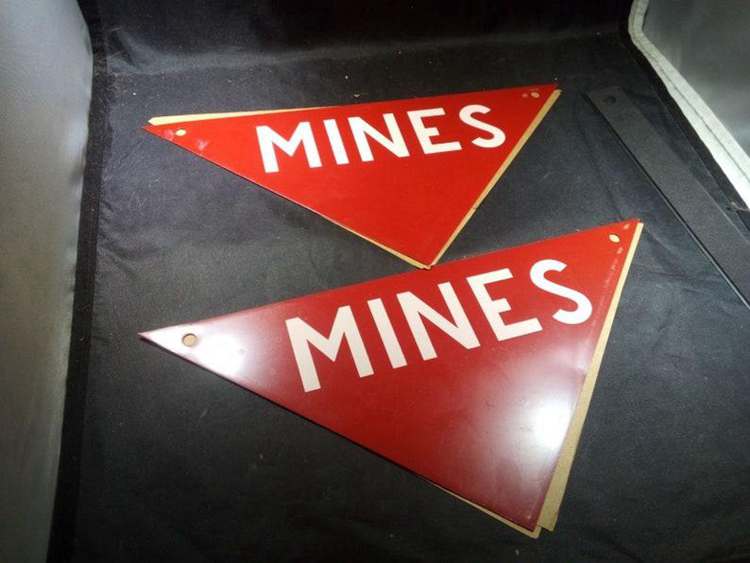 In the 1970s signs like these were used to warn soldiers about the presence of mines in particular areas. Etsy
11. Welcome To Our Beach House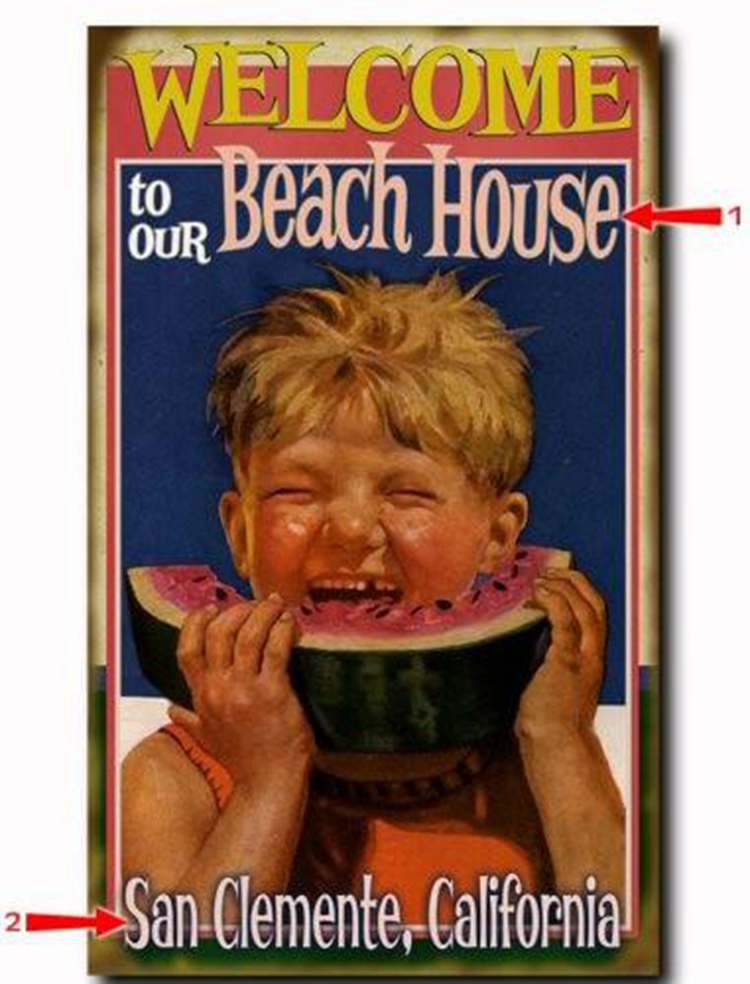 This personalized wood or metal Enjoying Watermelon Welcome sign (Boy) would give you a nostalgic feel. It has full-color retro graphics printed in vivid, and fade-resistant inks. You can welcome friends and visitors to your cabin or vacation home with a fresh summery flair. Asimplertime
12. Coffee Shop Sign Endless Cup
This is a perfect vintage sign from way back. From all indications, this was used in a coffee shop. If you own a classic coffee outlet, you might want to up the design a bit by using something like this. There are other cool coffee signs out there. Etsy
13. America's First Motorcycle Company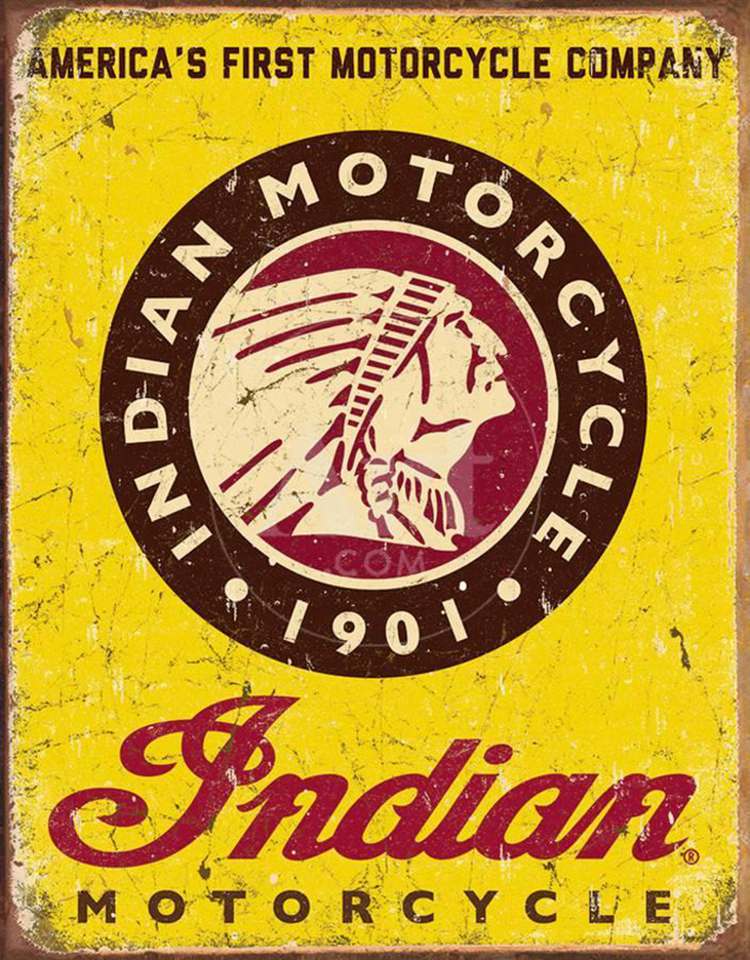 Here's an old Indian motorcycle vintage sign. This versatile and durable tin sign is lightweight and easy to hang. With timeless shapes and designs, tin signs make fabulous additions to any room, whether it's your kitchen, living room, or laundry area. All Posters
Vintage Holiday Signs
Warm, fuzzy feelings of the past are associated with the vintage holiday signs that line the highway during the holidays season.
The cheerful images are suddenly brought on by something innocent on the side of the road. A hint of childhood memories is suddenly ignited. It can be so sharp, so riveting – you don't realize it happened until it's gone.
Here are some of the best Vintage holidays signs from way back.
14. Merry Christmas & Happy New Year
"The La Fleur Family" This cute sign features a Santa Claus figure and a retro look. The sign comes in a choice of wood or metal and can be personalized with a message on a single line. A Simpler Time
15. Night Before Christmas Wood Sign
Remember those old Christmas stories that always begin with "Twas a night before Christmas?" Well, here's one. It is printed on a block of rustic wood, this would make a great vintage sign for your home. A Simpler Time
16. Cut Your Own Christmas Trees
Who doesn't love the retro look of 1950s advertising? This vintage metal sign is an attention-grabbing way to promote Christmas trees. And it won't have people saying "Hey, what are you doing there?!" You'll love the mid-century look of this Cut Your Own Tree Metal Sign. Retro Planet
17. Afro Snow Christmas Stencils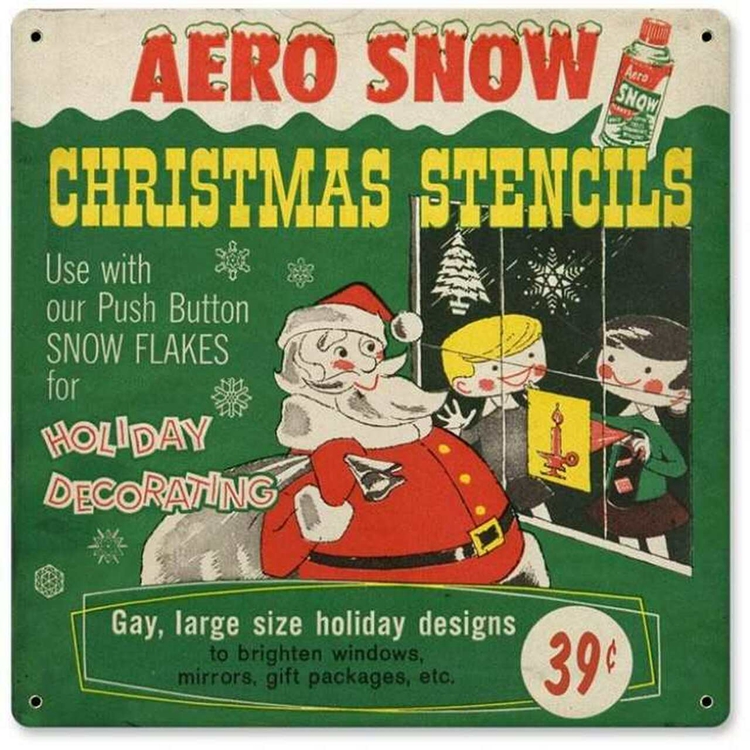 When you were a kid, it looked like every shop window was full of artificial snowflakes. This unique metal sign features a vintage advertisement for snow stencils and shows two boys decorating their house as Santa approaches the front door. Jack and Friends
18. Xmas Seasons Greetings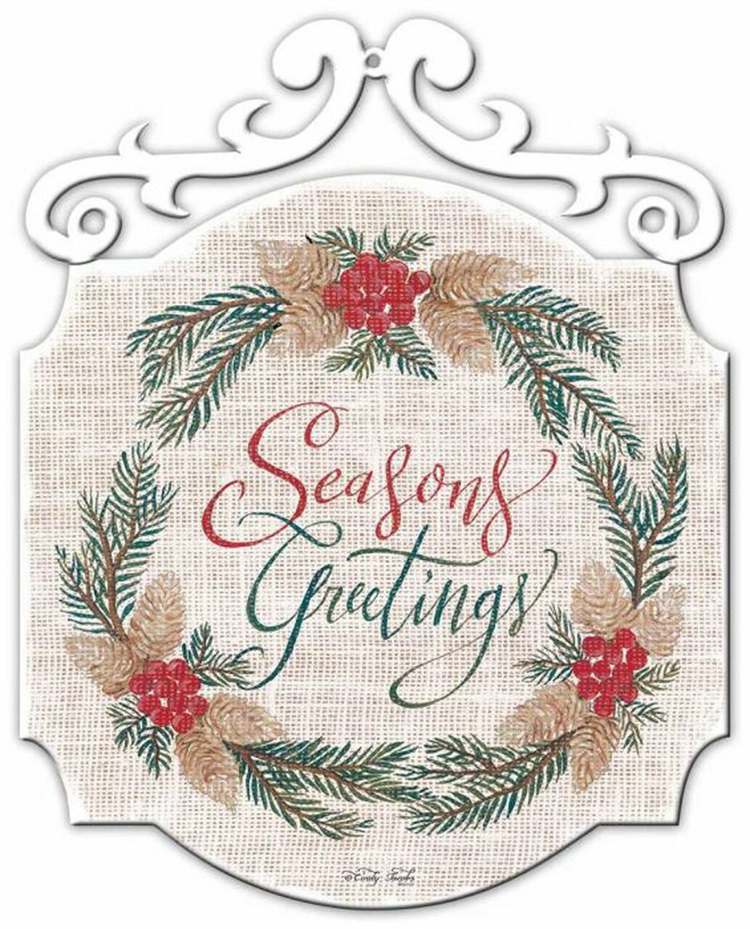 Looks like the writing was done on a sack bag right? Well, it is made in the USA using heavy gauge American steel and a process where the image is baked into a powder coating. I love this vintage sign. Jack and Friends
19. Coke Time With Santa
A blast from the past? Coca-Cola is known to have created some of the best-looking signs over the years. They literally had a sign for every single time of the year. You can give your bar a vintage look by using this classic sign. Retro planet
20. Seasons Greetings Vintage Sign
This old-fashioned retro-style sign will look great on your house as a holiday decoration, and it's also an attractive wall piece that you can hang up all year. It features a young boy and a girl ice-skating. I love how it appears 100% vintage. Retro Planet
21. Tis The Season
For many, It is the most wonderful time of the year. Here's a retro sign showing a truck with a tree in its trunk. This beautiful vintage holiday sign can be found on Walmart and is very affordable too. hip2save
22. Hello Summer
"Hello Summer Party" Going to the beach for fun started a long time ago. Back in the day, they'd have signs like this on coconut trees, bars, and in the evening inside the main town. This retro sign would look amazing if you used it. Dreams Time
23. Sleigh Ride Vintage Sign
Care for a holiday sleigh ride? Well, it would cost you $1 per mile! Signs like this would only be seen during Christmas. Trust me, kids of the '60s did know how to have fun in a classic way. This vintage sign is just amazing. Old Time Signs
24. Merry Christmas From Santa
Why not decorate your house with a vintage metal Christmas tin sign depicting Santa Claus carrying a bag stuffed with toys on his back and reading "Merry Christmas." This charming holiday collectible sign provides just the right accent for your home or the restaurant. Vintage Metal Art
25. Gnome For The Holidays
I can't tell what is cuter, the smile on the gnome's faces, or the amazingly crafted rustic holiday vintage sign in general. Imagine having this on your porch for the holidays, it would definitely be one of the many attractions of your Christmas decor. Don't forget to use vintage ornaments.
Vintage Profession Signs
Vintage signs for unique designer home decor. Signs like these were meant to be displayed, not hidden away in a garage somewhere, and now you can bring them into your home or business too!
These important historical signs can be used for both indoor and outdoor decorating – complementing any style of decor.
For this category, you will be seeing a couple of vintage signs that have to do with various professions. People used these in the past as a means of letting people know their profession without having to speak every time. Also, I guess it was just fun to have.
26. Veterinarian Personalized Wood Sign
This vintage Veterinarian professional sign is perfect for retirement gifts, awards, or decoration in your home or office. The back of this sign is unpainted wood which you can use to personalize it with a special message, date, name, etc. A simpler time
27. Attorney At Law
Are you an attorney? Here's a vintage sign just for you. This sign has three sections, the bottom section can contain two names while the first section is basically a summary of the law firm. I think this is amazing! A Simpler Time
28. Barber Shop
Are you a veteran barber who is into Antiques? I found this sweet barber shop vintage sign while doing my research and I am sure it would look absolutely amazing if you used it in your barbershop. Etsy
29. Vintage Laundry Sign
Almost every profession has a vintage sign, the laundry isn't left out. Here's a classic looking laundry vintage sign. The main material is aluminum so you need to worry about the sign getting bad for a long time. Etsy
30. Truck Driver Vintage Sign
This is the best kind of sign to own, especially if you have been in the truck driving business for years. A sign like this would let people know that you have been driving trucks for years. The finishing is simply amazing. A Simpler Time
31. Chiropractor Vintage Sign
What better way is there to tell people you are a chiropractor. The sign speaks for itself. Currently, A simpler time is the only platform I know that is offering this package for an affordable amount. Feel free to jump on it if you love it.
32. A Great Way To Serve
Even the force men and women are not left out of the fun! I think this probably is one of the best types of signs to use especially for men and women. You can consider buying this or DIYing it by yourself. The choice is yours. Pinterest
33. Barber Vintage Profession Sign
Here's yet another amazing vintage sign that made it to our list. It is a cool graphical representation of a bushy man surrounded by some of the tools that barbers use. You can download this, frame it, and use it. Vector Stock
34. Fly There
This reeks of vintage! Our lovely pilots aren't left out of the fun. Here's a cool vintage sign from way back that would make a great piece for your basement or hanger. "For that rare sense of freedom, FLY THERE" A simpler time
35. Professional Hairdressers
Just before you crucify me for including too many barber vintage signs, here me out. This one is from the 1970s. You would find signs like this in mostly large barbing saloons with lots of barbers on duty. 123 RF
36. Open 24 Hours Mechanic On Duty
How best would your customers know you're open 24 hours without telling them? Let this vintage sign do the talking for you. This is an old mechanic vintage sign, there are better versions today, but classic remains classic. Etsy
37. Plumbing Vintage Sign
Just when I thought it was over, then boom, I found this really amazing and scarce advertising tin sign from Quakertown, Pennsylvania. It's really old. You can get it on Etsy if you are interested. The sign is very rustic. Etsy
Vintage Sports Signs
Do you remember the retro vintage sports signs, where athletes used to advertise different products back in the day? Well, we have listed a couple of vintage sports signs that you would find interesting if you are into antiques.
Vintage sports signs are often entertaining, action-packed, and easy to read. They capture the attention of many due to their simplicity.
A vintage sports sign is a great and inexpensive way to decorate and add some character to your office or room… if you're like me, anyway. If you aren't into sports, then scroll down to the next category of vintage signs.
38. Explore the Great Outdoors
This was made to look antique. The old-style look is aided by the use of rough-cut wood planks (wood signs use multiple boards) or thick gauge metal, with printed "distressing" and faux rust on the edges of each sign that makes it look like it was gotten from an antique store. A simpler time
39. Harley-Davidson Number One Racing Garage Tin Sign
This is a giant metal sign shaped like the number 1 and it features the classic Harley ® red, white and blue racing colors. It will be tops in your collection. If you are into racing cars, this would be a cool vintage sign to own. Retro planet
40. Ride MotorCycles Hard
This bold, blazing sign is great for motorcycle fanatics! It is a black and orange tin sign with a great Harley ® riding slogan. This tin sign is not only eye-catching in design but also stunning in its appearance.
41. Dunlop Tires Racing Flags Steel Sign
For nearly a century, Dunlop made tires that were synonymous with racing performance. The Dunlop Flags Tin Sign takes you back to when it was one of the top tire producers in the world, with one of its tires surrounding the checkered flags. Dunlop tires helped people to win races back in the day. Retro Planet
42. Tis The Season
This sign is vintage way before the year 2000, it is basically a ball sitting on the grass with the write-up "tis the season". This would be a great sign to hang on your door during the world cup. What do you think? Etsy
43. Smith's Hockey Club
This is a retro sign featuring hockey players. Hockey clubs were popular in the 70s through 90s, this is a basic sign for anyone who loves the game of hockey. The best part is, you can customize the sign to have your name. A simpler time
44. Let The Good Times Roll
If you love the vintage look of a sign from yesterday, this bowling metal sign is for you. The coloring is a deep, rich color. This is a quality reproduction that easily adds color and style to your garage or game room decor. Embossed details will really make it stand out from the other vintage sports signs in your collection – literally! Retro Planet
45. Race You To The Raven
A beautiful vintage sports sign showing two women water skiing. Back in the day, seeing signs like this would make people want to go water skiing. I mean, who wouldn't want to go water skiing after seeing these two lovely ladies. A simpler time
46. Dog's Get It
This biker sign is made of tin with embossed details. It's great for decorating your motorcycle rider's home bar, man cave, or garage. Retro Planet
47. Underground Pool Hall
The 8 ball pool is a game that has been around for quite a while. Back in the day, vintage signs like these would be seen in bars and pool halls. Don't forget "Cash-wagering at your own risk." A simpler time
48. Speed Demon
Most racers of the old days would have the weirdest stickers and signs on their cars. Some were used to scare other racers. This particular sign however belonged to a hot rod shop! If you're in the market for vintage sports signs, this is a good pick! It will add retro flair to your garage or man cave decor. Retro planet
49. Jaguar Again Makes History
Want to show off your car as fast? Well, that's a good idea. Especially if it is a jaguar. This sign can be placed on your car or your garage, wherever you deem fit. Etsy
50. 1955 Topps Baseball Box
Do you love baseball? Well, me too! Here's a 1955 Topps baseball vintage sports sign. I bet you have never seen this before, well, if you are fast enough, you can be the new owner of this very rare vintage sports sign. Etsy
51. 2005 Aaron Rodgers Sign of the Times
This is an actual reprinted autographed image of the famous Aaron Rodgers. Having this would be a great addition to your vintage sign collection, especially if you are into sports. In a few more years, it might cost a fortune! Etsy
Vintage Bar Signs
Vintage Bar Signs were originally used to set a unique mood in a bar. They create a warm and intimate feeling which makes customers feel at home an industry-standard in interior design.
In the world of bar signs, it's easy to feel as though you've seen them all. In most cases, they either follow a very simple format or lean on their gimmick as a backup. But what is there to say about a vintage bar sign when it doesn't have a clever name, a bright gimmick, or a snappy tagline? The answer is; not much.
Check out some of the best vintage bar signs out there;
52. Fast Food Diner Metal Sign
The Fast Food Diner Metal Sign is a fun wall decor item that lets you add a fun 3D effect to your restaurant or diner! This bar sign is sure to please with its vintage look and fun design. I would highly recommend it. Retro Planet
53. Margarita Especial Pin-Up Bar Sign
The Margarita Especial Pin-Up Bar Sign Large Cut Out is yet another vintage sign for bar owners. This is a fun novelty sign that would look great hanging in a man cave or a garage bar. Retro Planet
54. Happy Days Are Beer Again
Happy days are "here" again! Oops, "Happy days are beer again" What a creative way to pass a message. Imagine having this in your classic bar with a bunch of other cool ones. Your customers would surely love it. Etsy
55. No Smoking
Is smoking prohibited in your bar? You could inform new customers that they are not allowed to smoke by using a vintage "no smoking" bar sign. A sweet way of passing the message in retro style. Etsy
56. 1960s Funny Bartender Sign
Bartenders would love this one. "I'm not a fast bartender, I'm not a slow bartender, I'm a half-fast bartender" What a silly way of passing the message. Etsy
57. Steve's RoadKill Cafe
Are you an expert in grilling? Here's one for you. This sign has vintage all over it. If your name is Steve? Then you are in luck! Why wait? Get this immediately and watch customers troop in. All posters
58. Hot Coffee Shop
If you're looking to decorate your home or business with something that really pops, look no further! This vintage style coffee shop sign is embossed, die-cut tin with raised details that really stand out. Retro Planet
59. Eat Here Pointing Arrow
When you use this vintage Eat Here sign, you can make sure that your store stands out. You'll love the distressed, sun-faded look of this vintage sign. It's as if it's been hanging on a wall for years. Retro Planet
60. Barrel Sign
This is a rather unique vintage barrel sign, the best part is you can have your brand name engraved on the sign, which is quite amazing. The sign is made to look vintage & classic. Do you love it? I'm sure you do! A simpler time
61. Husband Day Care
Need time to relax? Need time to yourself? Want to go shopping? Leave your husband with us at Moose's Saloon, you only pay for his drinks. "Husband Day Care Center". Now, this is an amazing vintage bar sign. A simpler time
62. Diner Wide Red Distressed Vintage Metal Sign
Do you prefer simple signs? Here's one! This Vintage Style Diner Metal Sign is brand new but the graphics make it look like it's fifty years old. You won't find this one at your local antique store. Retro Planet
63. Breakfast Anytime
Come enjoy our bottomless cup at "******" Yes, your bar name is supposed to go where there are asterisks. Trust me, customers are attracted to adverts they see. Make your sign enticing and they'll definitely troop in. Retro Planet
Vintage Military Signs
Vintage military signs, just like brand signs, can be works of art with their simple and graphic designs. Commanding attention and built to last, these signs don't fade away with the everyday hustle and bustle. They hold on to their character while not going out of style.
Below are a couple of vintage military signs you might find interesting!
64. Uncle Sam Support Our Troops
This is an all vintage American tin sign that depicts the famous Uncle Sam pointing at you and saying "Support our troop." I mean, our troops deserve all the support they can get. This is an amazing piece to have in your collection. Vintage metal art
65. Army Life Is Good
Here's another cool vintage military sign that features a smiling military man with the text "life is good in the army" but is it? I think we'd never know how good it is until we become part of the military ourselves. Vintage metal art
66. The American Flag
For military personnel, the American flag is much more than colors on a cloth, it represents a whole lot of things for them. Having this rustic & vintage-themed American flag is a must for all personnel. Vintage metal art
67. B17 Flying Fortress Bomber Sign
This sign is designed to make an impression. It's made of heavy-duty American steel with riveted holes. It has a vintage look and feel. Are you a pilot in the military? I'm sure you'd love this. Retro Planet
68. Never Forget Our Fallen Heroes
"Never forget our fallen heroes" They made sacrifices for the greater good of the country, feeling patriotic? Here's a vintage sign that you may like. The labor of our heroes shall never be in vain! Retro planet
69. Join The Navy
"Join the navy and see the world" Back in the day, signs like these were used to entice men into joining the navy. Did it work? Sure, it did! It's not too late to join the navy, visit your local recruiting office. Retro planet
70. Now All Together
Here's a rare vintage military sign featuring four soldiers in the process of raising the U.S flag up high! Hang this on your wall and you'd be glad you did. All posters
71. Tuskegee Airmen WWII Pilots Sign
WWII was a pretty long time ago, in fact, you would rarely find a colored image from that era, however, I found a digitally enhanced image of the Tuskegee Airmen. You should consider hanging this on your wall if you are into military collectibles. Retro Planet
72. War Bonds
"War bonds, feed the guns!" Are you feeling patriotic by just looking at this vintage military sign? Then that's a sign that you should have it amongst your collection. I think this is a lovely graphical representation. Retro Planet
73. Want Action? Join Us
Do you want action? Join the U.S marine corps! An amazing vintage sign featuring a marine smiling and ready to welcome the next recruit. Retro Planet
74. B-17 Flying Fortress Bomber Plane
In the 60s, 70s, and 80s, the military had lots of posters, and signs with beautiful ladies, the use of beautiful ladies was to entice men to consider joining the military. Like it or not, the plan worked! Retro Planet
75. Vintage Military Base Sign
Vintage signs like these were used back in the day to keep unauthorized persons off military areas. It isn't illegal to own this whether or not you are in the army. So, feel free to have a go! Etsy
Conclusion
We have come to the end of this article on vintage signs. We have given you some of the best vintage holiday signs, professional signs, sports signs, and even military signs. I'm sure you have found a couple of ones that made you smile.
Thanks for stopping by, feel free to check out our best vintage Christmas decorations and also our compilation of classic vintage posters