Before ASMR became popular, there were vintage rain lamps to transport you into a scenic rainforest. The illusion of rain droplets trickling down the filaments wasn't only aesthetically pleasing, but also great conversation starters for anyone walking into a room.
Although they're not the brightest lamps in the fold, they cost a pretty good penny for their beauty and quality material. Its little wonder vintage rain lamps are back in vogue 50 years after the first model entered the market.
The most valuable vintage rain lamp is a Fisherman statuette steampunk steel model, which auctions for $3,000 on eBay.
After scouring the internet, we've curated a comprehensive list of the top ten most valuable vintage rain lamps. This includes a detailed guide on picking out a rain lamp and knowing the difference between each model.
What is a Rain Lamp?
A vintage rain lamp is a cylindrical object featuring a top and bottom held together by three pillars with a statuette in the center. It uses an advanced pump placed under the base that silently distributes the oil through the filaments.
There are nylon strands (filaments) and plastic floral foliage surrounding the perimeter so that when oil glides through the filaments, it gives the illusion of rainfall.
History of Vintage Rain Lamp
Johnson Industries
Rain lamps rose to popularity between the late 1960s to early 1970s after Johnson Industries introduced them the previous decade. It wasn't the first time people saw beautiful lamps designed to be aesthetically pleasing, but it was the first of its kind.
After the success of the Johnson Industries' invention, a new player entered the game – the Creators Inc. The Chicago-based company designed a wider range than the original creators solidifying their position in the market.
Creators Inc. Rain Lamp
There are different types of Creators Inc. rain lamps that fall into two broad categories – the tabletop and swag.
Creators Inc. Tabletop rain lamps: Three Graces, Diana
Creators Inc. Swag rain lamps: Three Graces, Diana, "Dancing in the Rain," "Old Mill," "Venus."
Features of the Oil Rain Lamp
From the figurine at the center of the lamp to the oil drops (rain) streaming down the suspension, rain lamps were more decorative than functional. Johnson industries handcrafted every piece to suit the customer's taste.
The light wasn't bright enough to light up a whole room, but that didn't reduce its value.
On the contrary, it increased the demand and drove up the bottom line making them a luxury item until the early 1980s. By then, consumers' interest waned and gravitated more towards other forms of decorative pieces.
It's been about 30 to 40 years now, and the vintage Rain Lamp is making a comeback. As people tap into the rustic aesthetic, there's a renewed interest in vintage and antique pieces.
Top Ten Most Valuable Vintage Rain Lamps
| | | | | |
| --- | --- | --- | --- | --- |
| No. | NAME | MAKER | YEAR | PRICE |
| 1 | Tom Sawyer "The Fisherman" | Creators Inc. | c. 1970 | $3,000 |
| 2 | Tom Sawyer and Becky Thatcher | Creators Inc. | c. 1978 | $2,500 |
| 3 | Oil Rain Lamp in Clock | Unbranded | c. 1970 | $2,500 |
| 4 | The Kiss | Johnson Industries | c. 1972 | $2,000 |
| 5 | Goddess Lamp plus Stand | Unbranded | c. 1970s | $2,000 |
| 6 | Salesman | Unbranded | c. 1970 | $1,500 |
| 7 | Chinese Goddess | Creators Inc. | c. 1973 | $1,450 |
| 8 | Don Juan | Creators Inc. | 1967 | $898.03 |
| 9 | Gold Goddess | Creators Inc. | c. 1970s | $665 |
| 10 | Draped Venus | Creators Inc. | c. 1970s | $650 |
10. Draped Venus
Maker: Creators Inc.
Year: c. 1970s
Price: $650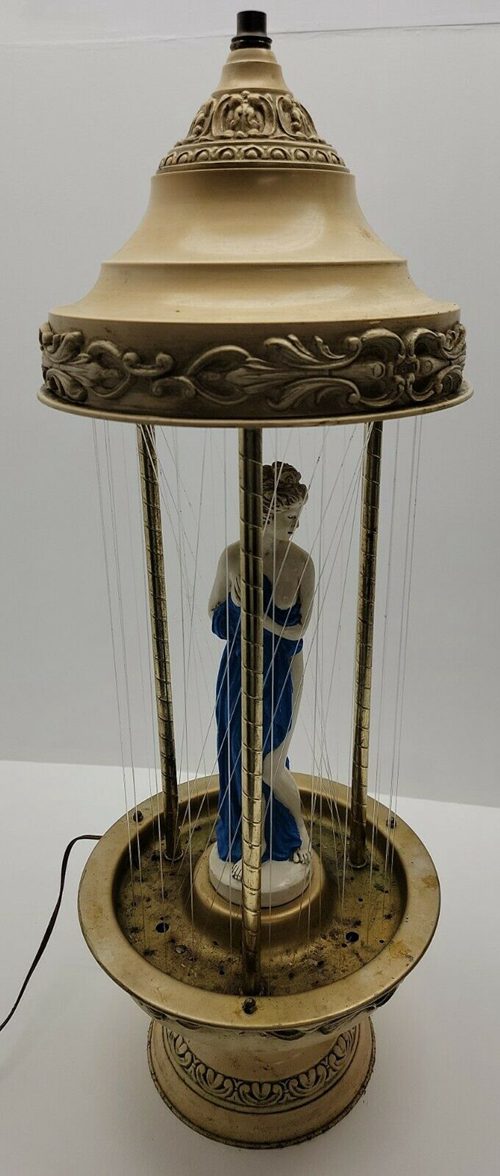 Following the success of the Golden Goddess, Creators' inc designed a white model draped in a blue shawl as a limited edition. She's an electricity-powered tabletop piece without a hanger for alternate placement.
Although she's missing foliage, it doesn't dent her value much because that's a correctable error. It's a small price for the unique blue and white design.
9. Gold Goddess
Maker: Creators Inc.
Year: c. 1970s
Price: $665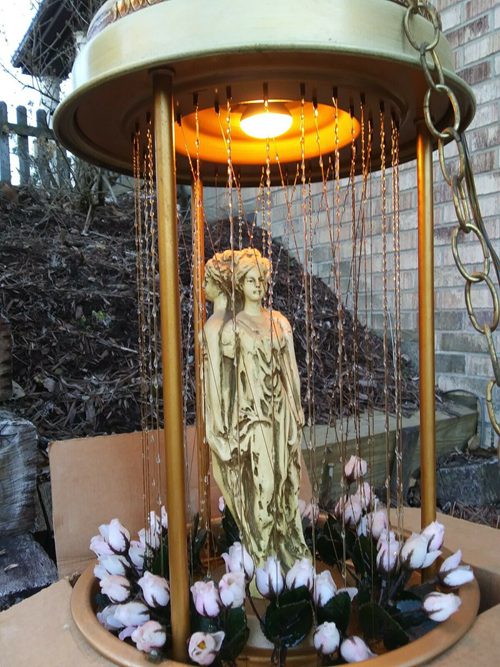 The Gold Goddess, Venus, is one of the few oil lamps with white floral foliage instead of the regular green plastic. It runs on mineral oil and electricity, making it a good alternative during a power outage.
Oil rain lamps with Venus as the statuette are rare, and not all of them are standing erect. There's another one where the Goddess is sitting in green foliage.
8. Don Juan
Maker: Creators Inc.
Year: 1967
Price: $898.03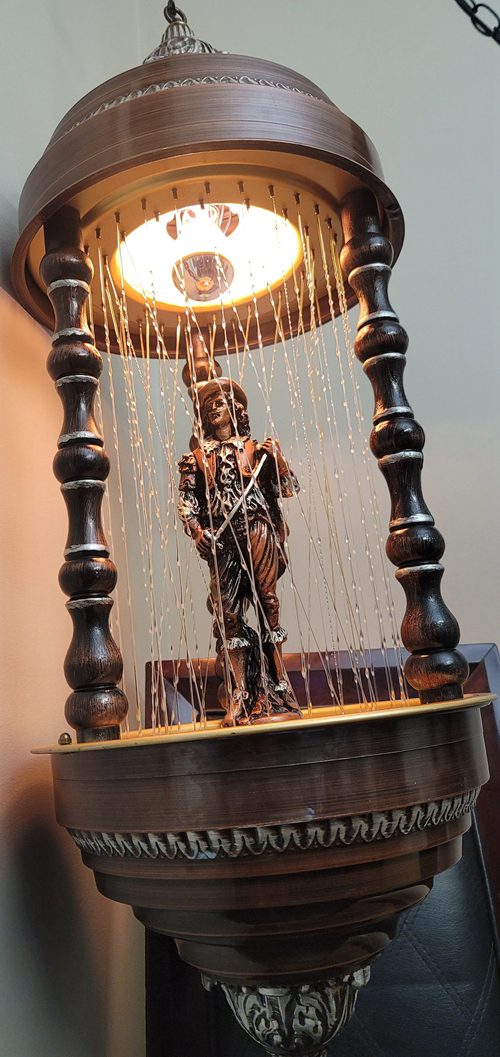 Don Juan is a first edition oil rain lamp made of thick wood with a dark finish. Creators Inc. designed the model before the product's 1970s boom, so it is chunky and heavy, unlike the later designs, which prioritized lightweight.
It's valuable because it represents the origin of what would become the biggest rain lamp manufacturer in history.
7. Chinese Goddess
Maker: Creators Inc.
Year: c. 1973
Price: $1,450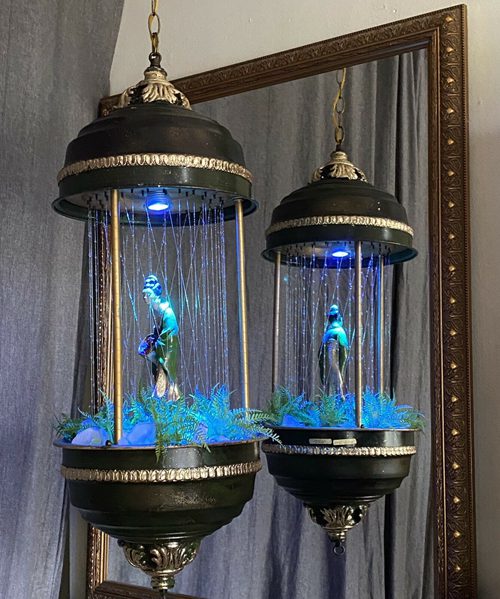 The Chinese Goddess is a swag oil rain lamp with a motion sensor that lights up in blue and purple alternatively. It's a rare model painted with a heavy craquelure finish. She's fully dressed in traditional Chinese attire – a kimono and hair styled in a bun.
6. Salesman
Maker: Unbranded
Year: c. 1970
Price: $1,500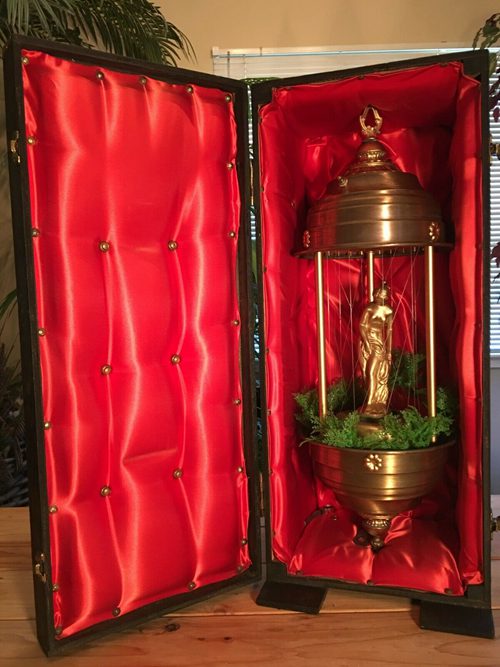 An unnamed salesman used this rain lamp as a description during his travel around the country to promote the newest lamp model. It's a typical Steampunk Steele design with intricate detailing on the top and bottom.
This Salesman Rain Lamp comes in its original case intact, including its brass edges, hardware, and silky red interior lining to prevent abrasions. Since it's a prototype, it doesn't have a pump or cord to produce light, although you can fix one.
5. Goddess Lamp plus Stand
Maker: Unbranded
Year: c. 1970s
Price: $2,000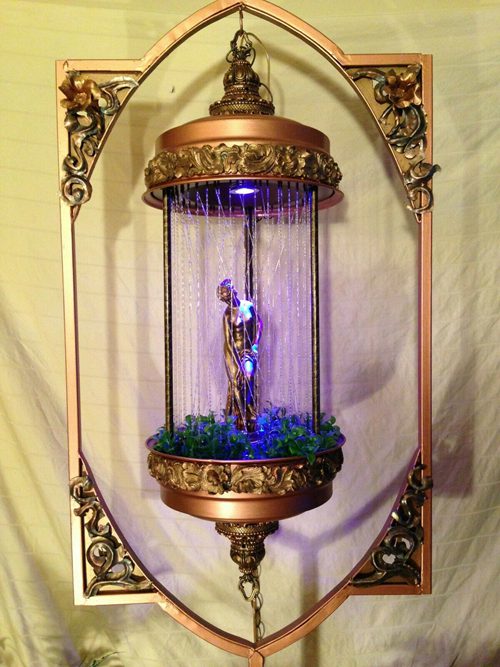 You know you have to buy a lamp when you see it's a two-for-one deal like this one. The 36-inches tall Goddess stands in a 100% metal frame. It's part of the Steampunk Steele collection sold on Facebook last year.
4. The Kiss
Maker: Johnson Industries
Year: c. 1972
Price: $2,000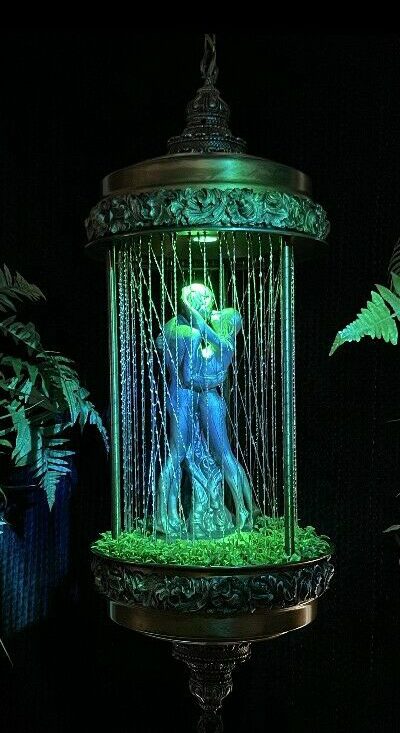 The Kiss is one of the most sought-after oil rain lamps because of its romantic and sensual motif. The models are both naked under the changing light of the lamp as they enjoy a romantic kiss.
It's a very rare model, and people keep searching for it daily, so it's best to guard it jealously if you find one.
3. Oil Rain Lamp in Clock
Maker: Unbranded
Year: c. 1970
Price: $2,500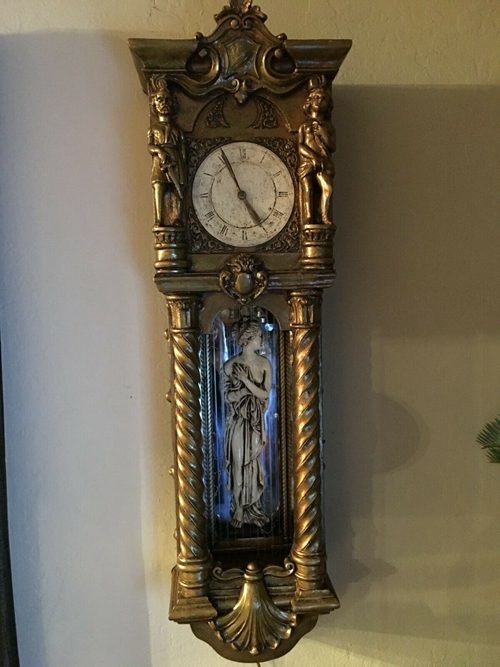 Speaking of two-for-one deals, having this oil rain lamp embedded in a grand wall clock was a genius idea. However, the two items auction at different prices for reasons best known to the buyer.
Unlike most other models, it draws power from an electrical source and features a moving Goddess in the center, giving an illusion of "dancing in the rain."
2. Tom Sawyer and Becky Thatcher Fountain
Maker: Creators Inc.
Year: c. 1978
Price: $2,500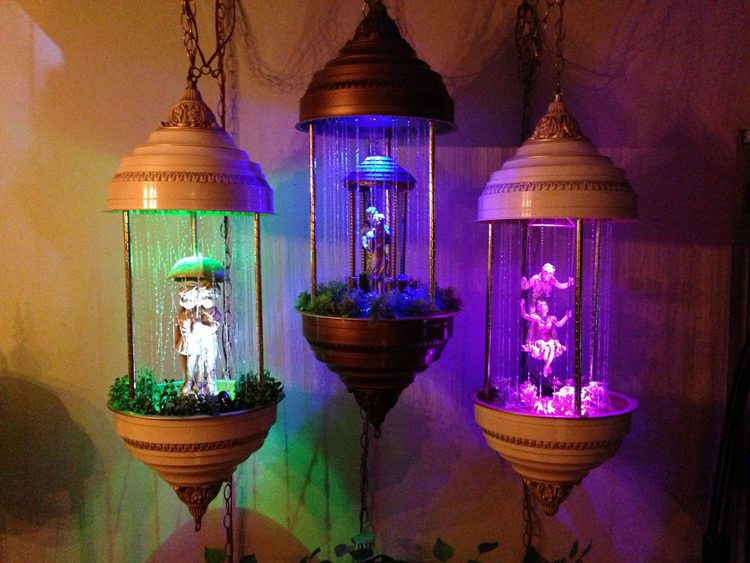 Tom Sawyer and Becky Thatcher are lovers from the coming-of-age book Tom Sawyer. There are four rain lamps in the collection, namely;
Storm Children (this model), Adolescence (motion lamp,) Teenagers (Swinging couple), and Adults (featuring their two children and a dog playing around a campfire.)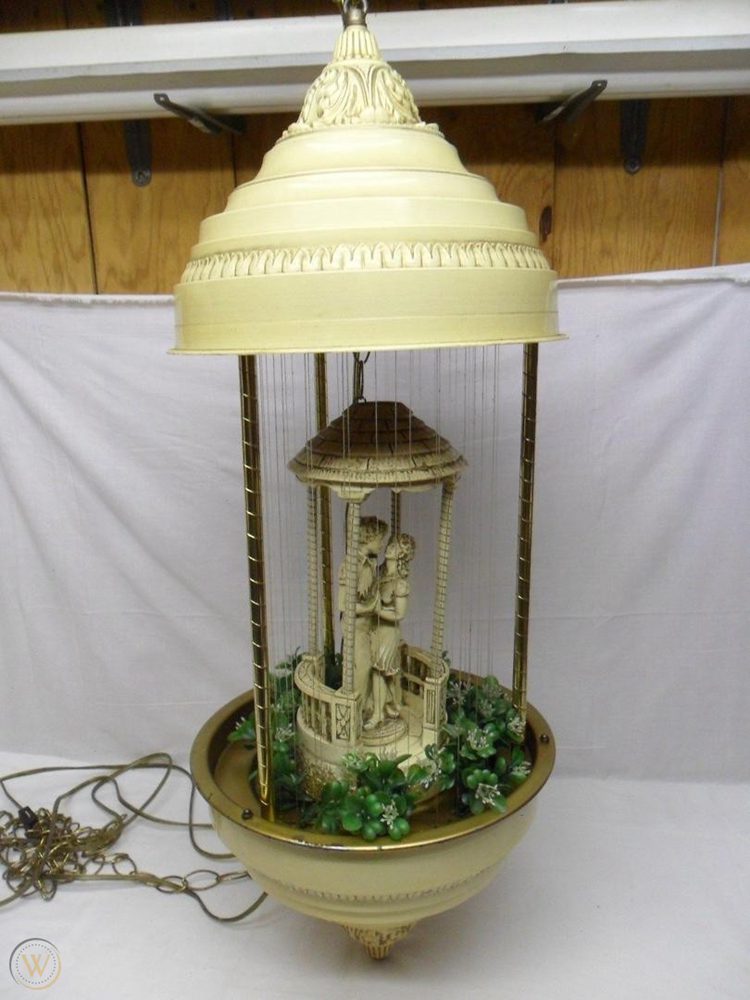 According to Steampunk Steele – the largest oil rain lamp collector globally – it's one of two rare models in the world. It's a two-tiered fountain instead of the standard cylindrical-shaped rain lamp making it a two-in-one design – swag and tabletop.
This one shows the lovers in childhood walking through a garden. In Nov. 2020, it was valued at a whopping $5,000 though it now auctions at half-price on eBay.
1. The Fisherman
Maker: Creators Inc.
Year: c. 1970
Price: $3,000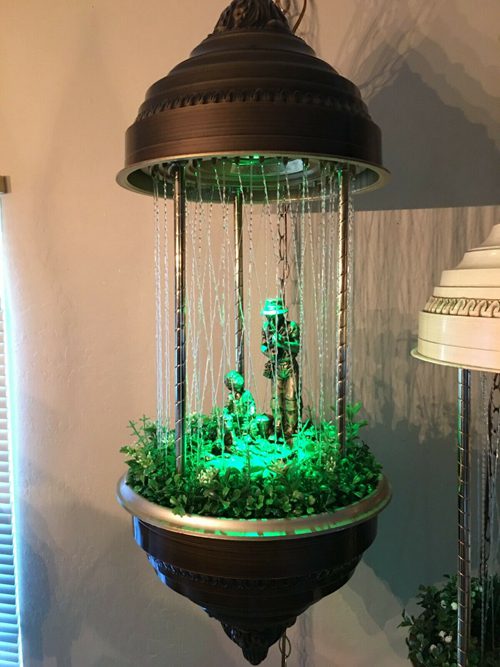 Creators Inc wasn't the pioneer of rain lamps, but the company took its design to a whole other level such that it's responsible for the most expensive models worldwide. This single light rain lamp features Tom Swayer as a fisherman and his son fishing in a pond with their dog.
Although it's made of plastic, the Fisherman rain lamp's color-changing light and moveable statuette are desirable. An added appeal comes when you realize it's an extra-large model, rare for rain lamps.
Types of Vintage Rain Lamp
By Design
Contrary to what you may think based on availability, hanging rain lamps (swag) aren't the only design. Another style of rain lamp existed at the beginning – the tabletop. The swag rain lamps became more popular, however, for their versatility.
You can use it as a wall-mount or free-hanger placed anywhere in your room.
There are no definite proportions for rain lamps since Johnson industries handcrafted each piece. So, while you may find one that's short and wide, others may be long and thin. Also, remember that Johnson industries weren't the only manufacturer.
By Material
While there were different vintage rain lamps, two designs stood out – Steampunk Steel and Wood. The Steampunk steel earned its name from using weathered brass metal to form the cylindrical caps.
On the other hand, the wooden rain lamp used a polished chrome finish giving it a definite structure, unlike the Steampunk steel, which had a fancy detail. A third model uses metal such as copper and steel but employs the plain design of the chrome-finished wood.
Some models combined Brass and Wood using the former for the base and top then the latter for the pillars.
How to Use an Oil Rain Lamp
The original oil rain lamp came with custom-made Rain Lamp Oil which is still for sale on some secondary retail sites. Fortunately, it's not a standard requirement so you can use the alternative Mineral Oil or Alkane Oil that's readily available and pocket-friendly.
In an emergency you use glycerin or water but you'll risk a quick evaporation. So, it's best to have mineral oil handy. Watch the video below to see how you can restore a damaged rain lamp.
Pouring Oil into the Lamp
There's a hole underneath the lamp's base open it up and pour in your oil. You can leave the rain lamp on to see when there's enough to produce a bright light. Remember not to rush when you pour to avoid overflow.
How much is a Vintage Rain Lamp Worth?
An average vintage rain lamp would set you back a few hundred dollars at about $250 – $400 based on secondary retailers' prices. However, a rare model would cost you up to double that amount to a thousand. The most expensive in the world right now is $3,000.
Certain factors influence the final price of a vintage rain lamp, including significance, material, model, and manufacturer. That's why the top two most valuable oil rain lamps are Tom Sawyer figurines made of brass by Creators Inc.
The blockbuster film adaptation of the New York Bestseller reached theaters in 1974 hence the sudden popularity.
FAQs
Is Rain Lamp the same thing as Swag Lamp?
Although people loosely use Rain Lamp and Swag Lamp interchangeably, they're not the same thing. The swag lamp doesn't have suspended droplets influenced by light, unlike the rain lamp. The only thing they have in common is their positioning style – they hang.
Are Creators Inc. and The Johnson Industries, the only Manufacturers of Vintage Rain Lamps?
A: Johnson Industries and Creators Inc. are the most popular manufacturers of vintage lamps, but they're not the only makers.
Conclusion
Vintage oil rain lamps are back in vogue, and for a good reason. You can buy a regular one for a couple of hundred dollars, but if your seller demands a higher value of $1,000+, ensure it's a rare model worth every dime.
A cheat code to help you lies in this guide as you'll notice six of the top ten most valuable rain lamps are by Creators Inc. So, look out for the brand name when you're shopping. Also, remember there are two major types of rain oil lamps and the first is rarer;