Talk about pioneering the entire saving culture; vintage piggy banks ensured that. You probably made your first 50-100 dollars from saving in them. Aside from being money friendly, they also make great decorative pieces for your space.
Antique piggy banks are pretty affordable as they range in between $25-$200. Recently, collectors found a 650-year-old piggy bank in Indonesia, and it sold at an auction for a whopping $10,000.
We've curated this detailed guide to help you understand everything on vintage piggy banks, how to identify them, discover their actual value, know to spot the real from the fake. First let's check out the five most valuable vintage piggy banks in the world today.
Where did Piggy Banks come from?
Piggy banks are manufactured from ceramic or porcelain and generally serve as an item for saving, especially among children. The popular pig shape stems from the name "piggy," so much so that many financial institutions use the animal for savings Ads.
Their origin dates back to nearly 650 years ago, way before modern banks emerged. People stored their money at home, in kitchen jars, as metal was expensive during middle age and was sparsely used for household utensils.
To substitute for metal, a cheaper alternative- potters and artists used an orange-colored clay known as Pygg. So when the need to save up arises, people drop one or two coins or as much as they wanted into the clay containers- a pygg pot.
5 Most Valuable Vintage Piggy Banks
| | | | |
| --- | --- | --- | --- |
| No. | Name | Release Date | Price |
| 1 | Abercrombie and Fitch Ceramic Piggy Bank | 1950 | $950 |
| 2 | Spongeware Pottery Piggy Bank | 1900-1915 | $775 |
| 3 | Dresdner Bank "Drumbo" Green Elephant Piggy Bank | 1970 | $450 |
| 4 | Zeuthen Keramik Denmark Whimsical Piggy Bank | 1955 | $350 |
| 5 | The "Wise Pig" Piggy Bank | 1930 | $300 |
1. Abercrombie and Fitch Ceramic Piggy Bank
Release Date: 1950
At first glance, you'd think this piece is made of stitched leather; however, it is purely ceramic and was designed by Abercrombie & Fitch of England in the 1950s to look like their popular leather animal toys and stools.
The brilliant craftsmanship behind the design of this piece automatically will immediately pique your interest and keeps your attention.
2. Spongeware Pottery Piggy Bank
Release Date: 1900-1915
This is a handcrafted pottery piece. It's a vintage sponge ware piggy bank shaped like a literal pig sitting on four legs with a cork in the bottom. The body is painted in mixed shades of blue and white, almost resembling a marble style.
The Piggybank has a depth of 8.89 cm and stands at 5 inches tall. It's crucial you know that Piggy banks with "original" shapes like this are a bit on the high side.
3. Dresdner Bank "Drumbo" Green Elephant Piggy Bank
Release Date: 1970
Price: $450
In the past Piggy banks came in a variety of shapes and this elephant-shaped bank designed by Luigi Colani for the Dresdner Bank in the 1970s is a perfect example. Made out of plastic, the $450 plastic green piggy bank named drumbo has a key and a key ring.
This intriguing piece can make a great accessory to your space, cars, and great gift items for your loved ones.
4. Zeuthen Keramik Denmark Whimsical Piggy Bank
Release Date: 1955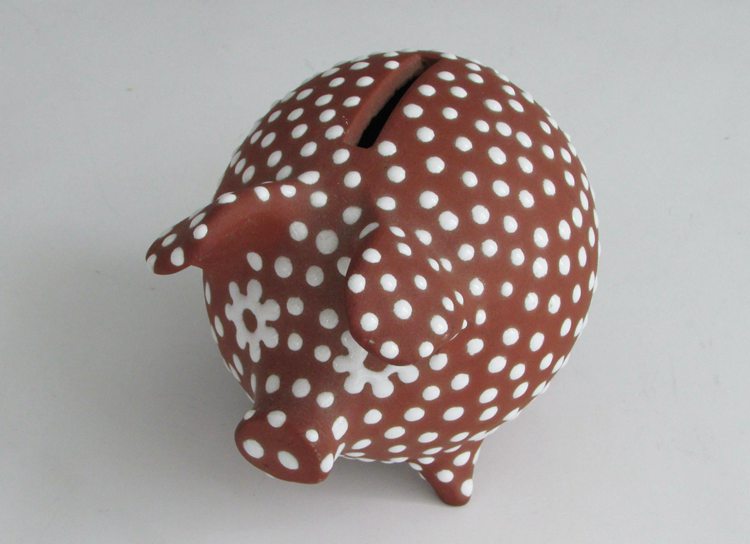 This piggy bank is a red-colored handcrafted terracotta piece with extra white polka dot detail. Truth is that Norman Zeuthen designed it for his company Zeuthen Keramik in late 1955. It has a depth of over 5cm and over 4 inches tall.
Finding this piece might prove to be difficult than most because it was exclusively produced for the Zeuthen Company, making it a very rare find.
5. The "Wise Pig" Piggy Bank
Release Date: 1930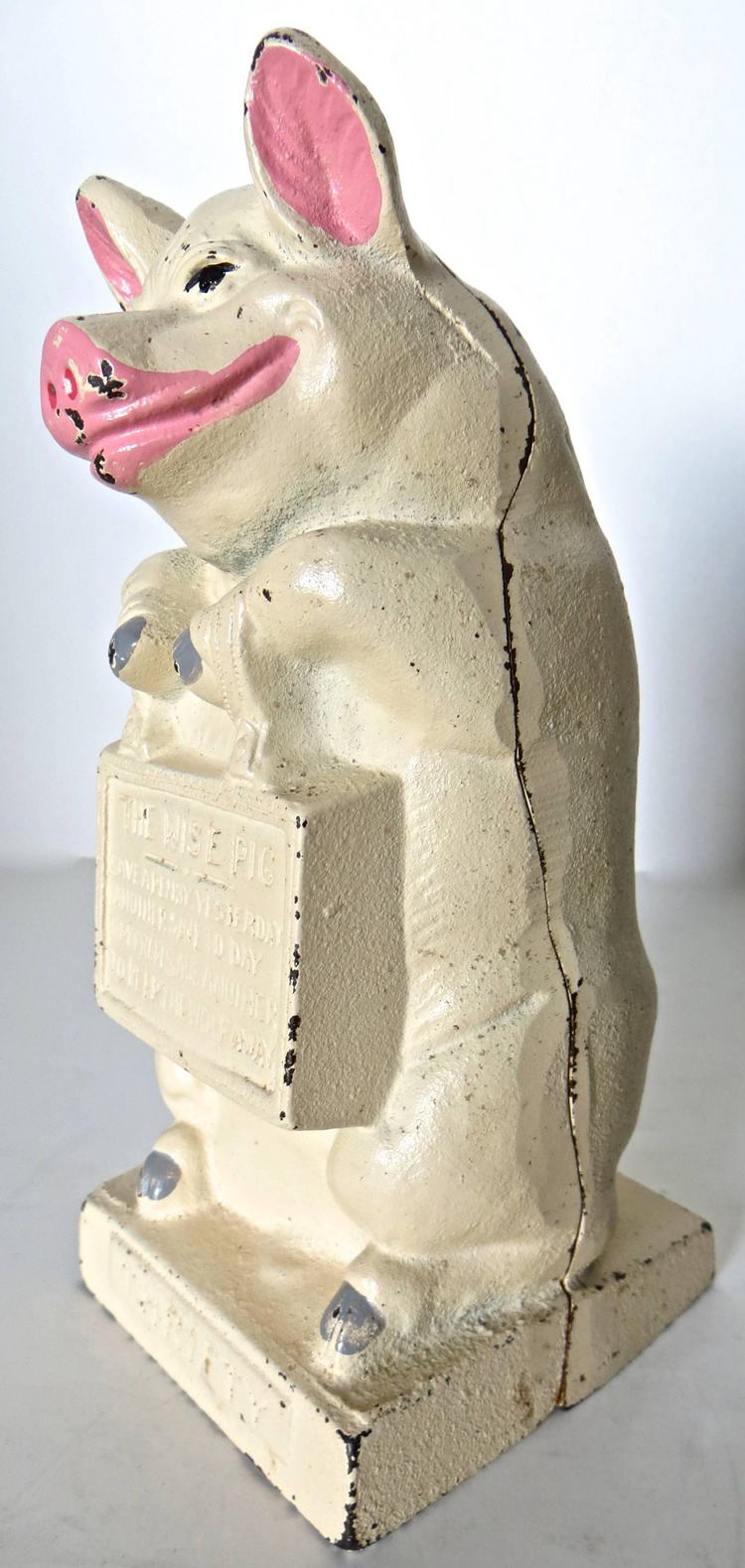 Lancaster, Pennsylvania, Hubley manufacturing company created this masterpiece in the 1930s. The piggy bank was cast iron, coated with white paint with pink ears and snout, dark eyes, and almost grey feet.
Also referred to as Thrifty pig according to the letters at its base, there's a marking displaying "copyright J.M.R" on its back. You can remove the coin by unscrewing the screw at the back of the item.
It is hard to find this item in a mint condition or with the paint intact—the unique piece sold for $300 at an auction.
The Vowel Issue
Back in the day, the English vowel had a different sound than presently. During the Saxons period, the word pygg was pronounced as "pug." Later on, the pronunciation of the letter "y" gradually changed from "u" to "I."
The word pygg evolved and became pronounced as "pig." Coincidentally, the old English word for "pigs" was "picga." The middle English word transitioned into "piggie," owing to the claim that pigs rolled in pygg mud.
Much later, the English language went through a major transition period, and the clay (pygg) and the animal (pig) were pronounced the same. Everyone slowly forgot the traditional meaning of "pygg."
The Genesis
Soon into the 19th century, English pottery makers began receiving orders for "pygg" banks which prompted the production of pig-shaped still banks, a phenomenon that appealed to a wide range of customers- the majority of which were curious students.
The first batch of piggy banks had no opening in their base. So to get money out, kids had to break the bank. This was a crude means to receive money; not only does it defeat the artistic purpose of the items, but it is also tough on the pocket as one must purchase a new one.
Before piggy banks made their way into the west, they were first made in java around the 14th century (terracotta banks shaped like pigs with an opening on top), and like their western counterparts, they had to be broken to get the coins. It is extremely rare to get Japanese banks in their unbroken state.
Companies that Produced Vintage Piggy Banks
Various companies from countries and regions of the world have produced unique piggy banks, from renowned companies in the United Kingdom far down to great companies of the USA. Check them out below.
English Companies
At the beginning of the 20th century, companies that made ceramic items sprang up. Belleek, Delft, and Quimper produced piggy banks. A handful of Staffordshire, England pottery companies, also manufactured their models.
The Ellgreave Pottery Company in Burslem rolled out its unique bow-tied piggy bank, popularly called Mr. Pig banks, in 1920. They had coin slots behind their heads and on the front part of their shoulders.
After World War II, Studio Szeiler and other Staffordshire potters started making piggy banks. The former became famous in the 1950s for their small-sized animal figurines and flat piggy banks, which had highlights of tan or blue on the white glazed surface.
George Wade & Sons also pushed out its brand around, smiling piggy banks that had various colors, ranging from plain green to bone-white adorned with soft blue flowery details.
The Beswick company ventured into the piggy banks business in 1969 before handing it over to Royal Doulton. Beswick designed a cigar-nibbling high-rolling boar of a piggy bank that had graphite and colored drawn surface.
In 1970, James Sadler and Sons manufactured their line of piggy banks- a container decorated with kilt materials, overalls, and traditional headcovers.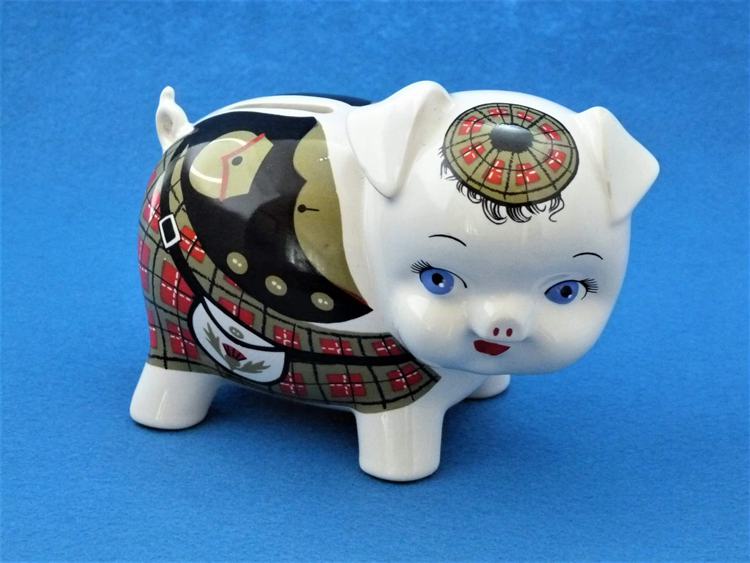 American Companies
Piggy banks made in this part of the world paid a lot more attention to aesthetics. From the 1930s and forward, the American Bisque Company and American Pottery Company rolled out plenty of piggy banks depicting countless characters using the slip-mold production method.
The animals made for the piggy banks had spontaneous long eyelashes and a wide smile with rosy red cheeks. Betty and Floyd were the latest and most collectible ABC piggy banks.
Due to their animated outlook, the banks were used as 3D templates for TV animations and children's characters. Shawnee pottery designed a now highly collectible Howdy Doody piggy bank circa 1950 for a year until it entered a copyright battle and completely ceased production.
Other characters included popeye banks, peanut banks, piggy banks from major movie blockbusters like superman in the 1940s, batman and robin in the 1960s, and McDonald's in 1980. By 1990, some video game characters also made their way into ceramic piggy banks.
Types of Vintage Piggy Banks
Piggy banks are a subset of coin banks that are further divided into two categories- still banks and mechanical banks.
Still Banks
The still banks have no mobile parts; they usually depict animals, buildings, and animated characters. Piggy banks belong to this category and are unarguably the most popular. Other still banks exist in different shapes, from Houses to boats and bust figures of influential people.
Still banks were mainly made from ceramic, chalkware, tin, or iron. The ones made from ceramic, chalkware, and other fragile materials are precious and sought after due to their rarity and fragility.
J. & E. Stevens of Connecticut produced interesting safes and boxes. Other designs such as Philadelphia's Masonic Temple designed by Smith & Egge, the New York City's Flatiron Building tastefully designed by the Kenton Toy Co.
Mechanical Banks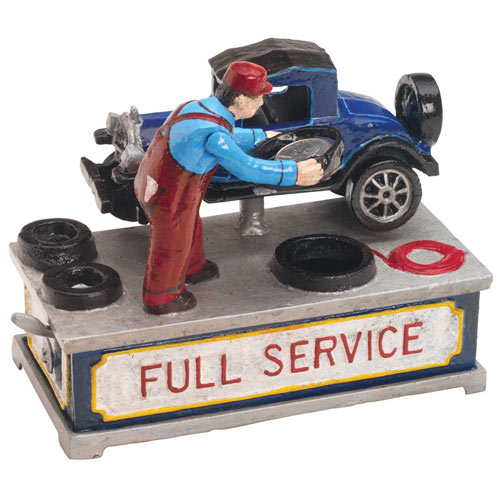 Mechanical banks are also piggy banks but with a stint of mechanical action. Often, you get a funky reaction from exciting characters on the boxes when you drop a coin in them and pull the lever. Unlike still banks, they have movable parts and come from cast iron.
When you spot mechanical banks, you'll recognize them by the interesting figures on their tops- they make funny sounds and unique moves when you drop money inside them. They don't require breaking or much physical energy to remove money.
The characters on them are mostly from popular TV shows and fictional characters familiar to the kids, attracting them to purchase and command interest from collectors. They sell for $1000 and can go as high as $100,000.
How to Identify Vintage Piggy Banks
It's quite easy to spot piggy banks. All thanks to their universally recognized demeanor (all piggy banks are shaped like pigs). But we won't limit them to shapes alone, and there're other factors you must consider when identifying the authenticity of your Piggybank.
By Their Age
The earlier models of piggy banks had a more precise shape of a real-life pig, while recent and modern versions have a twist; they're primarily stylized versions with retouched designs and artsy additions.
The old ones will also have signs of age wear or scratches. Although they may be minor, this will help you properly identify vintage piggy banks.
By Their Shapes
Piggy banks exist in endless shapes, but there're features peculiar to most if not all piggy banks. On the bodies of any piggy banks, you'll find a coin slot. They're small, just enough to fit one coin, and wide enough to contain bundles of notes.
You'll also see a stopper or a plug shielding a hole, usually located in another section of the piggy bank where owners can retrieve their money.
Books, Online Materials and Catalogs
Consult books and catalogs in your library or online to get familiar with vintage piggy banks, the models available, their production year, everything in between. A detailed guide will make the process easier.
How to Determine the Value of a Vintage Piggy Bank
Too many times, you may have disposed of very valuable vintage piggy banks due to a lack of knowledge of their intrinsic value. Well, not anymore; this article is here to help you understand the true worth of the gem in your hands.
By an Appraiser
This is the first and most important step you should take when selling your vintage piggy bank. An expert will help you observe sternly the materials used to manufacture an item, the market value, and all other factors.
Information supplied by the appraiser will assist you in setting prices for your goods and not run a loss or rip yourself off the major profit.
By Their Condition
If the parts of your piggy bank are intact, without wear, tear, or cracks, then it'll appreciate; this is because early piggy banks had to be broken to pieces to remove coins or money in them.
So if you come across a piggy bank in a whole condition, then you're making a lot of money. Parts like the original stopper and plug must be intact for a single-hole piggy bank if you intend to sell for high prices.
By Their Age
The most highly sought-after piggy banks models are from the 19th century and the early 20th century (1870-1930). They are also very scarce as they were well-rounded pigs with a stopper at the bottom, which most modern models lack.
By Their Rarity
During the second world war, most people went out of business, including the piggy bank production industry. Therefore, models made around that period are significantly rarer than the rest of their peers.
Early models are also hard to come by as many are broken, cracked, and chipped off. The harder it is to find an item, the more valuable it gets.
By Their Fragility
Piggy banks made from ceramic and earthenware are usually fragile and easily broken, making them rare and highly sought after by collectors because of these materials. Metal and iron piggy banks are durable, cheap, and easy to come by.
By Their Company Marks
Vintage piggy banks indicating their marker's mark, date, or other information are also valuable. This information preserves the item's historical value and helps to date properly. Items from extinct companies are even rarer and highly sought after.
Online Value Guide and Catalogs
Check online platforms to get updates about current market prices to help you compare and contrast prices. Vintage items like these are at the mercy of market factors; hence you have to do proper spadework before putting a price on your item.
FAQs
How many types of Vintage piggy banks are there?
Coin banks are divided into two known categories. Still banks which piggy bank is a subsidiary of and mechanical banks with technical levers.
When were piggy banks produced?
Piggy banks emerged on the scene about 600 years ago, around the 15thcentury. It has since become an integral part of the saving culture.
How much do Vintage piggy banks cost?
Antique piggy banks are quite affordable as they range in between $25-$200.
Where can I buy Antique piggy banks?
Check out estate sales, flea markets, antique stores, and auction sites to grab yourself a piece of the valuable vintage piggy bank.
Parting Words
Now that we've taken you down the good old memory lane of vintage piggy banks and their mind-blowing history, below are a few more tips for you on your quest to acquire these gems.
Vintage piggy banks are fragile, and always handle them with utmost care.
Piggy banks with trademarks under them are much rarer and more expensive.
Don't soak your piggy bank in water for too long, especially the older ones, as they can easily break or chip off.
Mechanical banks are quite different from piggy banks. The former has movable parts, while the former is still non-mobile.